Grand Marnier has been at the top of the mainstream orange liqueur food chain for over 140 years. Here we have answered your most important questions about this premium French liqueur and shared our favorite Grand Marnier Cocktails.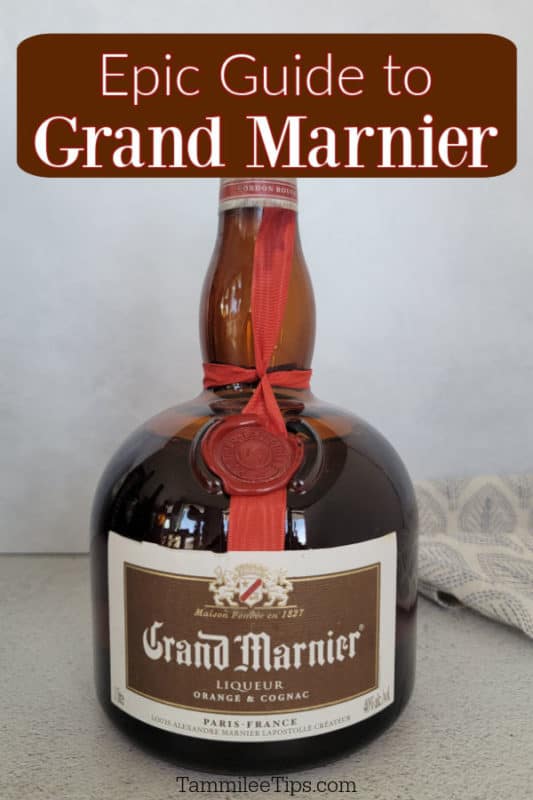 What is Grand Marnier?
Grand Marnier is a French orange liqueur made of cognac and wild tropical oranges from the Caribbean. It is distilled in a pot in the style of Curaçao, which gives it a bolder flavor than column-distilled liquors. The quintessential orange profile of Grand Marnier comes from dried bitter orange peels.
Aside from many of our favorite cocktails, Grand Marnier adds sophistication to desserts, sauces, and confections. Crêpes Suzette, for example, is a sweet crepe dish flambeed with Grand Marnier.
This orange liqueur is found in many classic cocktails including margaritas, sangria, and tropical drinks, and is a staple in our liquor cabinet.
The traditions behind this orange liqueur have been adhered to for over 140 years since its creation in 1880. Produced by Gruppo Campari in Paris, France.
It is considered an iconic spirit of the vibrant French lifestyle. Louis-Alexandre Marnier Lapostolle created this unique sophisticated blend that continues to captivate the world.
In 1880, when Louis blended cognac and a rare variety of oranges it was a truly audacious idea. People could not believe he had the audacity to combine the flavors.
Originally named Curacao Marnier the name was changed when Cesar Ritz who founded the Ritz Hotel suggested a new name.
He suggested Grand Marnier which was a grand name for a grand liqueur.
The bottle was designed by the crystal specialists at Baccarat in 1892. The silhouette is inspired by a traditional cognac still to create the recognizable bottle we all love.

What Does Grand Marnier taste like?
Grand Marnier has a mature, orange-forward flavor with layers of vanilla, toffee, and wood. It is balanced and developed enough to be enjoyed neat or on the rocks.
Grand Marnier Cordon Rouge balances the flavors of bitter orange with cognac notes of hazelnuts and toffee before reaching a long, harmonious finish.
Grand Marnier is the result of a time-honored tradition of master blenders that skillfully and carefully have passed their savoir faire onto one another since 1880.
Grand Marnier Alcohol Content
The ABV of Grand Marnier is 40 percent.
Cointreau vs. Grand Marnier
Cointreau and Grand Marnier are fine French orange liqueurs that can be served neat or on the rocks. Cointreau is still a triple sec, so it has a thinner mouthfeel than Grand Marnier.
Like triple sec, Cointreau pours clear, whereas Grand Marnier adds a warm amber color to drinks.
Cointreau and Grand Marnier are comparable in both price and liquor content. For each, a 750 ml bottle costs around $30 or $40. Both have an ABV of 40 percent.
Grand Marnier vs. Triple Sec
Grand Marnier is a blended cognac made with triple sec. If Cointreau is a premium orange liqueur, Grand Marnier is the Cadillac of popular orange liqueurs.
The combination of cognac and triple sec gives Grand Marnier notes of brandy, wood, and vanilla, all amid a bitter orange backdrop. Grand Marnier pours golden amber and has an ABV of 40 percent.
Grand Marnier Substitutes
Most orange-flavored liqueurs are viable replacements for Grand Marnier. Here are our top choices.
Cointreau
Cointreau is the most direct substitute for Grand Marnier. Both are orange liqueurs that are similar in taste and alcohol content. Cointreau pours clear, which is something to keep in mind when swapping Grand Marnier for Cointreau. Cointreau is a clearer liquid producing a lighter drink with a stronger citrus aroma.
Cognac or Brandy
Grand Marnier already contains cognac, so cognac or brandy are natural replacements for this orange liqueur. They are also ideal for those who want the same alcohol content with a lesser orange profile. Brands of cognacs and brandies are diverse in flavor, ranging from spicy, floral, candied fruit, and more.
Triple sec does a superb job of capturing the orange essence of Grand Marnier at a fraction of the price. Triple secs can vary in alcohol content and be overly sweet if used in large proportions. Be sure to taste test when swapping Grand Marnier for triple sec.
Grand Marnier Price/Cost
A bottle of Grand Marnier averages around $30 to $40.
Look for the red ribbon and red wax seal on the bottle to know it is an official bottle.
The roundness of the bottle is to evoke the shape of a copper Cognac still and has been used for over a century.
Does Grand Marnier go bad?
While the high alcohol and sugar content of Grand Marnier gives it a longer shelf life, the product will eventually degrade in flavor and texture.
Unopened bottles keep for about eight years, and opened bottles stored in the fridge remain drinkable for around nine months.
How to store Grand Marnier
Similarly, to many other liquors, unopened Grand Marnier is best stored in a cool, dry, and dark place not exposed to sunlight or direct heat.
The cap should be screwed tightly at all times to avoid air exposure. For optimum quality, keep opened bottles refrigerated.
Grand Marnier Calories
There are 76 calories in each ounce of Grand Marnier.
How many carbs in Grand Marnier?
Grand Marnier contains 6.5 grams of carbs per ounce.
Is Grand Marnier Gluten Free?
Yes! None of Grand Marnier's primary ingredients, cognac and triple sec, contain wheat.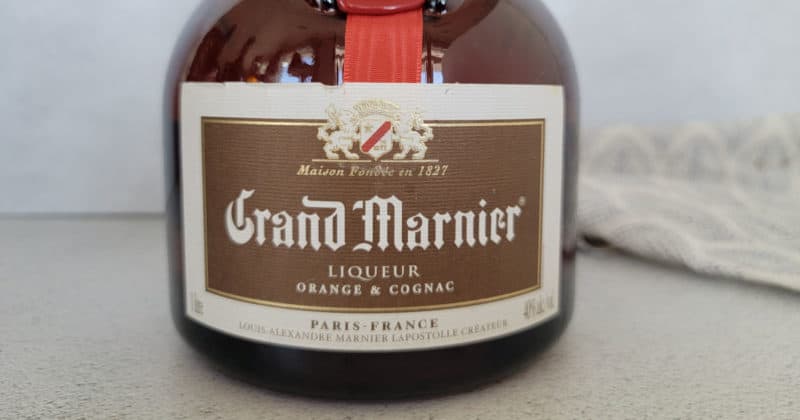 Is Grand Marnier a Cognac?
Grand Marnier is a cognac blend that gets its distinct orange taste from triple sec. It is not a pure cognac.
How to drink Grand Marnier?
Grand Marnier Cordon Rouge Liquor can be enjoyed neat with no ice as an aperitif/digestif to savor the premium blend of cognacs and fragrant orange flavors or mixed into a cocktail.
Grand Marnier Flavors/Specialty Bottles
Grand Marnier Cordon Rouge Orange Liqueur - This is the classic award-winning bottle that we all love. Considered Grand Marnier's signature expression.
Grand Marnier Cuvee Louis Alexandre Liqueur Cognac - This bottle was introduced in 1977 as a tribute to the founder of the brand. This blend combined the essence of exotic bitter oranges with a higher quality cognac. It contains 40% ABV and combines 82% VSOP cognac (Very Superior Old Pale) and 18% of orange liqueur.
Grand Marnier Cuvee du Centaire - This bottle was introduced in 1927 to commemorate the 100th anniversary of Grand Marnier Maison. It is an amazing blend of refined XO Cognacs from the Grand Crus of Grande and Petite Champagne combined with the essence of wild tropical oranges.
Grand Marnier Raspberry Peach - A smooth cognac blended with flavors of European raspberries and rare red peaches from the South of France.
Grand Marnier Quintessence - First introduced in 2011, this limited annual release is a rare blend of exceptionally old vintage cognacs sourced exclusively from Grande Champagne and special old family reserves aged in French oak casks. Their rare cognac blend is then combined with an exacting double distillation of Grand Marnier's signature bitter orange liqueur. It contains 82% of cognac.
Grand Marnier Cuvee 1880 - Introduced in 2013 to commemorate the  year that Grand Marnier was born. Cuvée 1880 is a distinctive liqueur made exclusively of premium Grande Champagne cognac XO in combination with tropical orange liqueur. It contains 91% of XO cognac from Grande Champagne.
There are also specialty packages for the holidays.
Grand Marnier Cocktails
For added booze factor and luxury, Grand Marnier is a perfect accompaniment or replacement for any cocktail requiring triple sec.
Add a sophisticated twist to your favorite cocktails.
Cadillac Margarita
Ingredients: Reposado Tequila, Grand Marnier, Lime Juice
This upgraded golden-colored margarita features a boozy combination of tequila and Grand Marnier.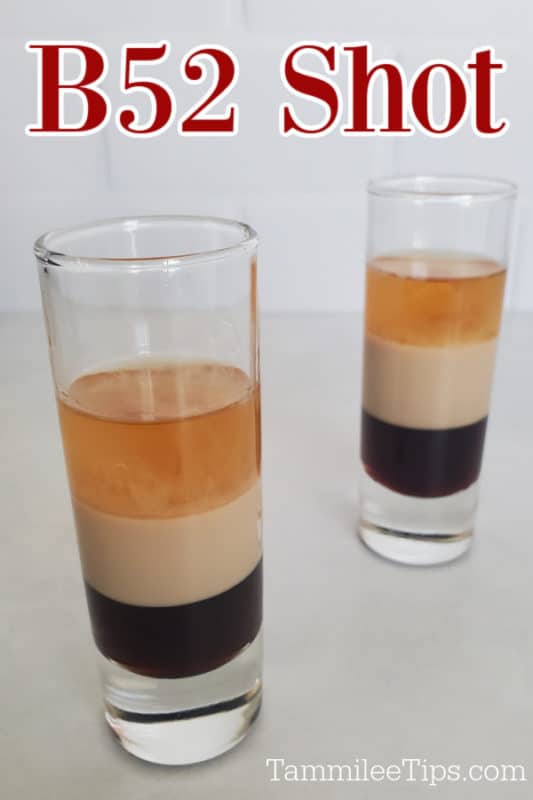 Ingredients: Kahlúa, Bailey's Irish Cream, Grand Marnier
Named after the B52 bomber, this classic layered shot blends Kahlua, Bailey's, and Grand Marnier for a delicious experience. Drizzle high-proof liquor and light it on fire with caution to create a flaming B52 shot.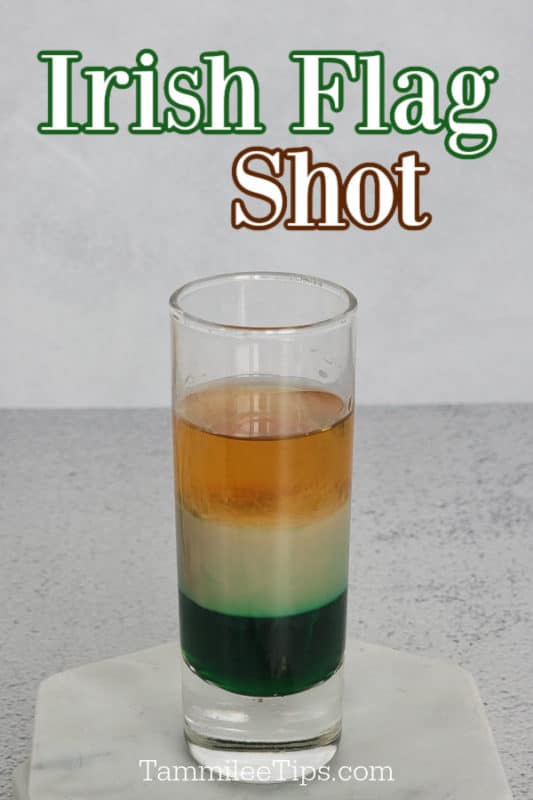 Ingredients: Green Crème de Menthe, Bailey's Irish Cream, Grand Marnier Orange Liqueur
The substitution of Kahlúa for green crème de menthe makes this layered shot a St. Patrick's Day-friendly version of the popular B52 shot.
Upcoming Grand Marnier Cocktails include the El Presidente Cocktail, Mai Tai, Between the Sheets, Sidecar, and more!
Cocktail Tools
If you are building out your home bar here are some of our favorite cocktail tools.
Ice Cube maker - This ice cube maker produces the most amazing cubes of ice perfect for cocktails. It easily fits in the freezer and you can make up to 3 trays of round ball ice at a time.
2 ounce shot glasses - We love these 2 oz shot glasses especially for layered shots.
Bar Spoon - Bar spoons help to create layers in the cocktail shot. They fit perfectly into the cocktail shot glass.
Cocktail Shaker – This cocktail shaker comes with a fantastic set of tools
Stemless Martini Glasses - These stemless martini glasses are fantastic.
Martini Glass - We like the look of the classic martini glass
OXO angled jiggers - these are our go-to measuring tools for cocktails. They work perfectly for pouring in layers for cocktails.
Copper Mule Mugs  - Copper Mule Mugs are the classic way to serve Moscow Mules. The copper mugs keep them nice and cold and look amazing. Check out all of our mule drinks.
Cute Coffee Mugs - We really like the clear insulated coffee mugs that show off how epic your drink looks.
Sharp Knife - to cut  lime wedge and lemon wheels.
Epic Liquor Guides
Want to learn more about cocktail ingredients? Check out these epic guides to some of the most popular cocktail mixers and ingredients.
Fireball Cinnamon Whiskey Guide
Check out all of our Cocktail Recipes