Epic Guide to Baileys Irish Cream Liqueur! How to mix it, what it tastes like, how to store it and so much more.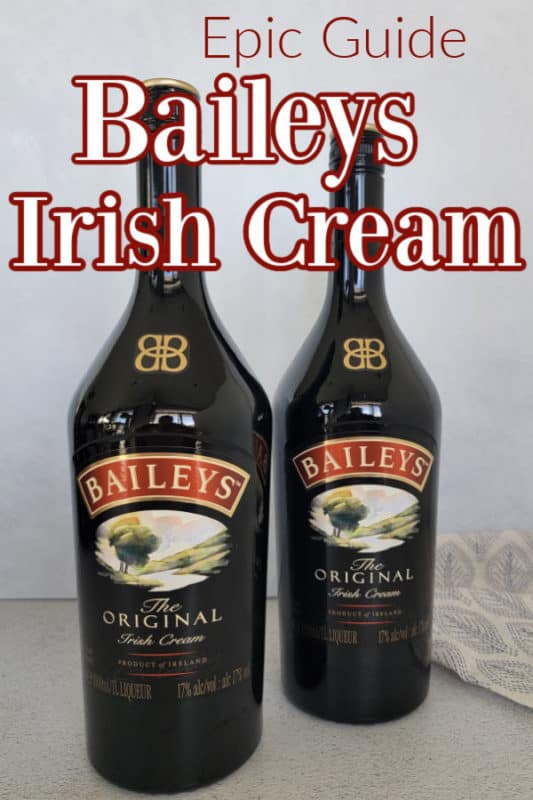 Baileys Irish Cream
Baileys is one of the most used mixers when it comes to delicious cocktails. This cream liqueur is famous around the world for a reason.
Baileys was established in 1974.
Did you know Baileys Original Irish Cream is the top-selling Liqueur in the world! It is sold in over 160 countries worldwide.
There are so many ways to use Baileys in delicious cocktails. We have been mixing with it for years and wanted to deep dive into finding out more about this epic Irish Cream.
Some of the most popular Irish dairy cream liqueur cocktails include an Espresso Martini, Rich Chocolate Martini, White Russian, Irish Coffee, or simply pouring over ice cream.
What is Irish Cream?
Irish Cream is a cream liqueur with Irish whiskey, a neutral spirit, cream, and additional flavors.
What does Irish Cream taste like?
Baileys Irish Cream has a bit of a chocolate-vanilla flavor with a cream base.
The smooth taste is attributed to the dark and milk chocolate notes with a hint of vanilla in a fresh dairy cream.
Does Irish Cream go bad?
Irish cream can go bad. The best way to test it is to take a smell before drinking it.
If it has an off odor or appearance you should discard it.
How long does Baileys Irish Cream last?
Baileys Original lasts 2 years from the day of bottling when stored at the optimal temperature of 32 to 77 degrees Fahrenheit.
Other flavors have different shelf lives depending on the flavor.
Vanilla Cinnamon - 18 months
Salted Caramel - 24 months
Espresso Crème - 24 months
Strawberry and Cream - 20 months
Apple Pie - 18 months
Colada - 18 months
Deliciously Light - 18 months.
Look for the BBE (Best Before Date/End) date printed on the back of the bottle if you are unsure when the bottles was purchased.
Does Irish Cream need to be refrigerated?
It does not need to be stored in the refrigerator. The recommended storage temperature is 32 to 77 degrees and not in direct sunlight.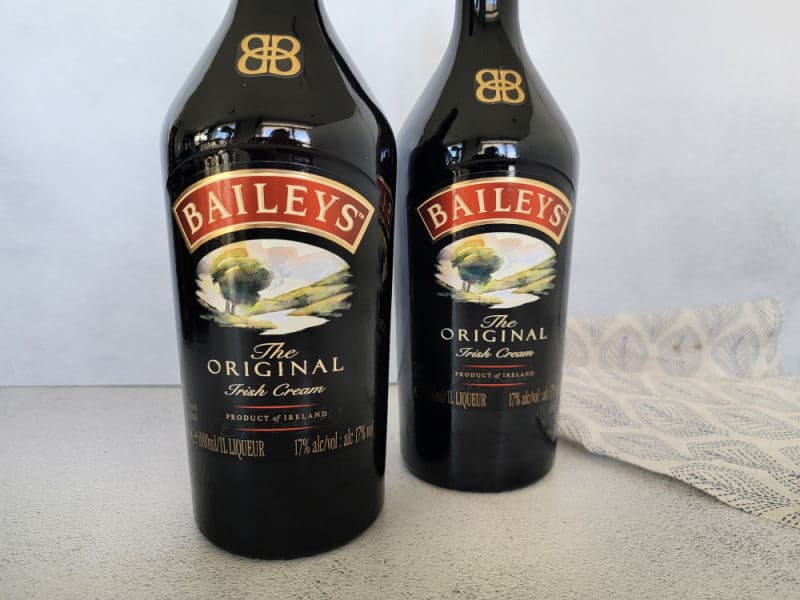 Is Irish Cream Alcoholic?
Yes!
How much alcohol is in Baileys Irish Cream?
17% ABV - Alcohol by volume for the original
To compare most vodka, rums, and gins are 40% ABV.
How many calories in Baileys Irish Cream?
Original Irish Cream has 102 calories in 1 oz
How many carbs in Baileys Irish Cream?
11 grams of carbs per 1 fluid oz
Is Baileys Irish Cream Gluten-Free?
Yes, there is no gluten or wheat listed as an ingredient.
The official website says they cannot guarantee that the product is gluten-free though the ingredients used do not contain gluten.
Where to buy Baileys Irish Cream?
Baileys is sold in most liquor stores or local stores that can sell liquor.
It depends on the state you live in whether it is only sold in State-Owned Liquor Stores.
If you can't find Baileys you can make Homemade Irish Cream.
How much is Baileys Irish Cream?
In Spokane, we found the following prices at a large wine and liquor store.
50 ml - $3.29
375 ml - $16.99
750 ml - $28.99
1 L - $34.99
1.75 L - $54.99
In Washington, we also pay a Liquor Tax and Liter Fee
Additional Flavors of Baileys
Deliciously Light - 40% less sugar and calories than the original.
Baileys Almande - vegan-friendly dairy free
Salted Caramel - Smooth caramel Irish Cream with a pinch of salt.
Strawberries & Cream - blend of strawberry and vanilla flavors.
Espresso Cream - dark roast coffee with chocolate
Red Velvet - Sweet blend of Irish cream, Irish whiskey, and spirits with red velvet cupcake flavors.
Apple Pie - flavors of apple pie ala mode
Vanilla Cinnamon - Flavor of vanilla ice cream with a cinnamon swirl
Colada - Blend of Irish Cream with creamy coconut and juicy pineapple.
Other brands of Irish Cream
Kavanagh, Fennellys, Carolan's, Five Farms, Sheelin, St. Brendans, Callahan's, Brady's, Glencara, O'Mara's, Black Irish, Emmets,
How to drink Baileys Irish Cream?
You can sip chilled Baileys on its own, enjoy it in an epic Baileys Cocktail, or mix it to make a great drink.
Baileys Irish Cream Recipes
There are some of our favorite Baileys Recipes we have shared.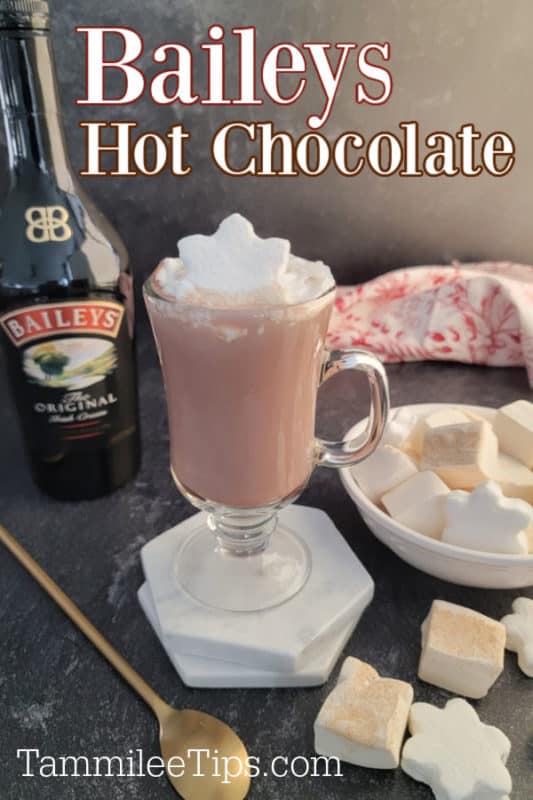 Ingredients: Hot chocolate, Milk, Irish Cream
This recipe only takes a few ingredients and a few minutes until you have a hot winter cocktail that tastes amazing.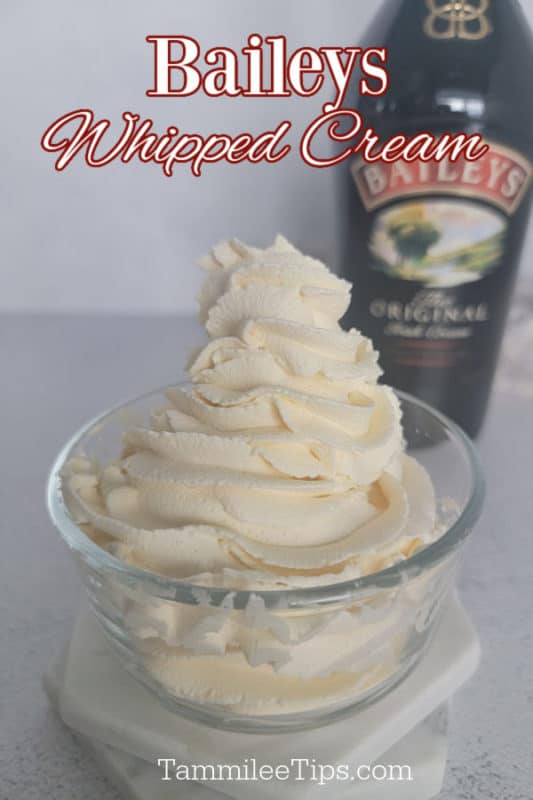 Ingredients: Heavy whipping cream, confectioners sugar, Irish Cream
Easy 3 ingredient Baileys Whipped Cream recipe is the perfect Irish cream whipped topping.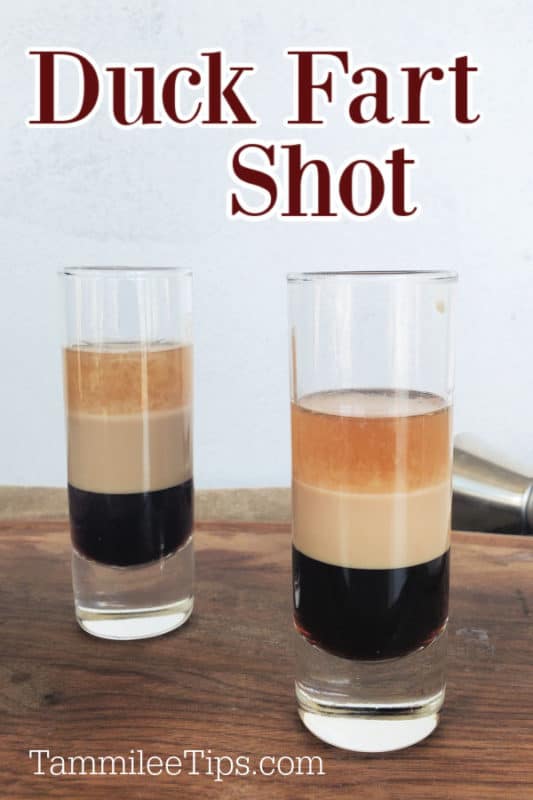 Ingredients: Irish Cream, Kahlua coffee liqueur, Crown Royal Canadian Whiskey
This layered cocktail is easy to make and tastes amazing.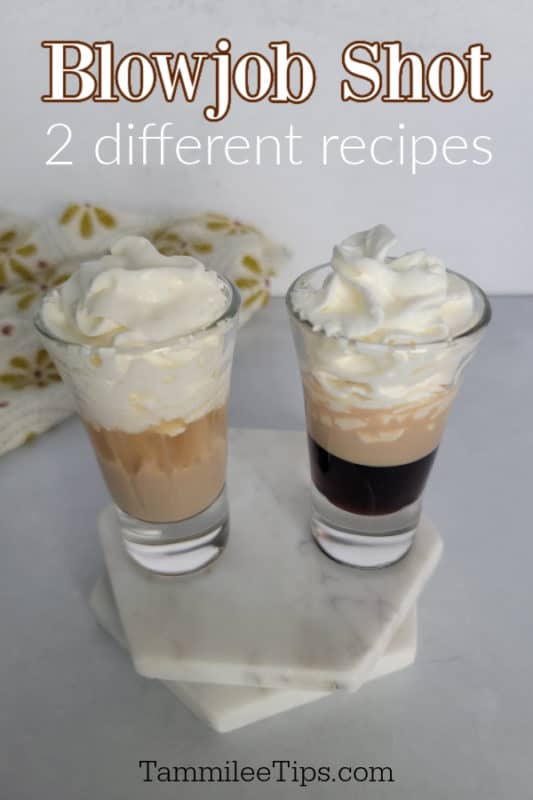 Ingredients: Kahlua, Irish Cream and/or Amaretto
The Blowjob Shot is a layered shot made famous during the 1980s and 90s.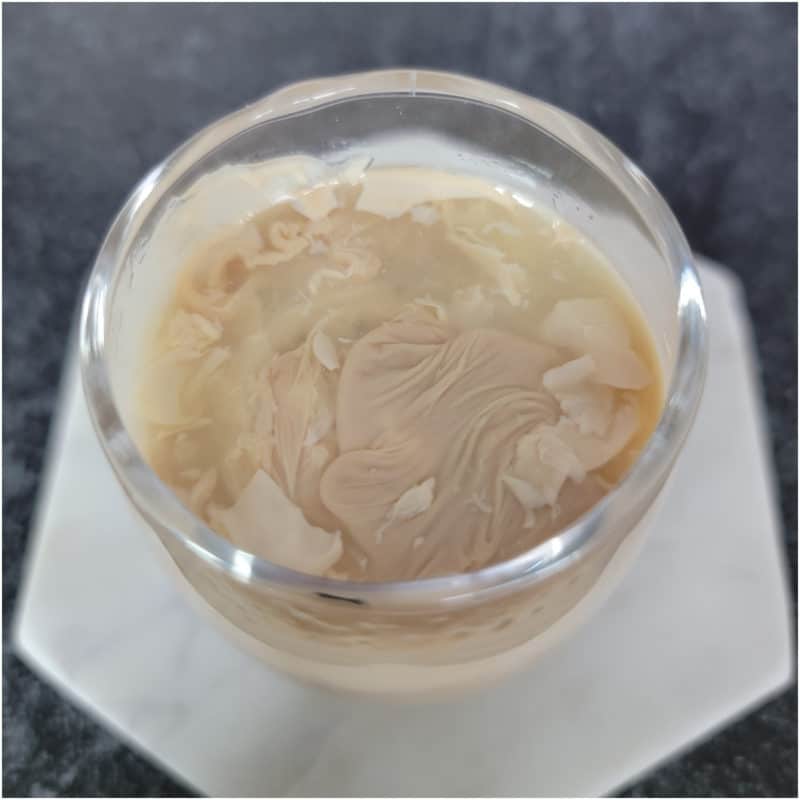 Ingredients: Baileys, Lime Juice
Fun Cement Mixer Shot is the perfect party shooter! So easy to make and looks crazy fun.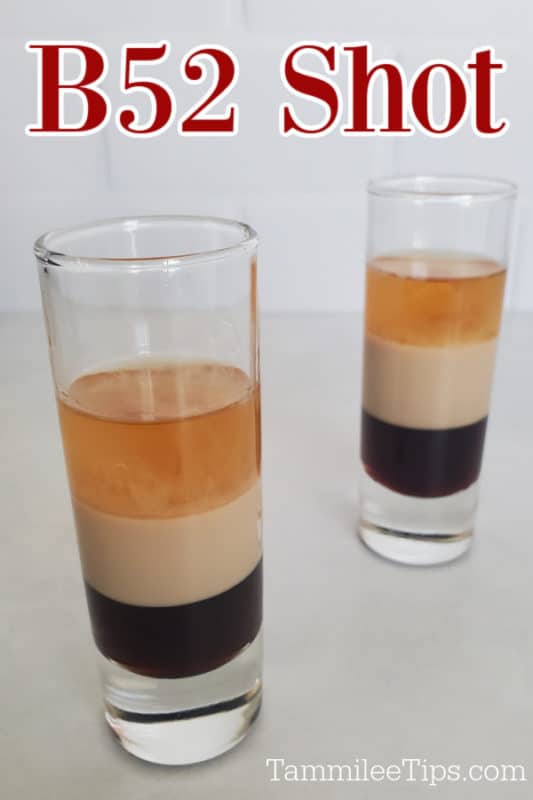 Ingredients: Baileys, Kahlua, and Grand Marnier
This easy-to-make shot had flavor notes of caramel and orange that blend great together.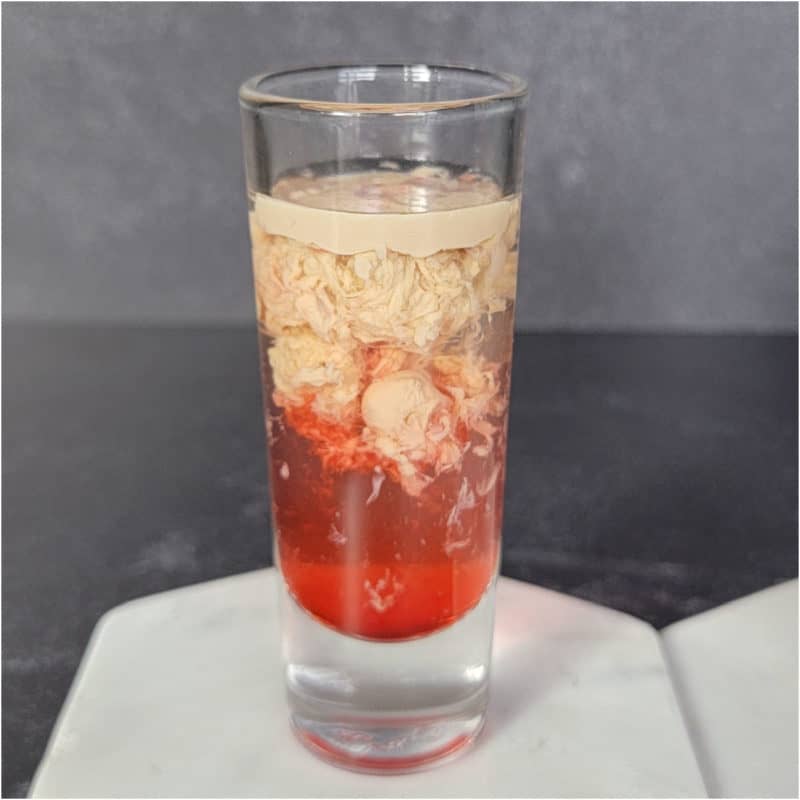 Ingredients: Baileys, Peach Schnapps, Grenadine
Fun and easy Brain Hemorrhage Shot Recipe that is great for a Halloween Party! This fun shot looks creepy but tastes fantastic.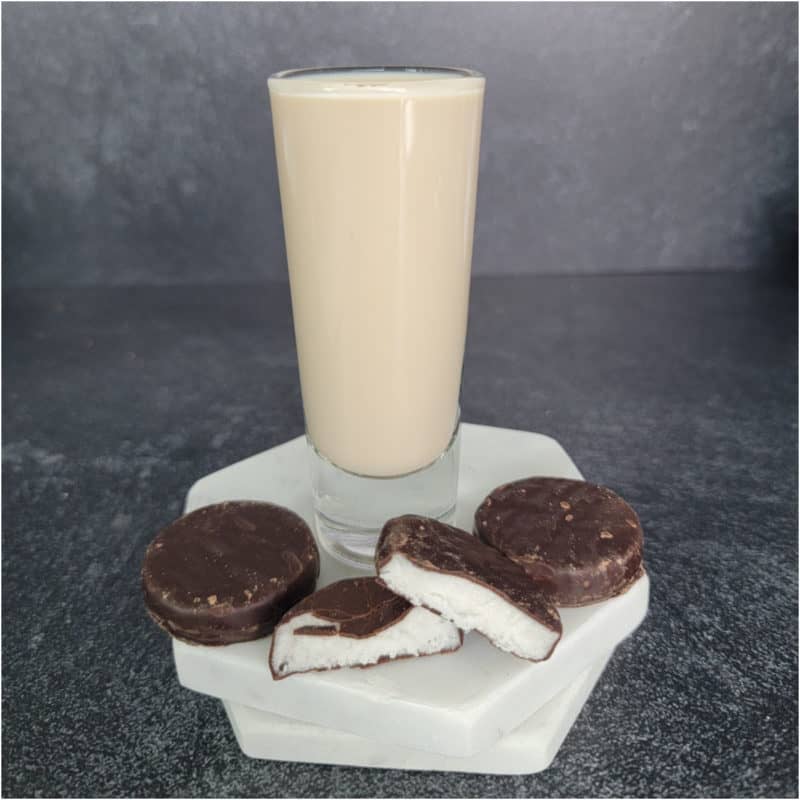 Ingredients: Crème de Cacao, Peppermint Schnapps, Baileys
Easy Peppermint Patty Shot Recipe is the perfect fun winter cocktail.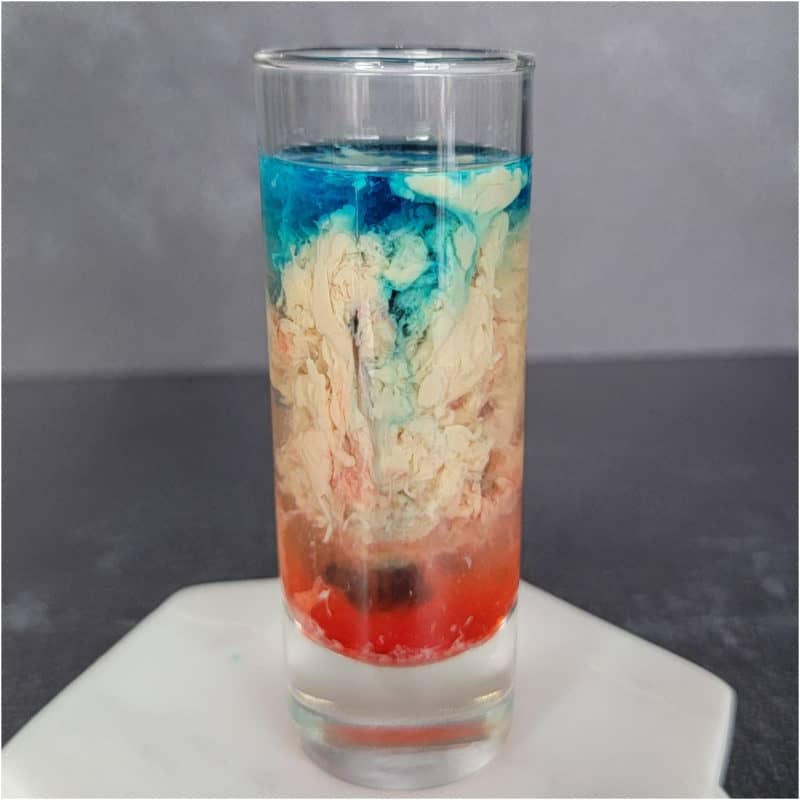 Ingredients: Baileys, Peach Schnapps, Grenadine, Blue Curacao
This Alien Brain Hemorrhage Shot recipe is the perfect party shooter! Great for Halloween parties or any other fun parties you may be hosting.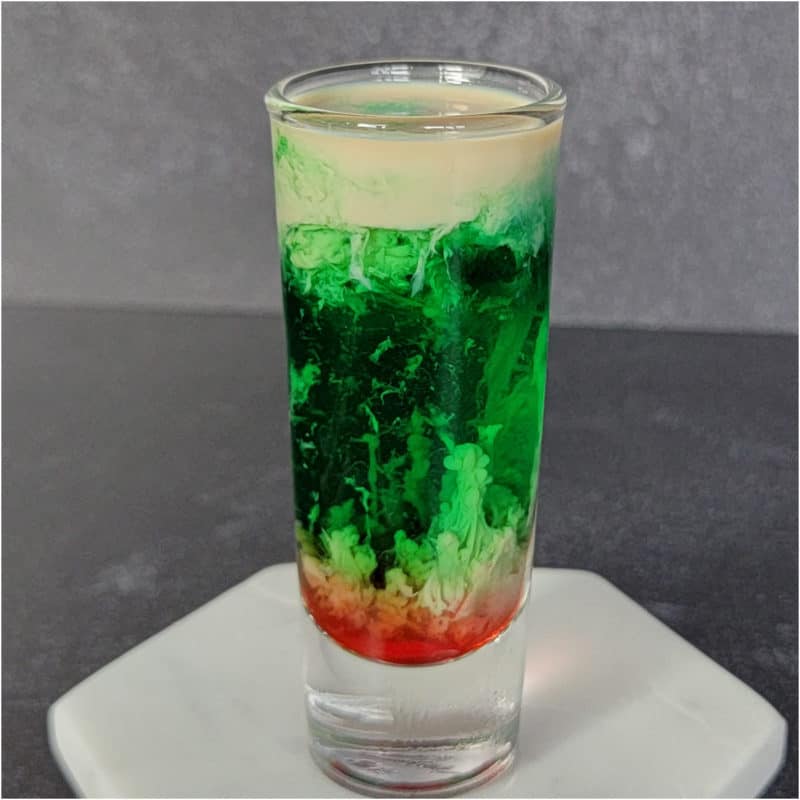 Ingredients: Baileys, Crème de Menthe, Peach Schnapps, Grenadine
This Zombie Brain Shot recipe is the perfect Halloween Drink! The swirling zombie brains in this creepy drink are a crowd-pleaser.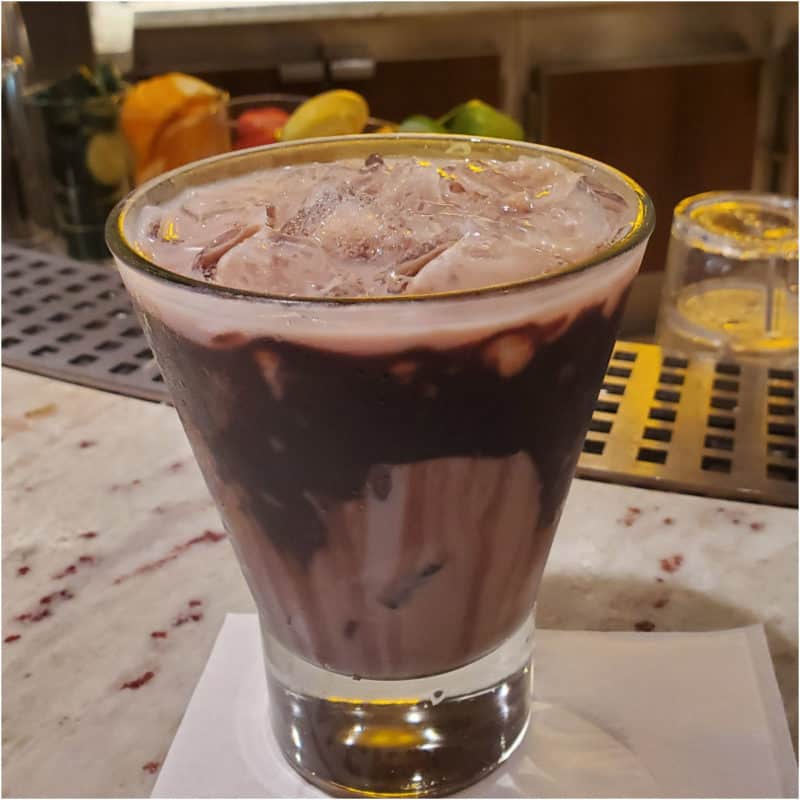 Ingredients: Vanilla Rum, Amaretto, Baileys, Dark Crème de Cacao, Chocolate Syrup
The Alchemy Bar Deal Closer Cocktail is boozy adult chocolate milk! The perfect sweet chocolate cocktail.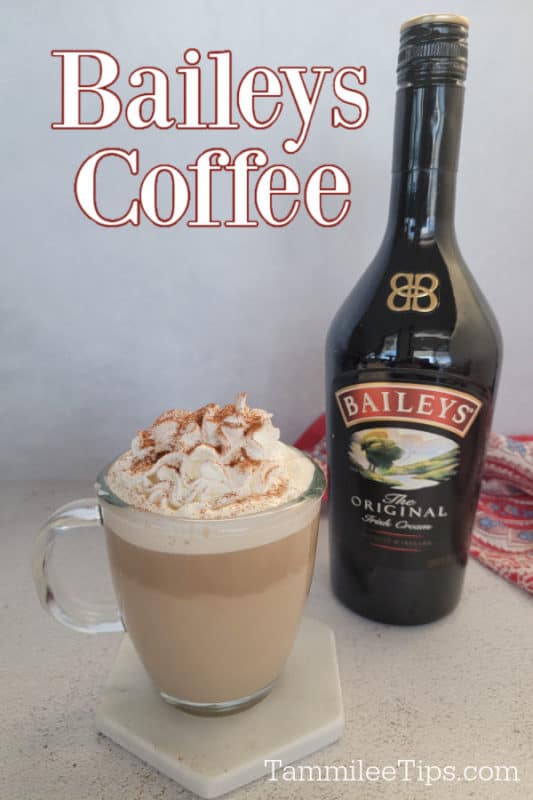 Ingredients: Hot Coffee, Irish Cream, Whipped Cream, Cinnamon
Easy Baileys Coffee Recipe is the perfect coffee cocktail. All you need is a few ingredients, a couple of minutes, and time to savor this epic Irish Cream Coffee Cocktail.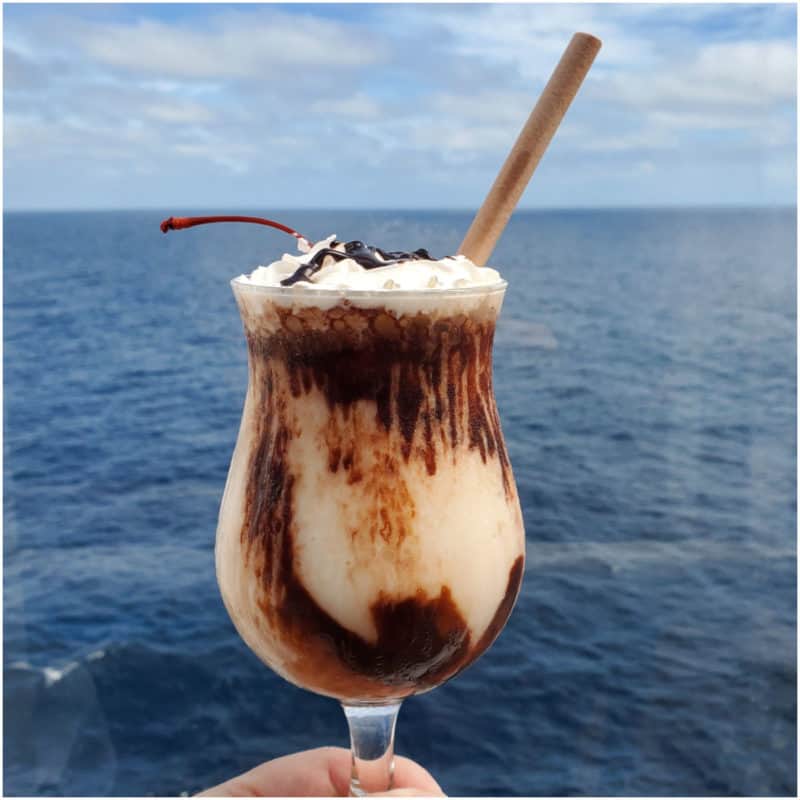 Ingredients: Irish Cream, Dark Rum, Butterscotch Schnapps, Kahlua, Ice Cream, Chocolate Syrup
How to make a Carnival Cruise Mocha Chocolate Getaway Cocktail at home! This boozy chocolate milkshake cocktail tastes amazing and is so easy to make.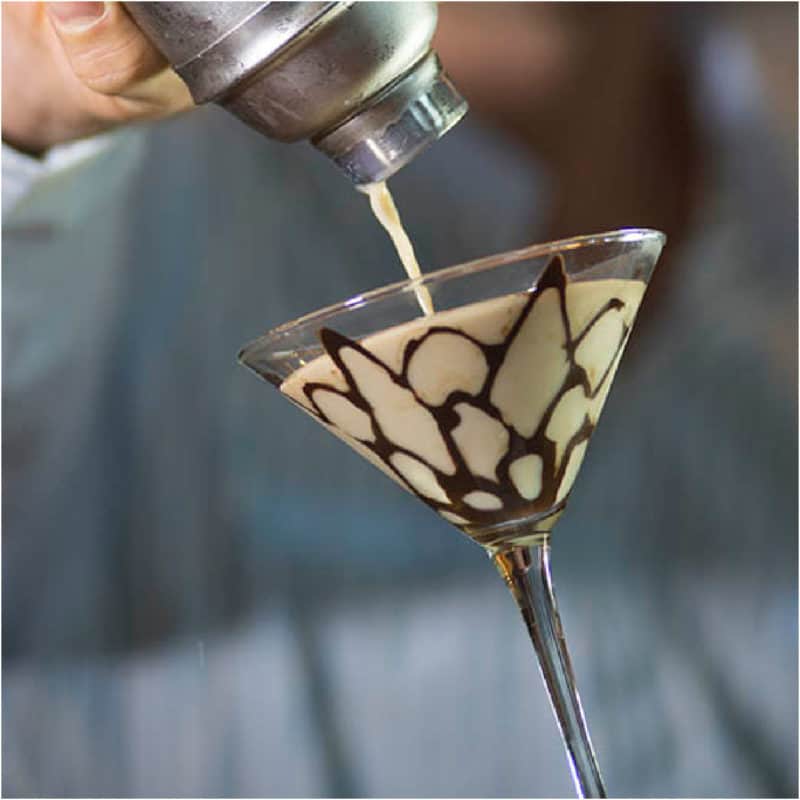 Ingredients: Malibu Coconut Rum, Irish Cream, Frangelico, Peach Schnapps, Disarono Amaretto, Butterscotch Schnapps
Delicious Tiramisu Martini Recipe! Super easy dessert cocktail is great for parties.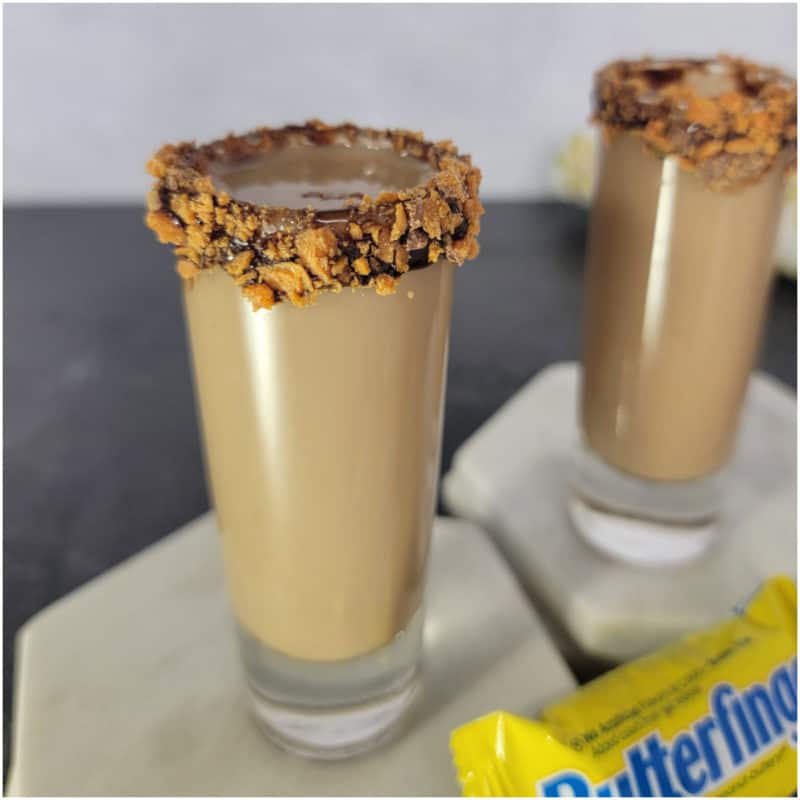 Ingredients: Baileys, Kahlua, Butterscotch Schnapps, Chocolate Syrup
Easy Butterfinger Shot Recipe that tastes amazing! This is the perfect dessert cocktail shot for parties or after dinner. Quick and easy to make!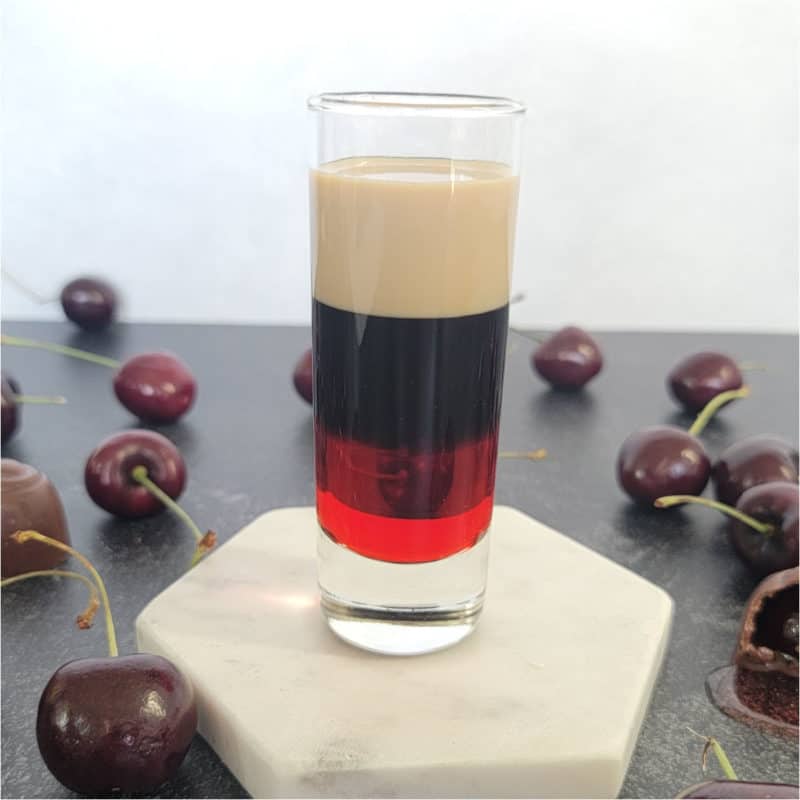 Ingredients: Grenadine, Kahlua, and Bailey's
This delicious chocolate covered cherry layered shot tastes amazing and is easy to make.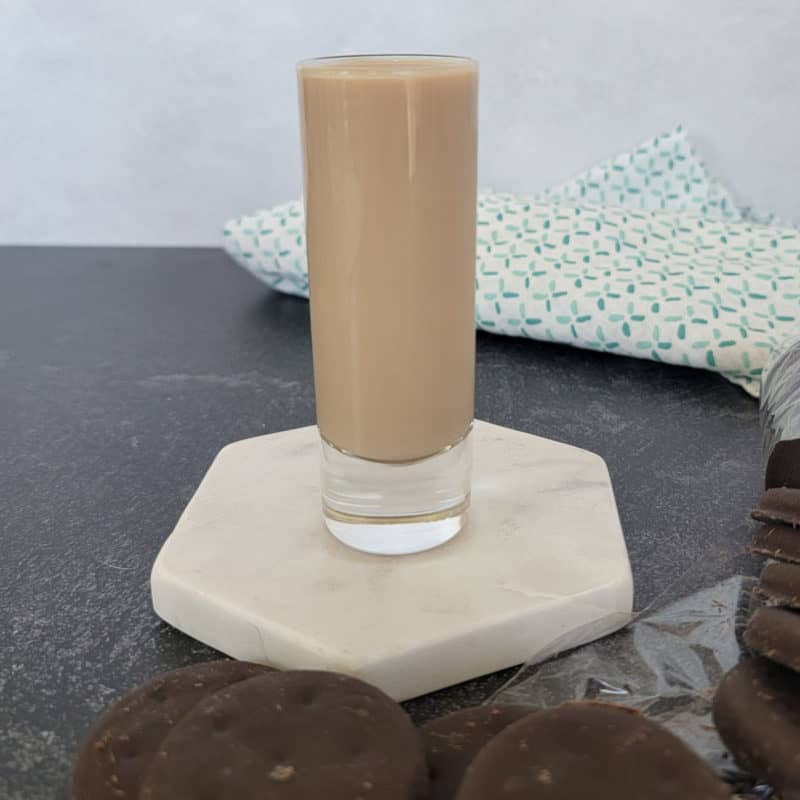 Ingredients: Kahlua, Baileys, and Peppermint Schnapps
You will love how great this minty dessert shot tastes.
Cocktail Tools
Ice Cube maker - This ice cube maker produces the most amazing cubes of ice perfect for cocktails. It easily fits in the freezer and you can make up to 3 trays of round ball ice at a time.
2 ounce shot glasses - We love these 2 oz shot glasses especially for layered shots.
Bar Spoon - Bar spoons help to create layers in the cocktail shot. They fit perfectly into the cocktail shot glass.
Cocktail Shaker – This cocktail shaker comes with a fantastic set of tools
Stemless Martini Glasses - These stemless martini glasses are fantastic.
Jell-O Shot Cups - We suggest using two-ounce Jell-O shot cups.
OXO angled jiggers - these are our go-to measuring tools for cocktails. They work perfectly for pouring in layers for cocktails.
Margarita Glasses - We like the look of classic margarita glasses but you can use any glass for this great cocktail.
Hurricane Glass - For a truly tropical look serve this drink in a hurricane glass.
Copper Mule Mugs  - Copper Mule Mugs are the classic way to serve Moscow Mules. The copper mugs keep them nice and cold and look amazing. Check out all of our summer mules.
Official Website