Classic B52 Shot Recipe layering Kahlua, Bailey's Irish Cream, and Grand Marnier to make a layered shot. This easy to make shot had flavor notes of caramel and orange that blend great together.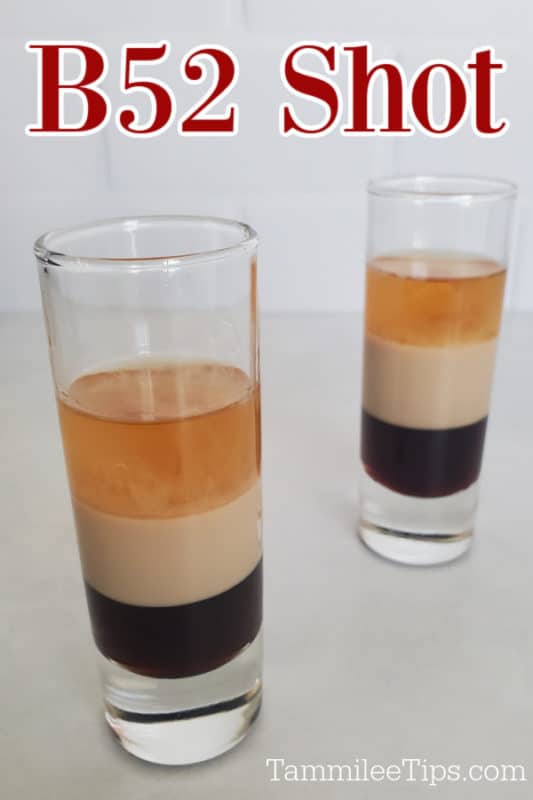 B52 Shot
This classic layered shot looks amazing and tastes fantastic. The combination of coffee liqueur, Irish cream, and orange liqueur produces a caramel orange flavor. You can drink this shot slowly and savor each layer or drink it quickly.
I have heard of people stirring the shot after they are served it so all of the flavors mix together. It is totally up to you how you enjoy this classic layered shot.
The B-52 Shot is one ingredient off of making a Duck Fart Shot. The difference is Grand Marnier versus Crown Royal Canadian Whiskey.
I originally thought this cocktail shot was named after the historic B-52 bomber from the 1950s. In researching the drink's origin I found that it may have actually been named after the 1970s  iconic popular American band The B-52s by bartender Peter Fich in Alberta, Canada at the Banff Springs Hotel.
He named the drink after one of his favorite bands which is so fun.
It is one of the most popular shots due to its amazing layered look and taste.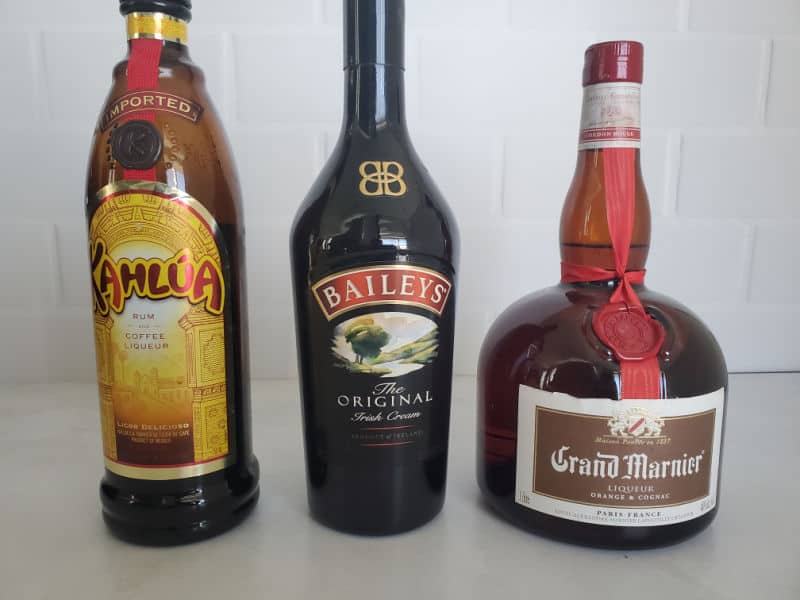 Ingredients
This is a quick overview of the simple ingredients that you'll need to make an epic B-52 Drink! Specific measurements and step by step instructions are included in the printable recipe card at the bottom of the post.
Kahlua - We use Kahlúa Coffee Liqueur but this can also be made with Tia Maria or similar brands
Bailey's Irish Cream - We use Bailey's but another Irish Cream can be used
Grand Marnier - Any orange liqueur should work including Cointreau, Gran Gala, or Triple Sec
When using other brands of liqueurs your layers may not be as defined as the ones shown in the photos. Each brand has its own liquor density that will effect the layering.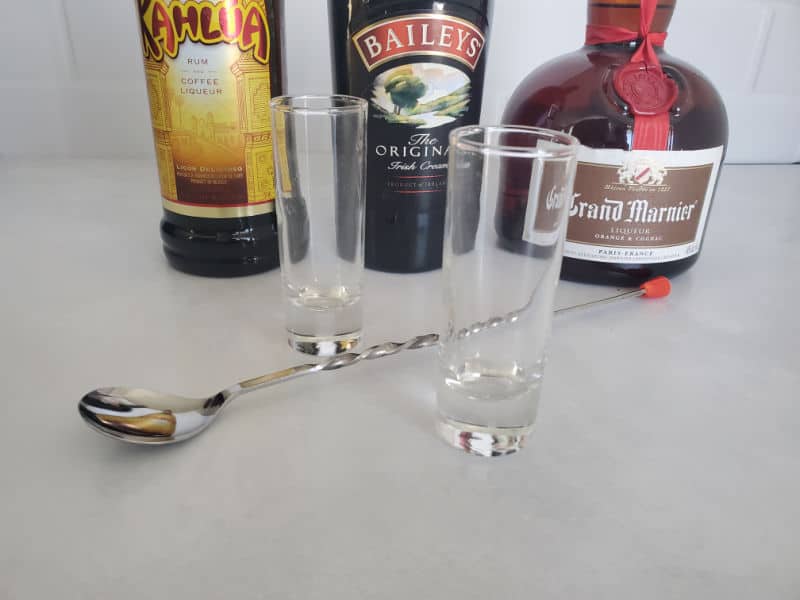 Equipment Needed
Shot Glass - You want to use a 2 oz shot glass for this B52 recipe. If you are using a smaller shot glass make sure to lower the amount of liquor used so it fits in the shot glass. This recipe makes a 1.5 oz shot.
Bar spoon - A bar spoon helps to distribute the liquor evenly so it doesn't splash into the layer below.
Measuring cup - I use these angled measuring cups to easily measure out each layer of this shot. I use three different measuring cups so the flavors do not combine. You can use pourers on the tops of bottles but they take some getting used to.
How to make a B-52 Shot
I've included complete instructions in the printable recipe card at the bottom of the post but here's a quick version.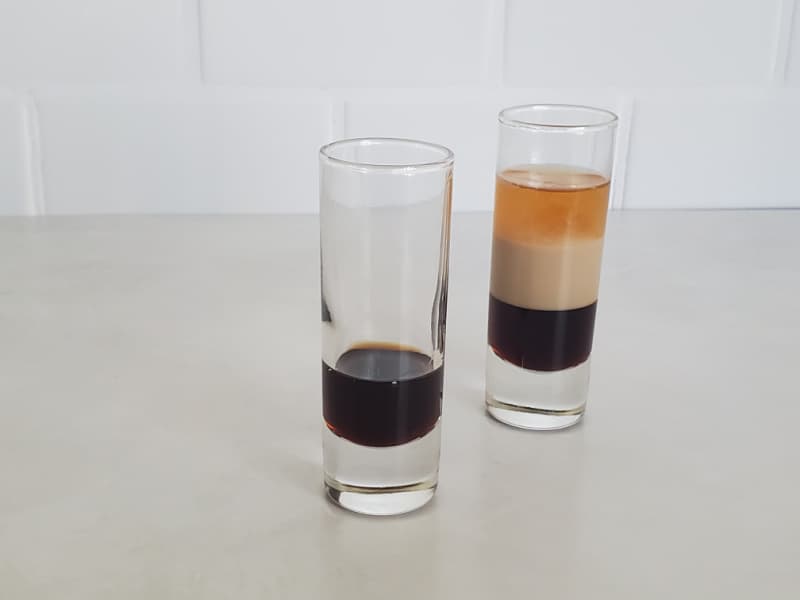 Step 1 - Add Kahlua Coffee Liqueur to the shot glass. Try to minimize any liquid getting on the side of the shot glass. For the first layer when you pour the coffee liqueur it can go in at regular speed but try to keep the sides of the glass as clean as possible.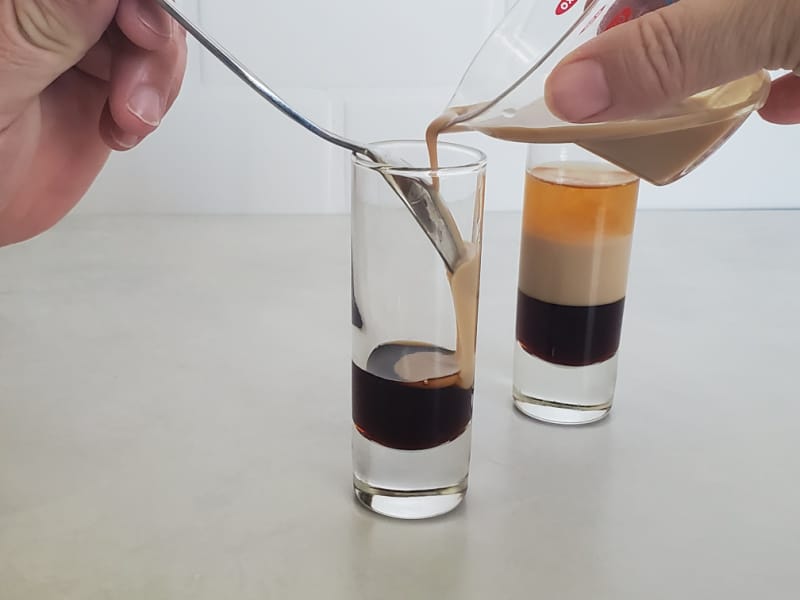 Step 2 - SLOWLY Pour Bailey's Irish Cream over the back of a bar spoon this will help get the distinct layers in this layered drink.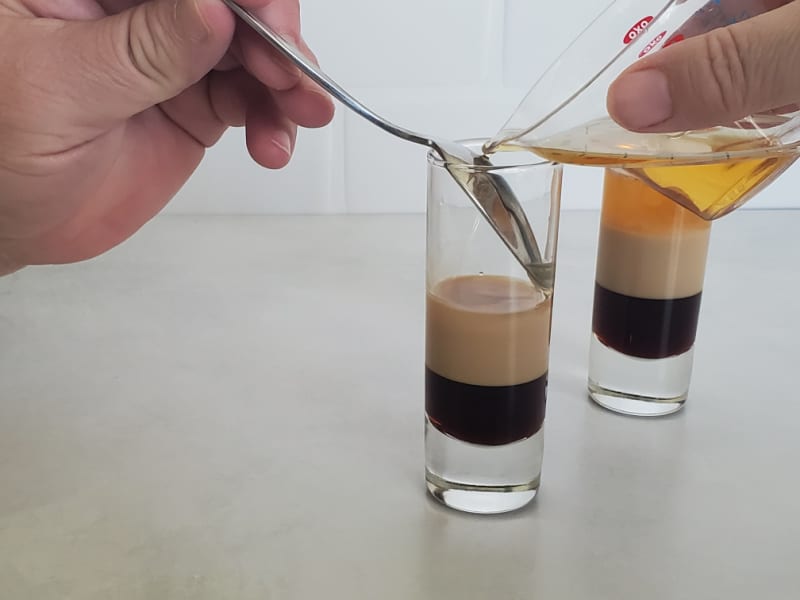 Step 3 - Rotate the shot glass so you are not pouring down the same spot that you poured the Irish Cream. Wipe off the spoon or use a new one.
Slowly pour the Grand Marnier into the glass. SLOWLY!!!!!!
I have seen where other bartenders have used different orange liqueurs like Cointreau for this recipe. I have only made these with Grand Marnier so I am not sure how the layering will look with other orange liqueurs.
You will want to use equal parts of each liqueur to get an even layered shot.

Recipe Variations
Variations - Here are some of the popular substitution made with this classic cocktail.
B-51 Shot - Frangelico Hazelnut Liqueur replaces the Grand Marnier
B-52 with Bombay Doors - Bombay gin layered as a 4th ingredient
B-52 in the Desert - Tequila is substituted for the Irish Cream
B-52 with a full payload - 4th layer of Frangelico, and a 5th layer of Bacardi 151 which is lit on fire.
B-53 Shot - Sambuca or Absinthe (Anise flavored liqueurs) replaces the Irish Cream. This will minimize the layers since Sambuca has no color.
B-54 Shot - Amaretto replaces the Grand Marnier. We have also seen this listed as being made with tequila
B-55 shot - Absinthe replaces Grand Marnier.
B-57 Shot - Peppermint Schnapps substitutes the Bailey's Irish Cream
B-156 - Serve in a cocktail glass (old fashioned, rocks, or cafe glass) and triple the liquor amounts.
Flaming B-52 - The top layer is set on fire. Many people add a bit of overproof rum or high proof spirit that will easily ignite.  Please be careful using fire with alcohol. Accidents happen way to quickly.
B-52 Cocktail - Turn this into a sipping cocktail by increasing the ingredient amounts to fit a cocktail glass. Serve it shaken or with layers.
Chilled - This drink is served directly in a shot glass. For a chilled drink we suggest storing the ingredients in the refrigerator before pouring.
Vegetarian Option - All ingredients should be suitable for vegetarians.
Vegan Option – Baileys Almande is vegan made with almond milk, Kahlua is not vegan but you can use Cafetino Vegan Coffee Liqueur, Cointreau and Triple sec are both vegan friendly.
Alcohol Free Option/Mocktail – this can be made with a non-alcoholic coffee liqueur, homemade Irish cream with non-alcoholic whiskey, and non-alcoholic orange liquor. We have not tried making this mocktail to see if the layers will occur.
Smaller Serving Size – This recipe makes a 1.5 oz shot. You can lower the amounts to make a smaller cocktail shot but the layers may not show as much.
Larger Group/More servings – We suggest lining shot glasses up on a bar and making these drinks one after another. Turn it into a party production and show off your layering skills.
Recipe Tips
Pour slowly!!! You want to slowly pour the Bailey's and Grand Marnier over the spoon so the layers do not mix.
Wiping off the spoon or using a 2nd spoon between layers can help minimize the mixing.
I use these angled measuring cups to easily measure out each layer of this shot. I use three different measuring cups so the flavors do not combine.
You can serve this drink at room temperature or you can refrigerator the Kahlua, Baileys, and Grand Marnier before serving so it is a cold shot.
Different brands of alcohol may settle differently when poured into this shot.
To make a flaming b-52 you can drizzle a bit of 101 overproof rum or other highly flammable liquor and light it on fire. PLEASE be careful and safe and careful when trying to make this flaming B-52 shot.
The average B52 shot has a 26% ABV (52 proof) Alcohol by Volume
When to serve a B 52 Cocktail Shot
After Dinner Drink
Game night
Happy Hour Drink
Winter Cocktail
1970s throwback party
Great Cocktail Recipes
Pineapple Upside Down Cake Shot
Funny Drink Names - Check out our entire collection of cocktails and mocktails with funny names.
Check out all of our Cocktail Recipes
Do you love recipes? Check out our copy cat recipes, dessert recipes, and our Crock Pot Recipes.
Follow Tammilee Tips on MSN, Facebook, Instagram, and Pinterest, for all of our recipe posts.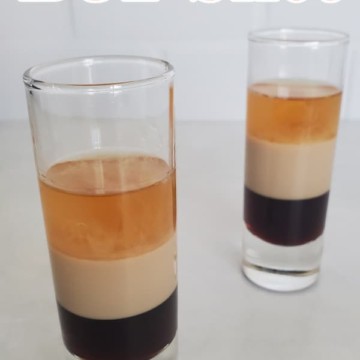 Classic B52 Shot Recipe
Classic B52 Shot Recipe layering Kalhlua, Bailey's Irish Cream, and Grand Marnier.
Print
Rate
Instructions
Pour Kahlua into the shot glass

Slowly pour Bailey's Irish Cream over a spoon into the shot glass

Rotate the shot glass, Slowly pour Grand Marnier over a spoon into the shot glass
Nutrition
Nutrition Facts
Classic B52 Shot Recipe
Amount Per Serving
Calories 139
Calories from Fat 18
% Daily Value*
Fat 2g3%
Cholesterol 1mg0%
Sodium 2mg0%
Potassium 4mg0%
Carbohydrates 15g5%
Protein 1g2%
Calcium 1mg0%
Iron 1mg6%
* Percent Daily Values are based on a 2000 calorie diet.