How to make classic Bisquick Waffle Recipe at home. This classic waffle recipe is perfect for regular or Belgian waffles.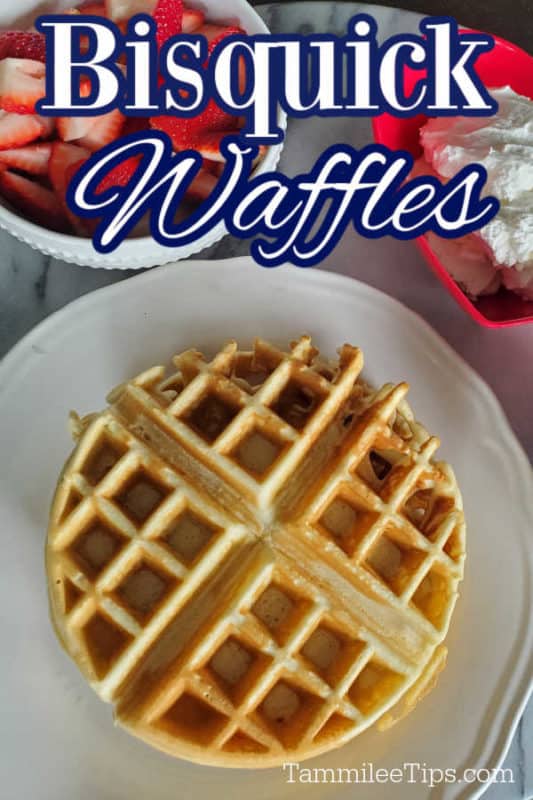 Bisquick Waffle Recipe
My amazing husband is not much of a cook. I feel bad typing this but it is true. He is great with the barbecue and loves watching British Baking Show with me but when it comes time to bake and spend time in the kitchen he does not always find a ton of joy.
Thankfully one thing my husband rocks at making is these Bisquick Waffles. He is an absolute Rockstar waffle maker. He even makes his own homemade Irish cream whipped cream or bourbon vanilla whipped cream to top the waffles with. I love weekend mornings when he makes breakfast!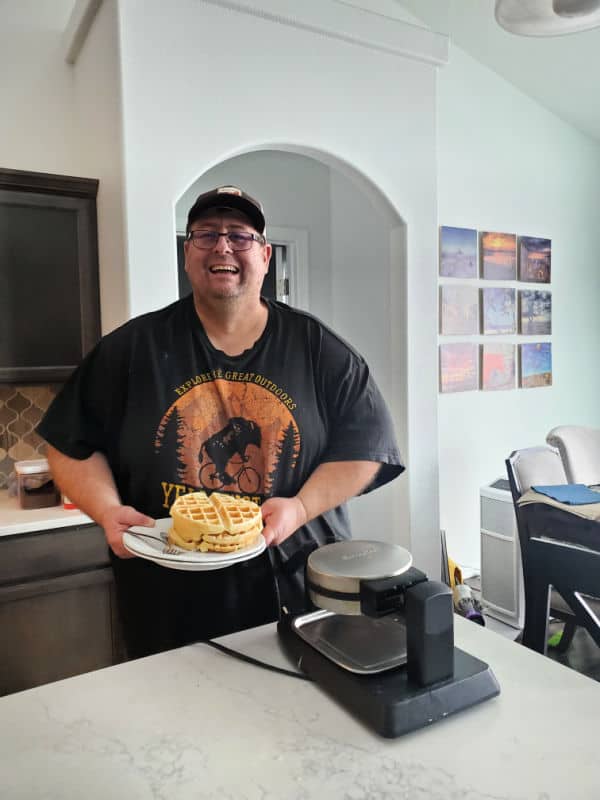 We try to sit down together for breakfast at least once over the weekend. Taking time to just slowly start the day with a great meal, hot coffee and tea, and time together.
Over the past year of working non-stop from home together it has made me realize how important our slow breakfasts are. The time we get to just talk and not be stressed over what projects we are trying to complete and what needs to get done.
It is so easy to get wrapped up in our never-ending to-do lists that having a nice calm breakfast feels like a staycation at home.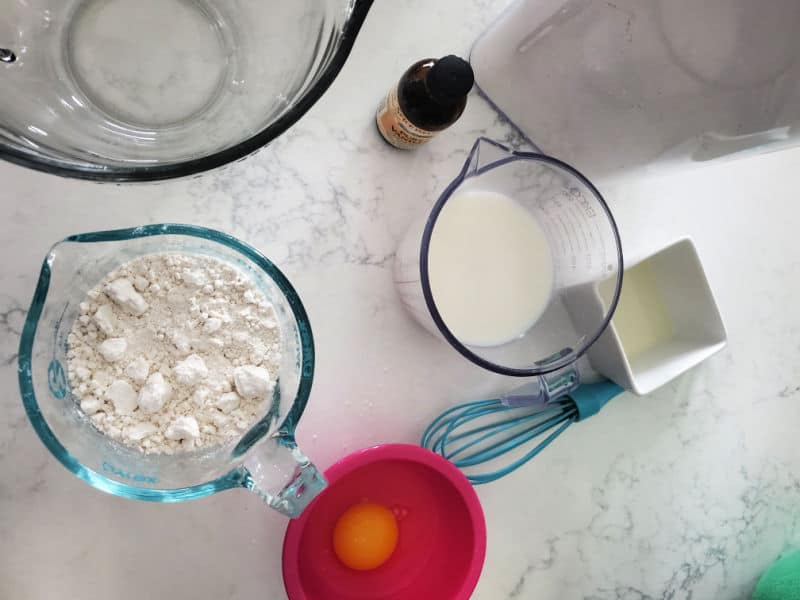 Ingredients
This is a quick overview of the simple ingredients that you'll need to make amazing Bisquick Waffles! Specific measurements and step by step instructions are included in the printable recipe card at the bottom of the post.
Bisquick Baking Mix
Milk
Eggs
Vegetable Oil
Best Waffle Toppings
Are you wondering what to you can put on waffles beside maple syrup? If you are hosting people for brunch or holiday breakfast why not set up a waffle bar with tons of fun waffle toppings.
Here is our list of best waffle toppings!
Drizzles - Cinnamon Syrup, chocolate sauce, caramel sauce, fruit syrups
Spreads - peanut butter, apple butter, homemade whipped cream, pear butter, Cinnamon Honey Butter, almond butter, pumpkin butter, Nutella, melted butter, Lemon Butter, cream cheese, peach butter, yogurt
Fruit - Fried apples, bananas, sliced strawberries, blueberries
Savory - fried egg, avocado, Pico de Gallo, sauteed mushrooms, caramelized onions, spicy maple syrup, sriracha honey, pulled pork
Toppings - cinnamon sugar, toasted pecans or walnuts, sprinkles, powdered sugar, chocolate chips, granola, bacon crumbles
or anything that makes you smile!
Turn the best Bisquick waffles into dessert by topping them with vanilla ice cream and your favorite sundae toppings.
Is pancake mix the same as waffle mix?
We use Bisquick Baking Mix which was created for both pancakes and waffles. If you were making pancake mix or waffle mix from scratch the recipe would not be the same.
The both share similar ingredients including flour, baking soda or baking powder, eggs, but their proportions and batter are different.
Equipment
Non-stick cooking spray or oil - Help prevent the Bisquick Belgian waffle recipe from sticking to the waffle maker by spraying it with non stick spray or brushing it with oil.
Belgian Waffle Maker - We love making Belgian waffles. They are puffier and super filling. I also love that the whipped cream and toppings sink down into the divets making each bite decadent.
Regular Waffle Maker - A regular waffle maker is great for more condensed smaller waffles.
Mini Waffle Maker - We received a mini waffle maker as a gift and it is the cutest little thing. So fun to make tiny little stackable waffles.
Themed waffle makers - I was looking at fun themed waffle makers on Amazon this morning and I have to admit it is pretty amazing what you can find! From Mickey Waffle Makers to trucks and car waffles, to hearts, the Mandalorian, dinosaur waffles, Millennium Falcon waffles, or bubble waffles there are so many fun themed waffle makers.
How to make Bisquick Waffles
I've included complete instructions in the printable recipe card at the bottom of the post but here's a quick version.
Heat waffle iron while preparing the waffle batter.
Whisk together Bisquick baking mix, eggs, milk, and vegetable oil in a large bowl.
Pour the waffle batter into the center of hot waffle iron and cook until golden brown.
How to tell when your waffles are finished - Your waffle maker manufacturer's instructions will help set a base cooking time for the waffles but sometimes it isn't perfect.
If you find that your waffles are burning or turning out partially cooked here are our best tips. One the waffle maker beeps that it is done cooking give it a few extra seconds to make sure the waffles are fully cooked.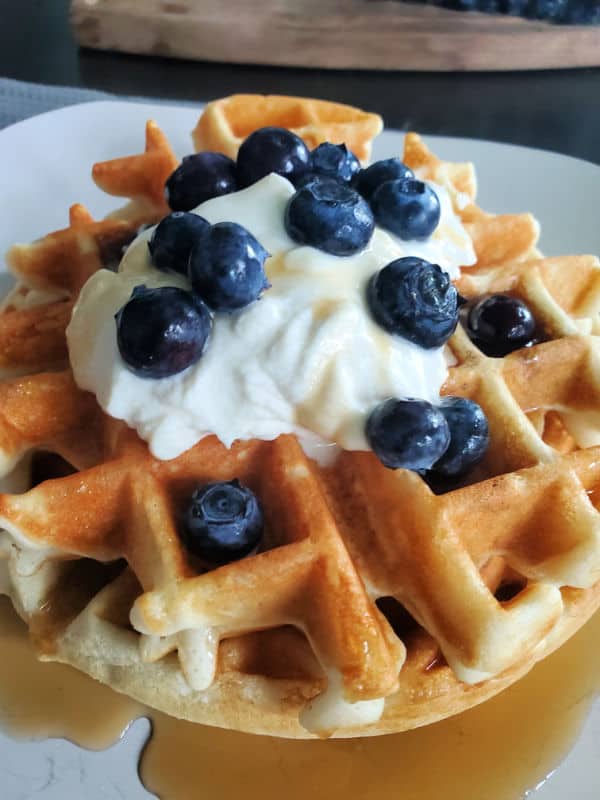 Preparation and Storage
Make Ahead – Waffles can be made ahead of time and stored in the freezer for up to a month. They may not have the crunchy bite that you get from fresh baked waffles.
Storage – Once leftover waffles have cooled completely, wrap them in plastic wrap and store in an airtight container for up to a week in the refrigerator.
Can you freeze Bisquick Waffles?
Yes! When we plan ahead we like to make a triple batch of waffles and freeze the leftovers. You can wrap individual waffles in plastic wrap or aluminum foil then place them in a freezer safe bag and freeze them for up to a month.
How to reheat  - when you are ready to serve them you can heat them up in a 350-degree oven for 10 minutes or pop them into your toaster oven.
Recipe Variations
Substitutions - Substitute buttermilk instead of whole milk or regular milk.
Additions - Add in ground nutmeg, vanilla, brown sugar, cinnamon for additional flavor. Add in club soda to uplift the batter.
Add in your favorite secret ingredient to create the best waffles everyone will love.
Vegetarian Option - This recipe is vegetarian
Vegan Option – Substitute the milk with almond milk, coconut milk, or other non-dairy milk alternatives. Substitute eggs with dairy free yogurt. You may need additional baking powder and vanilla to make them fluffy.
Gluten Free - Use Gluten-Free Bisquick Mix or other pancake mix.
Smaller Serving Size – The serving size can be changed on the recipe card below. You can also make additional waffles and freeze them.
Larger Group/More servings – This recipe can easily be doubled or tripled for a large family gathering. We suggest placing the finished waffles on a wire rack on a baking sheet in the oven at 200 degrees to keep them warm while making additional waffles.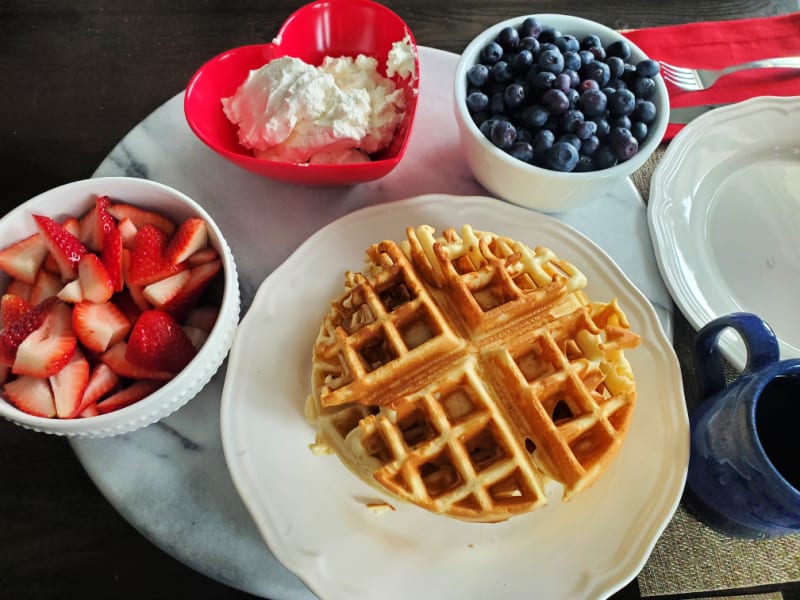 Recipe Tips
If you are like me and transferred your Bisquick baking mix to a storage container and promptly recycled the box with the instructions I highly suggest printing this recipe and taping it to the side of the container or putting it in an easy to find place.
This recipe can easily be doubled and tripled if you are making waffles for a large group.
For a fun twist, you can add bacon slices in the middle of your waffles.
Blueberries also taste amazing when mixed into these waffles.
We add in a teaspoon to a tablespoon of vanilla extract when we make these waffles for even more flavor.
This Bisquick Waffle Recipe makes 4 nice sized Bisquick Belgian Waffles. If you are using a smaller waffle maker it should make around 12 waffles.
If you have leftover Bisquick check out this epic Bisquick Apple Cobbler that is quick and easy to whip up.
What to serve with Waffles
Savory Breakfast Sides - Cheesy scrambled eggs, Red Breakfast Potatoes, Air Fryer Sausage, Hashbrown Casserole, Bacon Gravy, Bacon (Air fryer, oven, microwave), Cheesy Hashbrowns,
Sweet Breakfast Sides - Cinnamon Roll Waffles, Toaster Strudel, Cinnamon Toast, Cinnamon Roll Apple Cobbler, Brown Sugar Bacon, Raspberry Coffee Cake, fruit salad, yogurt, granola
Additional Entrées - Fried chicken, Chicken Tenders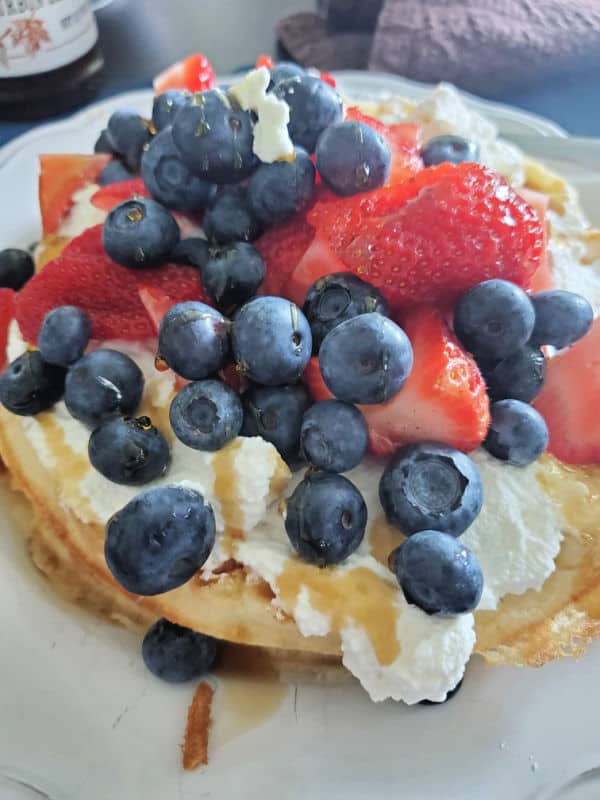 When to serve Bisquick Waffles
Christmas Morning
Weekend Brunch
Today
Great Breakfast Recipes
Check out all of our recipes with Bisquick.
Do you love recipes? Check out our copycat recipes, dessert recipes, and our CrockPot Recipes.
Follow Tammilee Tips on MSN, Facebook, Instagram, and Pinterest, for all of our recipe posts.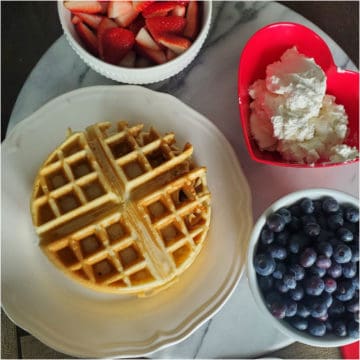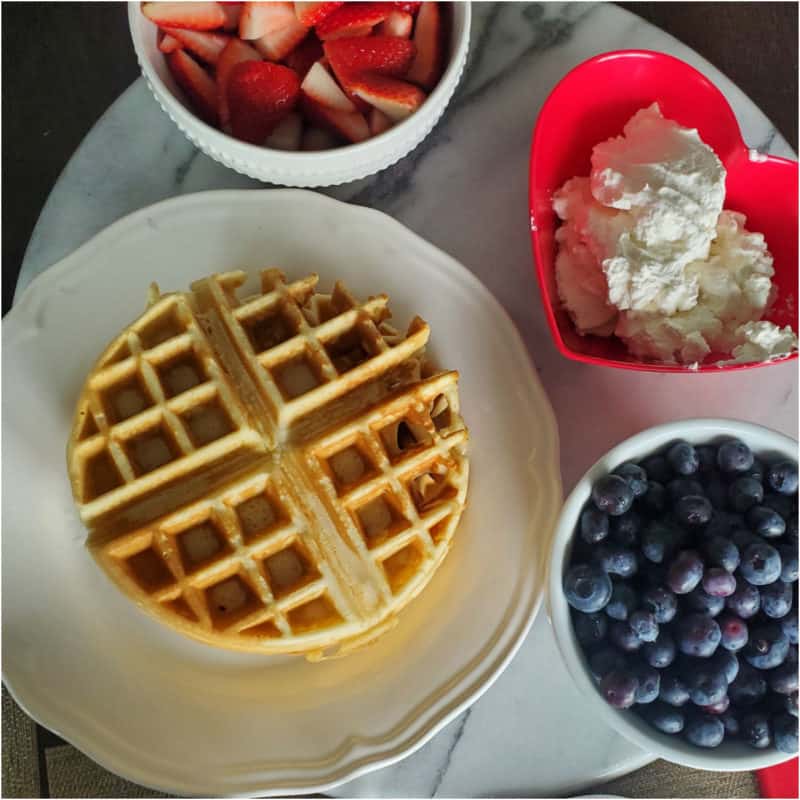 Bisquick Waffle Recipe
How to make delicious Bisquick Waffles
Print
Rate
Instructions
Combine ingredients until mixed together

Pour onto a hot greased waffle maker and shut the lid

Bake until steaming stops and carefully remove.
Nutrition
Nutrition Facts
Bisquick Waffle Recipe
Amount Per Serving
Calories 361
Calories from Fat 153
% Daily Value*
Fat 17g26%
Cholesterol 44mg15%
Sodium 816mg35%
Potassium 240mg7%
Carbohydrates 42g14%
Protein 9g18%
Vitamin A 228IU5%
Vitamin C 1mg1%
Calcium 213mg21%
Iron 2mg11%
* Percent Daily Values are based on a 2000 calorie diet.