Easy Apple Cider Donut Cake is the perfect Fall dessert that tastes amazing. It tastes just like apple cider doughnuts in a cake form!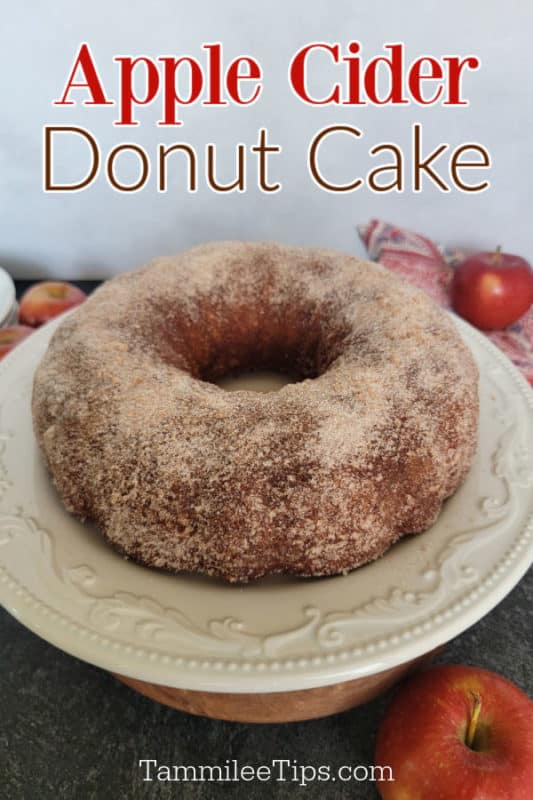 Apple Cider Donut Cake
Fall is almost here which means it is time for all things Apple Cider including apple cider donuts, apple cider margaritas, apple cider mules, and all the epic fall favorites.
I love summer don't get me wrong, but there is something about fall that just makes me happy.
The leaves changing, the cool nights but warm days, sweaters and boots, and working on Halloween recipes and Thanksgiving recipes.
I have been thinking about getting a cake donut pan so I can make pumpkin donuts and Apple Cider Doughnuts at home. We normally drive up to Greenbluff here in Spokane to get them from one of the apple orchards or local farms but I love the idea of being able to make them at home too.
We love serving this cake with a big scoop of vanilla ice cream! You could even sprinkle caramel sauce over it for extra flavor.
This is a favorite Fall sweet treat. I love bringing it to fall harvest parties and friends' houses.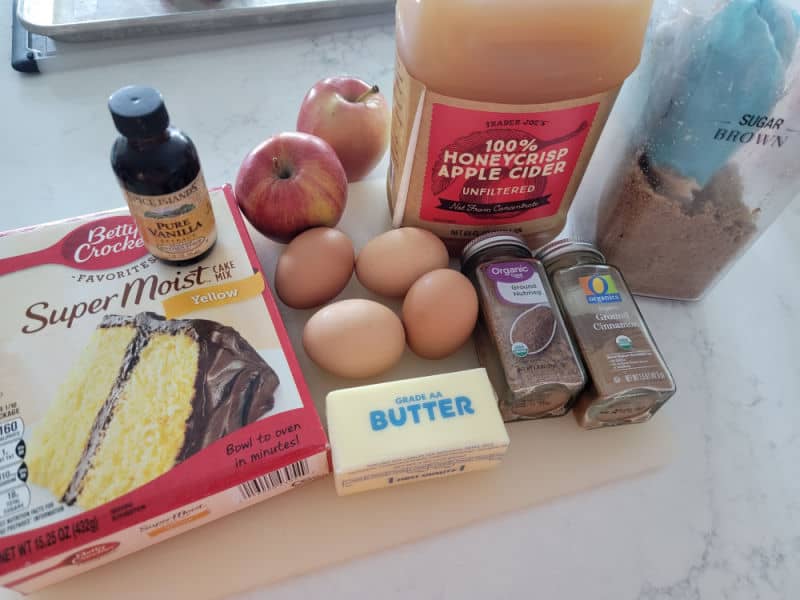 Ingredients
This is a quick overview of the simple ingredients that you'll need to make an apple cider donut cake with yellow cake mix! Specific measurements and step-by-step instructions are included in the printable recipe card at the bottom of the post.
Yellow Cake Mix
Butter
Eggs
Ground Cinnamon
Brown Sugar
Vanilla Extract
Cake Mix - We used Betty Crocker, but you can use any moist yellow cake mix. If you don't have a yellow cake mix you can use a pumpkin cake mix, white cake mix, or really any flavor that sounds good.
Apple Cider - You can use fresh apple cider if you have it or store-bought. We have used both and they turned out great. You can use apple juice for this recipe but it won't have the spices and flavor that comes with apple cider.
Topping Ingredients
Cinnamon Sugar
Butter
Optional - Ground Nutmeg, Shredded fresh apples, applesauce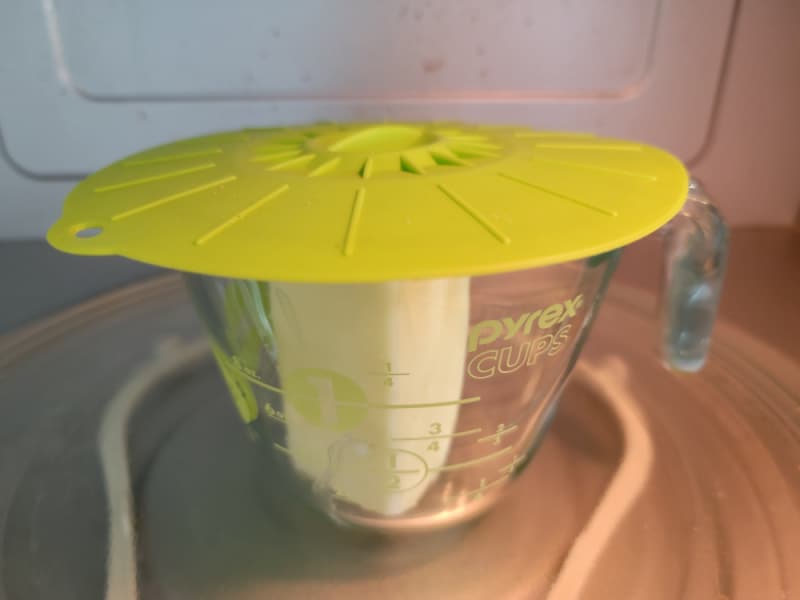 Equipment Needed
Microwave lid cover - I swear by these lid covers to help prevent butter splatters when melting butter in the microwave. I have had way too many butter explosions while baking. These lid covers help keep the butter in the bowl and not on the roof of your microwave.
Large Mixing Bowl - We are big fans of this glass batter bowl that has a handle. It makes it really easy to mix ingredients and keep the mixing bowl steady on the counter.
Spatula
Hand Mixer/Stand Mixer - You can mix this with either a hand mixer or your stand mixer.
Cooling Wire Rack
Serving Tray
Toothpick/cake tester
tbsp/tsp/cup measuring tools
Heat resistant potholders - A couple of years ago we had a fire scare when we didn't realize we had turned a burner on and a cloth potholder caught fire. Thankfully we walked by the kitchen and saw the smoke and were able to get it out ourselves. Since then we have only used these heat-resistant potholders.
How to make an Apple Cider Donut Cake
I've included complete instructions in the printable recipe card at the bottom of the post, but here's a quick version.
Don't forget to preheat the oven. I love how easy the instructions for this cake are.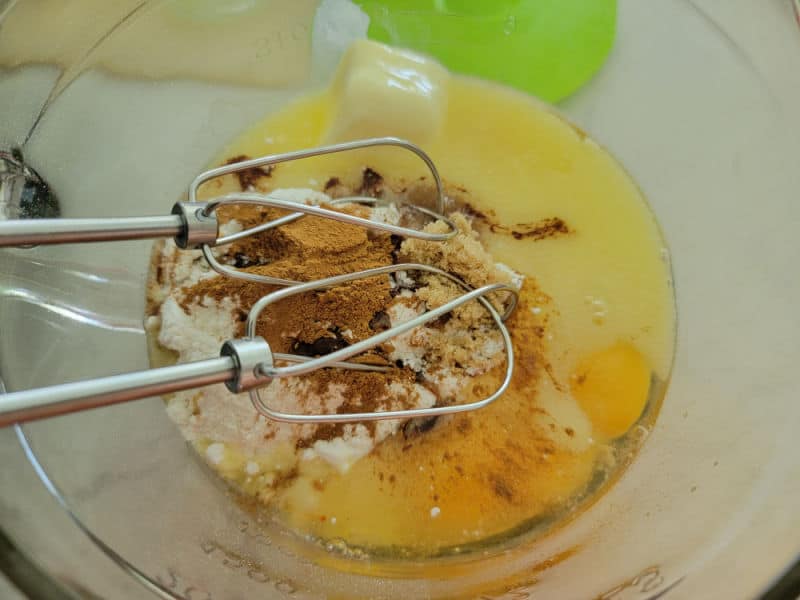 Step 1 - Mix cake mix, apple cider, melted butter, eggs, cinnamon, brown sugar, and vanilla together. We suggest using a hand mixer to make it easy to combine the mixture.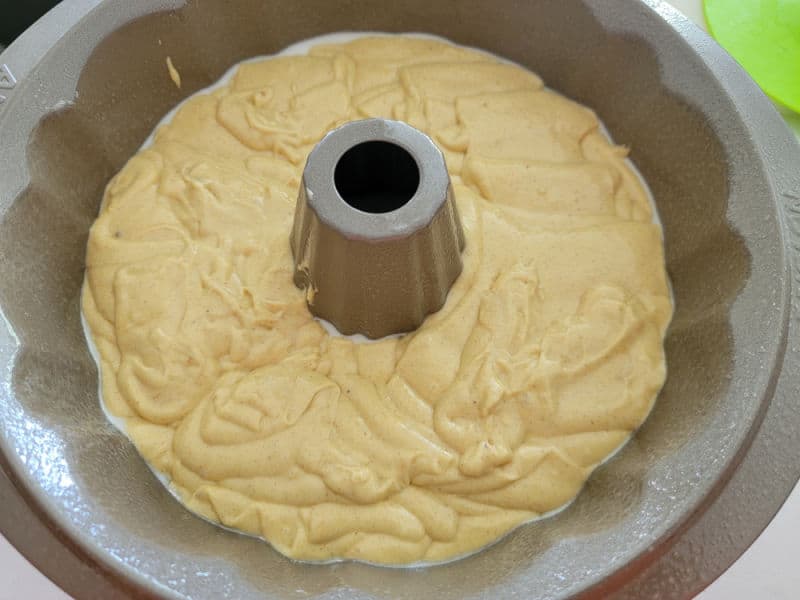 Spray cake pan with non-stick cooking spray. Pour batter into pan and bake.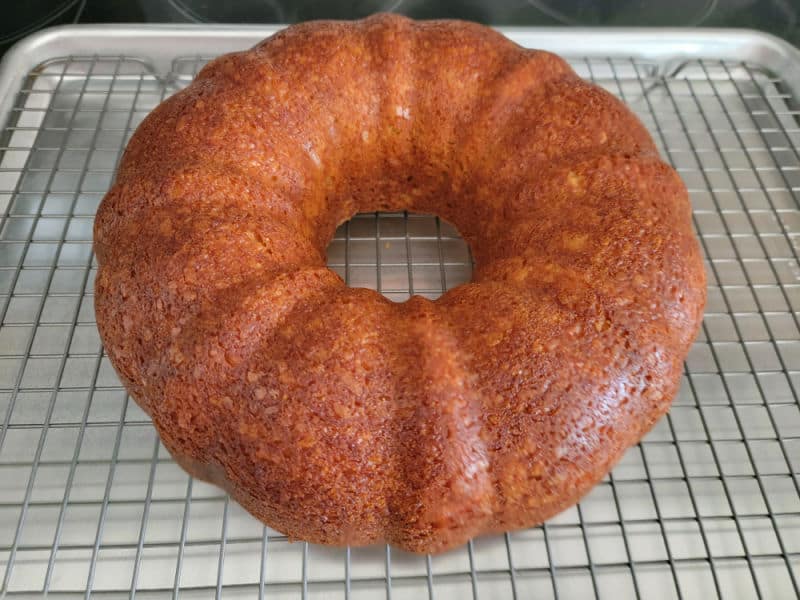 Step 2 - Remove the cake from the oven and use a toothpick or cake tester to make sure it comes out clean in the center. Let the cake rest for 20 minutes before turning it onto a cooling rack.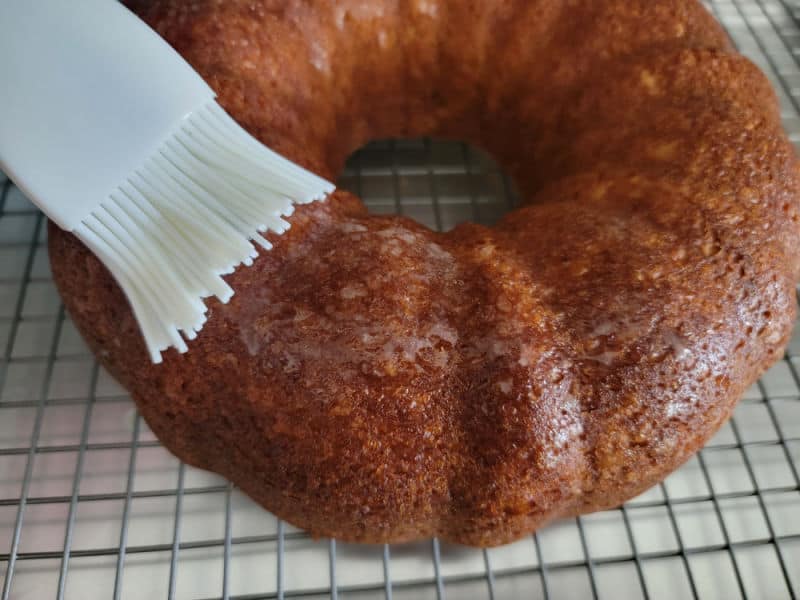 Step 3 - Brush the cake with melted butter, spread the cinnamon sugar mixture over the sides of the apple cider doughnut cake. It may take a couple of layers to get it to show.
You can place parchment paper under the rack if you want to collect the cinnamon sugar that falls through and add it onto the cake.
Allow the cake to cool for at least 45-50 minutes before serving. Enjoy!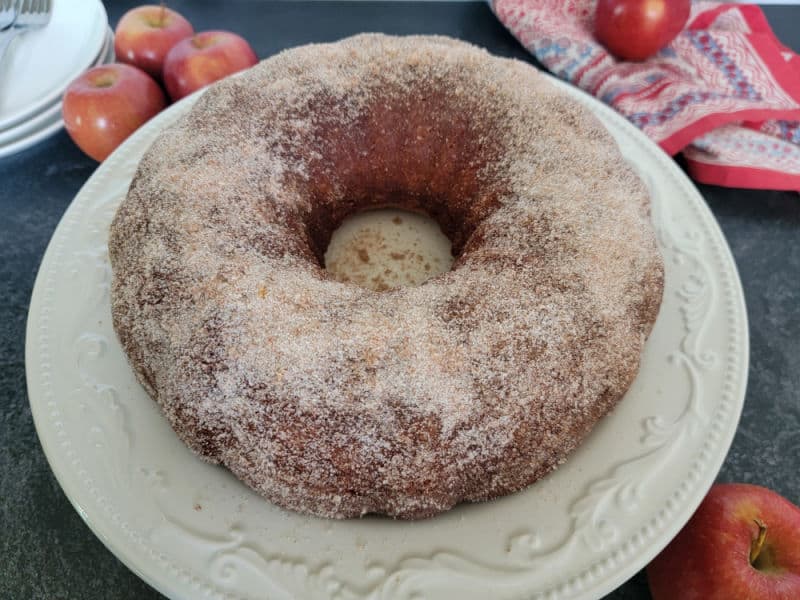 Preparation and Storage
Make Ahead – You can make this a day or so ahead of time and store in an airtight cake container.
Storage – Store in an airtight container at room temperature.
Freezing/How to freeze – Wrap in plastic wrap and store in an airtight container.
Recipe Variations
Substitutions - This cake can also be made with a white cake mix or a spice cake mix.
Vegetarian Option - This recipe is vegetarian
Vegan Option – Use plant based butter and eggs substitute.
Gluten Free - Use a gluten-free cake mix
Smaller Serving Size – This recipe is difficult to make a smaller size since we use a boxed cake mix. You can freeze half of the cake to enjoy later.
Larger Group/More servings – We suggest following the recipe twice if you want to double the amount of cake being made. That way you can make sure each cake turns out perfectly.
Recipe Tips
We used a cake mix to cut down on the time making this Apple Cider Donut Cake. You can also make it from scratch if you prefer.
One of the nice things about using a premade cake mix is you don't need to whisk the dry ingredients before baking this cake.
Nutritional information including calories, carbohydrates, calcium, and more below in the recipe card.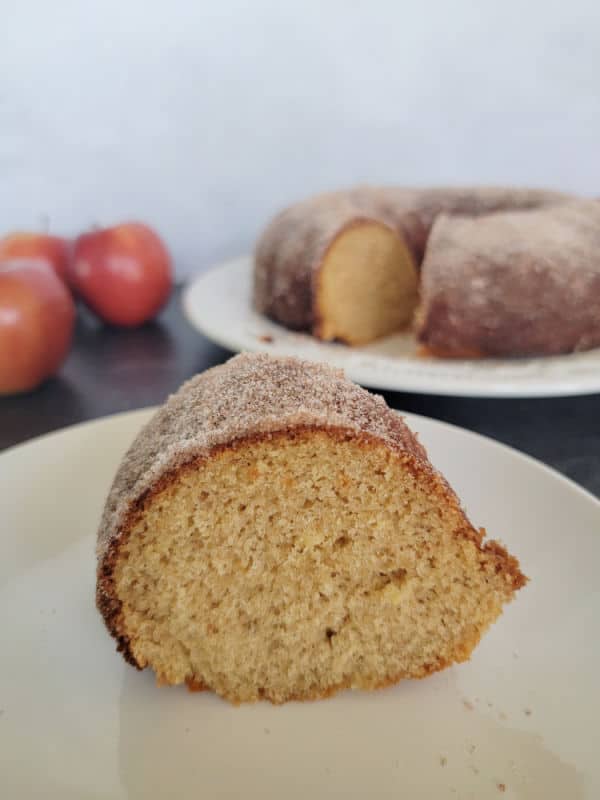 What to serve with
Toppings - Whipped cream, vanilla ice cream, caramel sauce, fresh apple slices, streusel toppings, cream cheese frosting, maple glaze
Drinks - Hot apple cider, Fireball Apple Cider, Caramel Apple Cider Cocktail, Apple Cider Mule, coffee, tea, Pumpkin Spice Latte, hot chocolate recipes, iced chai latte
When to serve
Fall Dessert
Harvest Parties
Brunch
Apple picking adventures
Great Apple Recipes
Check out all of our Yellow Cake Mix Recipes and apple desserts 
Do you love recipes? Check out our copycat recipes, dessert recipes, and our CrockPot Recipes.
Follow Tammilee Tips on MSN, Facebook, Instagram, Pinterest, and Twitter for all of our recipe posts.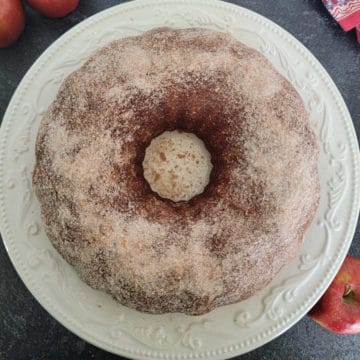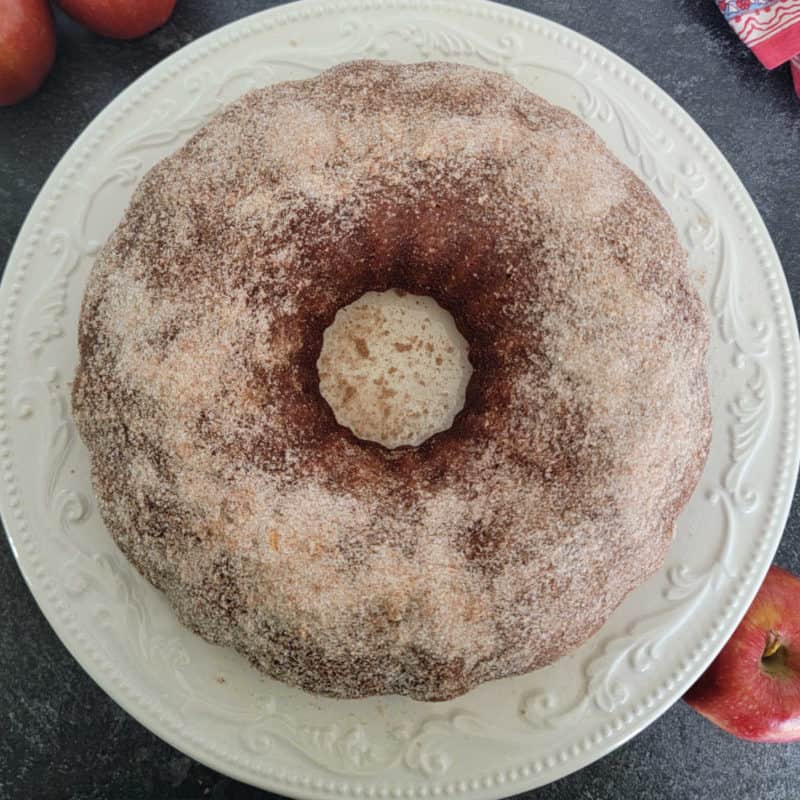 Apple Cider Donut Cake
Easy Apple Cider Donut Cake Recipe made with a cake mix. This is the perfect fall dessert!
Print
Rate
Instructions
Preheat oven to 350 degrees

Combine cake mix, apple cider, melted butter, eggs, cinnamon, brown sugar, and vanilla in a bowl. Mix together until combined.

Spray cake pan with non-stick spray. Pour cake batter into pan and bake for 35-40 minutes until a toothpick comes out clean.

Remove from the oven and let rest in the pan for 20 minutes. Turn onto a wire rack over a baking sheet (to collect the extra topping).

Brush the top and sides of the cake with melted butter. Spread cinnamon sugar all over the cake by hand. Let stand for 20 minutes and then add additional cinnamon sugar.

Cool for 1 hour before serving.
Nutrition
Nutrition Facts
Apple Cider Donut Cake
Amount Per Serving
Calories 317
Calories from Fat 117
% Daily Value*
Fat 13g20%
Cholesterol 82mg27%
Sodium 419mg18%
Potassium 63mg2%
Carbohydrates 47g16%
Protein 4g8%
Vitamin A 405IU8%
Vitamin C 0.2mg0%
Calcium 109mg11%
Iron 1mg6%
* Percent Daily Values are based on a 2000 calorie diet.