Easy Apple Cider Cookies Recipe that takes minutes to prepare. The combination of fresh chopped apples and apple cider mix together in a delicious fall cookie is amazing.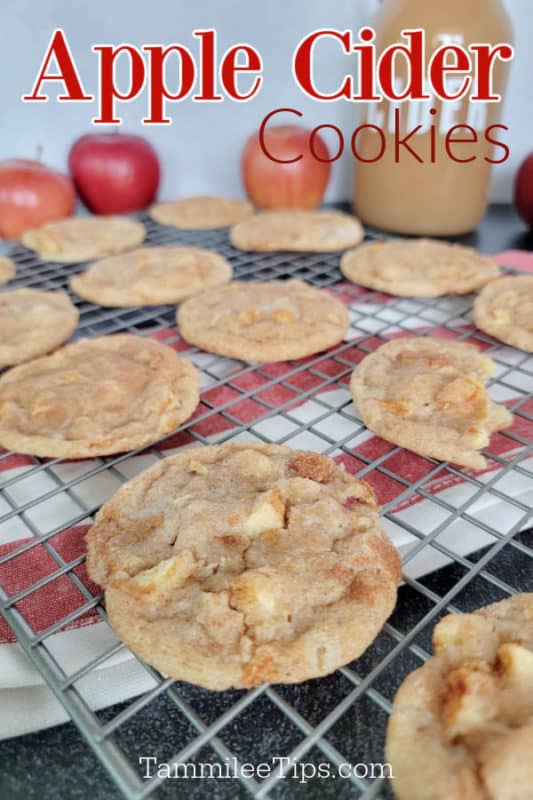 Apple Cider Cookies
Similar to the Pumpkin Snickerdoodle Cookies we shared last with this Apple Cider Cookie Recipe starts with a pre-made sugar cookie mix.
I love being able to use pre-made items along with fresh items to create a delicious fall cookie.
Fall baking is one of my favorite times of the year. Fall flavors are so perfect for making epic apple desserts. The combination of apples, pumpkins, spices, and cooler weather is amazing.
The moment our weather dropped below 80 degrees this month I heated up the oven and started diving into fall baking.
The weather was perfect for opening the windows and letting in fresh air after a super warm summer.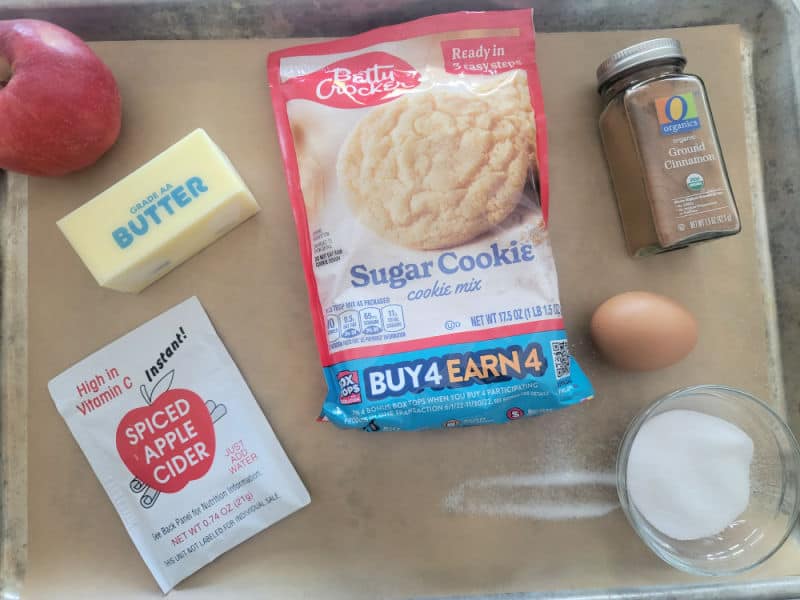 Ingredients
This is a quick overview of the simple ingredients that you'll need to make an epic Apple Cider Cookies! Specific measurements and step-by-step instructions are included in the printable recipe card at the bottom of the post. 
Sugar Cookie Mix
Apple Cider Drink Mix, Dry
Granulated Sugar
Ground Cinnamon
Unsalted Butter
Egg
Apple
Optional - Add nutmeg to the dry ingredients. Add in a bit of vanilla 
Apple Cider - We use a dry apple cider mix for these cookies. We have not tried making them with apple juice and additional spices or with applesauce. 
Cookie Mix - We use a pre-made cookie mix to cut down on time and skip having to measure out the dry ingredients including all purpose flour, salt, baking soda, baking powder, and other ingredients.
Butter - Make sure to soften the butter so it easily mixes into the dough.
Apples - You can leave the apples out if you don't have any fresh apples available. They do add a great burst of flavor and moisture to the cookies.
Equipment Needed
Whisk/ Wooden Spoon
Tablespoon/measuring spoon
OXO Peeler - Super comfortable to hold while peeling apples
Large Mixing Bowl - We are big fans of this glass batter bowl that has a handle. It makes it easy to mix ingredients and keeps the mixing bowl steady on the counter.
Hand Mixer/Stand Mixer - You can mix this with either a hand mixer or your stand mixer.
Cookie Scoop - A cookie scoop makes it so easy to get consistent cookies that all look great together.
Parchment Paper -  I love that I can use parchment paper to help make it easier to remove the apple cider cookies. They also make clean-up a breeze. If you are not using parchment paper you will want to spray non-stick cooking spray on your baking sheet to help the cookies not stick.
Baking Sheets - We are huge fans of these cookie sheets with sides. You don't have to worry; you will remove the cookies from the oven and have them slide right off.
Heat resistant potholders - A couple of years ago we had a fire scare when we didn't realize we had turned a burner on and a cloth potholder caught fire. Thankfully we walked by the kitchen and saw the smoke and were able to get it out ourselves. Since then we have only used these heat-resistant potholders.
Cooling Rack - A cooling rack is a great way to cool the cookies down.
How to make Apple Cider Cookies
I've included complete instructions in the printable recipe card at the bottom of the post, but here's a quick version.
Preheat the Oven.
Step 1 - Peel and core the apple, chop into small pieces.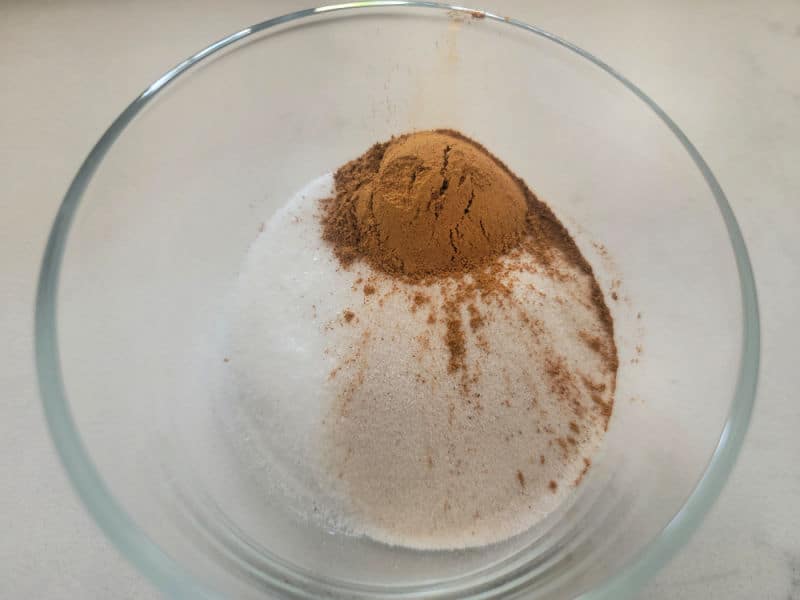 Step 2 - Combine cinnamon and sugar with a portion of the dry apple cider mix in a small bowl. Set to the side for later.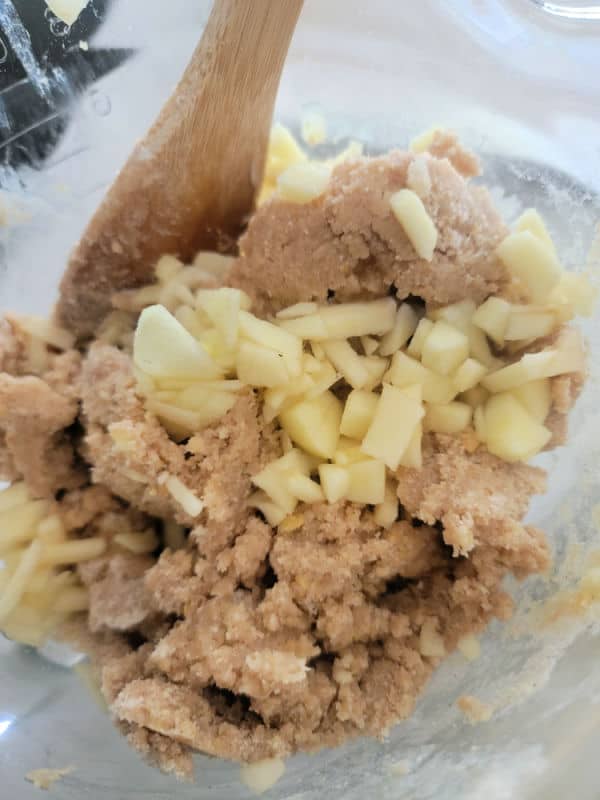 Step 3 - Combine sugar cookie mix, butter, egg, remaining apple cider mix and cinnamon in a Large Mixing Bowl until a soft dough forms. Scrape the side of the bowl with a spatula to get all of the ingredients mixed.
Gently stir in chopped apple pieces until well distributed in the dough.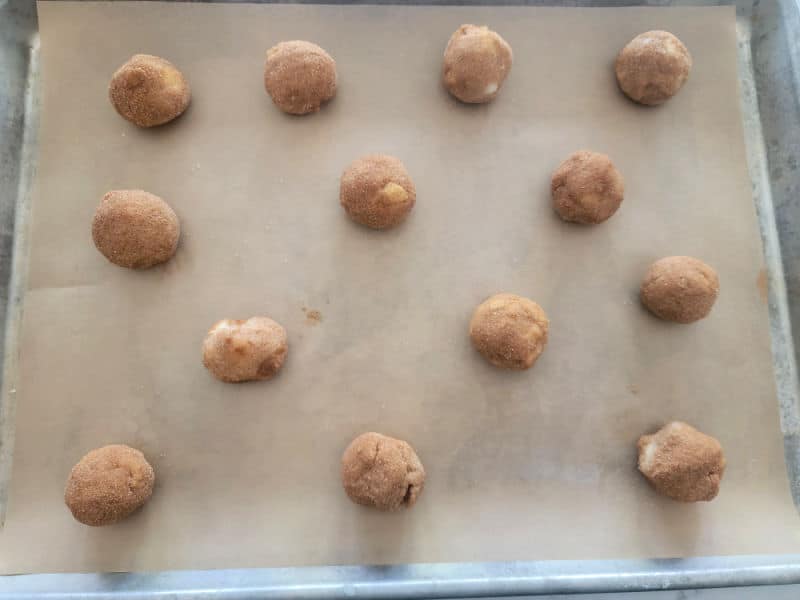 Step 4 - Use a cookie scoop to form cookie dough balls. Roll dough balls in cinnamon sugar apple cider mix to coat the outside of the cookie dough.
Step 5 - Bake until edges are set. Allow to cool on a wire rack.
Enjoy! Fair warning these cookies are so dang delicious. I might have sampled more than I want to admit as I was photographing them. LOL!
Printable instructions below in the recipe card along with nutritional information.
Preparation and Storage
Make Ahead – These can be made a day ahead of time and stored at room temperature in an air tight container. 
Storage – Store in an airtight container at room temperature.
Freezing/How to freeze – Freeze cookies once they are baked on a baking sheet before placing them in an air-tight freezer safe bag or container. We like to freeze them on a baking sheet so they don't clump together. 
You can also place parchment or freezer paper between each cookies. 
Recipe Variations
Substitutions -Exchange granulated sugar for brown sugar for a different flavor. 
We use granny smith apples or a baking apple for this recipe. 
Vegetarian Option - This recipe is vegetarian.
Vegan Option – Use vegan butter, 
Gluten Free - Use a gluten free cookie mix
Smaller Serving Size – This recipe is hard to make smaller since it uses a premade cookie mix. 
Larger Group/More servings – This recipe can easily be doubled for a large gathering. 
Sugar Free – Alternative sugars can be used or a different cookie mix.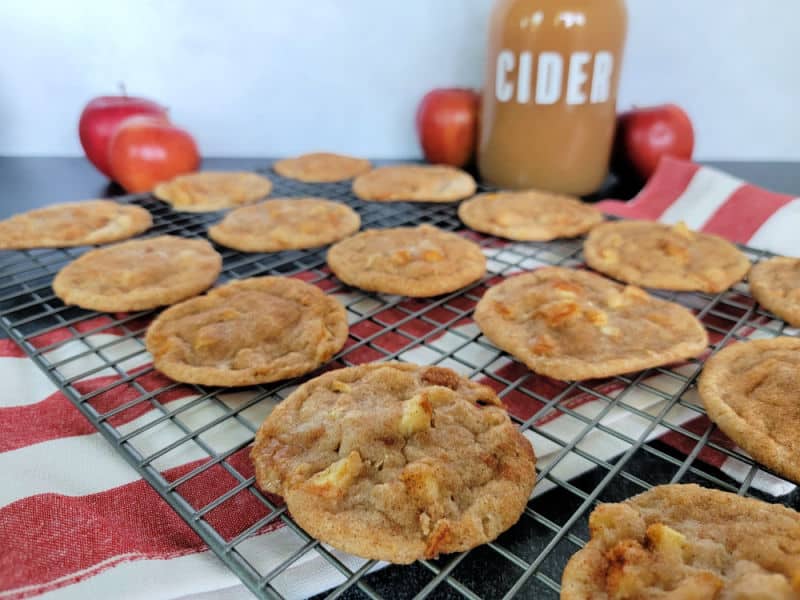 Recipe Tips
To make caramel apple cider cookies you can drizzle caramel over the top or bake them with caramel chips.
You can glaze these cookies with an apple cider glaze or they would be delicious with a drizzle of cream cheese frosting.
What to serve with
Drinks - Coffee, Apple Cider, Hot chocolate, sweet tea, caramel latte, pumpkin spice latte, pumpkin spice frappuccino
Desserts - Vanilla ice cream, whipped cream, Apple Cider Donut Cake, Cinnamon Roll Apple Cobbler, Caramel Macchiato Cookies, Salted Caramel Rice Krispie Treats, Caramel Apples, Caramel apple crisp 
When to serve
These Apple Cider Cookies are full of flavor and so easy to make! They are a great fall dessert everyone will love! 
Fall parties
Thanksgiving
Easy dessert
Potluck
Office Party 
Autumn events, harvest parties
Apple picking 
Great Fall Apple Recipes
Check out all of our recipes using apple cider! 
Do you love recipes? Check out our copycat recipes, dessert recipes, and our CrockPot Recipes.
Follow Tammilee Tips on MSN, Facebook, Instagram, Pinterest, and Twitter for all of our recipe posts.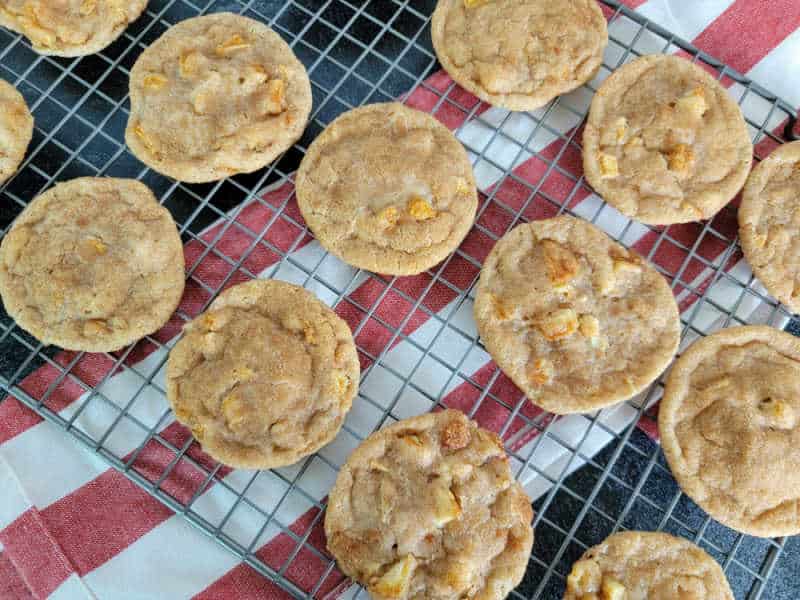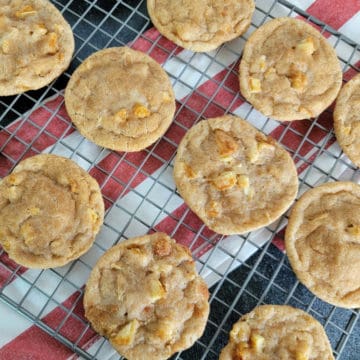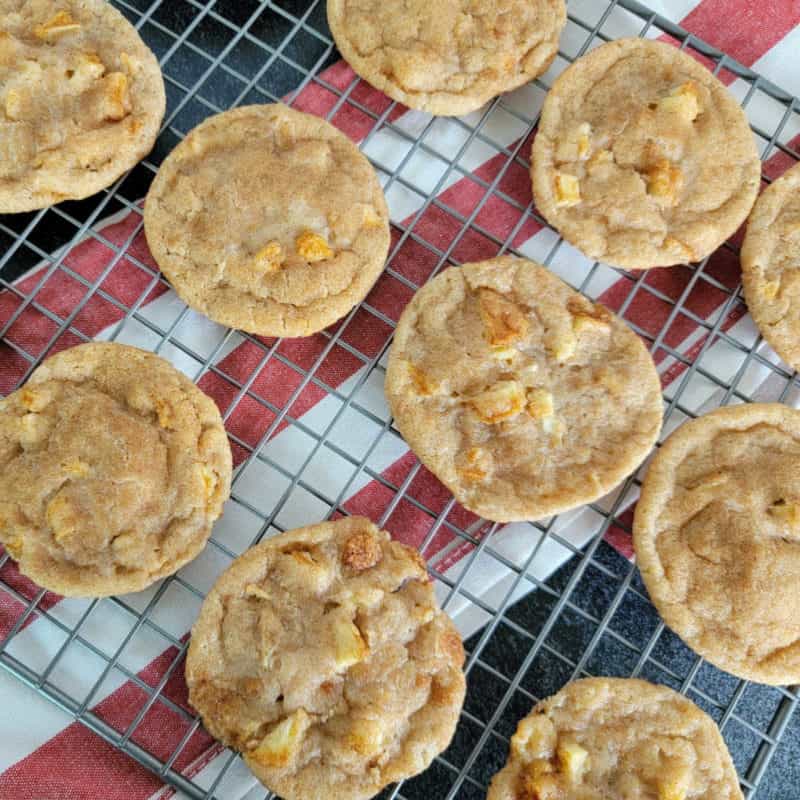 Apple Cider Cookies
Easy Apple Cider Cookies are the perfect fall cookie! So easy to make and they taste amazing.
Print
Rate
Instructions
Preheat oven to 375 degrees

Cut apples into small pieces and set to the side.

In a bowl combine 1 teaspoon apple cider mix, sugar, and ½ teaspoon of cinnamon, whisk together. Set to the side.

In a large bowl mix together sugar cookie mix, butter, egg, remaining apple cider drink mix, and the remaining cinnamon.

Gently mix in apple pieces until evenly distributed.

Use a cookie scoop to scoop dough balls. Roll the dough balls in the cinnamon sugar apple cider mix until the outside is coated.

Place on a parchment lined baking sheet. Bake for 7-9 minutes until the edges are set.

Cool on a wire rack. Store in an airtight container.
Nutrition
Nutrition Facts
Apple Cider Cookies
Amount Per Serving
Calories 121
Calories from Fat 36
% Daily Value*
Fat 4g6%
Cholesterol 16mg5%
Sodium 138mg6%
Potassium 8mg0%
Carbohydrates 20g7%
Protein 0.3g1%
Vitamin A 126IU3%
Vitamin C 0.2mg0%
Calcium 4mg0%
Iron 0.1mg1%
* Percent Daily Values are based on a 2000 calorie diet.