Epic Nutella Recipes you will love! Everything from Nutella Desserts to snacks and Nutella Banana Bread there are so many epic ways to bake with Nutella.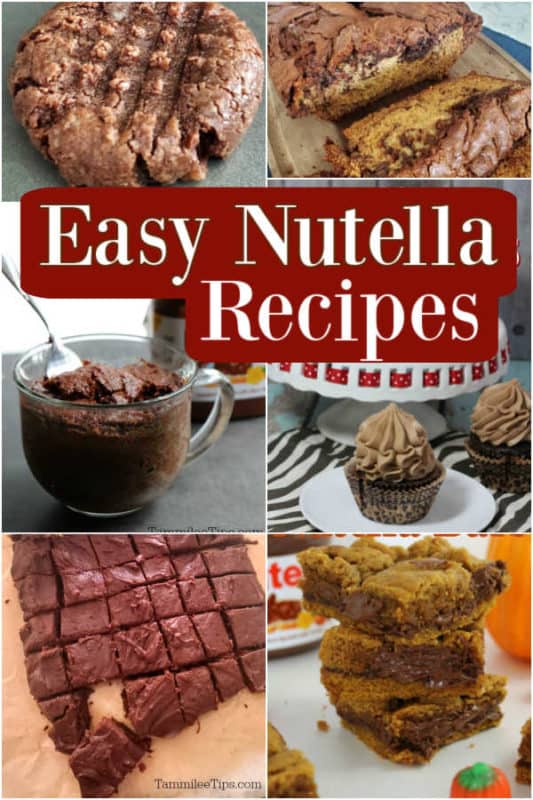 Best Nutella Recipes You Will Want to Make!
If you have been a blog reader for a while you know my Husband John is a Nutella freak! He absolutely loves Nutella. I am pretty sure he would eat it every day. I have made quite a few easy Nutella Recipes and thought it would be fun to share a list so they were all in one place.
We first had Nutella on our honeymoon in Italy. John had a Nutella crepe and loved it. Ever since our honeymoon John has been a gigantic fan of Nutella. As soon as we got home he had to go to the store and pick up a huge jar of Nutella.
What are your favorite Nutella Recipes? I love trying new recipes and would love to hear more about your favorite Nutella Recipes.
Did you know that World Nutella Day, which takes place on February 5th, was organized by an Italian-American blogger? That's how much love there is behind Nutella, the iconic nutty chocolate spread that we love spreading on bread, adding to baked goods and desserts, or enjoying out of the jar.
The Ferrero Group, the company behind Ferrero Rocher and Kinder, invented Nutella in post-World War II Italy to make a cocoa product that required little of the then-scarce commodity. The product underwent twenty years of iterations, including one named after a carnival character, before becoming the chocolate hazelnut spread we know and adore today.
The white-labeled Nutella jars on store shelves today are a worldwide sensation celebrated for the creamy richness and hazelnut cocoa flavor that they impart on many sweet treats.

Can You Freeze Nutella?
Yes! Due to a large amount of oil, Nutella can be frozen for six months or longer if stored in an airtight container away from direct heat and sunlight. Keeping jars of the chocolate-hazelnut spread in the freezer over the fridge has the added benefit of preserving it for longer-term use.
However, freezing Nutella is not recommended, as the thawing process causes the product to separate and turn the consistency watery.
Unopened jars can safely be placed into the freezer. Frozen Nutella should be emptied from the open container and scooped into a freezer bag or an airtight container safe for the fridge.
While the soft texture of Nutella may make it cumbersome to pack into a freezer bag, this method is best for keeping air out of the product that could contribute to freezer burn. If using a freezer-safe container, consider wrapping it in plastic wrap before placing the lid on it to ensure maximum airtightness.
Nutella containers yet to be opened are safe to defrost in the fridge and can be used once fully thawed. Although the fats and solids in the product naturally separate as it defrosts, a vigorous whisking session will restore its creamy, indulgent texture for your enjoyment.
Food products, even those intended for long-term use, generally cannot handle many temperature changes. Nutella that has been defrosted must thus be kept in the fridge to prevent mold and bacterial growth that lead to foodborne illness.
Can You Put Nutella in the Fridge?
The shorter shelf life of hazelnut, one of Nutella's core ingredients, means that storing the product is an important consideration. However, due to its high sugar content, Nutella is a shelf-stable product.
The Ferrero Group recommends storing Nutella at a stable room temperature of 18° to 20° C, or 64.4° to 68° F, to keep it soft and spreadable. The product must also be kept away from direct heat or sunlight.
Nutella can, however, be kept refrigerated. Jars of Nutella that have already been refrigerated should be kept in the fridge, as temperature changes cause the product to spoil faster.
Depending on how cold your refrigerator is, the texture of your refrigerated Nutella may be difficult to spread. To gently heat the spread, briefly warm your Nutella in the microwave, or use a knife that has been heated with hot water.
Can You Put Nutella in the Microwave?
While it may not be first nature, melting Nutella opens a world of culinary possibilities beyond spreading it on bread. Nutella that is warmed to a syrupy consistency turns into a decadent chocolate-hazelnut delight that can be drizzled over all the sweets your heart desires, from ice cream to pancakes to hot beverages.
To safely microwave Nutella without overheating it, transfer the spread to a microwave-safe container with a lid placed loosely over it and heat it in increments of no more than 30 seconds. Stir between heating sessions to prevent the melted Nutella from drying out and solidifying.
If you've heated more spread than you planned to use, store it in a separate non-plastic container, as returning melted Nutella to its original jar can compromise the quality of any unheated spread.
Is Expired Nutella Safe to Eat?
The 12-month shelf life of Nutella means that you have about a year to enjoy it, although we know that no jar of this delicious chocolatey spread has survived in our home for that long. It is meant to be a shelf-stable product, so opening a jar has little impact on its quality.
Unopened jars of Nutella can last up to six months past their best-by date, whereas opened Nutella jars are safe for up to six months past the date on the label.
While Nutella past its expiry date may seem like a godsend, be wary of any noticeable changes in its consistency, aroma, or flavor that indicate spoilage.
Nutella's hazelnut and milk solids make it susceptible to mold, so discard any jars that appear to have colored or fuzzy areas.
Is Nutella Gluten-Free?
Yes! Nutella's FAQ section confirms that the product contains no gluten-containing ingredients or derivatives.
Is Nutella Vegetarian?
Yes! Nutella is a vegetarian product containing no meat or meat by-products.
Is Nutella Vegan?
Since skimmed milk is one of Nutella's main ingredients, it is, unfortunately, not a vegan-friendly product.
Nutella Substitute
Nutella contains two ingredients - hazelnut and skimmed milk - that make the chocolate-hazelnut spread unsuitable for a nut-free or vegan diet. As delicious as it is, it has high fat, sugar, and calorie amounts that health-conscious consumers may want to avoid.
Whether you seek a substitute out of preference or dietary reasons, consider these Nutella substitutes.
Justin's Chocolate Hazelnut and Almond Butter
Justin's manufactures nut butter products retailed at most local supermarkets or health food stores. Like Nutella, the hazelnuts in the brand's Chocolate Hazelnut and Almond Butter product are roasted for a robust nutty flavor. Find it on Amazon here.
SunButter Chocolate Sunflower Butter
SunButter's Chocolate Sunflower Butter is a stellar, widely-available alternative for nut-free, allergen-free, and vegan diets. The mild flavor of sunflower butter blends beautifully with rich cocoa to create a creamy chocolate spread that rivals Nutella.
Compared to Nutella's 21 grams of sugar per serving, this chocolate sunflower butter contains only four grams. A bonus is the six grams of plant-based protein in each serving.
Nocciolata Hazelnut Spread
This USDA organic Italian chocolate hazelnut spread hails from the same hazelnut-producing region where Frangelico, a famous hazelnut liqueur, is made. It is gluten-free, uses sunflower oil instead of palm oil, and features a more intense cocoa flavor. Find it on Amazon here.
Make Your Own
Finally, it is possible to make Nutella yourself by blending roasted hazelnuts, cocoa powder, oil, milk, and sweetener in a food processor. Going the homemade route also makes it easy to adjust and swap ingredients to your liking.
Great Nutella Recipes
There are endless ways to savor Nutella, and it only takes a pinch of creativity to find your favorite way to use this sweet dessert spread.
Nutella is perfect for making Nutella brownies, chocolate cake, pie, puff pastry,  nutella frosting, nutella truffles, nutella cakes, nutella cheesecake, and so much more!
There are so many ways to use this Hazelnut spread! Upgrade your favorite chocolate chip cookies, Add a dollop to your favorite dough, pour a bit over ice cream, or fold it into your favorite pastries.
From our home to yours, these are our favorite recipes featuring Nutella. Kids will love how great these recipe tastes.
If you are wondering what to eat with Nutella just click on the Nutella Recipe names to get the full instructions and printable recipe cards.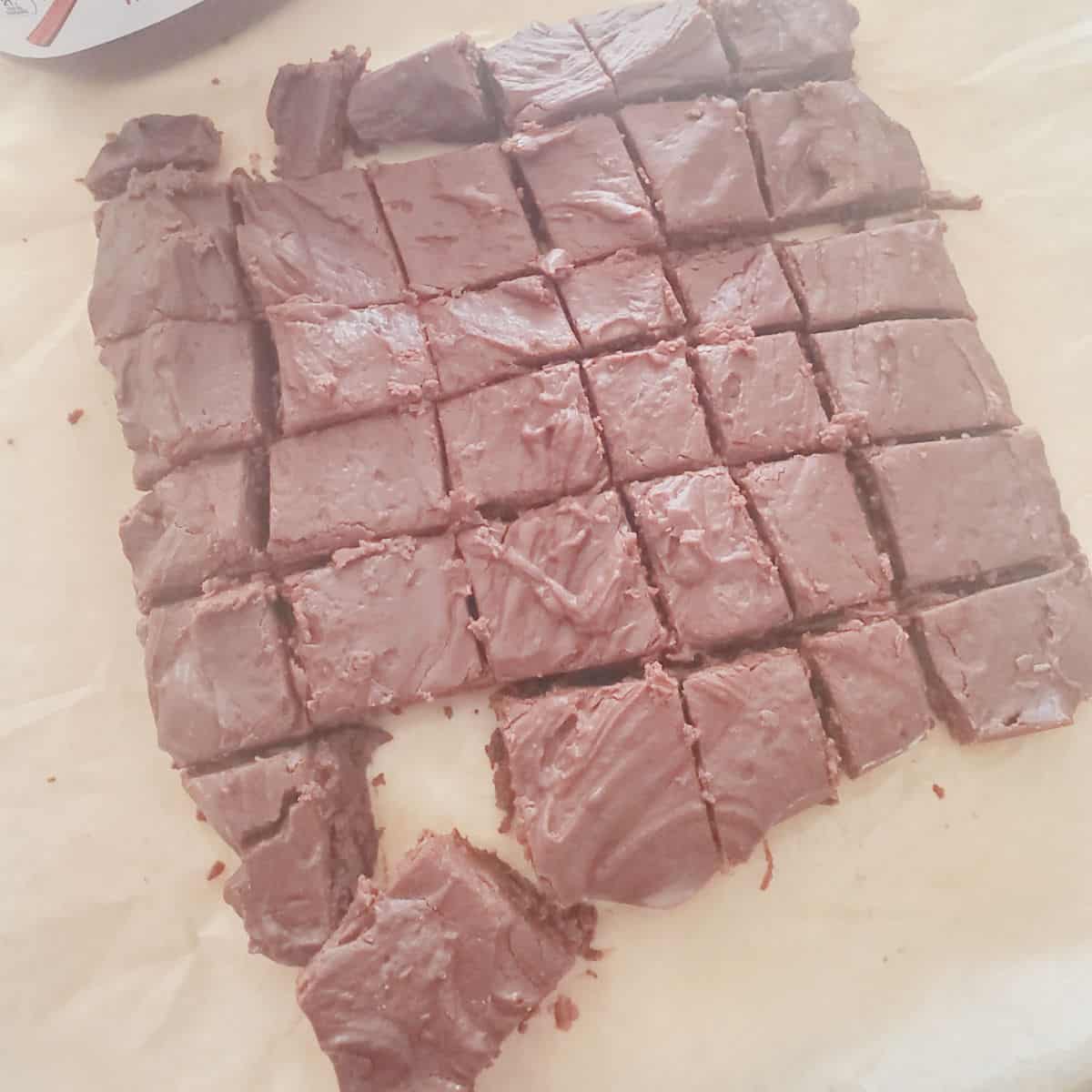 We crafted this recipe while deep cleaning our pantry. Only two ingredients - Nutella and a tub of chocolate icing - are required for this decadent fudge. The hardest part is waiting for the fudge batter to set in the fridge.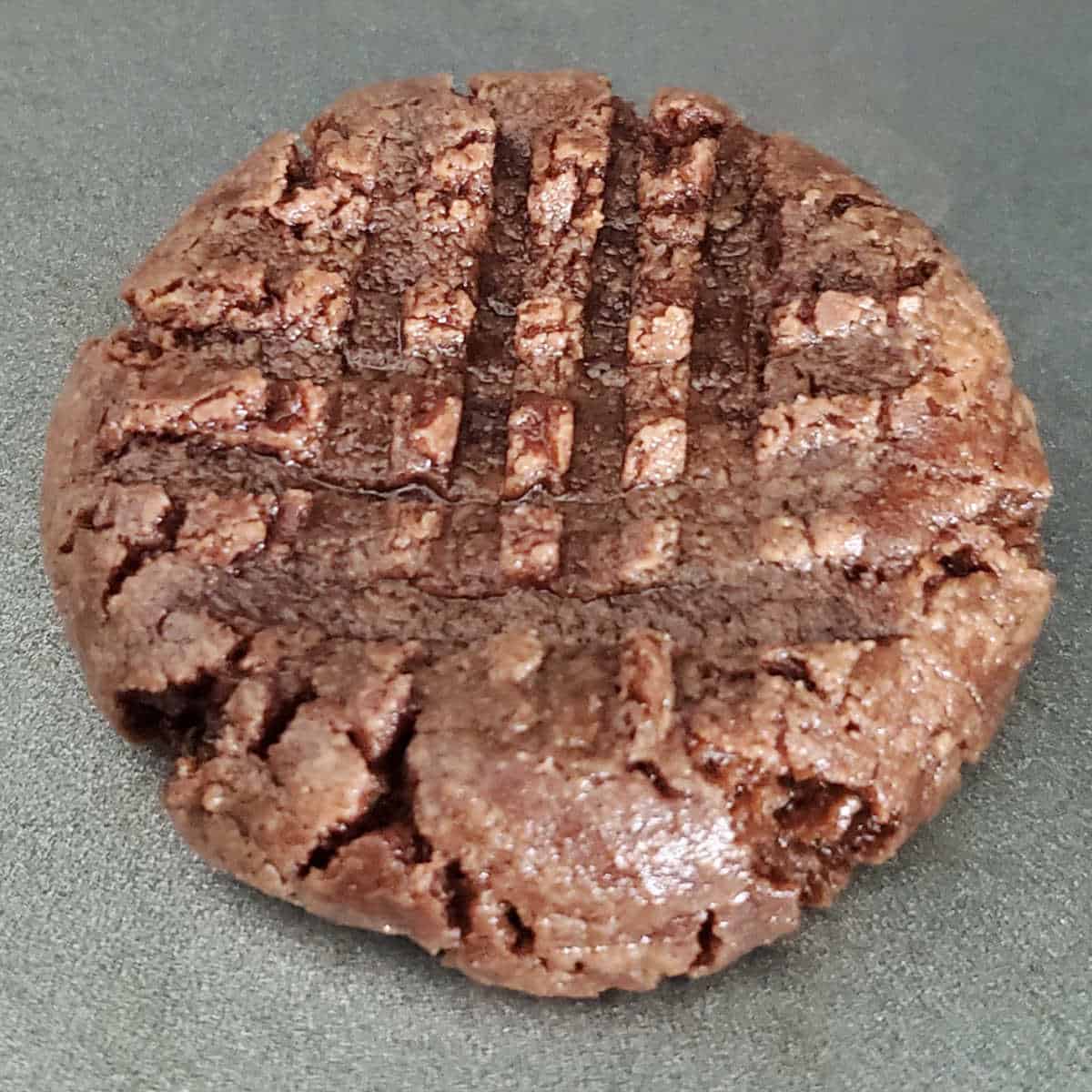 We are avid fans of using Nutella every way we can, and these three-ingredient Nutella cookies are your fast track to a firm chocolate hazelnut cookie that stands up well to milk.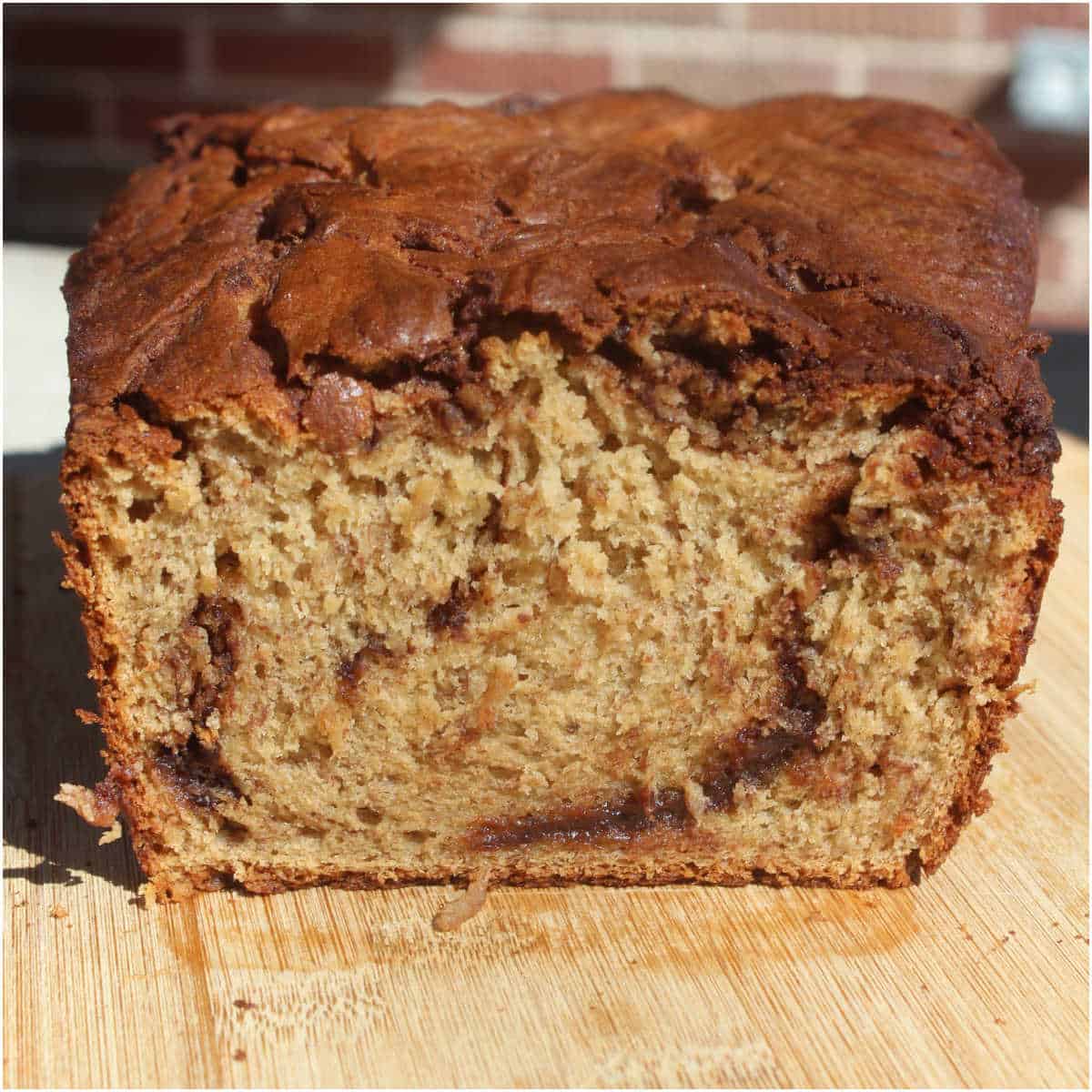 There's nothing like banana bread to sweeten the senses in the morning. Not only is this recipe great for repurposing ripe bananas, but you'll also love the surprise of chocolate hazelnut goodness swirled throughout a fresh loaf of this Nutella banana bread.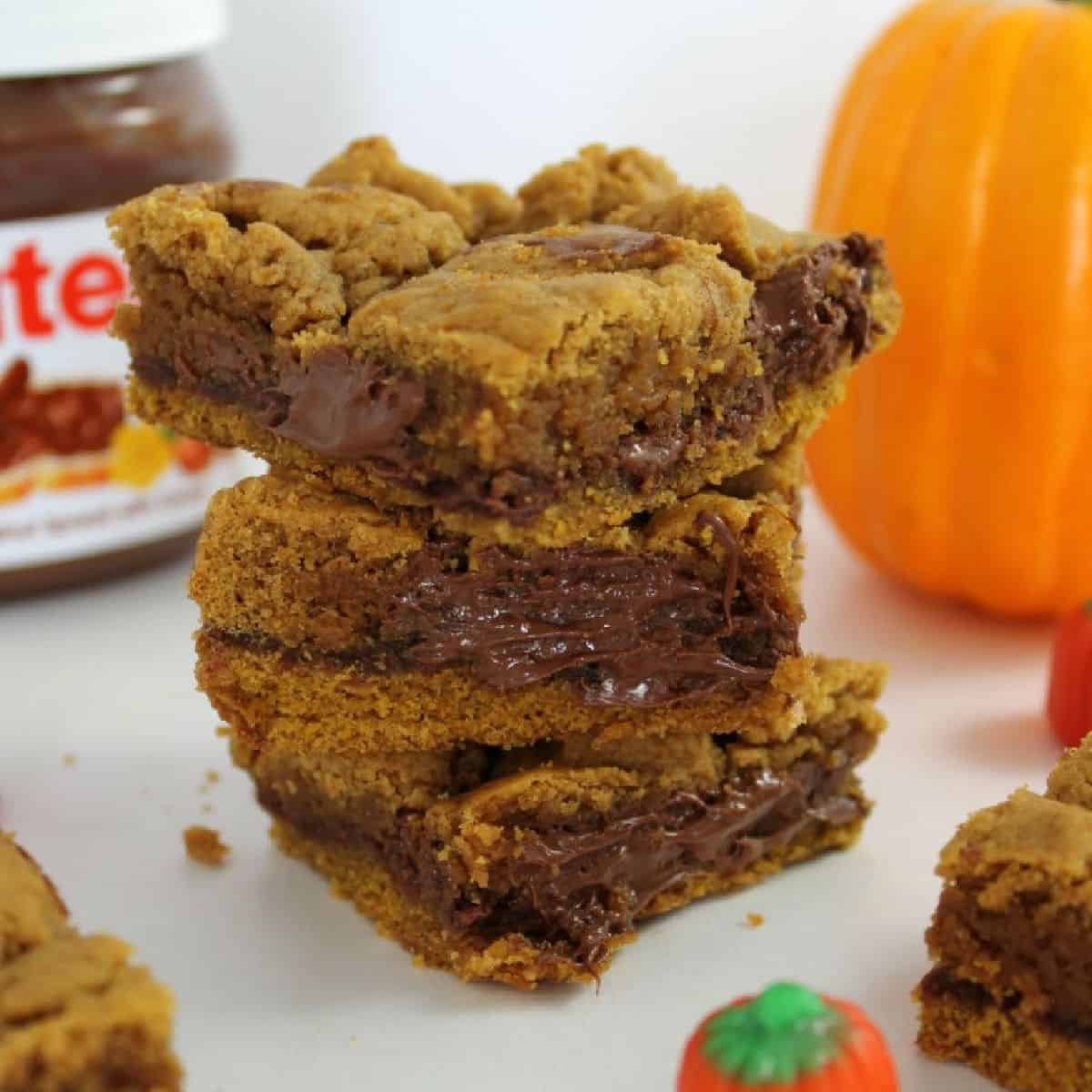 We buy Costco-size containers of Nutella, so we always love discovering new ways to use the product.
These Pumpkin Nutella Bars came about when our kitchen was filled with candy eyes, pumpkin puree cans, baking dishes, and more spoils of Halloween and fall baking. In this recipe, pumpkin and Nutella unite to form a gooey, fall-inspired twist on the blondie.
These scratch-made Nutella-frosted cupcakes combine two things our household loves - cupcakes and Nutella.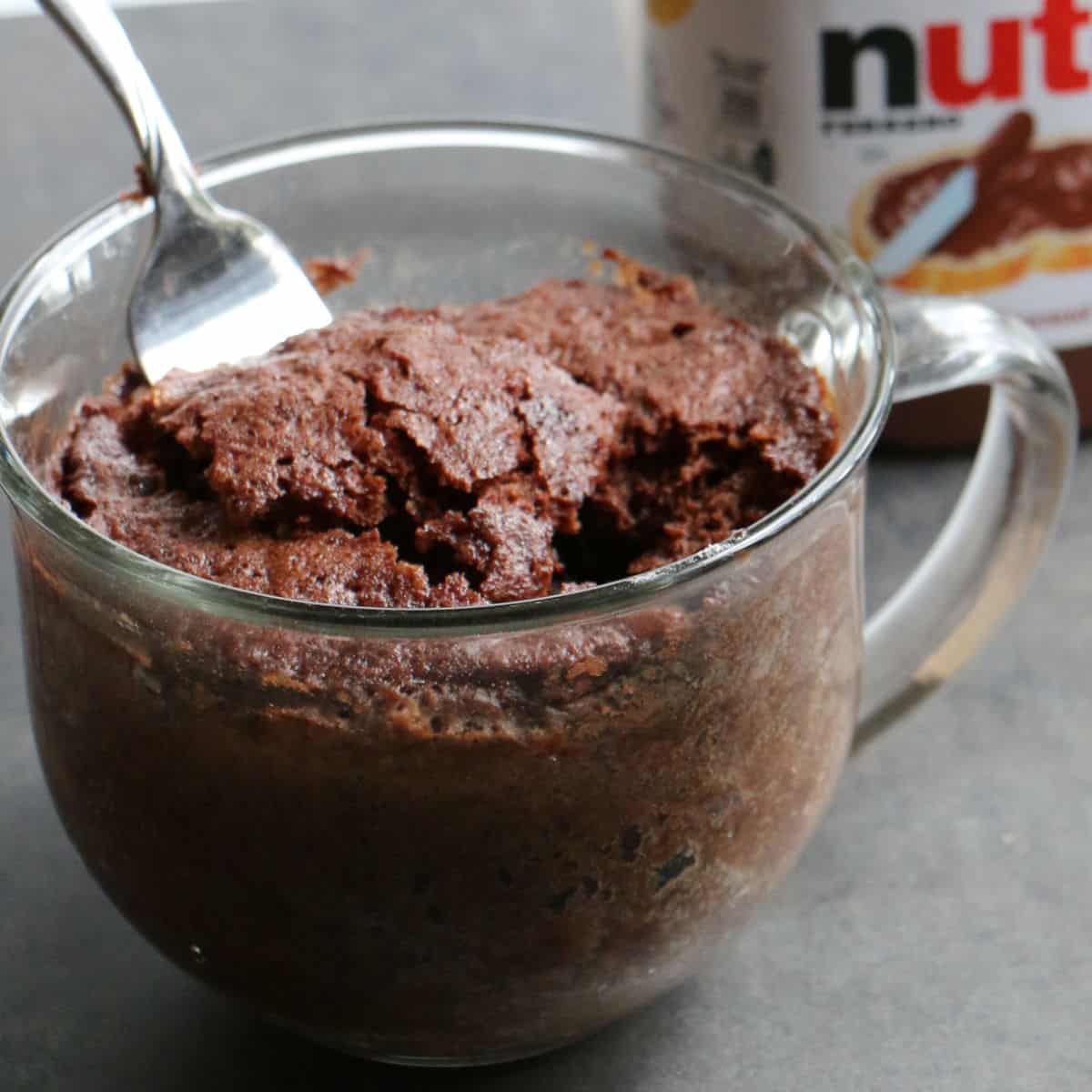 A gooey mug cake is a perfect pick-me-up for curling up on the couch after a long day. With this recipe, you're only six minutes away from a mug cake that proves that everything is better with a dollop of Nutella.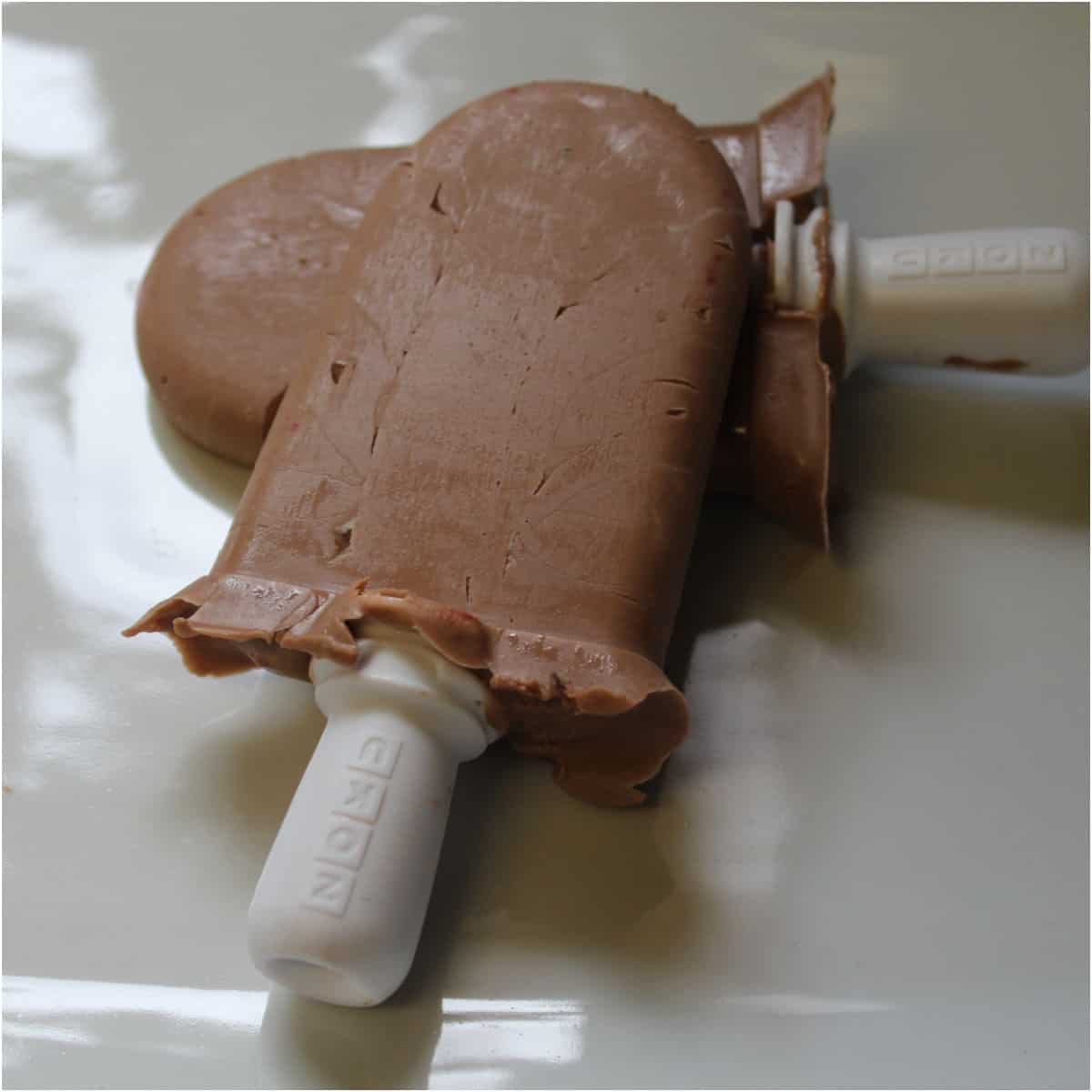 We love enjoying these indulgent three-ingredient Nutella popsicles in the thick of a Spokane summer. These easy-to-make chocolatey popsicles are a welcome departure from fruit-based ones if you're looking for more decadence.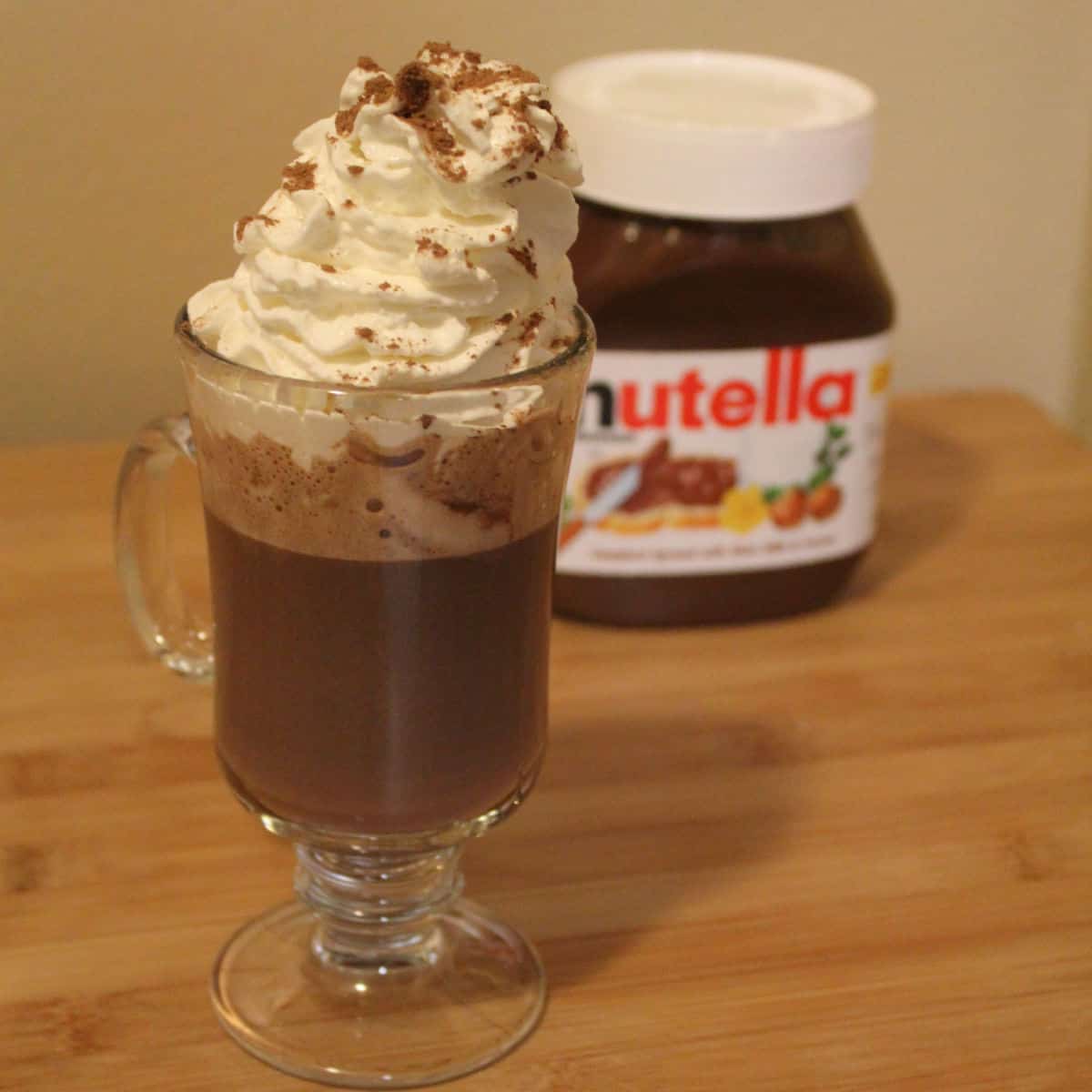 Our Nutella-loving household loves experimenting with all the ways to incorporate the chocolate hazelnut spread. Hot cocoa is delicious alone but simmering it with a few generous spoonful's of Nutella takes it to a new level.
I hope you have enjoyed this list of Nutella Recipes! I love this Nutella Lover spoon if you just want to scoop Nutella from the jar.
Many of these recipes can be adapted to be peanut butter recipes.
Kitchen Favorites
Heat resistant potholders  - A couple of years ago, we had a fire scare when we didn't realize we had turned a burner on, and a cloth potholder caught fire. Thankfully we walked by the kitchen and saw the smoke and were able to get it out ourselves. Since then, we have only used these heat-resistant potholders.
Baking Sheets - We are huge fans of these baking sheets with sides. You don't have to worry; you will remove the cookies from the oven and have them slide right off.
Microwave Silicone cover - I swear by these lid covers to help prevent butter splatters when melting butter in the microwave. I have had way too many butter explosions while baking. These lid covers help keep the butter in the bowl and not on the roof of your microwave.
Hand Mixer/Stand Mixer - You can mix with either a hand mixer or your stand mixer depending on your preference.
Parchment Paper -  I love that I can use parchment paper to help make it easier to remove the brownies or cookies. They also make clean-up a breeze.
Great Recipe Collections
Cool Whip Recipes - You will love how many ways you can use Cool Whip in Recipes.
Cream Cheese Recipes - Check out how you can turn a block of cream cheese into something epic!
Cake Mix Recipes - Boxed cake mix used intentionally can be a canvas for scrumptious yet creative cookies, brownies, cakes, and desserts.
Bisquick Recipes - Everything from breakfast to snacks, to comfort food, and more! All of these recipes with Bisquick are made with simple ingredients and are quick and easy recipes!
5 Ingredient or Less dessert recipes - check out the epic desserts you can make with only 5 or less ingredients.
Peanut Butter Recipes - Easy Peanut Butter Recipes including cookies, cakes, drinks, peanut sauce, and so much more.
Do you love recipes? Check out our copycat recipes, dessert recipes, and our CrockPot Recipes.
Follow Tammilee Tips on MSN, Facebook, Instagram, and Pinterest, for all of our recipe posts.