I think I may have become wife of the year in Johns eyes with this Crock Pot Corned Beef recipe. I do have to say that hopefully I hold that title every day.
I can not count the number of times John told me this is his favorite recipe I have ever made. After each bite he kept telling me how much he loved it. Even the next day eating left overs he told me how much he loved the Crock Pot Corned Beef.  John's Mom was over for our Slow Cooker Saturday Lunch and said she loved it. Yes we have a regular Slow Cooker Saturday lunch at our house. We invite John's Mom over and they get to try whatever recipe I am making for the weekend in the Crock-Pot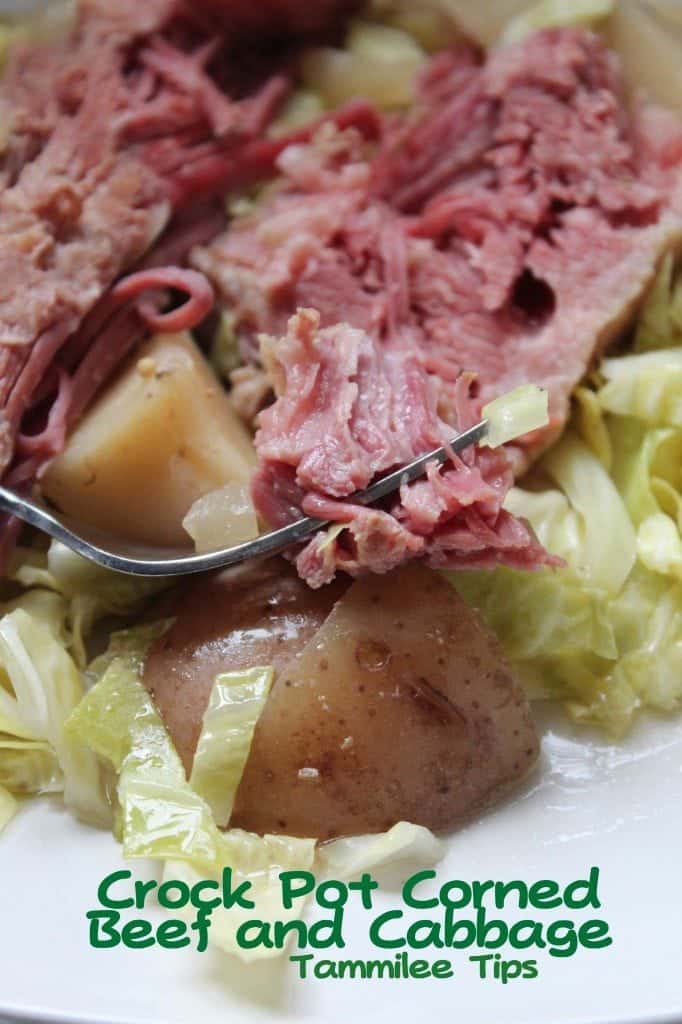 Crock Pot Corned Beef and Cabbage
Ingredients
10 Baby red potatoes, quartered
1 onion, peeled cut into pieces
4 cups of water
4 pounds corned beef brisket with spice packet
6 ounces of beer (we used an IPA but you can use your favorite beer)
1/2 head of cabbage, coarsely chopped
Directions
1. Place onions and potatoes in the bottom of the Crock-Pot

2. Pour in water and place brisket on top
3. Pour beer over brisket, It is about a half a can so enjoy the 2nd half as you cook
4. Sprinkle brisket with spices set Crock Pot on high
5. Cook 8 hours on high, 1 hour before serving stir in cabbage pieces and recover crock pot
We have a ton of Crock Pot recipes on the blog. You can see all of them in our Crock Pot Recipe Section . This is one of our favorite recipes to make. Everyone loves this Crock Pot Corned Beef and Cabbage recipe. It is so easy to make and tastes amazing!
Top 10 Crock Pot Recipes
2. Crock Pot Tater Tot Casserole
5. Crock Pot Spicy Buffalo Ranch Chicken
6. Crock Pot Corned Beef and Cabbage
7. Crock Pot Spicy Barbecue Kielbasa
8. Crock Pot Bourbon Glazed Kielbasa
10. Crock Pot Cajun Boiled Peanuts
You can find all of the recipes we have shared in our recipe section. We love making Crock Pot Recipes, Copy Cat Recipes, and so many more!

Crock Pot Corned Beef and Cabbage Recipe
Ingredients
10 Baby red potatoes, quartered
1 onion, peeled cut into pieces
4 cups of water
4 pounds corned beef brisket with spice packet
6 ounces of beer (we used an IPA but you can use your favorite beer)
½ head of cabbage, coarsely chopped
Instructions
Place onions and potatoes in the bottom of the Crock-Pot
Pour in water and place brisket on top
Pour beer over brisket, It is about a half a can so enjoy the 2nd half as you cook
Sprinkle brisket with spices set Crock Pot on high
Cook 8 hours on high, 1 hour before serving stir in cabbage pieces and recover crock pot