Easy Creamed Corn Casserole Recipe is the perfect family dinner or holiday side dish. So easy to make with only 5 ingredients. The perfect complement to any meal.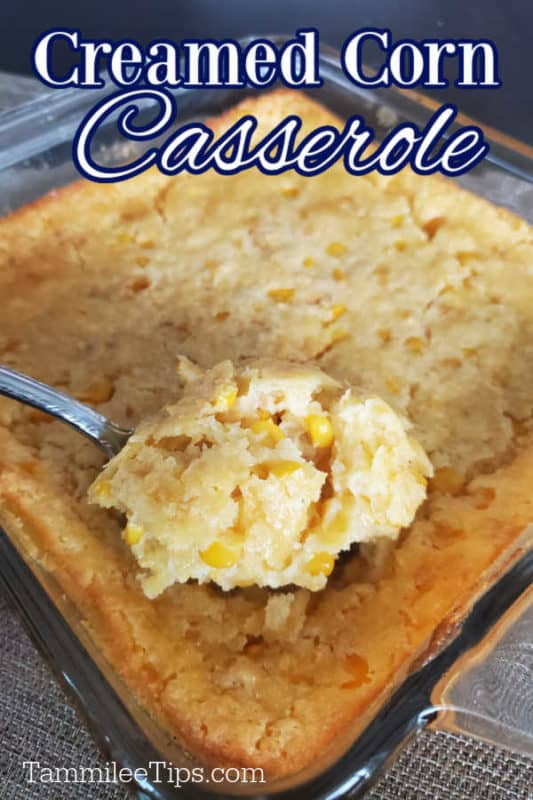 Creamed Corn Casserole Recipe
I love how easy it is to make this corn casserole. You literally pour all of the ingredients into a bowl, mix them together and pour them into a baking dish then put it in the oven for 45 minutes and you are done! Seriously! That is all it takes to make an epic corn side dish.
Plus it is only 5 ingredients that are pantry basics so you can make this any night of the week you need a quick and easy side dish.
I make this often when putting together weekly meal kits for my Husband's Mom and Grandmother. His grandmother is 93 and likes corn, green beans, and carrots right now.
I asked if I could bring some side dishes with broccoli or something different and she totally gave me side-eye and said "I like carrots, green beans, and corn!!!"
LOL! So you will be seeing a few extra carrots, green beans, and corn recipes in the next few months as I try to find new ways to surprise her with veggies and meal kits.
Let me know if you have any suggestions for epic veggie side dishes or meals. I made her Southern Style Green Beans to go with the this epic easy corn casserole recipe and that was a big win.
I paired the corn casserole this week with chicken casserole with Ritz Crackers and Stove Top Stuffing Meatloaf. I am trying to make them the main dish and then 1-2 veggie sides to pair with them.
This is one of our favorite Christmas and Thanksgiving side dishes that everyone loves.
In the future, I want to pair this with a hot bowl of Crockpot Chicken Chili. Hello yum!

This creamed corn casserole is also called creamed corn pudding or sometimes corn souffle depending on who you are talking with.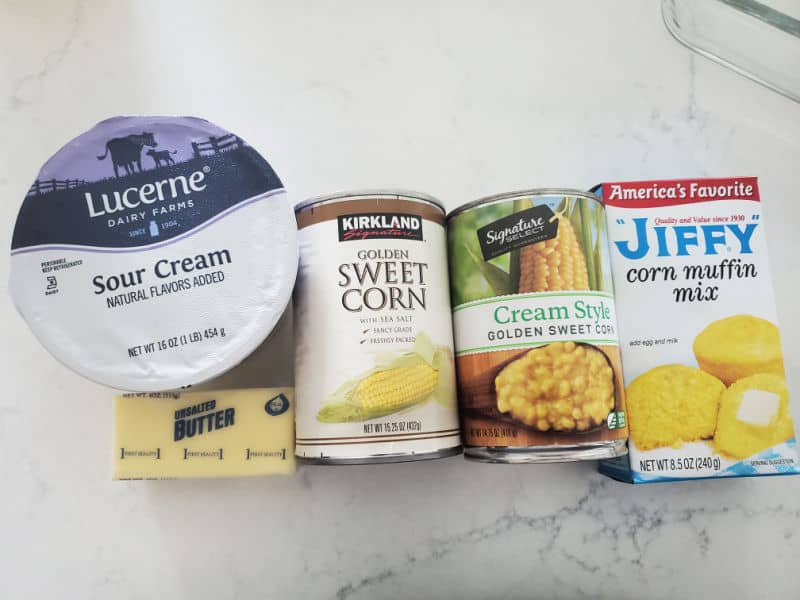 Ingredients
Whole Kernel Corn
Creamed Corn
Sour Cream
Butter
Add-ins - You can add in shredded cheddar cheese to make this a cheesy corn casserole.
Corn Muffin Jiffy Mix - We use the corn muffin mix since it is a bit sweeter than regular cornbread mix.
You can add 2 eggs to create a lighter corn casserole.
You can add sugar if you want a sweeter Jiffy Corn Casserole.
Bacon and jalapenos with shredded cheese would also be delicious mixed in.
As you can see this is a cornbread casserole that can easily be adapted to your favorite ingredients.
Whole Kernel Corn is also called sweet corn on some cans.
Salt and pepper to taste.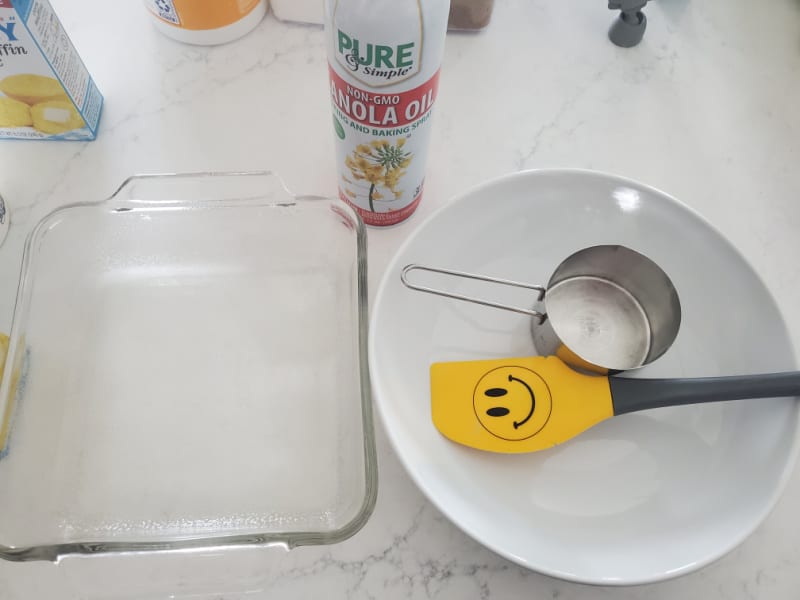 Equipment Needed
Microwave Silicone cover - I swear by these lid covers to help prevent butter splatters when melting butter in the microwave. I have had way too many butter explosions while baking. These lid covers help keep the butter in the bowl and not on the roof of your microwave.
Large Mixing Bowl - We are big fans of this glass batter bowl that has a handle. It makes it easy to mix ingredients and keeps the mixing bowl steady on the counter.  Make sure you use a bowl that is big enough to handle all of the ingredients.
8X8 Baking Dish  - If you double the recipe you will need to use 2 baking dishes or move to a 9 x 13 casserole dish. Expect the larger casserole dish to take an additional 10-15  minutes to cook. If you are using a metal baking dish it may take a couple of minutes longer than a glass casserole dish.
Wooden Spoon/spatula - This creamy corn bread mix does stick to the bowls when you are mixing it together. A spatula will help get everything out of the bowl and into the baking dish.
Non-stick spray - this will make it a lot easier to serve the creamed corn casserole and to clean the baking dish.
Heat resistant potholders - A couple of years ago we had a fire scare when we didn't realize we had turned a burner on and a cloth potholder caught fire. Thankfully we walked by the kitchen and saw the smoke and were able to get it out ourselves. Since then we have only used these heat-resistant potholders.
How to make Creamed Corn Casserole
Step 1 - Preheat the oven, gather all of the ingredients and supplies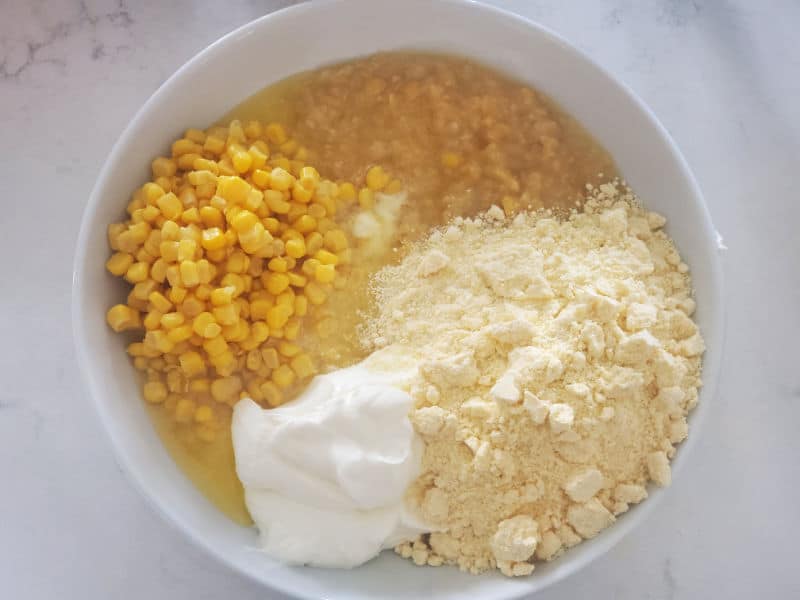 Step 2 - Combine all of the ingredients in a large bowl.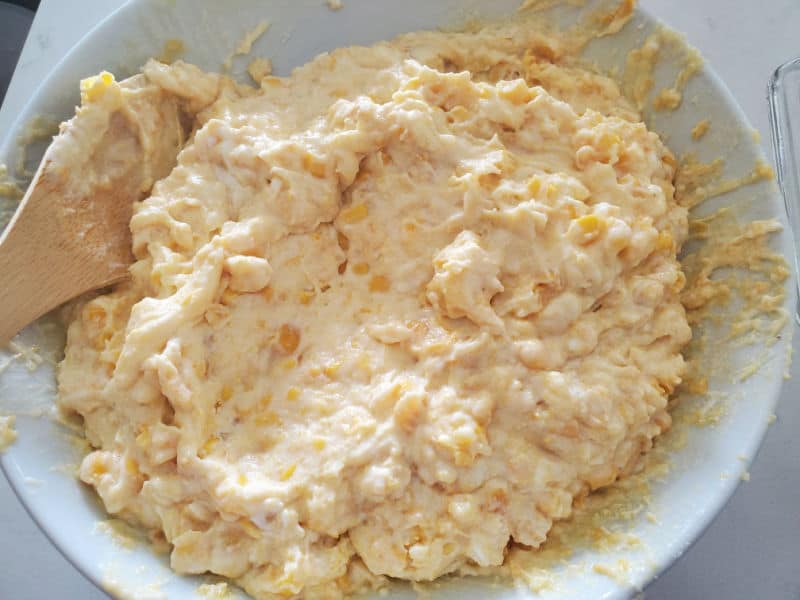 Step 3 - Stir together until well mixed. Make sure to get to the bottom of the mixing bowl.
Step 4 - Pour corn mixture into a greased baking dish and bake.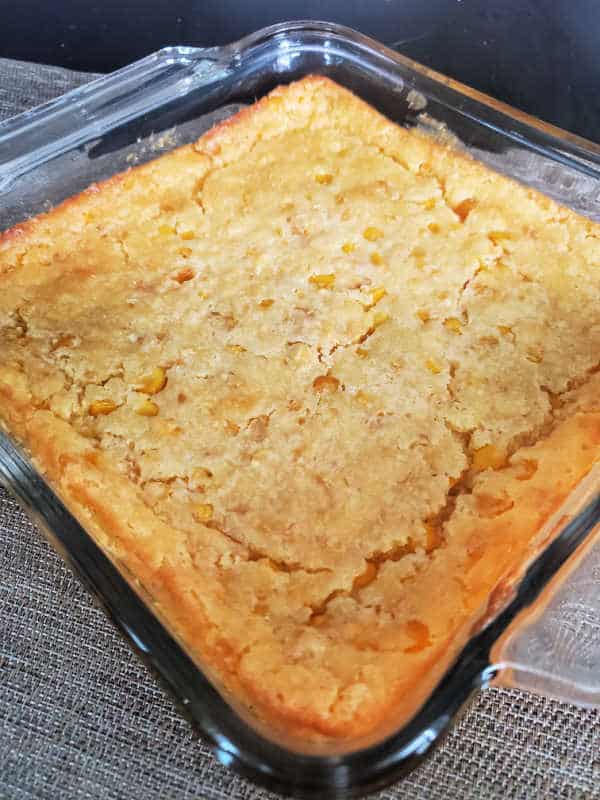 Can I make Corn Casserole ahead of time?
Yes!!! Prep this epic corn casserole up to 48 hours in advance to save time. Mix all of the ingredients and place them in the baking dish. Cover the dish with plastic wrap and refrigerate.
When you are ready to bake the casserole remove it from the oven for 30 minutes while the oven heats up before baking.
Bake according to the instructions below. It may take a few extra minutes depending on how cold the creamed corn casserole is.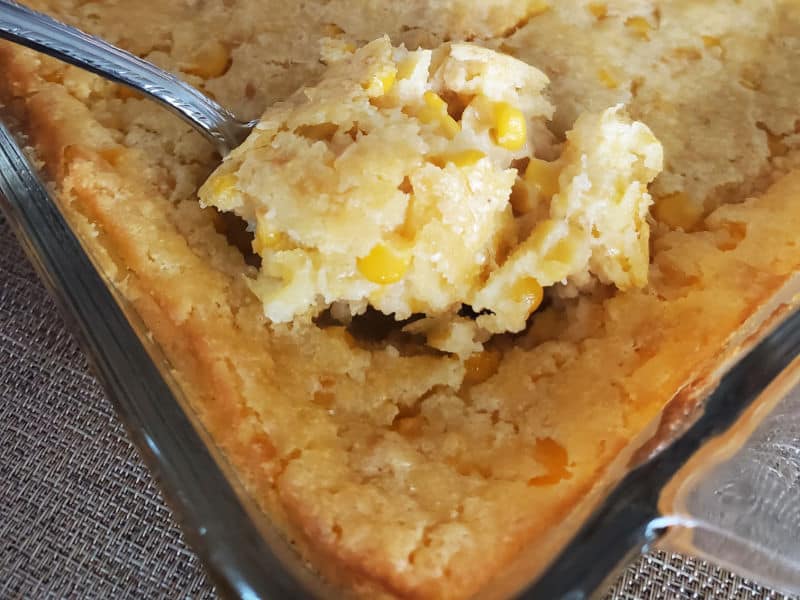 Recipe Tips
Make sure to preheat the oven to 350 degrees
You can mix everything together in one large bowl and then pour it all into the baking dish. Make sure you get down to the bottom of the bowl to get everything mixed.
Make sure the whole corn is drained before pouring it in with the other ingredients.
You can double this recipe if you are serving it for a large family holiday meal. I would move to 9x13 casserole dish or use two 8x8 baking dishes. You will need to adjust the baking time for a larger dish.
This creamy cornbread tastes great on its own but you can add in jalapenos or other flavorings if you love them.
I have not tried making this with frozen corn yet so I am not sure how it will turn out.
Store leftovers in an airtight container in the refrigerator.
Nutrition information including calories, protein, calcium, carbohydrates, fiber, vitamin c, potassium, cholesterol, sodium, trans fat, monounsaturated fat, polyunsaturated fat,  and more will vary depending on products used.
Printable instructions/recipe card below.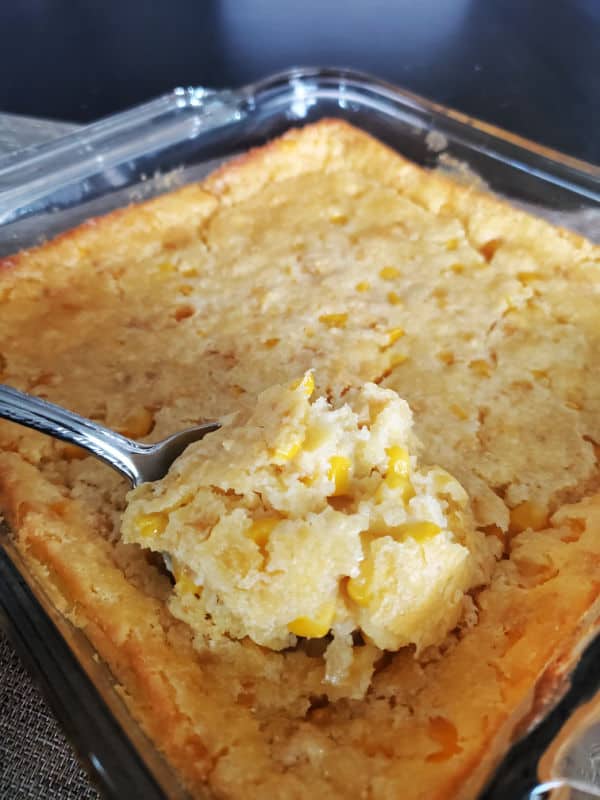 Great Side Dish Recipes
Campbells Green Bean Casserole
Sweet Potato Casserole made with Canned Yams
Do you love recipes? Check out our copy cat recipes, dessert recipes, and our Crock Pot Recipes.
Follow Tammilee Tips on MSN, Facebook, Instagram, Pinterest, and Twitter for all of our recipe posts.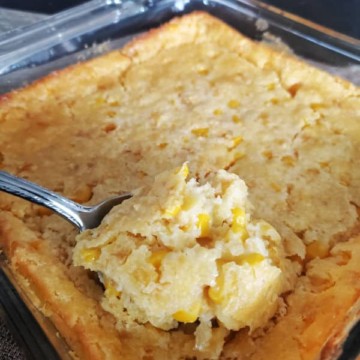 Creamed Corn Casserole Recipe
Easy Creamed Corn Casserole that only takes 5 ingredients. This Jiffy Corn Casserole is the perfect holiday side dish.
Print
Rate
Instructions
Preheat oven to 350 degrees

Combine all ingredients together in a bowl and mix together. Pour into a 8 x 8 baking dish that has been greased/non-stick spray.

Bake for 45 minutes until lightly brown.
Nutrition
Nutrition Facts
Creamed Corn Casserole Recipe
Amount Per Serving
Calories 361
Calories from Fat 198
% Daily Value*
Fat 22g34%
Cholesterol 46mg15%
Sodium 607mg26%
Potassium 211mg6%
Carbohydrates 38g13%
Protein 5g10%
Vitamin A 607IU12%
Vitamin C 4mg5%
Calcium 55mg6%
Iron 1mg6%
* Percent Daily Values are based on a 2000 calorie diet.