Epic easy Fry Sauce Recipe is perfect for dipping your favorite fries, adding to burgers or chicken. This quick and easy sauce recipe tastes amazing.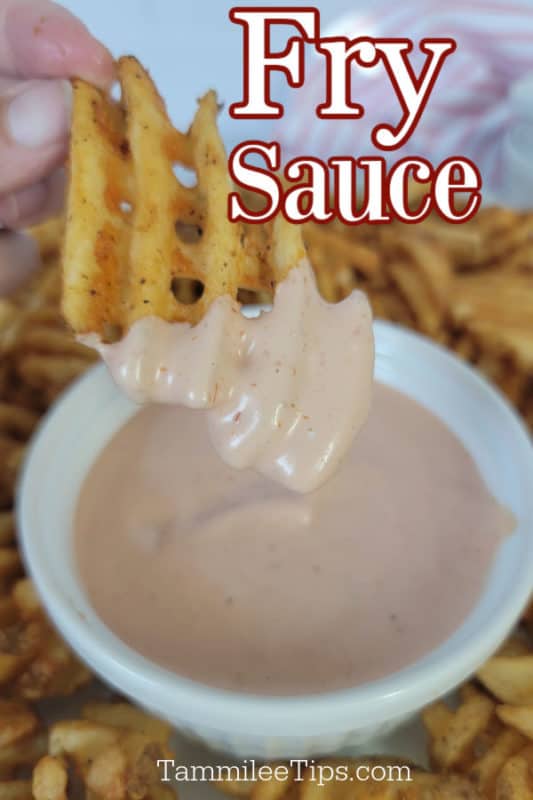 Fry Sauce Recipe
Is Fry Sauce common in your area? I grew up with fry sauce being available at most restaurants and a ton of local fast food restaurants have their own variations. I honestly didn't realize it was a west coast sauce until we were traveling.
I would say almost all of our local restaurants serve fry sauce in some variation. Many of our local restaurants have their own version that all taste just a little different.
My husband and I went on a Midwest National Park road trip and I asked for Fry Sauce at a Sonic and the car hop looked at me like I was crazy. She asked if I meant barbecue sauce or Ketchup.
When I explained that our Sonic has Fry Sauce she shook her head and said she had never heard of it.
When I was in Oklahoma City and asked for it I was brought ranch dressing. LOL!
I figured it was time to share our favorite fry sauce we make at home and a few variations and ways to change it up. One of our favorite local Spokane Hamburger restaurants makes their sauce with chopped up pickles in it and I love it.
We are going to share the basic version and then offer tips on how you can adapt it until you make the perfect French fry dipping sauce that you love.
One thing to know is Fry Sauce is not the same as thousand island dressing. If you have mixed ketchup and mayonnaise together to dip your French fries you were on your way to an epic French Fry dipping sauce.
You can dip French fries, potato wedges, onion rings, in this lovely fry sauce or smear it on a burger or chicken. It is perfect for air fryer French fries! I even dip my favorite Air Fryer Grilled Cheese in it.
Rumer has it that French Fry Sauce recipe was originally created at an Arctic Circle near Salt Lake City, Utah. This sauce condiment is similar to mayoketchup in Puerto Rico, salsa golf or salsa rosado in South America.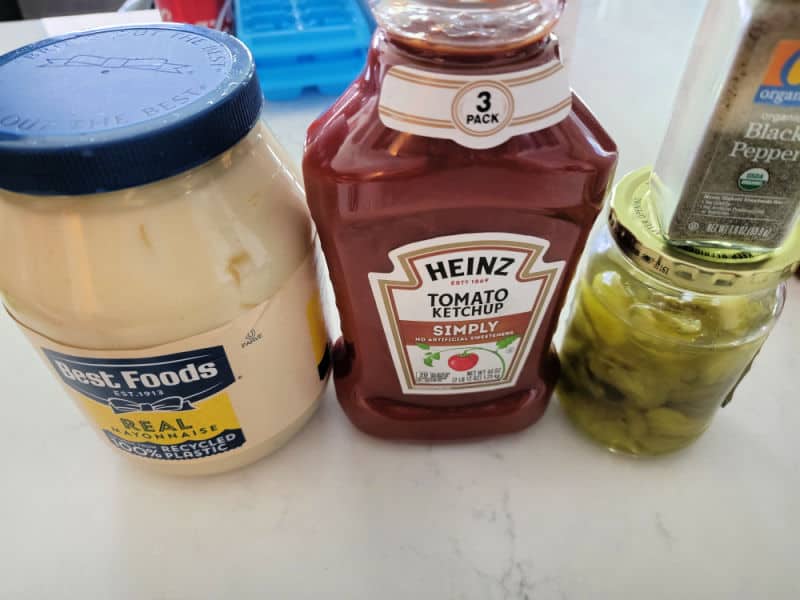 What is Fry Sauce Made of?
Mayonnaise
Ketchup
Vinegar/Dill Pickle Juice
Optional add ins - Worcestershire Sauce, garlic powder/garlic salt, Apple cider vinegar, cayenne pepper, paprika, and/or hot sauce.
Just add in small amounts of the optional ingredients until you get the flavor you love.
Spicy - To make the sauce spicy add in tabasco sauce, Franks hot sauce, Sriracha, or red pepper flakes.
If you love mustard you can add a teaspoon of yellow mustard to add this flavor to the sauce.
Vinegar or pickle brine - It is really up to you which flavor you like best. We like the taste of the pickle juice but have heard other people love the flavor of vinegar or apple cider vinegar.
Mayonnaise - We suggest using your favorite real mayo to get the thick texture of the dipping sauce. This recipe can be made vegan by using veganaise.
Jalapeno Fry Sauce - Dice up a few jalapenos and add them to the original fry sauce with a bit of jalapeno juice.
Chipotle Fry Sauce - Add in chopped chipotle peppers in adobe sauce with the original fry sauce recipe.
Equipment Needed
Mixing Bowl - We are big fans of this glass batter bowl that has a handle. It makes it easy to mix ingredients and keeps the mixing bowl steady on the counter
Whisk
Measuring tools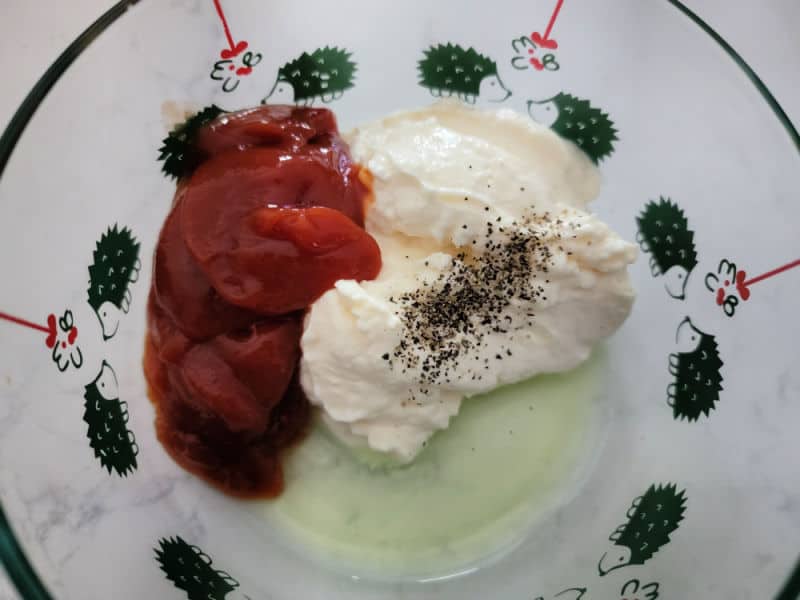 How to make Fry Sauce
To make this easy dipping Sauce Recipe add all of the ingredients to a glass bowl that has a lid. Whisk ingredients together until fully mixed.
Store in the refrigerator until you are ready to serve.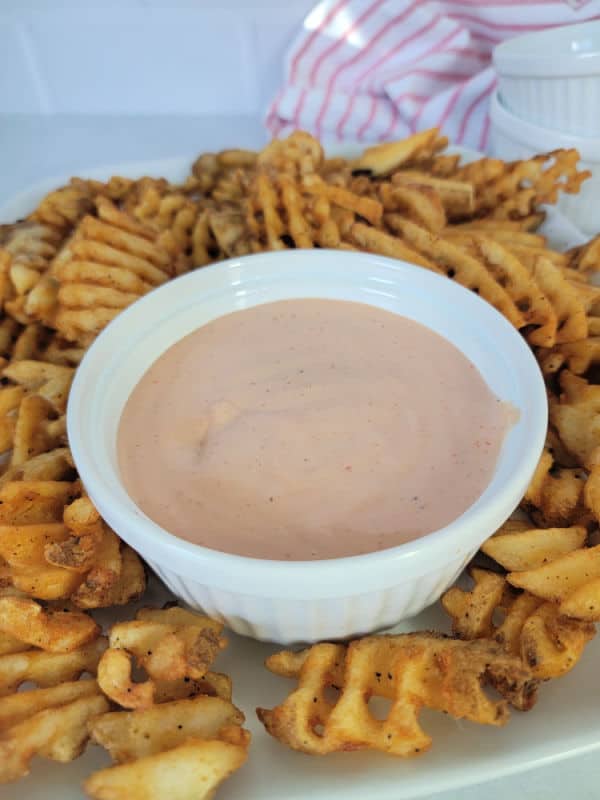 Recipe Tips
Serve this with your favorite potato side dishes. I like to leave it in a bowl near any potato dishes so guests can add it to their plates.
We do not suggest freezing this sauce. It will separate and not taste as good when thawed.
The sauce should last 3-5 days in the refrigerator.
Resting the sauce in the refrigerator for at least 30 minutes helps bring out the flavor.
Printable recipe card instructions are below.
Nutrition information, including calories, protein, calcium, carbohydrates, fiber, vitamin c, potassium, cholesterol, sodium, trans fat, monounsaturated fat, polyunsaturated fat, Vitamin A, and more, will vary depending on the products used.
How long is Fry Sauce Good?
Fry Sauce should be stored in an airtight container in the fridge.
It has the best flavor within 3 to 5 days of making it. When you are ready to use the sauce just give it a good stir and enjoy!
Does Freddy's Fry Sauce need to be refrigerated?
Yes, we suggest refrigerating all fry sauce to make sure it is good.
What is Fry Sauce?
Fry Sauce is an epic dipping sauce for not only French Fries but a ton of other foods including burgers and wraps.
It is famous in the Pacific Northwest (Washington, Oregon, and Idaho), along with in Utah.
The base for fry sauce is ketchup, mayonnaise, and a variety of spices combined to make a must try dipping sauce.
Who Invented Fry Sauce?
In researching who invented Fry Sauce most of the articles pointed to Utah Restaurant Owner Don Carlos Edwards. He owned the fast food chain Arctic Circle and originally called the sauce "pink sauce".
It is believed that he invented fry sauce in the 1940s
Have you ever wondered where was fry sauce invented? 
It is believed that fry sauce was invented in Utah.
What do you use fry sauce for?
Burgers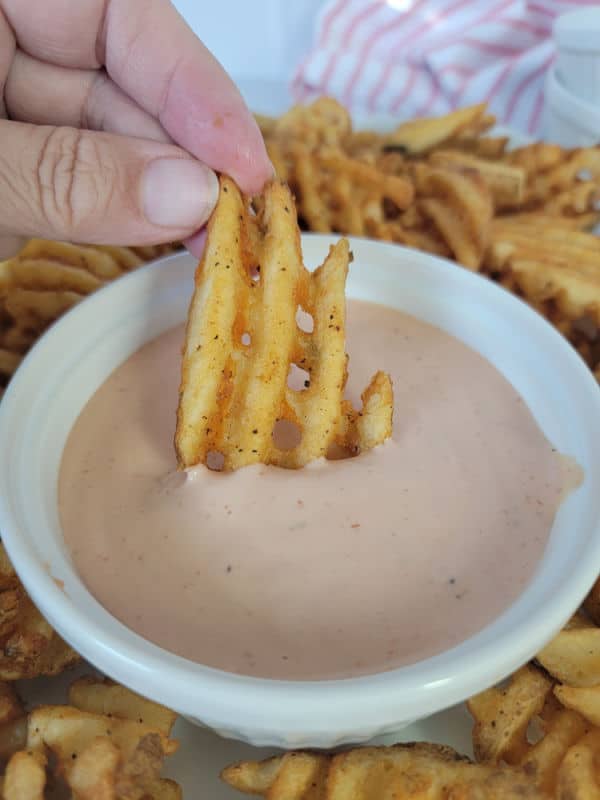 Great Dipping Sauce Recipes
Check out all of our dipping sauce recipes
Do you love recipes? Check out our copycat recipes, dessert recipes, and our CrockPot Recipes.
Follow Tammilee Tips on MSN, Facebook, Instagram, and Pinterest, for all of our recipe posts.
Share with hashtag #TammileeTips on social media.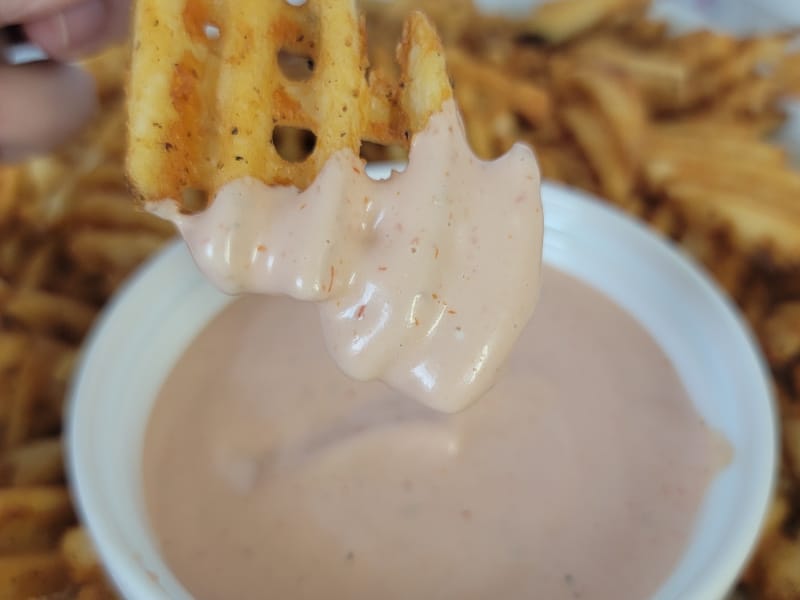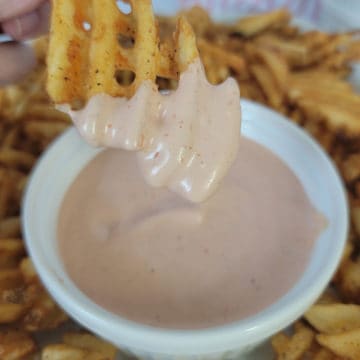 Fry Sauce
How to make easy French Fry Sauce with only a few ingredients.
Print
Rate
Instructions
Combine all ingredients in a glass bowl. Whisk together until mixed.

Store covered in the refrigerator.
Nutrition
Nutrition Facts
Fry Sauce
Amount Per Serving
Calories 848
Calories from Fat 756
% Daily Value*
Fat 84g129%
Cholesterol 47mg16%
Sodium 1539mg67%
Potassium 259mg7%
Carbohydrates 21g7%
Protein 2g4%
Vitamin A 458IU9%
Vitamin C 3mg4%
Calcium 21mg2%
Iron 1mg6%
* Percent Daily Values are based on a 2000 calorie diet.