Easy Cocktails with Cranberry Juice that taste amazing! These cranberry juice cocktails are perfect year-round.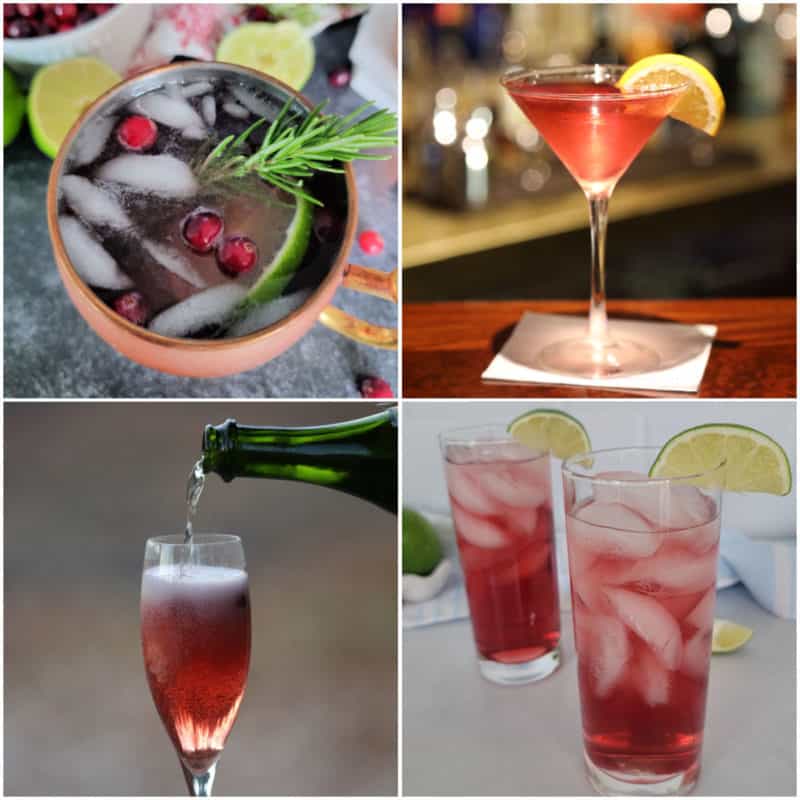 Cranberry Juice Cocktails to Enjoy All Year Round
The cranberry is a tiny, red berry whose bright, slightly bitter tang has probably made it to your stomach through Thanksgiving or Christmas dinner.
Cranberry juice, on the other hand, imparts a sweet-tart flavor and a vibrant red hue to cocktails and mocktails. Here are answers to your most-asked questions about cranberry juice, followed by cranberry juice recipes that will make you fall in love throughout the year with this festive berry.
Garnish with Sugared Cranberries for a delicious cranberry cocktail.
Does Cranberry Juice Go Bad?
Yes, cranberry juice doesn't last forever. As with all fruit-derived products, it eventually spoils and should be stored accordingly to maintain the best quality for the longest time possible.
Cranberry juice cocktail, an artificially-sweetened beverage derived from cranberries, is the kind of cranberry juice you'll likely encounter in the cocktail world. This kind is usually sold in unrefrigerated plastic bottles or cans in the freezer aisle.
Shelf-stable cranberry juice should be kept in the refrigerator after opening and consumed within two to three weeks. Unopened bottles of cranberry juice can surprisingly remain at room temperature for up to two years past the printed date.
We don't recommend drinking opened cranberry juice that has gone unrefrigerated for more than a few hours, as temperatures between 40° to 140°F mean breeding grounds for bacteria.
Cranberries have many health benefits, from improving immune health and stalling the effects of aging to reducing the risk of UTIs. The most nutrient-dense and true-to-form cranberry juices are fresh and free of artificial preservatives.
Cranberry juice purchased refrigerated has a significantly shorter shelf life of seven to ten days after opening. It's easy to tell fresh cranberry juice from the sweetened cocktail variety, as it will be labeled as "100 percent juice," will not contain added sugars, and may be sold in cartons or glass bottles.
Homemade cranberry juice lasts three to five days in the refrigerator.
Here are the tell-tale signs that your cranberry juice is past its prime:
Color Changes
A Sour Aroma
Signs of Fermentation (air bubbles, bottle expansion)
Sediment
Mold
Cranberries are hardy berries that preserve well, so there's no need to worry if you purchased too many during the holidays and couldn't turn them all into cranberry juice. They can be canned, frozen, or dried. Dried cranberries add a chewy and acid-sweet bite to savory and sweet meals. They work particularly well in baked goods.
According to Penn State University's PennState Extension, canning berries into sauces, jams, salsas, and chutneys are all research-backed ways to preserve them. Any cranberries that can't be reappropriated should be frozen to maintain their quality.
Are you looking for cranberry recipes? We've got a Cranberry Salsa and a Cranberry Orange Relish.
Freezing cranberry juice also turns out to be the best way to store it for longevity. Unopened and opened cranberry juice kept in the freezer at a consistent temperature of 0°C remains drinkable for eight to 12 months.
Prepare your cranberry juice for the freezer by pouring it into an airtight container or a secured ice tray. The liquid will expand during the freezing process, so leave at least a half-inch of clearance at the top of your vessel.
Cranberry juice can be thawed in the refrigerator, the microwave, or by running the container under water. Once defrosted, consume your cranberry juice within three to five days, and keep it refrigerated when not in use.
Is Cranberry Juice Gluten-Free?
Yes! Cranberry juice is made from cranberries, a naturally gluten-free food, and none of its usual preservatives, if applicable, are gluten-containing. Gluten-containing products have traces of wheat, barley, rye, oats, or a combination of these grains.
Ocean Spray, the cranberry brand behind Craisins, confirms that none of its products contain gluten.
Cranberry Juice Recipes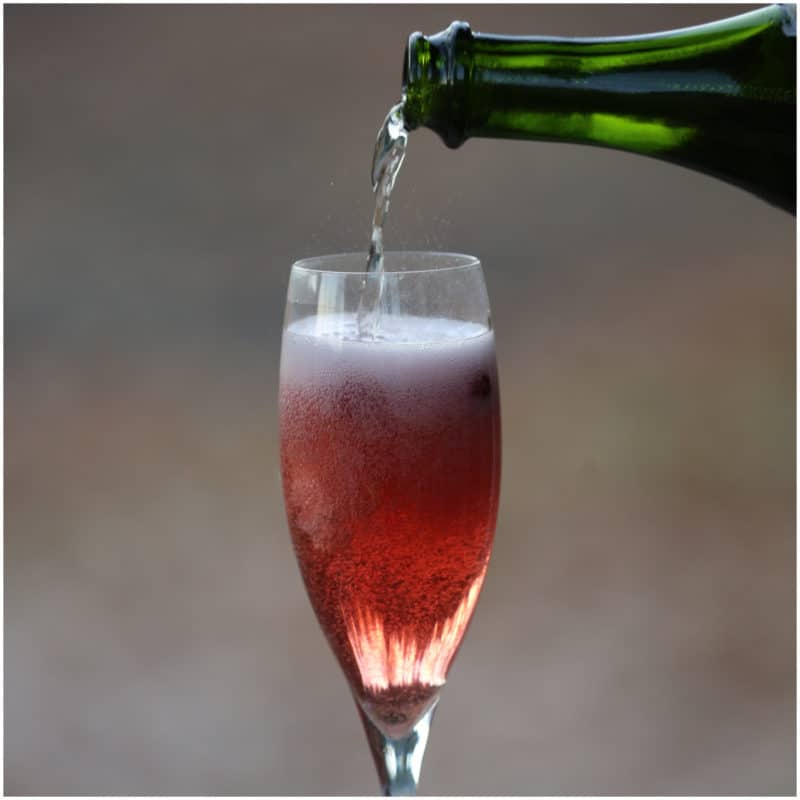 Ingredients: Champagne, Cranberry Juice, Cranberries for Garnish
Toast to good times with this cheery, holiday brunch-ready mimosa.

Ingredients: Vodka, Peach Schnapps, Cranberry Juice, Lime Wedge for Garnish
Although its origins remain unclear, some accounts say that the Woo Woo drink was served to fans at bars each time the New York Mets scored in a game.

Ingredients: Vodka, Pineapple Juice, Cranberry Juice, Lime Wedges
Pineapple juice transforms the Cape Cod cocktail into a sweet highball drink perfect for brunch or relaxing with friends.

Ingredients: Skyy Vodka, Pomegranate Liquor, Pomegranate Syrup, Lemonade, Cranberry Syrup
Cocktail aficionados who sail aboard Carnival Cruise Ships will love the Alchemy Bar's solid drink offerings. This charming pomegranate-cranberry cocktail is bright, tart, and dangerously easy to sip.

Ingredients: Absolut Raspberri, Malibu Coconut Rum, Cranberry Juice, Lime Juice
This coconut and raspberry martini, another stellar creation from the Alchemy Bar, has vacation written all over it.

Ingredients: Cranberry Juice, Lime Juice, Citrus Vodka, Triple Sec
There's nothing like cooling off with a cold treat on a hot day. Adult popsicles offer the best of both worlds - the nostalgia of reliving carefree summer days and the rush of tasting your favorite boozy beverage in a refreshing format.
This cranberry juice recipe makes four adult cosmopolitan popsicles. Keep them out of reach of anyone under 21, and add labels so that it's clear these are for grownups only.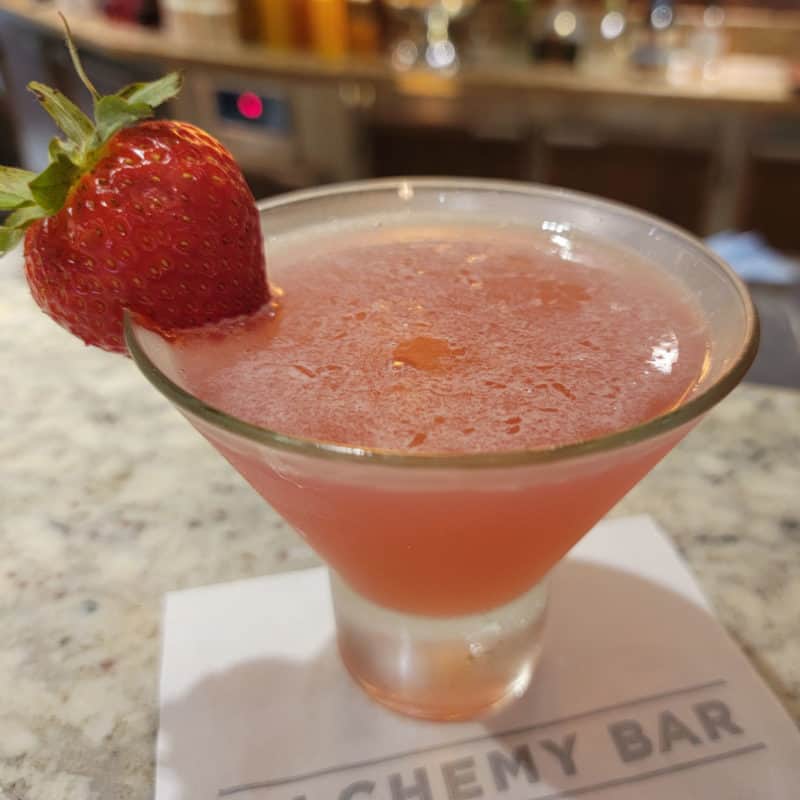 Ingredients: Absolut Citron Vodka, Peach Schnapps, Lemonade, Cranberry Juice
This peach-citrus-cranberry spin on the classic cosmopolitan is a favorite from Alchemy Bar, the resident cocktail venue on Carnival Cruise Ships.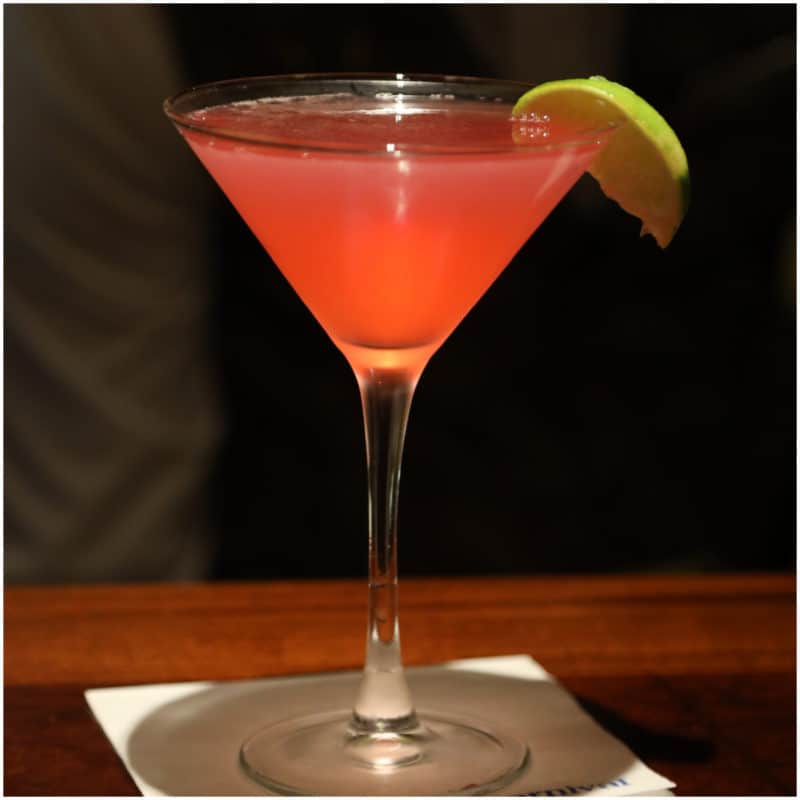 Ingredients: Absolut Vodka, Monin Watermelon Syrup, Lemonade, Cranberry Juice, Lime for Garnish
Sampling cocktail creations is one of our favorite travel activities. We enjoyed this watermelon-cranberry gem while cruising in Mexico on the Carnival Splendor.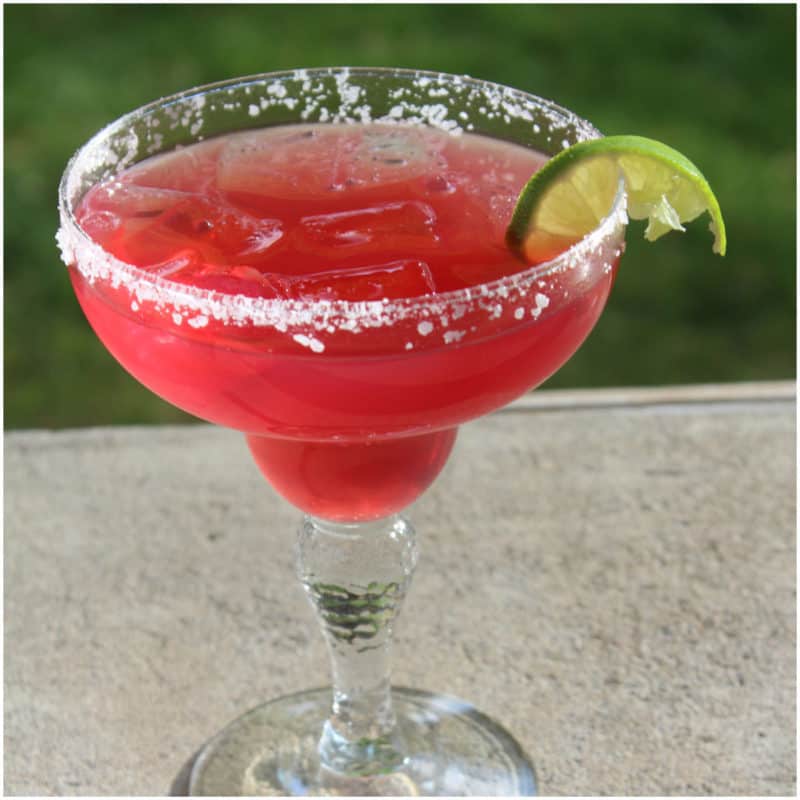 Ingredients: Silver Tequila, Triple Sec, Sweet and Sour Mix, Cranberry Juice
This copycat recipe from Chevy's Fresh Mex features the complementary flavors of cranberry and orange.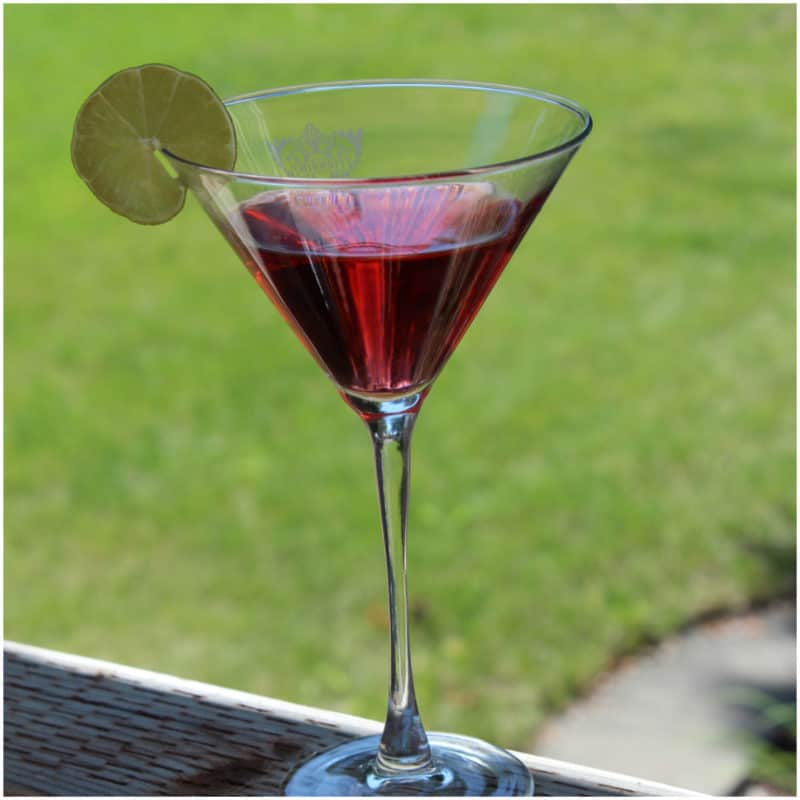 Ingredients: Smirnoff Sorbet Light - Raspberry Pomegranate, Cranberry Juice, Fresh Lime Juice
This raspberry and pomegranate twist on Carrie Bradshaw's favorite libation is made with Smirnoff Sorbet Light, a flavored vodka that adds less than 100 calories to any drink.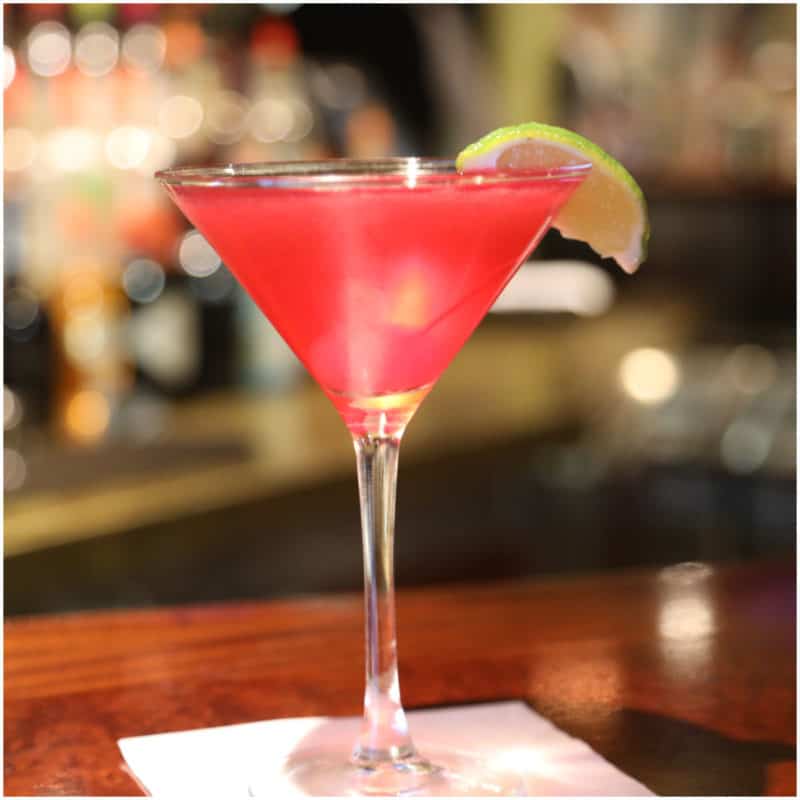 Ingredients: Stoli Orange Vodka, Monin Red Passion Fruit Syrup, Fresh Lime Juice, Orange Juice
The candy-red Pomegranate Martini is all dressed up for your next Valentine's Day or Christmas gathering. This fruity martini is another favorite we've discovered aboard a Carnival Cruise.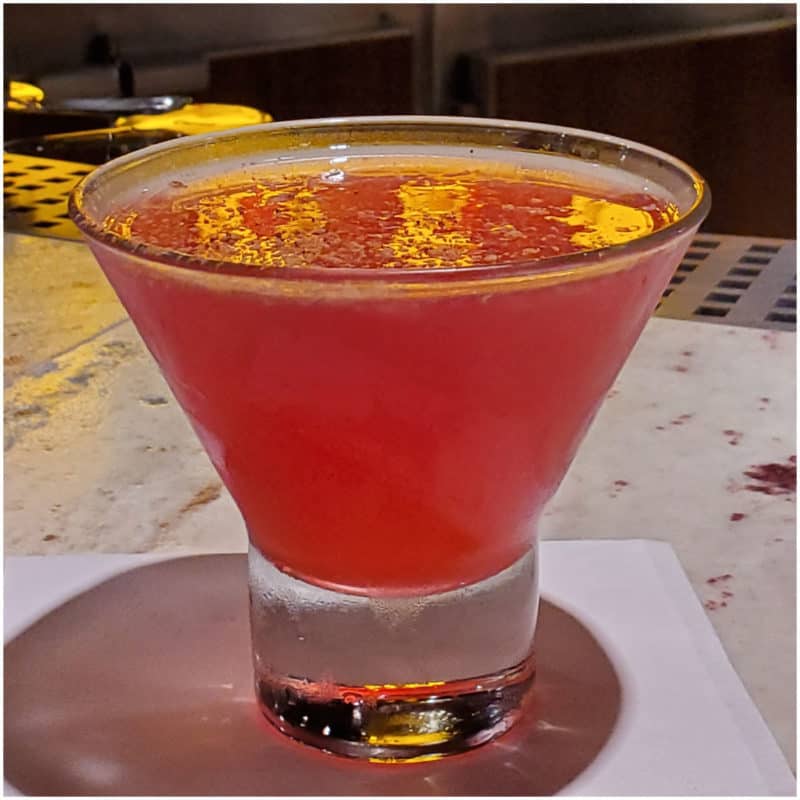 Ingredients: Bacardi Rum, Bacardi Spiced Rum, Monin Strawberry Syrup, Cranberry Juice, Lime Juice
Claiming perfection may be a tall order, but this strawberry syrup-sweetened cocktail lives up to its name. We discovered the Alchemy Bar's rum-infused take on the classic Dark 'N' Stormy after deciding to explore as many Alchemy Bar offerings as possible on one of our Carnival Cruises. The premium onboard cocktail venue's creations are part of the Carnival Cheers Drink Package.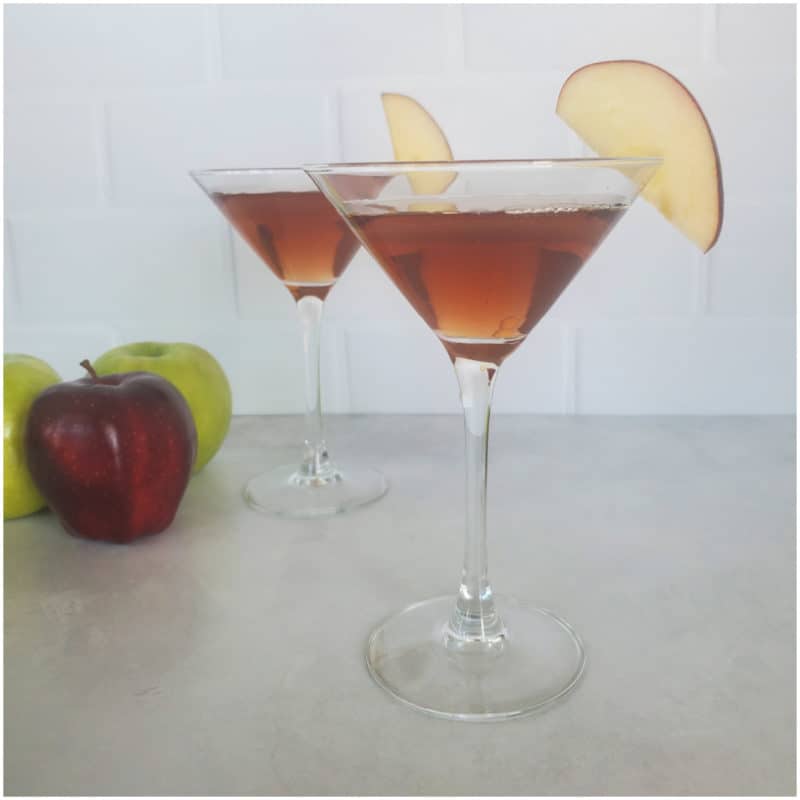 Ingredients: Crown Royal Canadian Whiskey, Sour Apple Schnapps, Cranberry Juice, Apple for Garnish
As a native Washingtonian, I always wonder why this recipe wasn't one of my first shares on the site. The apple comes from sour apple schnapps, the whisky comes from our northern neighbors across the border, and the cranberry juice adds a pleasant apple color to the cocktail. Garnish this fall-ready drink with halfway-cut apple slices.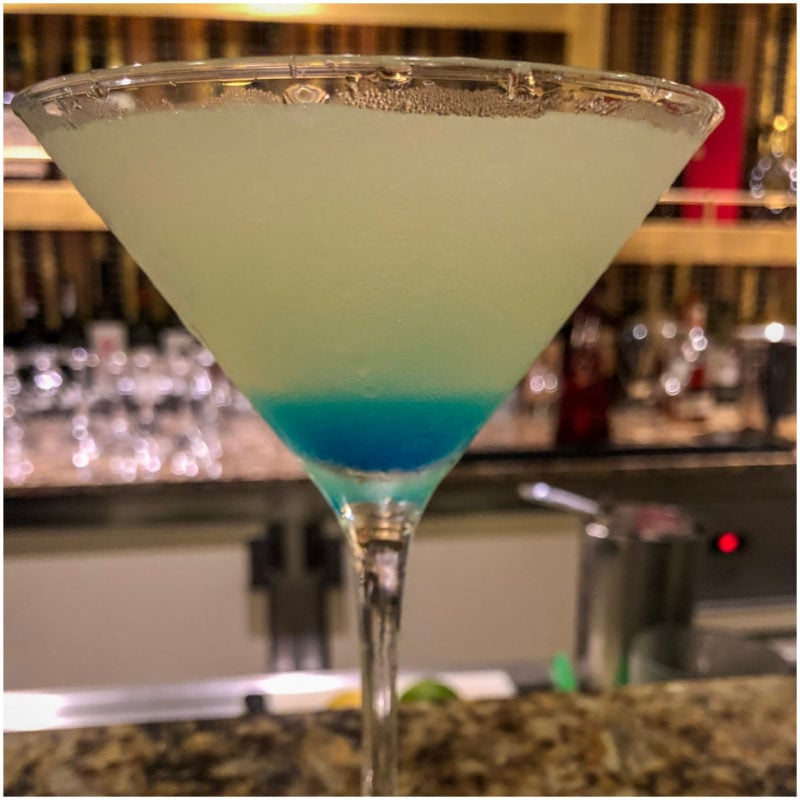 Ingredients: Bacardi Limón Rum, Patrón Citrónge Orange Liqueur, Fresh Lime Juice, White Cranberry Juice, Blue Curaçao
The citrusy Seven Seas Martini is a staple at the Fahrenheit 555 Steakhouse on Carnival Cruise Ships. It is made zesty with Bacardi Limón Rum and Patrón Citrónge. Bacardi Limón Rum is flavored with lemon, lime, and grapefruit, while Patrón Citrónge is an orange-flavored tequila.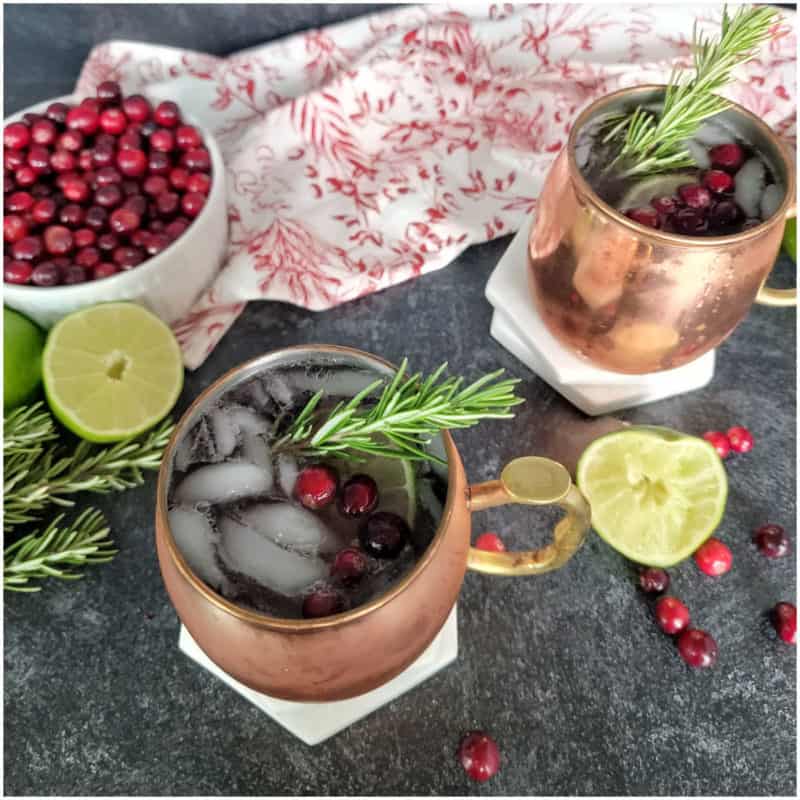 Ingredients: Ice, Fresh Lime Juice, Vodka, Cranberry Juice, Ginger Beer; Lime Wheel, Cranberries, and Rosemary Sprig for Garnish
Tart cranberry pairs beautifully with spicy ginger beer in this holiday-friendly play on the classic Moscow mule. Orange bitters add even more festivity.
Check out these other great Moscow Mule Variations.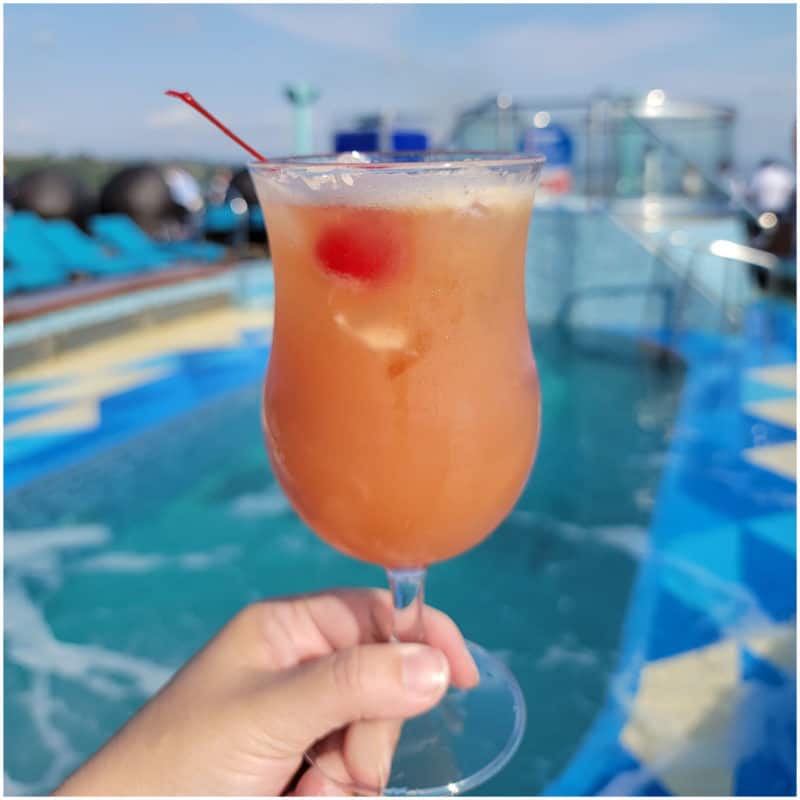 Ingredients: Skyy Vodka, Malibu Coconut Rum, Peach Schnapps, Cranberry Juice, Orange Juice, Pineapple Juice
The refreshing Carnival Cruiser cocktail will have you dreaming of turquoise waves and warm sandy beaches in no time.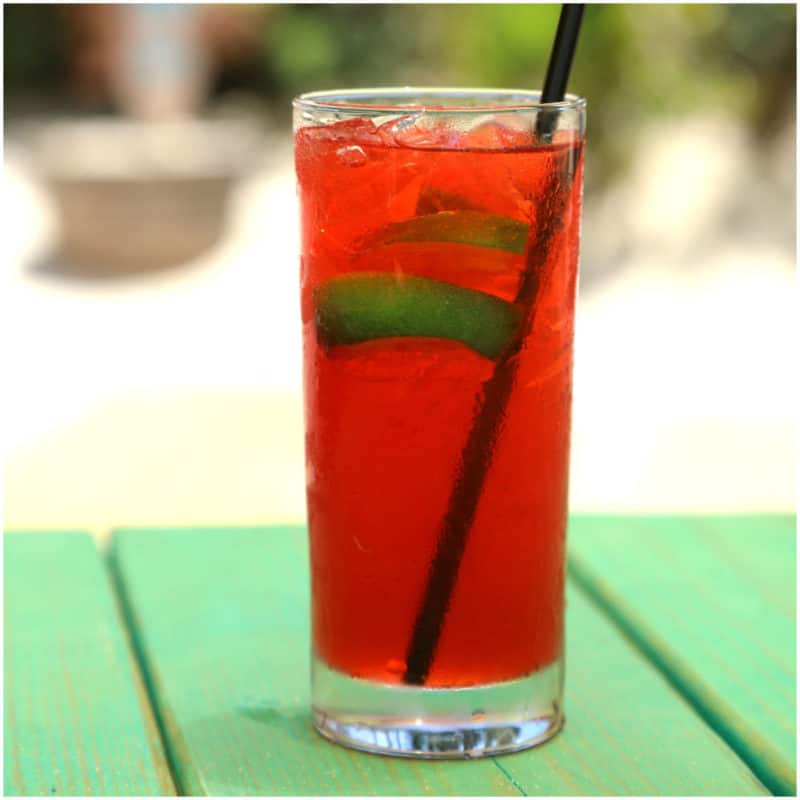 Ingredients: Lime, Simple Syrup, Ruby Red Grapefruit Vodka, Coconut Rum, Cranberry Juice
The rum-based Bama Breeze comes from the pages of Gumbo Love, Lucy Buffett's cookbook guide to Gulf Coast cooking and entertaining. Equally tart grapefruit vodka and cranberry juice seamlessly complement the coconut rum in this beachside sipper.
Upcoming cocktails include a cranberry margarita, poinsettia champagne cocktail, sea breeze cocktail, madras cocktail, vodka cranberry cocktail, cranberry martini, cranberry whiskey sour, and so many more cranberry cocktail recipes.
Cranberry Juice Shots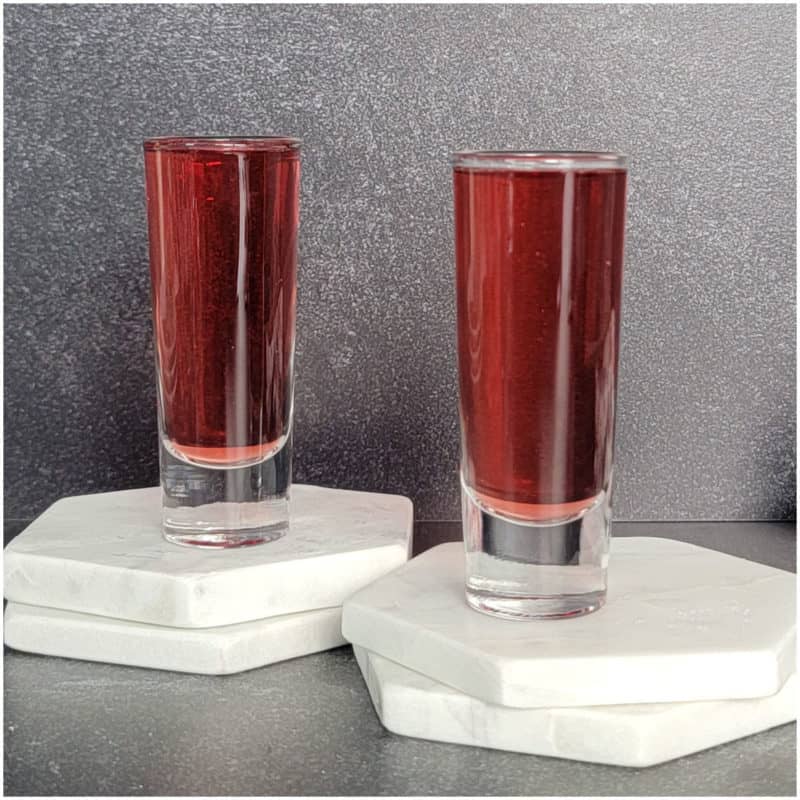 Ingredients: Crown Royal Canadian Whiskey, Amaretto, Cranberry Juice
This deceivingly named cranberry-almond-whiskey shot didn't involve harming any fish.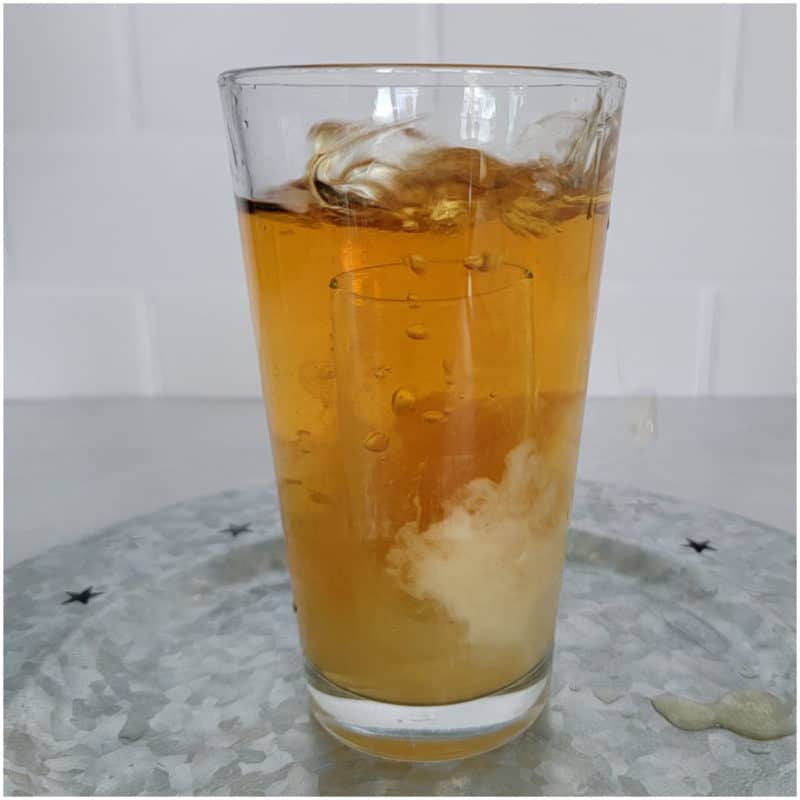 Ingredients: Crown Royal Canadian Whisky, Peach Schnapps, Malibu Coconut Rum, Cranberry Juice, Red Bull
This party-ready, Sin City-inspired shot is a must for your next casino-themed event.
Recipe Tips
Printable recipe card instructions are below.
Nutrition information, including calories, protein, calcium, carbohydrates, fiber, vitamin c, potassium, cholesterol, sodium, trans fat, monounsaturated fat, polyunsaturated fat, and more, will vary depending on the products used.
Cocktail Tools
2 ounce shot glasses - We love these 2 oz shot glasses especially for layered shots.
Bar Spoon - Bar spoons help to create layers in the cocktail shot. They fit perfectly into the cocktail shot glass.  Perfect to stir your favorite cocktail.
Cocktail Shaker – This cocktail shaker comes with a fantastic set of tools to shake and chill your drink.
Stemless Martini Glasses - These stemless martini glasses are fantastic.
Martini Glass - We like the look of the classic martini glass
Additional Recipe Collections
Thanksgiving Cocktails - Easy cocktails perfect for Thanksgiving dinner.
Funny Drink Names - From Duck Farts to Nutty Irishmen, this funny drink names collection will have you giggling and finding tons of great new cocktails to enjoy!
Easy Layered Shots - Complete Guide to Layered Shots and how to pour them perfectly! These layered shot recipes are great for parties, holidays, or when you want to try a new cocktail shooter.
Ginger Beer Cocktails - Easy ginger beer cocktails that tastes amazing.
Blue Curacao Drinks - Epic Guide to Blue Curacao Drinks, including bright blue martinis, cocktails, and shots!  All of our favorite Blue Curacao Recipes and info on how to store and use this great orange liqueur.
Triple Sec Drinks - Epic Triple Sec Drinks you will want to make at home!
Check out all of our Cocktail Recipes
Do you love recipes? Check out our copycat recipes, dessert recipes, and our CrockPot Recipes.
Follow Tammilee Tips on MSN, Facebook, Instagram, and Pinterest, for all of our recipe posts.