Woohoo! It is finally SUMMER!
Time to raise a summer cocktail in the air and cheer for warm weather, sunny days, barbecues, picnics, and every single fantastic thing about summer!
It feels like this summer was a long time coming. I don't know about your area but getting a warm sunny day has been a process here in Spokane. Oh my!
I am so excited to mix up some great summer cocktail recipes and enjoy them on the deck this summer.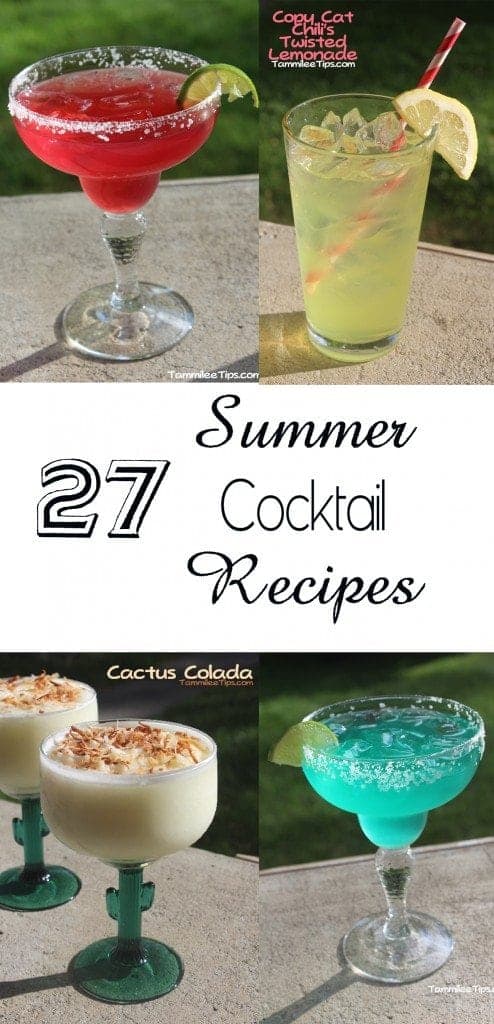 Summer Cocktails
There are 27 of our favorite Summer Cocktail Recipes!
There really is something for everyone on this list!
Need a blue tropical drink...check
Want to make your favorite restaurant cocktail...check
I hope you enjoy these epic summer cocktail recipes!
Copy Cat Chili's Twisted Lemonade 
Make Ahead Strawberry Frozen Margarita 
Smirnoff Lemon Sorbet Martini Recipe
93 Calorie Mango Passion Fruit Lemonade Cocktail
Maple Old Fashion with Mount Gay Black Barrel Rum
93 Calorie Smirnoff Light Sorbet Raspberry Pomegranate Lemonade Cocktail
Smirnoff Sorbet Raspberry Pomegranate Cosmopolitan Cocktail
Copy Cat Chili's Calypso Cooler Recipe
Do you love recipes? Check out our copy cat recipes, dessert recipes, and our Crock Pot Recipes.