Classic Ambrosia Salad is a holiday dessert classic everyone knows and loves. We serve this year round at family dinners and love how great it tastes. So easy to make and everyone loves it.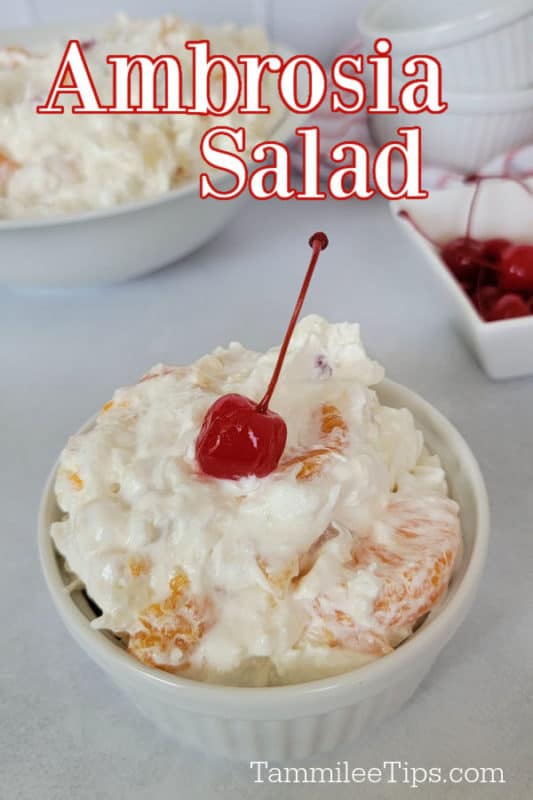 Ambrosia Salad Recipe
I have to admit this is one of my favorite great recipes for the holidays! I grew up eating this fruit dessert salad along with Watergate Salad. They were my favorite side dishes every year.
Now that I am an adult and do the grocery shopping I will admit that I make this salad frequently. It is so good and everyone loves it. Plus you can make it ahead of time and store it in the refrigerator until you are ready to serve it.
The flavors of this salad are just delicious!!!
There are so many amazing variations of this dessert salad. I know I am going to get a ton of eye rolls and emails for calling this a salad since it doesn't have any lettuce in it but there is fruit and it is in a bowl so we are going to go with calling it a side dish or dessert salad.
We skip putting nuts in this Ambrosia Fruit Salad since we have so many family members that can not have nuts but you can definitely add them in if you like them. Our creamy base is cool whip and vanilla Greek yogurt but there are also variations with sour cream and cottage cheese.
Scroll to the bottom of this post to print recipe.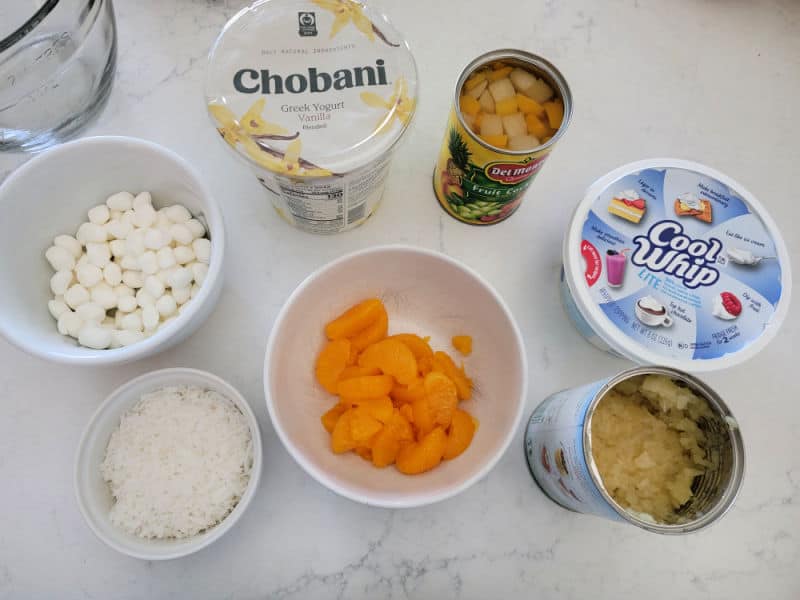 Ingredients Needed
Fruit Cocktail
Pineapple Chunks/Crushed
Mini Marshmallows
Cool Whip Whipped Topping
Vanilla Greek Yogurt
Shredded Coconut
Maraschino Cherries
Optional - Green Grapes, Bananas, nuts
Pineapple - You can use chunks or crushed pineapple depending on the texture and size you like in your salad.
Marshmallows - You can use plain white mini marshmallows or the fun mini fruit flavored marshmallows
Equipment Needed
Large Mixing Bowl - We are big fans of this glass batter bowl that has a handle. It makes it easy to mix ingredients and keeps the mixing bowl steady on the counter.
Spatula
Can opener
How to make Ambrosia Salad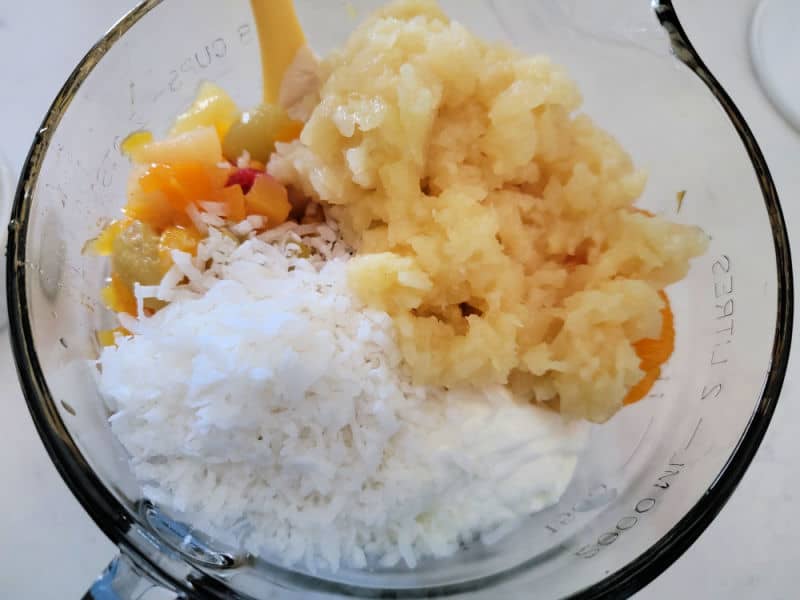 Step 1 - In a Large bowl combine fruit salad, mandarin oranges and pineapple, and coconut in a large bowl and stir together with vanilla yogurt.
Make sure to gently mix everything together. You don't want to break up the fruit or squish the mini marshmallows.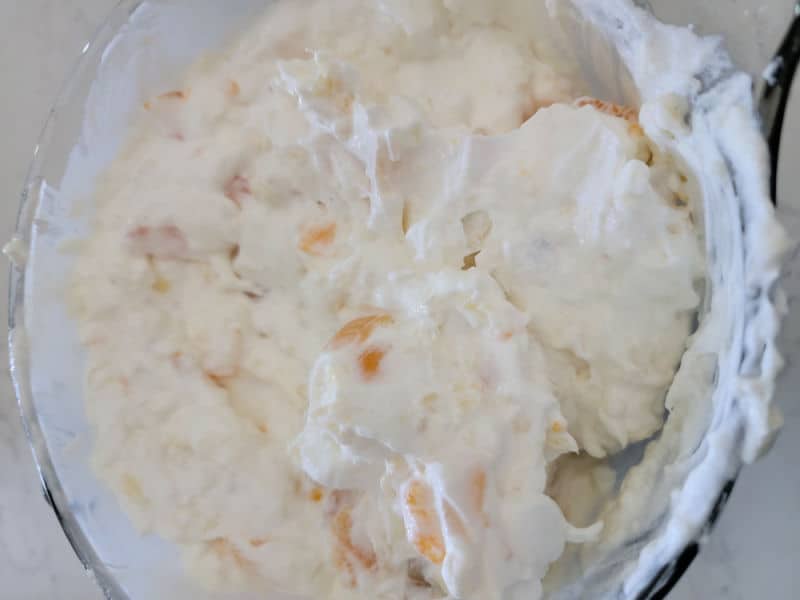 Step 2 - Add in Cool Whip and stir together.
Store in the refrigerator hours before serving this great side dish.
Serve in a large serving bowl or individual small bowls/ramekins.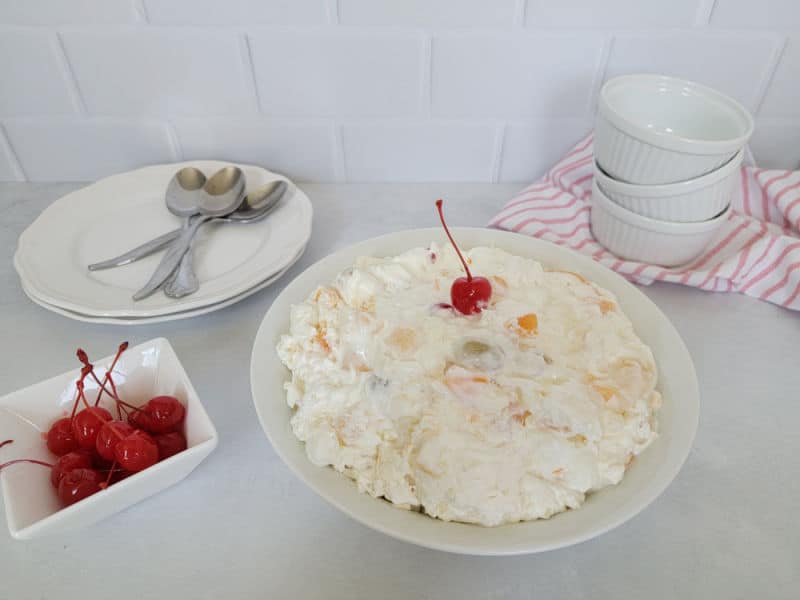 Recipe Tips
Store this dessert salad in the refrigerator.
You can make this salad ahead of time and store it in the refrigerator. Just give it a stir before serving.
Feel free to change up the fruit used for other favorites.
Great Salad Recipes
Check out all of our Cool Whip Salads.
Check out these great sides for ribs.
Do you love recipes? Check out our copy cat recipes, dessert recipes, and our Crock Pot Recipes.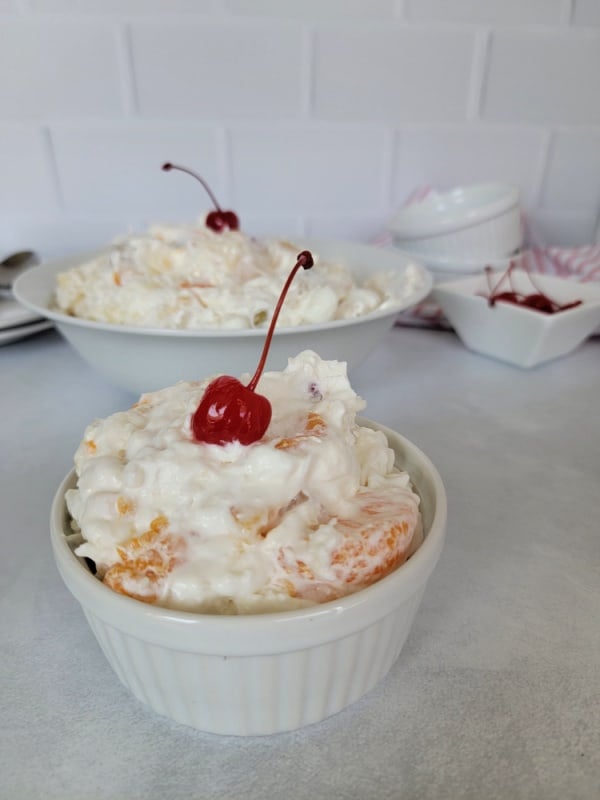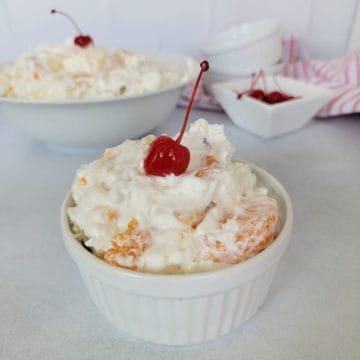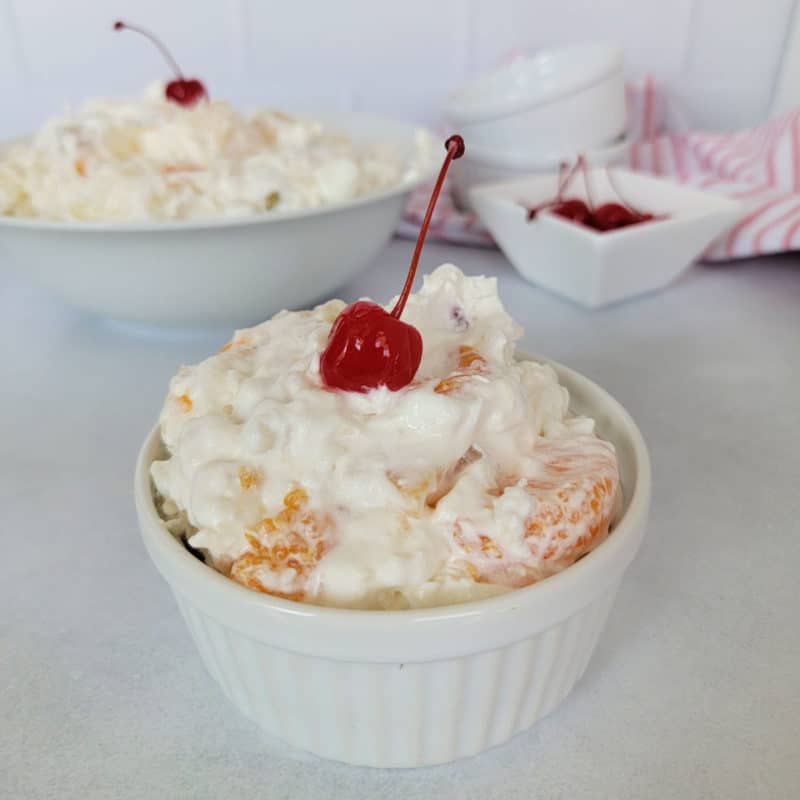 Ambrosia Salad Recipe
How to make classic Ambrosia Salad perfect for family dinners, holidays, or a great dessert salad.
Print
Rate
Instructions
Combine all ingredients in a large bowl together. Store in the refrigerator