Are you wondering what to make with a bottle of Chambord? Don't worry these easy Chambord Cocktails taste amazing!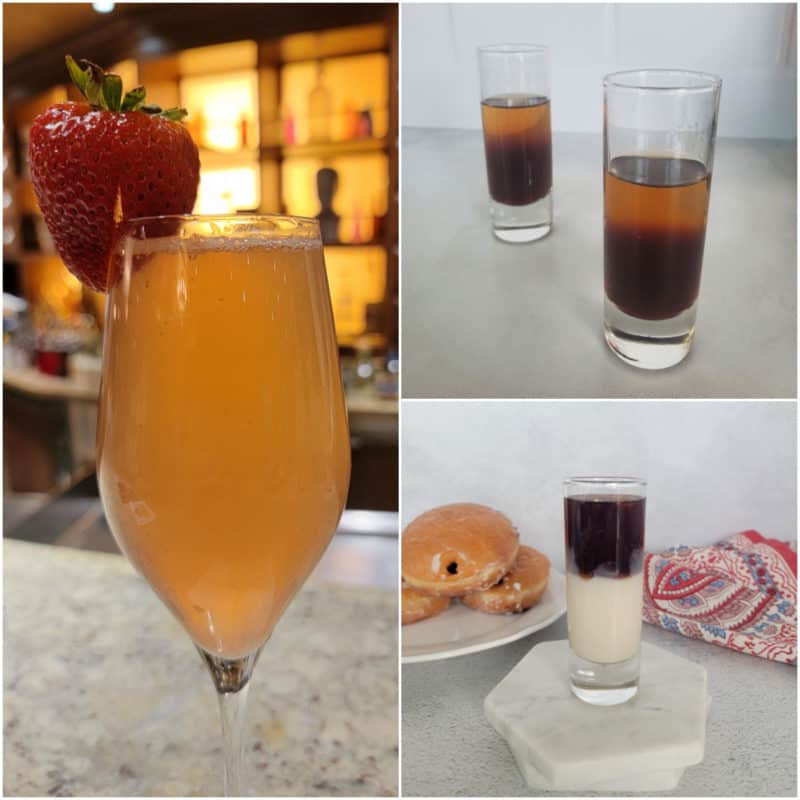 Epic Guide to Chambord Cocktails
Chambord is a sweet raspberry-flavored liqueur with origins as far back as 17th-century France. Chambord is produced in the Loire Valley of France.
Here are answers to your questions about this highly recognizable cognac-based premium liqueur.
What Is Chambord Liqueur?
Chambord is a deep purple-black raspberry liqueur that French legend claims was once served to King Louis XIV. The unique bottle design, which looks like a fancy bottle from your local perfume counter, is a little misleading, as the liqueur only began retailing en masse in the 1980s.
Chambord is made of the finest raspberries, blackberries, and blackcurrants infused with a cognac base. These infusions are done over two rounds lasting several weeks each.
Chambord is a fruity delight alone or in a low-proof cocktail. For instance, mixing Chambord with soda water turns it into a refreshing spritzer for a warm day, while Chambord and champagne would be at home at a festive holiday gathering.
What Does Chambord Taste Like?
Chambord has a berry flavor that is rich, slightly sweet, and bold, with notes of vanilla, honey, and dried citrus from the use of cognac as a base spirit.
It is an infusion of raspberries, blackberries and the exotic flavors of black raspberries, black currant, Madagascar vanilla and XO cognac.
Chambord Alcohol Content
With an ABV of 16 percent, Chambord is considered lower on the alcohol scale.
How to Store Chambord
The easiest way to ensure the raspberry liqueur's quality is to keep it in a cool, dry area away from any direct heat or sunlight. It is also necessary to keep the lid screwed tightly to avoid air exposure.
While it is safe to keep Chambord chilled in the fridge, its low alcohol content means that it may freeze if stored in a freezer. Limit any freezer time to just enough to cool the bottle.
Can Chambord Go Bad?
Chambord does not spoil in a food safety sense, and an unopened bottle will be drinkable for up to six months past its best-by date. However, the liqueur will slowly degrade in quality.
A bottle of Chambord will begin to oxidize as soon as it is opened, and the natural ingredients used to make the berry liqueur mean that it also has a shorter shelf life than its higher-proof counterparts. For best results, consume Chambord within six to eight months of opening.
Where to Buy Chambord
Chambord is available for purchase anywhere liquor is sold, including your nearby grocer or liquor store. Many cocktail venues also stock the premium spirit behind their bars.
Is Chambord Expensive?
Chambord's pricing is mid-range, with a 750 ml bottle costing $25 to $25.
Calories in Chambord
The French raspberry liqueur contains about 100 calories per fluid ounce.
Is Chambord Gluten-Free?
Yes! Chambord is a gluten-free alcoholic beverage.
Is Chambord Vegan?
Since Chambord contains honey, it is only a vegetarian-friendly liqueur. It is not vegan-friendly.
How Many Carbs Are in Chambord?
There are 11 grams of carbs in a one-ounce serving of Chambord.
Chambord Substitutes
Other berry liqueurs, like crème de cassis and crème de Mare, are great at capturing Chambord's sweet yet tart essence.
Crème de Cassis
Creme de cassis is a rich crimson liqueur made from blackcurrants. This liqueur, which has the sweetness and juicy acidity of raspberry, also infuses mixed drinks with a rush of herbal and floral notes.
Crème de Mure
Jammy and sweet-tart like Chambord, creme de Mure is a French blackberry liqueur that also works as a substitute for the premium raspberry liqueur.
Chambord Drinks
While Chambord can be served on the rocks, it adds a splash of berry jam when added to cocktails. Here are some of our tried-and-true favorites.
We love garnishing these Chambord Cocktails with fresh raspberries.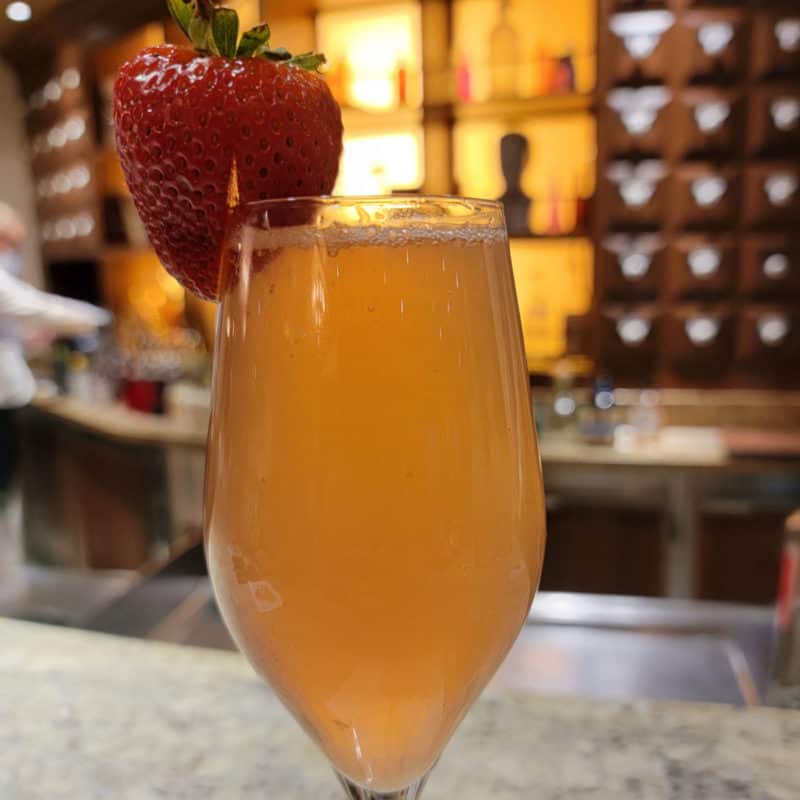 Ingredients: Vanilla Rum, Chambord Liqueur, Lime Juice, Champagne
This elegant cocktail featuring Chambord is one of our favorites from Carnival Cruises' premium cocktail venue, the Alchemy Bar.
The bubbles in this classic cocktail help make it feel celebratory.
French Martini
Ingredients: Vodka, Chambord Black Raspberry Liqueur, Pineapple Juice
Brightened with sweet pineapple juice, this martini's French makeover is elegant yet zesty.
We are working on more extraordinary cocktail recipes including a bramble cocktail, Purple Haze, Raspberry Mojito, Champagne and Chambord, French martini, Kir Royale, Chambord Spritz, Chambord Royale, Purple Hooter Shooter, and more!
I can't wait to share more fun purple cocktails.
Chambord Shots
The raspberry liqueur's jammy flavors also are behind these creative shots.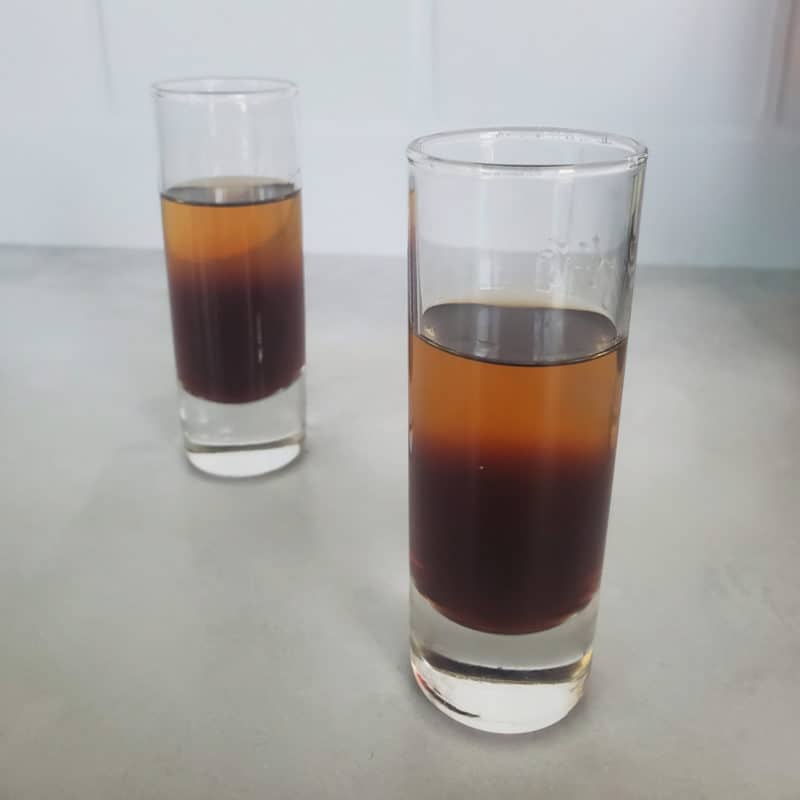 Ingredients: Chambord Liqueur, Peanut Butter Whiskey
It takes only two ingredients to create this PB&J-inspired layered shot.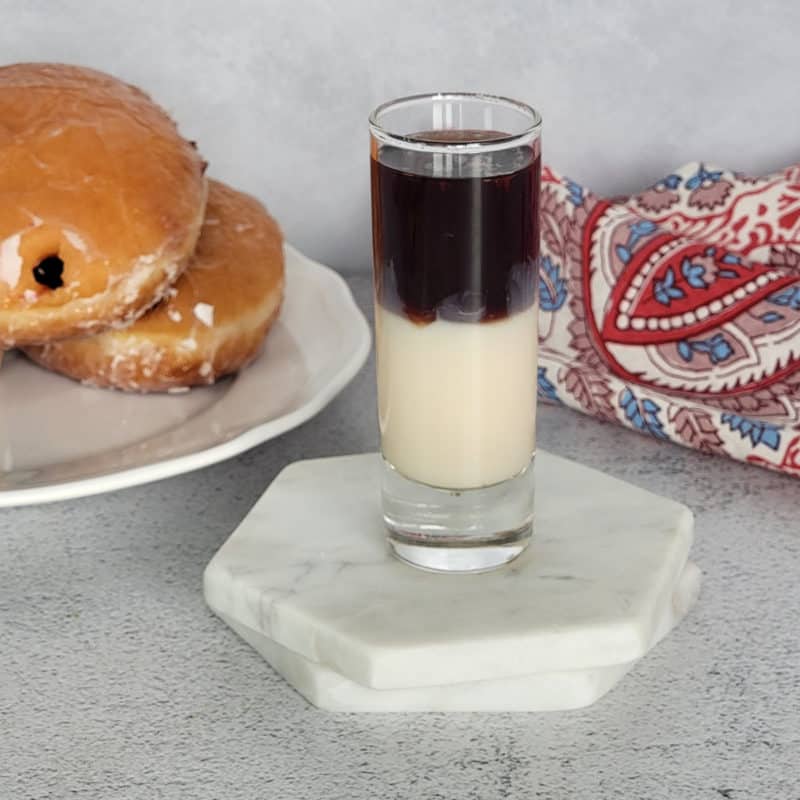 Ingredients: RumChata, Chambord Liqueur
This decadent and fun layered shooter tastes like a jelly-filled pastry.
Recipe Tips
Please make sure everyone is legal drinking age before enjoying these Chambord Cocktails.
Printable recipe card instructions are available in each recipe post.
Nutrition information, including calories, protein, calcium, carbohydrates, fiber, vitamin c, potassium, cholesterol, sodium, trans fat, monounsaturated fat, polyunsaturated fat, and more, will vary depending on the products used.
Great Cocktail Tools
2 ounce shot glasses - We love these 2 oz shot glasses especially for layered shots.
Bar Spoon - Bar spoons help to create layers in the cocktail shot. They fit perfectly into the cocktail shot glass.
Cocktail Shaker – This cocktail shaker comes with a fantastic set of tools
Stemless Martini Glasses - These stemless martini glasses are fantastic.
Martini Glass - We like the look of the classic martini glass
Jell-O Shot Cups - We suggest using two-ounce Jell-O shot cups.
OXO angled jiggers - these are our go-to measuring tools for cocktails. They work perfectly for pouring in layers for cocktails.
Margarita Glasses - We like the look of classic margarita glasses but you can use any glass for this great cocktail.
Copper Mule Mugs  - Copper Mule Mugs are the classic way to serve Moscow Mules. The copper mugs keep them nice and cold and look amazing. Check out all of our Mule Cocktail Recipes.
Epic Cocktail Recipe Collections
Ginger Beer Cocktails - All of our best cocktail recipes made with ginger beer.
Crème de Cacao Cocktails - All of our best cocktails made with light and dark Crème de Cacao.
Grand Marnier Cocktails -  Here we have answered your most important questions about this premium French liqueur and shared our favorite Grand Marnier Cocktails.
Baileys Irish Cream Cocktails - Epic Guide to Baileys Irish Cream Liqueur! How to mix it, what it tastes like, how to store it and so much more.
RumChata Cocktails - RumChata is a rum-based cream liqueur with a strong cinnamon flavor. We are excited to share our epic guide and the best RumChata Drinks you have to try!
Blue Curacao Cocktails - Epic Guide to Blue Curacao Drinks, including bright blue martinis, cocktails, and shots!
Easy Vodka Cocktails - Check out these easy vodka cocktail recipes.