The perfect combination of vanilla rum, Chambord, and champagne! You may fall in love at first sip with this French Kiss Cocktail from the Alchemy Bar on Carnival Cruises.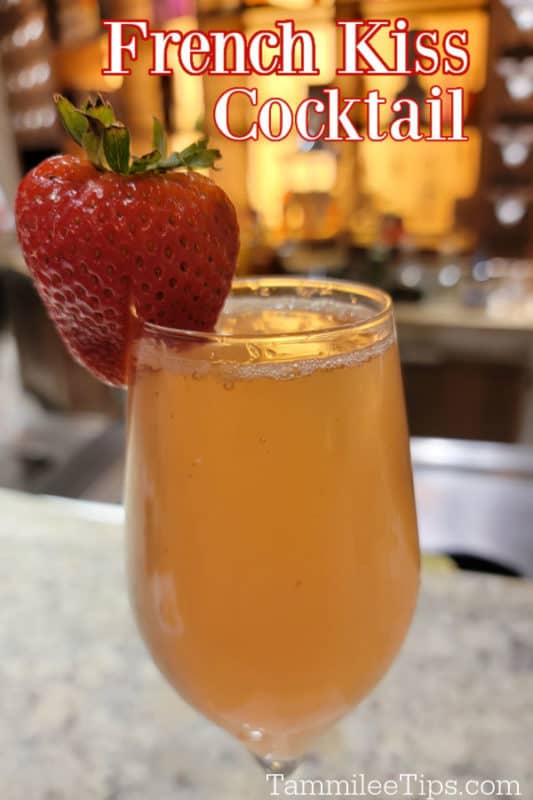 French Kiss Cocktail
We are madly deeply in love with relaxing at the Alchemy Bar and trying new drinks, so why not celebrate the holiday of love with things that we love?
I will admit to falling in love with the Carnival Panorama and sailing the Mexican Riveria. We sailed over Valentine's Day a couple of years ago, which was the perfect way to celebrate the holiday of love.
Some days we only realize how much we miss cruising once we are on the ship. I knew I was tired and worn out but spending seven days relaxing and taking cruise ship naps has shown me how worn out I was.
The Carnival Panorama was the perfect vessel for relaxing. The ship is built for fun, relaxing, and epic dining.
You can find the spaces you need to have an amazing vacation, whether you want to be in the heart of the fun on the Lido Deck or soak in a quiet corner of Deck 5 in a comfy chair.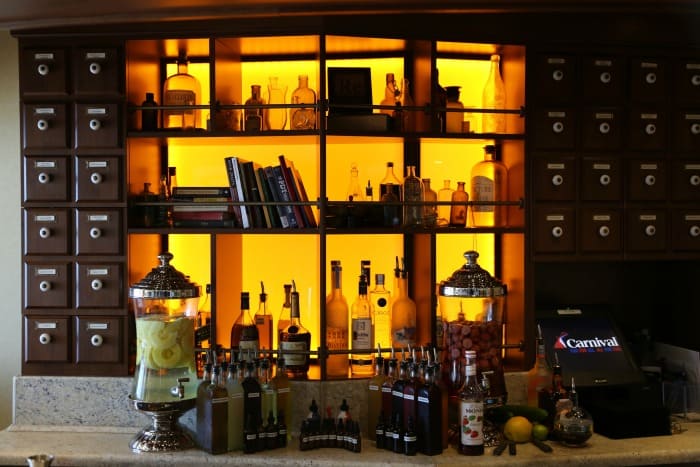 We love stopping at the Alchemy Bar before dinner to try a great craft cocktail. This French Kiss Cocktail is just one of our favorites.
This champagne cocktail is perfect for celebrations! Ring in the New Year with a French Kiss champagne cocktail and well if you do any other kissing cheers to that too.
Ingredients
Here is a quick overview of the simple ingredients for making an epic French Kiss Cocktail! The printable recipe card at the bottom of the post includes specific measurements and step-by-step instructions.
You may fall in love with this: Absolut Vanilla Vodka, Chambord, Domaine Chandon Sparkling Wine, and a touch of fresh lime.
Vanilla Rum

Lime Juice

Domaine Chandon Sparkling Wine/Other Champagne or Sparkling Wine/Prosecco 
Garnish with a strawberry or fresh fruit. You can float fresh raspberry in the champagne glass for a fun look. 
Equipment Needed
If you don't have champagne glasses available this could also be served in a martini glass.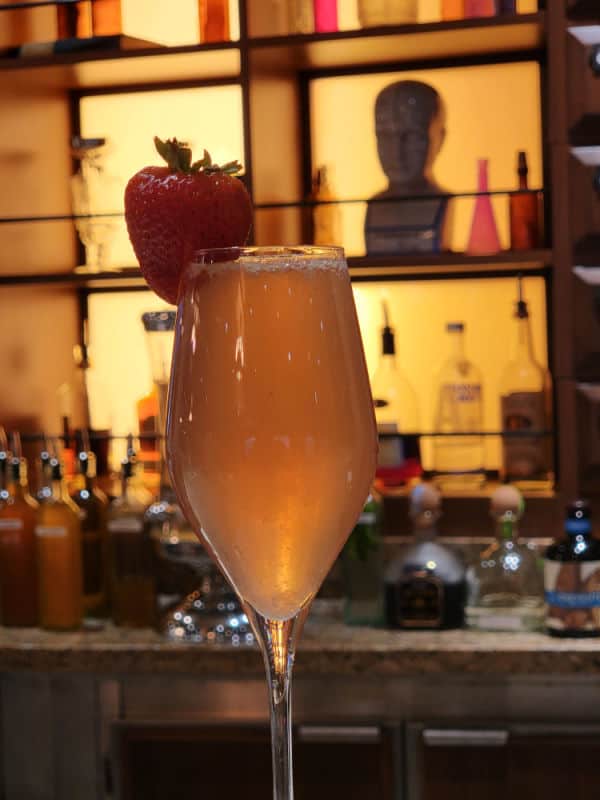 How to Make a French Kiss Cocktail
I've included complete instructions in the printable recipe card at the bottom of the post, but here's a quick version.
Combine Vanilla Rum, Chambord Raspberry Liqueur, and Lime Juice in a cocktail shaker with ice cubes.

Shake and strain into a champagne glass; top with champagne. 
If you do not have a cocktail shaker you can stir the ingredients together. Just remember this is a bubbly cocktail so you do not want to shake the champagne.
Preparation and Storage
Make Ahead + Larger Group/More Servings: Champagne cocktails prepare well pitcher and punch bowl-style if you pour the champagne just before serving to keep it fizzy. You'll need about a gallon of punch per ten guests.
Storage: Since any drink with a bubbly component goes flat with time, we don't recommend storing leftovers of this cocktail.
Freezing/How to Freeze: Turn the French Kiss Cocktail into a cooling adult handheld with our Adult Popsicle recipe!
Recipe Variations + Tips for the Best French Kiss Cocktail Recipe 
Substitutions: Don't have vanilla rum? Use any rum with a few pumps of vanilla simple syrup to taste to capture an equivalent flavor. You can also use any quality champagne or sparkling wine you enjoy if you don't have Domaine Chandon.
Vegetarian Option: This is a vegetarian-friendly cocktail.
Vegan Option: Due to the honey in Chambord, the French Kiss cocktail is not vegan-friendly, so substitute it with raspberry juice. Vegan drinkers may also want to research suitable vanilla rum and champagne alternatives, which may contain animal by-products. Barnivore, a user-managed vegan liquor guide, confirmed in May 2023 that two of its products have no animal products. Read their response here.
Gluten-Free: While pure distilled rum is usually gluten-free due to the distillation process, flavored varieties like vanilla rum may not be gluten-safe due to additives, so research a safe alternative or use straight rum and vanilla simple syrup if you want to avoid gluten.
Alcohol-Free Option: Replace the rum and champagne with zero-proof alternatives and the Chambord with raspberry juice to make the French Kiss mocktail-style.
Sugar-Free: The written recipe contains 7 grams of sugar; remember that the final amount depends on your ingredients.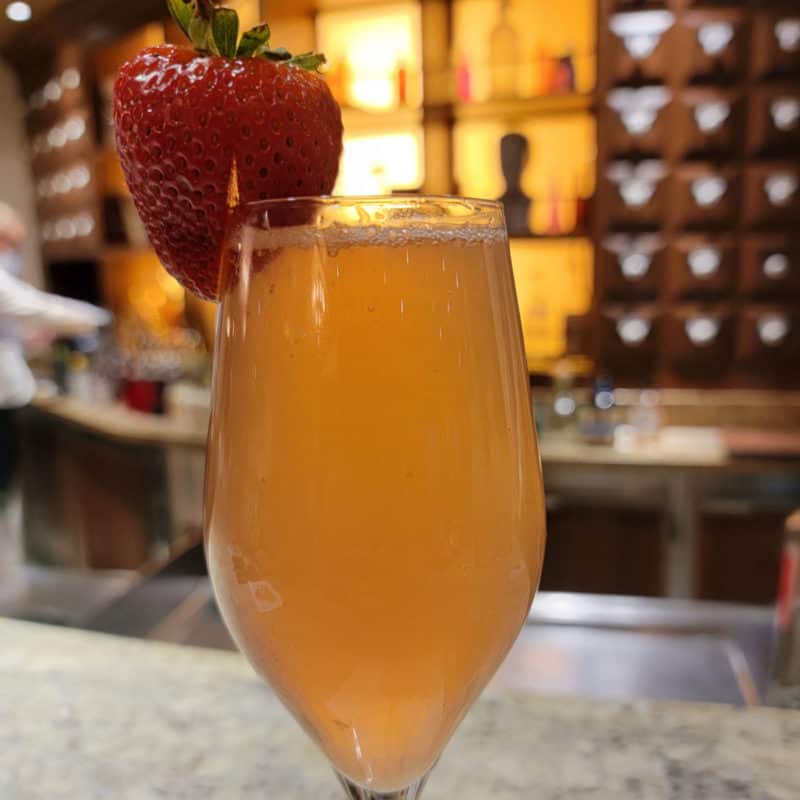 What to Serve with the French Kiss Cocktail
The French Kiss cocktail is an effortless way to experience the luxury of a Carnival Cruise from home. Impress your cocktail night guests with this bubbly libation, or raise a glass with your sweetie over a classy date night dinner - after all, there's always a reason to celebrate life and love!
Sides: Sugared Cranberries, Hasselback Potatoes, Caprese Pasta Salad, Air Fryer Spaghetti Squash, Carrot Soufflé, Crock Pot Stuffed Tomatoes, CrockPot Shrimp & Grits, Strawberry Bruschetta, Shrimp Remoulade, CrockPot Bacon Wrapped Potatoes
Main Dishes: CrockPot Port Braised Beef Short Ribs, CrockPot Rosemary Pork, Caprese Eggs Benedict, Balsamic Chicken Skewers, CrockPot Salisbury Steak, CrockPot Beef Tips & Gravy, Shrimp Linguini, CrockPot Roast with Red Potatoes, Grilled Shrimp with Avocado Butter
Desserts: Hershey Pie, Sweet & Salty Chocolate Dessert Bar, Creme Brulee Cheesecake Bars, Carrot Cake with Pineapple, Coconut & Port Wine, CopyCat Olive Garden Lemon Cream Cake, Strawberry Shortcake, CrockPot Cherries Jubilee, Apple Blackberry Fruit Tart
Drinks: Alchemy Bar Revved Up Mojito Martini, Chocolate Cake Shot, Chocolate Covered Cherry Shot, Classic Grasshopper Drink, Cranberry Mimosa, Raspberry Pomegranate Lemonade Cocktail, 40 Is the New 20 Martini Cocktail, Martini Seduction, Alchemist Sidecar
When to Serve
Date Night

Cocktail Night

Dinner and Drinks

Special Occasions
Champagne and Wine Cocktails
Check out all of the Carnival Cocktails we have shared. We have a ton of fantastic Cocktails for Valentine's Day.
Check out all of our Cocktail Recipes. We are working on a ton of popular cocktails to add to your party ideas.
Do you love recipes? Check out our copycat recipes, dessert recipes, and our CrockPot Recipes.
Follow Tammilee Tips on MSN, Facebook, Instagram, Pinterest, and Twitter for all of our recipe posts.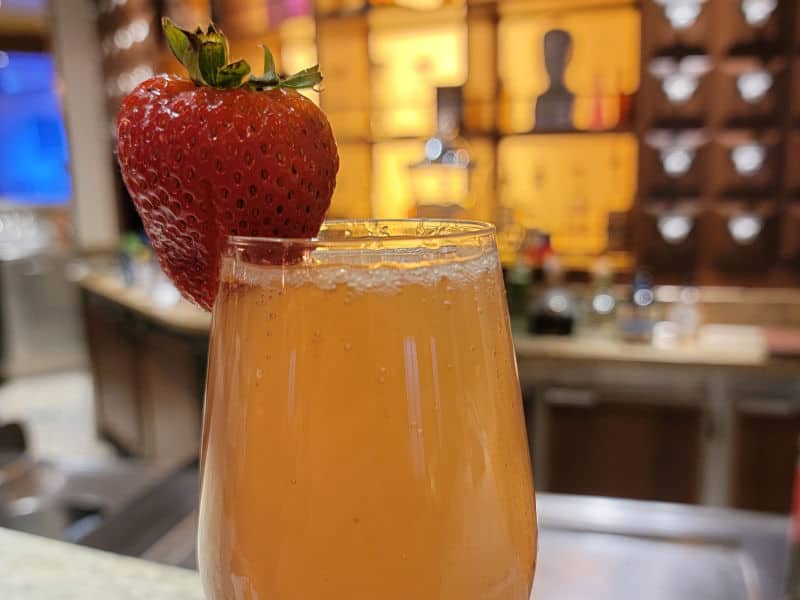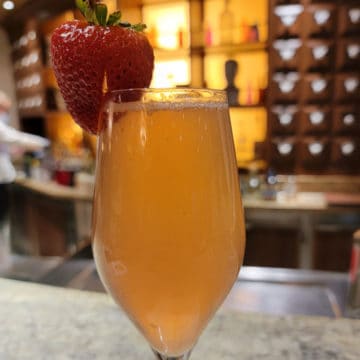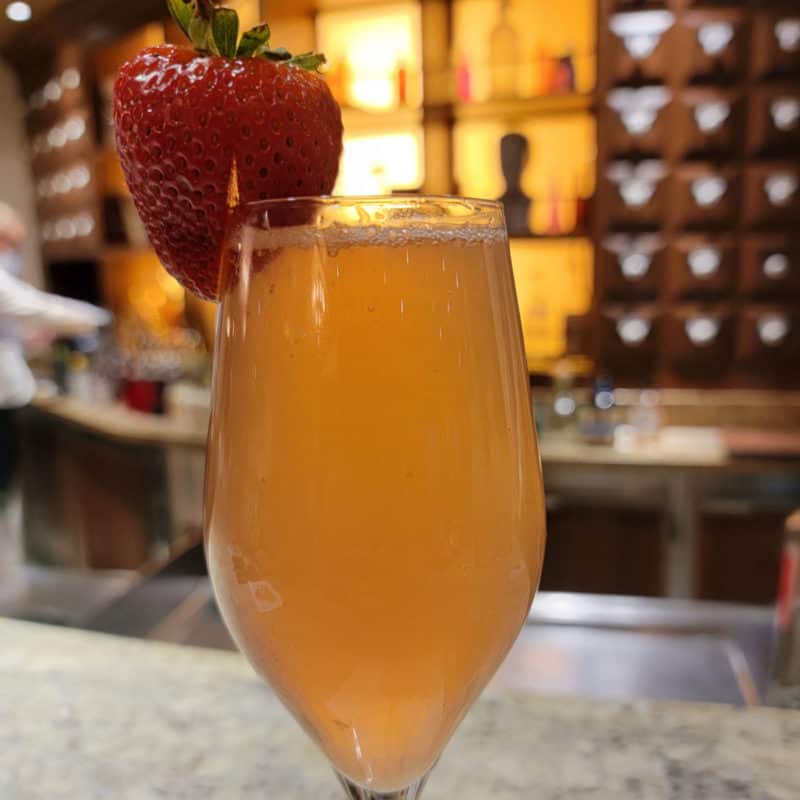 French Kiss Cocktail
Enjoy this delicious French Kiss Cocktail the perfect combination of vanilla rum, Chambord, and champagne
Print
Rate
Ingredients
1.5

Ounce

Vanilla Rum

.75

Ounce

Chambord Liqueur

.5

Ounce

Lime Juice

Champagne
Instructions
Combine Vanilla Rum, Chambord and Lime Juice in a cocktail shaker with ice

Shake and strain into a champagne glass, top with champagne
Nutrition
Nutrition Facts
French Kiss Cocktail
Amount Per Serving
Calories 167
Calories from Fat 9
% Daily Value*
Fat 1g2%
Sodium 2mg0%
Carbohydrates 8g3%
Protein 1g2%
Vitamin C 4mg5%
* Percent Daily Values are based on a 2000 calorie diet.