You all know we love Olive Garden and their delicious soups! Today I am sharing the final soup of the four offered by Olive Garden........Copy Cat Olive Garden Chicken Gnocchi Soup!
Last week we shared Copy Cat Olive Garden Zuppa Toscana Soup plus we have also shared Copy Cat Olive Garden Minestrone Soup and Copy Cat Olive Garden Pasta E Fagioli Soup.
Oh and don't forget to make up this Copy Cat Olive Garden Lemon Cream Cake for dessert! It is beyond delicious!
Can you tell we love Olive Garden just a bit 🙂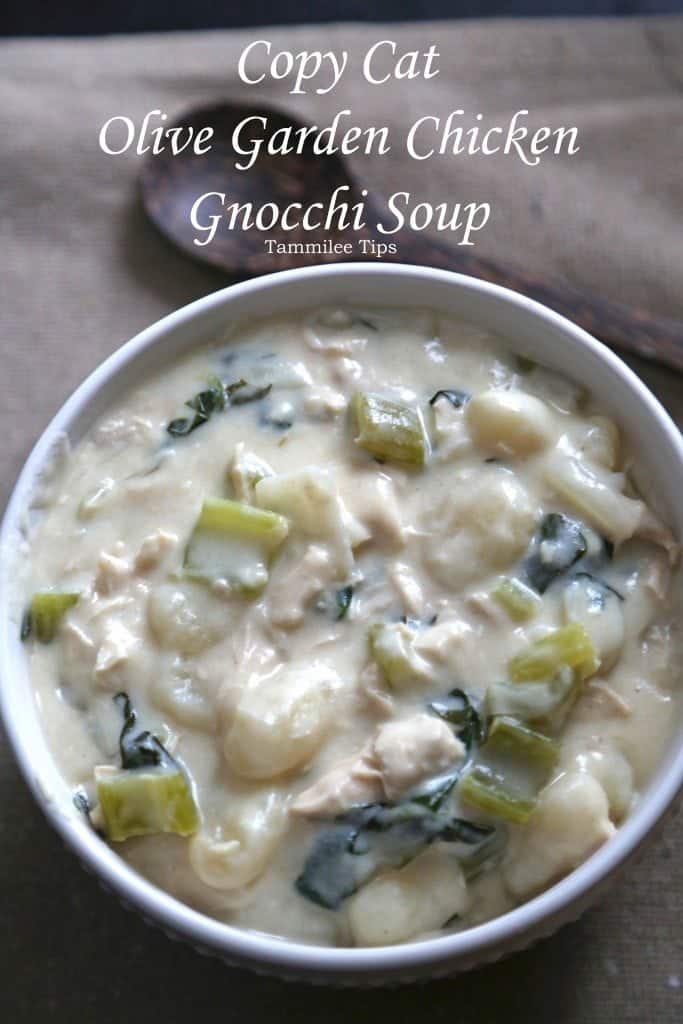 Copy Cat Olive Garden Chicken Gnocchi Soup
Ingredients
3 tbsp butter
2 tbsp olive oil
3/4 cup onion, diced
1/2 cup carrots, diced
1/2 cup celery, diced
4 cloves garlic, minced
1/3 cup flour
4 cups chicken broth
2-3 cups chicken, we use Costco rotisserie chicken cut into pieces
1-2 pound gnocchi
3 cups spinach, stems removed
1 tbsp fresh basil, chopped
Parmesan cheese for garnish
Directions
In a large pot, heat the butter and oil over medium heat. Add in the onion, garlic, carrots, and celery. Season with salt and pepper and cook until tender, about 10 minutes
Add in the flour and stir into the vegetables, cook for 3 minutes, stirring often
Stir in chicken broth, followed by 1/2 and 1/2
Add in the chicken, bring to a simmer and maintain for 20 minutes, stirring often
Season with salt and pepper to taste
Cook the gnocchi in a separate pot according to the package, add them to the soup with the spinach
Simmer until the spinach wilts, stir in basil
Garnish with Parmesan Cheese
I use 2 pounds of gnocchi and at least 3 cups chicken in this recipe so it is really filling. The Chicken Gnocchi Soup that is served in the restaurant is more brothy but I like making this soup really filling.
We use either the Hamilton Beach Set 'n Forget Programmable Slow Cooker, 6-Quart
or Crock-Pot 5-Quart Slow Cooker
for all of our crock pot recipes
Do you love recipes? Check out our copy cat recipes, dessert recipes, and our Crock Pot Recipes.

Follow Tammilee Tips's board Tammilee Tips Recipes on Pinterest.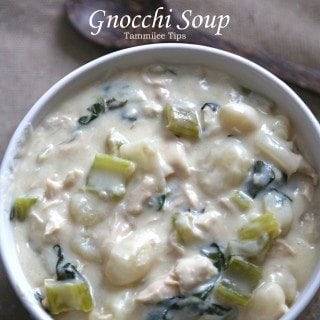 Ingredients
3

tbsp

butter

2

tbsp

olive oil

3/4

cup

onion

diced

1/2

cup

carrots

diced

1/2

cup

celery

diced

4

cloves

garlic

minced

1/3

cup

flour

4

cups

chicken broth

2-3

cups

chicken

we use Costco rotisserie chicken cut into pieces

1-2

pound

gnocchi

3

cups

spinach

stems removed

1

tbsp

fresh basil

chopped

Parmesan cheese for garnish
Instructions
In a large pot, heat the butter and oil over medium heat. Add in the onion, garlic, carrots, and celery. Season with salt and pepper and cook until tender, about 10 minutes

Add in the flour and stir into the vegetables, cook for 3 minutes, stirring often

Stir in chicken broth, followed by 1/2 and 1/2

Add in the chicken, bring to a simmer and maintain for 20 minutes, stirring often

Season with salt and pepper to taste

Cook the gnocchi in a separate pot according to the package, add them to the soup with the spinach

Simmer until the spinach wilts, stir in basil

Garnish with Parmesan Cheese