Easy Iced Passion Tea Lemonade Recipe is one of our favorite summer drinks. A great passion fruit flavor that is refreshing and oh so delicious.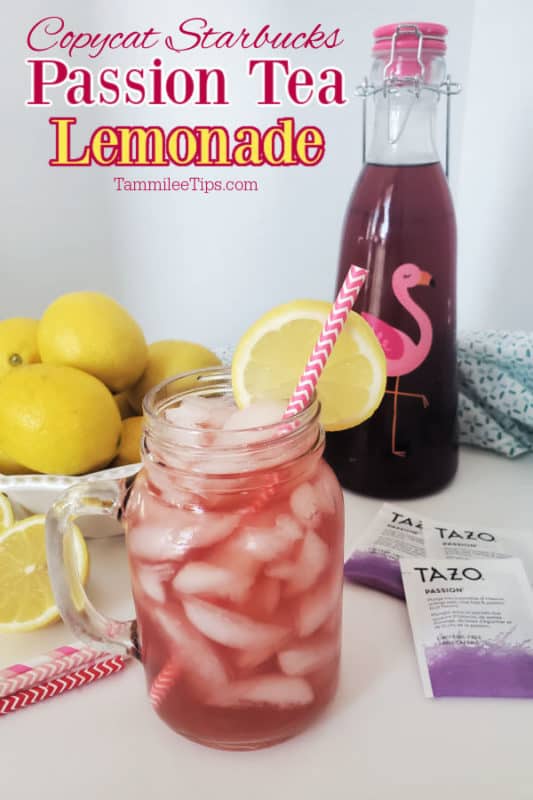 Copycat Starbucks Passion Tea Lemonade
If you have seen me out and about you most likely have seen me with a Starbucks cup. I am hooked on Starbucks Chai Tea Lattes most of the year but when the sun comes out I switch to Starbucks Passion Tea Lemonade.
It is the perfect refreshing drink for hot spring and summer days. I finally decided to start making them at home when the barista knew my order when I walked up to the counter.
That was a tipping point for me and I needed to start making them at home instead of driving through or walking into a local Starbucks.
I will admit to visiting Starbucks around the world. I think it is so fun to see what Starbucks is like in other countries. One of our favorites was the Bali Starbucks which was next to the Saraswati Temple. This Starbucks blew our minds with how gorgeous the grounds were.
The Starbucks in Budapest is next to the Buda Castle. Online it is listed as the Starbucks Castle. It was such a cool moment having a hot chai tea and looking out over Budapest from the castle grounds.
This Starbucks Passion Tea Lemonade drink is the perfect combination of sweet and tart in a refreshing iced tea.
Make sure to check our other Starbucks recipes including Starbucks Frappuccino and Starbucks Pumpkin Spice Frappuccino.
I even made Starbucks Coffee Meringue cookies. Yes, I like Starbucks so much I made cookies with Starbucks Via. LOL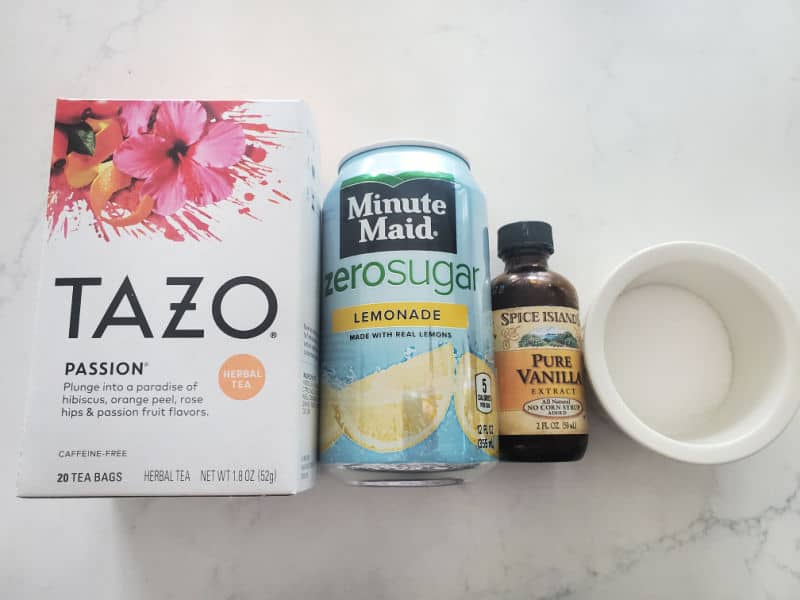 Ingredients
Water
Lemonade
Sugar
Vanilla
Tazo Passion Tea - I found these tea bags at our local grocery store. You can also buy them on Amazon.
Lemonade - I like to use light lemonade to save on calories and you can get it in a can so you don't have to open a huge bottle of lemonade if you don't want to.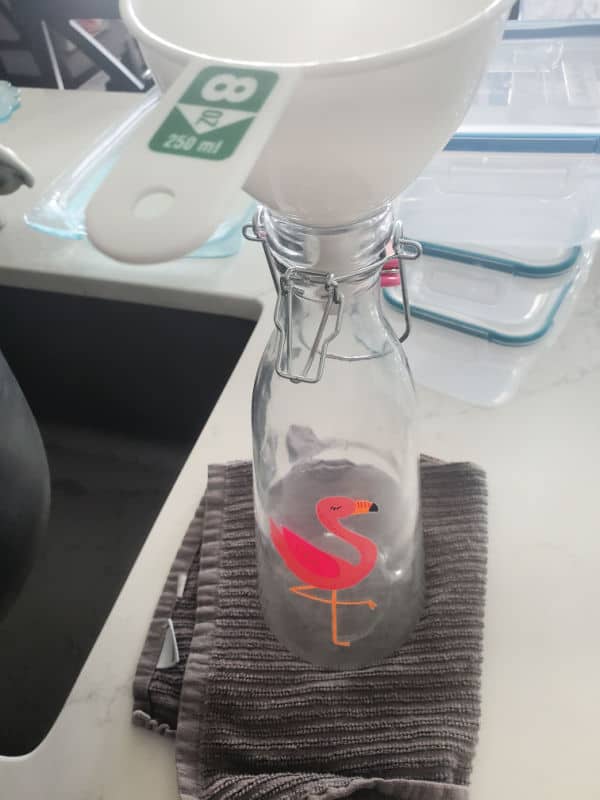 Equipment
Saucepan - You need a saucepan big enough for boiling water and tea bags.
Ice Tea Carafe- An ice tea carafe is perfect for keeping the Starbucks passion tea in the refrigerator.
Starbucks Tumbler - If you want to look like you just walked out of your local Starbucks you can order a Starbucks tumbler online.
Funnel - This may be the most important piece of equipment you use depending on the container you pour the passion tea into. A funnel will help keep all of the tea going into the container and hopefully keep it from spiling all over the counter tops. I will admit that I got distracted as I was pouring tea and managed to pour too much in the funnel so much so that when I went to remove the funnel it just poured over the top. It was one of those afternoons. LOL.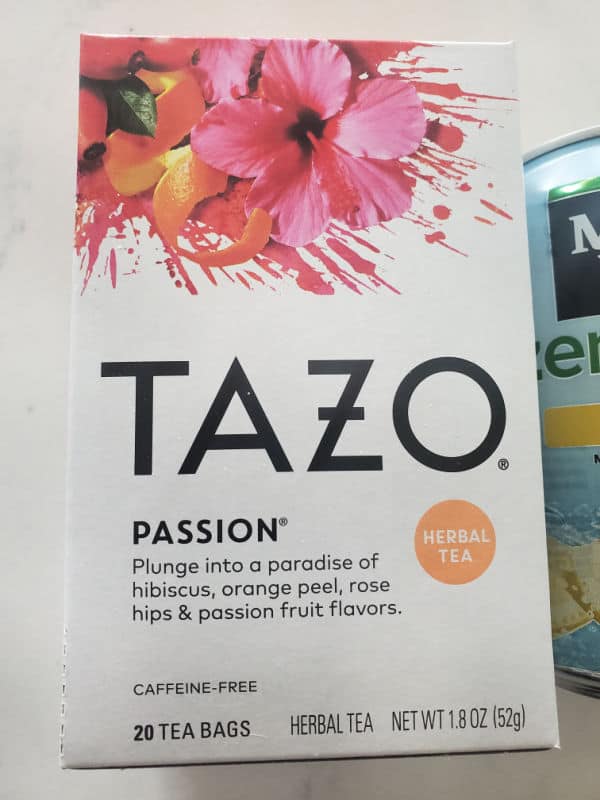 Recipe Tips
Tazo Passion Tea comes in both tea bags and liquid concentrate. I make this recipe with tea bags that are sized for individual servings.
If you don't have passion tea you can make this recipe with hibiscus or mixed berry tea.
Make sure to plan time for the Passion Tea to cool in the refrigerator.
If you don't want a sweet iced tea you can leave out the sugar or use a smaller amount.
One of the best things about this recipe is you can customize it to your taste.  Add in more lemonade, steep the tea longer, add more sugar. It is truly up to you how you customize your Passion Tea Lemonade.
You will want to let the tea bags sit for 15 minutes to create a strong passion fruit tea.
If you make this and store it in the refrigerator make sure to shake well to mix or stir the tea and lemonade before pouring it over ice cubes.
The tea to lemonade ratio is 4 part teas to 1 part lemonade.
If you would like to make this into a cocktail you can mix it with Limoncello or try it with lemon vodka. I haven't tried this yet but it sounds delicious.
This is one of my favorite Starbucks Drinks to make at home. It is so easy and tastes amazing. You can easily double, triple or more this recipe. During the summer I make enough passion tea to fill a pitcher in the refrigerator so I can easily make Passion Tea Lemonade at any point during the day.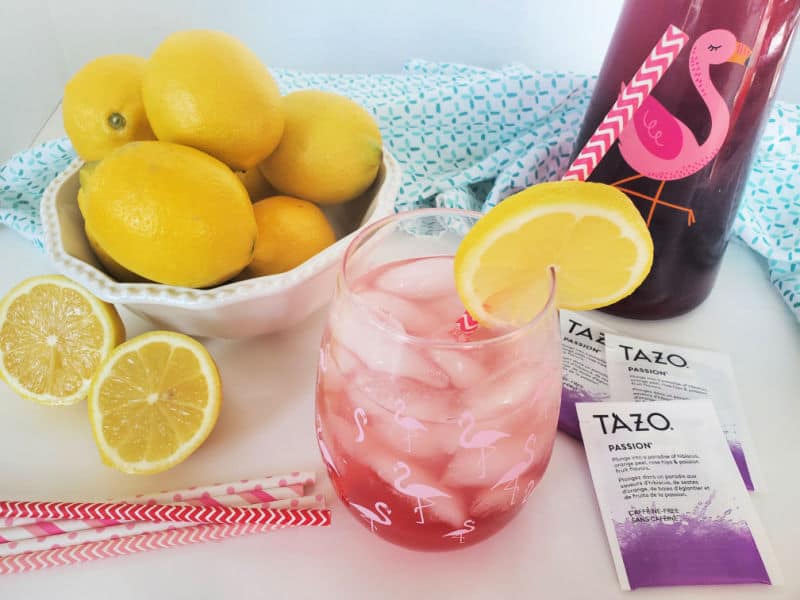 Great Copycat Recipe
Do you love recipes? Check out our copy cat recipes, dessert recipes, and our Crock Pot Recipes.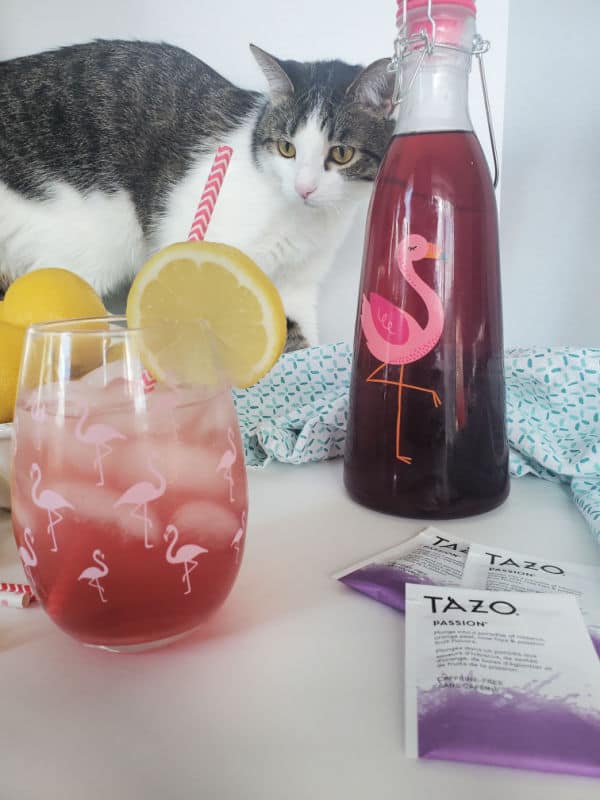 I am thinking about starting a series on the amazing help my assistant kitten is when taking photos. LOL! He is so cute but also not always the most helpful.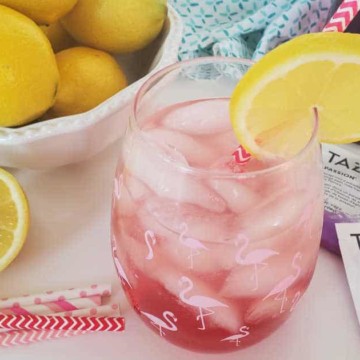 Copycat Starbucks Passion Tea Lemonade Recipe
How to make Copycat Starbucks Passion Tea Lemonade at home. This quick and easy recipe tastes amazing and is so easy to make.
Print
Rate
Instructions
Bring 2 cups of water to a boil, remove from heat and add 2 tea bags to the water with the sugar and vanilla. Allow to steep for 15 minutes.

Remove tea bags and pour into a container with a lid. Refrigerate for a minimum of 1 hour.

To make Passion Tea Lemonade - add ice, ½ cup lemonade and passion tea together. Stir and enjoy.
Nutrition
Nutrition Facts
Copycat Starbucks Passion Tea Lemonade Recipe
Amount Per Serving
Calories 92
% Daily Value*
Sodium 31mg1%
Potassium 1mg0%
Carbohydrates 23g8%
Calcium 14mg1%
* Percent Daily Values are based on a 2000 calorie diet.