This easy Iced Passion Tea Lemonade Recipe is one of our favorite summer drinks. It has a great passion fruit flavor that is refreshing and oh-so-delicious.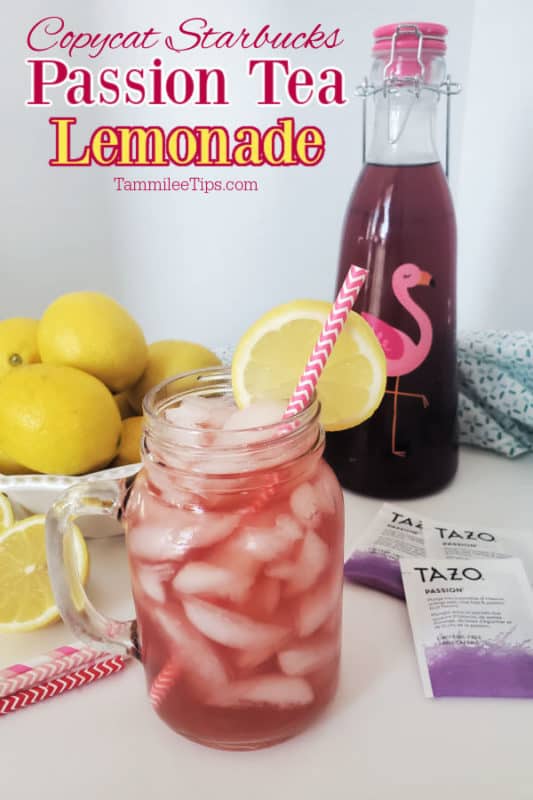 Copycat Starbucks Passion Tea Lemonade
If you have seen me out and about, you most likely have seen me with a Starbucks cup. I am hooked on Starbucks Chai Tea Lattes most of the year, but I switch to Starbucks Passion Tea Lemonade when the sun comes out.
It is the perfect refreshing drink for hot spring and summer days. I finally decided to start making them at home when the barista knew my order when I walked up to the counter.
That was a tipping point for me, and I needed to start making them at home instead of driving through or walking into a local Starbucks.
I will admit to visiting Starbucks around the world. It is so fun to see what Starbucks is like in other countries. One of our favorites was the Bali Starbucks next to the Saraswati Temple. This Starbucks blew our minds with how gorgeous the grounds were.
The Starbucks in Budapest is next to the Buda Castle. The online listing describes it as the Starbucks Castle. It was such an incredible moment having a hot chai tea and looking out over Budapest from the castle grounds.
This Starbucks Passion Tea Lemonade drink is the perfect combination of sweet and tart in a refreshing iced tea.
Check out our other Starbucks recipes, including Starbucks Frappuccino and Starbucks Pumpkin Spice Frappuccino.
I even made Starbucks Coffee Meringue cookies. I like Starbucks so much that I made cookies with Starbucks Via. LOL
We are working on more Starbucks copycat recipes. I think a new espresso machine is in my future so I can dive into making epic coffee drinks. I also want to work on a copycat iced peach green tea lemonade.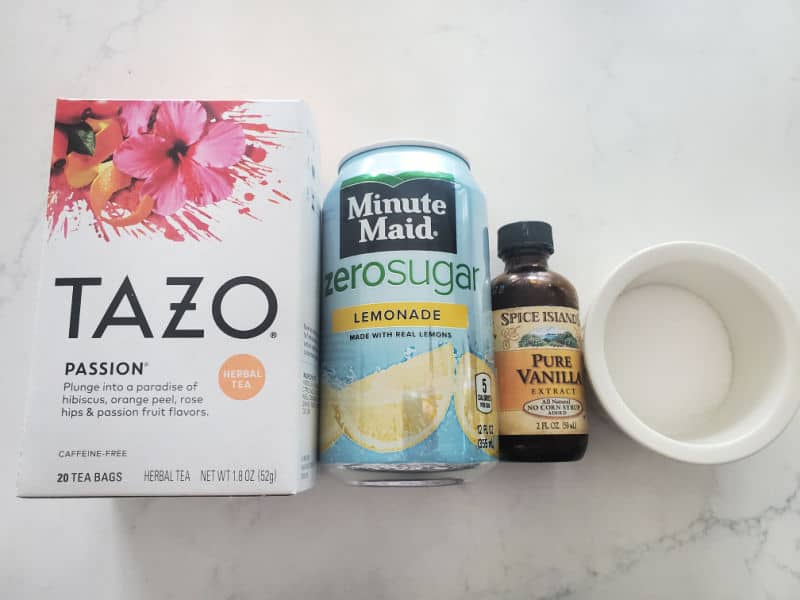 Ingredients
Here is a quick overview of the simple ingredients needed to make a Copycat Starbucks Passion Tea Lemonade Drink! The printable recipe card at the bottom of the post includes specific measurements and step-by-step instructions.
Water
Lemonade
Sugar
Vanilla
Tazo Passion Tea - I found these tea bags at our local grocery store next to the herbal teas. You can also buy them on Amazon.
Lemonade - I like to use light lemonade to save on calories and you can get it in a can so you don't have to open a huge bottle of lemonade if you don't want to.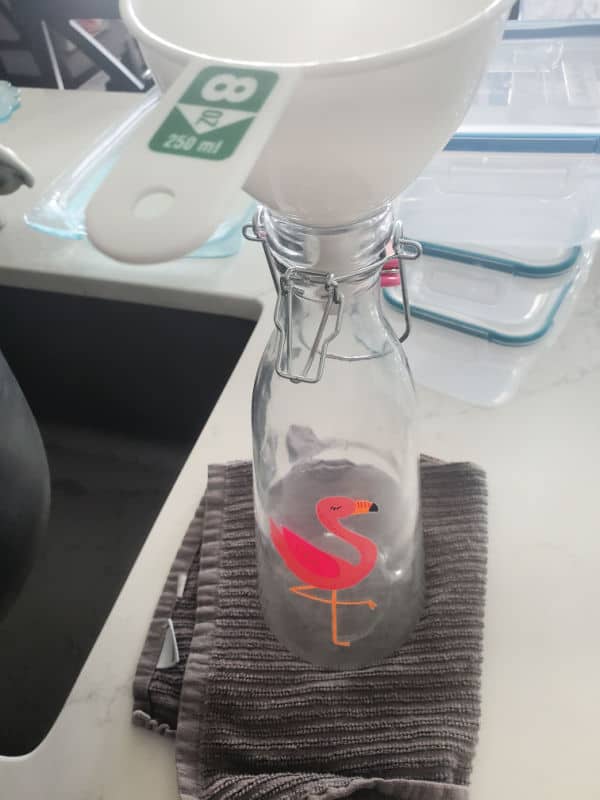 Equipment
Saucepan: You need a big saucepan for boiling water and tea bags.
Ice Tea Carafe

: An ice tea carafe is perfect for storing the Starbucks passion tea in the refrigerator.

Starbucks Tumbler

: If you want to look like you just walked out of your local Starbucks, you can order a Starbucks Tumbler online.

Funnel: This may be the most essential piece of equipment, depending on the container you pour the passion tea into. A funnel will keep all the tea headed into the container and keep it from spilling onto the countertops. I will admit that I got distracted as I was pouring tea and managed to pour too much in the funnel, so much so that when I removed it, it just poured over the top. It was one of those afternoons. LOL.
Tall glass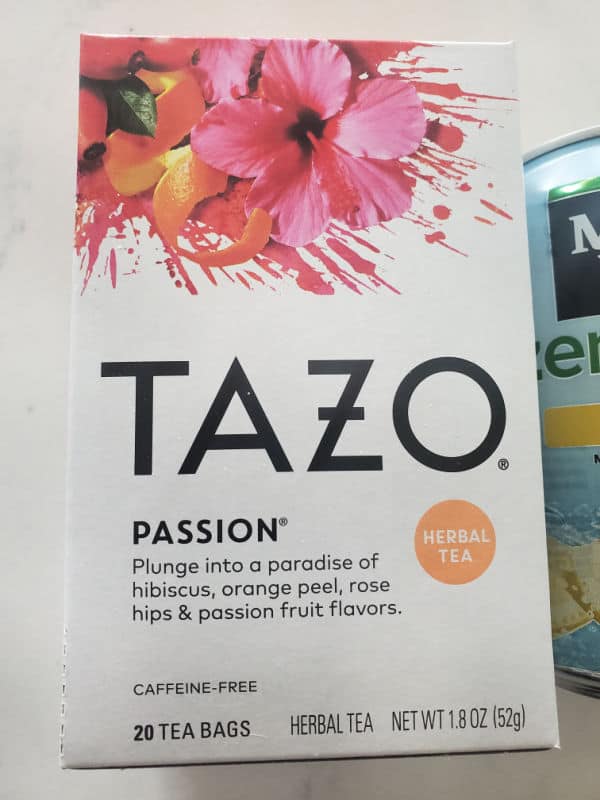 Preparation and Storage
Make Ahead: After brewing the tea mixture, you'll need to let it sit in the refrigerator for at least an hour, so plan time for the Passion Tea to cool in the fridge before serving.
Storage: Starbucks discards its prepared iced teas daily. When refrigerating them in an airtight container, we have seen others get about three days of shelf life from their homemade iced teas.
Freezing/How to Freeze: Blend the prepared and chilled Passion Tea Lemonade mixture with a handful of frozen pineapple chunks for a homemade version of Starbucks Frozen Pineapple Passionfruit Lemonade Refresher.
Recipe Variations
Substitutions:
You can make this recipe with hibiscus or mixed berry tea if you don't have passion tea.
I like to use light lemonade to save on calories, and you can get it in a can, so you don't have to open a family-sized bottle of lemonade if you don't want to.
Optional garnish - fresh raspberry, mint leaves
Vegetarian + Vegan Option: This copycat Starbucks refresher is vegetarian and vegan.
Gluten-Free: Tazo confirms in its FAQs that while its products do not contain gluten, the company cannot guarantee a gluten-free status for any of its products. Gluten-free drinkers should opt for a gluten-free alternative to ensure no cross-contamination.
Alcohol-Free Option: We do not use alcohol in this recipe. If you want to make this into a cocktail, mix it with Limoncello or try it with lemon vodka. I have yet to try this, but it sounds delicious.
Larger Group/More Servings: This refreshment is one of my favorite Starbucks Drinks to prepare at home. It is so easy and tastes fantastic. You can easily double, triple, or more this recipe. During the summer, I make enough passion tea to fill a pitcher in the refrigerator so I can quickly reach for Passion Tea Lemonade any time during the day the craving hits.
Sugar-Free: The written recipe contains 22 grams of sugar per serving. If you don't want a sweet iced tea, leave out the sugar or use a smaller amount. Otherwise, replace the white sugar with a sugar-free substitute and use sugar-free lemonade to make this drink sugar-free.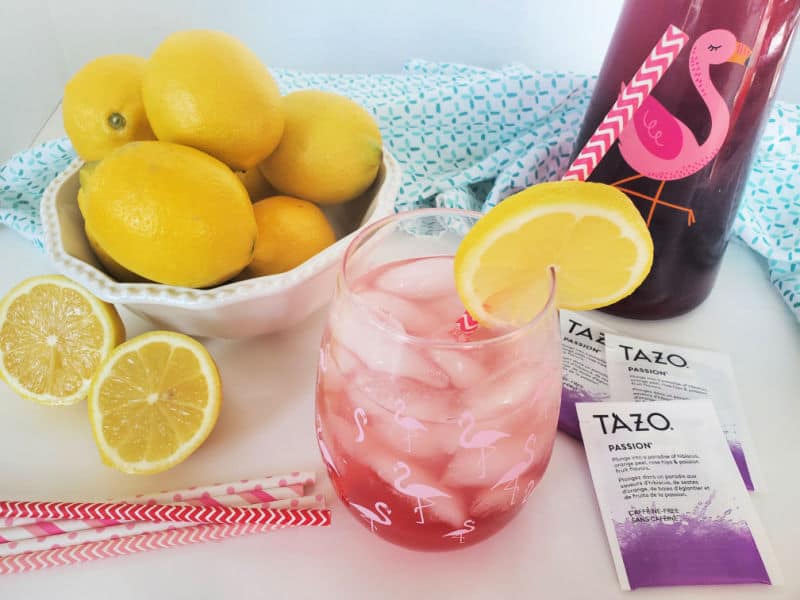 Tips for the Best Copycat Starbucks Passion Tea Lemonade
Tazo Passion Tea comes in both tea bags and liquid concentrate. I make this recipe with tea bags sized for individual servings.

One of the best things about this recipe is you can customize it to your taste. Add more lemonade, steep the tea longer, and add more sugar. It is truly up to you how you customize your Passion Tea Lemonade.

To make this passion tea lemonade sweeter you can use simple syrup, stevia sweetener, or liquid cane sugar.

Let the tea bags sit for 15 minutes to create a strong passion fruit tea.

If you make this and store it in the refrigerator, shake well to mix or stir the tea and lemonade before pouring it over ice cubes.

The tea to lemonade ratio is 4 part teas to 1 part lemonade.
What to Serve with Copycat Starbucks Passion Tea Lemonade
This homemade Starbucks Passion Fruit Tea Lemonade is one of my favorite drinks, It is a great way to beat the heat during the warmer months, and I love that I can save a pretty penny making as much as I want at home. Here are some other Starbucks and copycat favorites I have made at home.
Desserts: Starbucks Coffee Meringue
Drinks: Copy Cat Starbucks Frappuccino, Copycat Starbucks Pumpkin Spice Frappuccino, Crock Pot Caramel Latte, Eggnog Latte, Easy Iced Chai Tea Latte, Copy Cat Cherry Limeade Sonic Drink, Eggnog Coffee, Copycat Red Robin Freckled Lemonade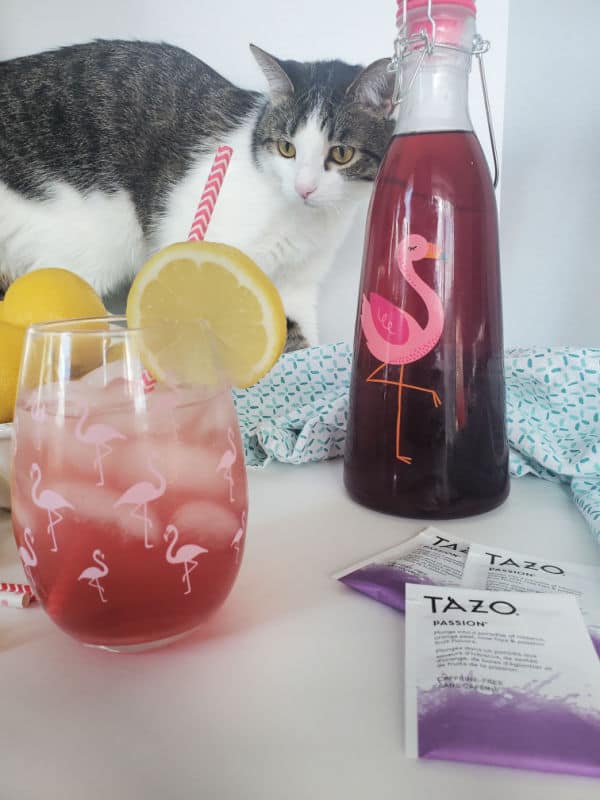 I am thinking about starting a series on the amazing help my assistant kitten is when taking photos. LOL! He is so cute but also not always the most helpful.
When to Serve
Spring

Summer

Snacktime

Whenever you need a yummy, fruity iced tea refreshment! 

Easy chill beverage for a group
Great Recipe Collections
35+ Funny Drink Names (Cocktails and Mocktails)
3-Ingredient Recipes (Appetizers, Entrees, Desserts)
Easy Dessert Recipes with 5 Ingredients (Or Less!) 
55+ Easy Fruity Alcoholic Drinks
Do you love recipes? Check out our copycat recipes, dessert recipes, and our CrockPot Recipes.
Follow Tammilee Tips on MSN, Facebook, Instagram, and Pinterest for all our recipe posts.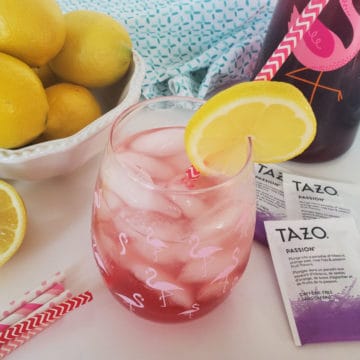 Copycat Starbucks Passion Tea Lemonade Recipe
How to make Copycat Starbucks Passion Tea Lemonade at home. This quick and easy recipe tastes amazing and is so easy to make.
Print
Rate
Instructions
Bring 2 cups of water to a boil, remove from heat and add 2 tea bags to the water with the sugar and vanilla. Allow to steep for 15 minutes.

Remove tea bags and pour into a container with a lid. Refrigerate for a minimum of 1 hour.

To make Passion Tea Lemonade - add ice, ½ cup lemonade and passion tea together. Stir and enjoy.
Nutrition
Nutrition Facts
Copycat Starbucks Passion Tea Lemonade Recipe
Amount Per Serving
Calories 92
% Daily Value*
Sodium 31mg1%
Potassium 1mg0%
Carbohydrates 23g8%
Calcium 14mg1%
* Percent Daily Values are based on a 2000 calorie diet.