Easy Iced Chai Tea Latte Recipe that takes minutes to prepare. The perfect blend of chai tea and milk to create a decadent, refreshing, delicious, amazing iced chai.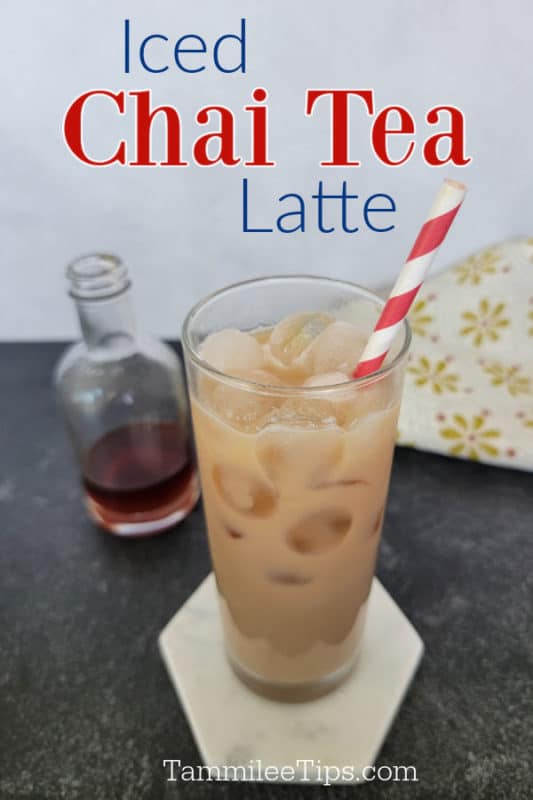 Iced Chai Tea Latte Recipe
Hi! My name is Tammilee and I LOVE Chai Tea! Enough so that it is in one of my Instagram bios and I own it fully and completely. There is just something about a good spicy iced chai tea latte that brings a smile to my face.
Today I realized that I have never shared my go-to Iced Chai Recipe on the website. 14+ years of typing on here and I somehow haven't shared the recipe I make the most outside of maybe Iced Tea.
I am actually going to share 2 ways to make an epic iced chai so you have options depending on how much time you have. The first one takes a few minutes to prepare and the 2nd one takes barely seconds.
Trust me I know there are days when you just need an iced chai and the idea of waiting for water to boil is just not a thing. On those days we pull out our trusty Oregon Chai Mix and make a quick iced chai that takes seconds to prepare.
On the days when you want to create a delicious chai syrup that blends with your favorite milk product to make an iced chai tea that is over the-top good, we have a recipe for that too. LOL!
I have spent years making iced chai until I found the perfect blend of sweet and spicy for my chai. This recipe can be customized if you like a spicier chai versus a sweet one.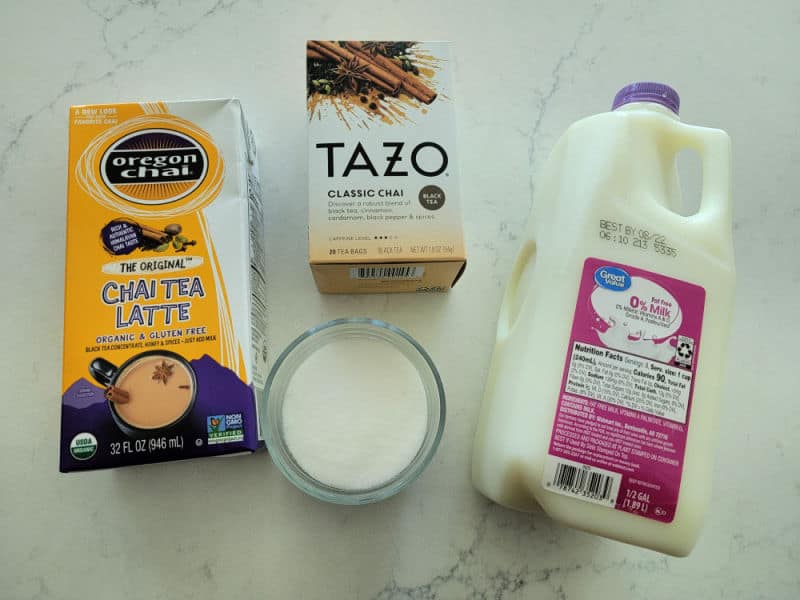 Ingredients 
Chai Tea Bags
Granulated Sugar/Sweetener
Ice
Milk
Water
Chai Tea Bags - I really like the Tazo Chai Tea Bags because they remind me of a Starbucks Chai Tea Latte. You can use whatever your favorite chai tea is to make this recipe.
Sugar - Feel free to use alternative sweeteners just make sure they mix well into the syrup. You can also use brown sugar, honey, or maple syrup.
Milk - You can make this with regular milk or any alternative milk you prefer.
Equipment Needed
Small Saucepan
Spoon
funnel
Glass container for chai syrup
Optional - Milk frother, if you want a bit of frothy milk on top of your iced chai.  You can also add in a bit of whipped cream for a sweet topper.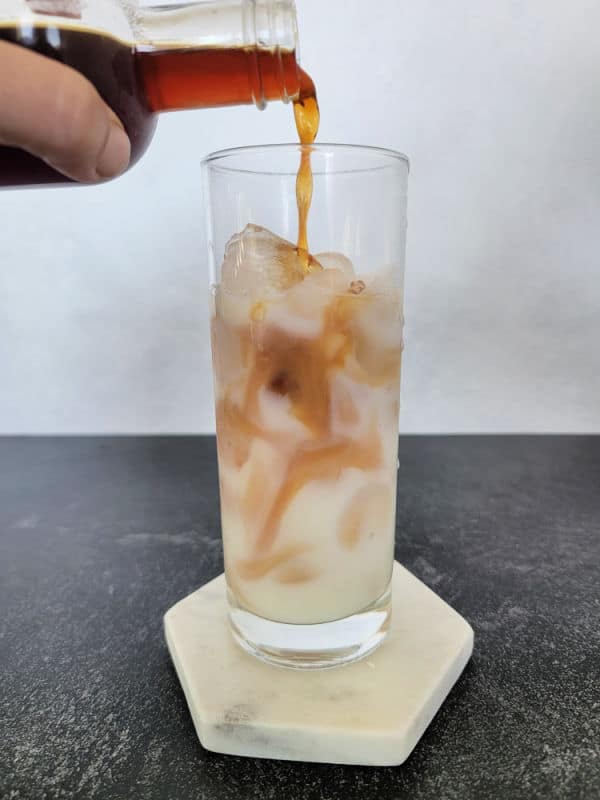 Quick and Easy Iced Oregon Chai Tea Latte
This recipe is for the days you don't have a few minutes to boil water or make the chai concentrate. We love keeping a container of Oregon Chai Powder or liquid chai tea concentrate in the house at all times.
I take the Oregon Chai powder mix in individual envelopes every time we travel. I once got stuck on an island in the Philippines during a super-typhoon and was so happy to have chai tea mix with me.
I was able to sit on my hotel deck and watch the storm with a hot cup of chai tea.
To make an iced chai with the Oregon Chai liquid concentrate you just need to combine ½ Oregon Chai Liquid with ½ milk or dairy substitute over ice.
Stir and your quick and easy iced Oregon Chai Tea Latte is ready. The liquid concentrate works great when you need a chai quickly.
Add in ice cubes and your copycat Starbucks Iced chai Tea latte is ready.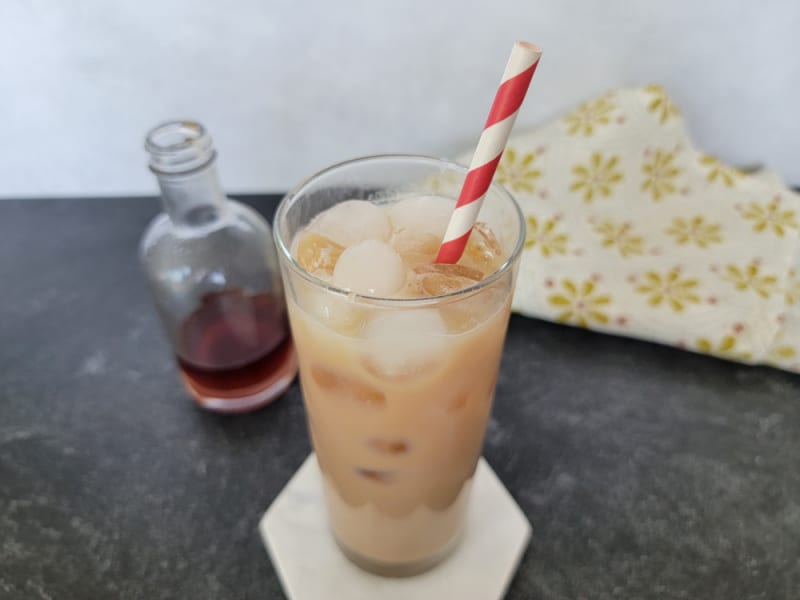 Recipe Tips
Please make sure your tea bag strings do not hang over the pot to close to the burner.
You can top this easy iced chai latte with whipped cream or frothy milk if you want a bit of something on the top of it.
Make this iced chai when you are ready to enjoy it. If you make it and it sits the ice will melt and dilute the flavor of the chai.
For a stronger chai flavor you can use additional chai tea bags or let it steep longer or add in more homemade chai concentrate and less milk to change the taste and strength of your iced chai latte recipe.
You can add in vanilla extract to make an iced vanilla chai tea latte.
We like to make double or triple the recipe and keep the homemade chai concentrate in a glass bottle with a lid in the fridge so we can make iced chai lattes for a few days. The glass bottles make it easy to pour the concentrate.
A mason jar works great for serving these iced chai's.
If you are serving these at a party you can dress them up by adding in a cinnamon stick.
What is chai?
Black tea infused with cinnamon, whole cloves, ginger, star anise, cardamom, and other warming spices. Chai originated in India where Masala Chai is incredibly popular.
Does an iced chai latte have coffee in it?
Iced chai's normally do not have coffee in them unless you order a dirty chai latte. Ordering a dirty chai normally means there is a shot of espresso added to the drink.
Where can I buy Chai Tea Bags?
You can find chai tea bags in most major grocery stores in the tea/coffee aisle. You can also purchase them on Amazon.
Does Chai Latte have caffeine?
Yes, There is caffeine in a chai latte. Most Chai Latte's have about a third of the caffeine you would get in a regular cup of coffee.
What milk works best for an Iced Chai Latte?
Starbucks uses 2% in their chai lattes. You can use your favorite dairy milks or dairy-free alternative milks including almond milk, oat milk, coconut milk, soy milk, or vegan milks.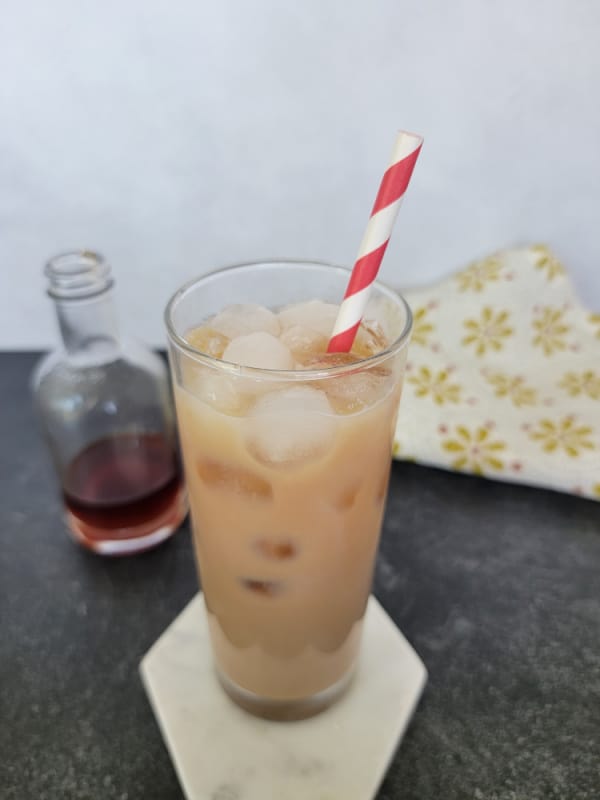 Epic Drink Recipes
Check out all of our drink recipes
Do you love recipes? Check out our copycat recipes, dessert recipes, and our CrockPot Recipes.
Follow Tammilee Tips on MSN, Facebook, Instagram, Pinterest, and Twitter for all of our recipe posts.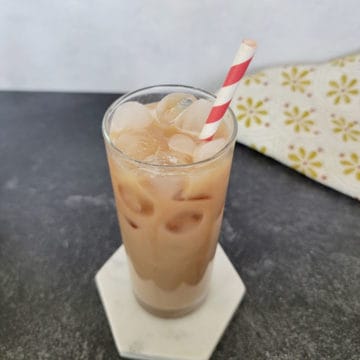 Quick and Easy Iced Chai Tea Latte Recipe
Quick and easy Iced Chai Tea Latte Recipe that takes minutes to prepare. You only need a few ingredients for this epic chai.
Print
Rate
Instructions
In a small saucepan add in ½ cup of water and bring to a boil.

Add in 2 chai tea bags. Making sure the chai tea bag strings do not go near the burner.

Steep for 5-7 minutes. Remove from heat and discard the tea bags. Stir in sugar while water is hot.

Add in ¼ cup of water and stir. Allow to cool

Add ice to a glass with ¾ cup milk. Pour in chai concentrate to taste. Stir to combine
Nutrition
Nutrition Facts
Quick and Easy Iced Chai Tea Latte Recipe
Amount Per Serving
Calories 161
Calories from Fat 4
% Daily Value*
Fat 0.4g1%
Polyunsaturated Fat 0.03g
Cholesterol 13mg4%
Sodium 176mg8%
Potassium 716mg20%
Carbohydrates 25g8%
Protein 15g30%
Vitamin A 875IU18%
Calcium 566mg57%
* Percent Daily Values are based on a 2000 calorie diet.