Lucky Charms Treats are a fun sweet treat for St. Patrick's Day or any day of the year. So easy to make and they taste amazing.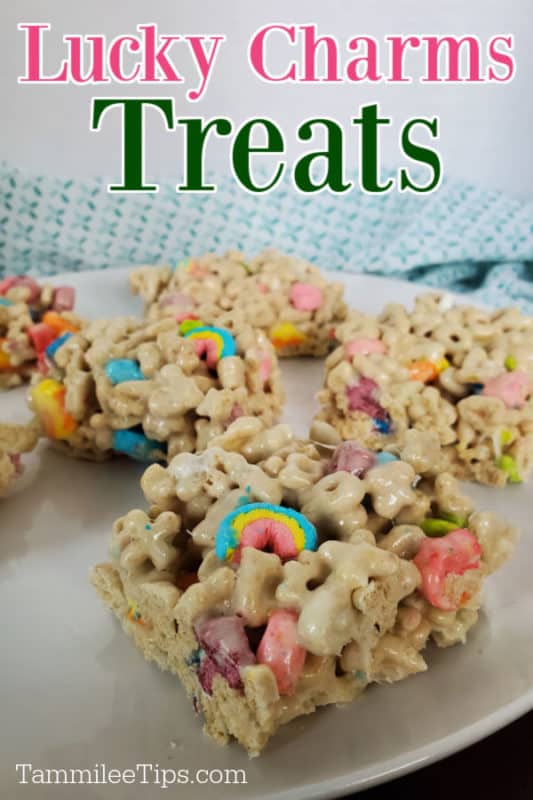 Lucky Charms Treats
I have been on a Rice Krispie Treat kick. I made Oreo Rice Krispie Treats and Peanut Butter Rice Krispie treats in the span of a couple of weeks.
Then this week I was standing in the cereal aisle at the grocery store and started wondering what other cereal I could make into a sweet marshmallow treat.
Enter in these Lucky Charms Treats! I kept trying to come up with a new St. Patrick's Day dessert and these seemed perfect. The box even had a leprechaun trap on it which made me giggle.
These Lucky Charms Rice Krispie Treats are perfect for dessert, St. Patrick's Day parties, or any day you need a fun treat.
You can dip them in white chocolate to make them like the Lucky Charms Treat Bars they sell at the store.
These treats are Magically Delicious...yep I went there! Do you blame me? LOL!
Did you know Lucky Charms were invented in 1964? The original Lucky Charms were made with oat pieces in the shapes of bells, fish, arrowheads, clovers, and X's and green clovers, pink hearts, orange stars, and yellow moons marshmallows. There were no marshmallow unicorns or other shapes when this fun cereal debuted.
Purple horseshoe marshmallows were added to the cereal in 1983.  The marshmallow pieces in Lucky Charms are called "marbits."
The pink heat is the only original marshmallow to still remain in Lucky Charms.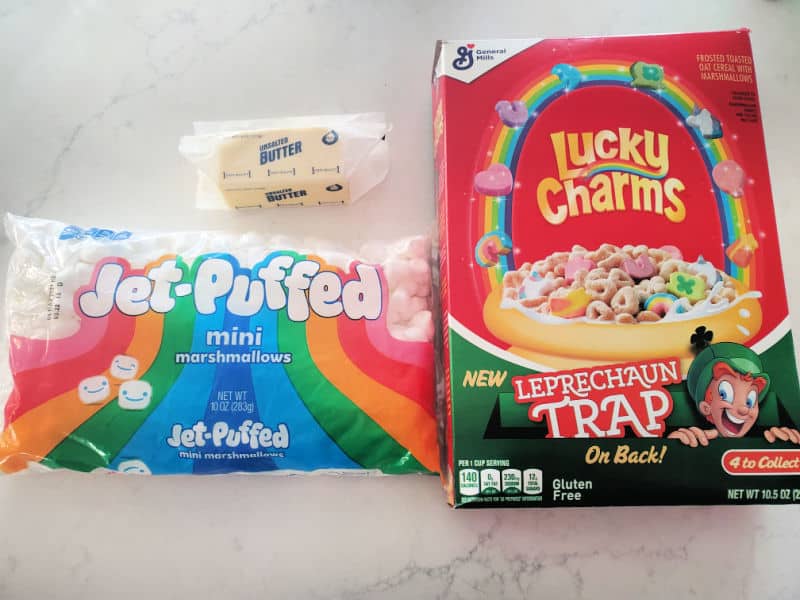 Ingredients
Butter
Mini Marshmallows
Lucky Charms Cereal
Butter - This is one of the few desserts I would say you can use salted butter in. The salt in the butter can help offset the sweetness of the marshmallow and Lucky Charms. You can also make these with unsalted butter.
Mini Marshmallows - I like that mini-marshmallows melt quicker than full size marshmallows.
Optional Add Ons - salt, vanilla, white chocolate, icing or sprinkles.
If you want to make these even more decadent you can add in sprinkles, dip them in chocolate, ice them, or do all the things.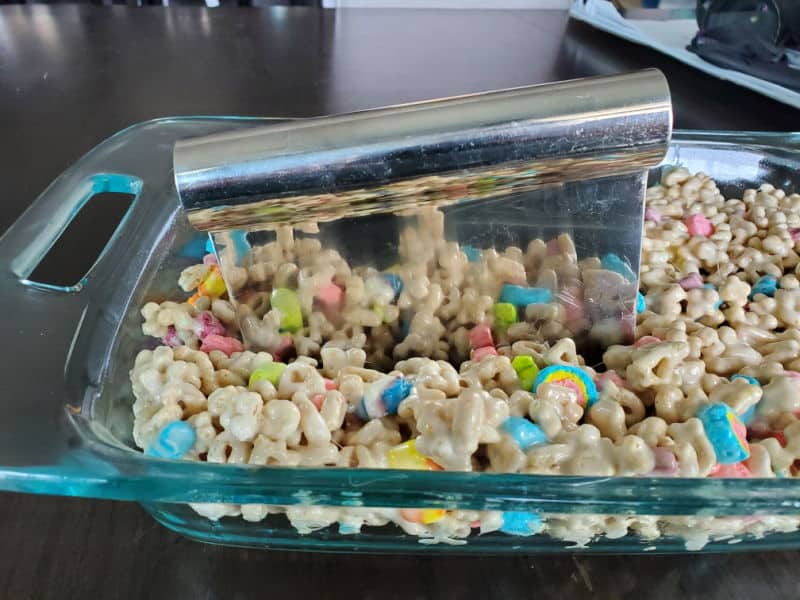 Equipment
Large Pot -You want to make sure the pot is deep enough to mix the ingredients and not have them fly over the top.
9 X 13 Baking Dish - A 3-quart baking dish is perfect for these Lucky Charms Treats. You can also use 2 8x8 pans if you love thicker marshmallow treats. I tend to use the 9x13 baking dish because it makes them last longer. If we have a smaller dish full they tend to disappear so quickly.
Wooden Spoon - A wooden spoon works perfectly for mixing all of the ingredients
Non-stick Spray - Spraying the pan with the non-stick spray will make it easier to remove the treats. I also like to spray the wooden spoon and use it to press the lucky charms treats into the pan.
Pastry Dough Cutter - my favorite way to cut any marshmallow treats is using a dough cutter. I love that I can get straighter lines and even cuts. Plus it is strong enough to press dough into the marshmallow treats if they are harder than I expected them to be.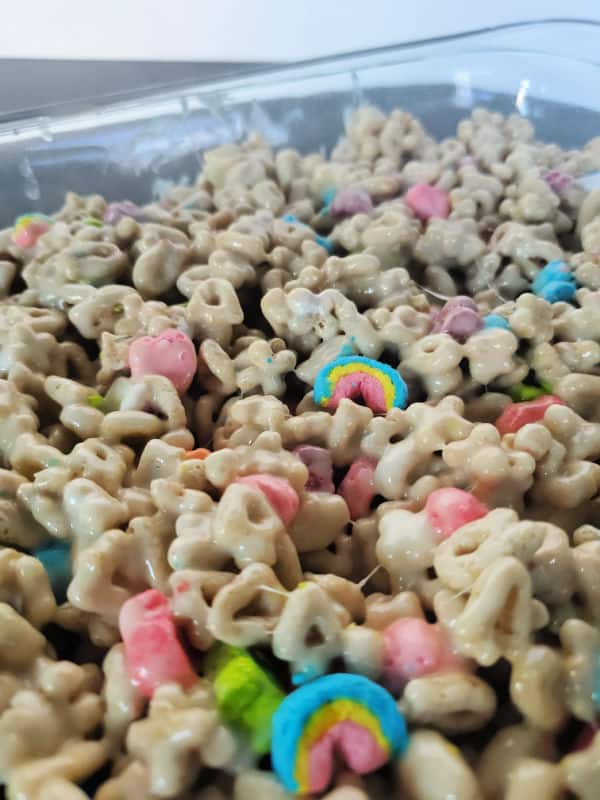 Recipe Tips
You can use mini-marshmallows or full-size marshmallows. I use mini-marshmallows because they melt faster.
Make sure to not press the lucky charms marshmallow mix too hard into the pan.
Add the marshmallows to the butter in a large pot and heat over medium-low heat. Add the cereal once the marshmallows are completely melted. The low heat will make sure when you melt the butter it doesn't brown.
Press the cereal treats into a baking pan. You can add in extra marshmallows if you want.
If you want a bit of contrast to the sweet you can add a bit of salt in with the marshmallows.
If you love Lucky Charms Marshmallows you can buy an entire bag of them on Amazon! Add in all the fun Lucky Charms Marshmallows to your treat or eat them by the handful.
I store these in the microwave if they last long enough. We do not store them in the refrigerator because we don't want them to get rock hard and tough to bite into.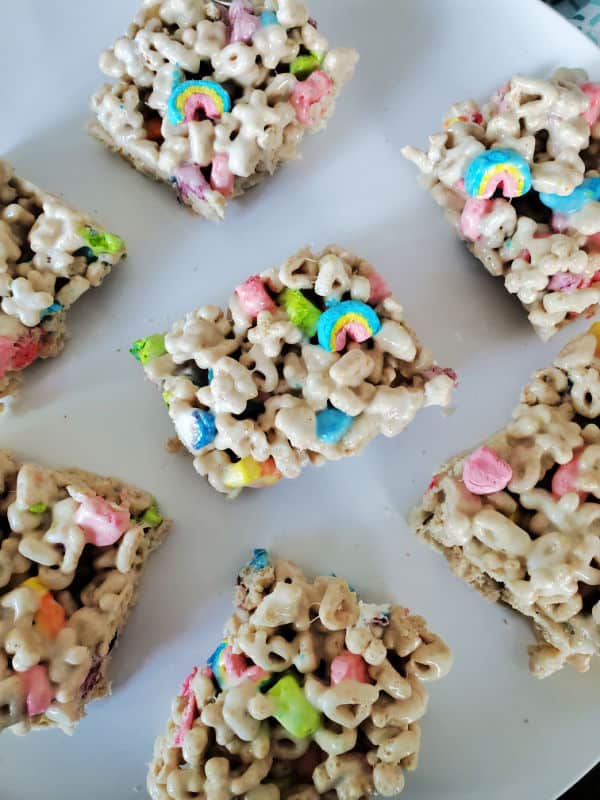 Microwave Instructions
The stovetop instructions are listed below. Just in case you decide to make these in the microwave I wanted to give you the easy-to-follow instructions.
Make sure to use a microwave-safe bowl! Combine marshmallows and butter in the bowl and microwave for 1 minute on high and then stir the mini marshmallows and butter together.
Microwave for 30-second intervals stirring after every 30 seconds until the mixture is smooth. Keep an eye out for the marshmallows to puff up. Make sure they don't touch the walls or top of your microwave. They are not fun to clean off.
Pour the Lucky Charm cereal into the microwave bowl if there is room or pour the marshmallow butter mixture over the cereal in a larger bowl.
Once mixed press them into a baking pan gently.
Allow the mixture to cool for a couple of hours and then enjoy them.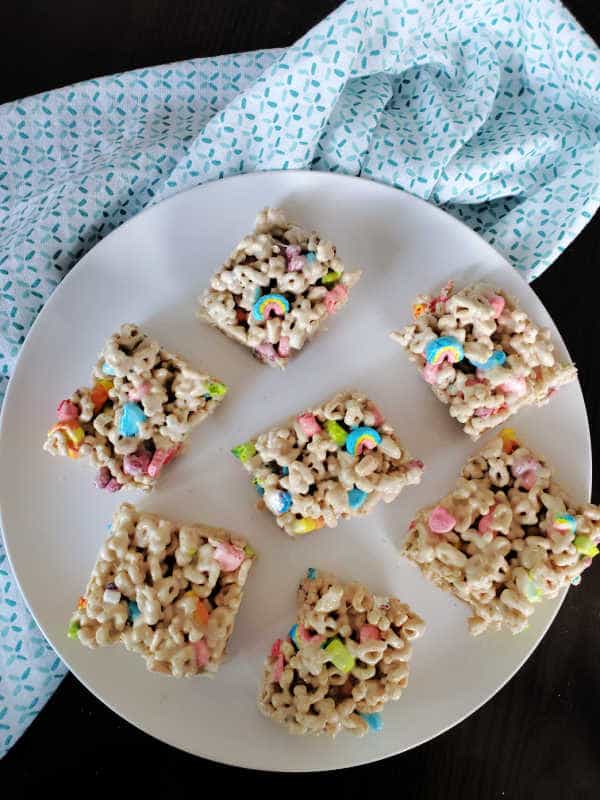 Great St. Patrick's Day Recipes
Great Sweet Treat Recipes
Chocolate Peanut Butter Brownies
Chocolate Covered Rice Crispy Treats
Do you love recipes? Check out our copy cat recipes, dessert recipes, and our Crock Pot Recipes.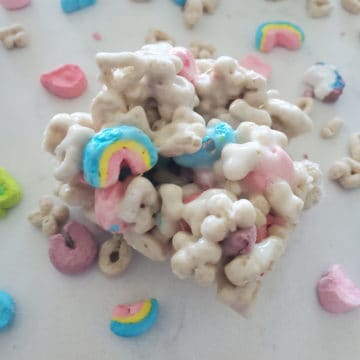 Lucky Charms Treats Recipe
Easy 3 Ingredient Lucky Charms Treats Recipe perfect for St. Patricks Day or any day you want a marshmallow cereal treat.
Print
Rate
Instructions
Melt butter over low to medium heat until fully melted in a large pot. Add in marshmallows and continually stir until melted.

Remove from heat and stir in Lucky Charms Cereal until cereal is coated in marshmallow mix.

Pour into a greased baking dish and genty press down into dish.

Let sit for an hour to cool down
Nutrition
Nutrition Facts
Lucky Charms Treats Recipe
Amount Per Serving
Calories 233
Calories from Fat 63
% Daily Value*
Fat 7g11%
Cholesterol 16mg5%
Sodium 219mg10%
Potassium 52mg1%
Carbohydrates 42g14%
Protein 2g4%
Vitamin A 803IU16%
Vitamin C 6mg7%
Calcium 97mg10%
Iron 5mg28%
* Percent Daily Values are based on a 2000 calorie diet.