The Alchemy Bar on Carnival Cruise Lines cures what ails you. The Forty Is The New Twenty Martini may not make you younger, but it tastes incredible.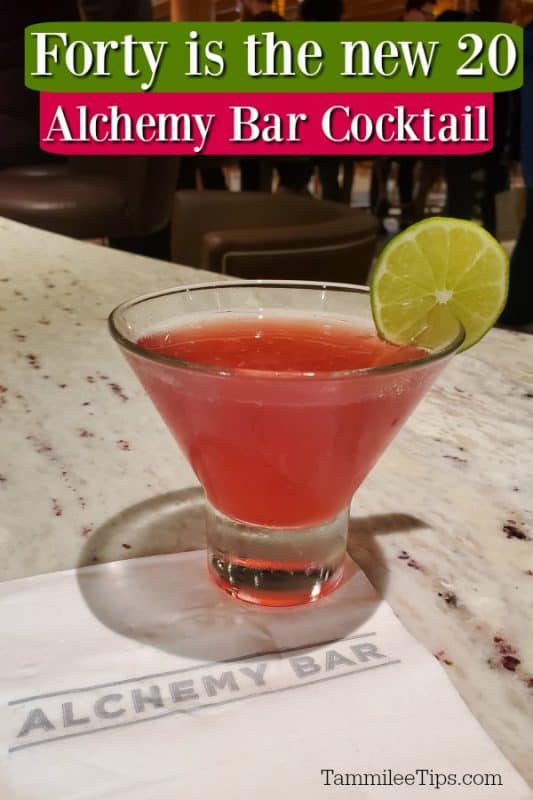 Forty is the New Twenty Martini Cocktail
You all know we LOVE the Alchemy Bar on Carnival Cruise Ships! We should have a T-shirt that says I love the Alchemy Bar, and you should too. LOL!
That may be a bit much, but we love relaxing at the Alchemy Bar. It is the perfect place to relax before dinner or a show.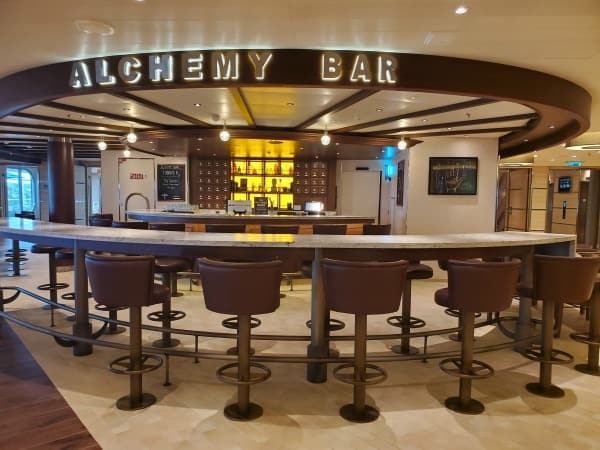 With the new Carnival Cruise ship design, the Alchemy Bar is now near the heart of the ship,  no longer tucked away in the back, which is good, but it also makes the Alchemy Bar a lot busier than it used to be. Which I am sure was the goal.
Seeing how popular the Alchemy Bar has become on the Carnival Cruise Ships is cool.
Ingredients
Here is a quick overview of the simple ingredients needed to make an epic Forty Is the New Twenty Alchemy Bar Drink! The printable recipe card at the bottom of the post includes specific measurements and step-by-step instructions.
Skyy Vodka

Pomegranate Liqueur

Lemonade
Equipment Needed
OXO Angled Jiggers

: These angled jiggers are our go-to measuring tools for cocktails. They work perfectly for pouring in layers for cocktails.

Cocktail Shaker

: You will want to use a cocktail shaker that you can comfortably use to shake the cocktail. Make sure to hold both ends of the cocktail shaker. You want to shake the cocktail until it is chilled but not watered down.

Stemless Martini Glasses

: You need stemless martini glasses if you want the same look as the Carnival Alchemy Bar. 
How to Make Forty Is The New Twenty Martini
I've included complete instructions in the printable recipe card at the bottom of the post, but here's a quick version.
Add ingredients into a cocktail shaker and fill with ice. Shake vigorously and strain into glass. Garnish with lime.
Preparation and Storage
Make-Ahead: According to NYT Cooking, the martini is a fantastic candidate for make-ahead-prep that you can assemble well before serving.
Storage: TastingTable recommends storing cocktail batches in the freezer in sealed bottles, which we have yet to try with this cocktail. Due to the lemonade and cranberry juice mixers, it may turn slushy instead of freezing as a liquid, which still could be a delightful way to enjoy this drink.
Freezing/How to Freeze: Lemonade and cranberry juice are this cocktail's main perishable ingredients. Enjoy frozen leftovers of this Alchemy Bar martini within eight to twelve months. Shake the mixture after removing it from the fridge for serving to reincorporate everything.
Recipe Variations + Tips for the Best Forty Is The New Twenty Martini
Substitutions:
We used Skyy Vodka in this martini, but you can use any quality plain vodka to make this cocktail.
Feel free to use a low-calorie lemonade to make this drink healthier. We have enjoyed using Minute Maid's 15-calorie lemonade in our 93-calorie vodka cocktails, like this Mango Passion Fruit Lemonade Cocktail.
Vegetarian + Vegan Option: The Forty Is The New Twenty Cocktail should be vegetarian and vegan since none of its ingredients typically contain anything animal-derived.
Gluten-Free: This cocktail should be gluten-free since none of its ingredients typically contain gluten. Skyy Vodka confirms in its FAQs that its vodka is gluten-free.
Alcohol-Free Option: Replace the vodka and pomegranate liqueur with NA alternatives to make this drink alcohol-free.
Larger Group/More Servings: As mentioned earlier, cocktails like the Forty Is The New Twenty martini are a breeze to batch prep. Just scale the recipe up to your desired yield, pour all the ingredients into a sealed bottle or storage container, and shake it before portioning the cocktail mixture into martini glasses.
Sugar-Free:
The written recipe contains 21 grams of sugar per serving. Vodka is naturally sugar-free; we have not found sugar-free alternatives to pomegranate liqueur. Swap the pomegranate syrup, lemonade, and cranberry juice with sugar-free options to lower the sugar content.
Please remember that nutritional information is a rough estimate and can vary significantly based on the products used.
What to Serve with Forty Is The New Twenty Alchemy Bar Cocktail
With this fruity twist on the classic martini, you can bring a piece of your cruise vacation to your home bar. Here are some other favorites to help you recreate the magic of a Carnival Cruise.
Main Dishes: Carnival Cruise Guy's Burger Joint Pig Patty Burger
Desserts: Carnival Chocolate Melting Cake
Drinks: Carnival Rum Jumper, Carnival Cruise Ting Mojito, Copy Cat Carnival Fun Ship Cocktail, Copy Cat Carnival Caribbean Colada, Copy Cat Carnival Cruise Cruiser Cocktail, Copy Cat Carnival Caribbean Breeze Cocktail, Carnival Cruise Alchemy Bar Cucumber Sunrise
When to Serve
Spring

Summer Parties

Fall and Winter (cranberries are a

late fall fruit

, and pomegranate is a

winter fruit

!)
Great Recipe Collections
Carnival Cruise Drink Recipes You Can Make at Home! 
Cranberry Juice Cocktails - Delicious cocktails that all include cranberry juice.
Red and Pink Cocktails - Great red and pink cocktails for holiday parties or any day of the year.
Great Martini Recipes - Shake or stir your favorite martini with these great recipes
2 Ingredient Cocktail Recipes - Easy 2 ingredient cocktails and shots that require as little effort as they do ingredients
Pineapple Juice Cocktails - Wondering what to do with the pineapple juice in your fridge? Don't worry these drinks are easy to make.
Funny Drink Names - From Duck Farts to Nutty Irishmen, this funny drink names collection will have you giggling and finding tons of great new cocktails to enjoy.
Tequila Cocktails - Easy drinks made with tequila including margaritas and more.
Do you love recipes? Check out our copycat recipes, dessert recipes, and our CrockPot Recipes.
Follow Tammilee Tips on MSN, Facebook, Instagram, and Pinterest for our recipe posts.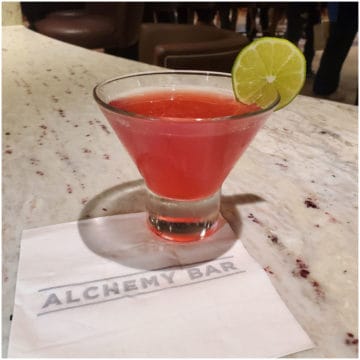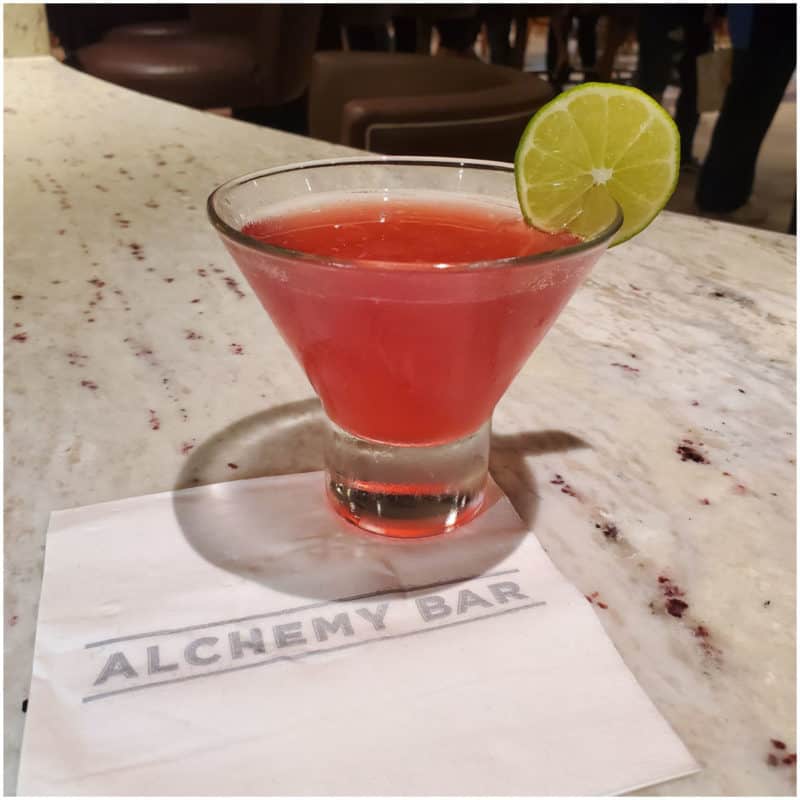 Forty is the New Twenty Cocktail Recipe
How to make a delicious Carnival Cruise Alchemy Bar Forty is the New Twenty Cocktail Recipe at home.
Print
Rate
Instructions
Add ingredients into a cocktail shaker and fill with ice. Shake vigorously and strain into glass. Garnish with lime.
Nutrition
Nutrition Facts
Forty is the New Twenty Cocktail Recipe
Amount Per Serving
Calories 227
Calories from Fat 9
% Daily Value*
Fat 1g2%
Sodium 8mg0%
Carbohydrates 24g8%
Protein 1g2%
Vitamin C 3mg4%
* Percent Daily Values are based on a 2000 calorie diet.