Are you wondering what to make with a bottle of Peppermint Schnapps? Don't worry these easy Peppermint Schnapps Drinks taste amazing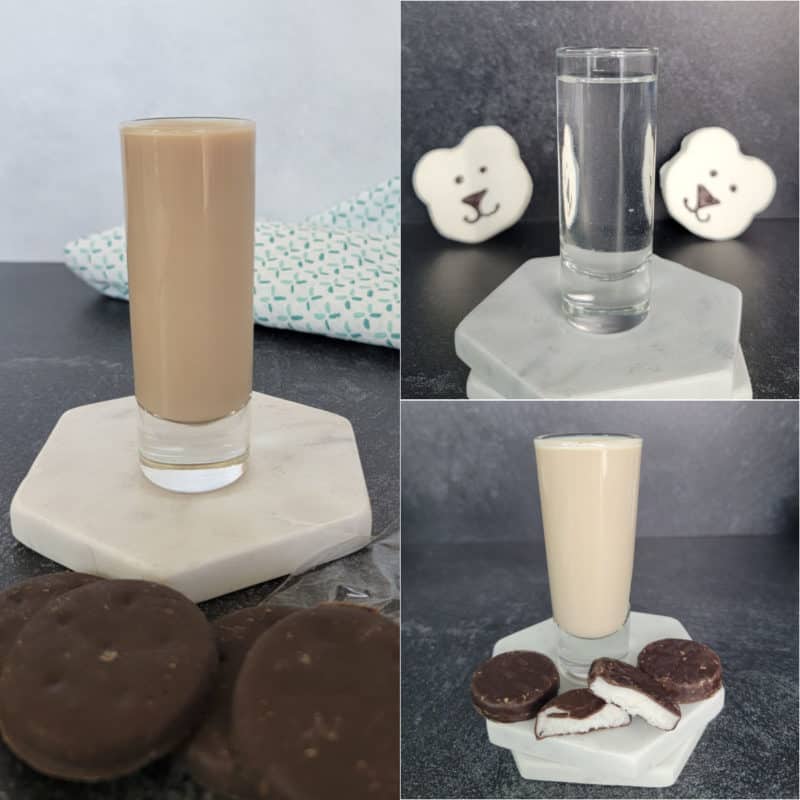 Epic Guide to Peppermint Schnapps Drinks
Known for bringing boozy winter beverages a welcome peppermint chill, peppermint schnapps is almost synonymous with the holiday season. Here we have answered your questions about this minty liqueur.
What is Peppermint Schnapps?
Peppermint schnapps is a distilled spirit made by infusing a neutral grain base spirit with peppermint extract and sugar. Its flavorings can be artificial, natural, or a blend. Since it is clear-colored, it can visually disappear into any mixed drink.
Although the two liqueurs share a name, German schnapps is very different from peppermint schnapps.
Peppermint schnapps is an American invention that tastes like a liquefied candy cane, while the German version is a high-ABV fermented brandy made from fruit juices and warm spices.
Peppermint schnapps lacks the origin story that makes many alcoholic beverages so memorable. However, its liquid peppermint candy flavor makes it a holiday cocktail staple.
What Flavor Is Peppermint Schnapps?
Peppermint schnapps tastes like a candy cane, making it a staple in winter cocktails and shots.
Mint and chocolate are a winning combination, so peppermint schnapps naturally pairs well with cocoa-flavored add-ins like crème de cacao. Many drinks also mix peppermint schnapps with dessert-forward ingredients such as coffee and cream.
Is Peppermint Schnapps Alcoholic?
Yes! Peppermint schnapps is an alcoholic drink mixer.
Peppermint Schnapps Alcohol Content
Peppermint schnapps comes in three different ABV levels - 15 percent, 30 percent, and 50 percent. Higher ABV versions are stronger in mint flavor.
Where to Buy Peppermint Schnapps
Peppermint schnapps can be purchased anywhere liquor is sold, including your local grocer or liquor store.
What Aisle Is It In?
Peppermint schnapps can be located among liqueurs and cordials such as triple sec and Irish cream.
How Much Does It Cost?
A 750 ml bottle of peppermint schnapps costs $8 to $10.
Does It Go Bad?
Opened bottles of peppermint schnapps will keep for a year or two before changing significantly in appearance or quality. Unopened bottles remain at drinkable quality indefinitely.
How to Store Peppermint Schnapps
For optimum quality, peppermint schnapps should be stored in a cool, dry area away from direct heat or sunlight. Since air exposure causes quality to degrade faster, keep the lid closed when not in use.
While refrigeration is not necessary, the minty liqueur is best served chilled.
How Many Calories?
A single one-and-a-half-ounce shot of peppermint schnapps has around 100 calories.
Is Peppermint Schnapps Gluten-Free?
Yes! Peppermint schnapps is generally considered gluten-free.
Is Peppermint Schnapps Vegan?
Yes! Peppermint schnapps contains no animal by-products.
How Many Carbs?
The most common brands of peppermint schnapps contain 7 to 12 grams of carbs per single shot.
Schnapps vs. Liqueur
Peppermint schnapps and crème de menthe are the two most popular mint-flavored liqueurs. Aside from ranking higher in alcohol content, peppermint schnapps has a bolder and more definitive peppermint taste.
Crème de menthe is sweeter, and its neutral mint flavor often incorporates spearmint. Some creme de menthe is light green colored, which can change the profile of a cocktail. The classic Grasshopper cocktail uses crème de menthe as one of its core ingredients.
Trusted liqueur brands such as DeKuyper produce inexpensive peppermint schnapps that is great when you want to add a burst of peppermint to cocktails, shots, and spritzers. They are the best bang for your buck, allowing the most experimentation without breaking the bank.
Rumple Minze is a German peppermint schnapps that packs a 100-proof (50 percent ABV) minty punch. While typically consumed in shot form, the mint-flavored liqueur can also be used in cocktails.
Schnapps vs. Vodka
Peppermint schnapps is a peppermint-flavored liqueur that is flavored after being distilled. The result of adding flavor post-distillation is a drier, less alcoholic liqueur. It is not the same as peppermint vodka, which is flavored before distillation.
Peppermint schnapps is made of juniper berries, the tiny cones behind gin's piney flavor. Potatoes and wheat, on the other hand, give vodka a cleaner, neutral taste.
Peppermint Schnapps Drinks
Peppermint schnapps adds wonderful minty flavor to wintertime cocktails. Are you ready to pour, shake, stir, strain, and enjoy these epic Peppermint Schnapps Cocktail Recipes?
For a quick and simple drink add peppermint schnapps to your coffee with a bit of heavy cream. Garnish with a peppermint stick or crushed candy canes to the rim of the glass for a festive drink.
Make an iced coffee by adding in ice cubes, or some vanilla to smooth out the intense mint flavor.
Peppermint Schnapps Hot Chocolate
Ingredients: 1 Hot Chocolate Mix Envelope, 2 Cups Milk, Sugar, Semisweet or Dark Chocolate Chips,  Peppermint Schnapps; Ground Cinnamon for Garnish
Peppermint mocha lovers will love this boozy version of the adored holiday espresso drink.
Upcoming Peppermint Schnapps Cocktails include a Peppermint Martini, Peppermint White Russian Cocktail, and so many more.
Peppermint Schnapps Shots
These peppermint schnapps shots are as delicious as they are refreshing.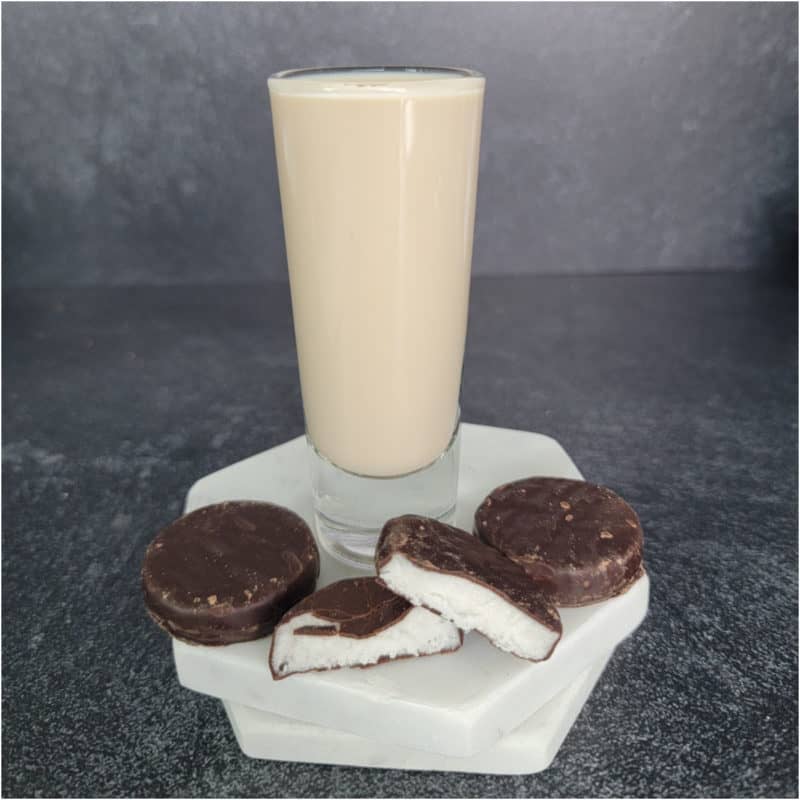 Ingredients: Creme de Cacao Liqueur, Peppermint Schnapps, Baileys Irish Cream
This wintry three-ingredient shot tastes just like a peppermint patty candy.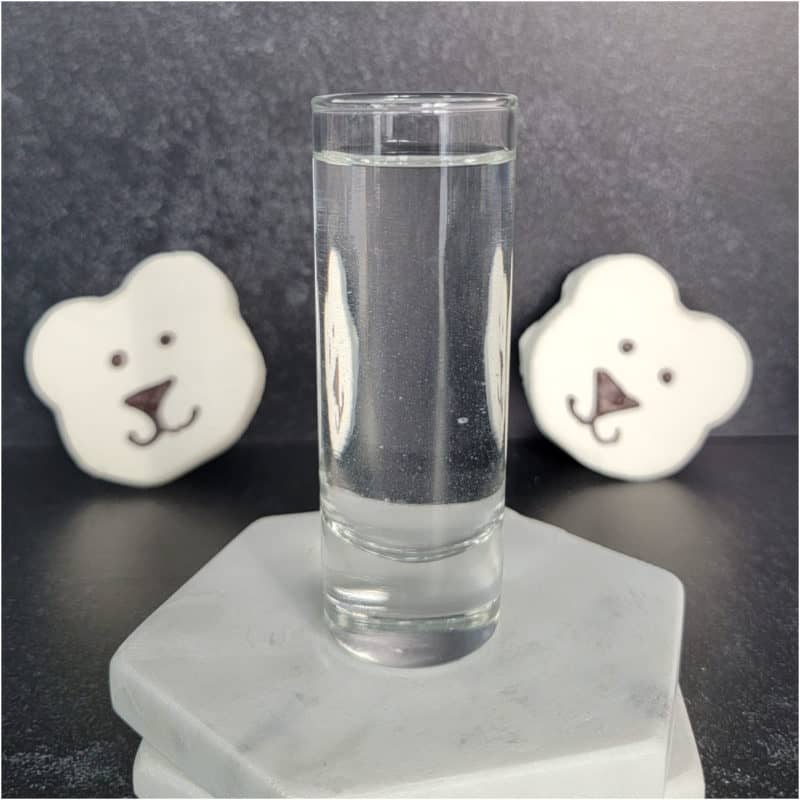 Ingredients: White Crème de Cacao, Peppermint Schnapps
Don't let the Polar Bear Shot's clear color deceive you - it packs a punch of chocolate peppermint delight that is perfect for your next winter party.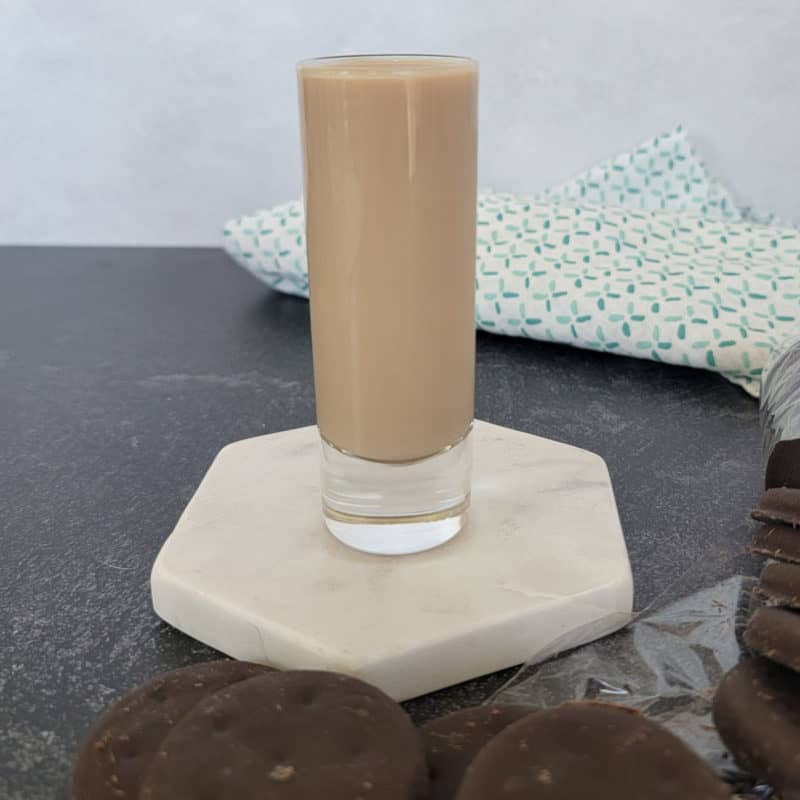 Ingredients: Kahlua Coffee Liqueur, Bailey's Irish Cream, Peppermint Schnapps
This delightful dessert shooter is inspired by our favorite Girl Scout cookie, Thin Mints.
Recipe Tips
Printable recipe card instructions are available in each recipe post.
Nutrition information, including calories, protein, calcium, carbohydrates, fiber, vitamin c, potassium, cholesterol, sodium, trans fat, monounsaturated fat, polyunsaturated fat, and more, will vary depending on the products used.
Great Cocktail Tools
2 ounce shot glasses - We love these 2 oz shot glasses especially for layered shots.
Bar Spoon - Bar spoons help to create layers in the cocktail shot. They fit perfectly into the cocktail shot glass.
Cocktail Shaker – This cocktail shaker comes with a fantastic set of tools
Stemless Martini Glasses - These stemless martini cocktail glass are fantastic.
Martini Glass - We like the look of the classic martini glass
Jell-O Shot Cups - We suggest using two-ounce Jell-O shot cups.
OXO angled jiggers - these are our go-to measuring tools for cocktails. They work perfectly for pouring in layers for cocktails.
Margarita Glasses - We like the look of classic margarita glasses but you can use any glass for this great cocktail.
Copper Mule Mugs  - Copper Mule Mugs are the classic way to serve Moscow Mules. The copper mugs keep them nice and cold and look amazing. Check out all of our Moscow Mule Variations.
Great Cocktail Recipe Collections
Frangelico Cocktails - Epic Guide to Frangelico Drinks! Everything you need to know to mix amazing Frangelico Cocktails that taste amazing!
RumChata Cocktails - We are excited to share our epic guide and the best RumChata Drinks you have to try!
Midori Cocktails - Epic Guide to Midori Cocktails and Liqueur including great drinks to make, how to store Midori, and more.
Red Colored Cocktails - Epic Guide to Red Cocktails You Can Make at Home!
Fireball Cocktails - Epic Guide to Fireball Cinnamon Whisky! This cinnamon-flavored whiskey has become one of the most popular mixers to use.
Ginger Beer Cocktails - Here are the answers to all your questions about this popular drink mixer.
Chambord Cocktails - Are you wondering what to make with a bottle of Chambord? Don't worry these easy Chambord Cocktails taste amazing!
Easy Vodka Cocktails - Check out all of our easy vodka cocktails.
Do you love recipes? Check out our copycat recipes, dessert recipes, and our CrockPot Recipes.
Follow Tammilee Tips on MSN, Facebook, Instagram, and Pinterest, for all of our recipe posts.