Epic Guide to Frangelico Drinks! Everything you need to know to mix amazing Frangelico Cocktails that taste amazing!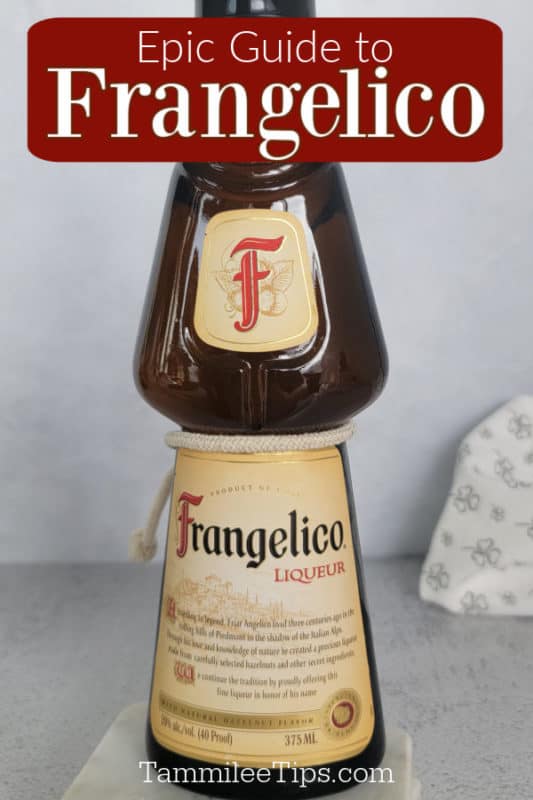 Frangelico is an Italian liqueur made of hazelnuts, cocoa, vanilla, coffee, and other secretly held yet delectable natural flavorings.
Recognized for its unique bottle design, which resembles a Christian friar with a rope belt, Frangelico also is a mainstay in many sweet drinks and baked goods.
Here are the answers to all your questions about this centuries-old premium liqueur.
What Is Frangelico?
Frangelico is an Italian hazelnut-flavored liqueur, or noisette, made of toasted Tonda Gentile hazelnuts, cocoa, vanilla distillate, and other natural flavorings. It is enjoyed globally, especially in the United States and Spain, and is a bar staple for the nutty, dessert-like flavor it imparts upon drinks.
The name is an abbreviation of Fra' Angelico, a hermit monk believed to have inhabited the magnificent Piedmont hills during the 18th century
To make Frangelico Hazelnut Liqueur, crushed hazelnuts are mixed with chocolate, vanilla berries, and natural flavorings like coffee before being soaked in a neutral base spirit. The liqueur is filtered, sweetened, and bottled once the alcohol has taken on the flavor of all the ingredients.
Frangelico Liqueur pours a light golden caramel and can be served neat, chilled, on the rocks, or in cocktails and shots. Its sweet profile also lends well to cooking and baking.
Frangelico Hazelnut Liqueur has a 40% ABV (Alcohol by volume)
What Does Frangelico Taste Like?
Frangelico is a dessert-heavy experience that balances sweet hazelnut with rich cocoa, vanilla, and coffee.
Frangelico Substitute
Frangelico is a luxury liqueur with a premium price tag. While its signature quality and taste are not easily replicated, there are still options for replacing Frangelico.
The best substitutes include:
Amaretto
The Italian almond liqueur amaretto is the most direct replacement for Frangelico. While slightly more bitter, it captures the nutty essence of Frangelico and pairs well with coffee, sweet cocktails, and baked goods. This liqueur is somewhat higher in alcohol content than Frangelico, so keep this in mind when making any substitutions.
Kahlúa
Kahlúa is a highly popular coffee liqueur that captures the sweetness and coffee flavors of Frangelico. It is prepared by combining roasted Arabica coffee beans and sugarcane in a neutral base spirit, like vodka.
Nocello
Like Frangelico, nocello is manufactured from hazelnuts and features notes of cocoa and vanilla. This Italian walnut liqueur adds a hint of sweetness and a smoky aftertaste that lends itself to sweet cocktails, beverages, and cooking. Nocello also has a higher ABV than Frangelico, so it should be used carefully in replacements.
Is Frangelico Gluten-Free?
Yes! Frangelico's main ingredients are hazelnuts, alcohol, and natural extracts like cocoa and vanilla.
How Many Carbs Are in Frangelico?
Frangelico has 11 grams of carbohydrates per 1-ounce serving.
Does Frangelico Go Bad?
Unopened Frangelico has an indefinite shelf life. From a food safety standpoint, Frangelico does not spoil, even when opened.
Be sure to discard any Frangelico that has developed an off odor or appearance, as these are surefire signs that its quality has deteriorated.
How Long Does Frangelico Last?
While an intact bottle of Frangelico remains good indefinitely, the flavor of an opened bottle will degrade noticeably after four to five years. Its contents may also begin to evaporate.
To extend the shelf life of Frangelico and other hazelnut liqueurs, keep the bottle wrapped and store it in a cool, dry place away from direct heat or sunlight. The lid should also be shut tightly to avoid air exposure.
How to Open a Frangelico Bottle
The Frangelico bottle resembles a glass monk's habit with a rope belt to reflect its origins among Christian monks who lived in the Piedmont region of Italy. To open a bottle of Frangelico, apply pressure to the top of the bottle and twist it counterclockwise.
Frangelico Liqueur Price
The average price of a 750 ml bottle of Frangelico is $32.
This delicious hazelnut liqueur can be found at liquor stores, and many groceries.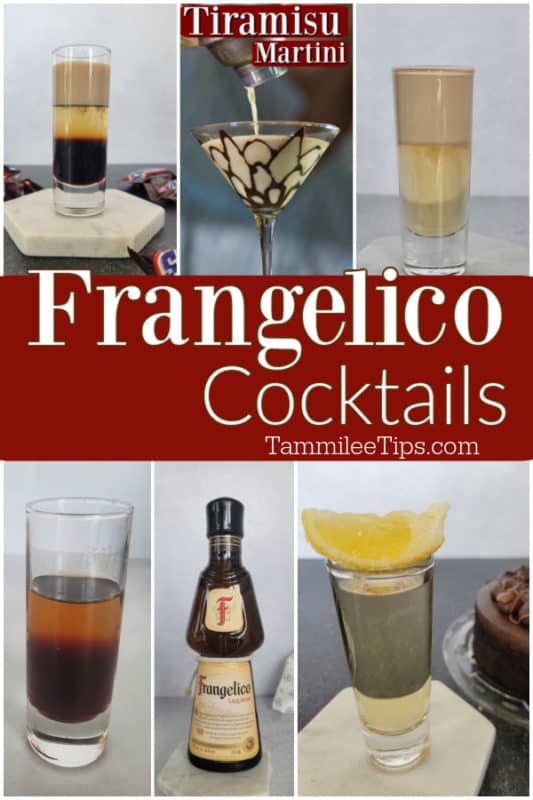 Frangelico Drinks
Frangelico is delicious enough to be served neat or as a boozy coffee creamer. It is also a mainstay in dessert-forward cocktails and shots, where it pairs well with brandy, whiskey, and vodka.
The hazelnut flavor mixes perfectly to create delicious cocktail recipes. We are working on making a hazelnut espresso martini, hazelnut affogato, Frangelico Cocoa, and more!
For a great easy dessert pour a bit over a bowl of vanilla bean ice cream! Hello yum! The sweet flavor of the toasted hazelnuts and vanilla extracts are the perfect flavor combination and an excellent choice for a night cap.
Here are some of our favorite drinks with Frangelico Liqueur.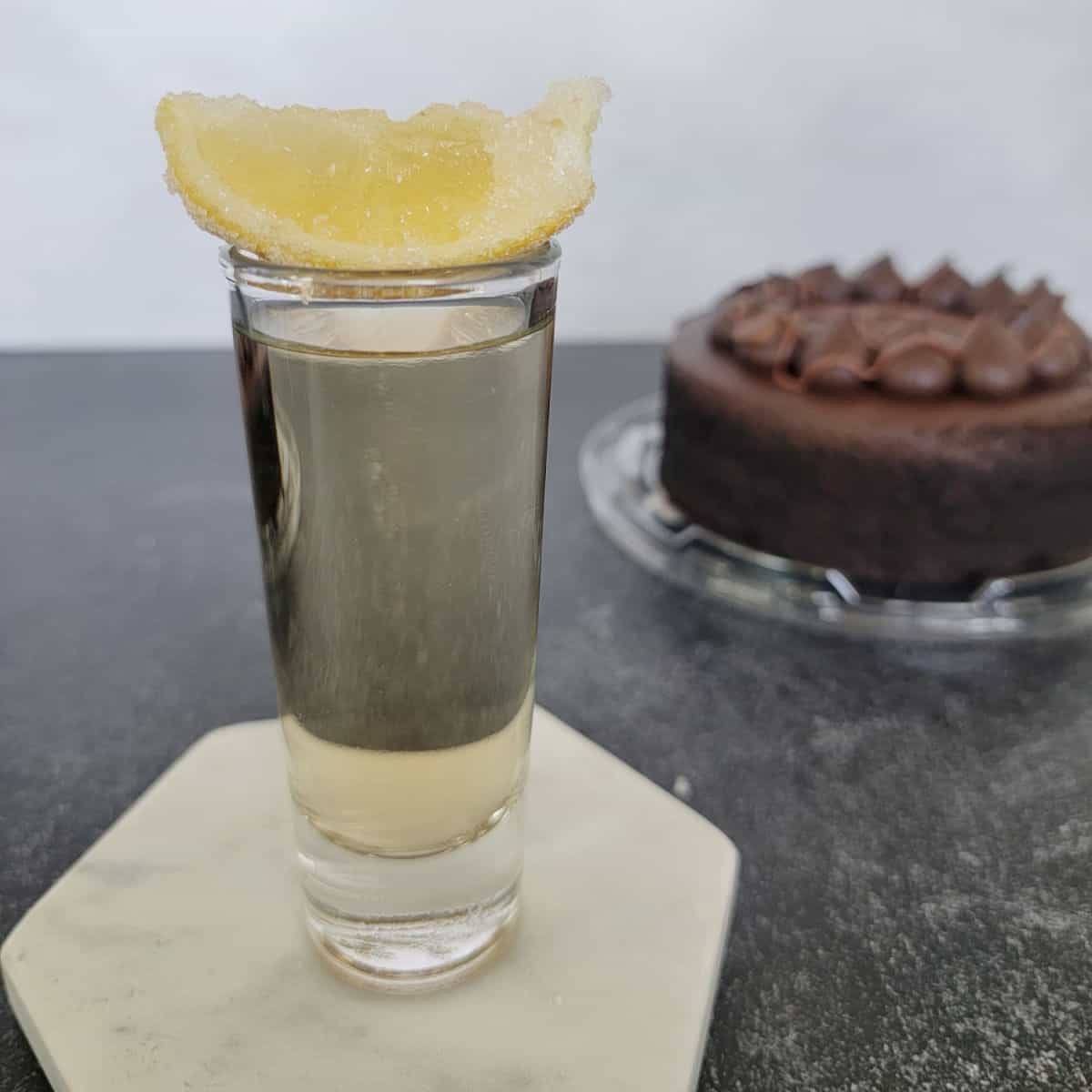 Ingredients: Vodka, Frangelico Liqueur, Lemon Wedge, Sugar
Despite containing no chocolate, this Frangelico Cocktail shot tastes like the liquefied chocolate cake of your sweetest and booziest dreams.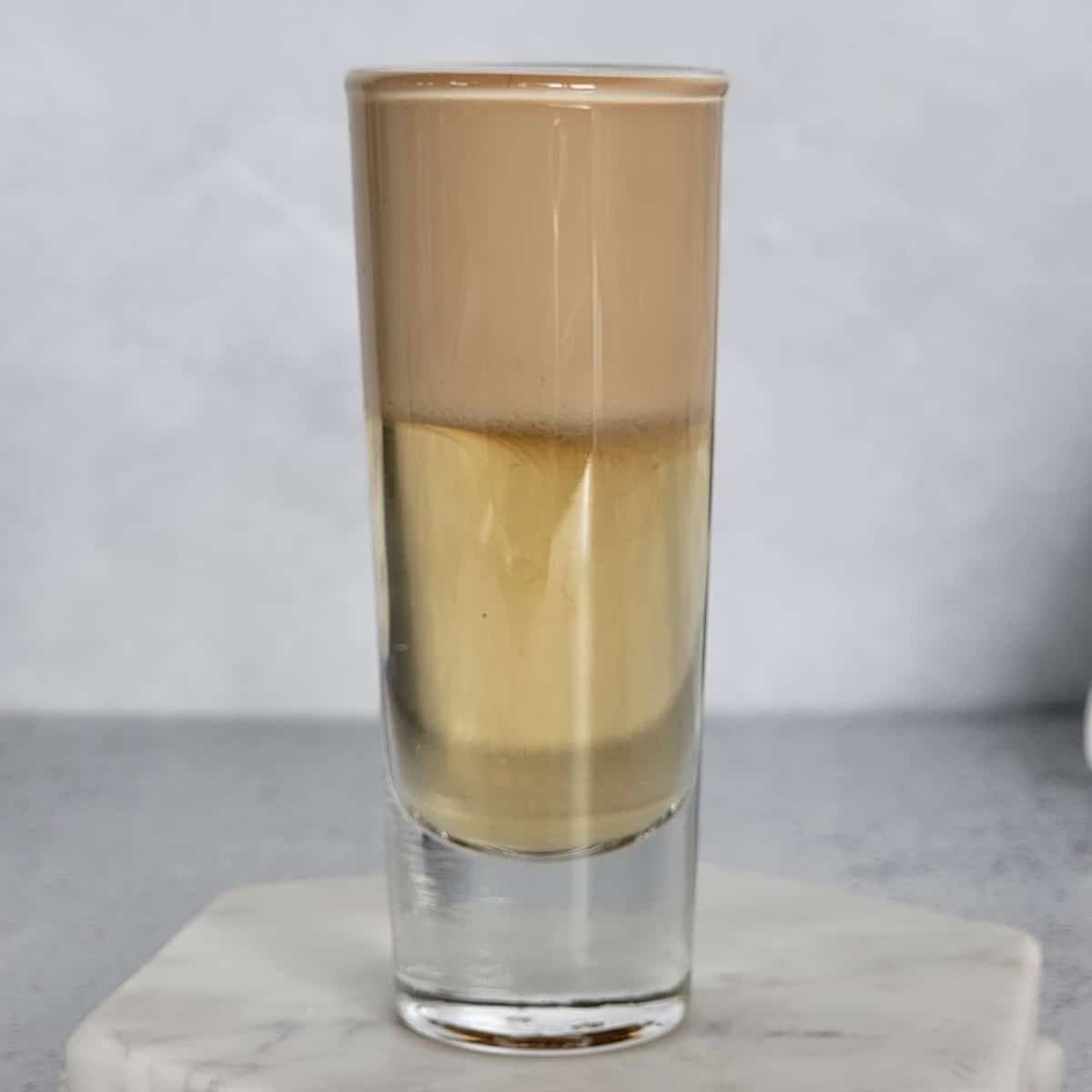 Ingredients: Frangelico, Bailey's Irish cream
The Nutty Irishman is a layered shot of creamy hazelnut goodness. This is one of our favorite St. Patrick's Day Cocktails.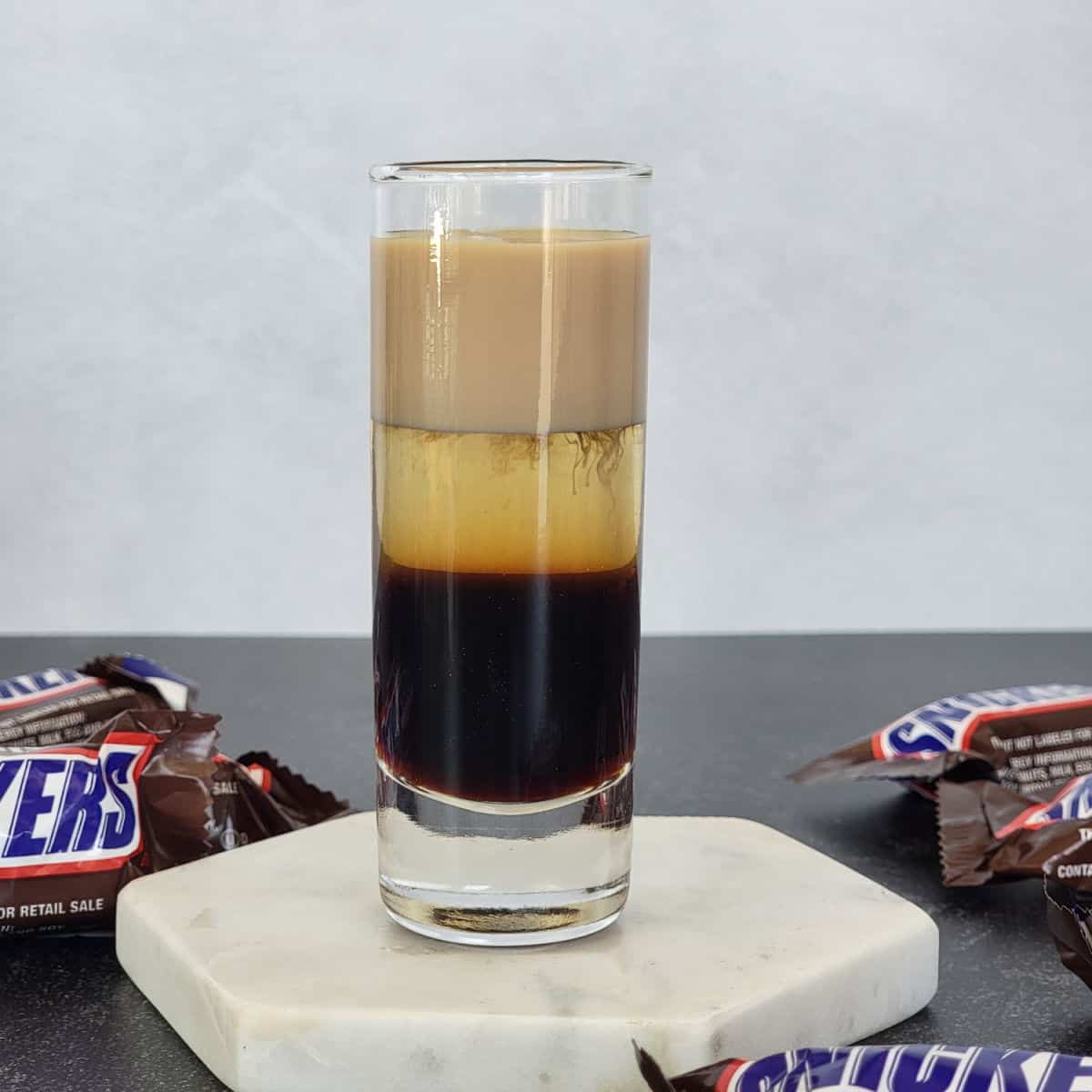 Ingredients: Kahlúa Coffee Liqueur, Frangelico, Bailey's Irish Cream Liqueur
The trifecta of Kahlúa, Frangelico, and Bailey's Irish Cream combine to make this Snickers shot. You can add whipped cream to make this an even more decadent cocktail shot.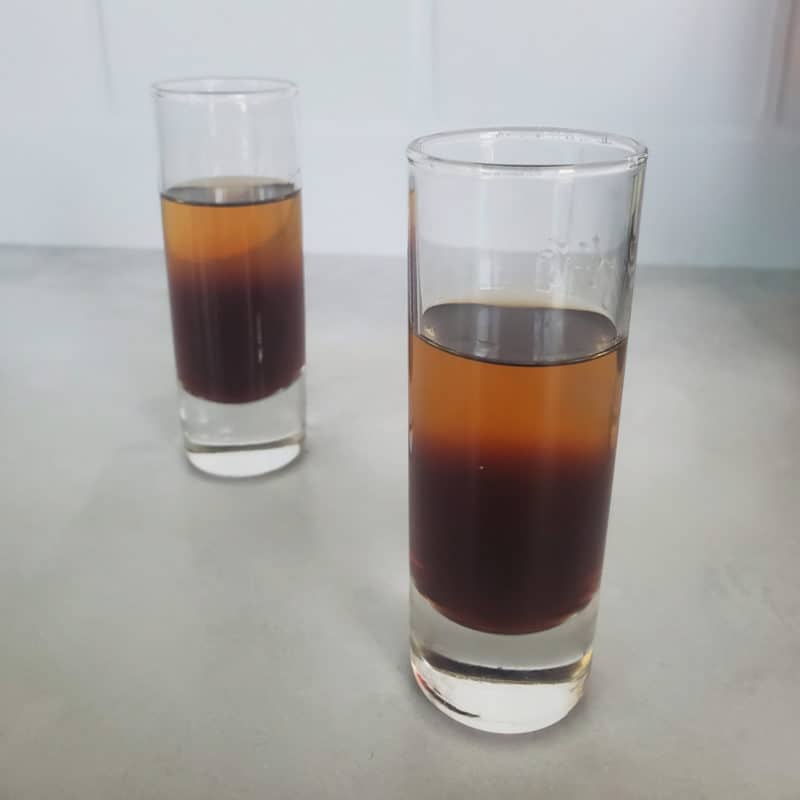 Ingredients: Chambord Liqueur, Peanut Butter Whiskey or Frangelico
This Peanut Butter and Jelly Shot is the grown-up version of the all-time favorite schoolyard sandwich.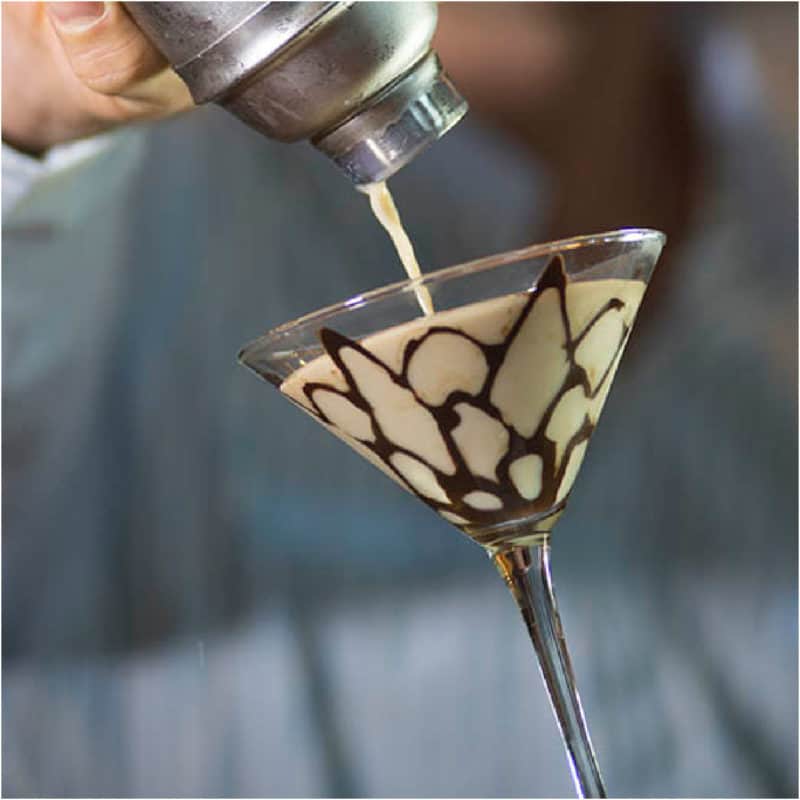 Ingredients: Malibu Coconut Rum, Irish Cream, Frangelico, Peach Schnapps, Disaronno Amaretto, Butterscotch Schnapps
Tiramisu lovers unite - this martini combines just six ingredients to create your new favorite martini. This is a fantastic Christmas Cocktail.
Friar Tuck Cocktail
Ingredients: Frangelico, Crème de Cacao, Cream
The Friar Tuck pays homage to Frangelico's monastic origins and draws inspiration from the iconic Ferrero Rocher chocolate.
Home Bar Essentials
If you are building out your home bar here are some of our favorite cocktail tools.
Ice Cube maker - This ice cube maker produces the most amazing cubes of ice perfect for cocktails. It easily fits in the freezer and you can make up to 3 trays of round ball ice at a time.
2 ounce shot glasses - We love these 2 oz shot glasses especially for layered shots.
Bar Spoon - Bar spoons help to create layers in the cocktail shot. They fit perfectly into the cocktail shot glass.
Cocktail Shaker – This cocktail shaker comes with a fantastic set of tools
Stemless Martini Glasses - These stemless martini glasses are fantastic.
Martini Glass - We like the look of the classic martini glass
OXO angled jiggers - these are our go-to measuring tools for cocktails. They work perfectly for pouring in layers for cocktails.
Copper Mule Mugs  - Copper Mule Mugs are the classic way to serve Moscow Mules. The copper mugs keep them nice and cold and look amazing. Check out all of our Mule Drinks.
Cute Coffee Mugs - We really like the clear insulated coffee mugs that show off how epic your drink looks.
Sharp Knife - to cut  lime wedge and lemon wheels.
Epic Cocktail Guides
Kahlua Coffee Liqueur - Learn everything you have ever wanted to know about this great coffee flavored mixer.
Bailey's Irish Cream - Learn more about this world-famous Irish Cream Liqueur
RumChata Cream Liqueur - Check out this rum based cream liqueur that makes an epic mixed drink.
Fireball Cinnamon Whiskey - Spice up your cocktails with this great cinnamon flavored whiskey.
Malibu Coconut Rum - Check out coconut rum flavored mixer that makes epic tropical cocktails.
Funny Drink Names - A fun list of cocktails and mocktails with funny names.
Vodka Cocktails - Easy to make cocktails featuring vodka.
Check out all of our Cocktail Recipes
Do you love recipes? Check out our copycat recipes, dessert recipes, and our CrockPot Recipes.
Follow Tammilee Tips on MSN, Facebook, Instagram, and Pinterest, for all of our recipe posts.