I am so excited to share these Cinnamon rolls with Apple Pie Filling Cobbler Recipe. This 2 ingredient Cinnamon roll apple cobbler is one of our favorite recipes.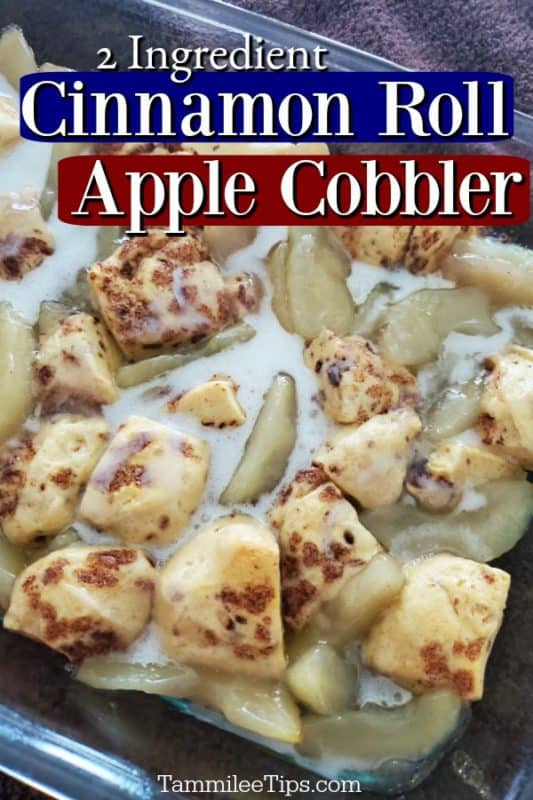 Cinnamon Rolls with Apple Pie Filling Cobbler
If you have been following our recipes for a while I know it will not surprise you that I am all in for any recipe that is easy to make and tastes amazing.

2 Ingredient Recipes are kind of my thing. Sure I like days of baking from scratch and creating epic homemade desserts but there are days that a quick and easy dessert is needed.
This Cinnamon Roll Apple Bake needs 2 things...refrigerator Cinnamon rolls and a can of apple pie filling. That is it!
I will say you can easily dress this recipe up with pecans, extra cinnamon, ice cream, or any other toppings you love.
We like to serve this for breakfast/brunch but it is also amazing at night with vanilla bean ice cream. You can even add a bit of caramel sauce if you want to make it even more decadent.
The base of this cinnamon roll apple cobbler is 2 ingredients but you can add in any additions that you love.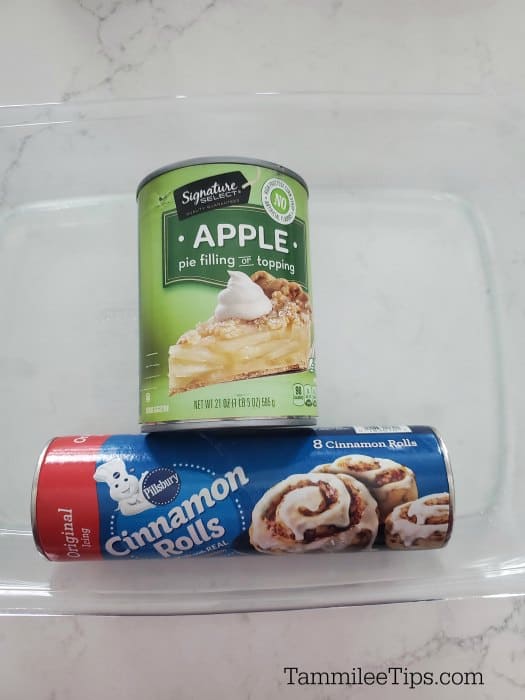 Ingredients
Refrigerator Cinnamon rolls
Apple Pie Filling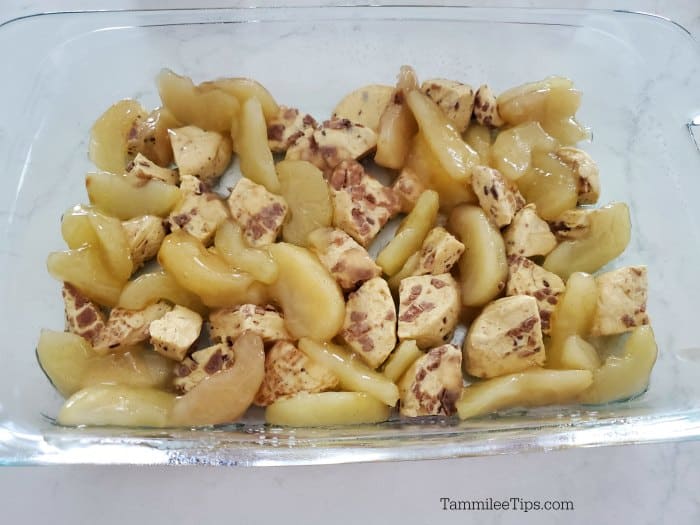 I bake this Cinnamon Rolls with apple pie filling cobbler in a 3-quart casserole/baking dish. You can use any baking dish you have you just want to make sure that the cinnamon rolls have room to bake and are not super crowded.
One nice thing about the 3-quart baking dish is the cobbler looks like it has more servings. LOL! I find that when we bake this in a smaller dish we tend to scoop more onto our plates.
If you want to make sure the apples and cinnamon rolls are evenly mixed you can add them both in a large bowl and toss them together before pouring them into the casserole dish.
I tend to just put everything into the casserole dish to save having another dish to wash.
You can microwave the icing container for 5-10 seconds when the cinnamon roll apple cobbler comes out of the oven to make it easier to spread.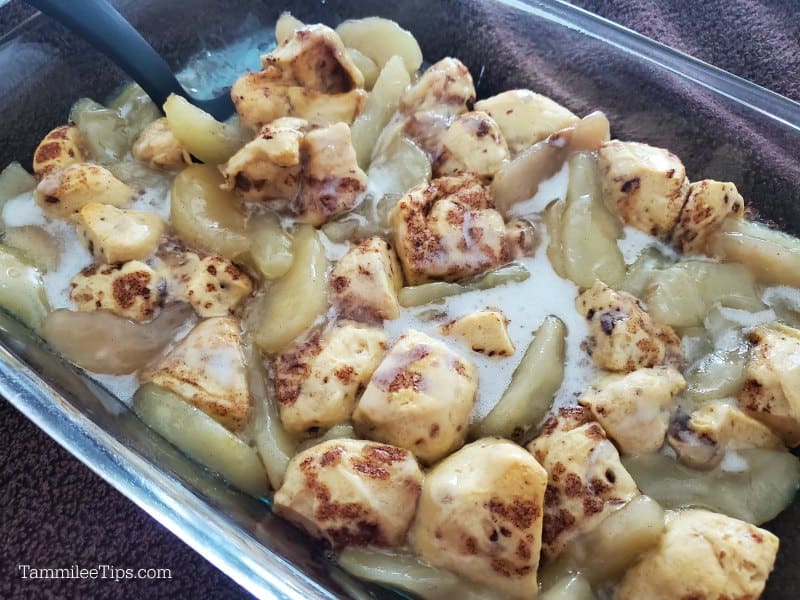 2 Ingredient Recipes
2 Ingredient Pineapple Angel Bars
2 Ingredient Coconut Macaroons
2 Ingredient Cinnamon Roll Apple Pie Cups
Don't miss all of our easy apple dessert recipes.
Do you love recipes? Check out our copy cat recipes, dessert recipes, and our Crock Pot Recipes.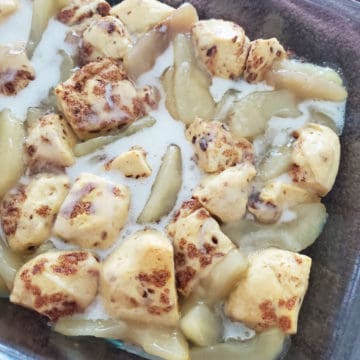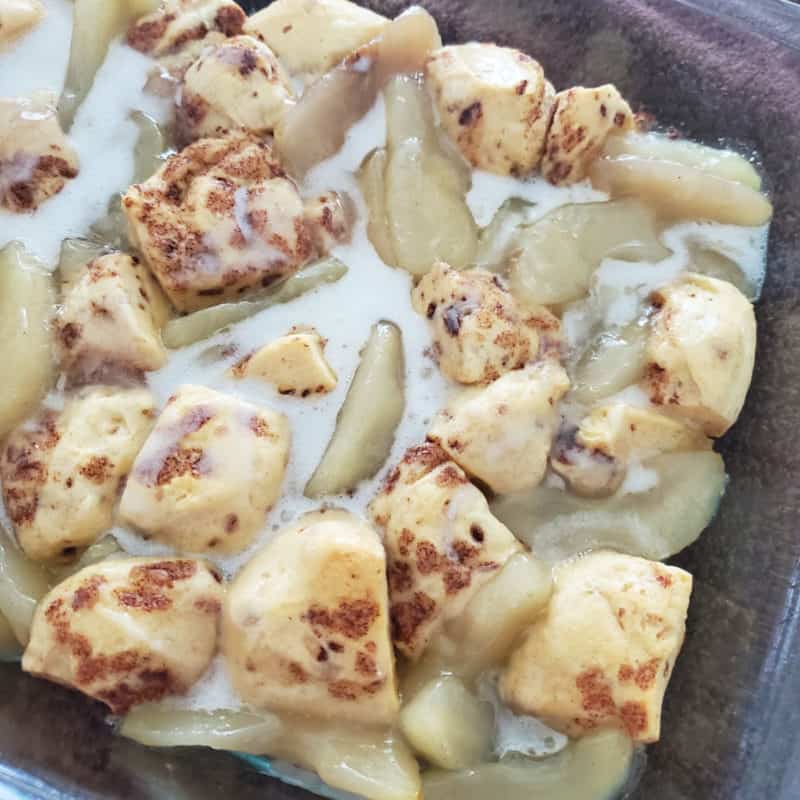 Cinnamon Rolls with apple pie filling cobbler
Easy Cinnamon rolls with apple pie filling cobbler only takes 2 ingredients and tastes amazing.
Print
Rate
Instructions
Preheat oven to 375 degrees

Cut Cinnamon rolls into ¼s, spread around a greased casserole dish.

Spread apple pie filling around the cinnamon rolls making sure there is room for the cinnamon rolls to bake.

Bake 20-25 minutes until the cinnamon rolls are baked. Top with icing from cinnamon roll package.
Nutrition
Nutrition Facts
Cinnamon Rolls with apple pie filling cobbler
Amount Per Serving
Calories 308
Calories from Fat 81
% Daily Value*
Fat 9g14%
Sodium 484mg21%
Potassium 43mg1%
Carbohydrates 55g18%
Protein 3g6%
Vitamin A 23IU0%
Vitamin C 2mg2%
Calcium 4mg0%
Iron 1mg6%
* Percent Daily Values are based on a 2000 calorie diet.