How to make a Jolly Rancher Shot Cocktail! This easy sweet cocktail recipe takes minute to prepare and tastes fantastic.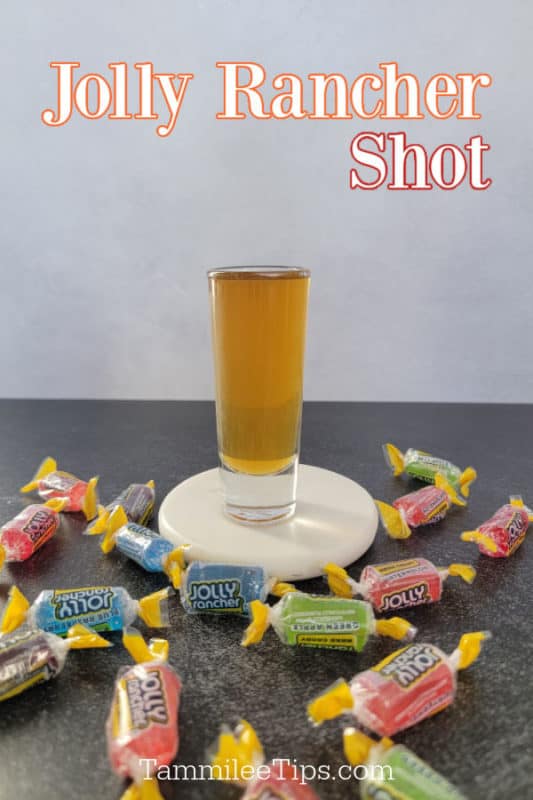 Jolly Rancher Shot
Who doesn't love Jolly Rancher Candy? The sweet tart flavor of these candies carries over to this Jolly Rancher Shot.

There are multiple variations of this cocktail shot ranging from using cranberry juice and melon liqueur to using peach schnapps and grenadine.
The flavor mix really is up to you. We used a combination of Midori Melon Liqueur, Peach Schnapps, Sour Mix, and Grenadine to create the fruity taste we wanted for this Jolly Rancher Drink Recipe.
Jolly Ranchers were invented in 1949 by Bill and Dorothy Harmsen of Golden, Colorado. The name was created to express how the company was a friendly western company.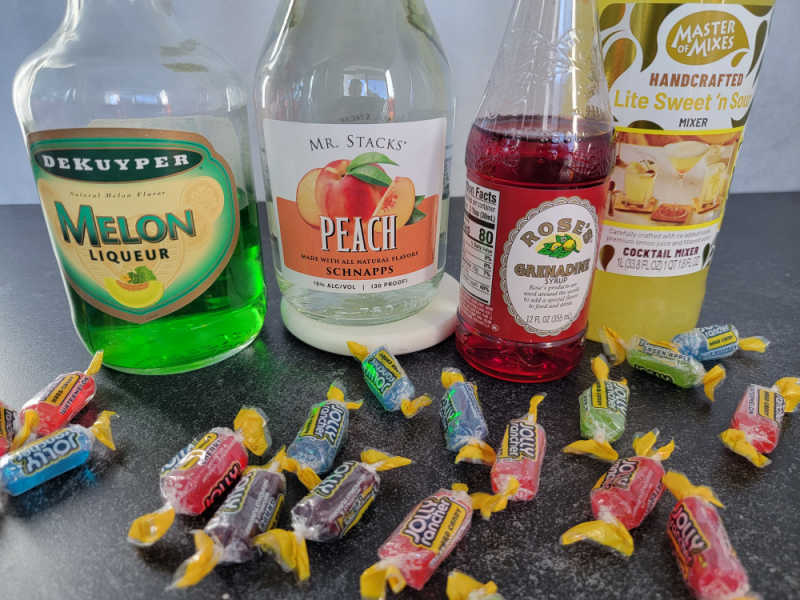 Ingredients Needed
This is a quick overview of the simple ingredients that you'll need to make an epic Jolly Rancher Cocktail! Specific measurements and step-by-step instructions are included in the printable recipe card at the bottom of the post.
We did not garnish this cocktail shot. If serving this as a Jolly Rancher Cocktail you can easily garnish with an orange wedge, pineapples, or maybe slices of green apple depending on the flavor your are highlighting.
Equipment Needed 
Cocktail Shaker – This cocktail shaker comes with a fantastic set of tools
2 ounce shot glasses - We love these 2 oz shot glasses especially for layered shots.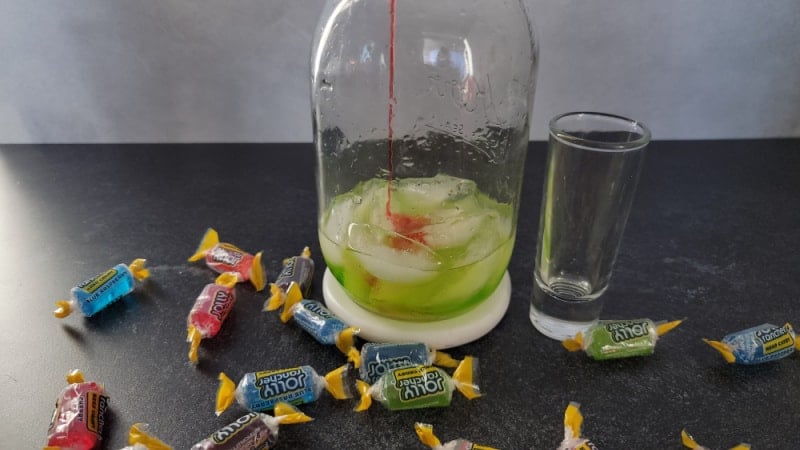 How to make a Jolly Rancher Shot
I've included complete instructions in the printable recipe card at the bottom of the post, but here's a quick version.
Combine all ingredients in a cocktail shaker with ice. Shake and strain into a shot glass.
Jolly Rancher Cocktail Variation #2
2 ounces vodka, 1 oz Midori melon liqueur, and 6 oz cranberry juice to make a jolly rancher cocktail drink.
Jolly Rancher cocktail Variation #3
.5 oz apple vodka, .5 oz peach schnapps, 1 oz cranberry juice, and .5 oz pineapple juice. Combine in a cocktail shaker and strain into a cocktail glass.
Jolly Ranch Cocktail Variation #4
.5 oz Peach Schnapps, .5 oz Apple Sour, and .5 oz Cranberry Juice shaken and strained into a shot glass.
There are also variations that use green apple vodka for an apple Jolly Rancher shot.
Jolly Rancher Vodka
You can make your own Jolly Rancher Vodka by adding 15 Jolly Rancher candies into a cup of vodka. Let sit for 24 hours until the candy is completely dissolved. Make sure to pick one flavor or you may end up with an interesting different flavor.
We use a mason jar for each flavor so they are all separate from each other.
Unlike Skittles you shouldn't need to strain the Jolly Rancher Infused Vodka before enjoying it. Try combining it with lemon-lime soda (Sprite), or Club Soda or Vodka Soda.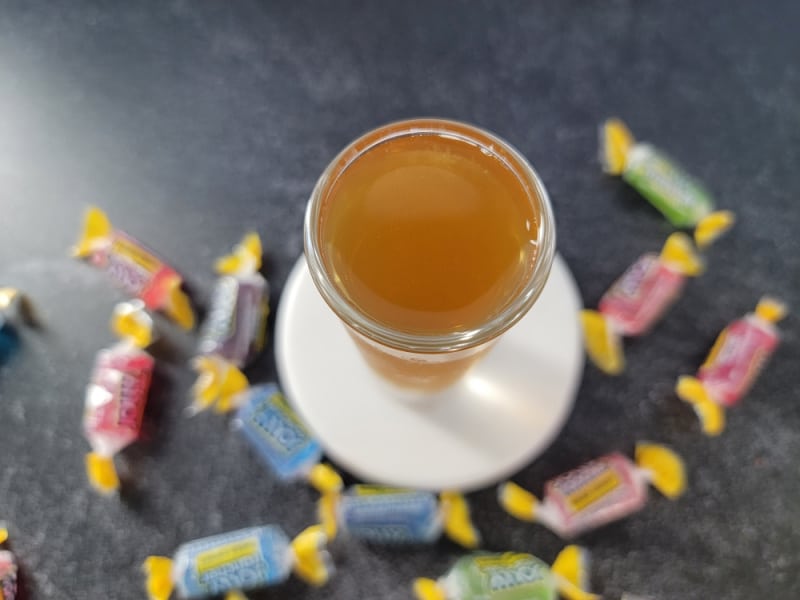 Preparation and Storage
Make Ahead – These can be mixed ahead of time and stored in a pitcher if you are planning to serve them at a party. Just make sure to give the cocktail shot a good stir before pouring.
Storage – Store any leftovers in an airtight container in the fridge.
Recipe Variations
Substitutions - There are quite a few variations for this Jolly Rancher drink. (See list above).
Other options include adding in ginger juice for a spicy kick. Change up the base liqueur and use a different flavor.
Example - Raspberry vodka, apple vodka, blue curacao,
Vegetarian Option - This recipe is vegetarian
Vegan Option – This recipe should be vegan, I would double check the ingredients just in case but everything I have found has been vegan.
Gluten Free - This recipe is Gluten-free. I would double check the labels just to make sure where the products are manufactured if you are worried.
Alcohol Free Option – This recipe can be made into a mocktail with NA Non-alcoholic mixers and flavors.
Smaller Serving Size – The current recipe makes a shot that is a little over 1.5 ounces. You can divide this into two 1 ounce shot glasses.
Larger Group/More servings – This recipe can easily be doubled or more for a larger group. Just make sure all the ingredients are mixed together well.
Recipe Tips
Printable recipe card below
Nutrition information will vary depending on products used.
For spicier flavor add in ginger juice or ginger ale.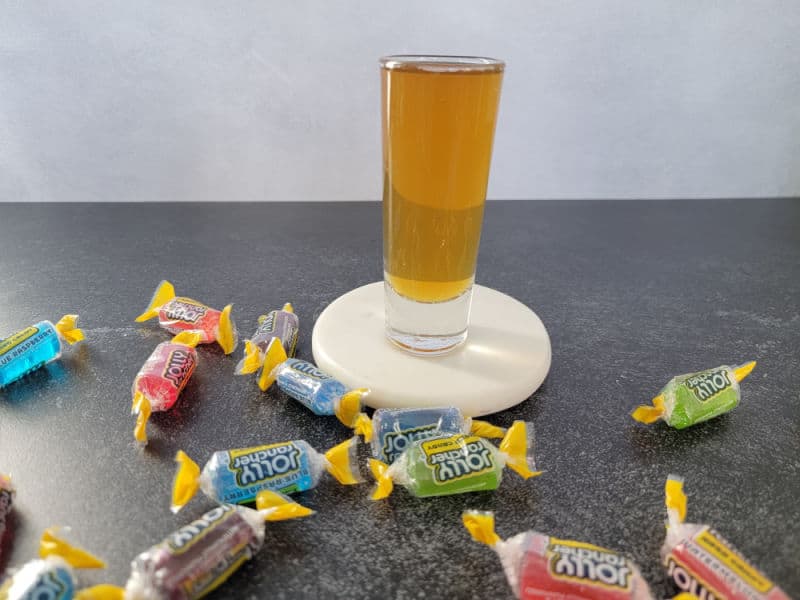 What to serve with Jolly Rancher Shots
This candy inspired cocktail is sweet! We try to pair snacks and appetizers with this drink that are savory or a bit mild to balance the sweet flavor o the shot.
Snacks - Charcuterie Board, Fruit and cheese platter, Vegetable trail, chips and Chili's Salsa and Chili's Queso, Popcorn, Buffalo Pretzels, Old Bay Goldish, Ranch Pickles
When to serve
Birthday Parties
90s Party
Candy themed party cocktail
Backyard Barbecue
Pool Party
Tropical Party
Fourth of July
Great Cocktail Shot Recipes
Check out all of our Cocktail Recipes
Do you love recipes? Check out our copycat recipes, dessert recipes, and our CrockPot Recipes.
Follow Tammilee Tips on MSN, Facebook, Instagram, Pinterest, and Twitter for all of our recipe posts.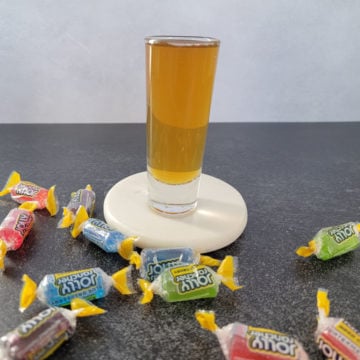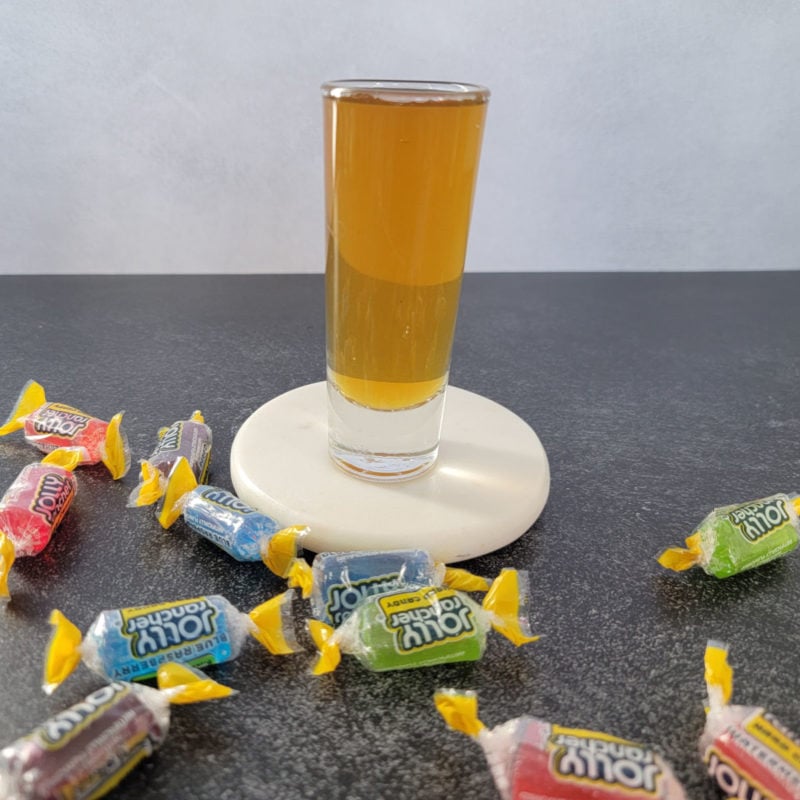 Jolly Rancher Shot
Easy Jolly Rancher Shot is the perfect sweet and tart cocktail shot.
Print
Rate
Ingredients
.75

Ounce

Midori

Melon Liqueur

.25

Ounce

peach schnapps

.50

Ounce

Sour Mix

splash

Grenadine
Instructions
Combine all of the ingredients in a cocktail shaker with ice. Strain into a shot glass.
Nutrition
Nutrition Facts
Jolly Rancher Shot
Amount Per Serving
Calories 87
% Daily Value*
Sodium 10mg0%
Carbohydrates 12g4%
Protein 0.4g1%
* Percent Daily Values are based on a 2000 calorie diet.