Easy Pink Starburst Shot recipe is perfect for Valentine's Day, Girls Night In, bachelorette party, Parties, or anytime you want a candy-inspired cocktail.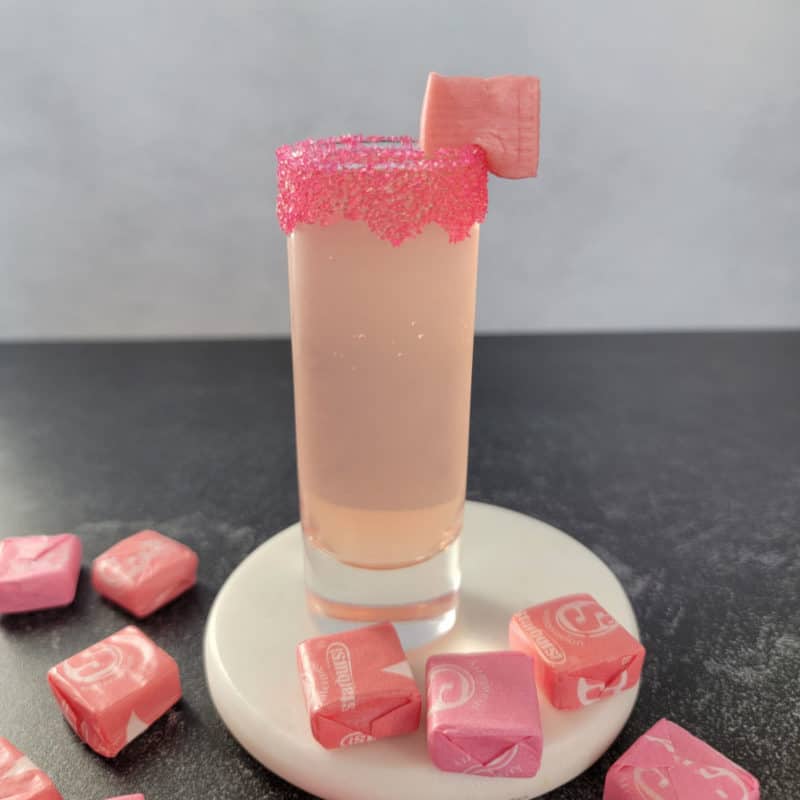 Pink Starburst Shot Recipe
This sweet cocktail shot takes minutes to prepare and tastes amazing.

This easy fruity cocktail shot tastes like your favorite sweet treat in a cocktail shooter.
We have been having so much fun making candy-inspired cocktail shots this year. We have quite a few more coming out soon including a Tootsie Roll Shot, Pay Day Shot, Sweet Tart Shot, and even a Captain Crunch Shot.
I love the vibrant pink color of this Starburst Drink Recipe! You can make this recipe as a shot, cocktail drink, or as a slushy.
Did you know that the pink Starburst is most people's favorite Starbursts flavor? There are multiple articles talking about how amazing it is.
We also made Pink Starburst Jell-o Shots and can't wait to share them with you.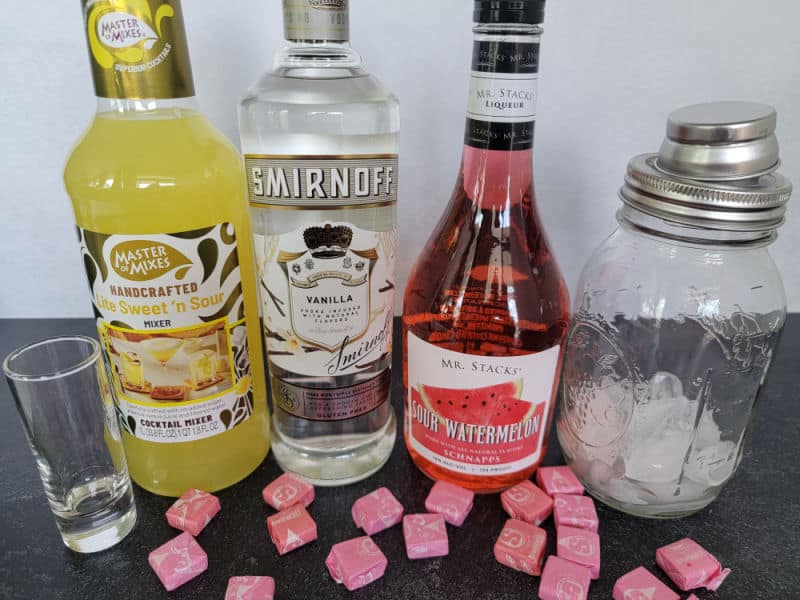 Ingredients Needed
This is a quick overview of the simple ingredients that you'll need to make an epic Pink Starburst Drink! Specific measurements and step-by-step instructions are included in the printable recipe card at the bottom of the post.
Vanilla Vodka
Watermelon Schnapps/Watermelon Pucker
Sweet and Sour Mix
Corn Syrup - to add to the rim of shot glasses so the sprinkles will stick to it.
Garnish - Whipped Cream/Cool Whip, Pink Sugar Sprinkles, Pink Starburst Candy
Vanilla Vodka - This could be switched for vanilla rum if you prefer the flavor.
Equipment Needed
OXO angled jiggers - these are our go-to measuring tools for cocktails. They work perfectly for pouring in layers for cocktails.
2 ounce shot glasses - We love these 2 oz shot glasses especially for layered shots.
Cocktail Shaker – This cocktail shaker comes with a fantastic set of tools
How to make a Pink Starburst Shot
I've included complete instructions in the printable recipe card at the bottom of the post, but here's a quick version.
Step 1 - Rim sides of the shot glass with corn syrup allowing excess to drip off. Then dip into a small bowl filled with pink sprinkles until the edges of the shot glass are coated.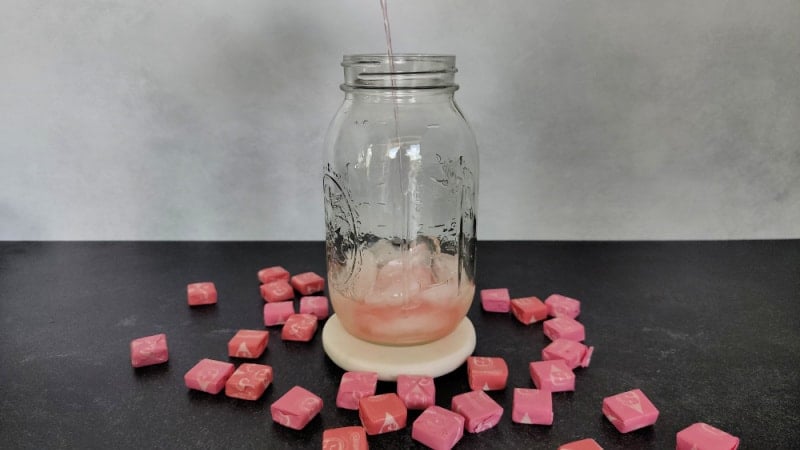 Step 2 - Combine Vodka, Watermelon Schnapps, and Sweet and Sour mix in a cocktail shaker filled with ice cubes. . Shake together until chilled.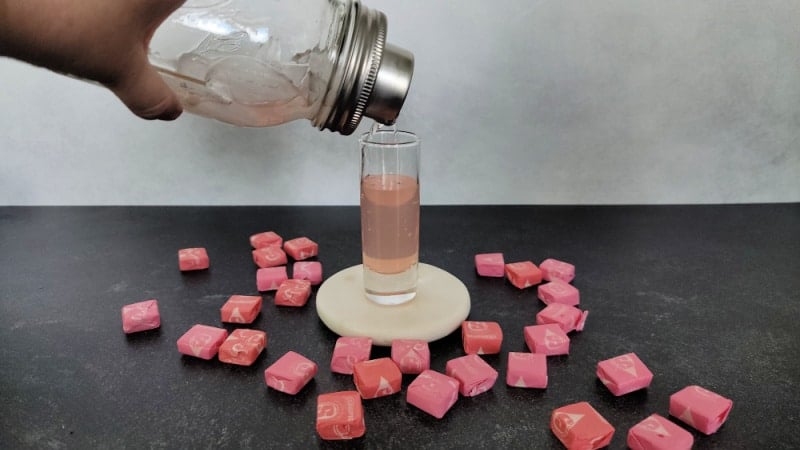 Step 3 - Carefully pour into the shot glass. Cut a slit into a pink starburst to attach it to the rim of the glass.
How to make a Pink Starburst Cocktail Drink
Increase the amount of each ingredients to fill a cocktail glass over ice.
To make a large batch of this cocktail add all of the ingredients to a pitcher. Whisk or stir together. Do not add ice until you are ready to serve the drink so it doesn't get watered down.
Garnish with a fun pink striped straw for a cute cocktail.
Preparation and Storage
Make Ahead – If you are making this fun pink shot for a party you can mix all of the liquid ingredients together ahead of time. You can store them in the refrigerator prior to serving.
Just make sure to shake the mixture before pouring.
Storage – Store any leftovers in an airtight container in the fridge.
Freezing/How to freeze – We do not suggest freezing this cocktail.
Recipe Variations
Substitutions - The flavor can be changed by switching out the sour watermelon.
Vegetarian Option - This recipe is vegetarian.
Vegan Option – This recipe should be vegan, you will want to check the ingredients just in case.
Gluten Free - This recipe should be gluten free. I would double check the sweet and sour mix just in case there are any cross-contaminations but we did not see any clear issues.
Alcohol Free Option – You can use non-alcoholic vodka and other NA mixers.
Smaller Serving Size – This recipe makes a two ounce shot, it can be split into two 1 ounce shots.
Larger Group/More servings – This recipe can easily be doubled or more to serve a large group. You can change the serving size on the recipe card below.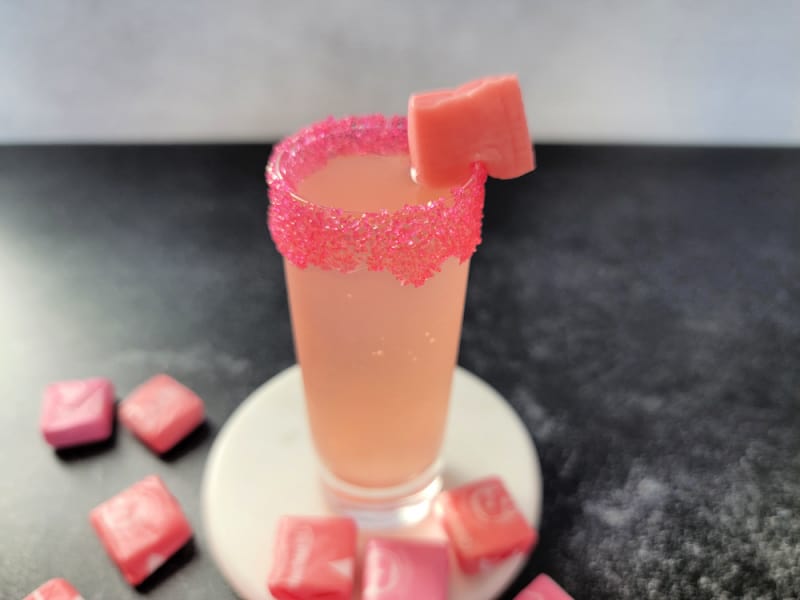 Recipe Tips
If you don't have a cocktail shaker you can add the ingredients to a large glass or pitcher and give it a good stir them with a bartending spoon.
This drink can be made into a slushy by adding all the ingredients and ice to a blender. Blend until you have the consistency you want. Serve in a chilled mason jar or glass.
This is the perfect cocktail for Valentine's Day, Mother's Day, Spring, Summer, or any day you want to serve sweet shots.
Store any leftovers if you have them in the fridge with an airtight lid.
Printable instructions and nutrition information with calories below in the printable recipe card.
Serve with a side of Pink Starburst Candies in a large bowl for a fun treat.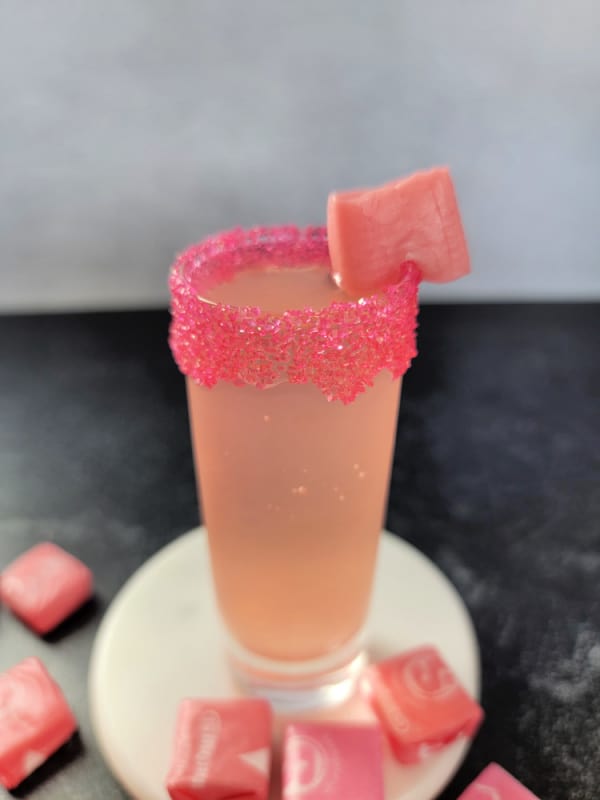 FAQs
What flavor is Pink Starburst?
Pink Starburst is strawberry flavored. You can also find pink watermelon flavored Starbursts.
You can buy a bag of all red Starburst fruit chews on Amazon that includes an exclusive mix of strawberry, fruit punch, watermelon and cherry flavors in a resealable bag.
What to serve with Pink Starburst Cocktails
Desserts - Dump cake recipes, Cherry Fluff Salad, Cherry Pie Cake, Kool Aid Pie, Strawberry recipes, Cake mix recipes,
Cocktails - Chocolate covered cherry shot, Chocolate cake shot, Pineapple Upside Down Cake Shot, Jolly Rancher Shot, Kinky Bubbles
When to serve
Bachelorette Party/Girls night in
Summer parties
Birthday parties
Candy themed parties
Brunch
Pink baby shower
Great Cocktail Recipes
Check out all of our Cocktail Recipes
Check out all of our vodka shot recipes.
Do you love recipes? Check out our copycat recipes, dessert recipes, and our CrockPot Recipes.
Follow Tammilee Tips on MSN, Facebook, Instagram, Pinterest, and Twitter for all of our recipe posts.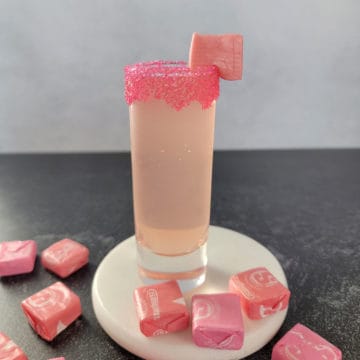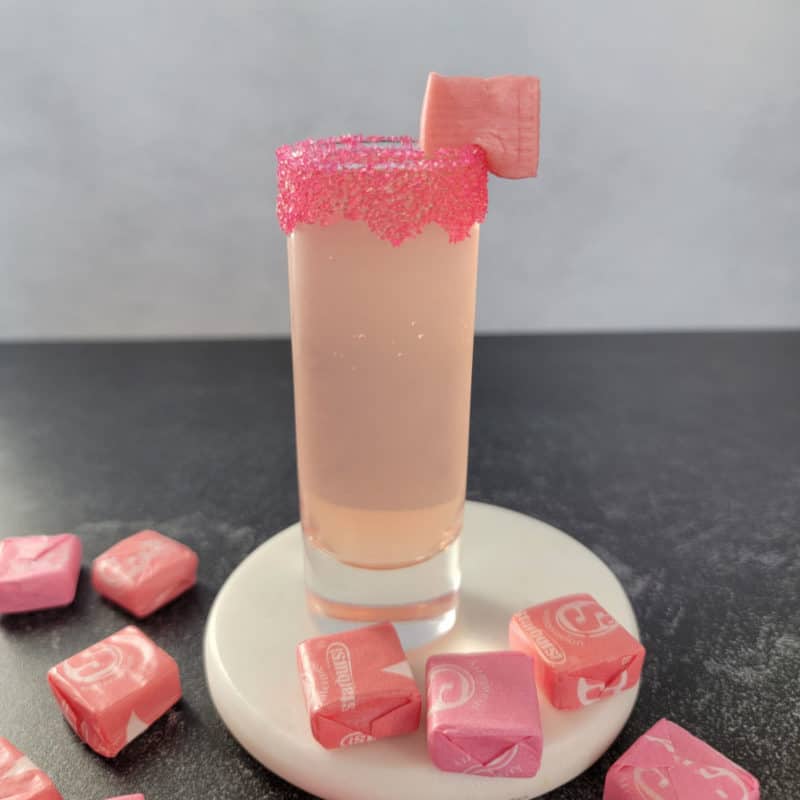 Pink Starburst Shot
Easy Pink Starburst Shot tastes just like the candy in a cocktail shot.
Print
Rate
Ingredients
.5

Ounce

Vanilla Vodka

.5

Ounce

Watermelon Schnapps

.5

Ounce

sweet and sour

Corn Syrup, Pink Sprinkles, Pink Starburst

Garnish
Instructions
Rim the edge of the shot glass with corn syrup, dip into pink sprinkles to garnish.

Combine Vanilla Vodka, Watermelon Schnapps, and Sweet and Sour in a cocktail shaker filled with ice. Shake until chilled

Strain into a shot glass, garnish with a Pink Starburst Candy.
Nutrition
Nutrition Facts
Pink Starburst Shot
Amount Per Serving
Calories 82
% Daily Value*
Sodium 10mg0%
Potassium 0.1mg0%
Carbohydrates 6g2%
* Percent Daily Values are based on a 2000 calorie diet.