Easy two-ingredient Jager Bomb Shot Recipe! Classic cocktail that is super easy to make.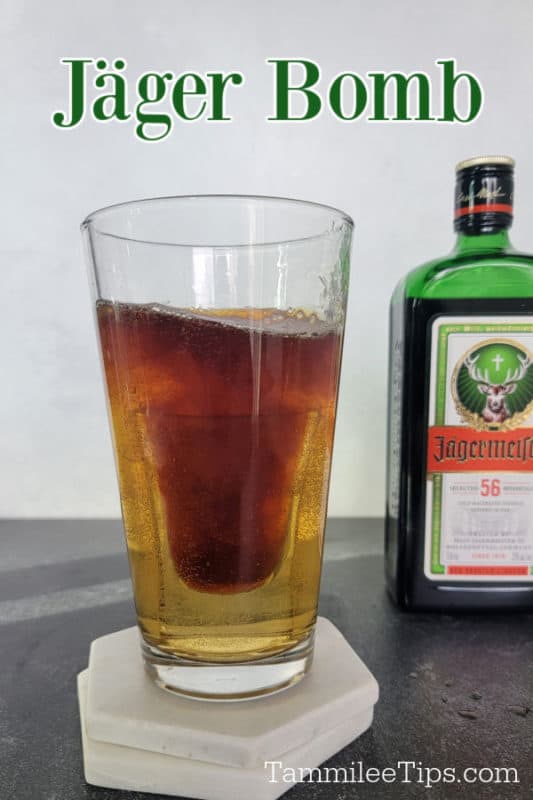 Jager Bomb Recipe
Jäger Bombs are a popular bar cocktail, especially for groups. It is super easy to make and great for parties.

The shot of Jagermeister combined with Red Bull is a potent popular drink.
This popular cocktail is a form of a boilermaker which is a beer and shot combo drink. These are also called bomb cocktails.
The "bomb" is created when a shot of hard liquor is dropped into a larger glass filled with the mixer often times a glass of beer.
As energy drinks have become more popular the boilermaker model of cocktail has shifted from beers and lagers to include Red Bull and other energy drinks.
Similar to a Vegas Bomb, Sake Bomb, Flaming Dr. Pepper, or the wrongly named Irish Car Bomb which has been renamed to a Dublin Drop or similar name.
The Jägerbomb is spelled multiple ways, but the core of the drink is always the same.
Some bars perform a Jager Train which is multiple glasses lined up on the bar partially filled with Red Bull and shot glasses filled with Jagermeister balanced on the rim of the glasses.
Starting at one end the first shot glass is knocked into a glass creating a domino effect down the train.
While this is a simple cocktail is does pack a serious punch. The caffeine of Red Bull and the herbs and spices of Jägermeister make for a unique cocktail with an unusual taste.
The "depressant" effects of Jägermeister are offset by the caffeine in Red Bull or similar energy drinks.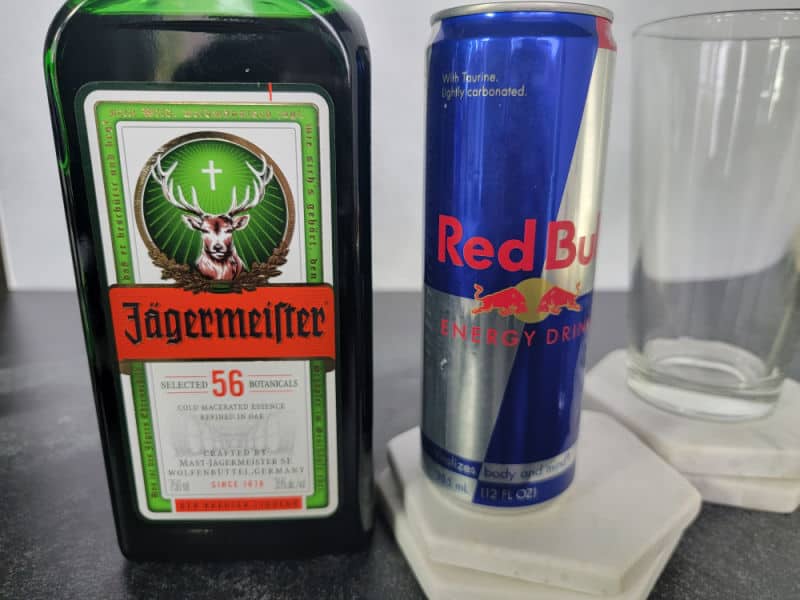 Ingredients
Jägermeister Liqueur
Red Bull Energy Drink
Jägermeister - Has a strong anise taste. It was developed in 1934 by Wilhelm and Curt Mast with an alcohol volume of 35%. It is a blend of 56 botanicals to create an epic herbal liqueur.
Jager is stored in 445 oak barrels in the factory cellar. It is left in complete darkness for a year to blend and mature in flavor.
Jagermeister states that the best way to serve a shot of Jager is at -18 degrees Celsius.
Red Bull - You can use a can of Red Bull Energy Drink including Red Bull Sugar free. We have not tried this recipe with the specialty Red Bull flavors.
Equipment needed
2 ounce shot glasses - We love these 2 oz shot glasses especially for layered shots.
Pint Glass/ Tall Glass - You want to use a highball glass tall enough that the jager bomb shot can easily drop to the bottom.
Jager Bomb Shot Glasses - If you are planning to serve multiple Jagerbombs or don't want to deal with cleaning up glassware you can buy plastic Jager bomb cups that are designed to hold both the Jägermeister and the Red Bull.
How to make a Jager Bomb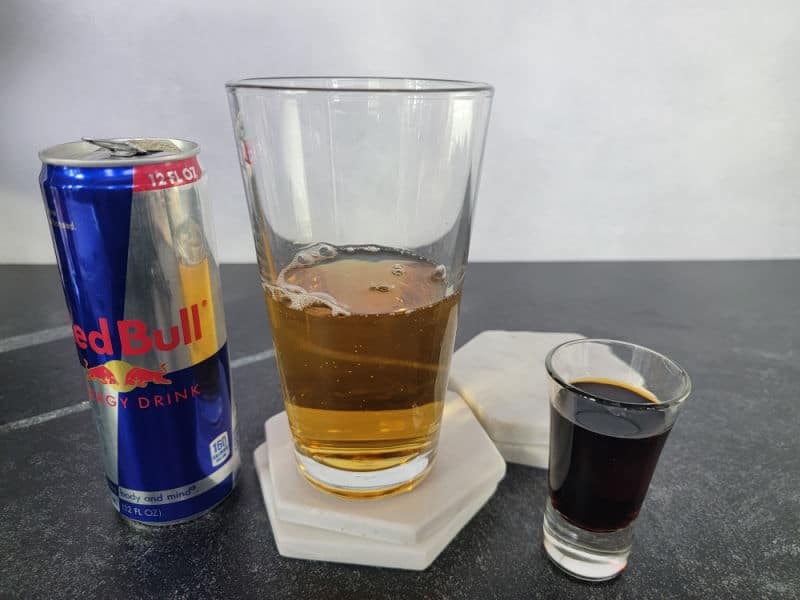 Step 1 - Fill a shot glass with a shot of Jägermeister
Step 2 - Pour Red Bull into an empty glass until mostly full. The amount you fill is up to you. If you fill it to the top you will have a splash when the Jager shot is dropped in.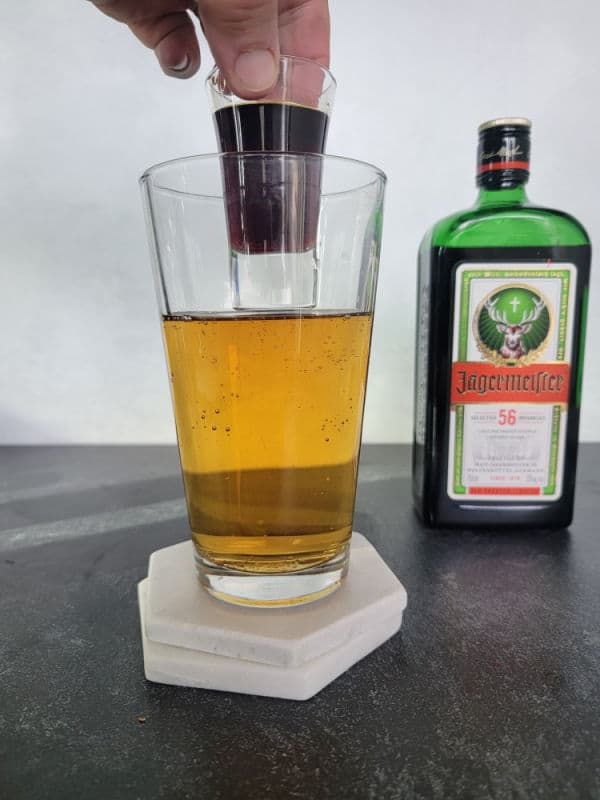 Step 3 - Drop the Jager into the glass of Red Bull and enjoy and epic Jager Bomb! Time to get the party started!
Recipe Tips
If you don't want to drop the shot of Jager into the Red Bull to create the "bomb" effect you can pour it into the drink. This does not alter the taste of the Jager Cocktail.
Be careful dropping the shot into the glass and when you take the jagerbombs shot. Please don't chip your teeth with the shot glass.
If you are a fan of a different energy drink from Red Bull they can easily be used for this cocktail.
Jager Bombs have an 7 percent ABV (Alcohol Content) which is equal to 14 proof. This is stronger than the average glass of beer.
This drink was originally made with lager beer. It has been replaced by energy drinks in recent times but you can always try it with a beer for a true boilermaker cocktail (Beer and Shot combo)
Printable recipe card instructions are below.
Nutrition information, including calories, protein, calcium, carbohydrates, fiber, vitamin c, potassium, cholesterol, sodium, trans fat, monounsaturated fat, polyunsaturated fat, and more, will vary depending on the products used.
When to serve a Jager Bomb Cocktail
House party
Bachelor party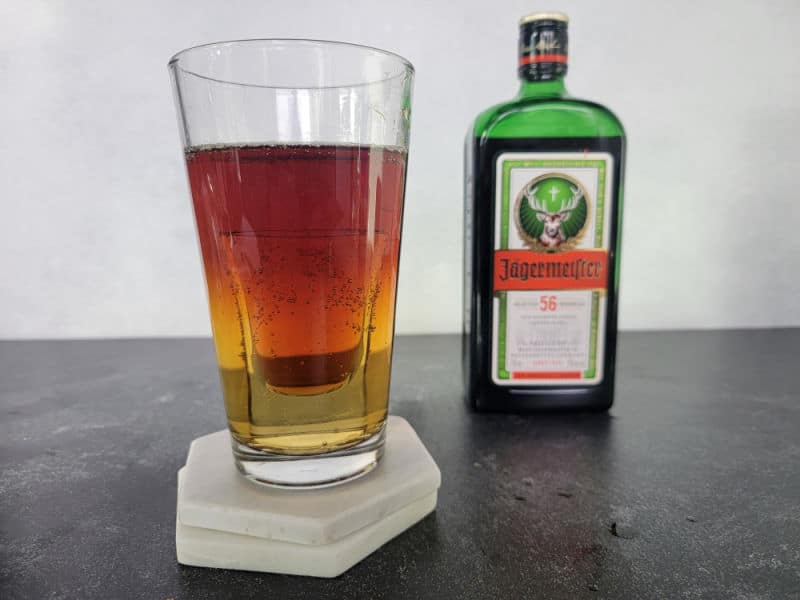 Great Cocktail Recipes
We are really excited to share our favorite layered shots, Jager drinks, and cocktails with funny drink names.
Check out all of our Cocktail Recipes including quite a few two ingredient cocktails
Do you love recipes? Check out our copycat recipes, dessert recipes, and our CrockPot Recipes.
Follow Tammilee Tips on MSN, Facebook, Instagram, Pinterest, and Twitter for all of our recipe posts.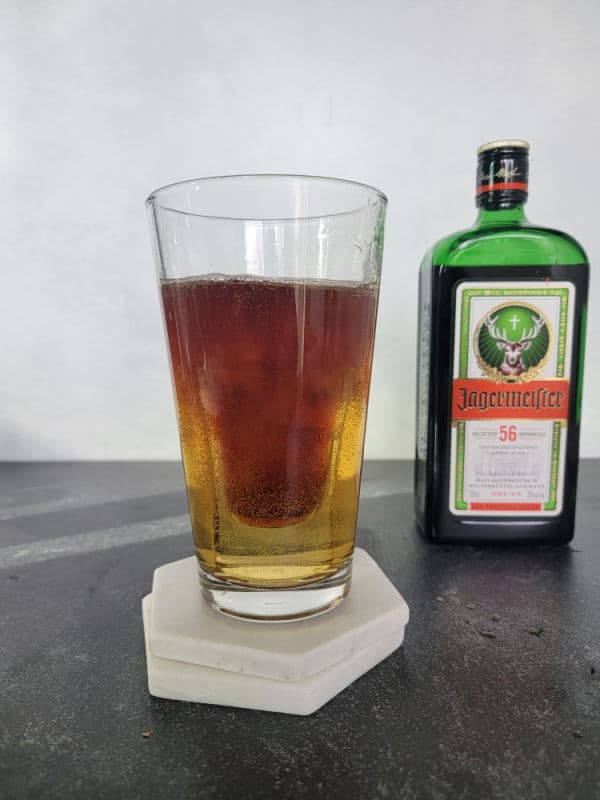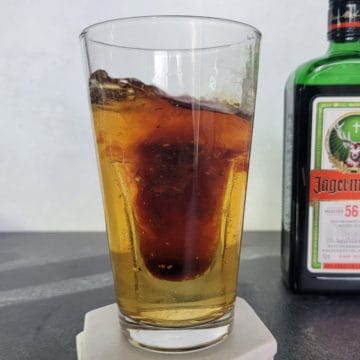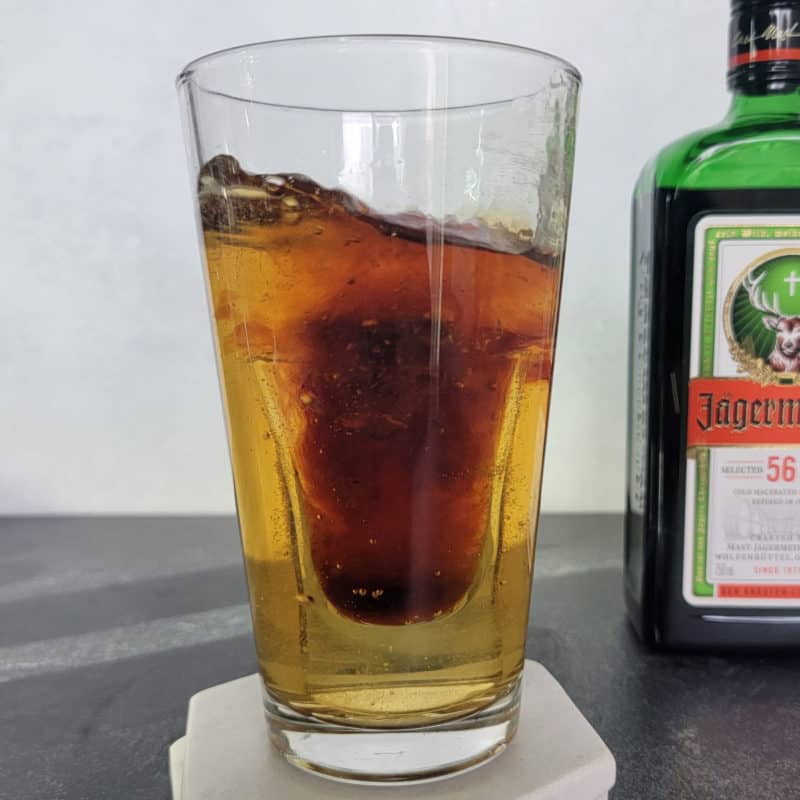 Jager Bomb Recipe
Easy two ingredient Jager Bomb Recipe is the perfect party cocktail
Print
Rate
Ingredients
1.5

Ounce

Jagermeister Liqueur

4

Ounce

Red Bull

About ½ of a can
Instructions
Fill a shot glass with Jägermeister. Fill a pint glass half full with Red Bull

Drop the Jager into the Red Bull and drink immediately.
Nutrition
Nutrition Facts
Jager Bomb Recipe
Amount Per Serving
Calories 131
Calories from Fat 1
% Daily Value*
Fat 0.1g0%
Polyunsaturated Fat 0.04g
Monounsaturated Fat 0.01g
Sodium 3mg0%
Potassium 13mg0%
Carbohydrates 14g5%
Protein 0.04g0%
Calcium 0.4mg0%
Iron 0.03mg0%
* Percent Daily Values are based on a 2000 calorie diet.