How to make classic Bisquick Peach Cobbler from canned, fresh, or frozen peaches. This easy comfort food dessert recipe takes less than 10 minutes to prep and tastes amazing. Perfect for family dinners, Easter, summer barbecues, or any day you want a sweet easy dessert recipe.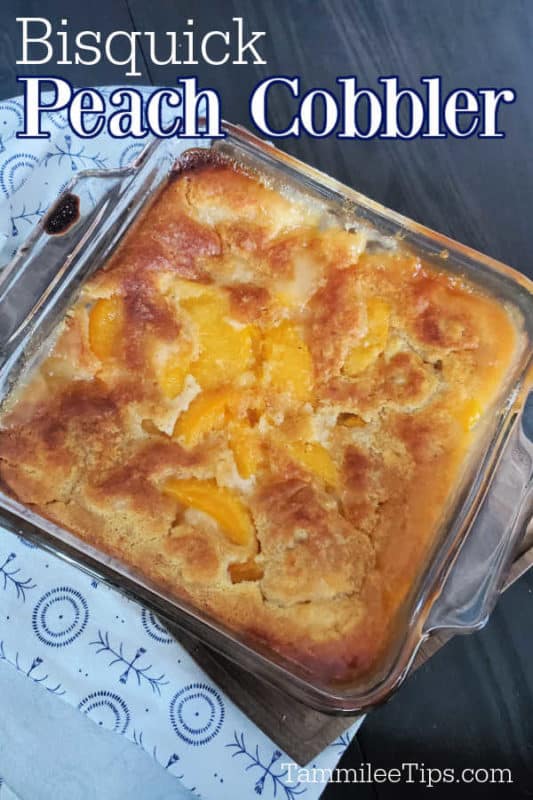 Bisquick Peach Cobbler Recipe
When I think of Peach Cobbler this is the recipe I first think of. It is the one we grew up on and always tastes like joy in a bowl.

I LOVE that you can make Bisquick Peach Cobbler year-round. Being able to use canned peaches in the middle of the winter feels like a bit of summer goodness during a snow storm.
This easy Peach Cobbler with Bisquick only takes a few minutes to prep and then it is just having a bit of patience while it cooks. The baking part is the hardest part as the house starts to smell amazing and all you want is a big ole bowl of peach cobbler goodness smothers in french vanilla ice cream. Hello yum!
This is such a great quick and easy dessert!
Don't miss our Bisquick Apple Cobbler and Bisquick Blackberry Cobbler for another great dessert.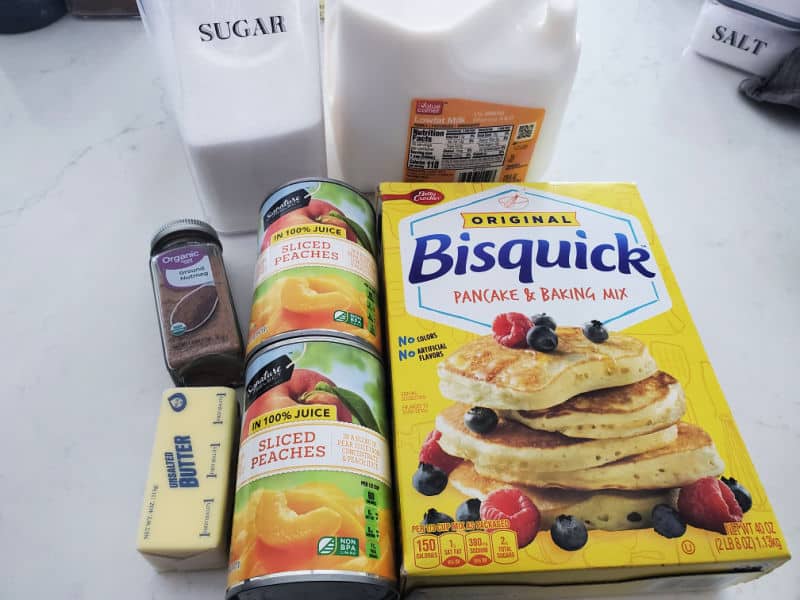 Ingredients
Bisquick Baking Mix
Milk
Butter
Sugar
Sliced Peaches
Nutmeg
Bisquick Mix - We use the Original Bisquick Mix that you can find at the grocery store or on amazon. You can make this with the Gluten-Free Bisquick if you are gluten intolerant.
Nutmeg - If you don't have nutmeg you can change it out for cinnamon for a fun twist on this classic recipe. Cinnamon and Nutmeg give this peach cobbler a great warmth in flavor.
Toppings - Vanilla Ice Cream, Whipped Cream, or a mixture of brown sugar and cinnamon.
Peaches - You can make this with canned peaches, frozen peaches, or fresh peaches depending on what you can find and the time of year.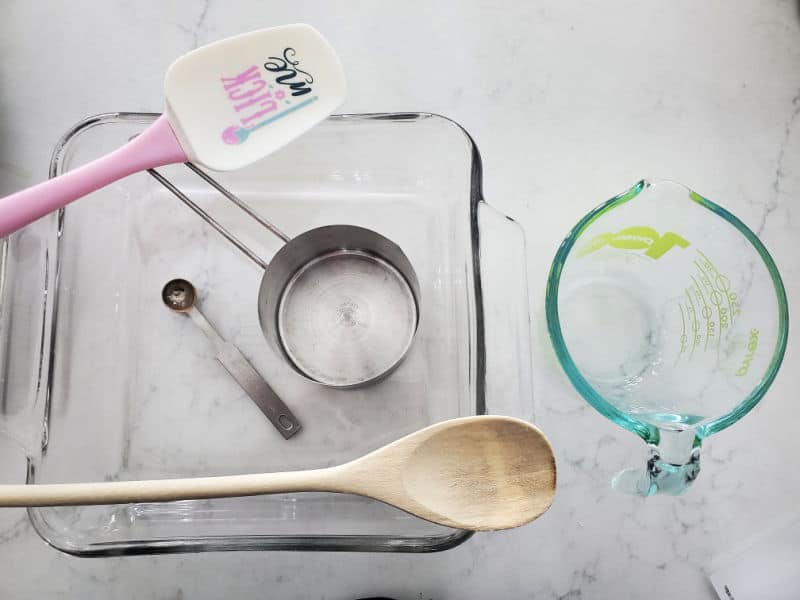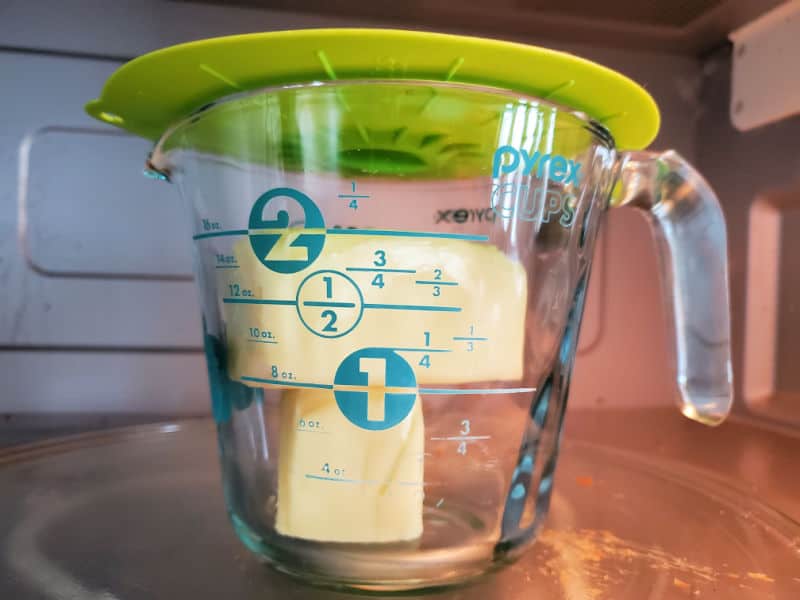 Equipment Needed
8-inch baking pan - One great thing about this peach cobbler made with Bisquick is you can mix it all in the baking pan.
Spider Strainer - A spider strainer works great for draining the liquid from canned peaches. I like that it is big enough to handle multiple peaches without them falling into the sink.
Microwave Silicone cover - I swear by these lid covers to help prevent butter splatters when melting butter in the microwave. I have had way too many butter explosions while baking. These lid covers help keep the butter in the bowl and not on the roof of your microwave.
Wooden Spoon/Spoon - You will need a spoon or spatula to mix the Bisquick mixture together in the baking dish.
Heat resistant potholders - A couple of years ago we had a fire scare when we didn't realize we had turned a burner on and a cloth potholder caught fire. Thankfully we walked by the kitchen and saw the smoke and were able to get it out ourselves. Since then we have only used these heat-resistant potholders.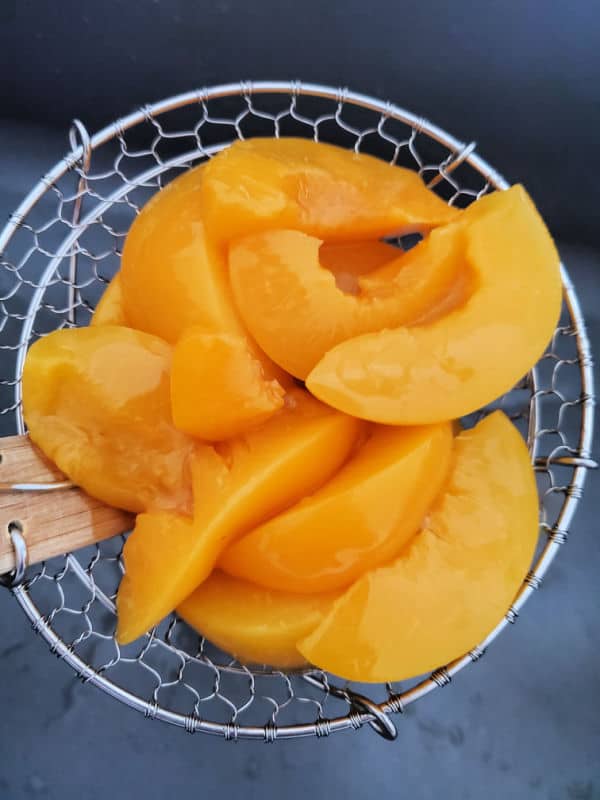 Recipe Tips
This recipe can easily be doubled and baked in a 9 x 13 baking dish if you need more servings.
If you can get fresh peaches you can use 2 pounds of sliced fresh peaches to make Bisquick fresh peach cobbler.
You can use frozen peaches in this recipe just make sure you thaw them and then drain any extra liquid before baking with them.
If you have extra fresh peaches and want to be able to use them in the winter check out how to freeze peaches.
Baking Time - 50 to 60 minutes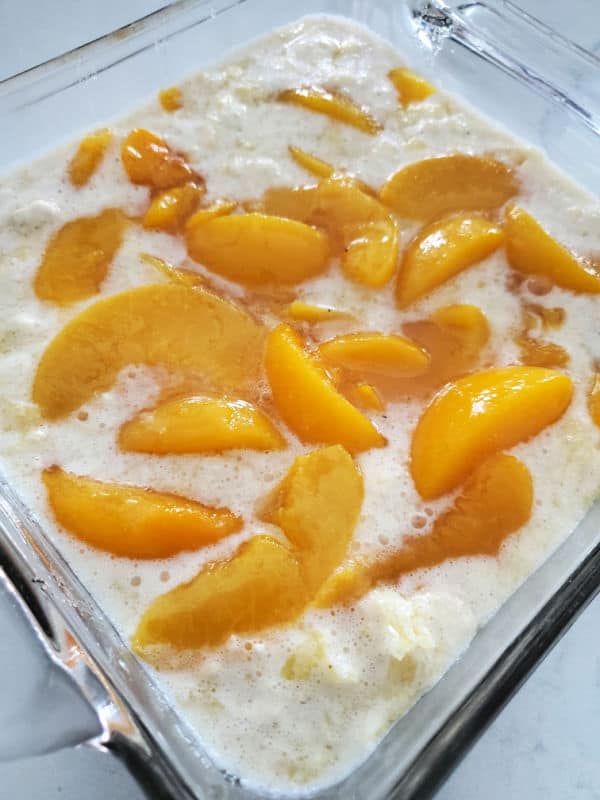 Can you freeze Bisquick Peach Cobbler?
Technically you can freeze it but we find that it tastes best fresh. If you need to prepare it ahead of time you can make it a day ahead and wrap it up and store it in the refrigerator. Then reheat in the oven when you are ready to serve it.
We really do think it tastes best fresh out of the oven!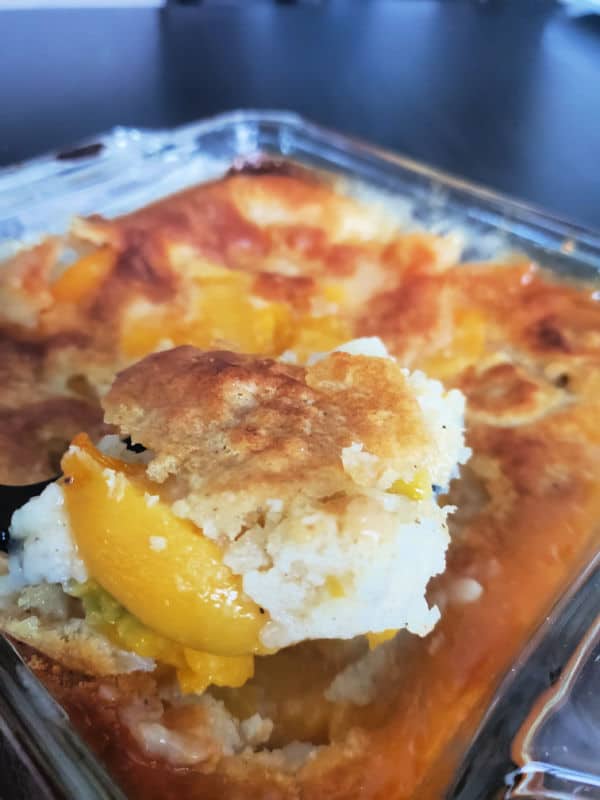 Great Bisquick Recipes
Pumpkin chocolate chip muffins
Check out all of our Bisquick Recipes.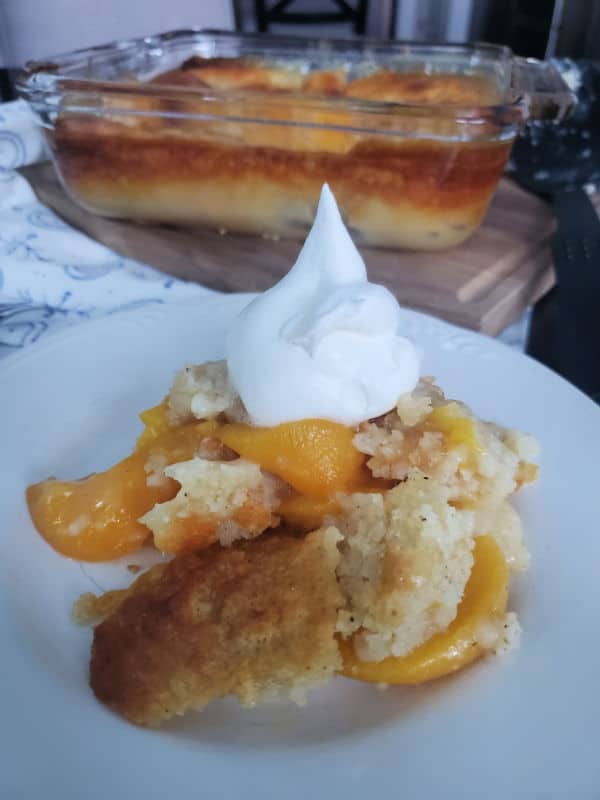 Great Peach Recipes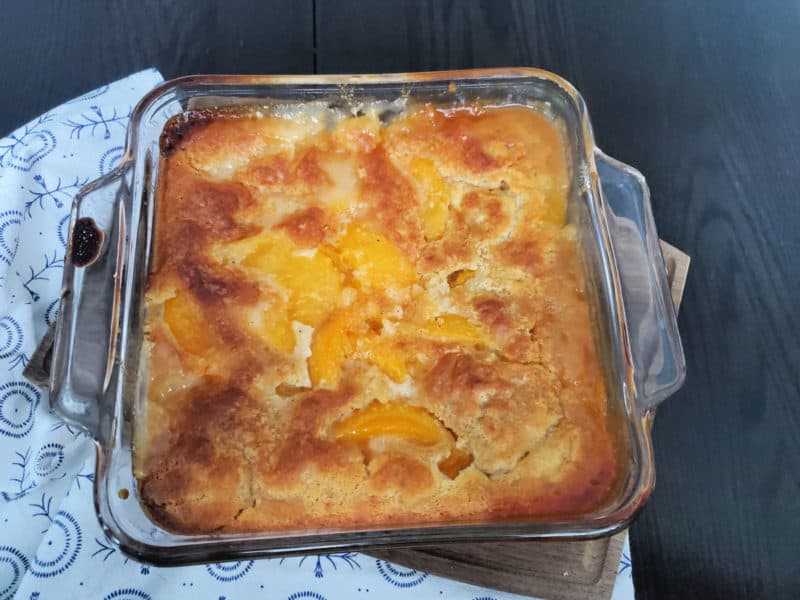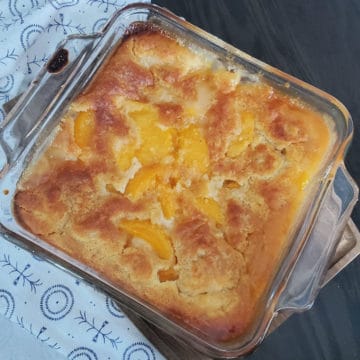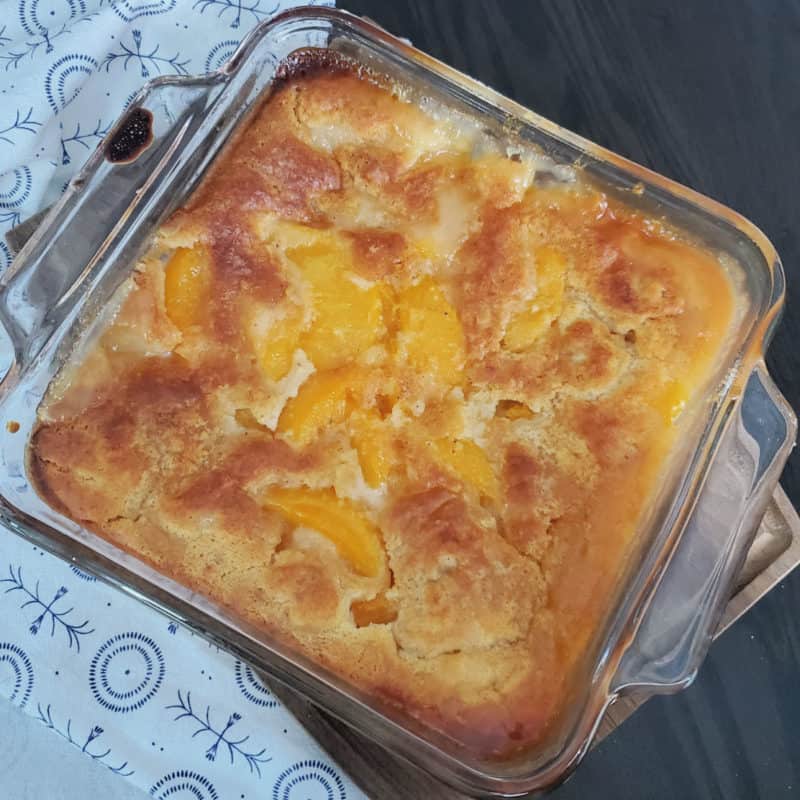 Bisquick Peach Cobbler Recipe
How to make delicious Peach Cobbler with Bisquick Baking Mix
Print
Rate
Instructions
Preheat oven to 375 degrees

Combine Bisquick mix with milk and nutmeg, add in melted butter until well mixed in the baking pan.

Combine drained peaches with sugar, once peaches are coated spoon them over the batter in the baking pan.

Bake for 50 to 60 minutes
Nutrition
Nutrition Facts
Bisquick Peach Cobbler Recipe
Amount Per Serving
Calories 420
Calories from Fat 171
% Daily Value*
Fat 19g29%
Cholesterol 42mg14%
Sodium 408mg18%
Potassium 371mg11%
Carbohydrates 62g21%
Protein 4g8%
Vitamin A 1019IU20%
Vitamin C 9mg11%
Calcium 99mg10%
Iron 1mg6%
* Percent Daily Values are based on a 2000 calorie diet.