I love making Copy Cat Recipes! It is so much fun being able to enjoy our favorite restaurant treats at home. John absolutely loved this Copy Cat Arbys Jamocha Shake. He has been complaining that he is not drinking as much coffee because it is so dang hot and he keeps getting head aches. After drinking this Copy Cat Arbys Jamocha Shake he told me he would be happy to get his coffee any day from one of these.
This recipe is SO EASY to make! It only takes a few minutes and you have a fantastic Copy Cat Arby's Jamocha Shake to enjoy!  If you are looking for a non-coffee copy cat recipe check out this recipe for a copy cat Orange Julius (YUM-OH) or this Copy Cat Wendy's Frosty is always great on a hot day!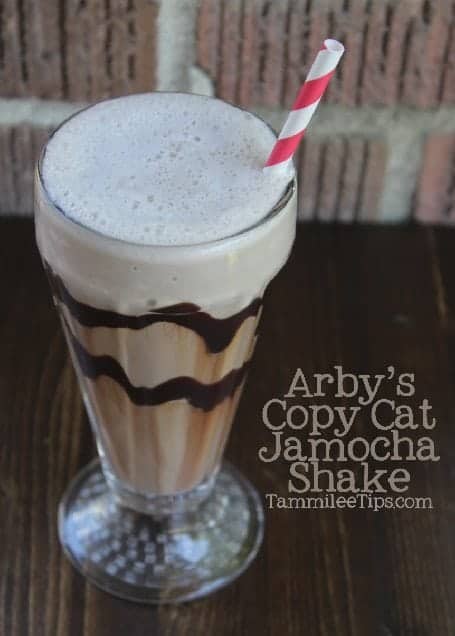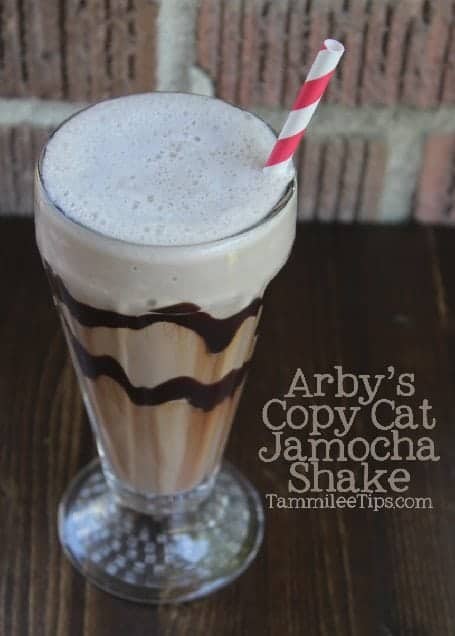 Copy Cat Arby's Jamocha Shake
Ingredients
1 cup cold coffee
1 cup low-fat milk
3 tbsp Sugar
3 cups Vanilla Ice Cream
3 tbsp chocolate syrup
Directions
1. Combine coffee, milk, sugar and blend in the blender for 15 seconds
2. Add in ice cream, chocolate syrup and blend until creamy
Makes 2 16-ounce drinks
Do you love recipes? Check out our copy cat recipes, dessert recipes, and our Crock Pot Recipes.
to see all of our great recipes!
Copy Cat Arbys Jamocha Shake
Ingredients
1 cup cold coffee
1 cup low-fat milk
3 tbsp Sugar
3 cups Vanilla Ice Cream
3 tbsp chocolate syrup
Instructions
Combine coffee, milk, sugar and blend in the blender for 15 seconds
Add in ice cream, chocolate syrup and blend until creamy
Makes 2 16-ounce drinks
https://www.tammileetips.com/2013/07/copy-cat-arbys-jamocha-shake/