Day 22...oh my goodness Day 22! Only a few more days left in our 25 days of holiday cookies and treats!
I think my KitchenAid mixer might thank me when this spree of baking is over. Little does it know I have big plans for January 2014!!!
Can we just pause and take a moment to reflect on 2013! This year has been ah-mazing! Thank you to all of you for taking time during your busy days to read our blog!
I honestly can't put into words how thankful I am to be able to spend my days sharing recipes, travel and our crazy life with all of you!
Ok, Onto today's cookies because really that is what you came by for.....Tropical No Bake Truffles!
I figured we could all use a break for a day from chocolate. Don't worry it will only be a 24 hour break because tomorrow we have chocolate and caramel in day 23's cookie!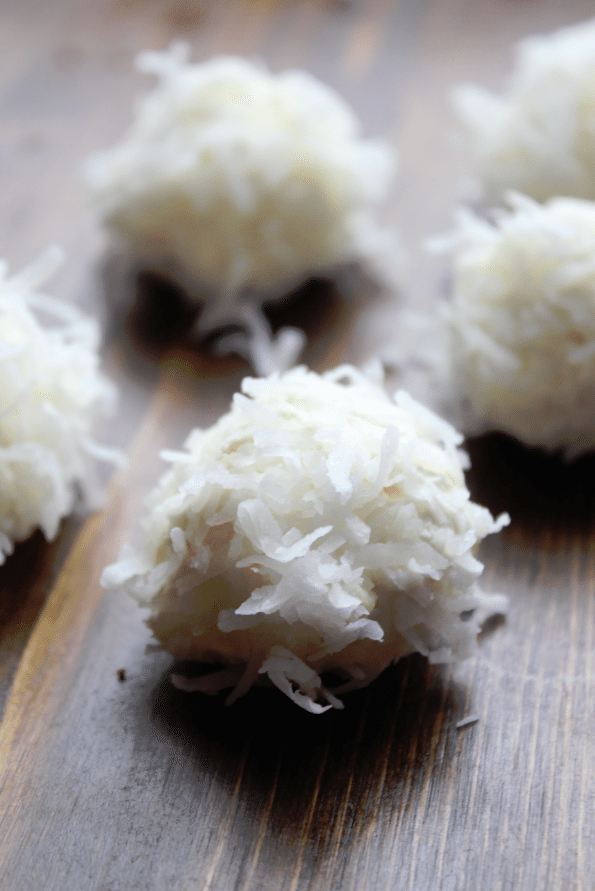 These Tropical No Bake Truffles are so EASY to make!
You don't even have to turn on the oven. Heck you could make them from hand if your really wanted to go without using a kitchen tool. 3 ingredients and they are ready to go!
Tropical No Bake Truffles
Ingredients
8 oz cream cheese, softened
8 oz can crushed pineapple, drained
2 1/2 cups sweetened flaked coconut
Directions
1. Beat cream cheese and pineapple together
2. Cover and refrigerate for 30 minutes
3. Form into 1 inch balls, roll in coconut
4. Refrigerate until ready to serve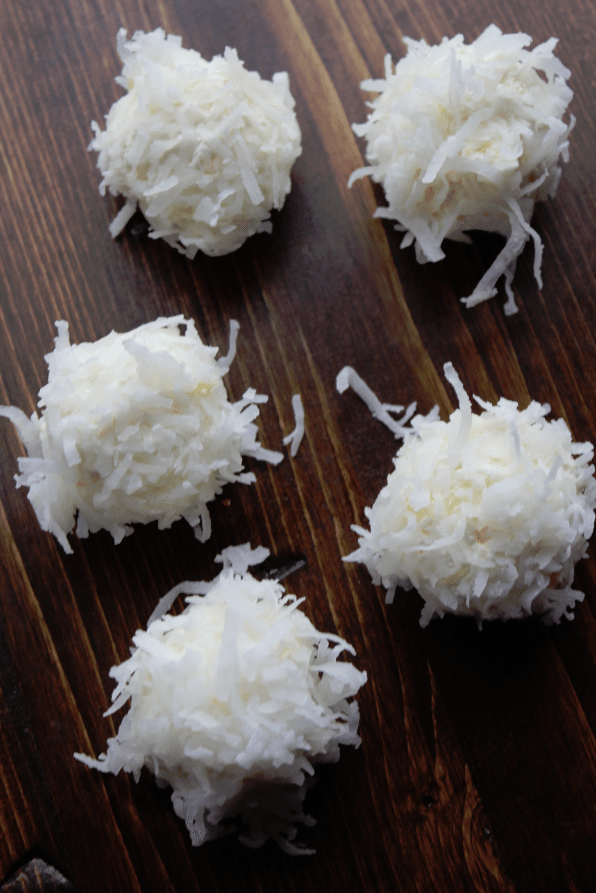 25 Days of Holiday cookies and treats
Day 1 - Krumkake
Day 2 - Crock Pot Cinnamon Pecans
Day 3 - Sweet & Spicy Almonds
Day 4 - Minty Chocolate Balls
Day 5 - Chocolate Shortbread Cookies
Day 6- Coconut Chocolate Chip Cookies
Day 7- Molasses Cookies
Day 8- Ranger Cookies
Day 9 - Coconut Pineapple Drop Cookies
Day 10- Chocolate Chip Coconut Rum Cookies
Day 11 - Apricot Coconut Cookie
Day 12 - Butter Pecan Cookies
Day 13 - Frosted Pineapple Cookies
Day 14 - White Chocolate Candy Cane Cookies
Day 15 - Butterscotch No Bake Cookies
Day 16 - Bourbon Pecan Pralines
Day 17 - No Bake Chocolate Mocha Cookies
Day 18 - Caramel Cheesecake in a Jar
Day 19 - Cinnamon Sugar Pretzels
Day 20 - Chocolate Peppermint Cookies
Day 21 - Hawaiian Host AlohaMac Butter Cookies
Make sure to check back each morning for a new holiday cookie and treat recipe!
Do you love recipes? Check out our copy cat recipes, dessert recipes, and our Crock Pot Recipes.

Follow Tammilee Tips's board Tammilee Tips Recipes on Pinterest.


Adapted from Gooseberry Patch Cookie Jar Cookbook