Easy Mummy Donuts are the perfect cute Halloween Donuts that are crazy easy to make. Perfect for Halloween breakfast surprises.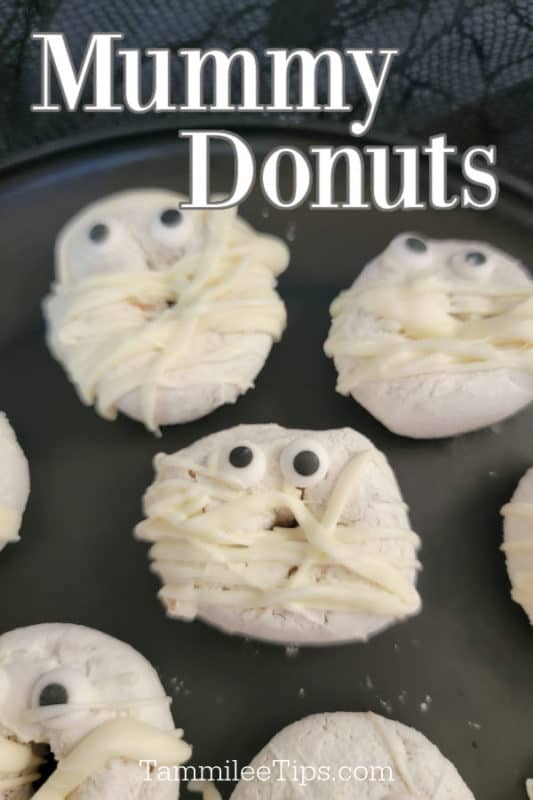 Mummy Donuts
Woohoo! Day 2 of Mummy Week is here! Yesterday we shared Mummy Hot Dogs so today we are diving into easy Mummy Doughnuts made with pre-made donuts.
I started working on making mummy everything this past weekend and my husband challenged me to see how many things I could turn into Mummies...
He should know by now that I am all in when it comes to a challenge. So this week is now Mummy Week as we count down the days to Halloween.
I hope you are ready for Mummy Twinkies, Mummy Rice Krispie Treats, Mummy Nutter Butters, Mummy Brownies, and so much more!
Don't worry I am also working on more savory mummy recipes. I am going to see if I can make mummy pizzas, mummy brie, mummy quesadilla, and maybe mummy meatballs.
When I say that I deep dove into all things mummy that is definitely what happened this weekend.
While I won't say that these are super spooky donuts they are pretty darn cute.
Maybe I should make some Ghost Donuts and pair them with these Halloween Mummy Donuts for a fun breakfast platter.
I love that these are a quick and easy treat during a busy holiday!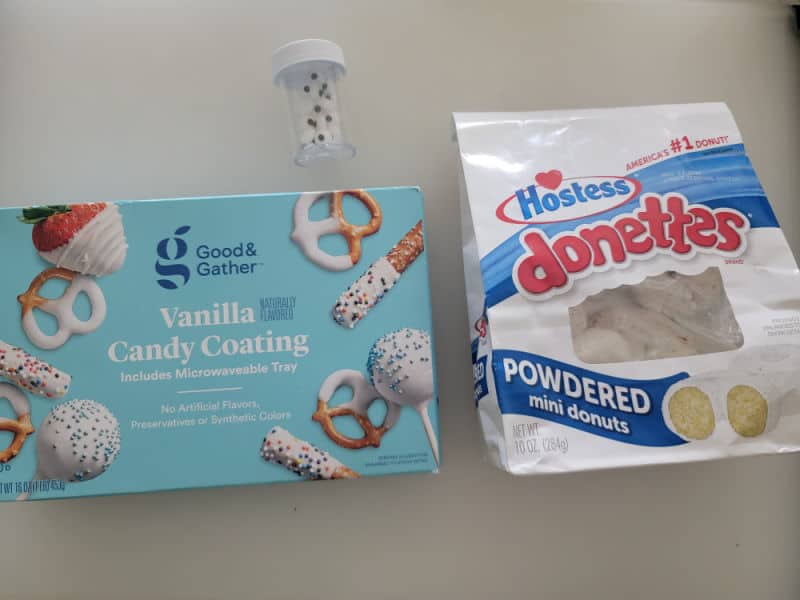 Ingredients
Powdered Mini Donuts
White Vanilla Candy Melts or white chocolate or almond bark
Candy Eyes
Donuts - We used mini powdered sugar donuts that were pre-made. You can also use full size doughnuts or homemade baked donuts for this recipe.
We didn't make homemade donuts for this recipe so we could make them quickly.
Equipment Needed
Baking Sheets - We are huge fans of these baking sheets with sides. You don't have to worry; you will move the tray of mummy doughnuts and have them slide right off.
Drying rack/cooling rack
Parchment Paper -  I love that I can use parchment paper to help make clean-up a breeze.
Cute serving platter - I served these on a black plate for an easy serving dish. These would be super cute on a Halloween breakfast board with Halloween-themed breakfast items.
How to make Mummy Donuts
Step 1 - Spread powdered donuts on a drying rack over a baking sheet. You can also make these on parchment paper if you don't have a drying rack available.
The drying rack helps the excess candy melt to drip off the donuts.
Microwave the candy melts in 30 second increments until completely melted.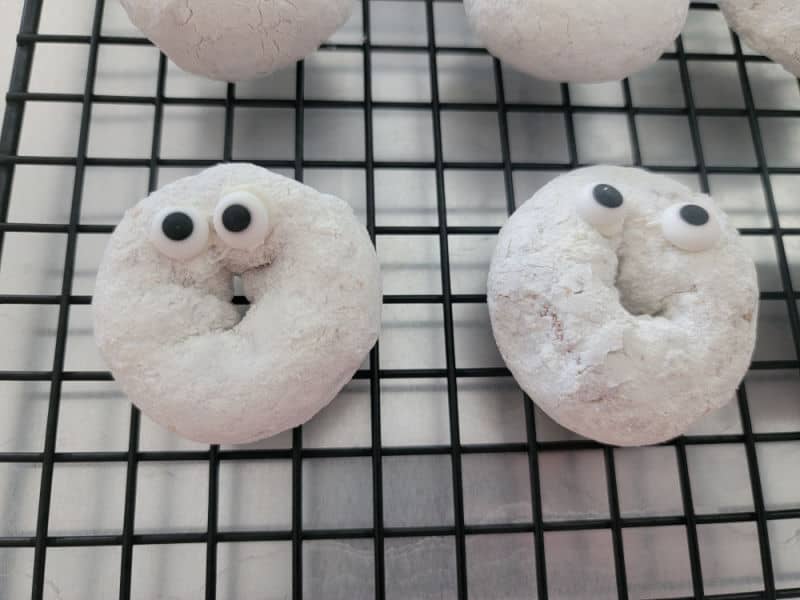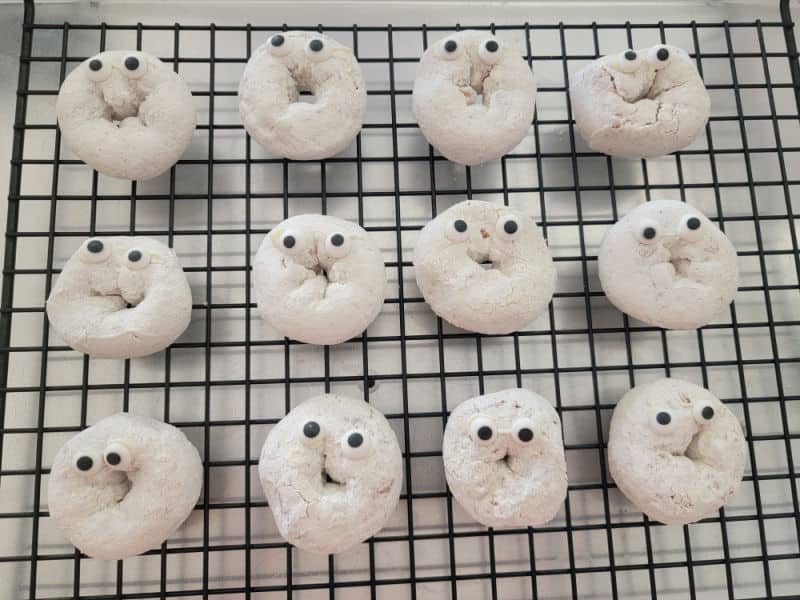 Step 2 - Use small dots of candy melt to attach the eyes.
Step 3 - Spread candy melt in random patterns over the top of the donuts. We found a spoon worked best but you can also use a fork or a piping bag with an icing tip.
Wave the spoon back and forth to get mummy lines spread across the doughnuts.
Step 4 - Allow time for the candy melt to set before enjoying these cute Mummy donuts. .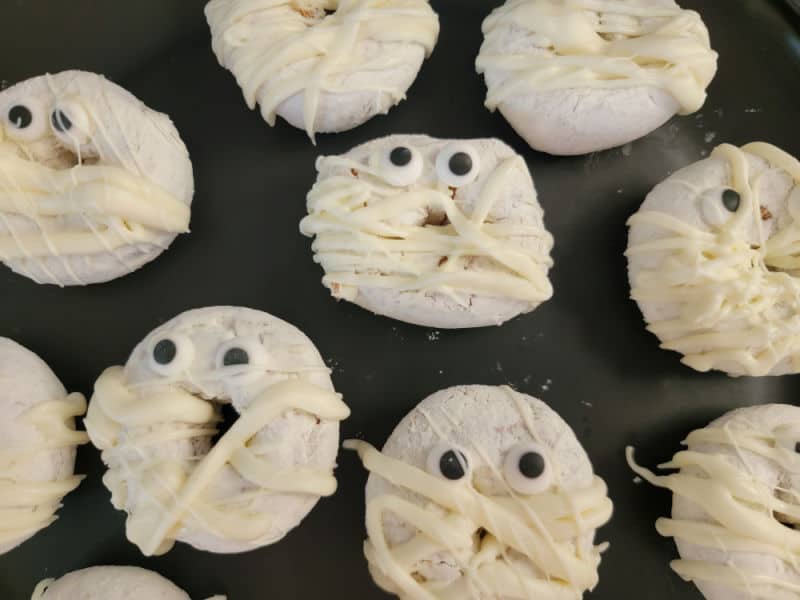 Great Halloween Treats Recipes
Frankenstein Rice Krispie Treats
White Chocolate Skeleton Bones
Check out all of our Halloween Recipes
Do you love recipes? Check out our copycat recipes, dessert recipes, and our CrockPot Recipes.
Follow Tammilee Tips on MSN, Facebook, Instagram, Pinterest, and Twitter for all of our recipe posts.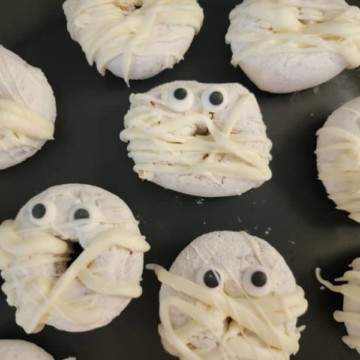 Instructions
Arrange powdered sugar donuts on a baking sheet lined with parchment paper.

Melt almond bark/white chocolate melts in 30 second increments. Stir after every 30 seconds until completely melted.

Add 2 drops of candy melt to the donut to attach the candy eyes

Spread white chocolate back and forth across the donuts to create the mummy bandages. Allow to set before serving.
Nutrition
Nutrition Facts
Mummy Donuts
Amount Per Serving
Calories 270
Calories from Fat 117
% Daily Value*
Fat 13g20%
Sodium 14mg1%
Carbohydrates 34g11%
* Percent Daily Values are based on a 2000 calorie diet.