This Bisquick Impossible Cheeseburger Pie Recipe tastes amazing and is so easy to prepare! The perfect dinner that tastes great if there happen to be leftovers left. Packed with flavor an quick and easy to prepare.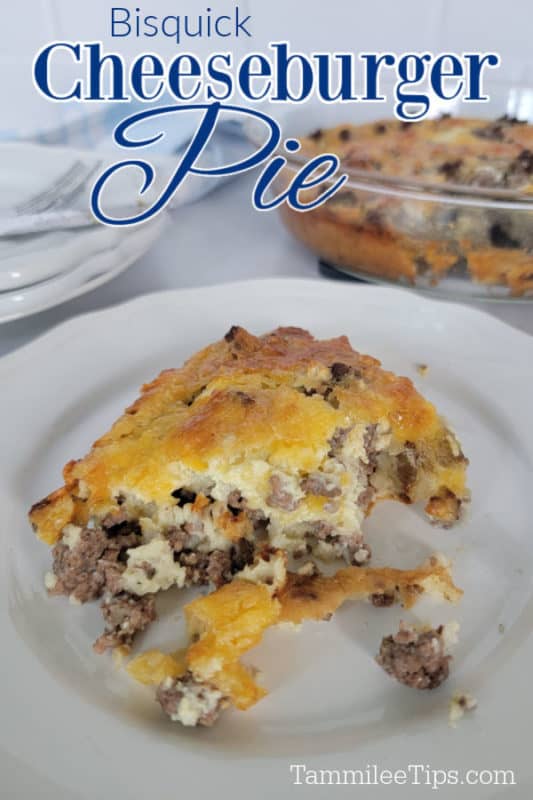 Easy Bisquick Cheeseburger Pie Recipe
This epic dinner is also called a Bisquick Cheeseburger Pie Recipe! Thankfully there is nothing impossible about making this recipe.
It truly is an easy cheeseburger pie! I have been working on sharing more quick and easy dinner recipes. I know how hard it can be to get a great meal on the table while also balancing getting home from work, life, and all the other things that need to be done each day.
My goal is to share as many quick and easy but also delicious dinner recipes as I can. Truly that is my goal for all recipes.
I have been working on getting a ton of new recipes photographed that focus on tasting great but also not taking hours to prepare. One of my favorite time savers is using Bisquick baking mix.
We have been working on so many Bisquick Recipes to share soon!
It is so easy to use and turns out great every time. This "vintage" Betty Crocker hamburger pie recipe has been popular since the 1970s.
I love that you don't need a pie crust for this impossibly easy pie! The ingredients form their own crust while baking in a bit of recipe magic to create one of our favorite impossible pies.
Serve this Bisquick Impossible Pie with a simple green salad, Air Fryer Broccoli, Air Fryer Potato Wedges, and our easy fruit salad.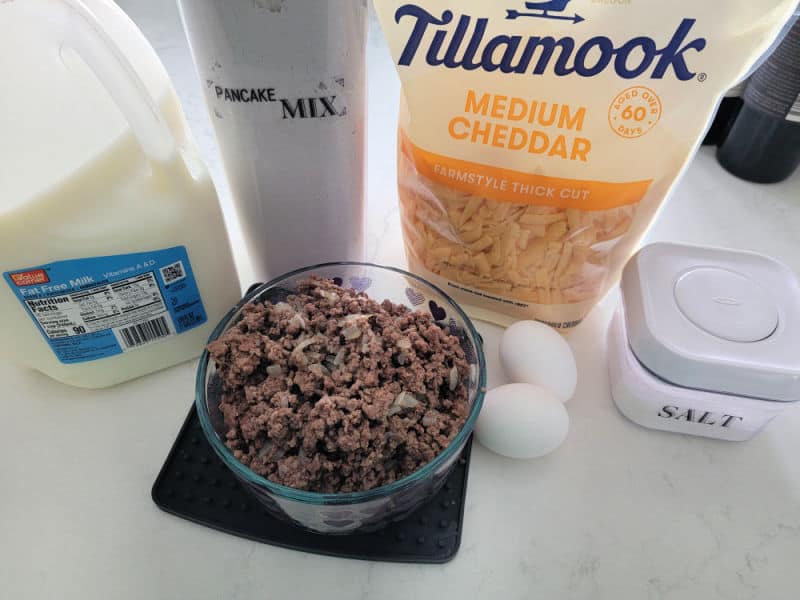 Ingredients
Lean Ground Beef
Onion
Salt
Cheddar Cheese
Bisquick Mix
Milk
Eggs
Optional Add-ins/toppings -Crumbled Bacon, sliced avocado, Green Peppers, tomato, shredded lettuce, dill pickle chips, pickled red onions, fried onions, mushrooms, garlic powder, onion powder, Worcestershire sauce, and or different cheeses.
Toppings - You could easily serve this with dill pickles, ketchup and mustard if you want. It really tastes like a cheeseburger pie.
Ground Beef - You could easily change out the ground beef for vegetarian plant-based meat crumble like Morningstar Farms or Beyond Beef, ground turkey, or ground chicken.
Cheddar Cheese - You can easily switch out the cheddar cheese for any shredded cheese flavor you enjoy. We love Monterey Jack, Colby Jack, Swiss, or Sharp Cheddar.
Bisquick Baking Mix - you can use the regular mix or the gluten-free mix.
Equipment Needed
Mix n Chop - I love using this when cooking with ground beef. It makes it so easy to break up the hamburger while it cooks.
9 Inch Pie Pan - I use a glass pie dish but you can use any 9-inch pie pan you have.
Large Mixing Bowl - We are big fans of this glass batter bowl that has a handle. It makes it easy to mix ingredients and keeps the mixing bowl steady on the counter.
Non Stick Spray - We use non-stick spray on our baking dish but you can also butter the dish before adding the impossible cheeseburger pie ingredients.
How to make Bisquick Impossible Cheeseburger Pie
This impossibly easy cheeseburger pie is a mix between a casserole and a quiche. Classic cheeseburger ingredients bake together with the biscuit texture of Bisquick to create the perfect comfort food dinner.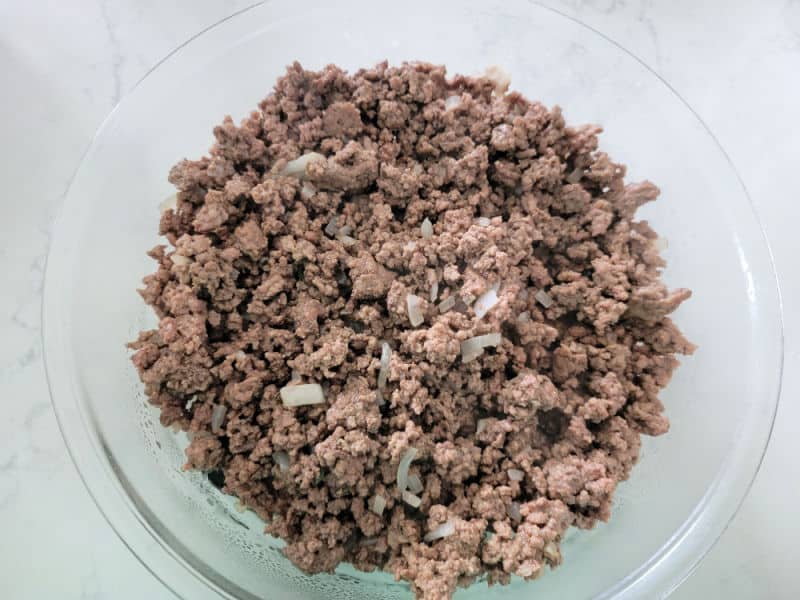 Step 1 - Preheat oven
Cook ground beef and onions in a large skillet over medium heat until the beef is brown. Drain the grease and stir in salt.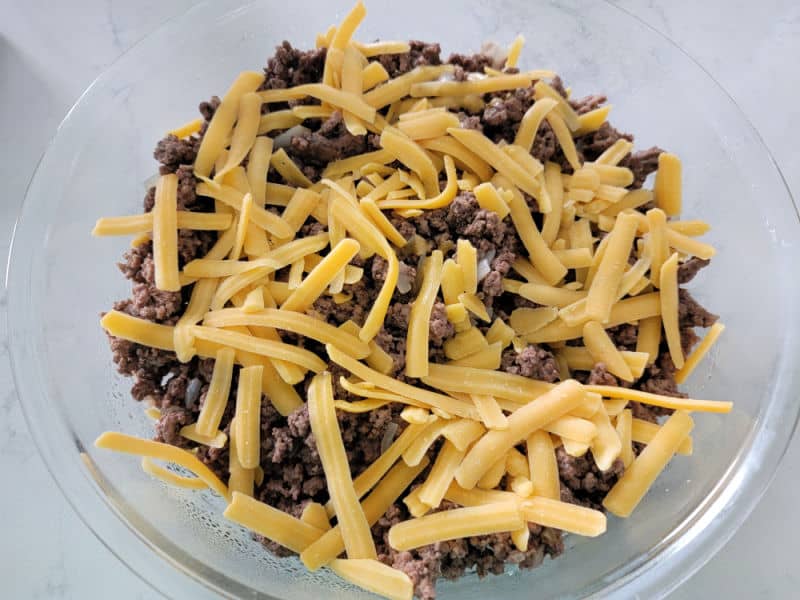 Step 2 - Spread ground beef mixture into a 9-inch pie plate that has been sprayed with non-stick cooking spray in an even layer.
Add cheddar cheese on top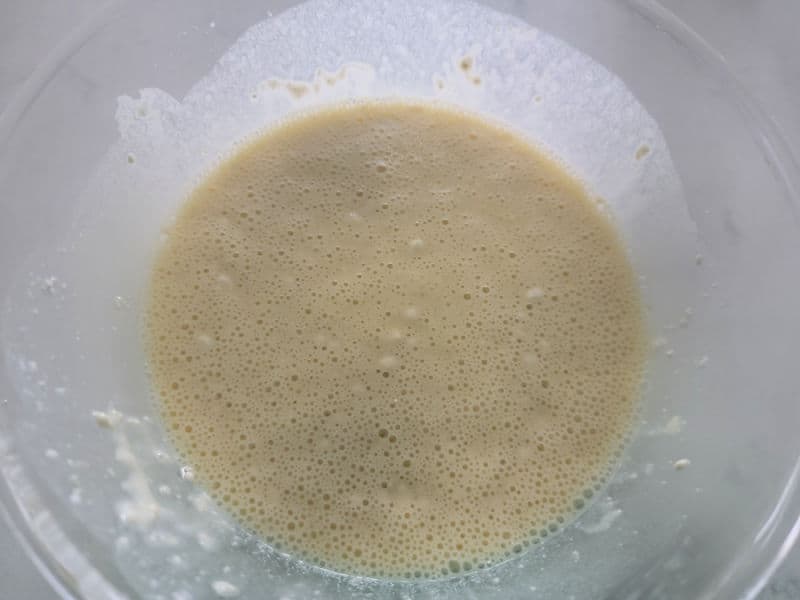 Step 3 - Combine Bisquick Biscuit mix, Milk, and Eggs in a bowl whisk/stir with a fork until mixed together.
Try not to overmix so the gluten in the flour is not activated which can create a tough dense pie.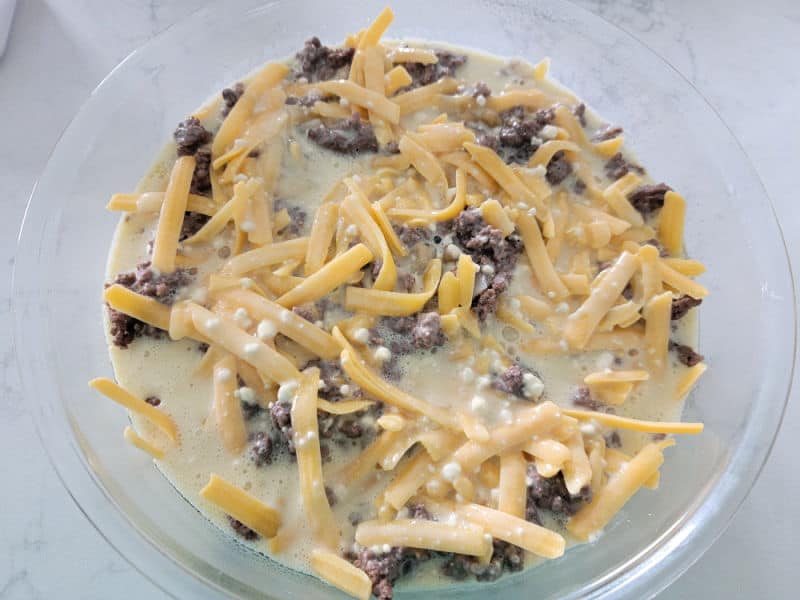 Step 4 - Pour Bisquick mixture over the ground beef and cheese in the pie plate
Bake for 23-25 minutes until a knife comes out clean. It may take up to 25-30 minutes depending on your oven.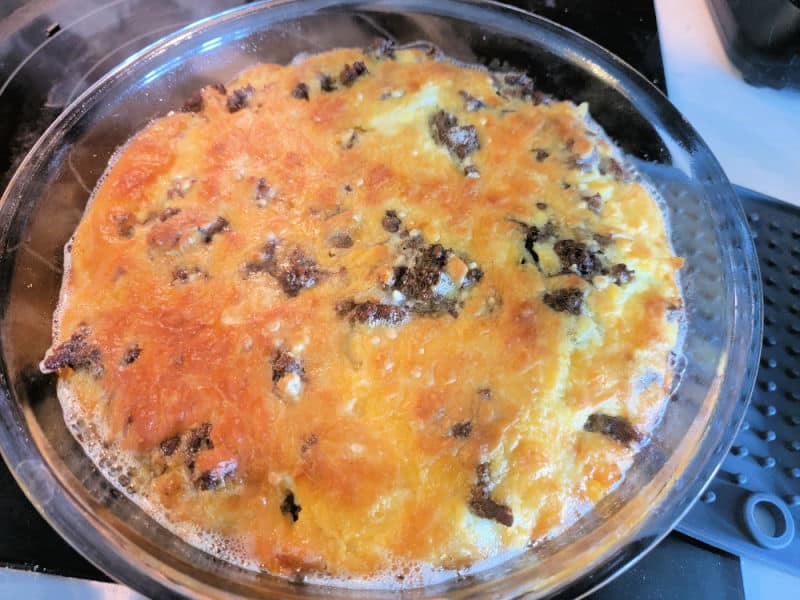 Step 5 - Remove from oven and serve
This recipe is truly impossibly easy to prepare and tastes amazing.
Preparation and Storage
Make Ahead – Make the ground beef mixture up to 2 days ahead of time and store in the refrigerator.
Storage – Store in an airtight container in the refrigerator for 3-4 days.
Freezing/How to freeze – Bake the impossible cheeseburger pie and let it cool to room temperature. Wrap it in freezer wrap and store it in the freezer for up to 3 months. Thaw in the fridge overnight before reheating.
How to reheat – From frozen make sure that it has thawed overnight in the fridge. Reheat in a 325 degree oven for 20-30 minutes.
Recipe Variations
Substitutions - You can swap the ground beef out and use ground turkey, ground sausage, or ground chicken.
Additions - bacon
Vegetarian Option - Veggie plant based meat can be used
Vegan Option – Bisquick mix is vegan, exchange the hamburger for vegan plant based crumble, exchange the cheese for vegan cheese, use a non-dairy milk like almond or soy milk. The hardest substitution is the egg.
Gluten Free - Gluten-free Bisquick mix can be used.
Smaller Serving Size – The serving size on the recipe card below can be changed to a smaller size.
Make it Spicy –Add in red pepper flakes, switch the cheese to pepper jack cheese.
Larger Group/More servings – For a larger serving you can double the ingredients and serve this epic hamburger casserole in a 9x13 baking dish.
What to serve with Bisquick Impossible Cheeseburger Pie
These are some of our favorite side dishes to serve with this epic cheeseburger pie with Bisquick.
Air Fryer Frozen Vegetables - Toss a bag of frozen carrots, cauliflower, and broccoli in the air fryer for a quick and easy Air Fryer Vegetarian Side Dish.
Air Fryer Cauliflower -  It takes minutes to prepare this vegetable dish and it tastes fantastic.
Big Mac Sauce - It is super easy to make this great copycat restaurant sauce at home in minutes.
In N Out Sauce - This famous restaurant sauce is quick and easy to make and tastes amazing.
Air Fryer Mushrooms - You can make a small bowl or big batch of these mushrooms in the air fryer.
Air Fryer Asparagus - It takes minutes to prepare air fryer roasted asparagus.
Broccoli Casserole -  This easy broccoli casserole uses frozen broccoli tossed in a creamy sauce topped with French fried onions.
Cheesy Green Beans - These creamy, cheesy green beans take minutes to prep and taste amazing!
Hasselback Potatoes - The thinly sliced potatoes are roasted, topped with cheese, bacon, sour cream, and green onion to make an epic side dish or full meal.
Air Fryer Tater Tots - Tater tots are always a good idea with cheeseburger pie.
Ranch Pickles - Surprise your family with these fun 2 ingredient ranch pickles.
Grape Salad - This sweet grape salad is a great side dish with hamburger pie.
Cherry Fluff Salad - A fun bright pink dessert vintage salad!
Easy Macaroni Salad - Delicious classic macaroni salad that is super easy to make.
Broccoli Slaw - Easy jazzed up broccoli slaw that takes minutes to prepare.
Air Fryer Onion Rings - The perfect air fryer side to pair with this epic vintage impossible pie.
Recipe Tips
Feel free to change the recipe up by adding in new ingredients or changing the cheese flavor. Just makes sure the final mix fits in the pie pan with room for the Bisquick to rise a bit.
This Bisquick Impossible Cheeseburger Pie can be prepped and assembled 24 hours ahead of baking. Keep it covered in the refrigerator and plan for it to take 5-8 minutes longer than our current recipe time.  A knife or toothpick inserted in the center should come out clean.
You can also store it in the freezer before baking just wait to add the cheese. When you are ready to serve this hamburger pie recipe just thaw it in the fridge, cover it with your favorite cheese, and bake.
Store leftovers in an airtight container in the refrigerator for 3-4 days or in the freezer for up to 3 months. Reheat in the microwave
Printable recipe card instructions are below.
Nutrition information, including calories, protein, calcium, carbohydrates, fiber, vitamin c, potassium, cholesterol, sodium, trans fat, monounsaturated fat, polyunsaturated fat, and more, will vary depending on the products used.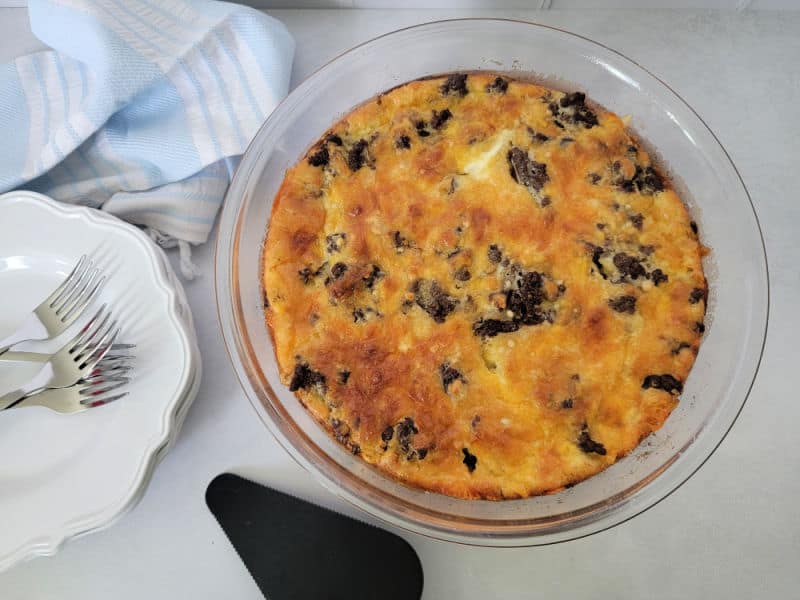 Great Dinner Recipes
Check out all of our epic Bisquick Recipes! They are some of our favorite meals to make.
Sausage Cream Cheese Crescent Rolls
We are working on making more epic casseroles to add to our recipe list. Our favorite right now is the John Wayne Casserole and Chicken Casserole with Ritz Crackers
Do you love recipes? Check out our copy cat recipes, dessert recipes, and our Crock Pot Recipes.
Follow Tammilee Tips on MSN, Facebook, Instagram, and Pinterest, for all of our recipe posts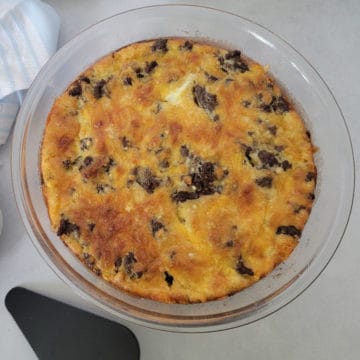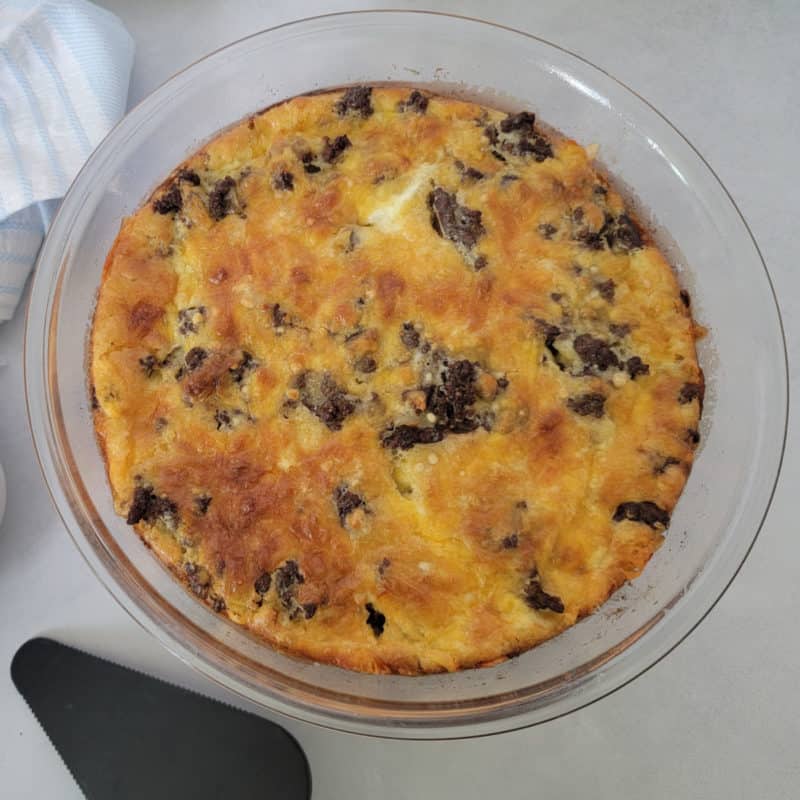 Bisquick Cheeseburger Pie
Easy and delicious Bisquick Impossible Cheeseburger Pie Recipe that takes minutes to prepare. This quick and easy dinner recipe tastes amazing.
Print
Rate
Instructions
Preheat oven to 400 degrees.

Cook onion and ground beef in a skillet until brown. Drain grease from the pan. Sprinkle with salt

Pour ground beef onion mixture into a 9 inch pie pan that has been sprayed with non-stick spray.

Sprinkle cheddar cheese evenly over the ground beef mixture.

Combine Bisquick mix, milk and eggs in a bowl. Whisk until combined.

Pour Bisquick mixture over the ground beef and cheese in the pie pan.

Bake for 25 minutes. The pie is done when a knife inserted in the center comes out clean.
Nutrition
Nutrition Facts
Bisquick Cheeseburger Pie
Amount Per Serving
Calories 447
Calories from Fat 288
% Daily Value*
Fat 32g49%
Cholesterol 155mg52%
Sodium 552mg24%
Potassium 449mg13%
Carbohydrates 10g3%
Protein 28g56%
Vitamin A 352IU7%
Vitamin C 1mg1%
Calcium 236mg24%
Iron 3mg17%
* Percent Daily Values are based on a 2000 calorie diet.