Here's how to cook frozen onion rings in the air fryer! Make crispy, delicious air fryer onion rings in less than 10 minutes.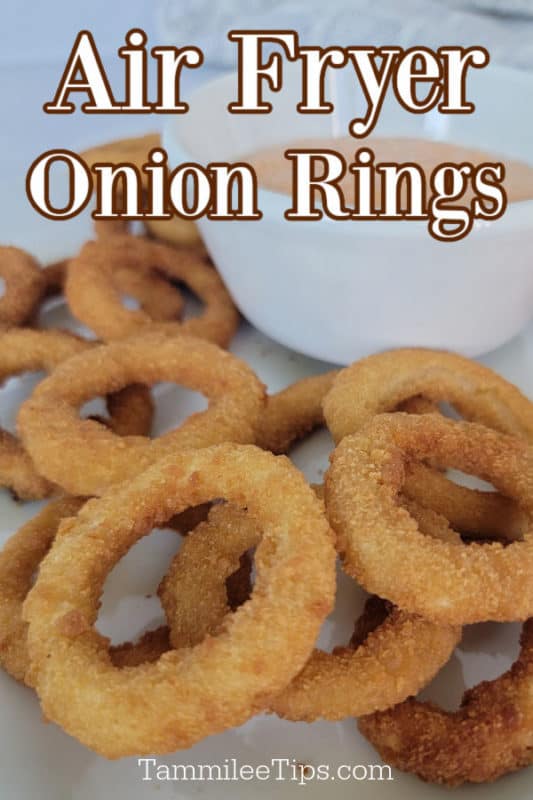 Frozen Onion Rings in Air Fryer
We make this air fryer frozen onion rings recipe, probably more than I want to count.
They are just so easy and taste amazing! The perfect crispy onion rings.
We love to pair them with Bloomin Onion Sauce, Boom Boom Sauce, and In n Out Sauce. Who am I kidding? These taste good with ketchup or even Ranch Dressing. LOL!
What is your favorite dipping sauce?
These air fry onion rings are a great appetizer or snack! It's so easy to make; you only need a bag of frozen onion rings.
You can pair them with burgers or hot dogs or have them as a side dish. There are days I enjoy them while working.
I love that you don't have to heat the oven with this recipe. Plus, there is no oil or grease to deal with when making these frozen onion rings.
All you need is your favorite air fryer and a pair of tongs. Crispy onion rings just like you get from your favorite fast-food restaurant without having to leave the house.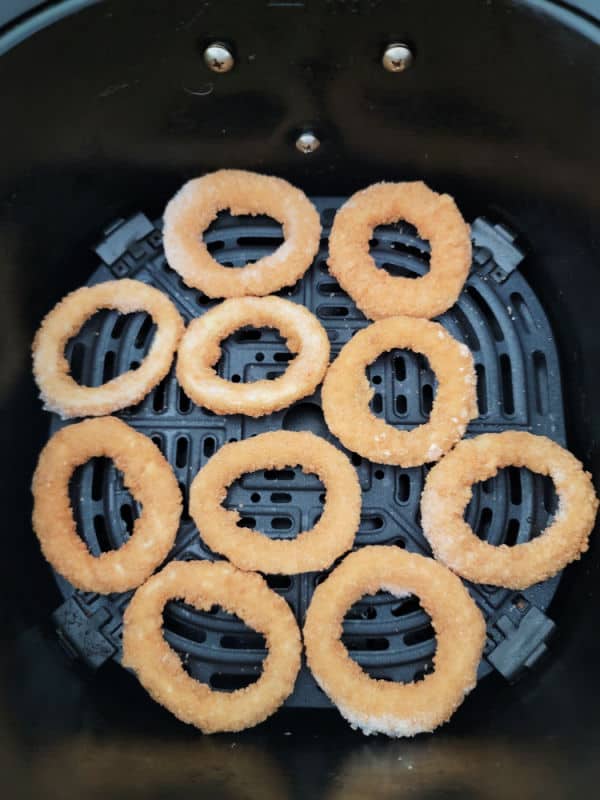 Ingredients
Here is a quick overview of the simple ingredients needed to make epic Air Fryer Onion Rings! The printable recipe card at the bottom of the post includes specific measurements and step-by-step instructions.
Frozen Onion Rings
Olive Oil Spray
Onion Rings - You can use your favorite brand of frozen onion rings. We have made this recipe with Ore-Ida, Red Robin, and Alexia Onion Rings.
Olive Oil Spray - We use olive oil or avocado spray for our air fryers. Non-stick cooking spray can damage the air fryer basket.
Equipment Needed
Air Fryer - We suggest getting an air fryer that is bigger than you think you will need. We found once we started using the air fryer, we ended up using it for more meals and larger meals.
Kitchen Tongs - We highly suggest getting a good pair of kitchen tongs to remove items from the air fryer and save your hands from getting burned.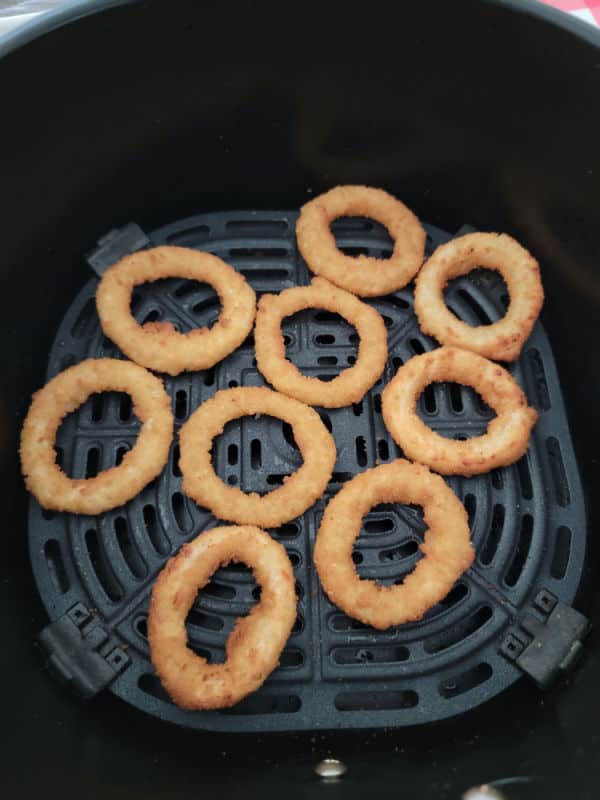 How to Make Air Fryer Onion Rings
I've included complete instructions in the printable recipe card at the bottom of the post, but here's a quick version.
Spread frozen onion rings evenly in the air fryer basket.

Air fry, flip onion rings carefully with kitchen tongs, and air fry
Preparation and Storage
Make Ahead: Do not thaw the frozen onion rings before putting them in the air fryer. Just grab them from the freezer and drop them into the air fryer.
Storage: Refrigerate leftover onion rings in an airtight container and enjoy them within two to three days.
Freezing/How to Freeze: For quality and food safety reasons, it is best not to refreeze any frozen food you have cooked.
How to Reheat: You can reheat cooked leftover onion rings in the air fryer to return them to crispy goodness! They will heat up in about five minutes.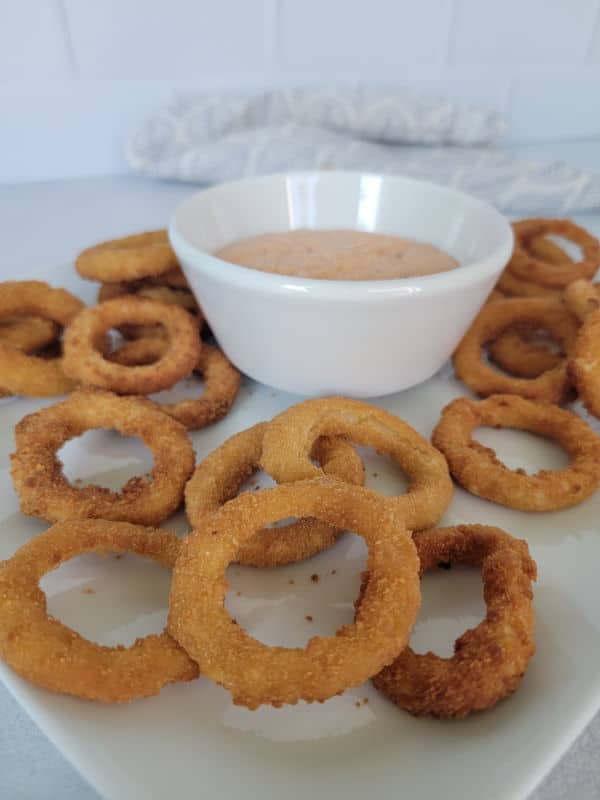 Recipe Variations
Substitutions:
You can use your favorite brand of frozen onion rings. We have made this recipe with Ore-Ida, Red Robin, and Alexia Onion Rings.
Vegetarian Option: Onion rings are a naturally vegetarian snack!
Vegan Option: Choose a pack of vegan onion rings if you are plant-based.
Gluten-Free: Gluten-free eaters should select gluten-free onion rings to ensure their snack is safe for a gluten-free diet.
Smaller Serving Size + Larger Group/More Servings: We used one bag of frozen onion rings. If you are cooking a large batch of onion rings, you will want to cook them in batches. Each subsequent batch will cook faster.
Make It Spicy: Pair your onion rings with a spicy dip, like our Spicy Japanese Mayo, to add heat to snack time.
Sugar-Free: The sugar content will depend on the frozen onion rings you use, so choose a sugar-free variety if you want to avoid sugar.
Tips for the Best Air Fryer Onion Rings
We do not use a preheated air fryer when making this recipe.

Spray the air fryer basket with olive oil spray to prevent the onion rings from sticking.

We avoid using non-stick spray because it can damage the air fryer basket.

Cooking time will vary based on your air fryer. Start with the lowest time and then add additional minutes as needed.

Set a timer as a reminder to flip the onion rings halfway through cooking time.

Lay the onion rings in a single layer in the air fryer tray so the hot air can circulate them evenly.

Nutrition information, including calories, protein, calcium, carbohydrates, fiber, vitamin c, potassium, cholesterol, sodium, trans fat, monounsaturated fat, saturated fat, and more, will vary depending on the products used.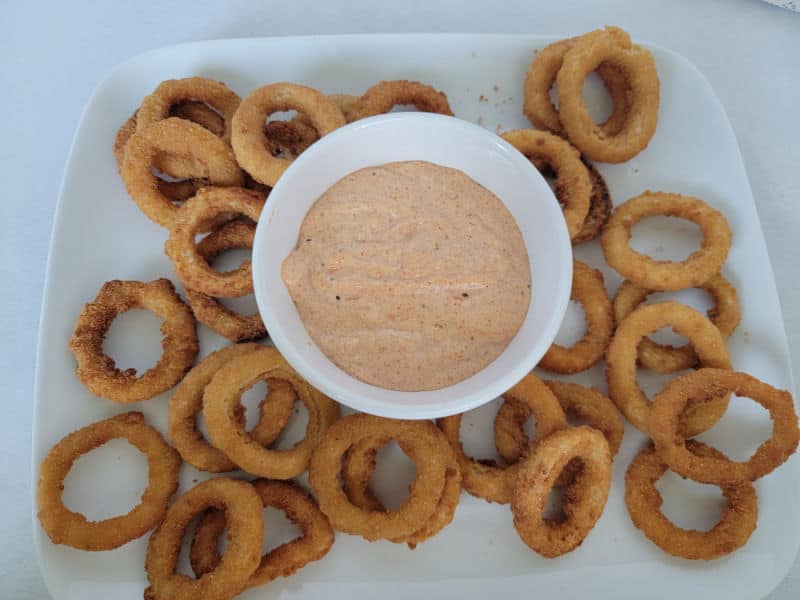 What to Serve with Air Fryer Onion Rings
These Air Fryer Onion Rings are an easy snack or complement to a burger or hot dog that comes together in minutes! Here are some menu pairing suggestions to meet your snacking needs.
Sides: Air Fryer French Fries, Air Fryer Tater Tots, Air Fryer Pizza Rolls, Air Fryer Popcorn Shrimp, Air Fryer Fish Sticks
Dipping Sauces: Copycat Outback Bloomin' Onion Sauce, Copycat Chick-fil-A Sauce, Copycat Arby's Sauce, Spicy Japanese Mayo, Barbecue Sauce, Honey Mustard
Main Dishes: Copycat Guy's Burger Joint Pig Patty Burger, BLT Burger with Avocado Aioli, Hot Dogs, Homemade Hot Dog Chili, CrockPot Beer Brats, Jalapeño Beer Brats, Air fried chicken tenders, Air fryer hamburgers
When to Serve
Lunch

Dinner

With a burger or a hot dog!

After school snack  
Great Recipe Collections
Vegetarian Air Fryer Recipes -  Add more vegetarian options to your meal planning with these air fryer recipes.
Crockpot Chicken Recipes - Easy Crockpot Chicken Recipes that take minutes to prep!
Easy Bread Recipes - These easy bread recipes come together with pantry staples
Finger Food Appetizers - Finger food appetizer recipes are so easy to make and all taste amazing!
Vegetarian Slow Cooker Recipes - Easy slow cooker recipes perfect for vegetarians
Easy Lemon Desserts - Pucker Up for These Delicious Lemon Desserts!
Do you love recipes? Check out our copycat recipes, dessert recipes, and our CrockPot Recipes.
Follow Tammilee Tips on MSN, Facebook, Instagram, and Pinterest for all our recipe posts.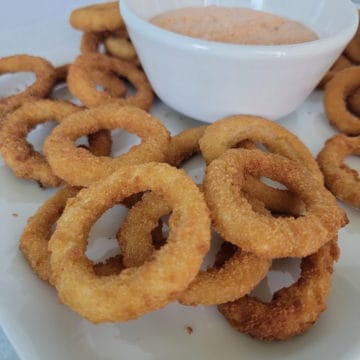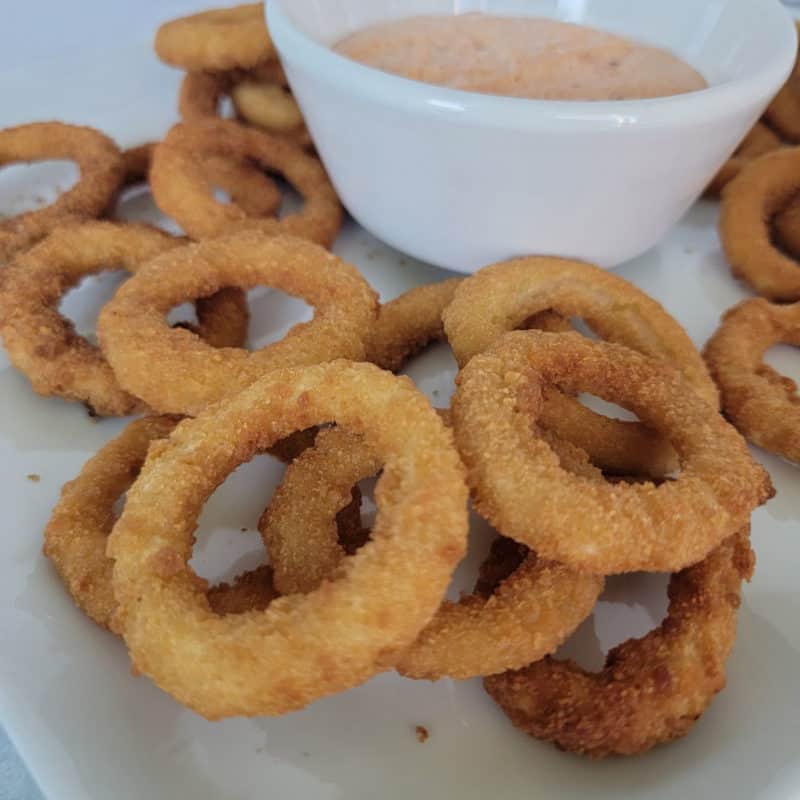 Frozen Onion Rings in Air Fryer
How to cook frozen onion rings in the air fryer! A quick and easy snack recipe.
Print
Rate
Instructions
Spread frozen onion rings evenly in the air fryer basket

Air fry at 400 degrees for 5 to 6 minutes, flip onion rings carefully and air fry for an additional 4-5 minutes