Easy Mind Eraser Shot recipe makes a great layered shot made with Kahlua, Vodka, Club soda, or Sprite. This unique shot is a great party shot.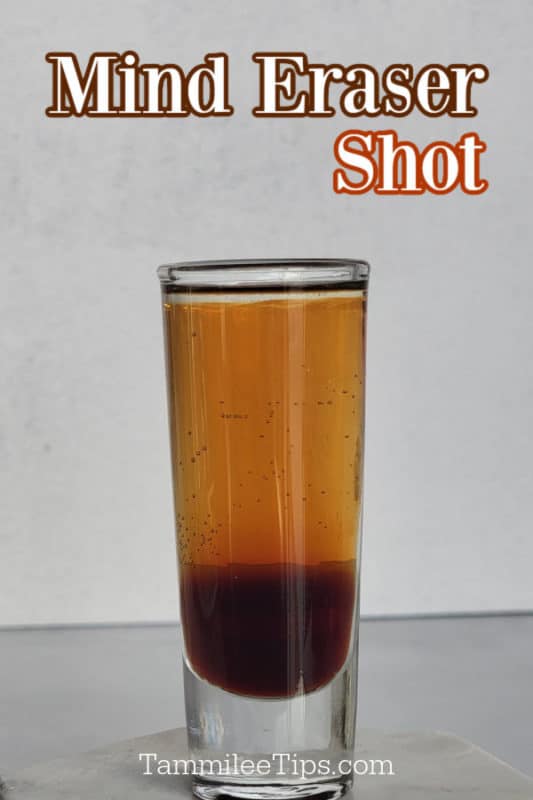 Mind Eraser Shot
The Mind Eraser Cocktail can be made as a drink or as a layered shot. This easy cocktail contains equal parts Kahlua Coffee liquor and vodka topped with club soda/tonic water/or Sprite.
This is a twist on the classic Black Russian with the addition of bubbles. The coffee liqueur and vodka look like they are dancing when you pour in the bubbles.
The Black Russian was crafted in Brussels in the late 1940s. You may be familiar with its sibling the White Russian which includes the addition of cream with Kahlua and Vodka for a creamy drink.
Did you know there are also Irish Russian Cocktails with Guinness, a Colorado Bulldog that adds a splash of cola, and so many other fun variations of the original cocktail.
Back to the Mind Eraser Shot...It is a super fun cocktail for parties. The Mind Eraser Drink is similar to this shot recipe with double the ingredients and the addition of ice cubes.
There have been some fun variations appearing on cocktail menus in the past couple of years. We are sharing the classic version of this cocktail today.
This is another famous 1980s cocktail shot. They all have funny drink names that make you laugh as you make them.
Other 80s cocktail shots include the blowjob shot, red headed slut shot, woo woo shot, and Duck Fart Shot and even the B-52 shot.
Many of these classic 80's cocktail shots are having their names adapted to fit 2022 but you will still see the original names in a lot of bartending books and on restaurant menus.
You only need three ingredients to make this simple shot recipe. While the drink will not literally erase your mind it is potent so you want to make sure you don't give it a chance to make your brain fuzzy.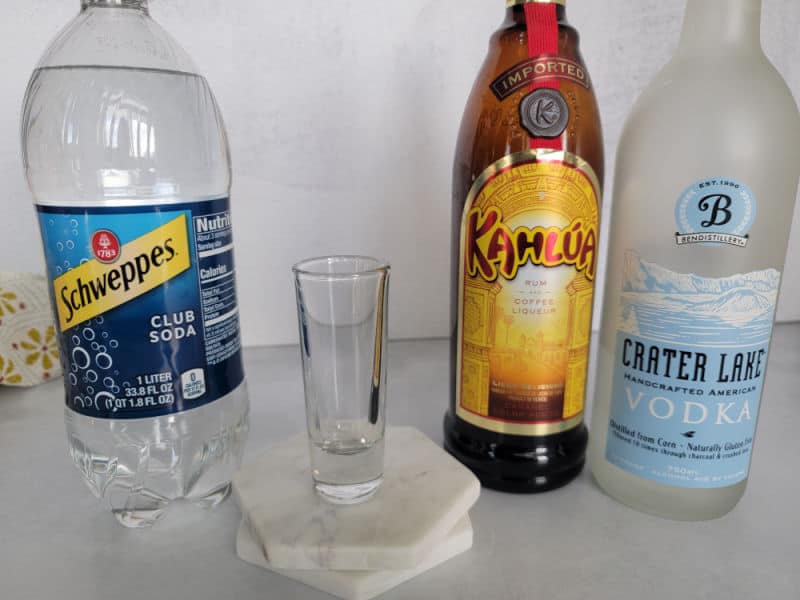 Ingredients
Coffee Liqueur - You can use Kahlua, Tia Maria, Sheridan's, or other brands of coffee liqueurs.
Club Soda - If you don't have club soda you can switch it out for Sprite lemon-lime soda, ginger ale, or soda water.
Equipment Needed
2 ounce shot glasses - We love these 2 oz shot glasses especially for layered shots.
Bar Spoon - A bar spoon helps distribute the vodka so it doesn't mix directly into the Kahlua and creates a layered drink.
OXO angled jiggers - these are our go-to measuring tools for cocktails. They work perfectly for pouring in layers for cocktails.
How to Make a Mind Eraser Shot
Step 1 - Pour Kahlua Coffee Liquor into the bottom of a shot glass.
Step 2 - Slowly pour vodka over the back of a spoon so it evenly pours into the shot glass and does not mix with the Kahlua.
Step 3 - Pour in Club Soda over the bar spoon to finish the layered shot.
Mind Eraser Cocktail Drink
This can be made into a cocktail and then served with a straw. Similar to a fizzy Black Russian.
To make this into a larger cocktail increase double the amount of Kahlua, Vodka, an Club Soda from the shot recipe.
Pour over an old-fashioned glass with ice. Serve with a straw to taste each layer or stir the drink together.
Mind Eraser Variations
Shake the Vodka and Kahlua together with ice, strain into an ice filled glass. Top with Club Soda.
Brain Eraser Shot - Add in Amaretto for half of the Kahlua or change it up with Goldschläger.
Black Magic Cocktail - This variation includes vodka, Kahlua, and Lemon Juice served over ice.
Brown Russian - This variation is a full size cocktail with vodka, crème de cacao, and chocolate syrup.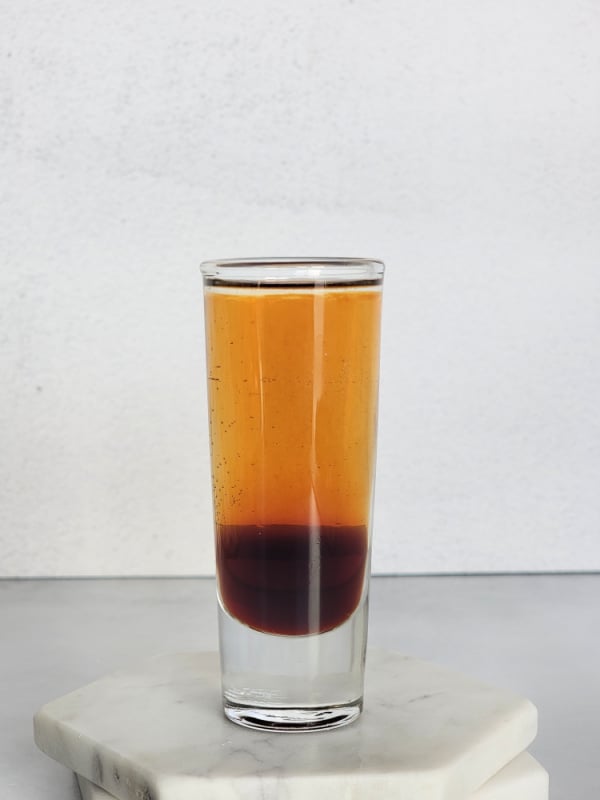 Recipe Tips
If you are not worried about the layers you can shake the Kahlua and Vodka in a cocktail shaker and pour it into the shot glass then layer the soda water. PLEASE DO NOT SHAKE the club soda with the Kahlua and Vodka! It already has enough bubbles.
On average the mind eraser drink has a 16 percent ABV (Alcohol by Volume), equal to 32 proof.
Printable recipe card instructions are below.
Nutrition information, including calories, protein, calcium, carbohydrates, fiber, vitamin c, potassium, cholesterol, sodium, trans fat, monounsaturated fat, polyunsaturated fat, and more, will vary depending on the products used.
When to serve a Mind Eraser
Summer Cocktail
New Year's Eve Party
Happy Hour
80s Throwback Party
Girls or Guys Night Party Drink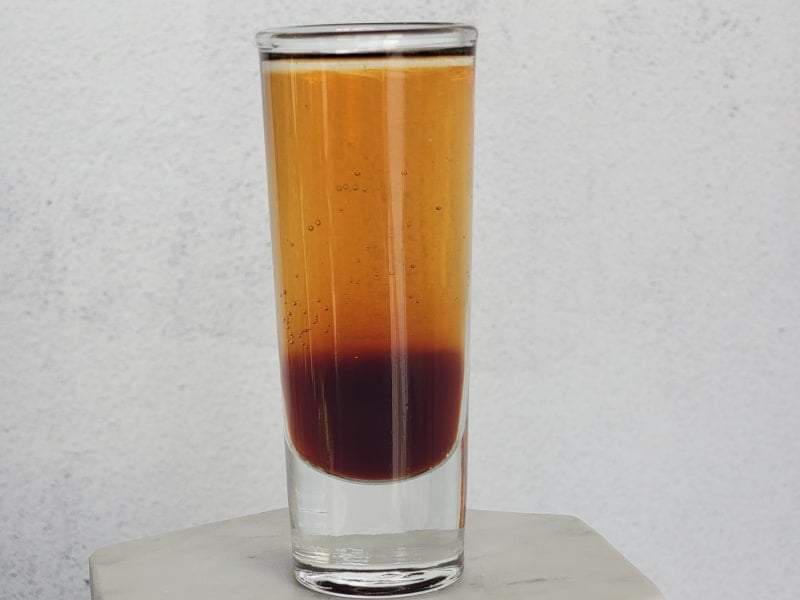 Great Cocktail Shots
Scooby Snack Shot - This bright green cocktail shot tastes fantastic.
Kamikaze Shot - One of the most popular shots to order at a bar
Brain Hemorrhage Shot - This fun shot looks creepy but tastes fantastic.
Zombie Brain Shot - The swirling zombie brains in this creepy drink are a crowd-pleaser.
If you are a fan of Kahlua make sure to check out our Bushwacker Recipe, B-52, Colorado Bulldog, Duck Fart, Snickers Shot, and Chocolate Covered Cherry Shot.
Check out all of our Cocktail Recipes for additional recipe ideas that include whiskey, tequila, Bailey's Irish Cream Liqueur, and epic coffee cocktails!
We have quite a few vodka shot recipes.
We are working on a ton of new cocktail creations to share with everyone. Our goal is to make mixology fun and easy!
From classic cocktails to Fruity Alcoholic Drinks we are putting together a ton of fun drink recipes.
Do you love recipes? Check out our copy cat recipes, dessert recipes, and our Crock Pot Recipes.
Follow Tammilee Tips on MSN, Facebook, Instagram, and Pinterest, for all of our recipe posts.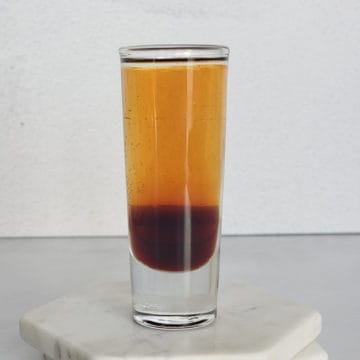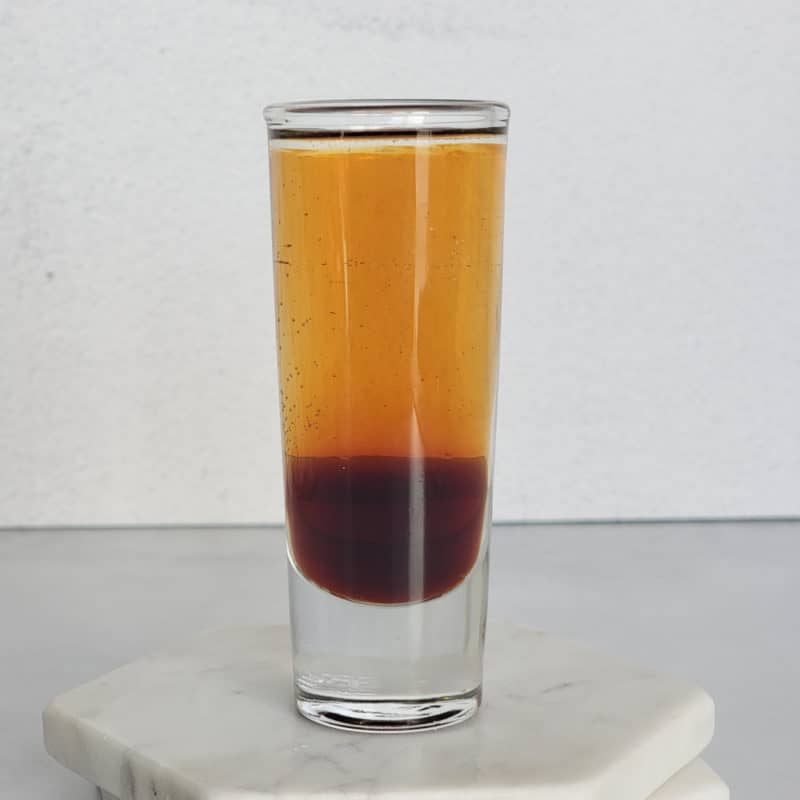 Mind Eraser Shot
Easy Mind Eraser Shot Recipe creates a layered shot with Kahlua and Vodka.
Print
Rate
Instructions
Pour Kahlua into the bottom of the shot glass.

Slowly pour vodka into the shot glass over the back of a bar spoon.

Slowly pour the club soda over the back of a bar spoon into the shot glass.
Nutrition
Nutrition Facts
Mind Eraser Shot
Amount Per Serving
Calories 81
Calories from Fat 9
% Daily Value*
Fat 1g2%
Sodium 4mg0%
Potassium 1mg0%
Carbohydrates 7g2%
Protein 1g2%
Calcium 1mg0%
* Percent Daily Values are based on a 2000 calorie diet.