Easy Fall Cocktails everyone will love! These Fall Cocktail Recipes include apple cider, Fireball, Cinnamon, Pumpkin, and all of the best fall flavors.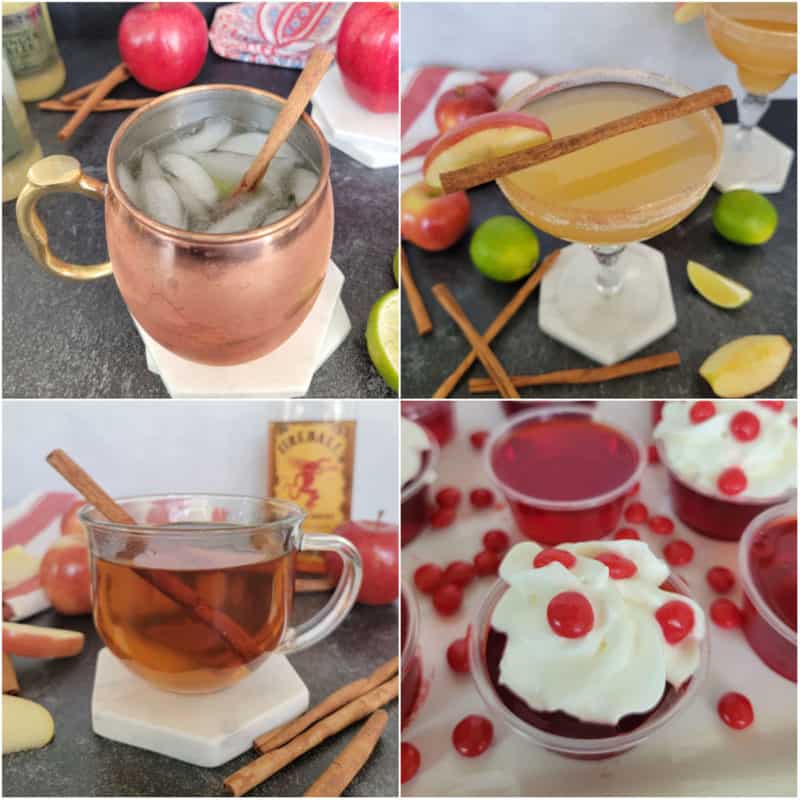 Raise a Glass to Fall: 20+ Fall Cocktails for the Coziest Season
As much as we love sunshine-filled days and feeling the sand between our toes on some isle of tropical paradise, we're convinced that fall is the coziest season in the calendar year.
During autumn, the leaves on the trees around us change to warm shades of red, orange, and yellow as they scatter on the ground, and we find ourselves donning more layers and taking our sweaters and boots out of winter storage to keep up with the dropping temperatures.
Here's a fall cocktail and shot roundup that celebrates the best flavors of fall. From quintessential fall standbys like apple and pumpkin to selections with toastier spirits like whiskey and bourbon, we have something that'll let you celebrate the season your way.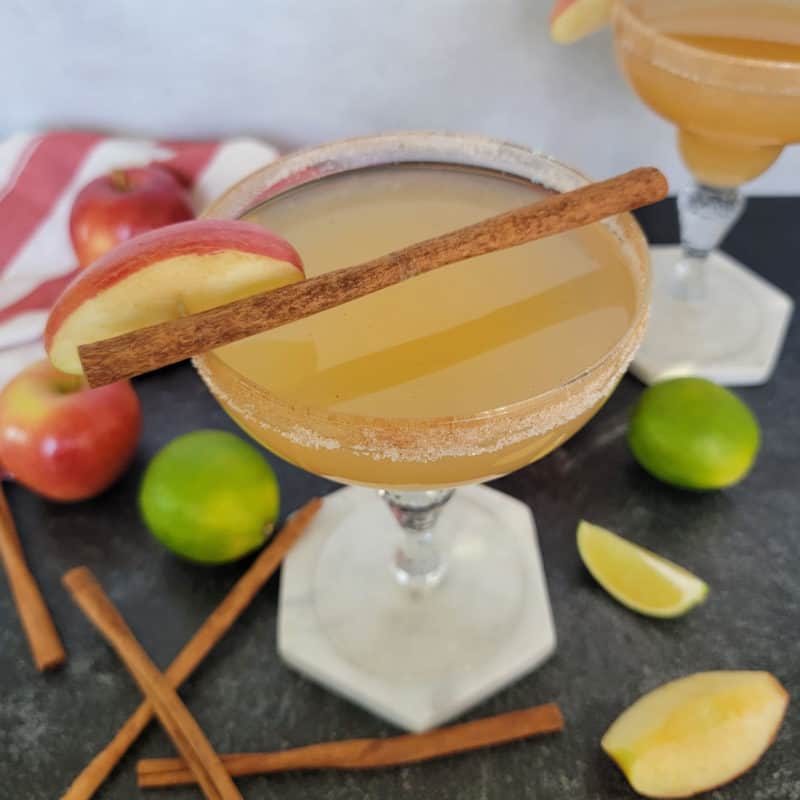 Here's a fall twist on the classic margarita! Use blanco tequila if you prefer a neutral spirit that won't overwhelm the rest of the flavors, or reposado tequila for some extra notes of warmth.
Cointreau or Grand Marnier are fantastic stand-ins for the triple sec if you don't mind a higher-ABV drink.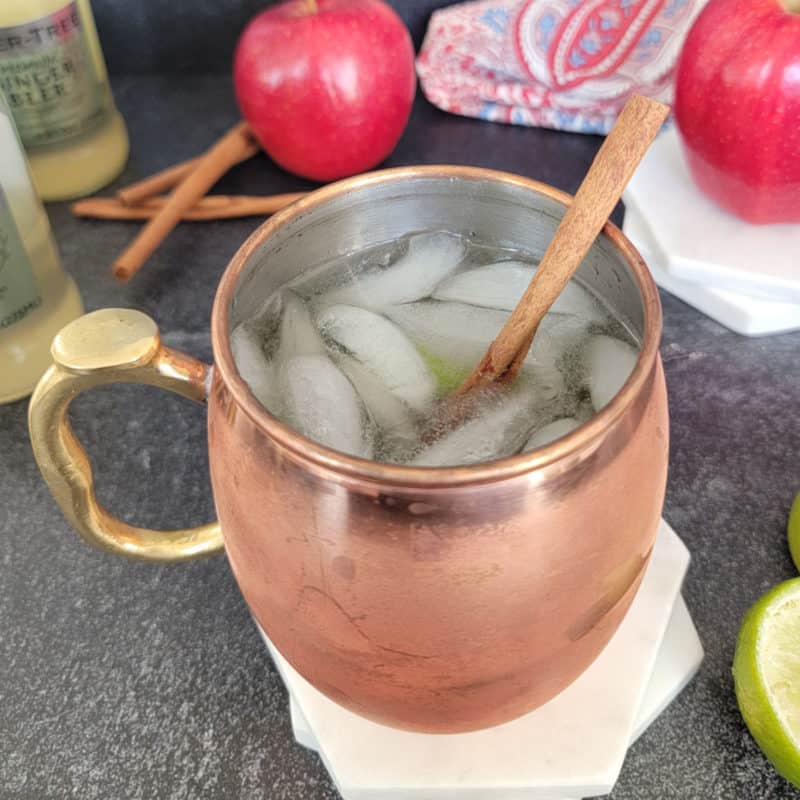 Apple cider and ginger beer are surprisingly complementary flavors in this fall take on the classic Moscow mule. Switch out the non-alcoholic apple cider for a hard apple cider, such as Angry Orchard, for a boozier mule cocktail that'll keep you toasty as temps drop.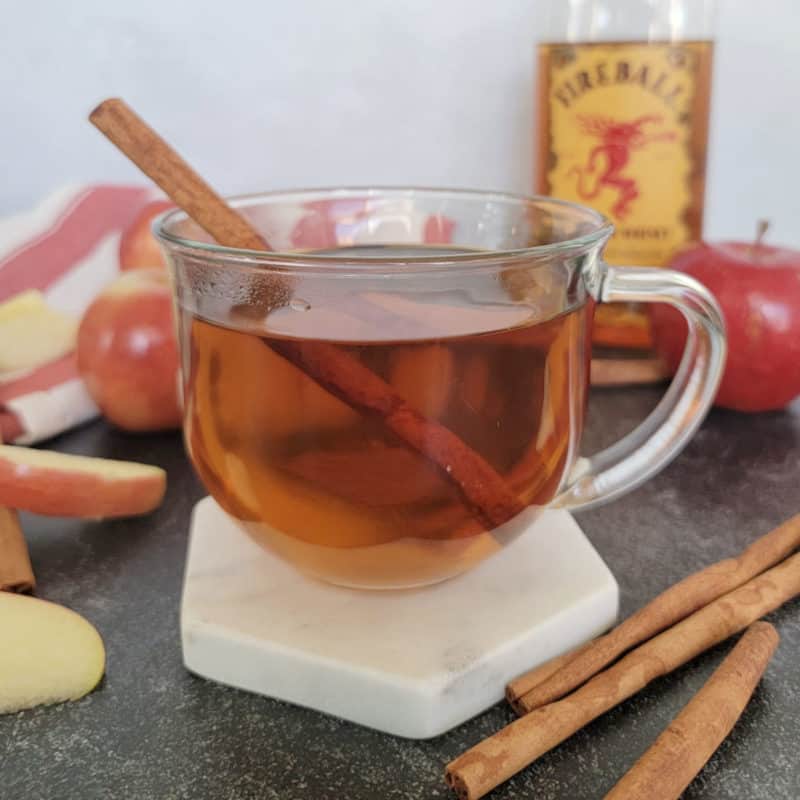 This simple hot libation is another testament to our love for using Fireball in cocktails as soon as the first autumn chill prompts us to swap our summer clothing for sweaters and boots.
Apple cider and cinnamon will always be a winning fall combination, and the cooler months make a warm beverage particularly comforting. We drink ours in clear mugs to protect our hands and enjoy the drink's color, but you can serve yours in regular coffee mugs with handles if you don't have them.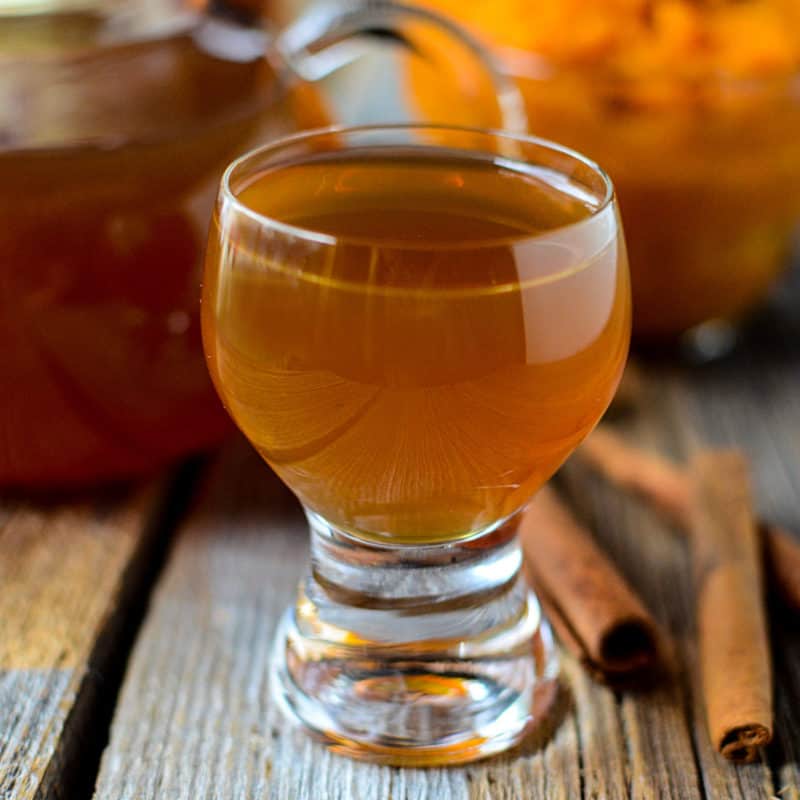 Do you have a can of pumpkin puree and a bottle of rum in your kitchen? If so, you're halfway to this homemade pumpkin liqueur made entirely in your Crockpot!
Use it in any cocktail or adult beverage that could benefit from pumpkin goodness, including our slow cooker pumpkin spice latte!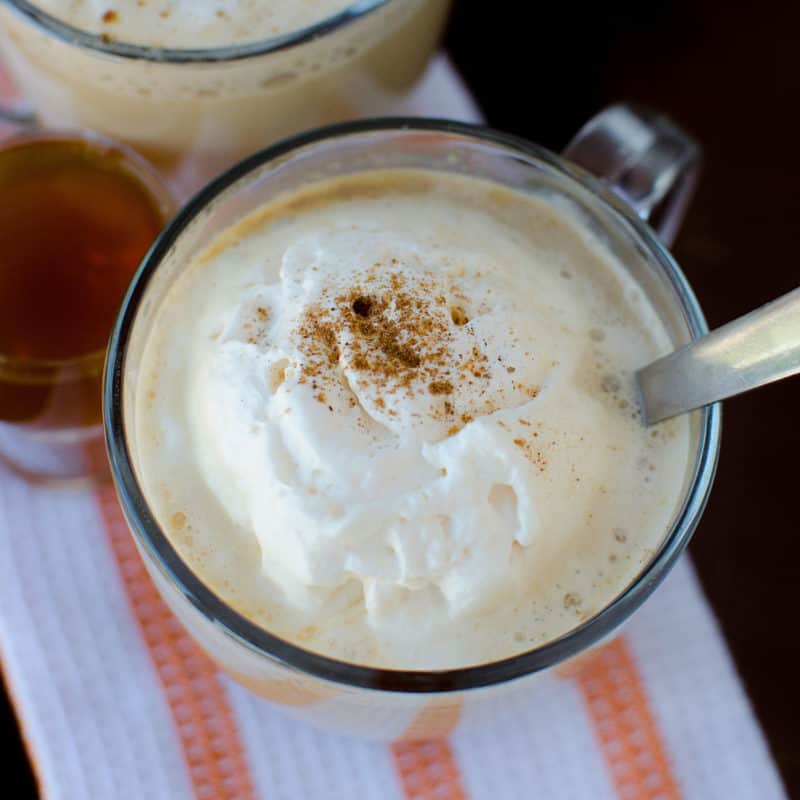 Pumpkin spice lattes are synonymous with fall, with their season seeming to arrive earlier each year; we start seeing them at our local coffee shops as soon as August!
While we support treating yourself to this yummy espresso bar classic at your favorite cafe any day you feel like it, here's a homemade version that'll ensure you always have enough to fill your cup at a lower cost to your pocketbook.
You can quickly transform it into iced PSLs if you live in a warmer climate and make it boozy with a shot of your favorite liquor.

Once sweater weather hits, we love using Fireball to infuse warming cinnamon flavors into our cocktails - we promise that it's way more versatile than the ways it was used in basement parties back in the day!
The ginger ale complements the cinnamon well and adds a refreshing fizziness that removes the need for a cocktail shaker and invites you to sit back and relax after a long day.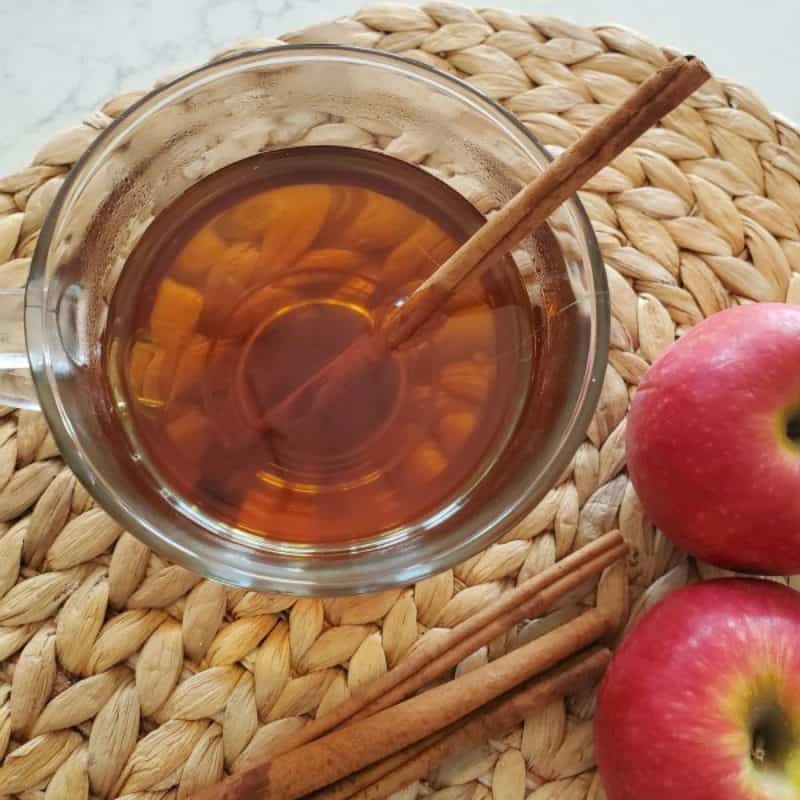 Do you need a boozy handheld that'll gently transition you from frozen beach cocktails to mug cocktails that warm you up as sweater weather takes full hold?
If so, turn to this three-ingredient, festival-inspired cocktail featuring apple cider and caramel vodka.

The Angry Balls Drink is our ice-cold counterpart of the Fireball Apple Cider that has its flavors but adds a double-whammy of hard apple cider to keep spirits warm.
We use Angry Orchard Crisp Apple Cider, which you can easily find anywhere that sells beer and wine, but your favorite local craft cider would be just as yummy, if not more delicious!

Our version of an apple martini uses Crown Royal Canadian Whiskey, sour apple schnapps, and cranberry juice for a splash of fall flavor in each sip!
Our recipe uses regular Crown Royal, but their apple, vanilla, or salted caramel flavors would be just as yummy. You can also swap the sour apple schnapps with an apple liqueur or brandy for warmer apple goodness.

Whiskey is known for its warmer notes of caramel, vanilla, and oak, while lemonade is a classic summer beverage, which makes this whiskey-infused cocktail a fantastic segue into fall! Serve it in these mason jar glasses for a touch of rustic elegance.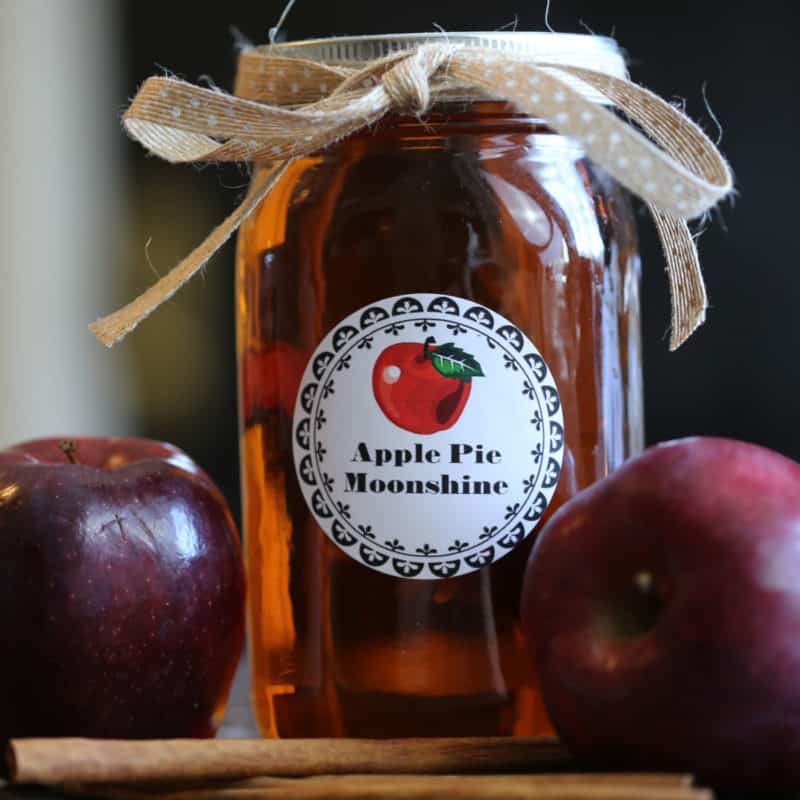 This boozy fall moonshine is one of three flavored moonshines we've made in our CrockPot and shared on the site.
Like all moonshine, it packs a punch and is not recommended for the faint of heart! Feel free to use any other neutral, extra high-proof alcohol (think 100-proof-range) if you can't find Everclear at the store.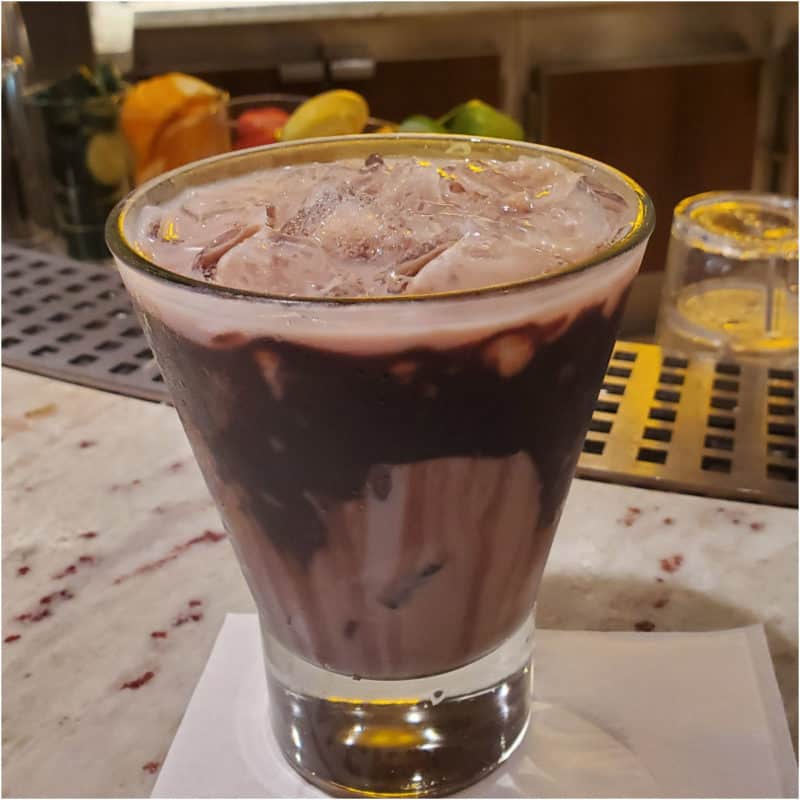 Do you find your sweet cravings shifting away from fruity, warm-weather flavors to decadent, indulgent ones that you can cozy up with on the couch as the leaves change colors and the temps drop?
If so, this Carnival Cruise Alchemy Bar copycat cocktail that tastes like boozy chocolate milk is for you. Hello, nightcap yum!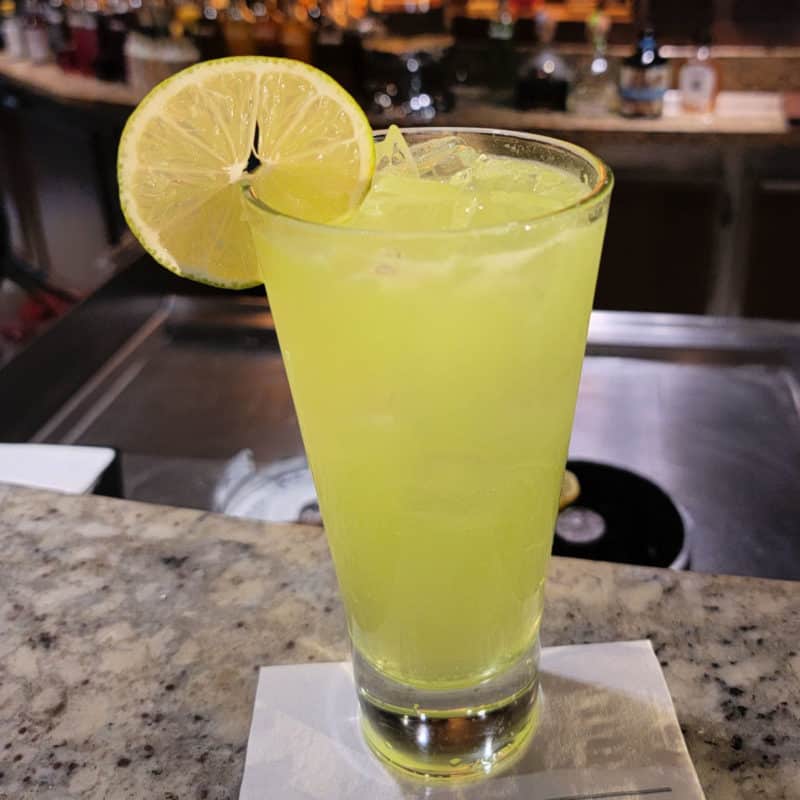 This melon and absinthe cocktail is an Alchemy Bar offering that we didn't expect to like as much as we did; John loved it so much that he barely shared it with me!
It contains a triple-whammy of vodka, gin, and rum as the primary spirits, while its melon flavor comes from Midori, a Japanese melon liqueur known for the bright green hue it imparts on cocktails.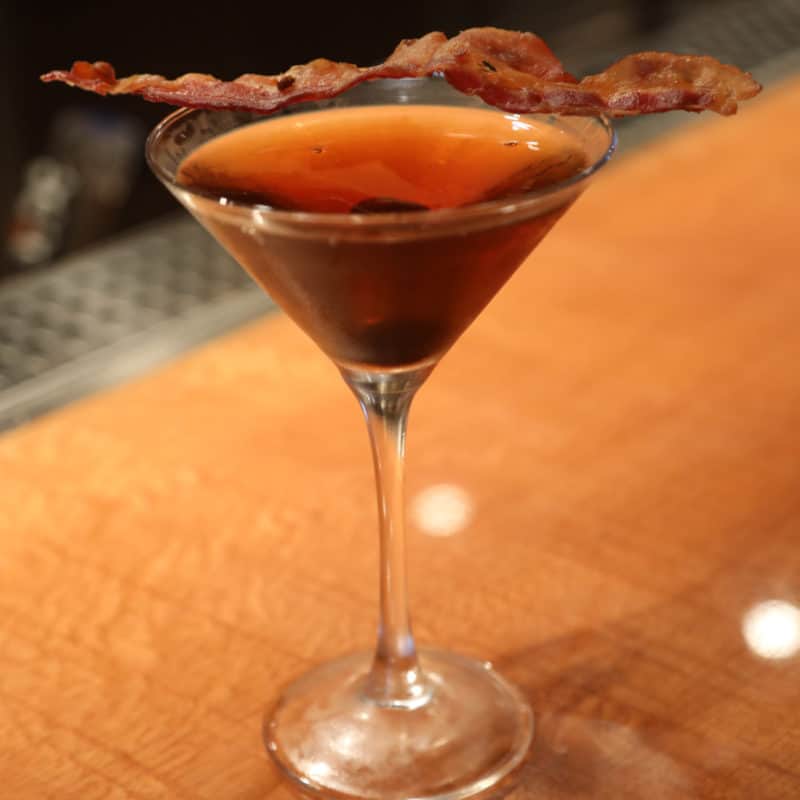 In this delicious libation from Guy's Pig & Anchor, the onboard barbecue joint and smokehouse on the Carnival Horizon, the classic Manhattan cocktail gets taken to Flavortown with bacon-infused whiskey and a strip of bacon for garnish.
Check out the recipe post for more on our dining and drinking experience at this Guy Fieri establishment!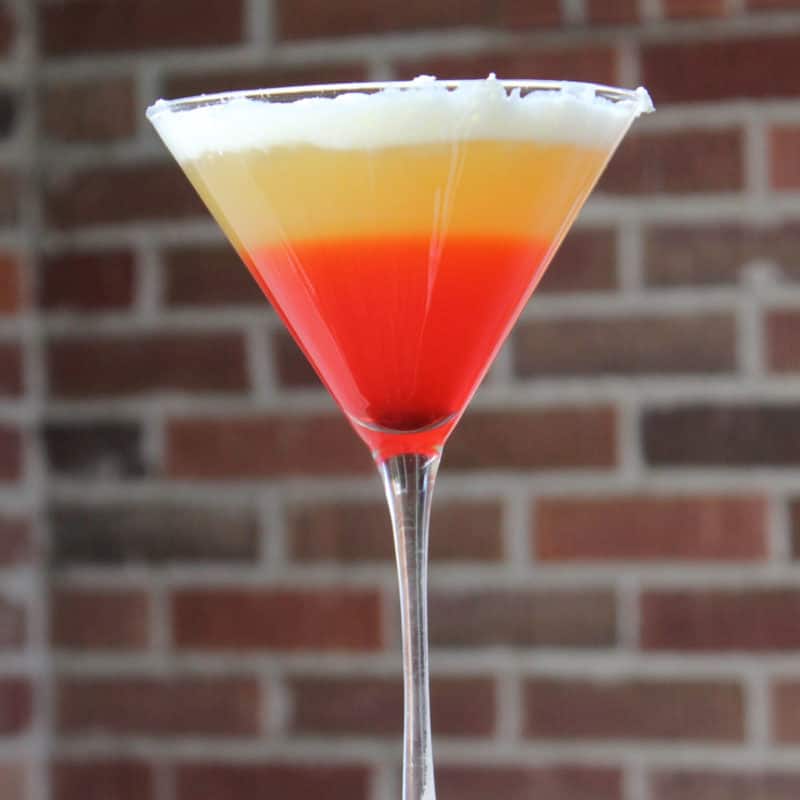 Here's a grown-up version of a classic Halloween Cocktail and fall fairground treat! This fruity layered cocktail uses Smirnoff whipped cream vodka for flavor and grenadine, pineapple juice, and a generous dollop of whipped cream for fruitiness and candy corn colors.
Need a refresher on layering your drinks to perfection? We have a guide for you here.

This fall twist on the classic old-fashioned cocktail swaps simple syrup for in-season maple syrup and whiskey for Mount Gay Black Barrel Rum, a smooth bourbon oak barrel-aged rum made by a Barbados distillery that also happens to be the world's oldest refined rum distillery.
Don't forget the orange peel and cherry for garnish; we like using slightly pricier but oh-so-refined Luxardo cherries.
Fall Shots

This fizzy vodka-Kahlúa shot gets its name because it's so tasty that it's easy to overindulge. You can use any coffee liqueur you enjoy if you don't have Kahlúa or want to try something different; we also like Tia Maria and Sheridan's.
You can also use another clear soda if you don't have club soda, though we recommend using a neutral one that adds fizz without disrupting the Kahlúa.
The recipe post includes instructions for the layered shooter and cocktail and contains variations using different mixers.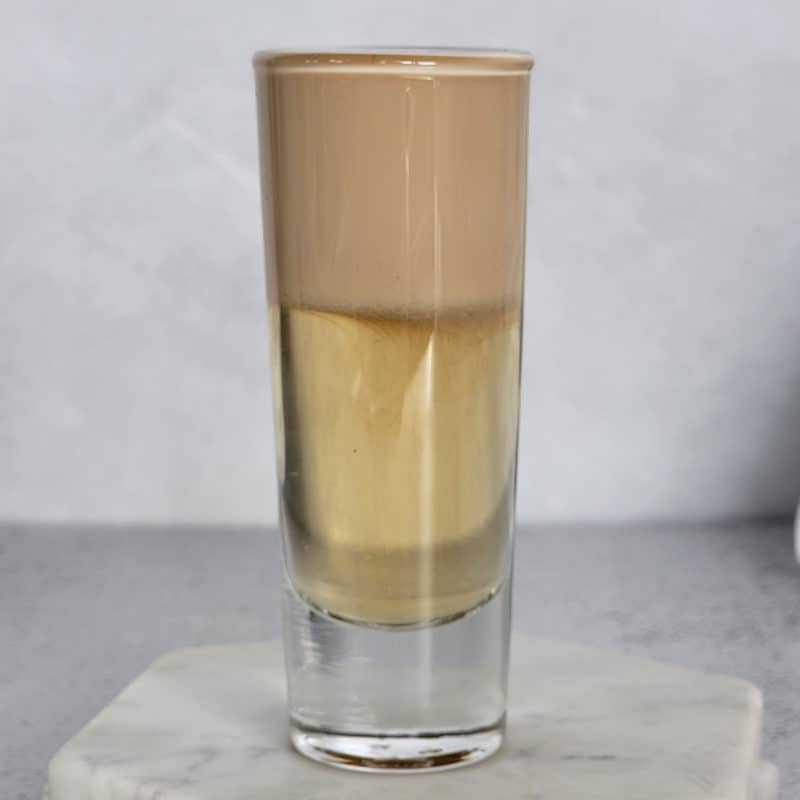 What's in a name? In the Nutty Irishman's case, hazelnut-flavored Frangelico and sweet Bailey's Irish Cream combine for a simple dessert shot you can upsize into a cocktail or add to a cup of coffee or hot chocolate.
Whichever way you serve it, the flavors are fantastic for St. Patrick's Day brunching. We have a Bailey's Whipped Cream recipe if you want a complementary topping that'll allow you to treat yourself.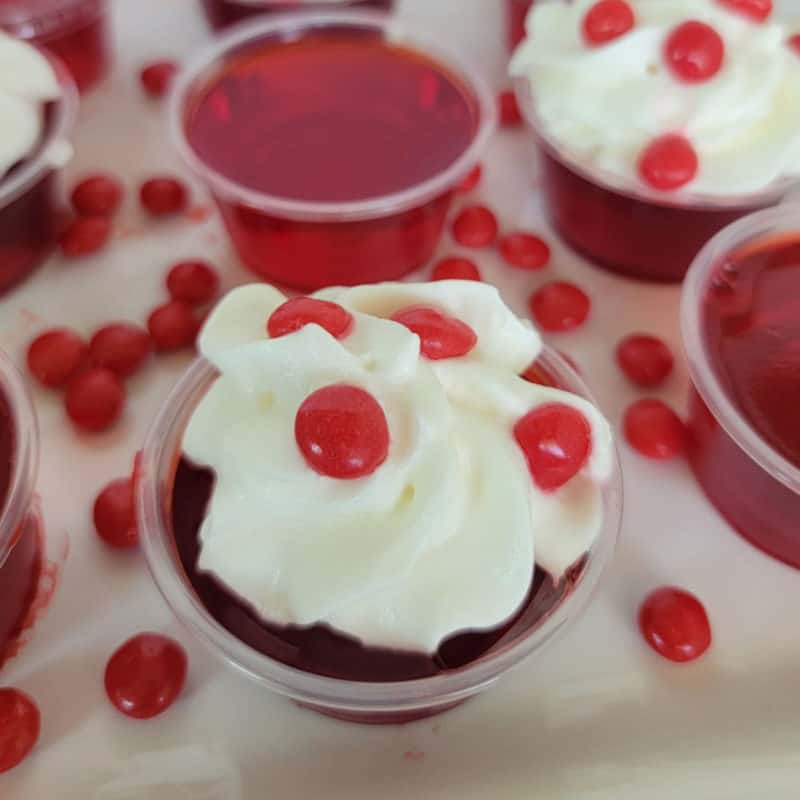 Fireball Whisky is a niche product that we love for its unmistakable spicy kick and cinnamon flavor. In this Jell-O shot, tart cherry, warm cinnamon, and Red Hots candies mix to create a taste experience you'll remember even after the party ends.
The shots are also a festive red you can serve even through the holiday season!

The namesake fall candy favorite inspires the colors in these layered Jello shots. The vodka can be swapped for another clear liquor, such as rum or tequila.
We didn't use food coloring in ours, but you can use yellow and orange food dye if you want the colors to be more vibrant.
Any orange and yellow-colored gelatin mix works in this recipe; make sure you like the combination of flavors. As with our other Jello shot recipes, sweetened condensed milk is vital to its stability and sweet taste.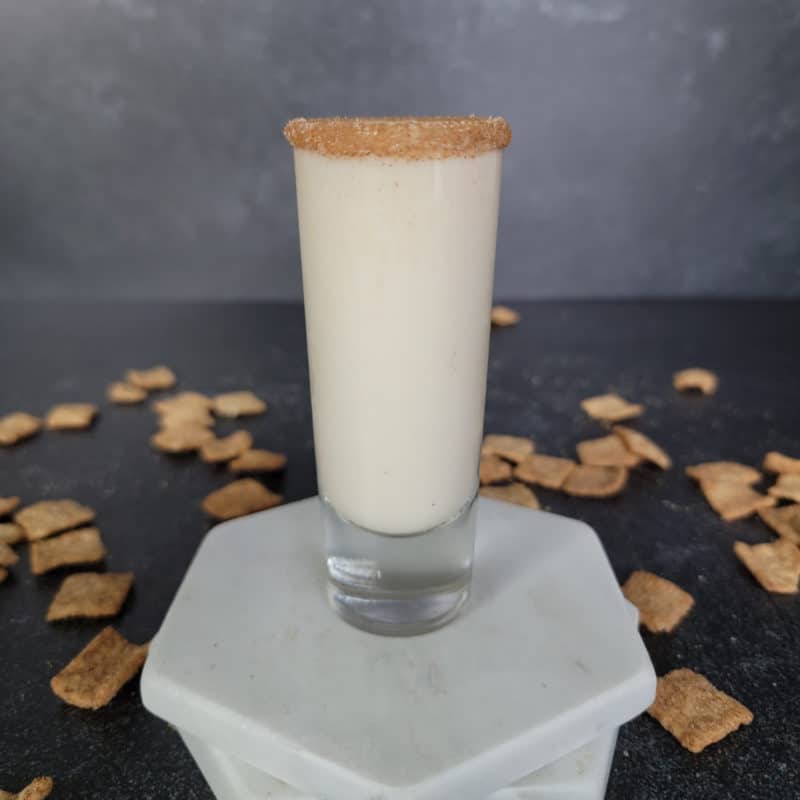 Inspired by one of our favorite childhood cereals, this sweet shooter has brunch written all over it! Zero judgment here if you feel tempted to take an AM shot with our Cinnamon Toast.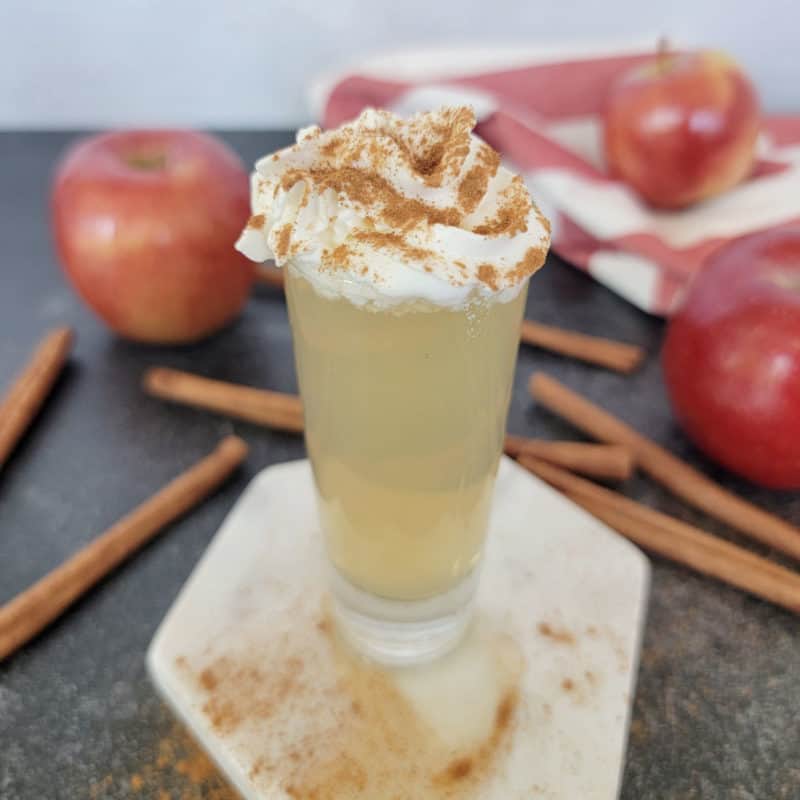 This shot contains the decadence and deliciousness of apple pie, and there are so many fun ways to dress it up and make it your own!
Drizzle caramel sauce on top to turn it into a Caramel Apple Pie Shot, or skip the whipped cream and rim each glass with caramel or cinnamon sugar if you prefer it without a creamy element. You can also make it with Crown Royal Apple if you don't have Fireball.
Upcoming recipes include Apple Cider Mimosa, Apple Cider Sangria, Pumpkin Spice White Russian, and more!
Great Bartending Tools
2 ounce shot glasses - We love these 2 oz shot glasses especially for layered shots.
Bar Spoon - Bar spoons help to create layers in the cocktail shot. They fit perfectly into the cocktail shot glass.
Cocktail Shaker – This cocktail shaker comes with a fantastic set of tools
Stemless Martini Glasses - These stemless martini glasses are fantastic.
Martini Glass - We like the look of the classic martini glass
Jell-O Shot Cups - We suggest using two-ounce Jell-O shot cups.
OXO angled jiggers - these are our go-to measuring tools for cocktails. They work perfectly for pouring in layers for cocktails.
Margarita Glasses - We like the look of classic margarita glasses but you can use any glass for this great cocktail.
Copper Mule Mugs  - Copper Mule Mugs are the classic way to serve Moscow Mules. The copper mugs keep them nice and cold and look amazing.
Don't miss all of our favorite Fall Desserts! Pull out the nutmeg, honey, pears, brown sugar, cinnamon, pumpkin, butter, and more to create these great desserts.
Great Cocktail Collections
Great Martini Recipes - Shake or stir your favorite martini with these great recipes.
Vodka Cocktail recipes - Pour yourself an amazing drink featuring vodka.
Moscow Mule Recipes - Try a new variation on the classic Moscow Mule Drink.
Butterscotch Schnapps Cocktails - No need to be bitter! These Butterscotch Schnapps Cocktails are easy to make and tastes oh so sweet.
Thanksgiving Cocktails - Check out this great list of easy cocktails perfect for Thanksgiving dinner.