Super fun Scooby Snack Shot Recipe is a fun party shot! Bright green and tropical flavored it will be a hit at your party.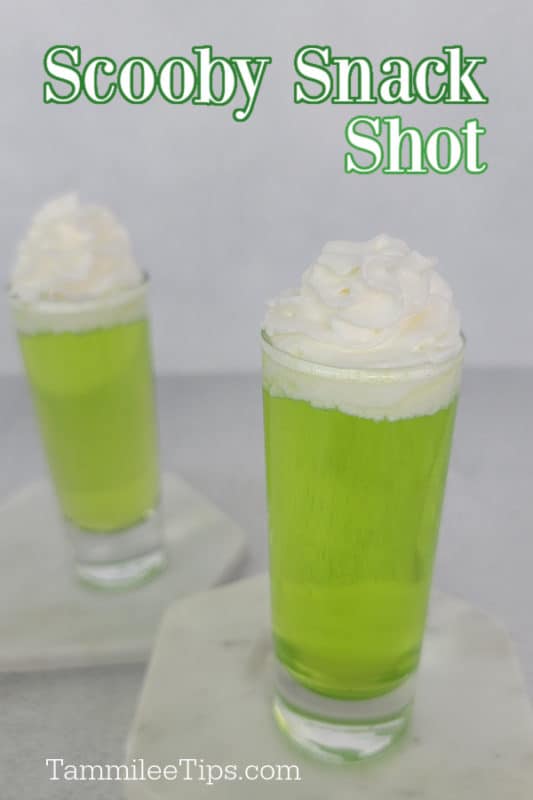 Scooby Snack Shot Recipe
You don't have to dress up as Scooby Doo, Shaggy, Velma, Fred, or Daphne to enjoy this fun Scooby Snack Shot.
I can't guarantee you will be able to solve mysteries or fight off monsters while enjoying this not so secret mix of fruity liqueurs but you will have lots of fun.
This fun green shot is great for Halloween, St. Patrick's Day, or really any day you want a fun party cocktail shot.
This Scooby drink has a coconutty taste with a mild fruity flavor of pineapple and melon.
Any drink with Malibu rum in it is going to have a bit of sweetness to it.
Zoinks!! This fun party shot tastes amazing and is easy to make. I have to admit this is the first time I have used the word Zoinks in a recipe post. LOL!
This Scooby Snack Drink Recipe makes me think of Saturday morning cartoons and childhood memories. Dreaming of riding in the Mystery Machine Van on an epic quest with Scooby, Shaggy, Velma, Daphne, and Fred in Crystal Cove solving epic mysteries.
This mystery solving gang was one of my favorite Saturday morning cartoons along with the Smurfs, Snorkels, and The Care Bears.
I can't forget to mention She-Ra, Jem, and Rainbow Brite! Total 80s girl power on a Saturday morning. LOL!
I didn't find any specific history on how the Scooby Snack Shot came to be a thing. From what I can find it is named because of the bright green color.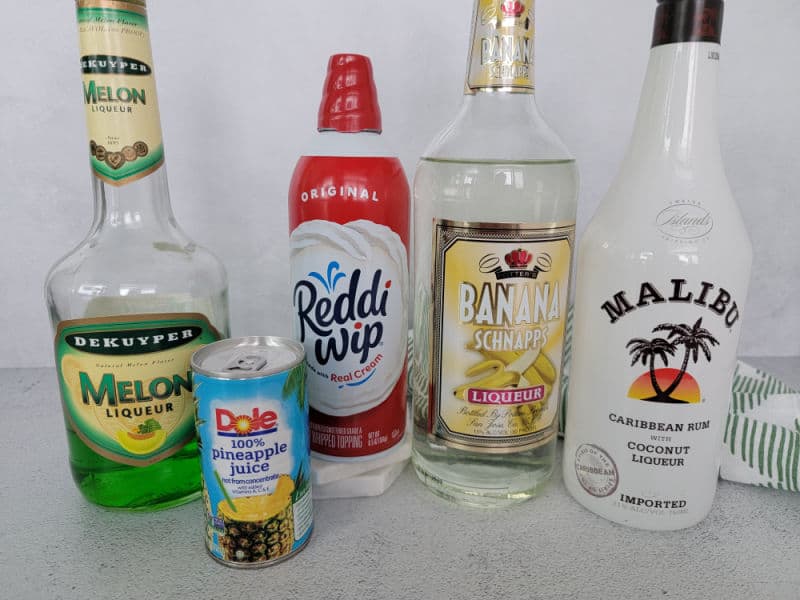 Scooby Snack Shot Ingredients
This is a quick overview of the simple ingredients that you'll need to make an epic Scooby Snack Drink! Specific measurements and step by step instructions are included in the printable recipe card at the bottom of the post.
Malibu Coconut Rum - We use Malibu but you can use any coconut rum including Captain Morgan's, Largo Bay, Bacardi Coco Rum, Blue Chair Bay Coconut Rum, or CocoMania. The coconut flavor is fantastic in this tropical flavored cocktail shot.
Banana Liqueur/Crème de Banana - Sweet banana flavored creme de banana liqueur adds an additional fruit flavor to this cocktail shot. This can be removed if you are not a fan of banana flavoring.
Melon Liqueur - We use either Dekuyper Melon Schnapps Liqueur or Midori Melon Liqueur to give this shot its distinctive neon green coloring. You can also use Mr. Stacks Sweet Melon.
Pineapple Juice - The sweet tropical flavor of Pineapple Juice helps balance out the flavors of this cocktail shot.
Garnish - Whipped Cream, Maraschino Cherry or Pineapple Chunk (Optional)
Optional - Heavy Cream - This recipe is made with or without whipping cream depending on how sweet you want the green cocktail shot. We are showing photos of both methods of making this drink. This will make a creamy shot.
Equipment Needed
Cocktail Shaker – Shaking this green cocktail shot will help it get nice and cold. A cold Scooby Snack Shot tastes the best!
2 ounce shot glasses - We love these 2 oz shot glasses. They are sturdy and look amazing while being easy to drink from.
OXO angled jiggers - These are our go-to measuring tools for cocktails. They work perfectly for pouring in layers for cocktails.
This shot can also be doubled and served in an Old-Fashioned glass for a larger drink.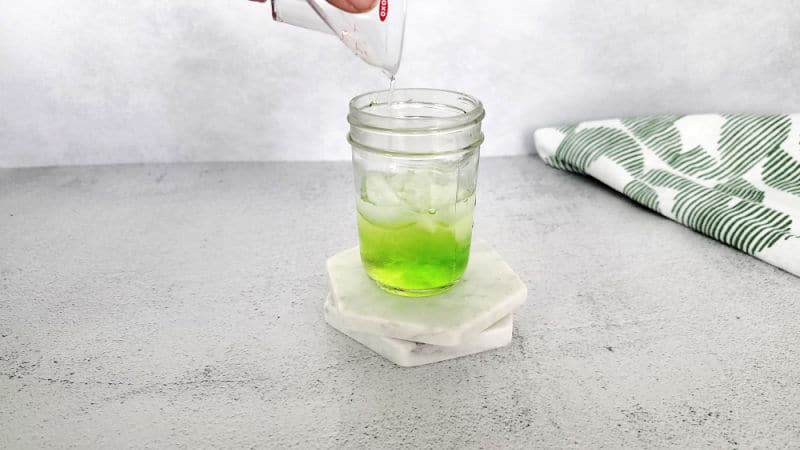 How to make a Scooby Snack Shooter
I've included complete instructions in the printable recipe card at the bottom of the post but here's a quick version.
Add Banana liqueur, coconut rum, melon liqueur, pineapple juice and whipped cream to a cocktail shaker with ice.
Shake until well mixed and strain/pour into a shot glass once flavors are combined.
Top with whipped cream
Enjoy this sweet refreshing shooter.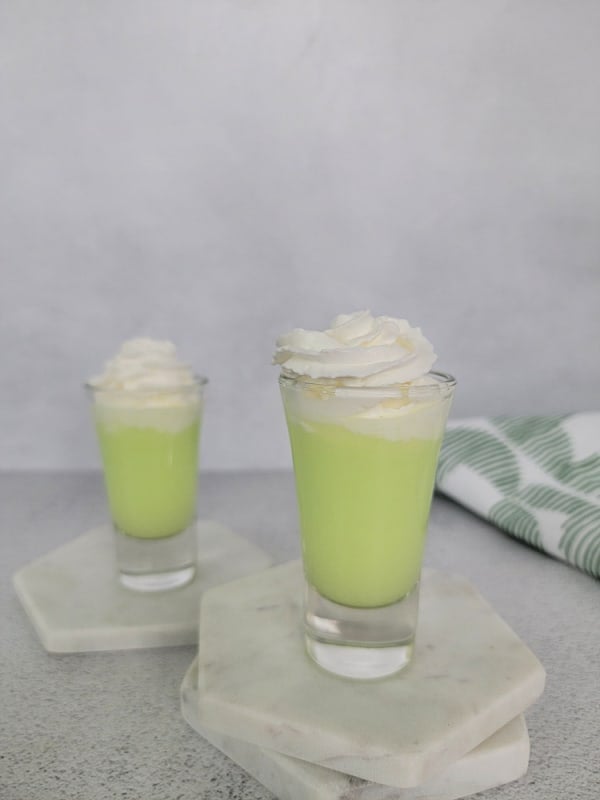 Recipe Tips
There are many variations of this basic Scooby snack shot drink recipe. Some call for heavy whipping cream while others call for pre-made whipped cream.
The Melon Liqueur that is used will dictate the shade of green your cocktail becomes.
Garnish with whip cream right before serving so it doesn't melt down the side of the glass.
You can decide the perfect amount of sweet flavor you want in your cocktail.
The proportions for this Scooby Doo snack Shot are equal parts of each ingredient.
If you are making this cocktail shot for a party you can mix all of the ingredients in a large jug with a lid. Store the drink in the refrigerator and shake the jug before serving.
Preparation and Storage
Make Ahead – We don't recommend making this shot beforehand if you plan to use heavy whipping cream, as the dairy will separate from the cocktail mixture.
Storage – Whether you make it ahead of time sans the cream or simply have leftover servings, refrigerate the cocktail mixture in an airtight container and shake it before serving to reincorporate the ingredients. Store leftovers for up to three days.
Freezing/How to Freeze – Make a frozen version of this Scooby Snack shot by combining all liquid ingredients in a blender. Depending on how much you love pineapple, you can use frozen pineapples or ice.
Scooby Snack Shot Variations
Smaller Serving - Split the recipe between two 1oz shot glasses or half the ingredients. The serving measurements can be changed within the recipe card below.
Blue Scooby Snack Shot - substitute Blue Curacao for the Midori to make a blue shot.
Scooby Snack Cocktail - There are a couple of ways to make this Scooby Snack Drink into a full size cocktail. You can add in additional pineapple juice or double all of the ingredients. Pour into a highball glass or old-fashioned glass and enjoy!
The Shaggy Cocktail - This Scooby Snack Shot variation includes the addition of chocolate by adding in Bailey's Irish Cream.
Vegetarian Option - All of the ingredients in this recipe are vegetarian-friendly.
Vegan - Make this shooter vegan by replacing the heavy cream with coconut cream and the whipped cream garnish with your favorite plant-based alternative. Bonus: the coconut flavoring infuses the shot with even more tropical bliss!
Gluten-Free - All ingredients in the Scooby Snack shot are safe for those with gluten sensitivities.
Mocktail - Use cream of coconut instead of coconut rum. Use melon puree instead of melon liqueur. Remove the banana liqueur.
Make it Spicy – We haven't found a spicy version of this shot.
Larger Group/More Servings – Simply double the recipe according to the ratios on the recipe card to make cocktail-sized servings for a crowd. If you're making it for a party, add all ingredients in a large lidded jar. Refrigerate the cocktail mixture and shake the container before serving.
Sugar-Free – Unfortunately, this shot isn't the best option for those who can't consume sugar, as the alcohol-containing ingredients don't have sugar-free substitutes.
When to serve a Scooby Snack Shot
St. Patrick's Day
Summer Drink
80s Throwback Party
College Parties
Fun night at Home
Movie Night
Game Night
Tropical Shot Recipe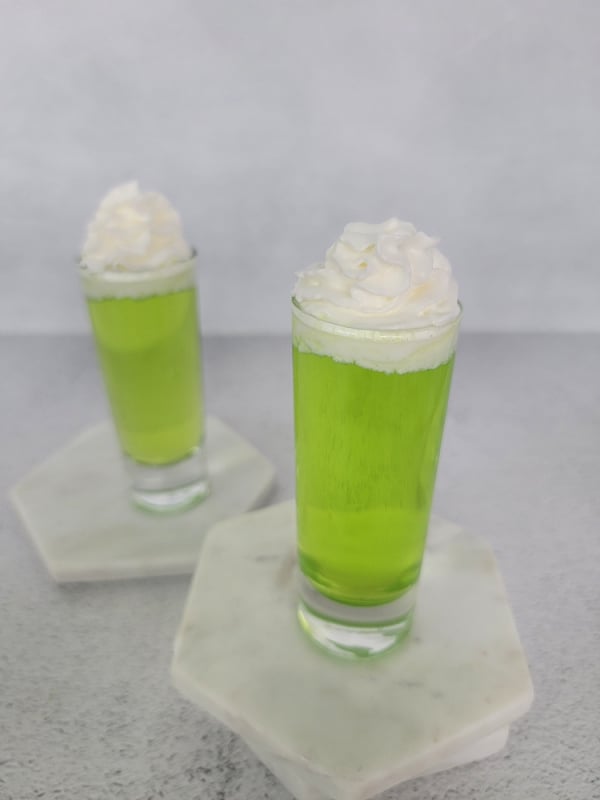 Great Party Shot Recipes
Check out all of our Cocktail Recipes
Check out all of our fun cocktails with funny names.
We have a ton of epic St. Patrick's Day cocktails!
Do you love recipes? Check out our copycat recipes, dessert recipes, and our CrockPot Recipes.
Follow Tammilee Tips on MSN, Facebook, Instagram, Pinterest, and Twitter for all of our recipe posts.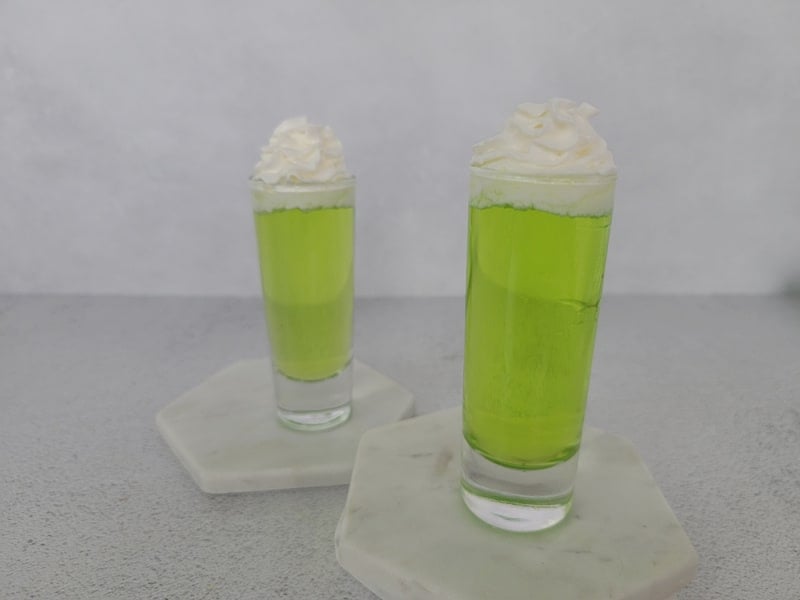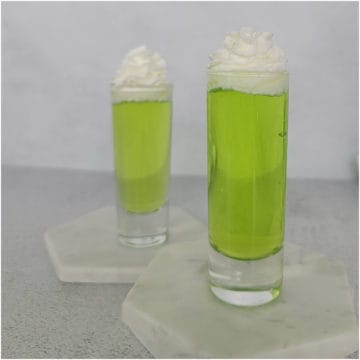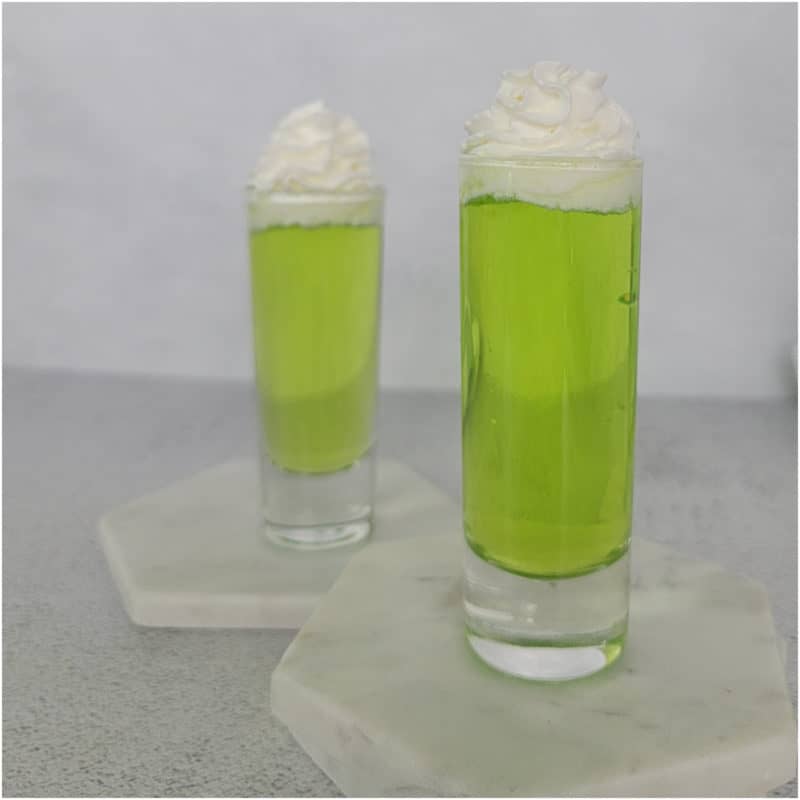 Scooby Snack Shot
How to make a Scooby Snack Shot that tastes amazing. The perfect bright green cocktail shot.
Print
Rate
Instructions
Add Coconut Rum, Banana liqueur, Melon liqueur, pineapple juice to a cocktail shaker filled with ice.

(Optional add in a splash of cream)

Shake and strain into a 2oz shot glass. Top with whipped cream.
Nutrition
Nutrition Facts
Scooby Snack Shot
Amount Per Serving
Calories 155
Calories from Fat 27
% Daily Value*
Fat 3g5%
Cholesterol 10mg3%
Sodium 3mg0%
Potassium 24mg1%
Carbohydrates 13g4%
Protein 1g2%
Vitamin A 105IU2%
Vitamin C 1mg1%
Calcium 6mg1%
Iron 1mg6%
* Percent Daily Values are based on a 2000 calorie diet.