I love fall here in the Northwest!! Being close to so many farms we are able to get some great deals on fall fruits, including local apples! I love to make Dried Apples in the over with apples from the local farms.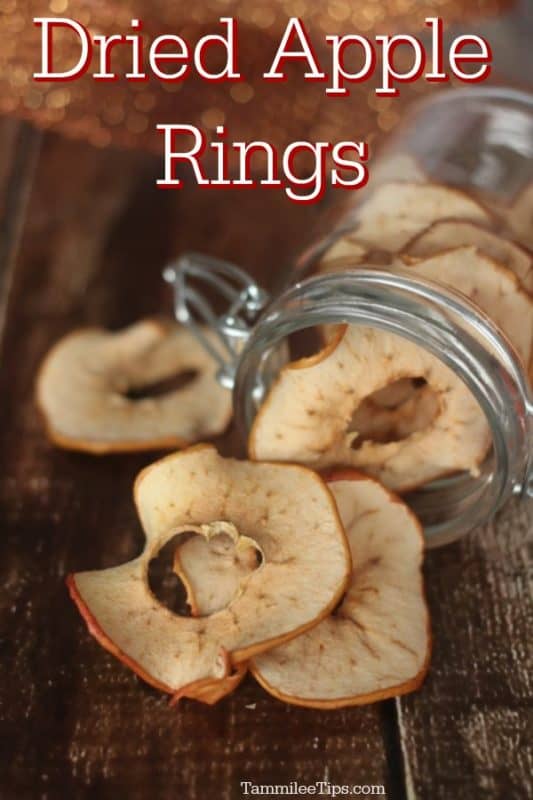 Dried Apples in the Oven
Paying for apple rings in the store is expensive, but they're a frugal and easy treat to make at home! I've sent John to work with these dried fruit treats; he loves them!
Ingredients
Here is a quick overview of the simple ingredients needed to make epic Dried Apples in your oven! The printable recipe card at the bottom of the post includes specific measurements and step-by-step instructions.
Apples

Fresh Lemon Juice

Spices for Flavoring: Cinnamon, Brown Sugar 
Equipment Needed
Apple Corer

Cookie Sheets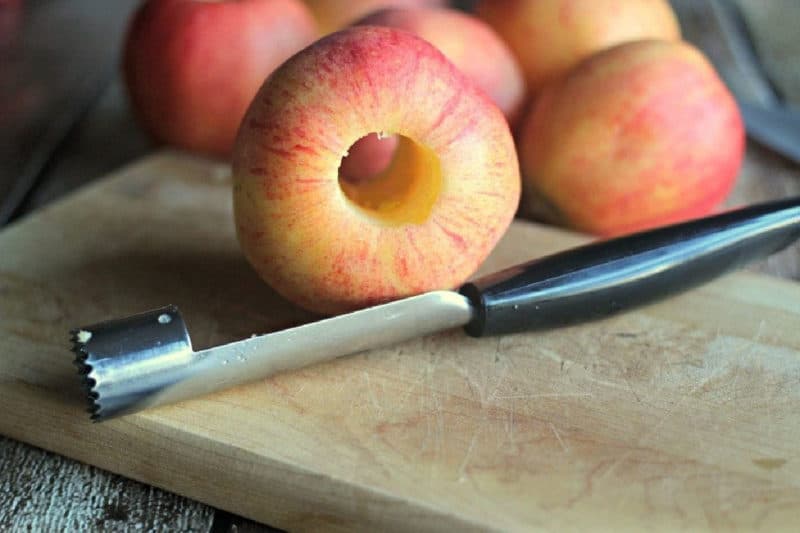 Preparation and Storage
Make Ahead: Dried apple rings are a make-ahead recipe because of the 2-10 hours of oven time they'll need until they're ready to enjoy.
Storage: Store your dried apples in airtight Mason jars to keep them fresh, leaving enough space to give them a quick shake now and then to separate them. They will remain fresh for about a week when stored in a cool, dry, dark place like a pantry cabinet.
You can also use an airtight container
Freezing/How to Freeze: Freezing your dried apple rings is a fantastic way to preserve them. They'll remain enjoyable for up to a year when stored in an airtight, freezer-safe container.
How to Reheat: Dried apples don't need reheating; thaw them at room temperature until they reach your desired softness, and enjoy!
Recipe Variations
Substitutions: We flavor our dried apple rings with cinnamon and brown sugar, but you can also season them with other flavors that pair well with apples, such as pumpkin pie spice, ginger, or chai seasoning.
Vegetarian Option + Vegan Option: This healthy snack recipe is vegetarian and vegan-friendly!
Gluten-Free: This fruit-based recipe is also gluten-free.
Smaller Serving Size + Larger Group/More Servings: We used eight apples to make 36 servings. Your yield will vary since apples naturally come in all shapes and sizes, so scale the written recipe up or down based on the size of your apples and how many slices you have after cutting them.
Make it Spicy: We've seen spicy versions that add cayenne, chili, and the Mexican fruit seasoning Tajín.
Sugar-Free: The written recipe contains 4 grams of sugar per serving, some of which naturally come from the apples. Remove the brown sugar or replace it with a sugar-free alternative to make it sugar-free.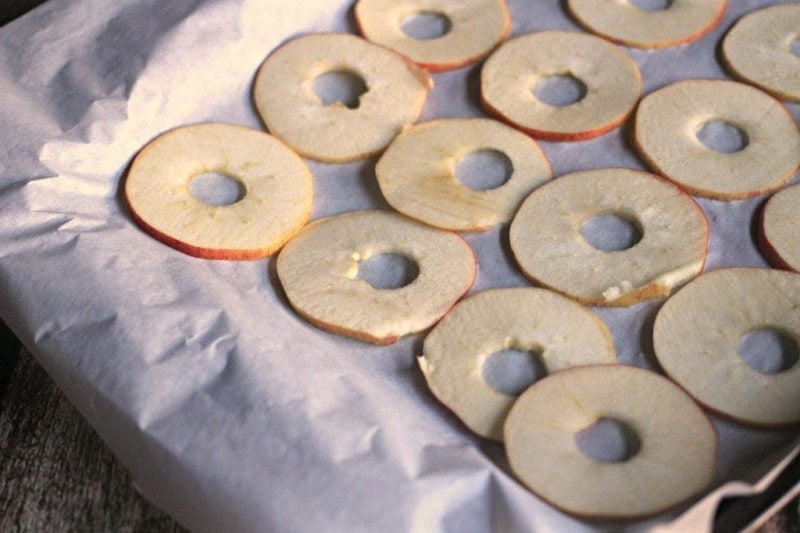 Tips for the Best Dried Apples in the Oven
Cut your apple slices thinly or bake them for a shorter time if you prefer keeping the skins on, as the skin on drier, thick-cut pieces will turn tough and chewy. Otherwise, peel all your apples before slicing them if you don't want the skins.

Don't skip drying out your apple rings with a clean kitchen towel or on a wire rack! These critical steps eliminate any moisture that may prevent them from thoroughly drying. Dried apples that retain water are susceptible to mold and go rancid more quickly.

Fresh and frozen dried apple rings are enjoyable whole or sliced into smaller bits for oatmeal, yogurt, trail mix, or other baking applications.

Printable recipe card instructions are below.
Nutrition information, including calories, protein, calcium, carbohydrates, fiber, vitamin c, potassium, cholesterol, sodium, trans fat, monounsaturated fat, polyunsaturated fat, and more, will vary depending on the products used.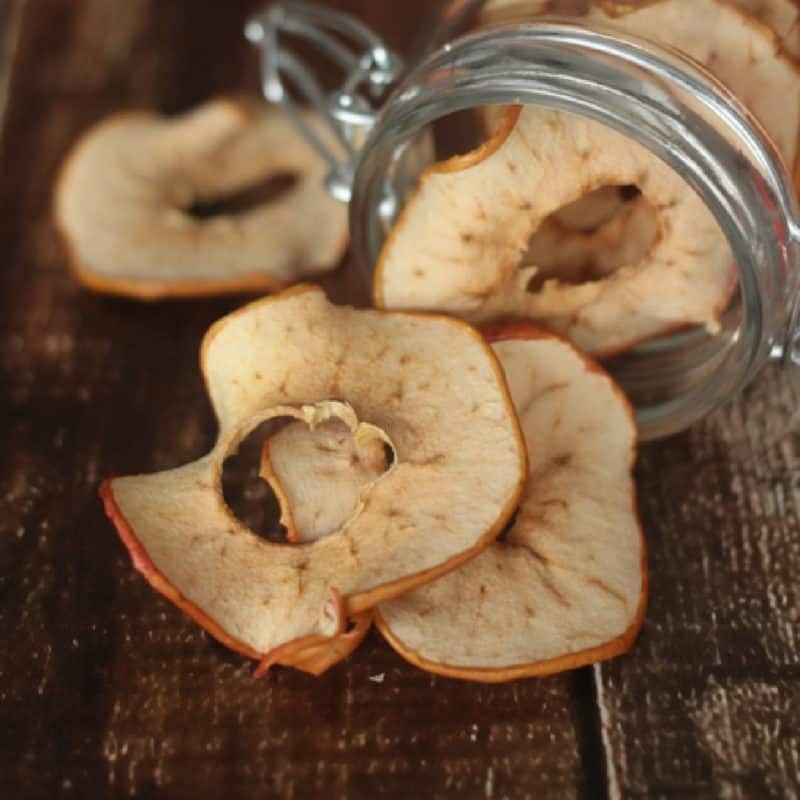 What to Serve with Dried Apples in the Oven
Dried apple rings are a delicious and healthy snack! While they carry a rustic homesteader quality, they come together with only a bit of prep work, which is small considering that you'll spend more time waiting for them in the oven than cutting and coring apples. Pair them with other good-for-you breakfast and lunch options for a meal you'll feel good about, or eat them alone as a snack.
Sides: Kale & Apple Potato Salad, Air Fryer Chickpeas, Pumpkin Spice Pumpkin Seeds, CrockPot Sugared Candied Walnuts, Southwest Black Bean & Corn Salad, Orzo Pasta Salad with Bacon & Parmesan Vinaigrette, Air Fryer Baked Potato, Sauerkraut Salad, Broccoli Slaw, Grilled Avocado
Main Dishes: Funeral Sandwiches, CrockPot Stuffed Tomatoes, CrockPot Stuffed Peppers, CrockPot Mushroom Pasta Casserole, CrockPot Carrot Cake Oatmeal, CrockPot Banana Oatmeal, Stuffed Acorn Squash with Sausage & Rice, CrockPot Asian Chicken Lettuce Wraps
When to Serve
Lunch

Healthy Snack

Fall Apple Season!
Great Apple Recipes
Slow Cooker Apple Cinnamon Oatmeal
Slow Cooker Sweet potatoes and Apples
What is your favorite apple recipe for the fall?
This recipe is featured in our Road Trip Snacks Collection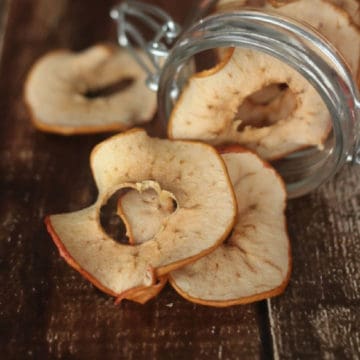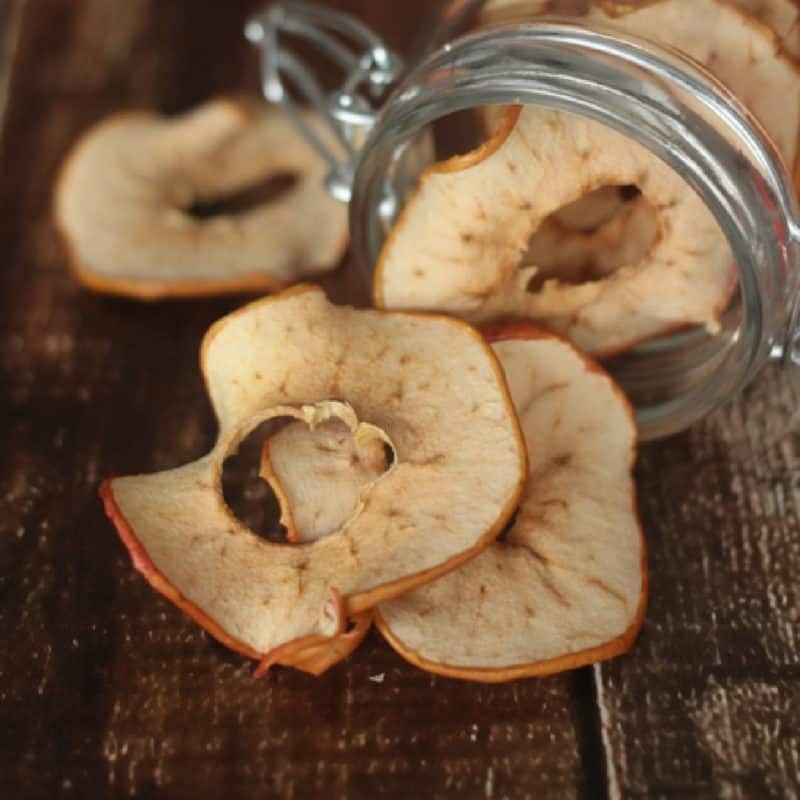 Dried Apples in the Oven
How to make dried apple in the oven. A great low calorie snack.
Print
Rate
Ingredients
8

Apples

2

Tablespoon

freshly squeezed lemon juice

Other spices for flavor
Instructions
Wash the apples then core and slice them into ¼ inch rings. Using a Mandolin makes this process a lot easier.

Discard top and bottom rings with the most skin on them.

Prevent browning by dropping apples into a bowl with the lemon juice and 2 cups of water.

Dry the apples on a clean kitchen towel then lay slices on wire racks over baking sheets.

Dry the Apples in the oven for 2-10 hours on low heat (140 degrees F), turning occasionally. Dry longer for crisp slices, and less for soft slices.

Remove the slices from the oven and allow to cool completely before storing in sterilized airtight jars in a dark cool place.
Nutrition
Nutrition Facts
Dried Apples in the Oven
Amount Per Serving
Calories 21
Calories from Fat 9
% Daily Value*
Fat 1g2%
Sodium 1mg0%
Potassium 43mg1%
Carbohydrates 6g2%
Protein 1g2%
Vitamin A 22IU0%
Vitamin C 2mg2%
Calcium 2mg0%
Iron 1mg6%
* Percent Daily Values are based on a 2000 calorie diet.
Recipe originally shared on October 19, 2014. Updated September 2020