This easy Air Fryer Mushrooms recipe is the perfect vegetable side dish for family dinners or holidays! You can make a small bowl or a big batch of these mushrooms in the air fryer.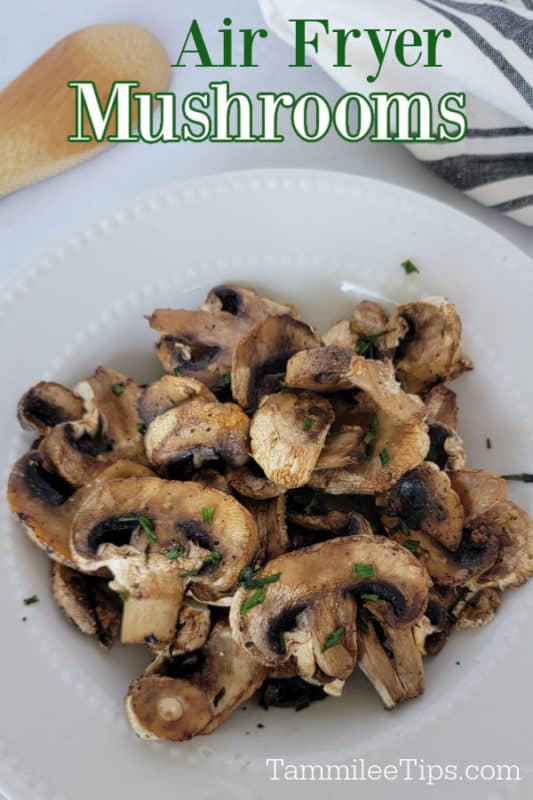 Air Fryer Mushrooms Recipe
This recipe is quick and easy and tastes fantastic! Air Fried Mushrooms are so good!
These taste fantastic alone, but you can add them to salads or as a steak topper. 
If you love mushrooms, you will love this recipe!
We use white button mushrooms, but you can easily use any other variety, like criminis, portabella, or oyster mushrooms.
My husband LOVES mushrooms and will happily eat them whenever I make them. If you are not a fan of mushrooms, they are smelly. It is manageable, but if you already don't like mushrooms, you may not enjoy the smell as they cook.
These Air Fryer Mushrooms are one of our favorite vegetarian air fryer recipes.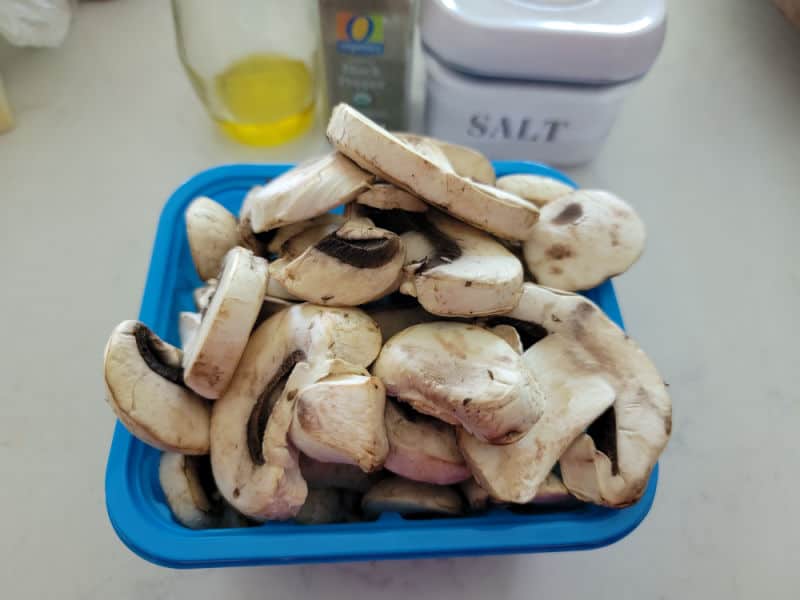 Ingredients
Here is a quick overview of the simple ingredients needed to make epic Air Fryer Mushrooms! The printable recipe card at the bottom of the post includes specific measurements and step-by-step instructions.
Mushrooms

Olive Oil or avocado oil

Salt

Pepper 
Optional - You can add in extra flavor with garlic powder, Worcestershire sauce, lemon juice, onion powder, fresh herbs, parmesan cheese, soy sauce
Garnish with greenery to make them pop on the platter.
Equipment Needed
Air Fryer

: We suggest getting an air fryer that is bigger than you think you will need. We found that once we started using the air fryer, we used it for more and larger meals.

Sharp Knife

Bowl 
If you use a small air fryer you will want to cook multiple batches so the mushrooms are not squished together. This will help them roast perfectly.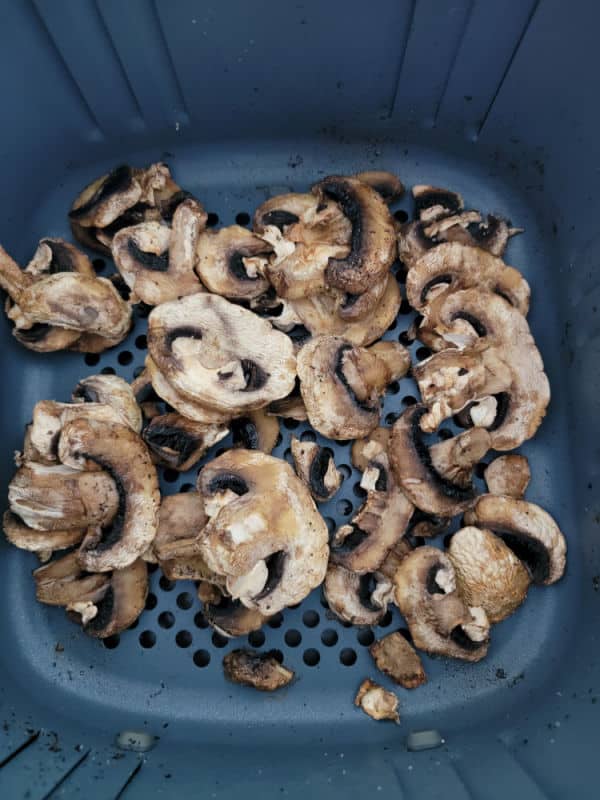 How to make Air Fryer Mushrooms
I've included complete instructions in the printable recipe card at the bottom of the post, but here's a quick version.
Clean and cut the mushrooms into slices and place them in a bowl.

Add salt, pepper, and olive oil to the mushrooms and toss to coat.

Place mushrooms in the air fryer basket, evenly spread out. Air fry at 380°F 

Make sure to shake the basket halfway through the cooking time. 
Preparation and Storage
Make Ahead: This lightning-fast recipe takes so little time you can make it to order!
Storage: Refrigerate your Air Fryer Mushrooms in an airtight container and enjoy them within two to three days.
Freezing/How to Freeze: We don't recommend freezing these mushrooms. They release so much liquid when thawed that their texture becomes unpleasing.
How to Reheat: To reheat these mushrooms, pop them in the air fryer for a few minutes.
Recipe Variations
Substitutions: We recommend using fresh mushrooms, not canned mushrooms. Canned mushrooms have so much liquid they do not air fry very well. Use any fresh mushroom variety you enjoy that goes with your meal.
For fun mix together different types of mushrooms.
Vegetarian + Vegan Option: This vegetable side dish is 100 percent plant-based, making it safe for a vegetarian and vegan diet.
Gluten-Free: This recipe is also gluten-free.
Smaller Serving Size + Larger Group/More Servings: We used half a pound of sliced mushrooms to make three servings of Air Fryer Mushrooms. Scale the recipe up or down to your desired yield.
Make It Spicy: Add a dash of chili powder or red chili pepper flakes for some spice.
Sugar-Free: This recipe contains 1 gram of sugar per serving.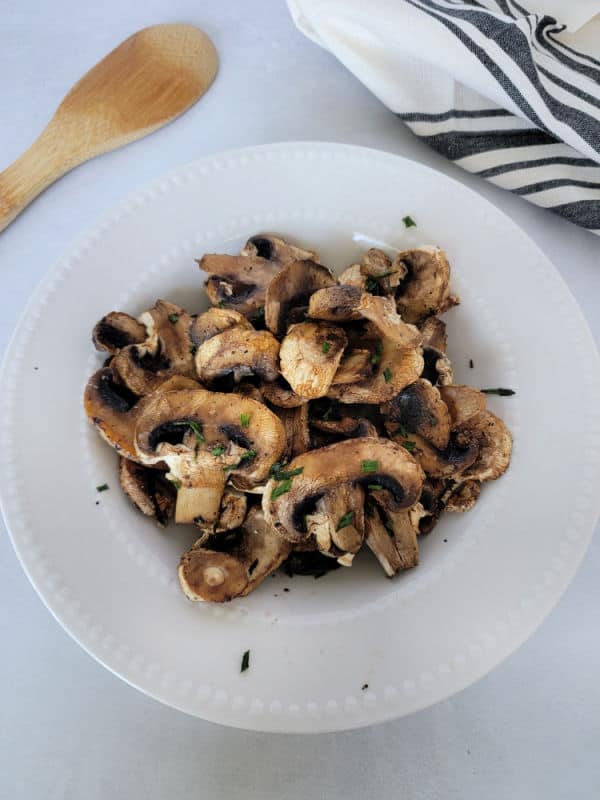 Tips for the Best Air Fryer Mushrooms
If you have a small air fryer, cook your mushrooms in multiple batches to avoid squishing them together and ensure they roast perfectly.

We do not preheat the air fryer for this mushroom recipe.

The cooking time may vary depending on your air fryer.

Make sure to spread the mushrooms evenly so the hot air can circulate.

If you are cooking multiple batches of mushrooms, you will want to lower the cooking time for each subsequent batch.

Make sure to shake the mushrooms halfway through the cooking time so they all evenly cook.

You can add flavor with garlic powder, Worcestershire sauce, or lemon juice.

Top them with greenery to make them pop on a platter.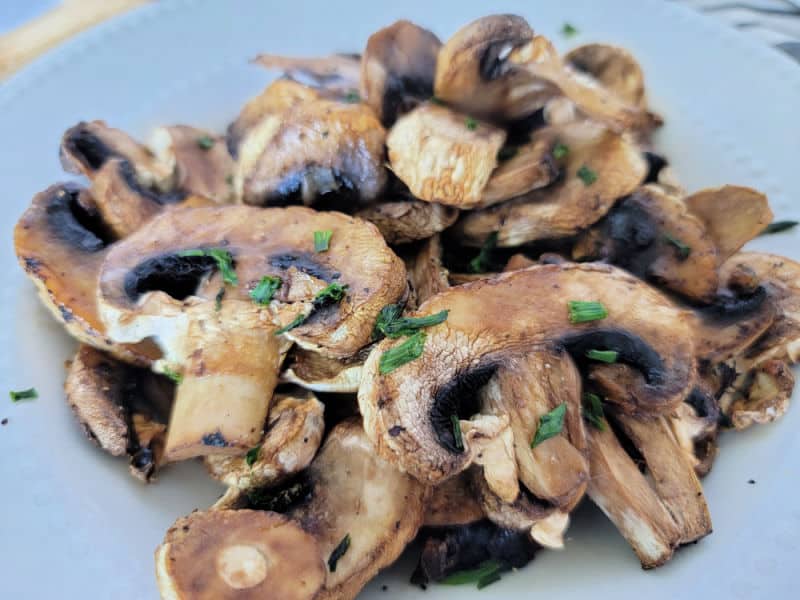 What to Serve with Air Fryer Mushrooms
Serve this steakhouse veggie favorite as a cocktail night appetizer with other elegant finger foods or as part of a homemade date night meal with a side of garlic bread, a salad, and tiramisu for dessert. Here are some menu planning suggestions.
Sides: Sugared Cranberries, Hasselback Potatoes, Caprese Pasta Salad, Air Fryer Spaghetti Squash, Carrot Soufflé, Crock Pot Stuffed Tomatoes, CrockPot Shrimp & Grits, Strawberry Bruschetta, Shrimp Remoulade, CrockPot Bacon Wrapped Potatoes
Main Dishes: CrockPot Port Braised Beef Short Ribs, CrockPot Rosemary Pork, Caprese Eggs Benedict, Balsamic Chicken Skewers, CrockPot Salisbury Steak, CrockPot Beef Tips & Gravy, Shrimp Linguini, CrockPot Roast with Red Potatoes, Grilled Shrimp with Avocado Butter
Desserts: Hershey Pie, Sweet & Salty Chocolate Dessert Bar, Creme Brulee Cheesecake Bars, Carrot Cake with Pineapple, Coconut & Port Wine, CopyCat Olive Garden Lemon Cream Cake, Strawberry Shortcake, CrockPot Cherries Jubilee, Apple Blackberry Fruit Tart
Drinks: Alchemy Bar Revved Up Mojito Martini, Chocolate Cake Shot, Chocolate Covered Cherry Shot, Classic Grasshopper Drink, Cranberry Mimosa, Raspberry Pomegranate Lemonade Cocktail, 40 Is the New 20 Martini Cocktail, Martini Seduction, Alchemist Sidecar
When to Serve
Lunch

Cocktail Night

Dinner Date Night

Dinner and Drinks
Great Air Fryer Vegetable Recipes
Air Fryer Frozen Mixed Vegetables
Check out all of our Air Fryer Recipes!
This veggie dish is one of our favorite side dishes for ham!
Do you love recipes? Check out our copycat recipes, dessert recipes, and CrockPot Recipes.
Follow Tammilee Tips on MSN, Facebook, Instagram, and Pinterest for our recipe posts.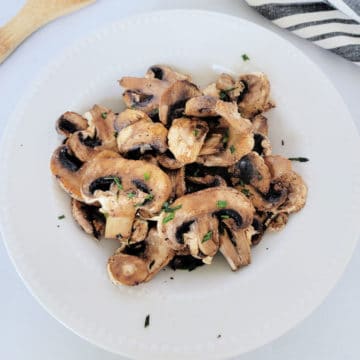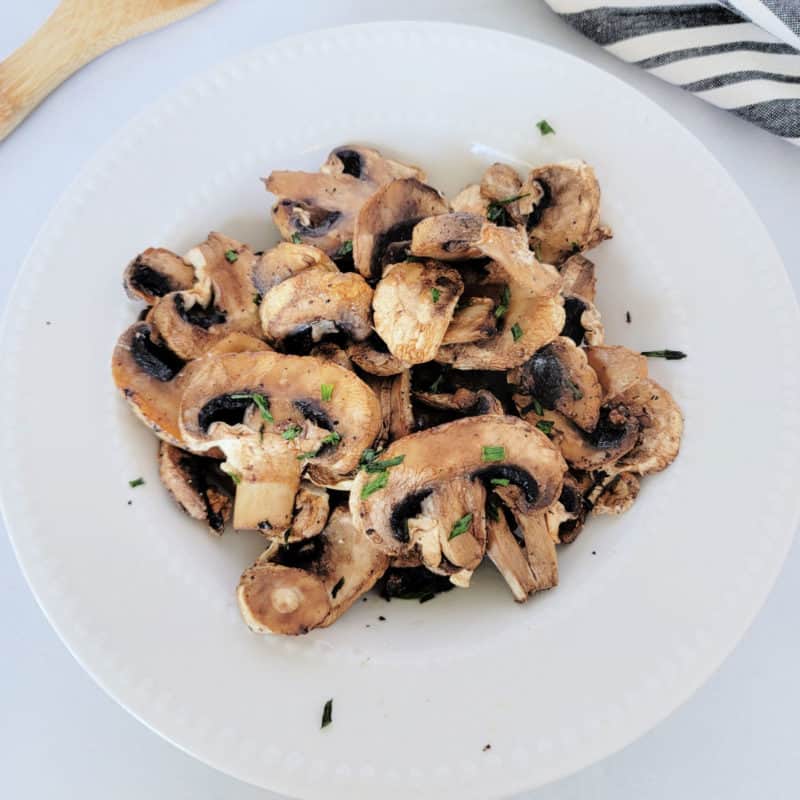 Air Fryer Mushrooms
Easy Air Fryer Mushrooms are the perfect side dish for family dinner.
Print
Rate
Instructions
Clean and slice mushrooms evenly, add them to a bowl.

Add olive oil, salt and pepper to the bowl and toss to coat.

Air fry at 380 degrees for 8-10 minutes. Shake the air fryer basket halfway through the cook time.
Nutrition
Nutrition Facts
Air Fryer Mushrooms
Amount Per Serving
Calories 141
Calories from Fat 126
% Daily Value*
Fat 14g22%
Sodium 101mg4%
Potassium 242mg7%
Carbohydrates 3g1%
Protein 2g4%
Vitamin A 1IU0%
Vitamin C 2mg2%
Calcium 3mg0%
Iron 1mg6%
* Percent Daily Values are based on a 2000 calorie diet.