Easy three-ingredient Muffin Mix Pancakes are the perfect fun breakfast/brunch recipe! You can change up the flavor by using different muffin mixes, including but not limited to blueberry, lemon poppyseed, chocolate chip, and more!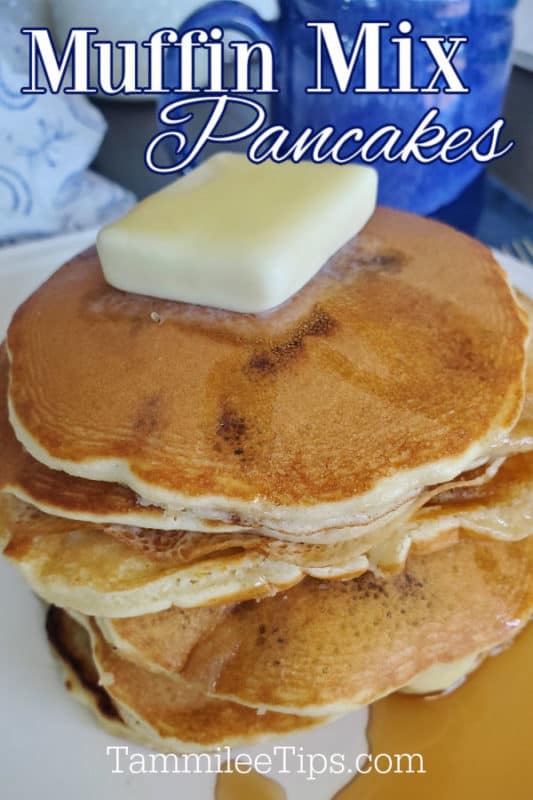 Muffin Mix Pancakes
One thing I love about these pancakes with muffin mix is how easy it is to change flavors. When I am out doing our weekly grocery shopping, I look for fun new muffin mixes that I can use for this recipe. You can also buy a muffin mix sampler on Amazon with many delightful flavors.
I just ordered this sampler and can't wait to make Blueberry Cheesecake and banana nut pancakes! Hello yum!!
These pancakes out of muffin mix take only minutes to prepare, and you have a great breakfast. Most 7oz muffin mixes make 8-10 small/medium pancakes. If you are cooking for a large crowd, you will want to use double the boxes or a few different flavors to give everyone options.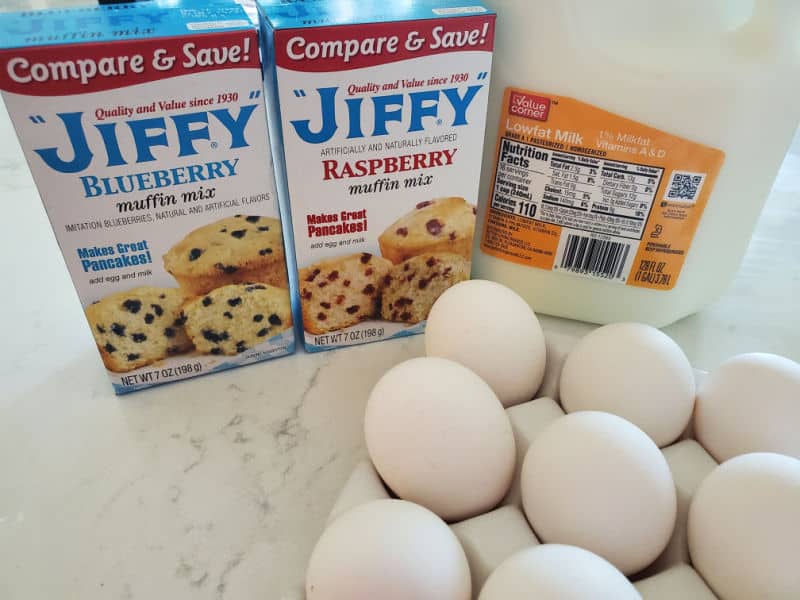 Ingredients
Here is a quick overview of the simple ingredients for making epic Muffin Mix Pancakes! The printable recipe card at the bottom of the post includes specific measurements and step-by-step instructions.
Muffin Mix - your choice of flavor!

Large Egg

Milk
That's all you need! You can add fresh blueberries or fresh fruit, berries on top. Maple syrup is always a good thing. These would also be great with fresh whipped cream. A bit of butter always tastes great on pancakes. We even like apple butter depending on the flavor of pancakes. 
If you are looking for Martha White Muffin Mix Pancakes, I have found the Martha White muffin mix on Amazon and also at local Walmart stores.
 You can use any flavor of muffin mixes including blueberry muffin mix, banana nut, pumpkin, wild blueberry, wild berry, chocolate chip, blueberry cheesecake, strawberry, lemon poppyseed, triple berry, cranberry orange, almond poppyseed, cinnamon sugar, strawberry cheesecake, chocolate chunk, double chocolate...the skies the limit on flavors. 
We are big fans of blueberry muffin mix pancakes! Hello yum!
Equipment Needed
Batter Bowl

: Make sure you use a mixing bowl that is big enough to have space to mix everything. A medium bowl to large bowl will be needed. 

Whisk

Spatula

Frying Pan/Griddle

Cooking Spray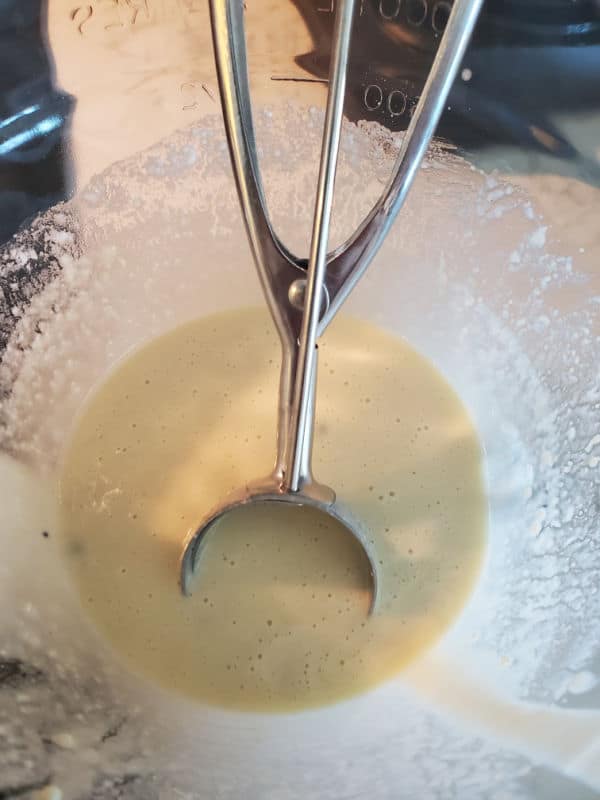 How to Make Muffin Mix Pancakes
I've included complete instructions in the printable recipe card at the bottom of the post, but here's a quick version.
Combine muffin mix, egg, and milk in a mixing bowl. Stir until the lumps are gone.

Heat a skillet/griddle on medium/low.

Scoop mix onto the griddle and cook until golden brown.
Preparation and Storage
Make Ahead: Make your muffin mix batter the day before and refrigerate it overnight if you want to prepare it beforehand.
Storage: Store any leftover muffin mix pancakes in a Ziploc freezer bag or other airtight container for three to four days.
Freezing/How to Freeze: If you have room in your freezer, you can freeze leftover pancakes on a covered and plastic-wrapped cookie sheet so that separating them later is easy. Otherwise, transfer them to a freezer-safe bag and insert parchment paper between each.
How to Reheat: We reheat individual portions for one to two minutes. Depending on your microwave's power, you may need to adjust at 15 to 20-second intervals. A larger stack will take longer to heat, so increase the intervals to 30 seconds.
Recipe Variations
Substitutions: Customize this muffin mix pancake recipe to whichever flavor you want to enjoy.
Vegetarian Option: Muffin mixes are usually vegetarian-friendly. Always check the package labeling to be sure.
Vegan Option: Vegans are welcome to use any muffin mix labeled vegan-safe.
Gluten-Free: Use a quality gluten-free pancake mix to avoid gluten. I've seen many options at the grocery store, even flavored ones.
Smaller Serving Size: Egg molds are a great way to make mini muffin mix pancakes! Play around with different shapes, especially when cooking for an occasion or theme - for example, stars would be fun for the Fourth of July, and Christmas trees would be excellent for the holidays.
Larger Group/More Servings: I used a 6- to 7-ounce muffin mix package. If you use a larger box, you must adapt the milk and eggs to the package size.
Sugar-Free: As with gluten-free options, grocery stores offer many flavored and unflavored options to ensure those who limit their sugar intake aren't left out.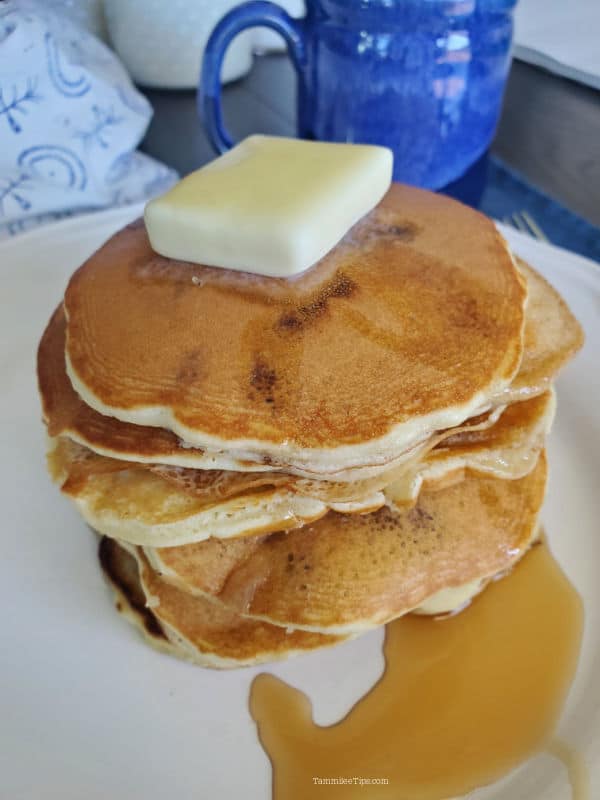 Tips for the Best Muffin Mix Pancakes
When you pour the muffin mix into your mixing bowl, I suggest using your whisk to help make any large lumps disappear.

Stir the batter between each pancake to ensure even distribution, as this will help spread the blueberries and other ingredients among the pancakes.

When you heat the griddle, use medium heat and lower it if the pan gets too hot. It only takes a couple of minutes to get them golden brown.

We use a medium-sized cookie scoop to make pancakes evenly. Pancakes that are a similar size will stack nicely, and no one can say they got tiny pancakes while someone else got a big one.

For gorgeous golden brown pancakes, wait until the bubbles break on the top before flipping them. 

While the recipe calls for ⅔ cup of milk, I use less than that. I like to have that amount measured out, but I tend to use a bit less than this.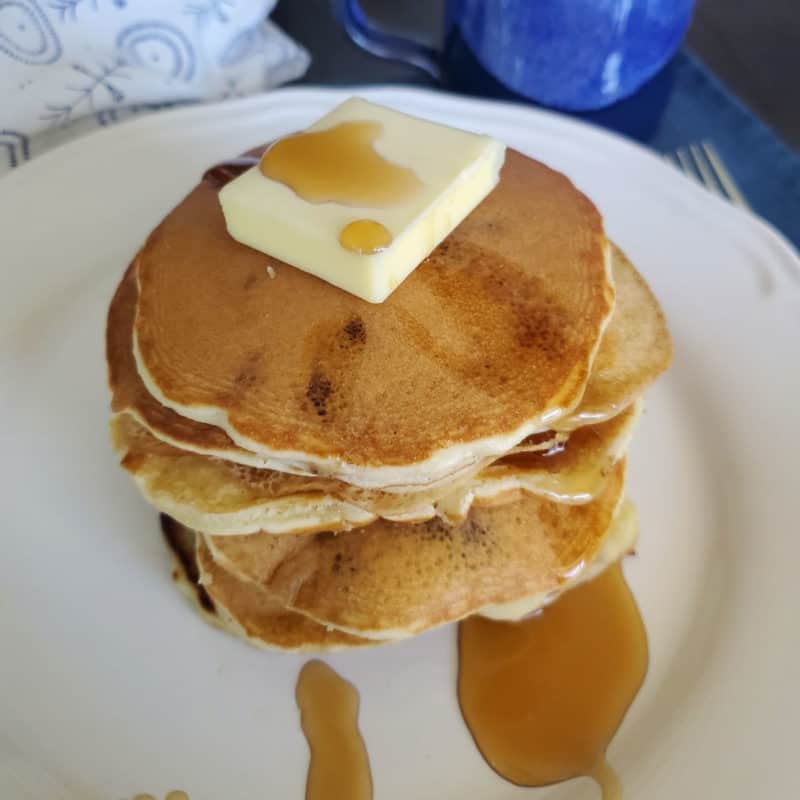 What to Serve with Muffin Mix Pancakes
Serve this breakfast favorite made with minimal ingredients anytime you want to enjoy the day's most important meal! Here are some menu pairing suggestions to guide your way.
Sides: Sausage Breakfast Biscuit Cups, Crock Pot Cinnamon Roll Monkey Bread, Crock Pot Cheese Grits, Crock Pot Ham & Cheese Grits
Main Dishes: Eggs in a Basket, Ham & Cheese Crescent Roll Breakfast Casserole, Crock Pot Breakfast Casserole, Sausage Biscuit & Gravy Casserole, Crock Pot Peaches & Cream Oatmeal, Crock Pot Carrot Cake Oatmeal, Crock Pot Greek Frittata
Drinks: Frosted Coffee, Iced Chai Tea Latte, Eggnog Coffee, Pumpkin Spice Latte, Sweet tea
When to Serve with Muffin Mix Pancakes
Brunch

Christmas morning breakfast
Birthday breakfast
Great Breakfast Recipes
Check out all of our 3 ingredient recipes 
Do you love recipes? Check out our copycat recipes, dessert recipes, and our CrockPot Recipes.
Follow Tammilee Tips on MSN, Facebook, Instagram, and Pinterest for our recipe posts.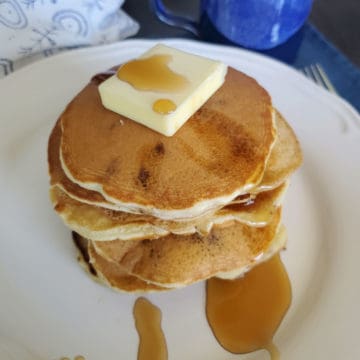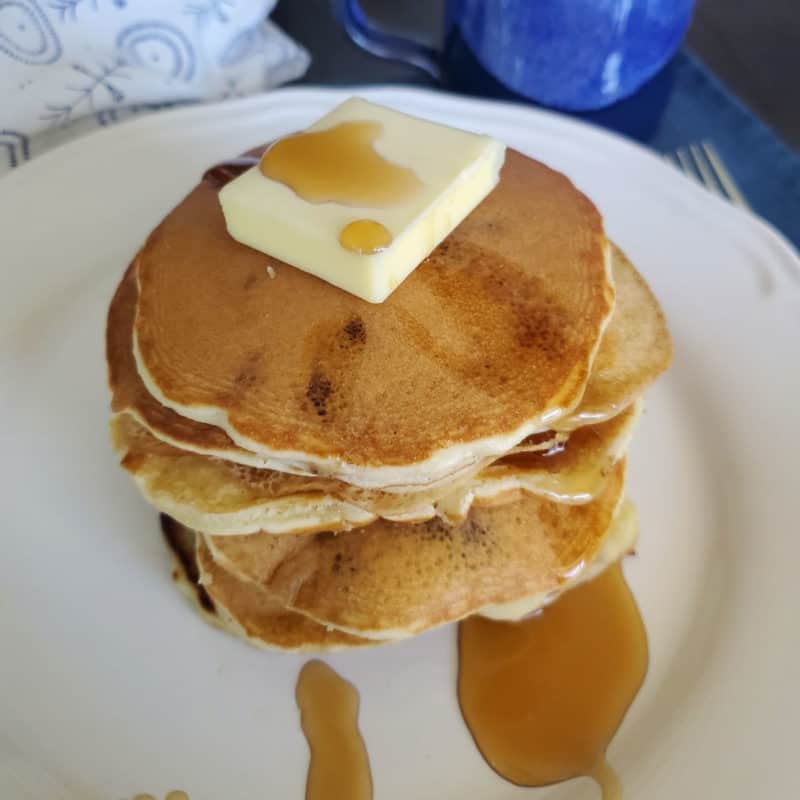 Muffin Mix Pancakes
How to make 3 ingredient pancakes from muffin mix. This is the perfect easy breakfast/brunch recipe.
Print
Rate
Ingredients
6-7

Ounce

muffin mix

1

egg

⅔

cup

Milk

Start with half of this and then add in more until you get the consistency you are looking for.
Instructions
Combine muffin mix, egg, and milk in a mixing bowl. Stir until lumps are gone.

Heat a skillet/griddle on medium/low.

Scoop mix onto the griddle and cook until golden brown.
Nutrition
Nutrition Facts
Muffin Mix Pancakes
Amount Per Serving
Calories 83
Calories from Fat 27
% Daily Value*
Fat 3g5%
Cholesterol 17mg6%
Sodium 152mg7%
Potassium 51mg1%
Carbohydrates 13g4%
Protein 2g4%
Vitamin A 77IU2%
Vitamin C 1mg1%
Calcium 32mg3%
Iron 1mg6%
* Percent Daily Values are based on a 2000 calorie diet.