Easy King Cake Recipe that takes a few minutes to put together! This cheater cinnamon roll king cake is the perfect way to celebrate Mardi Gras!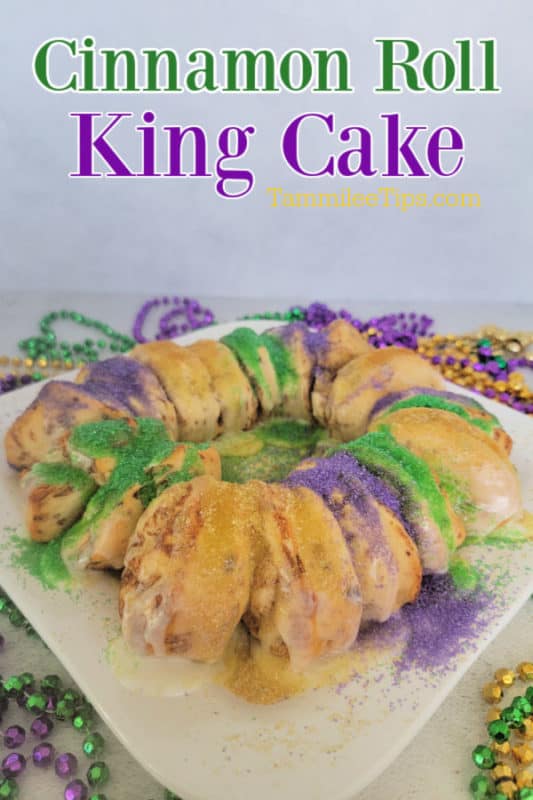 Easy Cinnamon Roll King Cake Recipe
We love Mardi Gras! The celebrations, the parades, the epic food, and the fun are some of our favorite events during the year.
I have been blessed to celebrate Mardi Gras in Lake Charles and New Orleans, Louisiana along within Gulf Shores, Alabama. Every celebration brings so much fun and joy.
The Lake Charles Mardi Gras brought a sore arm from throwing beads from an Alligator Float for hours but I would do it again in a second.
We love serving this easy King Cake for breakfast and then celebrating with a Hurricane in the evening.
Last year my Husband and I both surprised each other with the same gift. We had each ordered New Orleans King Cakes from Goldbelly and they arrived on the same day.
You can imagine how confused we were when we told each other that a gift had just been delivered. It was hilarious to realize that we had both sent each other the exact same gift.
If you are wondering when to start serving King Cake we try to stick to the first day of Mardi Gras Season which is on January 6th, also known as the Twelfth Night or the Epiphany.
Our local grocery store sadly does not make King Cakes since we are in Spokane, Washington and Mardi Gras is not as big as it is in the South.
We started making this easy King Cake Recipe so we could celebrate at home.
Traditionally King Cake were a simple ring of dough with decorations but they have become really diverse in the past few years.
You can now find King Cakes with different flavors including apple cinnamon pecan, creole praline, pecan praline, cinnamon infused, strawberries and cream, chocolate custard, even strawberry mascapone.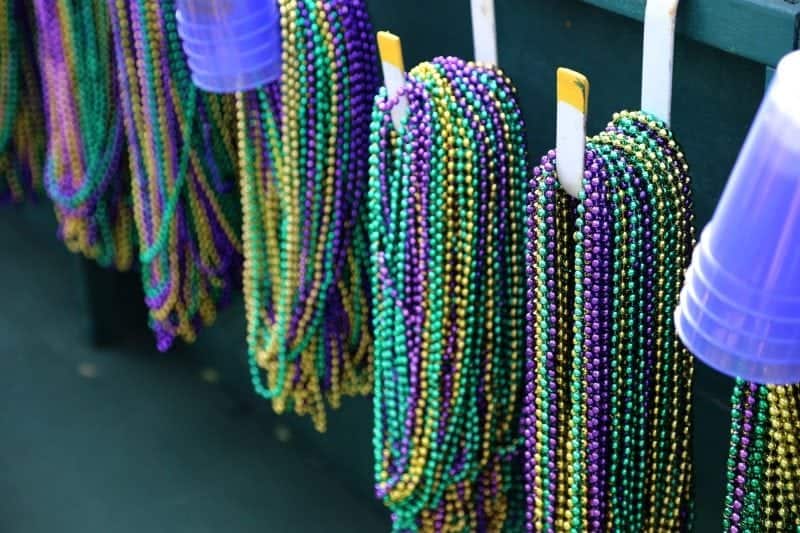 Mardi Gras Colors
Purple Represents Justice
Green Represents Faith
Gold Represents Power
When is Fat Tuesday?
Mark your calendars! Here are the dates of Fat Tuesday for the next 10 years.
Ash Wednesday is always 46 days before Easter, and Fat Tuesday is always the day before Ash Wednesday.
Easter is the first Sunday after the full moon following a spring equinox. This can fall on any Sunday between March 23 - April 25.
February 13, 2024
March 4, 2025
February 17, 2026
February 9, 2027
February 29, 2028
February 13, 2029
March 5, 2030
February 25, 2031
February 10, 2032
Why is there a plastic baby in King Cakes?
The person who finds the lucky King Cake Baby gets to host the next King Cake Party or bring the King Cake to the next event.
We like to think that it brings good luck for the upcoming year.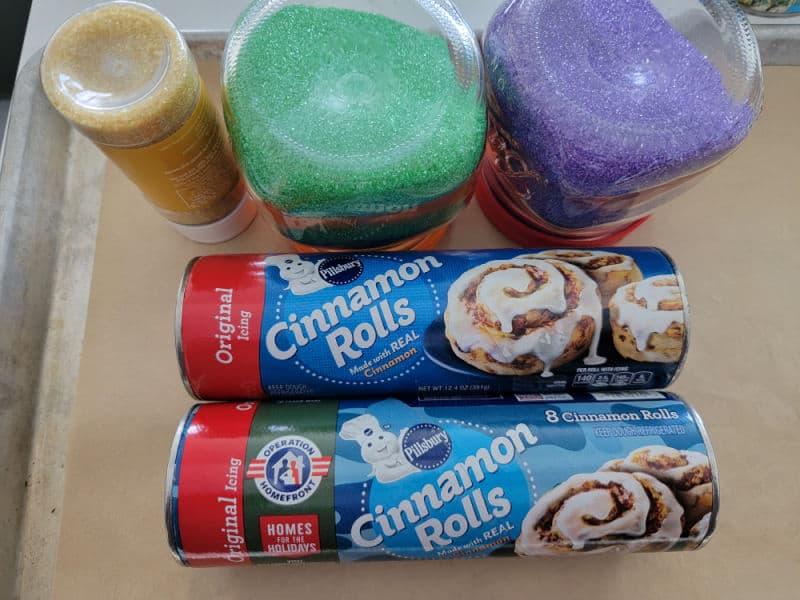 Ingredients Needed
Refrigerator Cinnamon Rolls
Yellow Sanding Sugar
Purple Sanding Sugar
Green Sanding Sugar
Optional - Mardi Gras Baby 
We use the icing that comes with the cinnamon rolls. If you want more icing you can use cream cheese icing.
We purchase the colored sugar on Amazon. You can buy a King Cake Decoration Kit that has all of the sugars and a Mardi Gras Baby in it.
Equipment Needed
Baking Sheet
Parchment Paper
How to make Cinnamon Roll King Cake
Preheat oven to 375 degrees.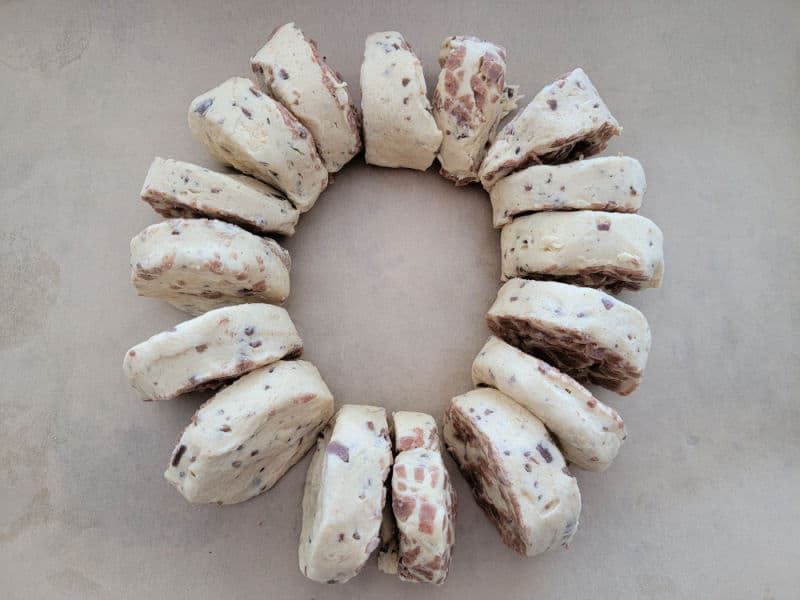 Step 1 - Arrange cinnamon rolls in a circle to form a ring on a parchment lined baking dish.
Press down to create a base on each cinnamon roll so they stay in place.
Bake according to the package.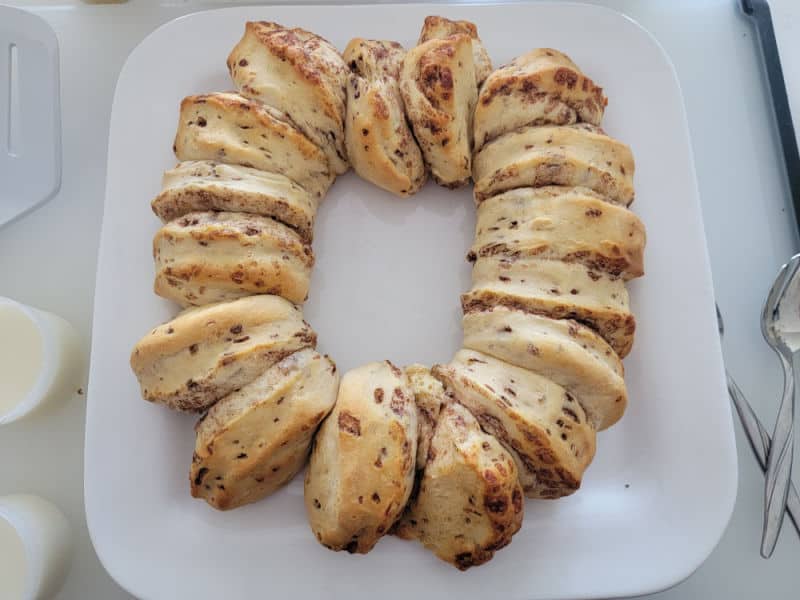 Step 2 - Let cool until you are ready to ice the cinnamon rolls.
You don't want to ice to quickly or it will melt right off the cinnamon rolls.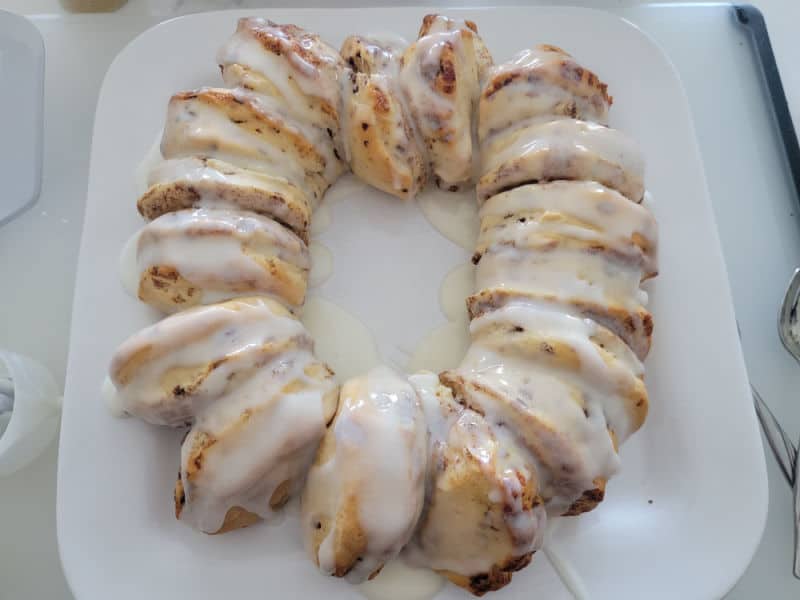 Step 3 - Ice the cinnamon rolls with the icing from the packages as evenly as possible.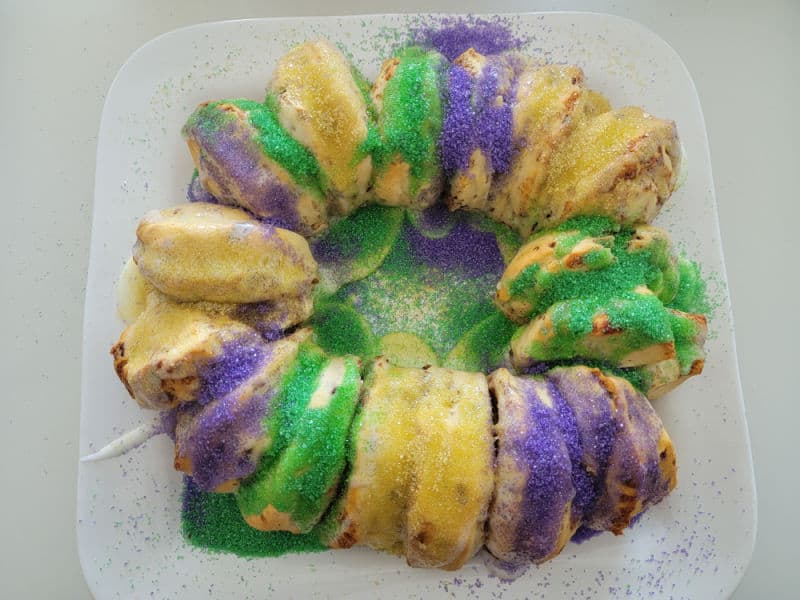 Step 4 - Add Mardi Gras Sprinkles in Gold, Green, and Purple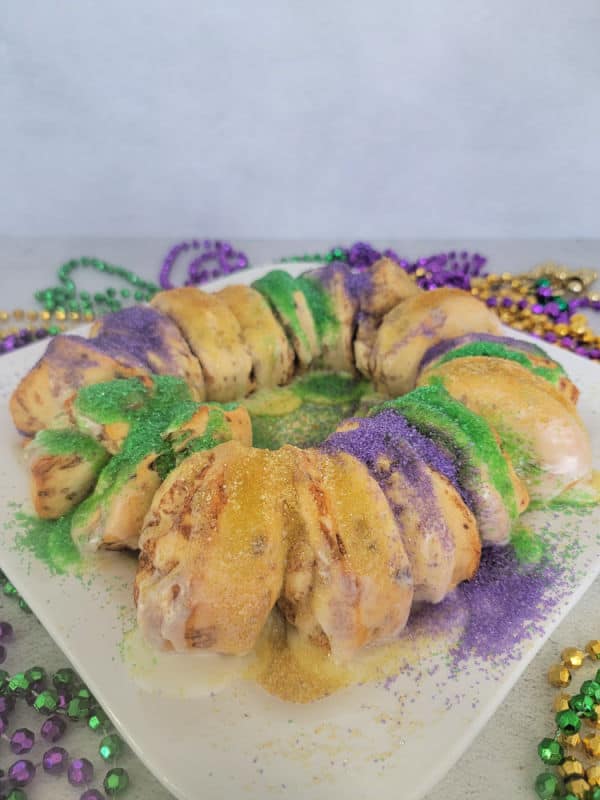 Recipe Tips
If you want to form the perfect circle you can set a bowl in the middle of the parchment paper and place the cinnamon rolls around it. Just remove the bowl before baking.
We like to place the Mardi Gras baby under a cinnamon roll right before we ice them. Make sure to tell everyone about the baby before serving so they know to look out for it.
This recipe can also be made with your favorite homemade cinnamon rolls.
Great Mardi Gras Recipes
We have more Mardi Gras recipes coming out in the upcoming weeks and months.
Do you love recipes? Check out our copycat recipes, dessert recipes, and our CrockPot Recipes.
Follow Tammilee Tips on MSN, Facebook, Instagram, Pinterest, and Twitter for all of our recipe posts.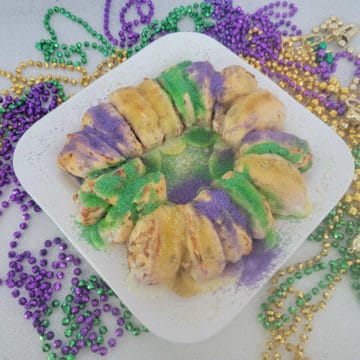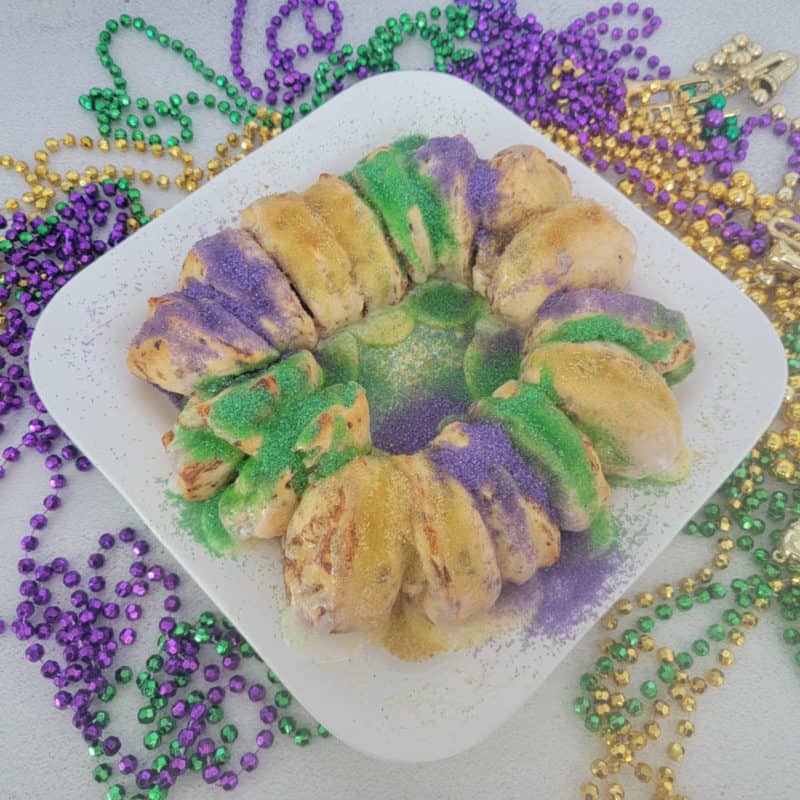 Cinnamon Roll King Cake
Easy Cinnamon Roll King Cake perfect for celebrating Mardi Gras.
Print
Rate
Ingredients
2

Refrigerator Cinnamon Rolls

Yellow, Green and Purple Sanding sugar/sprinkles
Instructions
Preheat oven to 375 degrees

Line a baking sheet with parchment paper. Place cinnamon rolls in a circle on the parchment paper. Press down at the base to keep them in place.

Bake according to the package directions.

Allow to cool before icing with package icing. Top with green, gold, and purple Mardi Gras sprinkles/sanding sugar.
Nutrition
Nutrition Facts
Cinnamon Roll King Cake
Amount Per Serving
Calories 1
Calories from Fat 9
% Daily Value*
Fat 1g2%
Sodium 2mg0%
Carbohydrates 1g0%
Protein 1g2%
Iron 1mg6%
* Percent Daily Values are based on a 2000 calorie diet.