Classic Grasshopper Drink is a minty chocolate green cocktail made with Crème de Menthe, Crème de Cacao, and cream. It is the perfect St. Patrick's Day cocktail, after-dinner nightcap, or fun party drink.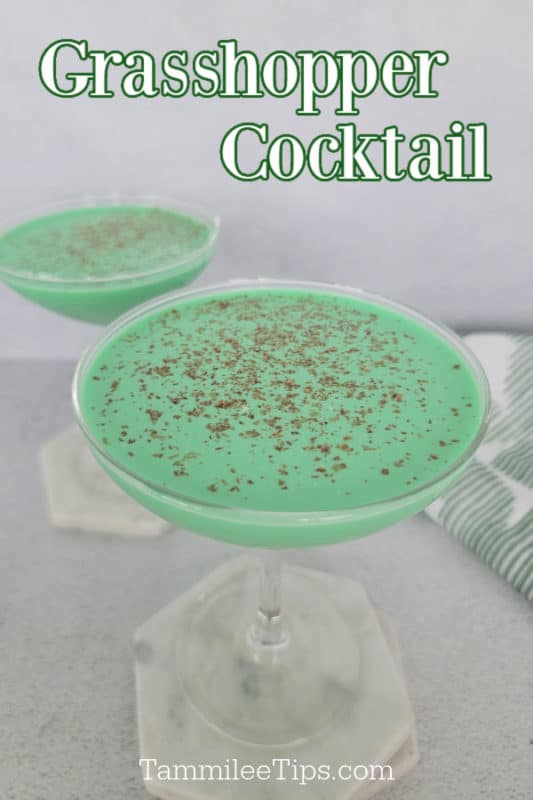 Grasshopper Drink
The Classic Grasshopper Cocktail is one of my favorite cocktails to make and enjoy—the perfect combination of mint and cocoa flavors in a pretty green cocktail.

I remember being in bartending school 20+ years ago and loving the Grasshopper. It was the drink I wanted to make for all of my friends.
There is something magical about pouring a green cocktail that tastes like mint chocolate and then adding the shaved chocolate garnish.
I made tons of these cocktails after wrapping up bartending school. LOL!
This drink's blend of sweet and creamy mint, chocolate flavor, and heavy cream make this a dessert cocktail to sip and enjoy.
The Grasshopper cocktail is said to have originated at Tujague's bar in New Orleans. Their website states that Tujague's, one of the oldest bars in New Orleans, is known for some of the signature cocktails it introduced to the world, such as the Grasshopper and Whiskey Punch.
Knowing this fun fact makes me want to plan a trip to New Orleans to visit this bar. I am a fan of so many New Orleans Cocktails and the history behind them.
The Grasshopper Cocktail became incredibly popular in the 1950s. It was a mainstay in bars through the 50s and 60s.
If you enjoy peppermint patties or thin mint cookies you will enjoy this grasshopper drink recipe.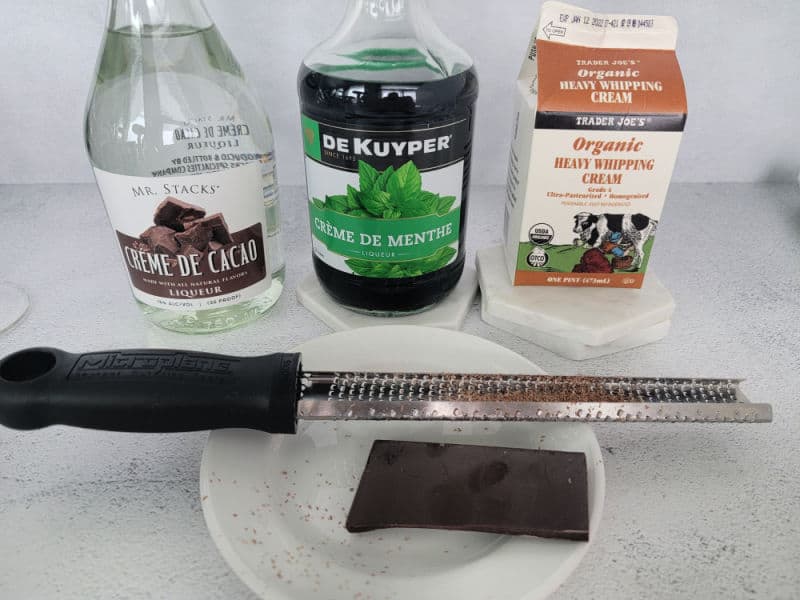 Ingredients
Here is a quick overview of the simple ingredients needed to make a Classic Grasshopper Drink Recipe! The printable recipe card at the bottom of the post includes specific measurements and step-by-step instructions.
Green crème de Menthe

Heavy Cream/Half and Half
Garnish: Chocolate Shavings
Creme de Menthe is a sweet mint liqueur that comes in either white or green. You will want to use the green version for this cocktail.
White Crème de Cacao is a sweet chocolate liqueur that comes in either white or dark. You will want to use the white version for this cocktail so it stays green.
Heavy Cream - You can use heavy cream or half n half for this recipe. The only difference will be the texture of the drink depending on the type of cream you use.
Equipment needed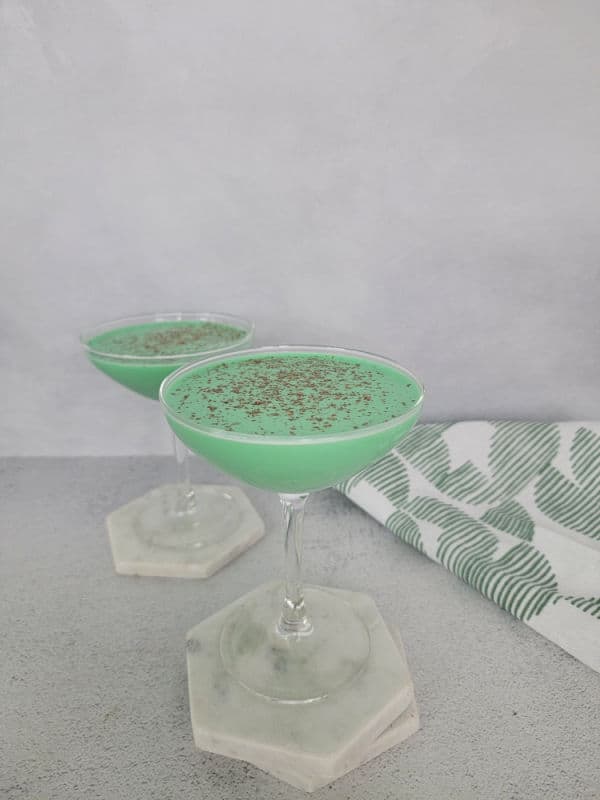 How to Make a Classic Grasshopper Cocktail
I've included complete instructions in the printable recipe card at the bottom of the post, but here's a quick version.
Add crème de menthe, crème de cacao, and cream into a cocktail shaker with ice.

Shake until chilled and well-mixed.

Pour into a martini glass and garnish with chocolate shavings.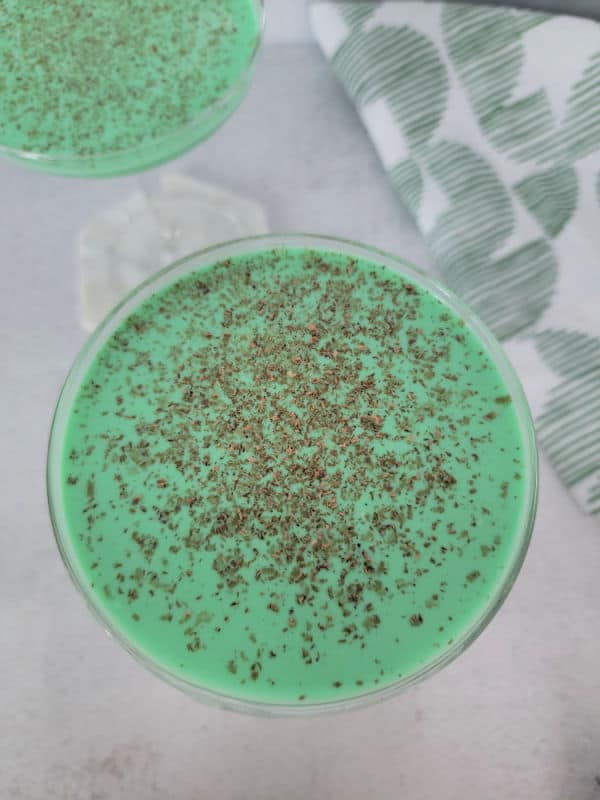 Grasshopper Drink with Ice Cream
To make a grasshopper drink with ice cream, you only need to switch out the heavy cream for two scoops of vanilla ice cream.
Blend all the ingredients in a blender. Add chocolate syrup to the inside of your shake glass to make this frozen green cocktail festive.
Garnish with whipped cream and shaved chocolate. YUM!
You can use mint chocolate chip ice cream to make this frozen grasshopper milkshake even more minty.
Flying Grasshopper
A flying grasshopper adds one part of regular or vanilla vodka for extra alcohol.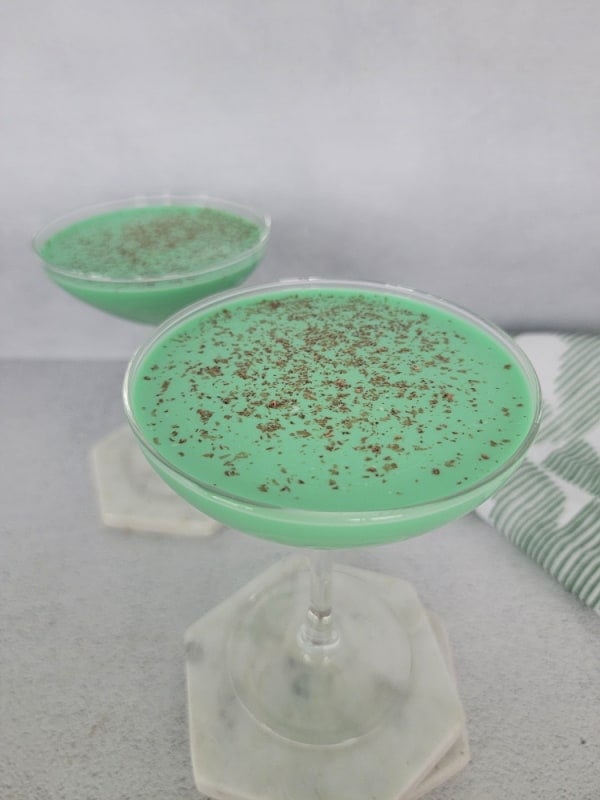 Preparation and Storage
Make Ahead: For a make-ahead version, you can make this mint chocolate cocktail a day or two beforehand. Be sure to add the chocolate shavings before serving.
Storage: Always keep leftovers refrigerated in an airtight container.
Freezing/How to Freeze: The ice cream version of this green cocktail freezes well! Leftovers remain fresh for up to three months when stored in an airtight, freezer-safe container.
You can enjoy frozen Grasshopper Cocktail leftovers blended or like ice cream. Blend them with a few ice cubes to turn them into boozy milkshakes, or enjoy them as-is!
Recipe Variations
Substitutions:
You can use heavy cream or half and half for this recipe. The only difference will be the drink's texture, depending on the type of cream you use.
Vegetarian Option: This recipe is naturally vegetarian.
Vegan Option: Vegans should replace each ingredient with plant-based alternatives to make this drink safe for a vegan diet.
Gluten-Free: Gluten-free drinkers should seek gluten-free substitutes for the creme de cacao, creme de menthe, and chocolate shavings to ensure it is safe for a gluten-free diet.
Alcohol-Free Option: Replace the creme de menthe and creme de cacao with NA substitutes to make this cocktail alcohol-free.
Larger Group/More Servings: If you are hosting a party, you can easily make a large pitcher of this drink. Just scale the recipe to the number of cocktails you need. Store the pitcher in the refrigerator until you are ready to serve it. Make sure to give it a good stir before serving.
Sugar-Free: The written recipe contains 30 grams of sugar per serving. Replace each ingredient with a sugar-free alternative to make it sugar-free.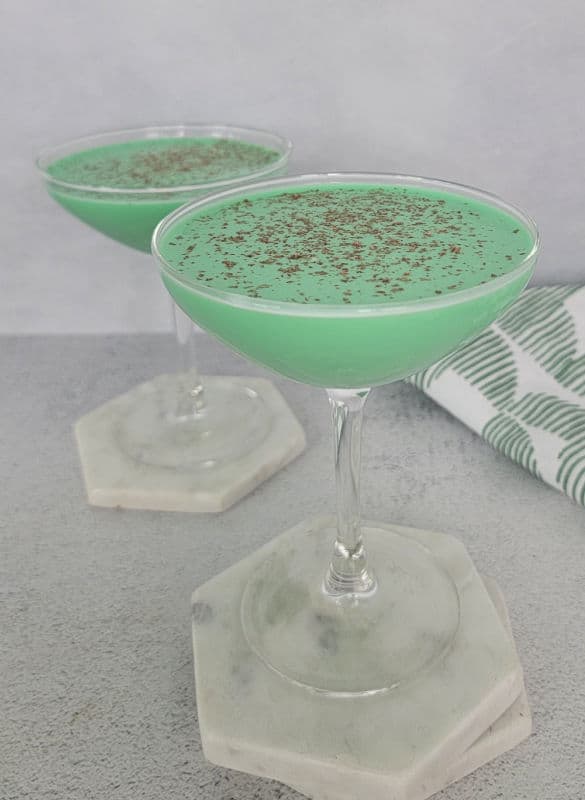 Tips for the Best Classic Grasshopper Cocktail
Creme de Menthe is a sweet mint liqueur available in white or green. You will want to use the green version for this cocktail.

Creme de Cacao is a sweet chocolate liqueur that comes in either white or dark. You will want to use the white version for this cocktail so it stays green. 

Serve this cocktail in a chilled cocktail glass to enhance the minty flavor.

Add a bit of whipped cream to the top of this drink with chocolate sprinkles for a fun garnish.

You can adjust this recipe to find your favorite flavor ratio. I prefer two parts cream to 1 part creme de menthe and 1 part creme de cacao. Many people will make this with even proportions between the three ingredients.

Change up the chocolate shavings and use ground nutmeg for a new flavor.

Want a pretty party cocktail? You can rim the glass with simple syrup and add a chocolate sprinkle rim. You can also dip the rim of the glass into chocolate.
What to Serve with a Classic Grasshopper Cocktail
This pretty mint chocolate dessert cocktail would be a fantastic accompaniment or sweet ending to a lovely date night at home! Here are some menu planning suggestions.
Sides: Sugared Cranberries, Hasselback Potatoes, Caprese Pasta Salad, Air Fryer Spaghetti Squash, Carrot Soufflé, Crock Pot Stuffed Tomatoes, CrockPot Shrimp & Grits, Strawberry Bruschetta, Shrimp Remoulade, CrockPot Bacon Wrapped Potatoes
Main Dishes: CrockPot Port Braised Beef Short Ribs, CrockPot Rosemary Pork, Caprese Eggs Benedict, Balsamic Chicken Skewers, CrockPot Salisbury Steak, CrockPot Beef Tips & Gravy, Shrimp Linguini, CrockPot Roast with Red Potatoes, Grilled Shrimp with Avocado Butter
Desserts: Hershey Pie, Sweet & Salty Chocolate Dessert Bar, Creme Brulee Cheesecake Bars, Carrot Cake with Pineapple, Coconut & Port Wine, CopyCat Olive Garden Lemon Cream Cake, Strawberry Shortcake, CrockPot Cherries Jubilee, Apple Blackberry Fruit Tart
Drinks: Alchemy Bar Revved Up Mojito Martini, Chocolate Cake Shot, French Kiss Cocktail, Chocolate Covered Cherry Shot, Cranberry Mimosa, Raspberry Pomegranate Lemonade Cocktail, 40 Is the New 20 Martini Cocktail, Martini Seduction, Alchemist Sidecar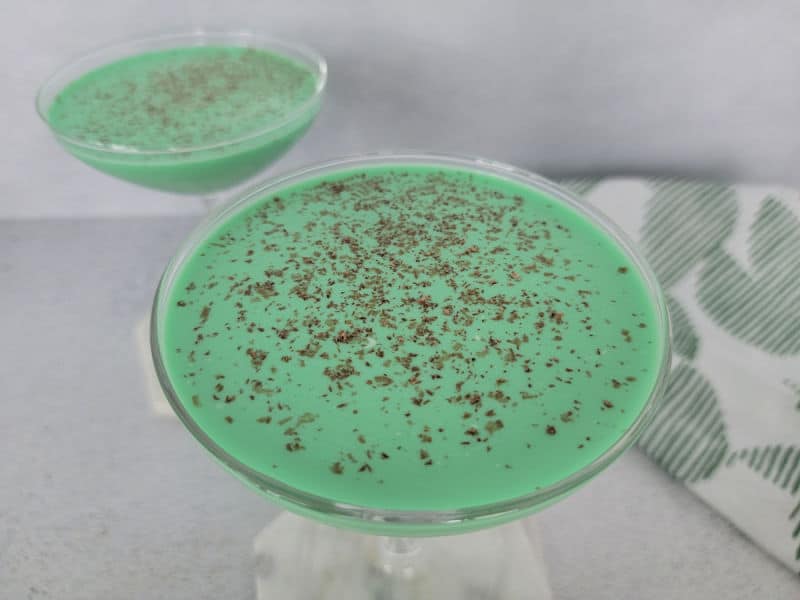 When to Serve
Dinner Date Night

Dinner and Drinks

Cocktail Night
Great Recipe Collections
Crème de Cacao Cocktails - All of our best cocktails made with light and dark Crème de Cacao.
Peppermint Schnapps Cocktails - Are you wondering what to make with a bottle of Peppermint Schnapps? Don't worry these easy Peppermint Schnapps Drinks taste amazing
Great Martini Recipes - Shake or stir your favorite martini with these great recipes
Grand Marnier Cocktails -  Here we have answered your most important questions about this premium French liqueur and shared our favorite Grand Marnier Cocktails.
RumChata Drinks - RumChata is a rum-based cream liqueur with a strong cinnamon flavor. We are excited to share our epic guide and the best RumChata Drinks you have to try!
Do you love recipes? Check out our copycat recipes, dessert recipes, and our CrockPot Recipes.
Follow Tammilee Tips on MSN, Facebook, Instagram, and Pinterest for all our recipe posts.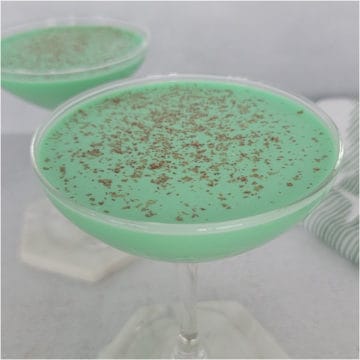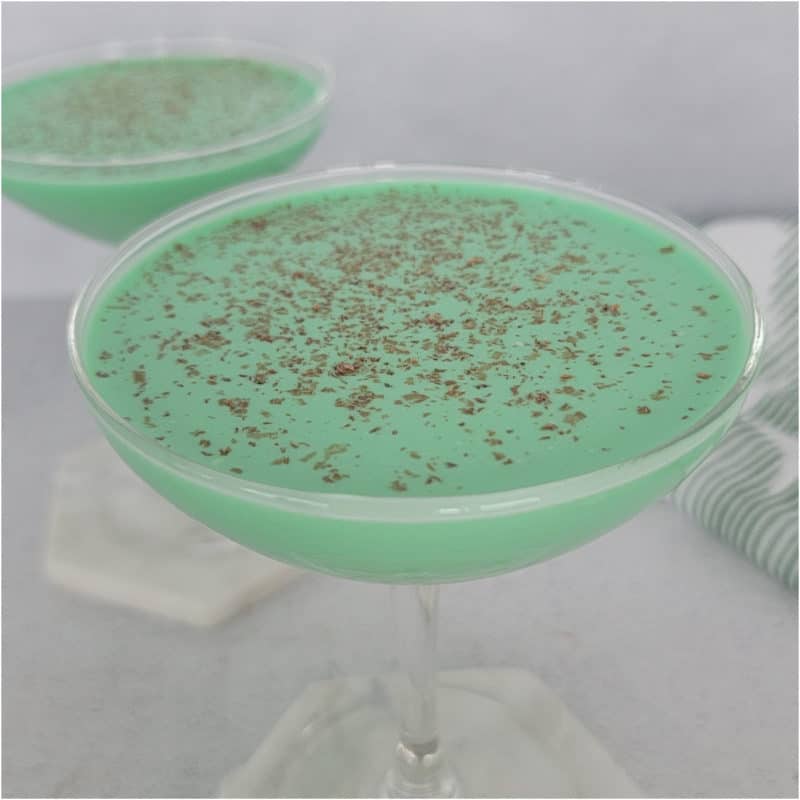 Classic Grasshopper Drink
Easy 3 ingredient classic Grasshopper Cocktail Recipe. Epic chocolate mint after dinner drink that tastes amazing.
Print
Rate
Ingredients
1.5

Ounce

Creme De Menthe

1.5

Ounce

Creme de Cacao Liqueur

2

Ounce

Heavy Whipping Cream

Shaved Chocolate

Garnish
Instructions
Add Creme de Menthe, Creme de Cacao, and heavy cream to a cocktail shaker. Shake until chilled.

Strain into a martini glass and garnish with shaved chocolate.
Nutrition
Nutrition Facts
Classic Grasshopper Drink
Amount Per Serving
Calories 501
Calories from Fat 189
% Daily Value*
Fat 21g32%
Cholesterol 78mg26%
Sodium 24mg1%
Potassium 43mg1%
Carbohydrates 42g14%
Protein 1g2%
Vitamin A 833IU17%
Vitamin C 1mg1%
Calcium 37mg4%
Iron 1mg6%
* Percent Daily Values are based on a 2000 calorie diet.