Easy Buttery Nipple Shot Recipe made with Bailey's Irish Cream and Butterscotch Schnapps. This 2 ingredient cocktail shot is sweet and easy to drink.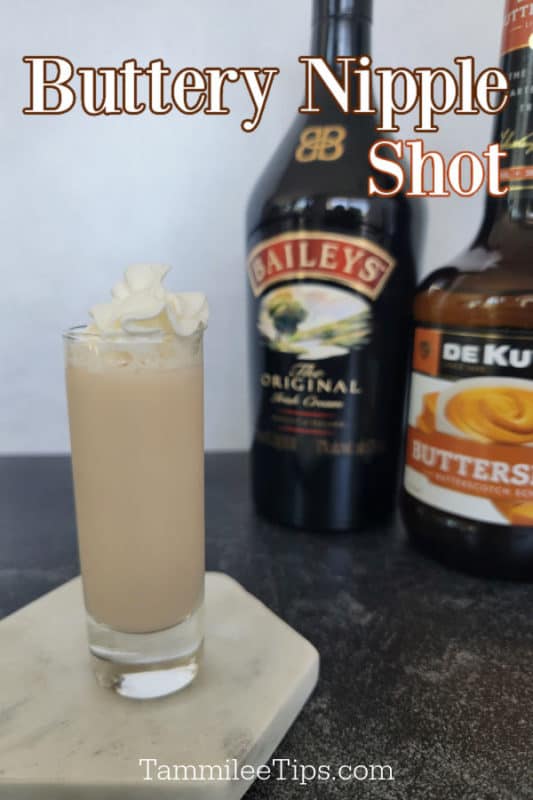 Buttery Nipple Shot Recipe
I wish there was a better name for this cocktail shot but I am pretty sure it is one of the 1980s classic shot recipes that have names that just make you shake your head.

For some reason cocktails in the 80s all seemed to have names with plenty of sexual innuendos.
Other fun cocktails include Blowjob Shot, Sex on the Beach cocktail, red-headed slut shot, drunk gummy bears, Between the Sheets, Screaming Orgasm, Slow Comfortable Screw Against the Wall, Harvey Wallbanger, and the Woo Woo.
I remember going to bartending school right when I turned 21 and not even knowing what to say when we learned how to make these 80's cocktails.
I am pretty sure I blushed a few times talking about the cocktails while in class.
There is also a slippery nipple shot that is made with grenadine, sambuca, and Irish Cream.
The Buttery Nipple Drink is a dessert drink that is sweet and delicious. If you like creamy butterscotch candy you will enjoy this cocktail shot.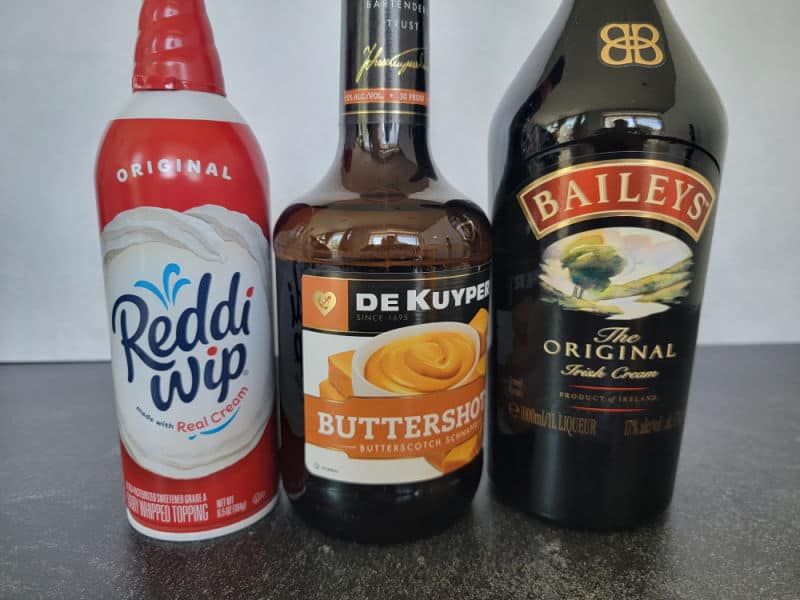 What's silky-soft, ice-cold, flesh-colored, and covered in a generous mound of whipped cream? The buttery nipple shot, of course! (wink, wink)
While this 1980s-era classic may cause a few cheeks in the room to blush once you let folks know this drink's wacky name, the combination of sweet Irish cream and warm brown sugar from butterscotch schnapps makes it a surefire hit for any sweet dessert lover.
Shot Ingredients
Here is a quick overview of the simple ingredients needed to make an epic Buttery Nipple Shot! The printable recipe card at the bottom of the post includes specific measurements and step-by-step instructions.
Butterscotch Schnapps

Bailey's Irish Cream
Optional Garnish - Whipped Cream at the top of the shot. You can add a raspberry on top of the whipped cream if you feel like it or a drop of grenadine.
Butterscotch schnapps is a butterscotch-flavored liqueur
Equipment Needed
2 ounce shot glasses - We love these 2 oz shot glasses especially for layered shots.
Bar Spoon - A bar spoon is essential for any stirred or layered drink. A small spoon can also work. 
Cocktail Shaker – This cocktail shaker comes with a fantastic set of tools
OXO angled jiggers - these are our go-to measuring tools for cocktails. They work perfectly for pouring in layers for cocktails.
Print the complete Buttery Nipple Recipe below from the recipe card.
How to make a Buttery Nipple Shot
Step 1 - Add ice to a cocktail shaker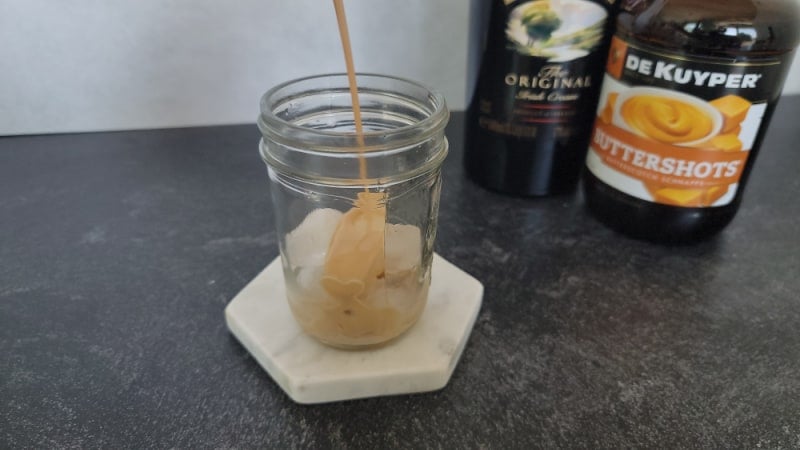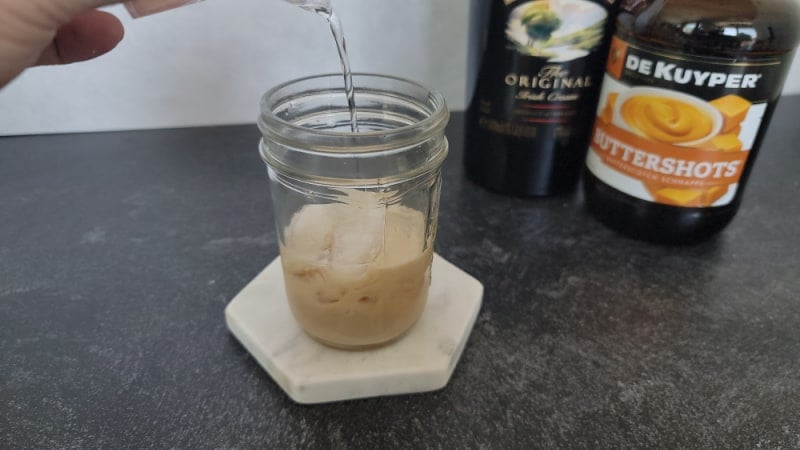 Step 2 - Pour in Butterscotch Schnapps and Irish Cream. Shake until cold.
Step 3 - Strain into cocktail shot glass. Garnish with Whipped Cream on top.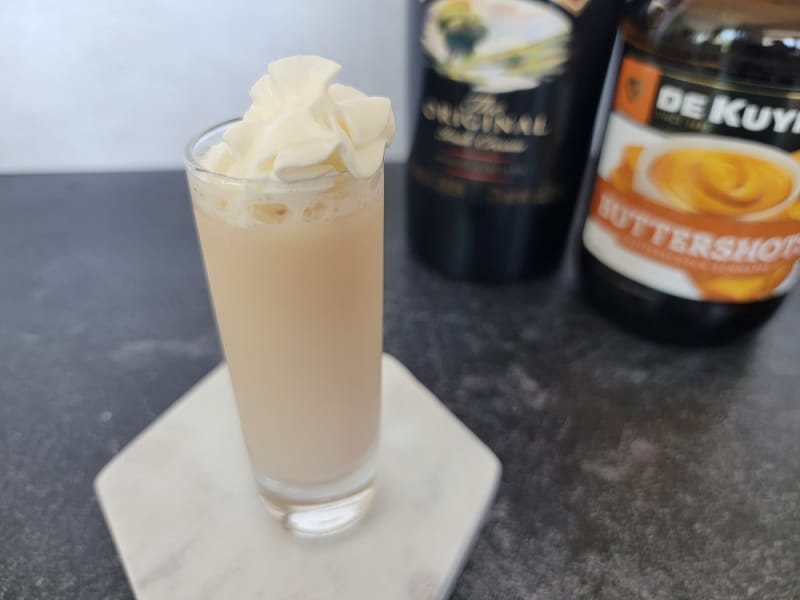 Preparation and Storage
Make Ahead: This dessert shot keeps in the refrigerator for up to three days. Garnish with whipped cream when you're ready to serve.
Storage: Bonus - if you made too much for your last funny cocktail party, leftovers transform readily into buttery nipple slushies! Just add ice to the leftover mixture and blend to your desired consistency.
Freezing/How to Freeze: Sadly, since this shooter contains Irish cream, we don't recommend freezing leftovers because of the texture changes that happen when liquid dairy is frozen and thawed.
Recipe Variations
Substitutions
Layered:

Pour the butterscotch schnapps on the back of a bartending spoon to create a layered version of this shot.

Brain Hemorrhage Shot:

You'll need peach schnapps and grenadine syrup for this Halloween-friendly variation on the buttery nipple shot.
Golden Butterball:

This shimmering shot uses Goldschläger, cinnamon schnapps, and butterscotch schnapps.
Slippery Nipple:

This twist uses grenadine, Irish cream, and Sambuca, an anise-flavored liqueur hailing from Italy. Another version by the same name features

Irish cream and vodka

in equal measure.
Vegetarian Option: All ingredients in the buttery nipple shot are vegetarian-safe.
Vegan Option: Given that cream is at the forefront of Irish cream, any bottle purchased at a store likely contains dairy. Turn our recipe for homemade Irish cream into a plant-based Irish cream by swapping the sweetened condensed milk and whipped cream for your favorite vegan alternatives.
Gluten-Free: This shooter is safe for gluten-free people, as none of its ingredients contain gluten.
Alcohol-Free + Sugar-Free: We haven't found any sugar-free versions of butterscotch schnapps or Irish cream, but you can use sugar-free syrups in these flavors to simulate the taste of this shooter in the form of a light cocktail.
Larger Serving Size: Want to turn this sweet shot into a handheld version? Double the written recipe and serve it in a rocks glass.
Make it Spicy: Quench Magazine has a Spicy Buttery Nipple shot featuring Dekuyper Hot Damn! Cinnamon Schnapps Liqueur.
Recipe Tips
This Buttery Nipple Shot can be made as a layered shot or as a mixed cocktail shot. To make it a layered shot slowly pour the Butterscotch Schnapps over the back of a bar spoon so it will float on the top of the Irish cream layer.
We tend to mix it so it gets nice and cold after being shaken with ice in a cocktail shaker.
You can make this in a chilled shot glass to keep the alcohol cold.
To make a buttery nipple cocktail you can double the recipe and pour it into a rocks glass.
Calories, carbohydrates, protein, cholesterol, sodium, and other nutritional information below in the recipe card.
This recipe is also called a Butterball Shot.
There is also a variation of this recipe that uses Peach Schnapps and Irish Cream Liqueur.
There is also a Golden Butterball that includes Goldschläger, cinnamon schnapps, and butterscotch schnapps.
When to Serve a Buttery Nipple Shot
Whip up a buttery nipple shot whenever you want to take your dessert down the hatch in liquid form - it is that simple and yummy!
Its suggestive name makes it a standout for any "adult-themed" cocktail gathering.
Since the buttery nipple shot contains Irish cream, you may also consider serving it for a St. Patrick's Day party. Don't forget to celebrate with an Irish toast if you do!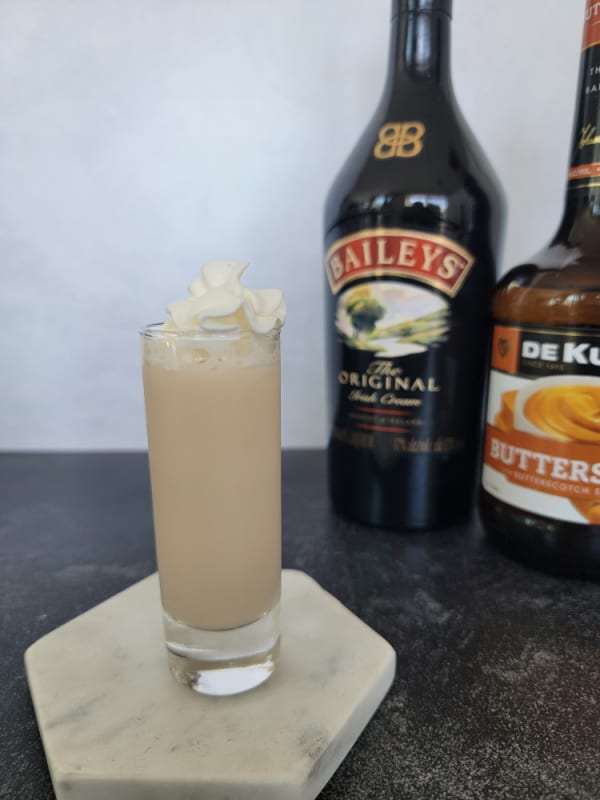 Great Cocktail Shot Recipes
Funny Drink Names - Check out all of our cocktails with fun names.
Our Butterscotch Schnapps Cocktail collection features this sweet shooter.
Check out all of our Cocktail Recipes
Do you love recipes? Check out our copycat recipes, dessert recipes, and our CrockPot Recipes.
Follow Tammilee Tips on MSN, Facebook, Instagram, Pinterest, and Twitter for all of our recipe posts.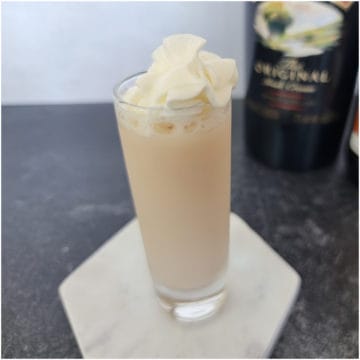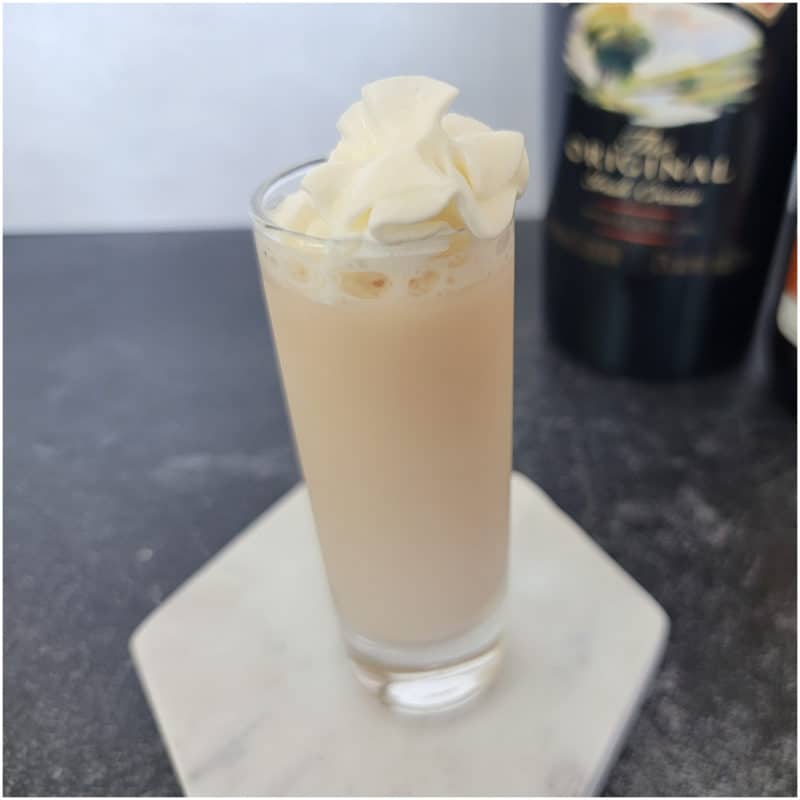 Buttery Nipple Shot Recipe
How to make a Buttery Nipple Shot recipe with butterscotch schnapps and Irish Cream
Print
Rate
Instructions
Add Butterscotch Schnapps and Irish Cream to a cocktail shaker filled with ice. Shake until cold.

Pour into a 2 oz shot glass, garnish with whipped cream.
Nutrition
Nutrition Facts
Buttery Nipple Shot Recipe
Amount Per Serving
Calories 197
Calories from Fat 36
% Daily Value*
Fat 4g6%
Cholesterol 0.01mg0%
Sodium 0.02mg0%
Carbohydrates 18g6%
Protein 1g2%
* Percent Daily Values are based on a 2000 calorie diet.