Easy Vodka Gummy Bears take two ingredients and a few hours to make. These are a great cocktail candy that tastes great for your next party.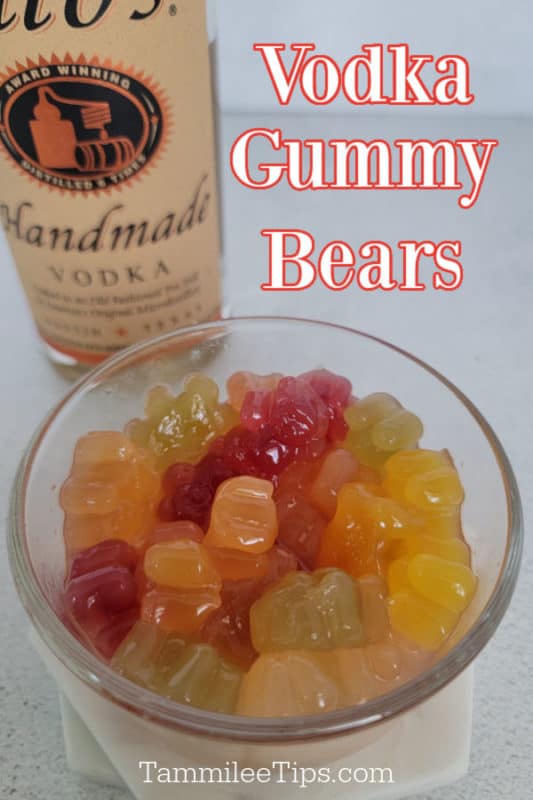 Vodka Gummy Bears
Please make sure these vodka and gummy bears are in a place only adults can get to them. These are fantastic for Halloween parties or any time you want a fun party surprise.
I first started making these back in college and have been making the ever since for parties. I am not going to admit how long ago college was but we will say it was 20+ years ago go with it. LOL!
The best part is this recipe has evolved over time to be quick and efficient in making these. I used to store them in the refrigerator the entire time but realized that letting the bears soak at room temperature seems to speed up absorption.
I leave the bowl on the kitchen counter lightly covered so it doesn't get knocked over and check on them after a few hours and then after 24 hours. I love that you can get these started the day before your party and have them ready to serve when guests arrive.
These are also called rummy bears when made with rum instead of vodka.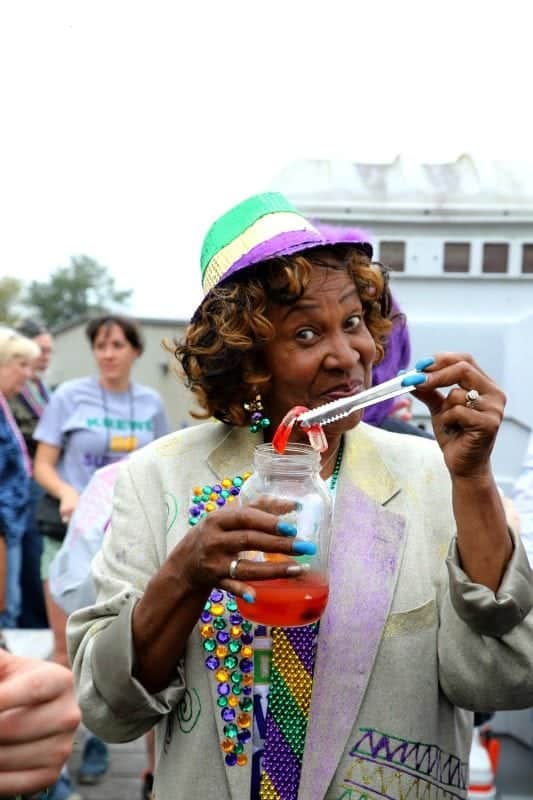 One of my favorite memories is attending the Iowa Chicken Run outside of Lake Charles, Louisiana. One of the locals offered me a jar of gummy worms that had been soaking in booze for a while. It was 9am and we all laughed at the fun treat as we celebrated Mardi Gras.
It was one of those travel moments you never forget. How can you not have an epic time riding a float while kids chase a chicken after enjoying a few boozy gummy worms. LOL!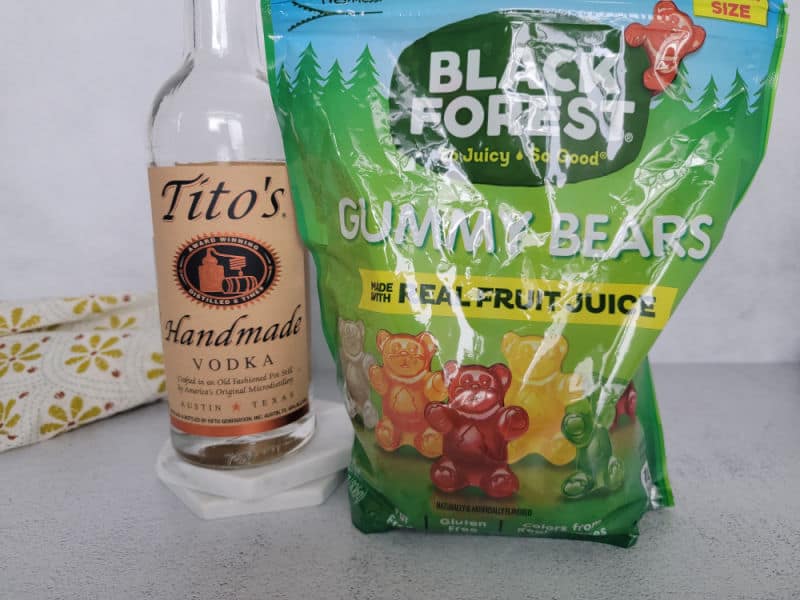 Ingredients Needed
Vodka - You can use regular or flavored vodka for this drunk gummy bear recipe. You will want to use a quality vodka so the gummy bears taste the best. You will be able to taste the difference if you use a cheap vodka.
Gummy Bears - We used Black Forest Gummies but you can also use Haribo Gummies. Some brands of gummy bears may fall apart after soaking. You want to use a nice quality gummy bear. I would not use chocolate covered gummy bears. The chocolate is going to block absorption and you will end up with a goopy mess.
Equipment Needed
Bowl/Container with a lid
Spoons or toothpicks to serve the gummy bears.
How to make Vodka Gummy Bears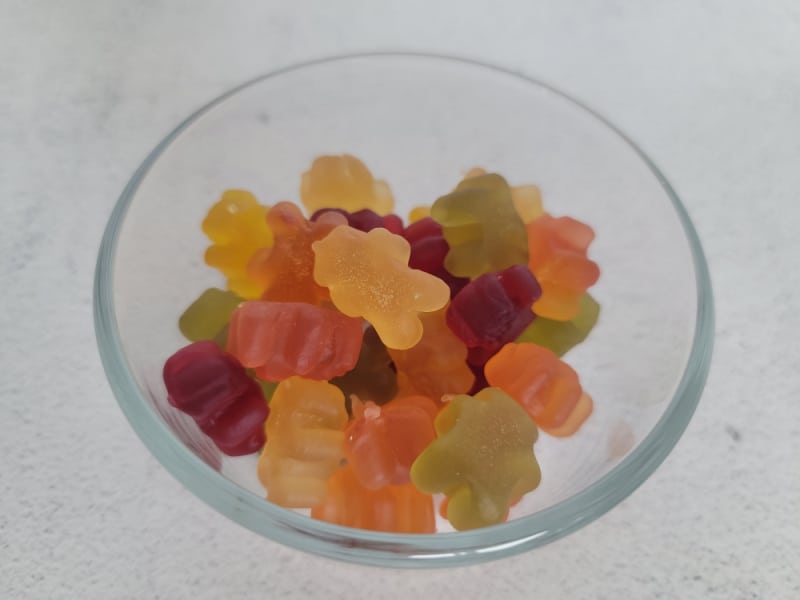 Step 1 - Add gummy bears to a bowl
Make sure there is room in the bowl for the gummy bears to expand.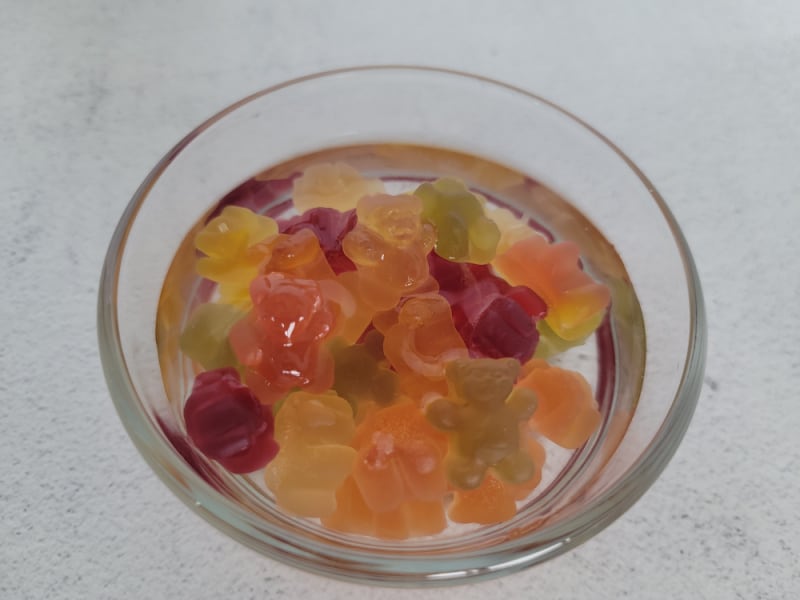 Step 2 - Pour the vodka into the bowl until the gummy bears are barely covered.
Let the gummy bears sit and soak at room temperature for at least a few hours. The longer they soak the larger the gummy bears will be.
How long to soak Gummy Bears in Vodka

The gummy bears will slowly absorb the alcohol. After 2 hours you can see the gummy bears are starting to get bigger but there is still a lot of vodka in the bowl.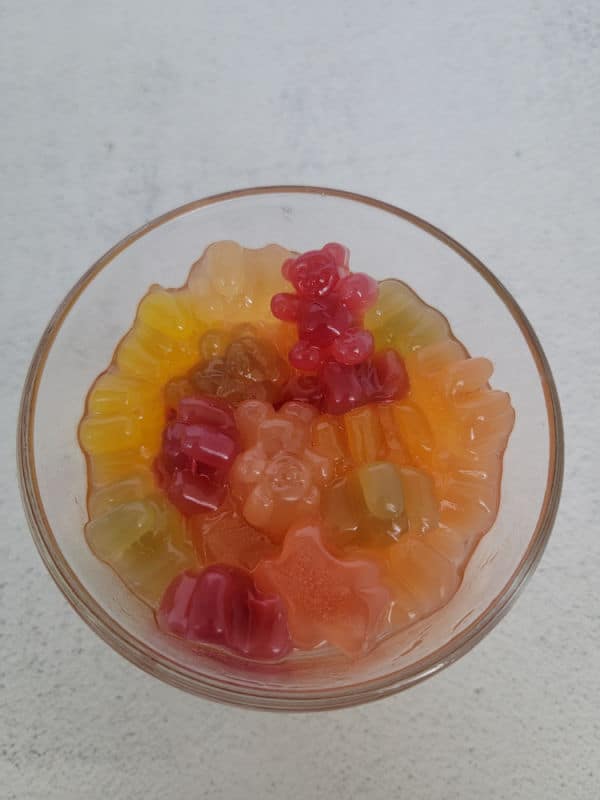 After 12 hours the bears are definitely bigger and there is less vodka in the bowl.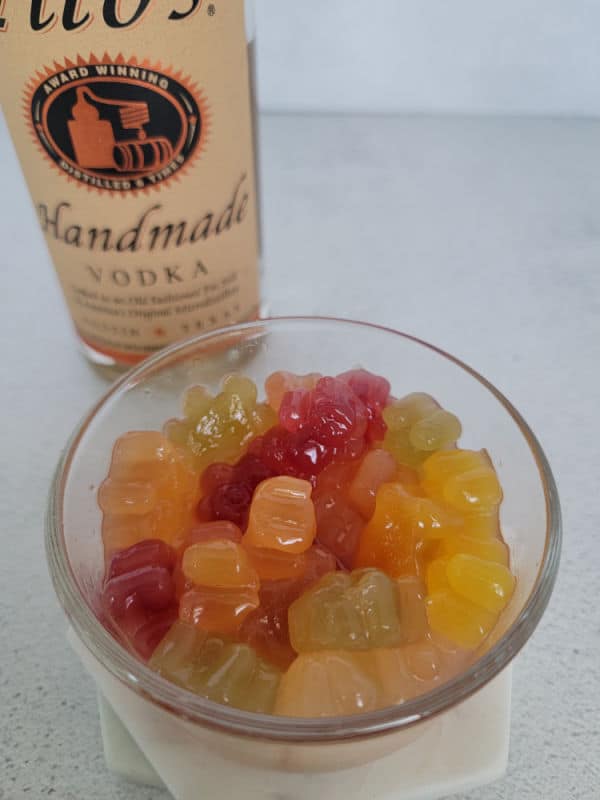 After 24 hours the bears are filled with vodka and not really sticking together.
Do vodka gummy bears get you drunk?
These gummy bears and vodka can definitely get you drunk depending on how many of them you enjoy.
Be careful mindlessly enjoying these! They can sneak up on you.
How long do vodka gummy bears last?
These gummy bears soaked in vodka will last a couple of days easily. The longer they sit the more apt they are to stick together.  You can rinse them with water if they are stuck together.
Recipe tips
Soaking time may vary depending on if it is a hot or cold day.
If your gummy bears stick together you can rinse them with a bit of water until they unstick.
Store in the refrigerator for up to 2 days if you are not serving them immediately. The longer they sit the more they may mush together.
This recipe can be adapted to gummy worms and other fun gummy candies.
Change up the flavor by using a fruity vodka or whipped cream vodka, vanilla vodka or even coconut rum.
Great Cocktail Recipes
Bourbon Cherries
Don't miss all of our epic vodka cocktails.
Do you love recipes? Check out our copy cat recipes, dessert recipes, and our Crock Pot Recipes.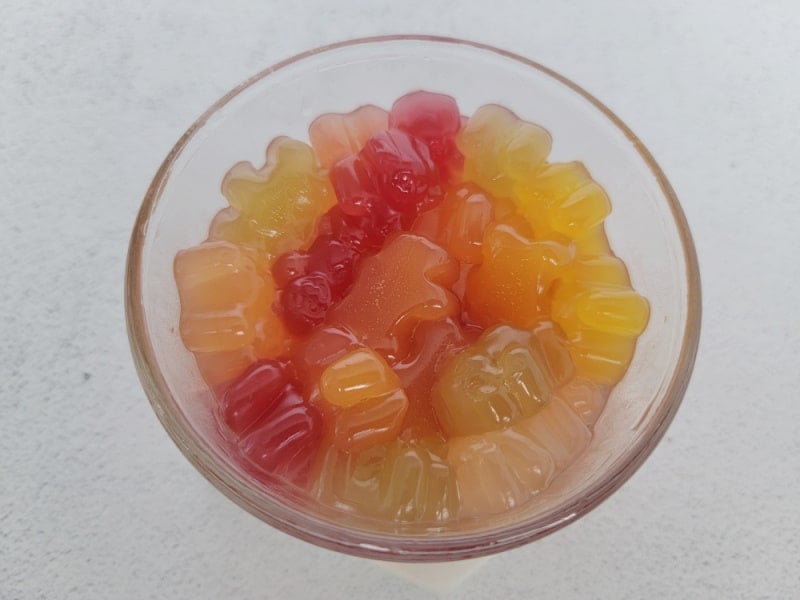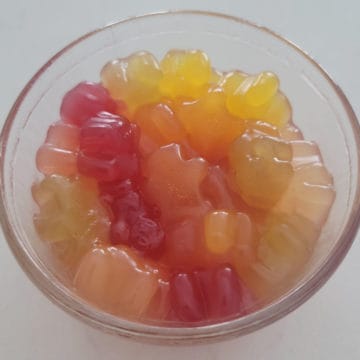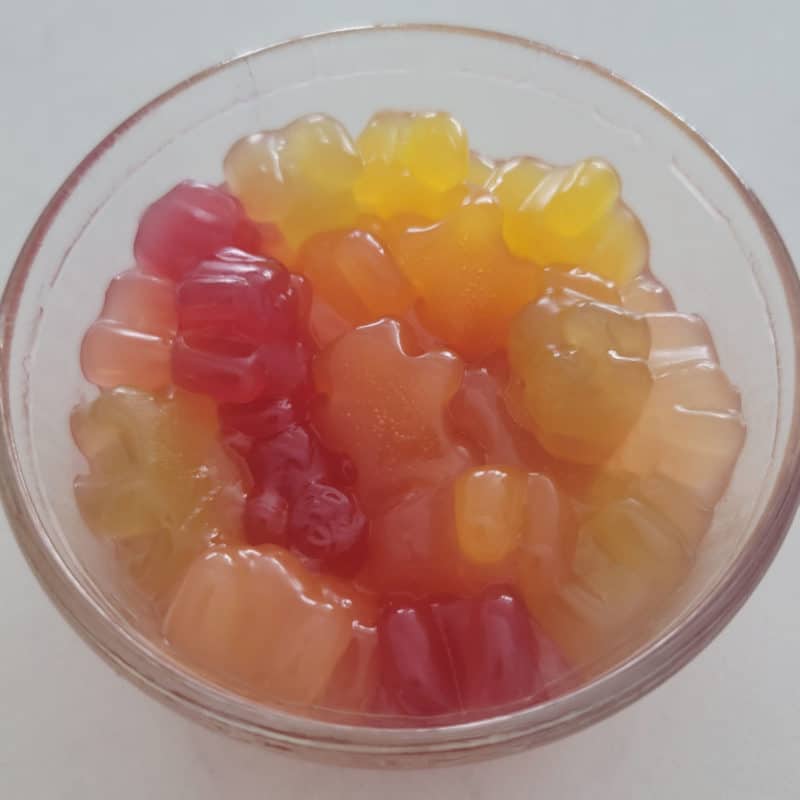 Ingredients
1

Cup

gummy bears

1

Cup

Vodka

enough to cover the gummy bears
Instructions
Add gummy bears to a bowl with space for them to expand.

Cover in vodka until just covered at the top. Allow to sit and absorb the vodka before serving.
Nutrition
Nutrition Facts
Vodka Gummy Bears
Amount Per Serving
Calories 1300
% Daily Value*
Sodium 96mg4%
Potassium 2mg0%
Carbohydrates 174g58%
Protein 19g38%
Iron 1mg6%
* Percent Daily Values are based on a 2000 calorie diet.