Easy Air Fryer Chickpeas Recipe that only takes a couple of ingredients to prepare. This snack recipe is quick and easy and tastes amazing.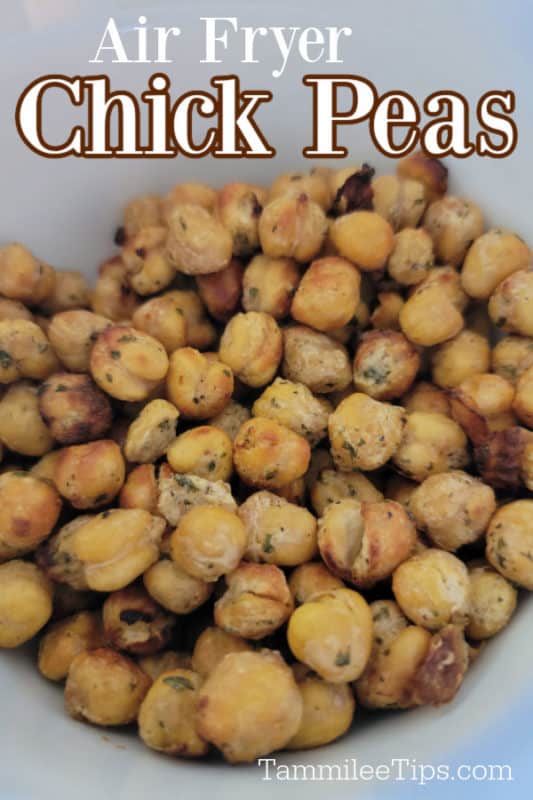 Air Fryer Chickpeas
Working from home I find that I snack all day long. I am going to admit that a lot of times the things I grab to snack on are probably not the healthiest.
I have been working on making more air fryer recipes that can be snacked on. We made Air Fryer Kale Chips a few months ago and now we are working on Chickpeas.
Depending on the day I want either a sweet snack or a crunchy crispy snack that tastes amazing.
These crispy air fryer chickpeas taste great on salads too!
We use to roast chickpeas in the oven but found they didn't all crisp to the same texture. With the air fryer, you get perfectly even crispiness on all the chickpeas.
This is one of our favorite savory snacks and air fryer vegetarian recipes.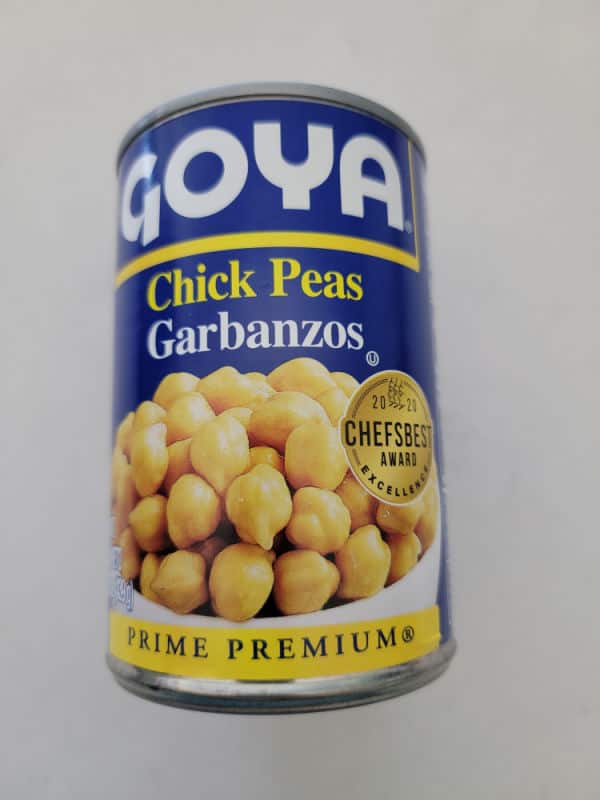 Ingredients
Chickpeas/Garbanzo Beans
Olive Oil
We use Olive Oil but you can also use avocado oil which has a high smoke point.
Additional Flavor Ideas
Cheesy - Mix 1-2 tablespoon of parmesan cheese in with the chickpeas.
Italian - Use ½-1 teaspoon of Italian seasoning or dried oregano for flavor.
Cinnamon Sugar - use 1 tablespoon sugar and ½ teaspoon cinnamon.
We also love using onion powder, smoked paprika, black pepper, garlic powder, and other spices.
Equipment Needed
Air Fryer - We suggest getting an air fryer that is bigger than you think you will need. We found once we started using the air fryer, we ended up using it for more meals and larger meals.
Spider Strainer - I love using a spider strainer to easily drain the chick peas
Large Mixing Bowl - We are big fans of this glass batter bowl that has a handle. It makes it easy to mix ingredients and keeps the mixing bowl steady on the counter.
How to make Ranch Air Fryer Chickpeas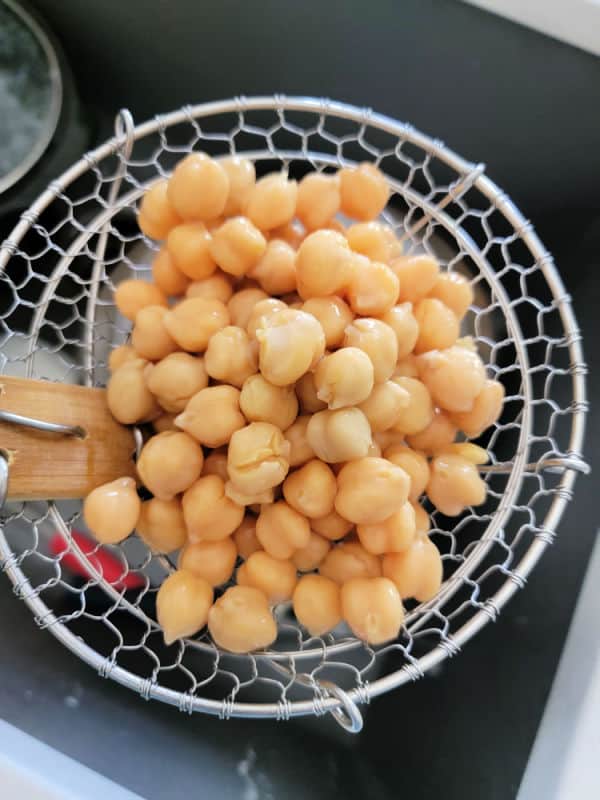 Step 1 - Drain and rinse the garbanzo beans. We use a spider strainer to make it easy to rinse off the garbanzo beans and then add them to a mixing bowl.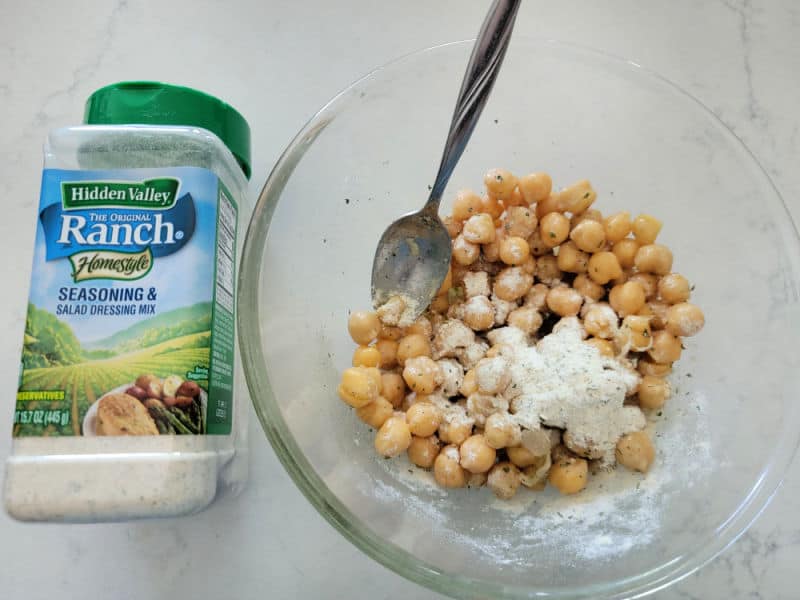 Step 2 - Add ranch dressing mix or seasoning to the mixing bowl with the garbanzo beans. Toss together until all the beans are well coated.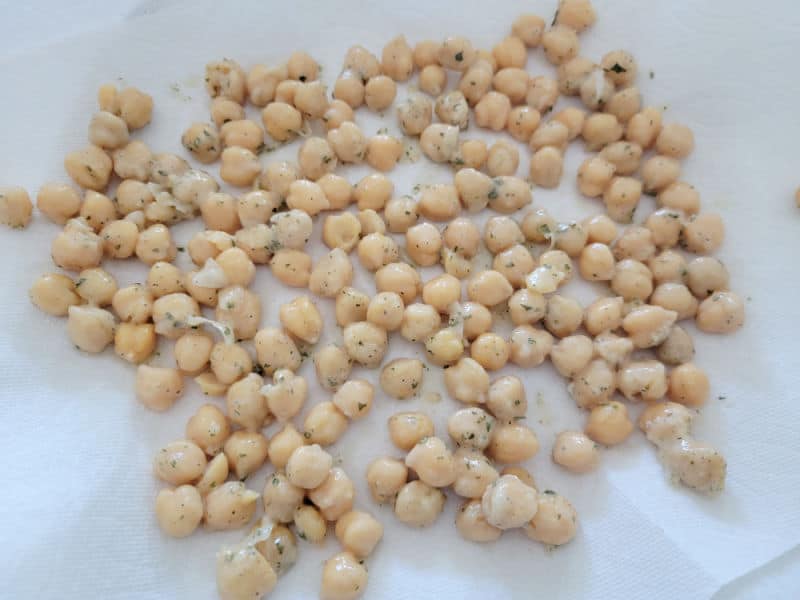 Step 3 - Spread out on a paper towel-lined cookie sheet and allow to air dry.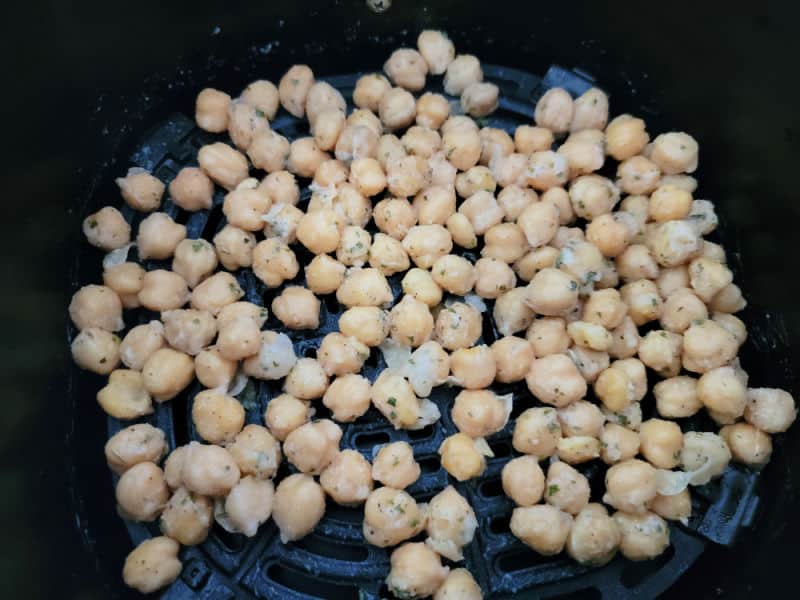 Step 4- Pour chickpeas into the air fryer basket and spread out as evenly as possible in a single layer.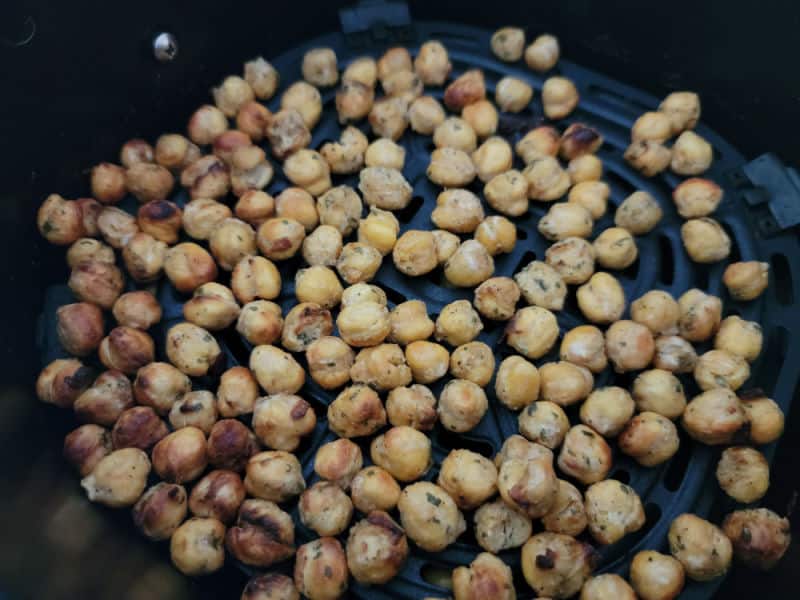 Step 5 - Air fry making sure to shake a few times during the cooking process so the chickpeas evenly cook.
Step 6 - Allow the crispy chickpeas to cool and enjoy.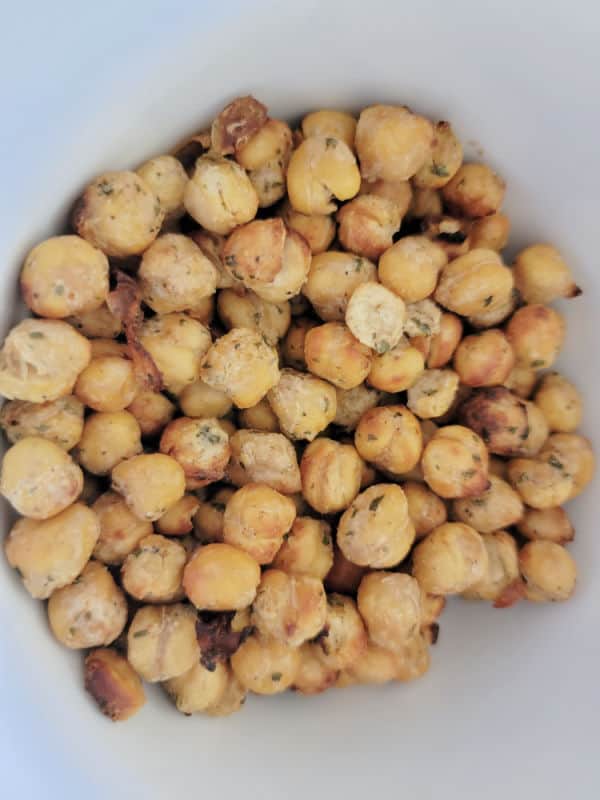 Recipe Tips
Make sure you air-dry the chickpeas for at least an hour so they air fry crispy. We lay them out on paper towels and let them dry. If you have pets you can set them on a cookie sheet in the oven so they don't get messed with.
We skip preheating the air fryer most days. I find that preheating only saves a minute or so and it is just easier to toss the chickpeas in.
If you are doing multiple batches of air fry chickpeas you will want to lower the cooking time after each batch as the air fryer heats up.
Every Air Fryer will have a slightly different cook time. Make sure to keep an eye on your crispy chickpeas during the last 5 minutes of cooking.
Great Air Fryer Recipes
Check out all of our Air Fryer Recipes
This recipe is featured in our Road Trip Snacks Collection
Do you love recipes? Check out our copy cat recipes, dessert recipes, and our Crock Pot Recipes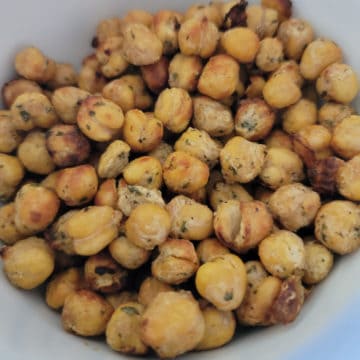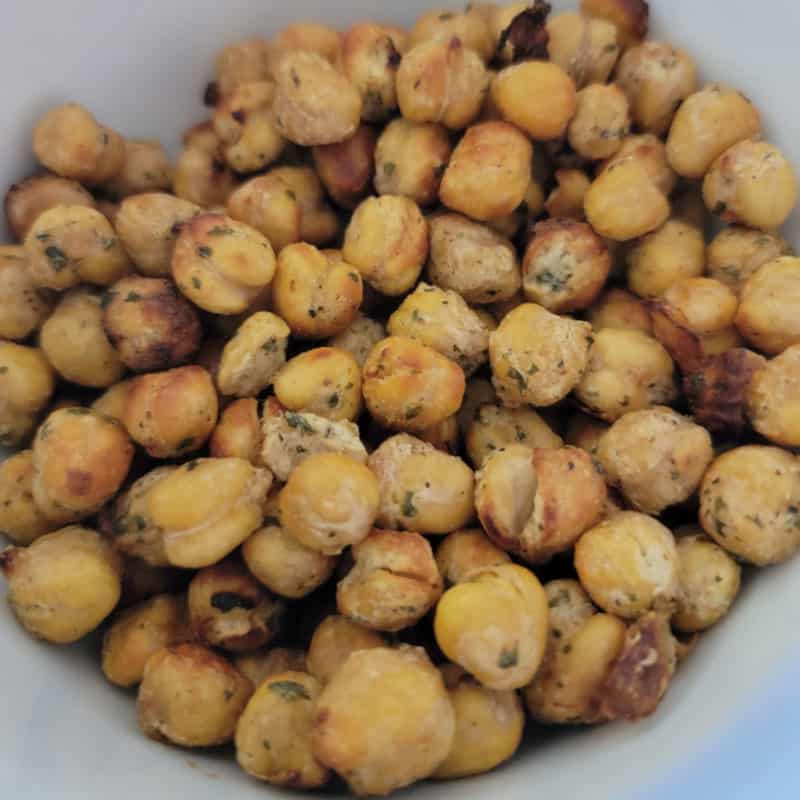 Air Fryer Chickpeas Recipe
Easy ranch flavored air fryer chickpeas are the perfect crispy snack.
Print
Rate
Instructions
Drain and rinse garbanzo beans. Spread beans on a paper towel lined baking sheet and allow to air dry for at least an hour.

Add garbanzo beans to a mixing bowl and coat with olive oil. Add in ranch dressing mix and toss until all of the chickpeas are evenly coated.

Add chickpeas to the air fryer and evenly spread them in the air fryer basket.

Air fry at 400 degrees for 10-12 minutes. Shake basket every 4 minutes.
Nutrition
Nutrition Facts
Air Fryer Chickpeas Recipe
Amount Per Serving
Calories 476
Calories from Fat 117
% Daily Value*
Fat 13g20%
Sodium 1141mg50%
Potassium 660mg19%
Carbohydrates 71g24%
Protein 20g40%
Vitamin A 61IU1%
Vitamin C 3mg4%
Calcium 111mg11%
Iron 7mg39%
* Percent Daily Values are based on a 2000 calorie diet.