In this Thanksgiving Cocktails roundup, you'll find a mix of fall and winter cocktail favorites to ignite your holiday spirit and keep all spirits warm this year.
Thanksgiving opens up a cornucopia of flavor possibilities. While considered the gateway to all things winter, as shown by all the radio stations that begin playing Christmas music on this special day of thanks, any household accustomed to serving pumpkin pie for Thanksgiving knows that fall flavors are just as celebrated at the dinner table.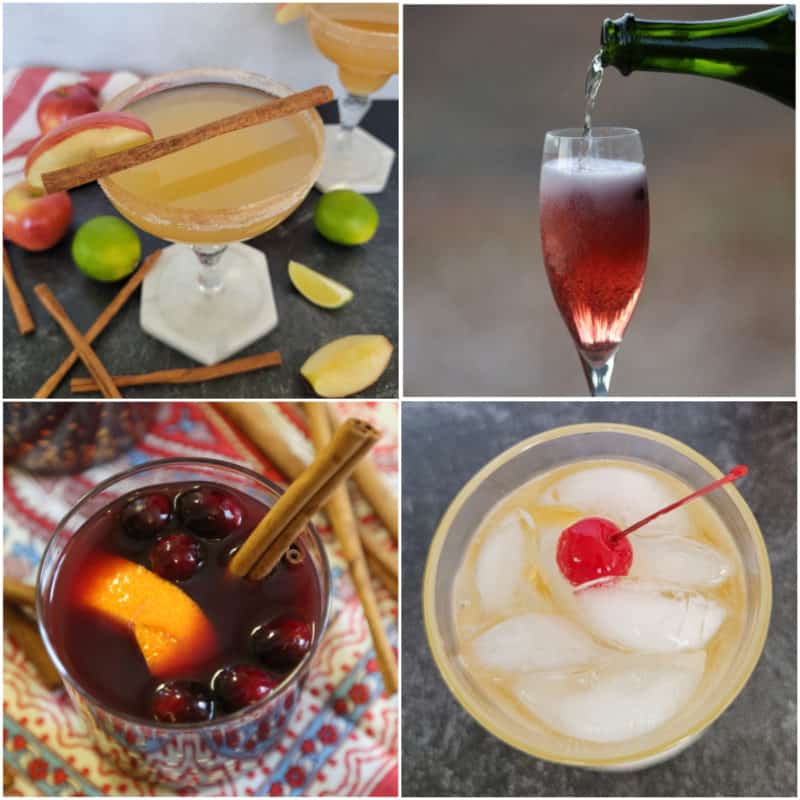 Thanksgiving Cocktails
These Thanksgiving Cocktails pair perfectly with your favorite turkey recipe, pumpkin butter, sweet potato casserole, green bean casserole, and all of the amazing food we get to enjoy on the holiday.
You can make a big batch of these cocktails to feed a crowd.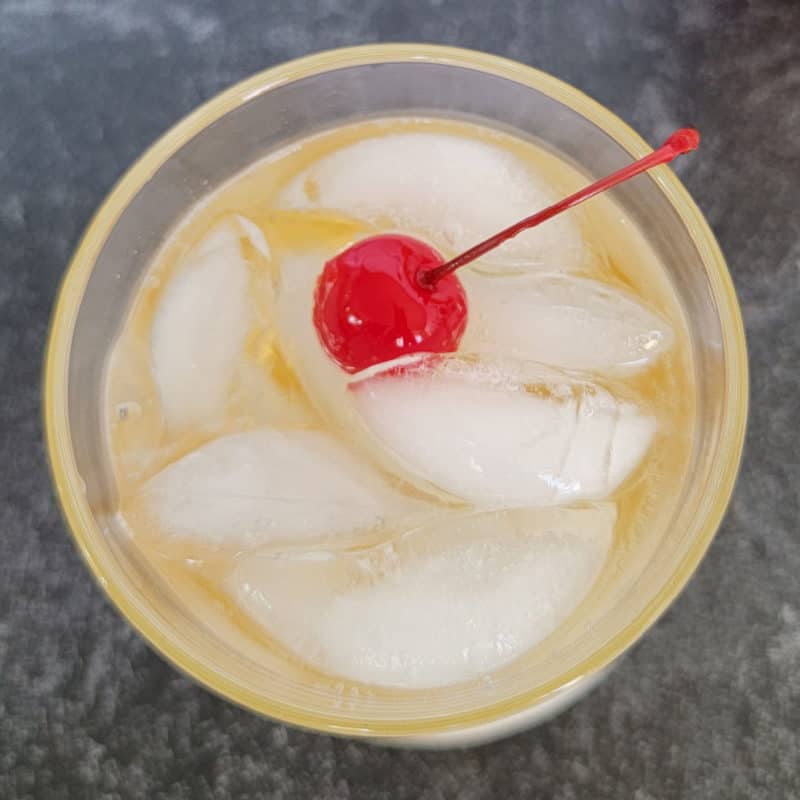 Ingredients: Fireball Cinnamon Whisky, Ginger Ale
Thanksgiving meals are typically hearty, rich, and decadent, keeping with the theme of gratitude and abundance. Reach for this simple, two-ingredient cocktail when you need a palate cleanser to refresh you and not weigh you down as you contemplate whether you want seconds.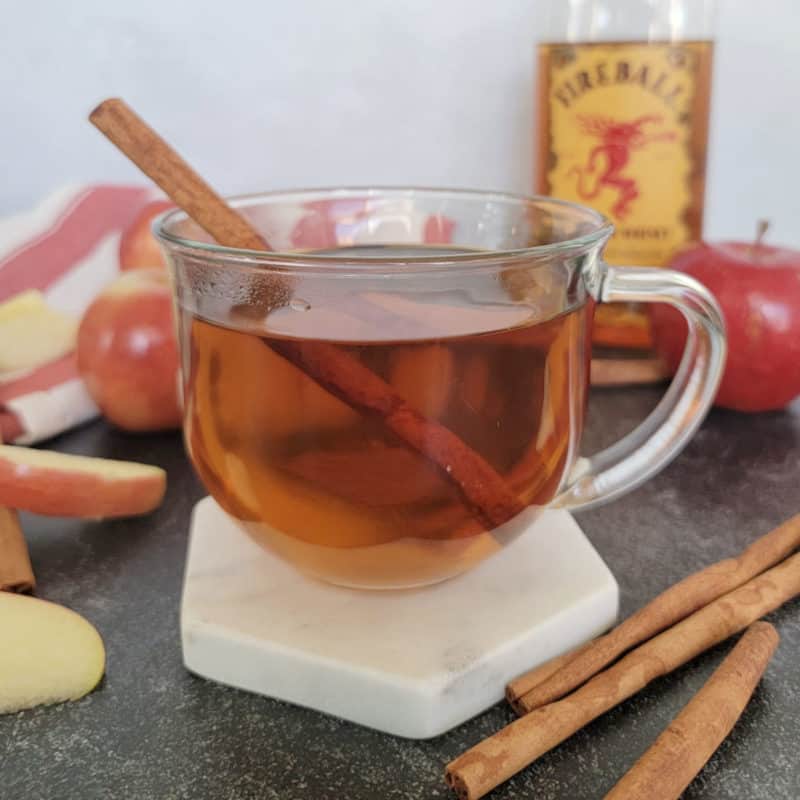 Ingredients: Fireball Cinnamon Whisky, Apple Cider
Our seasonal take on the hot toddy blends cinnamon whisky and apple cider and takes well to substitutions. It's enjoyable as-is, but we like adding caramel vodka or using caramel apple cider when we want a sweeter treat.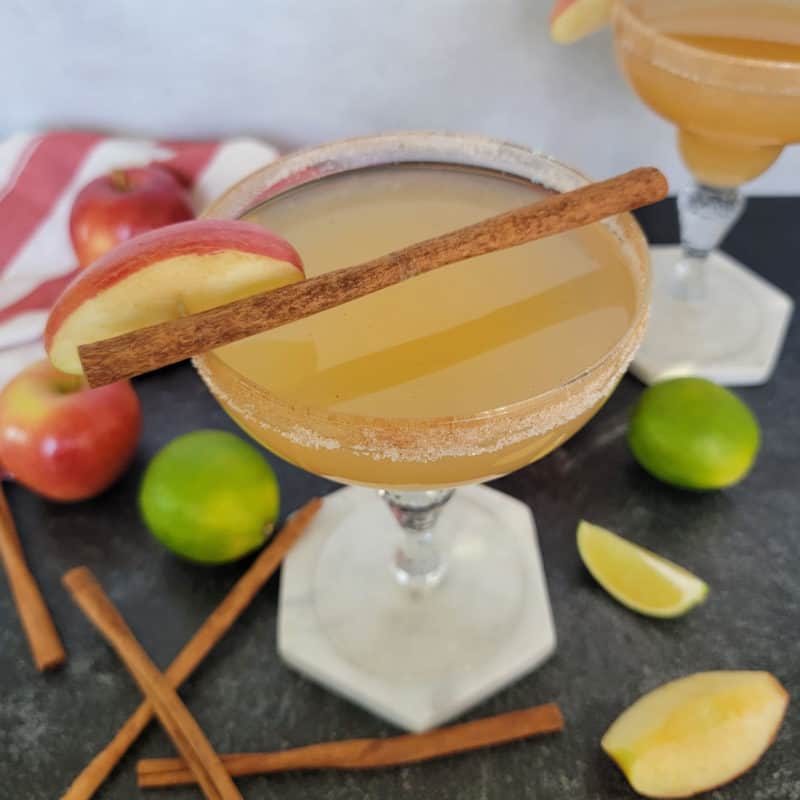 Ingredients: Reposado or Blanco Tequila, Apple Cider, Triple Sec, Lime Juice
This fall take on the classic margarita ensures you won't feel out of sorts for having a margarita when the weather has turned nippy, and your wardrobe has evolved into daily sweaters and boots.
Swap the triple sec, which gives it a sweet orange flavor, with equally orangey but boozier Cointreau or Grand Marnier for a proper cheek warmer.
Serve with a sugared rim and cinnamon stick for a garnish.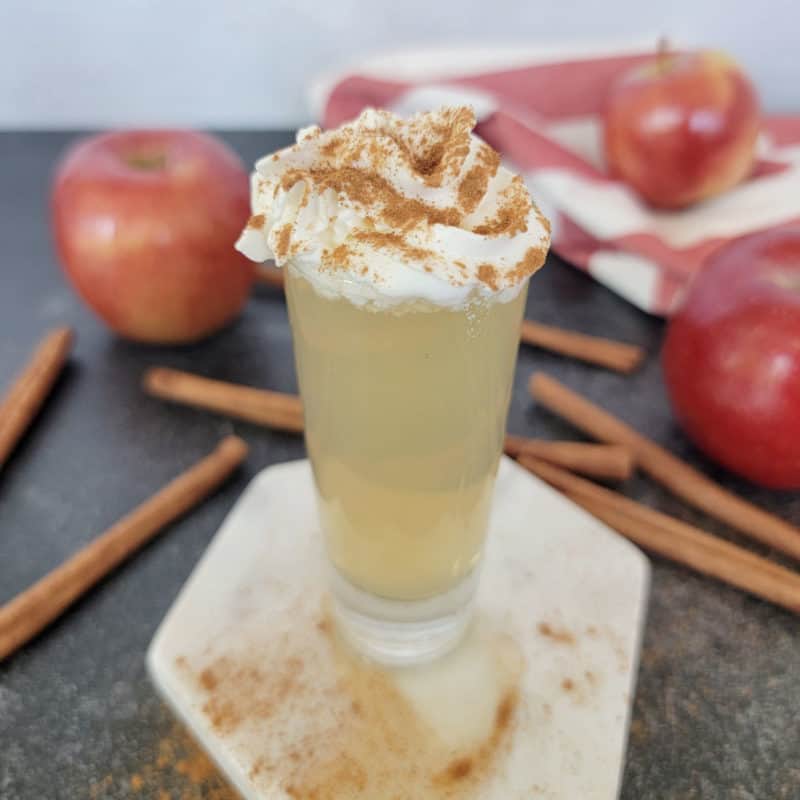 Ingredients: Apple Cider, Vanilla Vodka, Fireball Cinnamon Whisky
A dessert shot that tastes like the apple pie you've been eyeing for seconds? The whipped cream topping is optional, but we encourage it during this season of celebrating abundance.
Finish it with a drizzle of caramel sauce for more decadence, and feel free to swap the Fireball for cinnamon schnapps or Crown Royal Apple for an alternate version.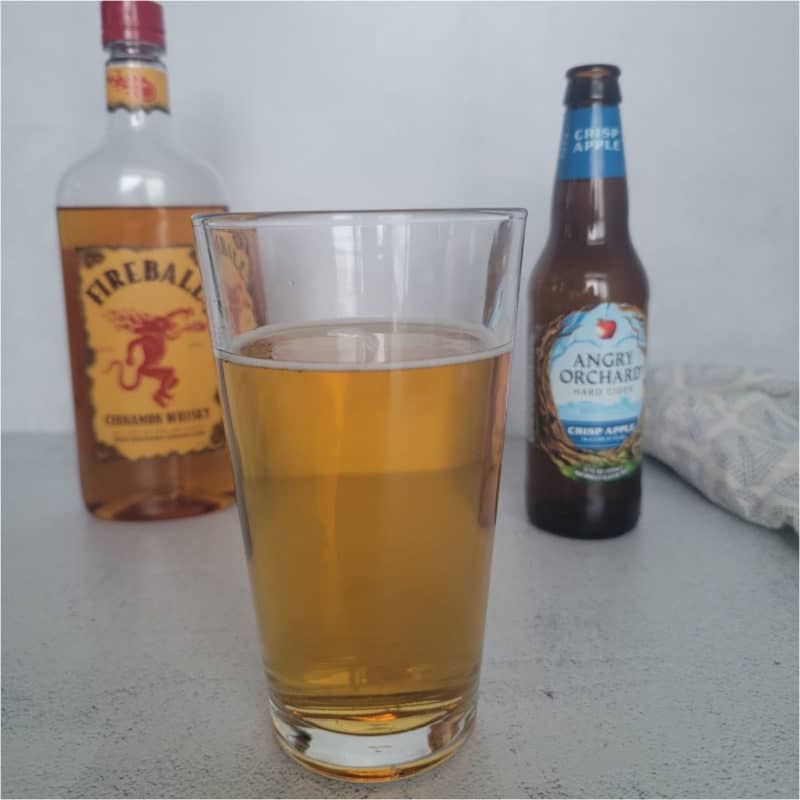 Ingredients: Fireball Cinnamon Whisky, Angry Orchard Apple Cider
Here's yet another Fireball cocktail for your fall and winter enjoyment; can you tell how much we love this cinnamon-flavored Canadian whiskey import?
We used Angry Orchard since it's widely available, and you've likely already seen it on grocery or liquor store shelves, but you can use a local hard cider if you live in an area with a great craft beer scene.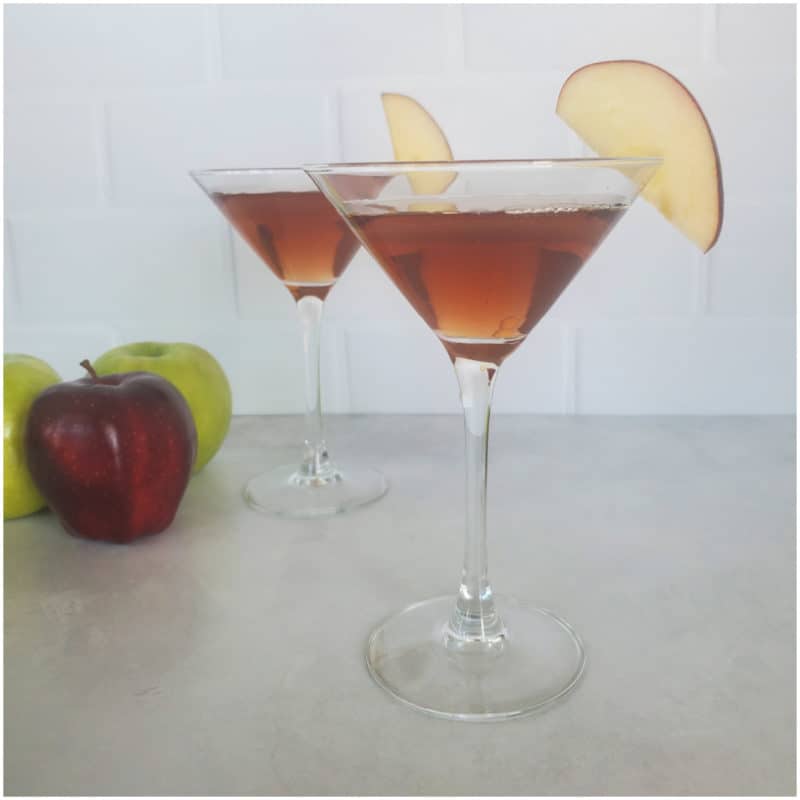 Ingredients: Crown Royal Whisky, Sour Apple Schnapps, Cranberry Juice
We love that the blend of Crown Royal, sour apple schnapps, and cranberry juice creates a beautiful deep red that resembles the skin of a red apple.
Use Crown Royal Regal Apple or any of the brand's many varieties that you think would pair well with an apple-flavored drink to add a unique twist.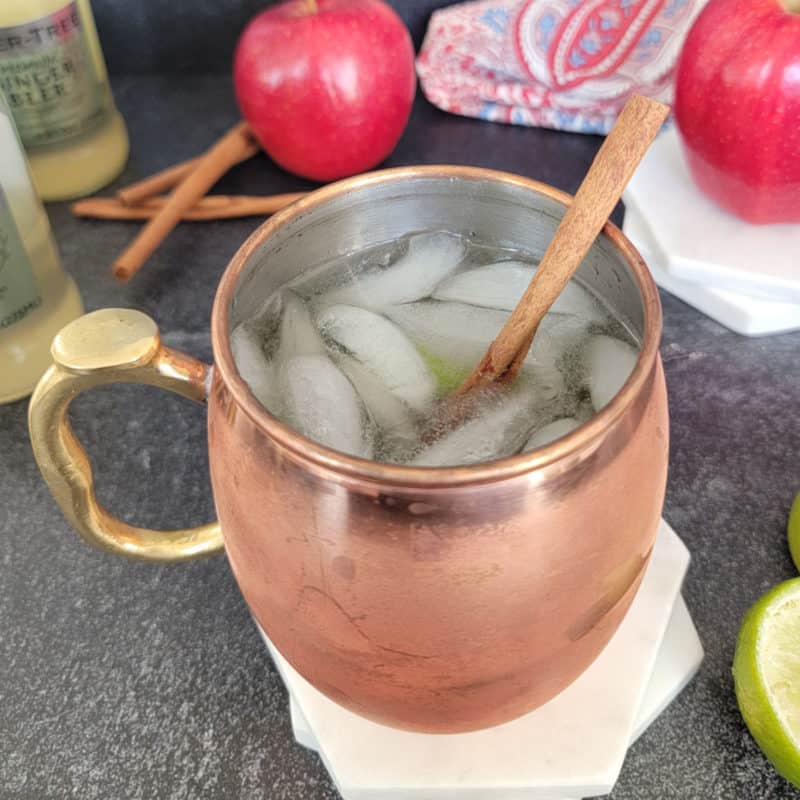 Ingredients: Vodka, Apple Cider, Fresh Lime Juice, Ginger Beer
This sweater weather twist on a Moscow mule uses ginger beer and apple cider in near-equal parts. For even more autumnal flair to keep you toasty, use a hard apple cider, replace the vodka with an apple or caramel-flavored variety, or change the base spirit to bourbon or Fireball.
This apple cider flavored mule is super refreshing!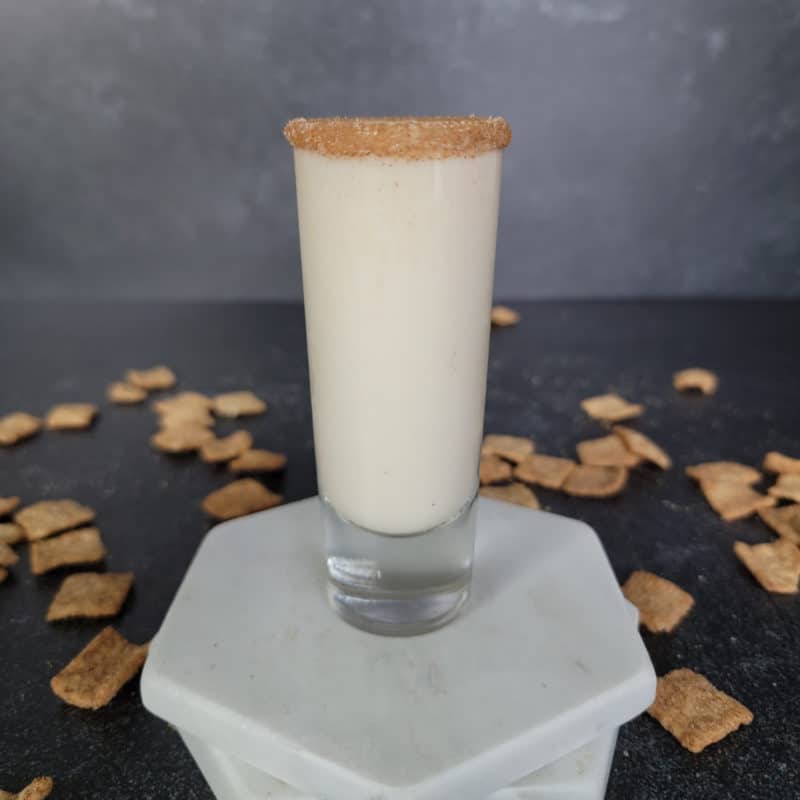 Ingredients: RumChata, Fireball Cinnamon Whisky, Sugar, Water, Cinnamon Sugar
With all the savory options on the Thanksgiving feast table, a sweet and petite drink can be a pleasant change of pace. This cereal-inspired dessert shooter uses RumChata and Fireball to create the nostalgia of a bowl of Cinnamon Toast Crunch. Upsize and serve it in thick-bottomed rocks or old-fashioned glasses for an adult-sized version.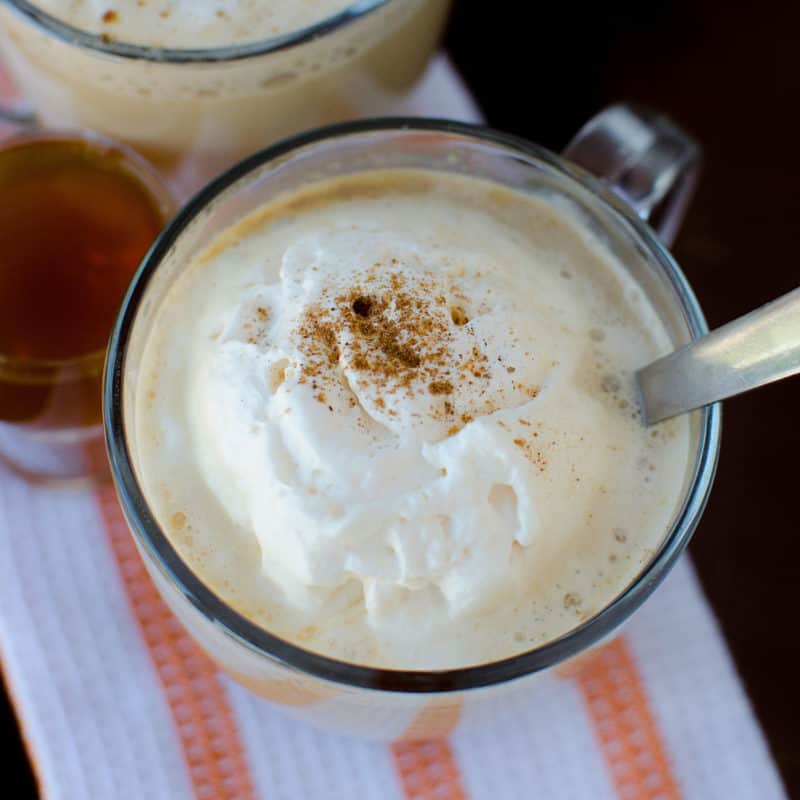 Ingredients: Milk, Cream, Pumpkin Pie Spice, Coffee, Vanilla Extract, Brown Sugar, Large Cinnamon Sticks
Depending on how late the festivities run, a caffeinated digestif or post-dinner drink may be in order.
This homemade pumpkin spice latte made entirely in your slow cooker lets you skip the coffee store run, save some cash, and spend more time with your loved ones indoors during your gathering.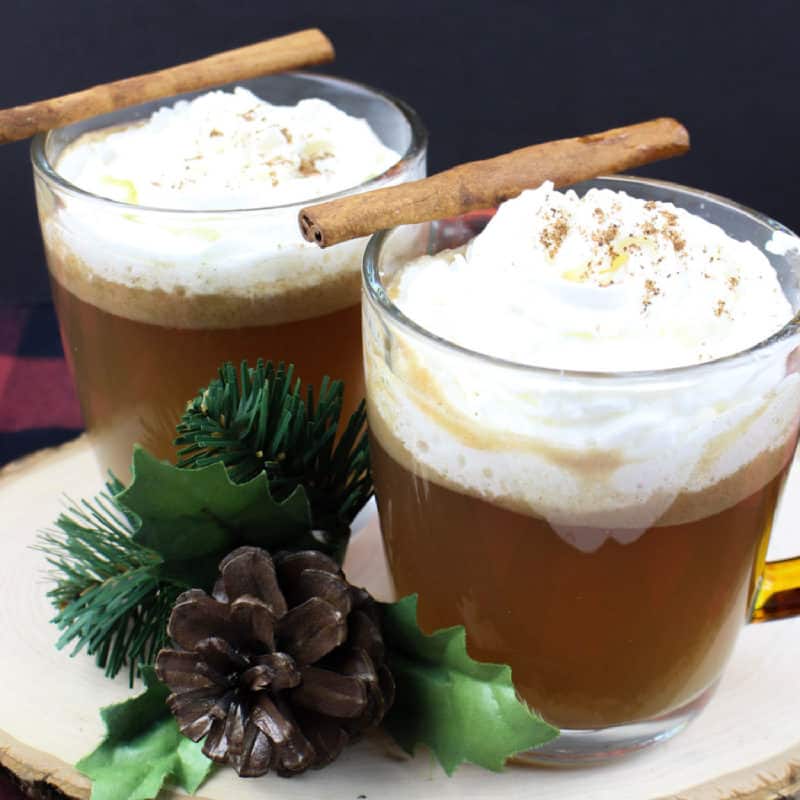 Ingredients: Unsalted Butter, Dark Brown Sugar, Dark Rum, Vanilla Extract, Ground Cinnamon, Ground Ginger, Ground Cloves, Apple Cider or Apple Juice
This slow cooker Hot Buttered Rum contains more ingredients than our standard recipes, but it is still easy to put together if you gather everything before starting.
Each component plays a role in developing this deeply spiced, hot libation that leaves behind a decadent scent in your kitchen. We recommend dark rum for more depth and flavor, and we use dark rum in our recipe.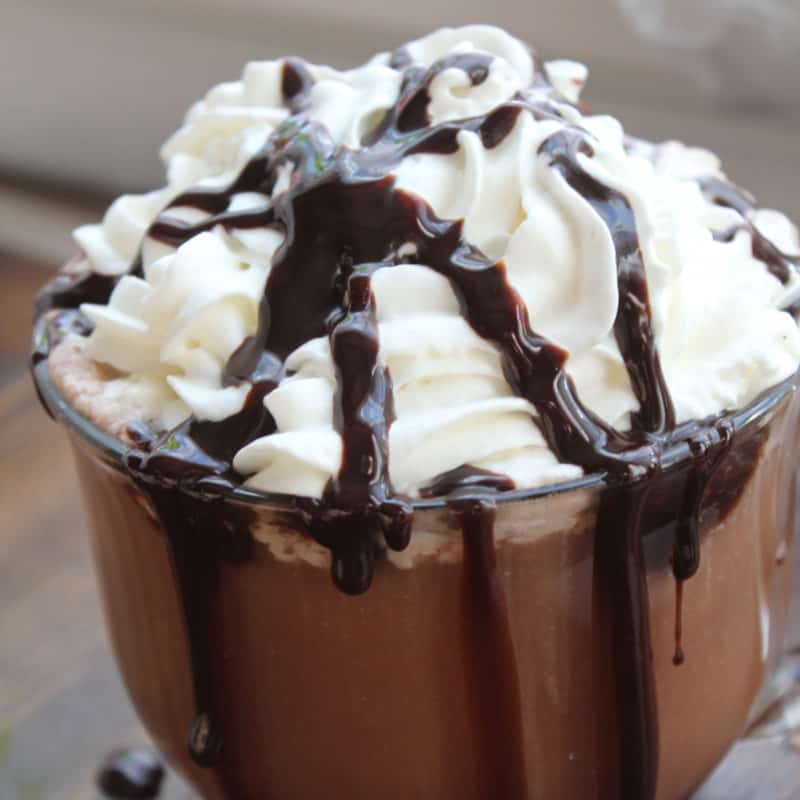 Ingredients: Sugar, Cocoa Powder, Salt, Water, Milk, Vanilla Extract
Aside from the minority of folks who don't enjoy chocolate, hot chocolate is a universal cold-weather favorite, and this CrockPot Hot Chocolate is effortless to prepare for groups!
Serve it as-is for a family-approved version, or add a shot or two of your favorite liquor to spike it if you're of age.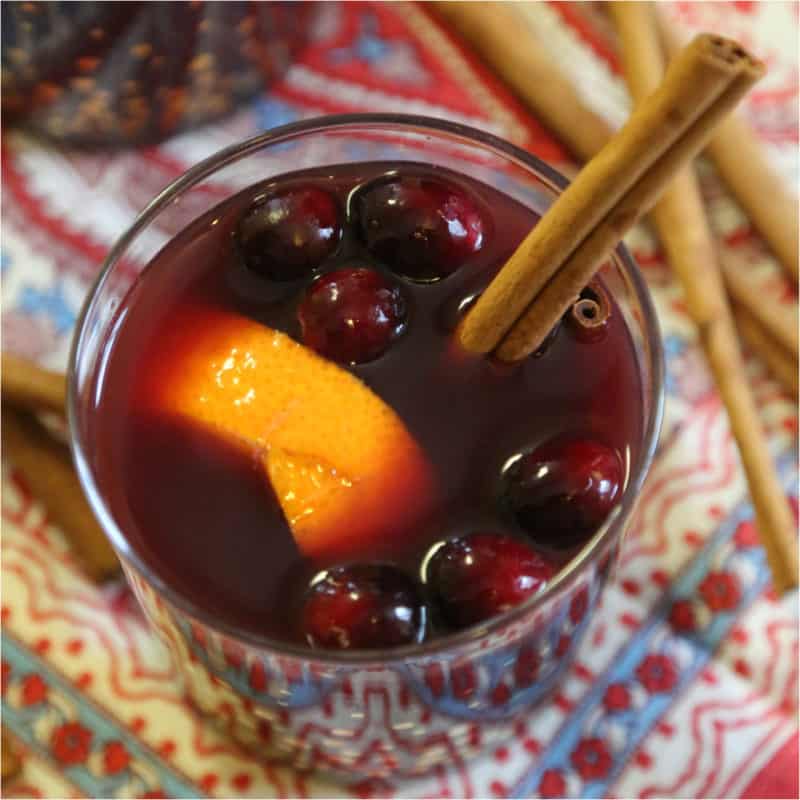 Ingredients: Merlot, Orange Juice, Fresh Whole Cranberries, Sugar, Orange, Whole Cloves, Cinnamon Sticks, Brandy
If you've never tried wine above room temperature, you'll understand at the first sip why it's a wintertime must-have. In this slow cooker recipe that's a play on the hot mulled wine served in Germany during the holiday season, Merlot wine gets a festive makeover thanks to a blend of warming spices, orange juice, and brandy.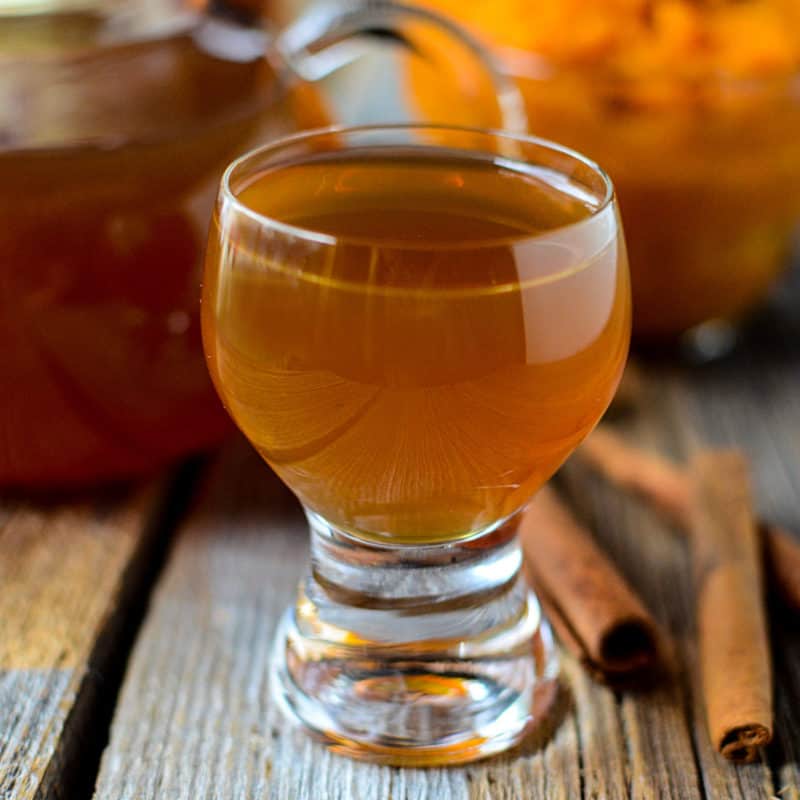 Ingredients: Water, Brown Sugar, Pumpkin Puree, Cinnamon Sticks, Pumpkin Pie Spice, Rum
Enjoy it alone, or add this pumpkin liqueur to a cup of our Crock Pot hot cocoa for a beverage treat that's 100 percent homemade! We love adding it to coffee for boozy, brunch-approved pumpkin spice lattes if you plan to keep the festivities going through the holiday weekend.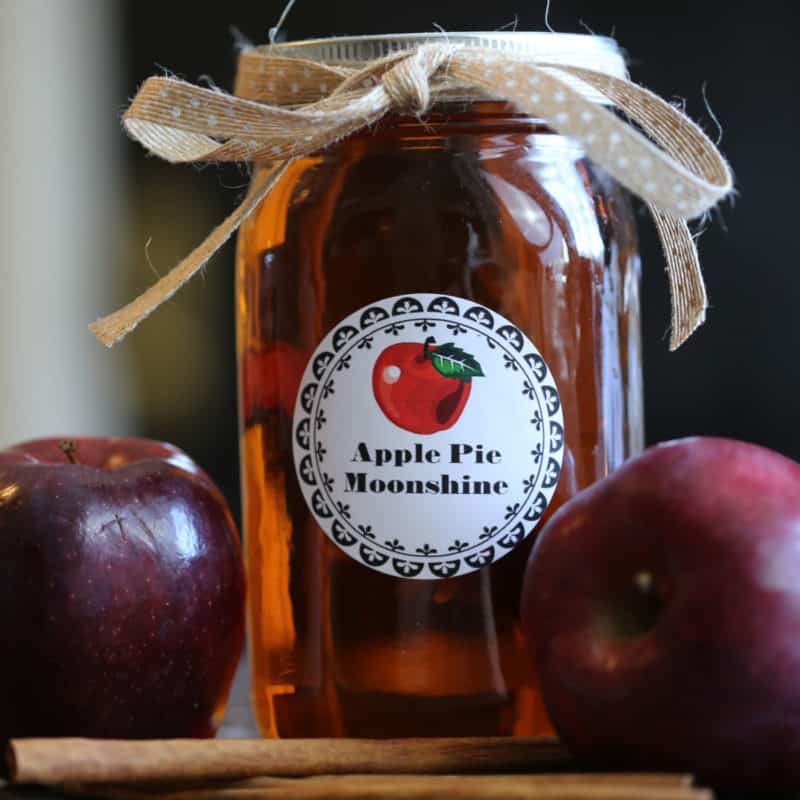 Ingredients: Apple Cider, Everclear, Cinnamon Sticks
This recipe scales up effortlessly, which is helpful if you're making it as a DIY gift for a large group of people. We love gifting it in hand-decorated Mason jars and have jokingly thought once or twice of putting a warning label on it to let everyone know how much it packs a punch!
While filled with cinnamon and apple deliciousness that goes down well taste-wise, a little goes a long way.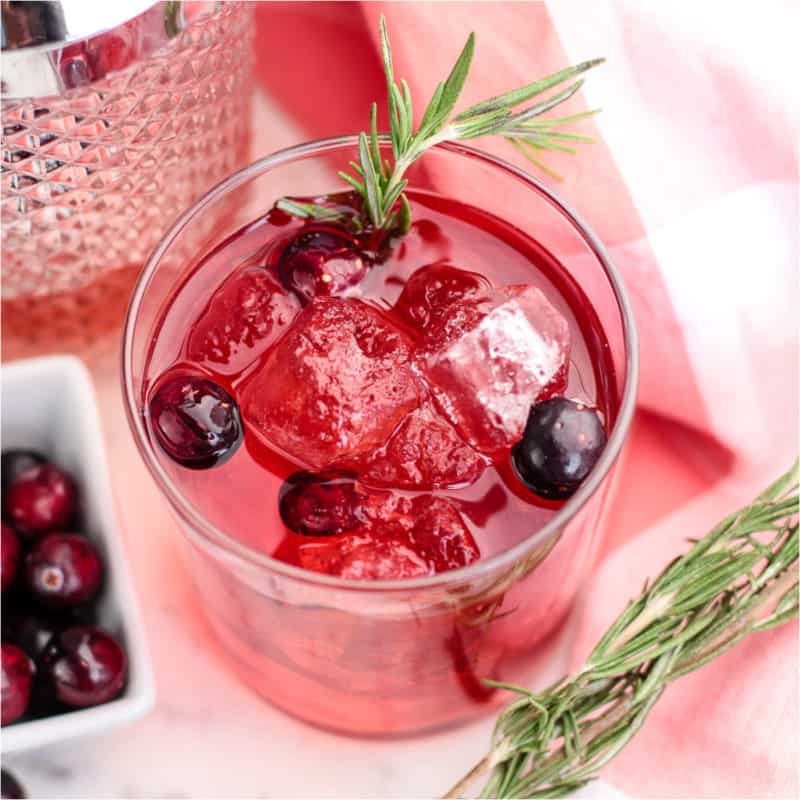 Ingredients: Cranberry Vodka, Cranberry Wine, Spiced Cranberry Cocktail or Cranberry Juice, Whole Cranberries, Rosemary Sprig, Ice
This Spiced Cranberry Cocktail has enough cranberry to satisfy the most fanatic lover of this sweet, tart, and tangy red fruit that, contrary to popular belief, isn't a berry!
Its festive red color makes it appropriate for the holidays and Valentine's Day, meaning you can get away with serving it all winter if you love it that much.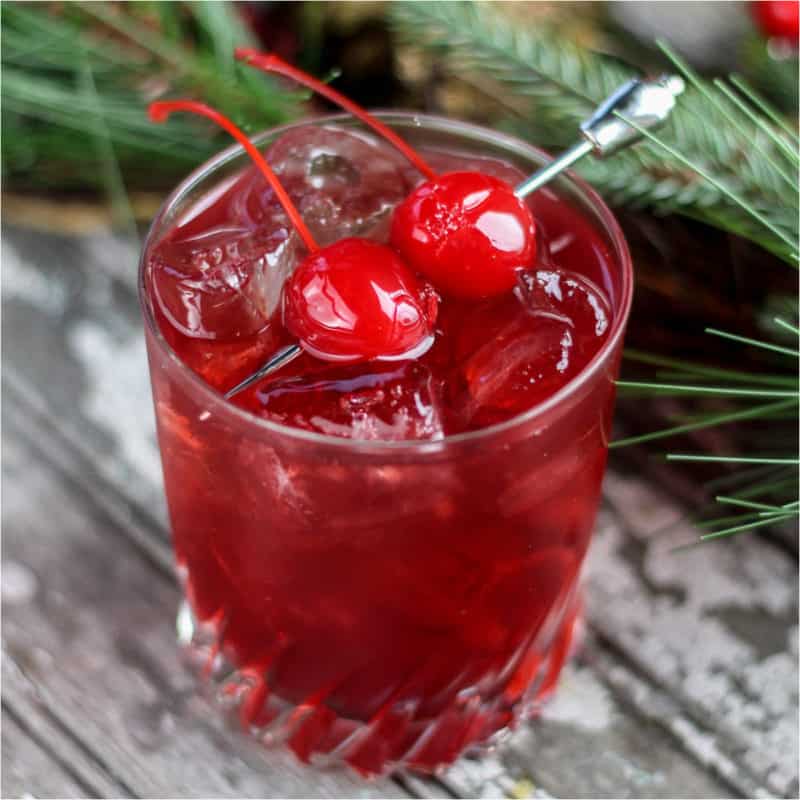 Ingredients: Vodka, Maraschino Cherry Juice, Cherry Cider, Mulled Cider, Maraschino Cherries, Ice
In this twist on a screwdriver, which uses only vodka and orange juice, we used mulled cider and three forms of cherry to create ruby-hued holiday magic in a cocktail glass.
As with other cocktails that use vodka as a base spirit, you won't need an expensive brand to achieve the desired result. You can swap the plain vodka with cherry vodka, though we don't recommend this unless you adore cherry as a flavor.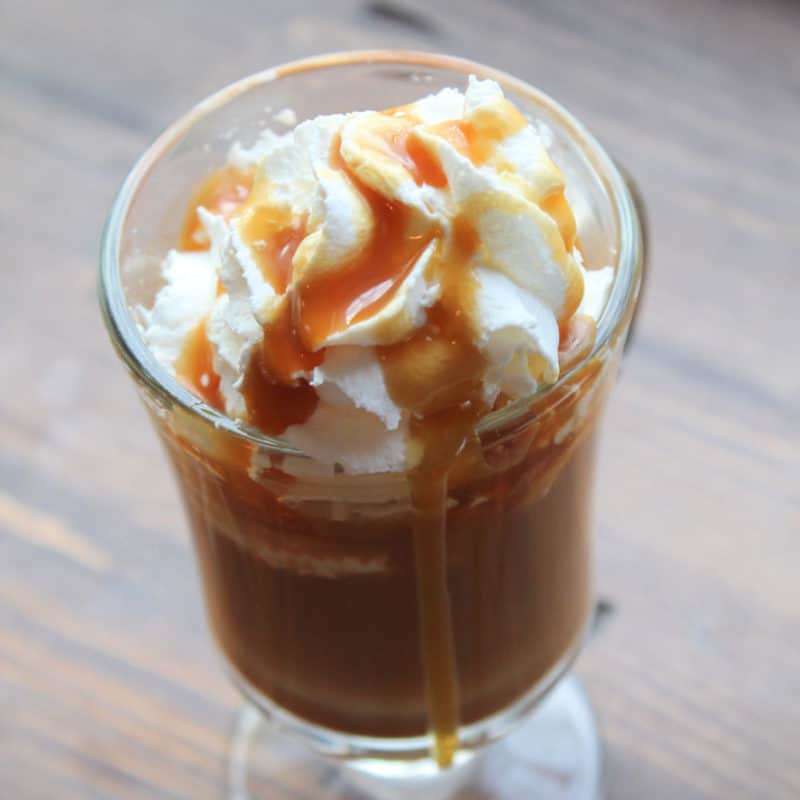 Ingredients: Brown Sugar, Milk, Half and Half, Caramel Sauce, Coffee
Here's another espresso bar favorite if you need a caffeine boost to get through all the fun Thanksgiving festivities this year but want something more traditional.
We used caramel sundae syrup in this recipe, but you can just as readily use our no-fail, one-ingredient recipe for caramel sauce.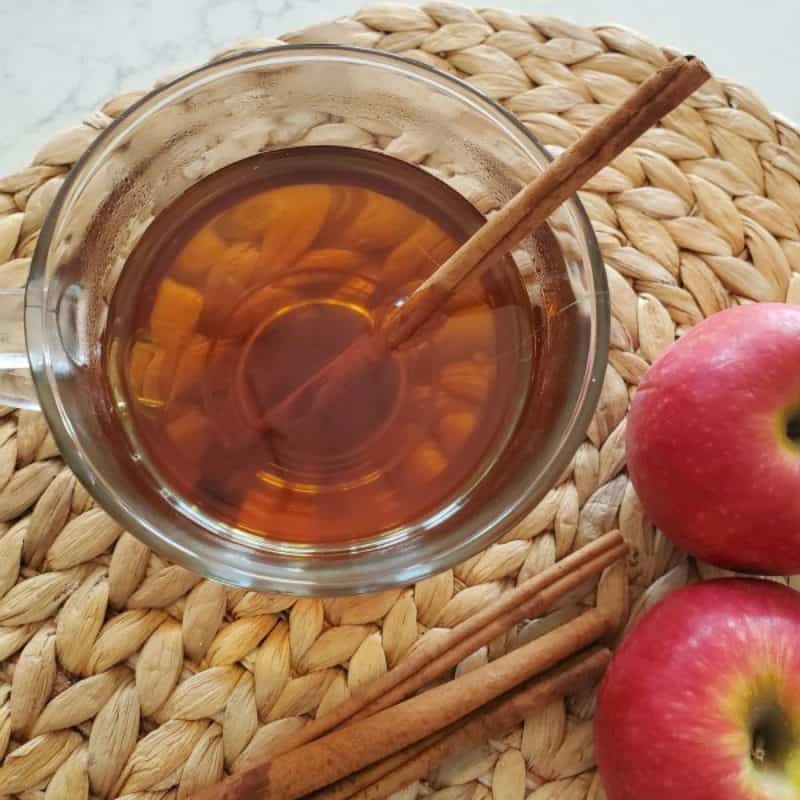 Ingredients: Apple Cider, Caramel Vodka
This warming caramel-apple cocktail is prepared quickly for group serving with a slow cooker! Add spiced apple cider and caramel vodka to your CrockPot in a 3:1 ratio - the standard for mixed drinks - set it to warm, and keep coffee mugs and a soup ladle within reach so guests can safely serve themselves.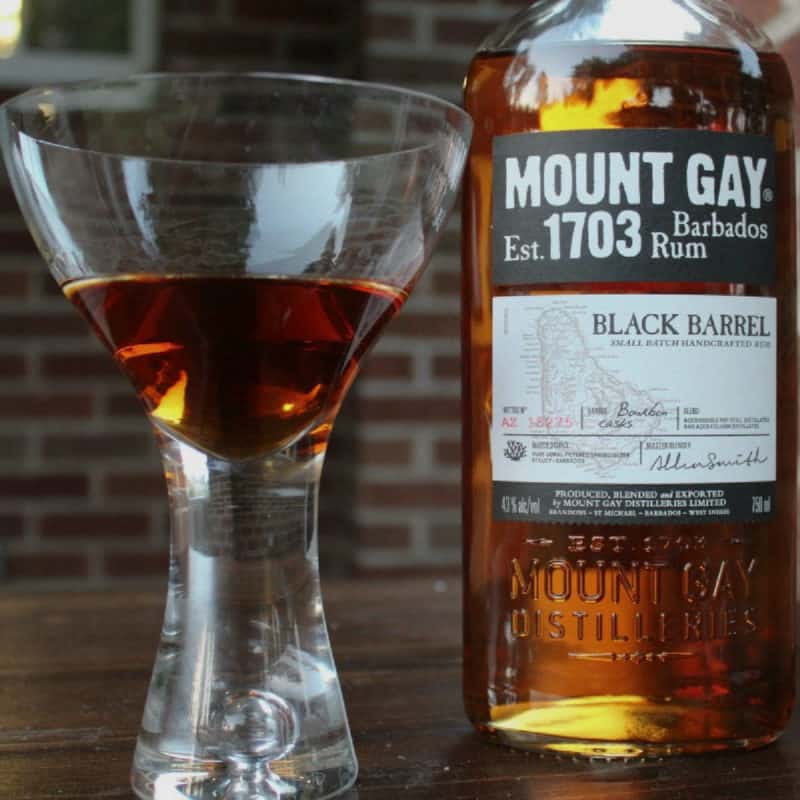 Ingredients: Rum, Maple Syrup, Angostura Bitters
Old-fashioned cocktails are typically whiskey-based. Our version uses maple syrup as a simple syrup alternative and Mount Gay Black Barrel Rum, which is matured in charred bourbon oak barrels, for a memorable, season-appropriate take on a classic.
Did you know that this distillery is the oldest rum distillery in the world and has been crafting rum since 1703?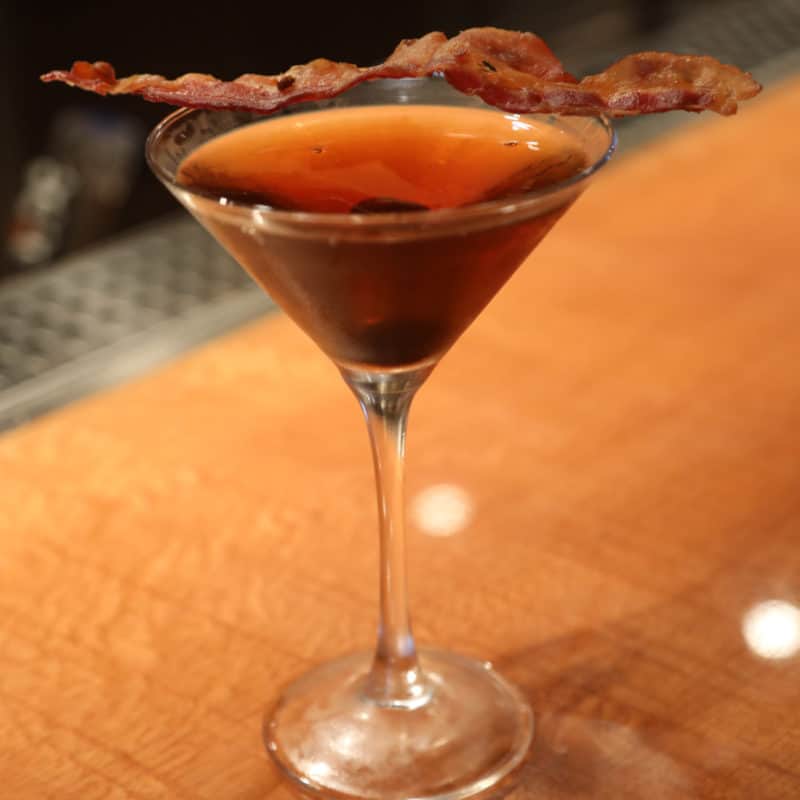 Ingredients: Bacon-Infused Whiskey, Sweet Vermouth, Angostura Bitters, Bacon for Garnish
This meaty take on the classic Manhattan has all the savory and warm flavors of any hearty Thanksgiving spread. Upgrade it with maple or brown sugar simple syrup to taste if you're a fan of your bacon on the sweeter side.
If you still crave sweetness, use our Bacon Candy as a garnish or cocktail snack pairing!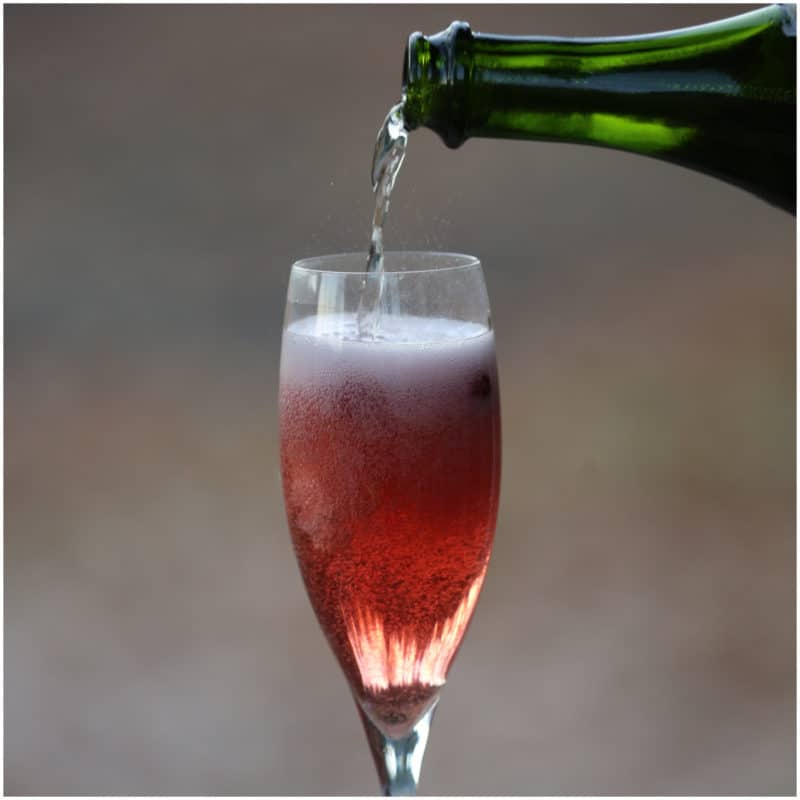 Ingredients: Champagne, Cranberry Juice
Cranberry sauce is a Thanksgiving mainstay, and the holidays are all about celebration, so why not bring the best of both to your feast this year?
Use any clear sparkling wine to add fizziness and let the festive red of the juice come through, and use pure cranberry juice or juice cocktail, depending on how much sweetness or tartness you can handle.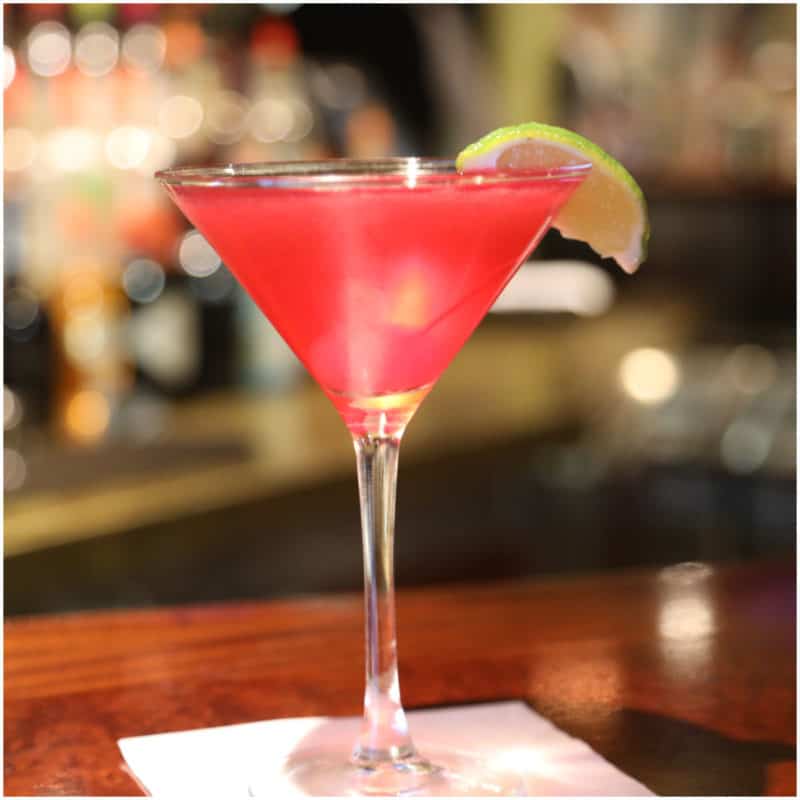 Ingredients: Absolut Vodka, Monin Pomegranate Syrup, Lemonade, Cranberry Juice, Lime and Maraschino Cherry for Garnish
This Carnival Cruises martini features pomegranate, the other ruby fruit that appears in dishes served during wintertime, and would be a gorgeous and delicious part of any holiday cocktail party.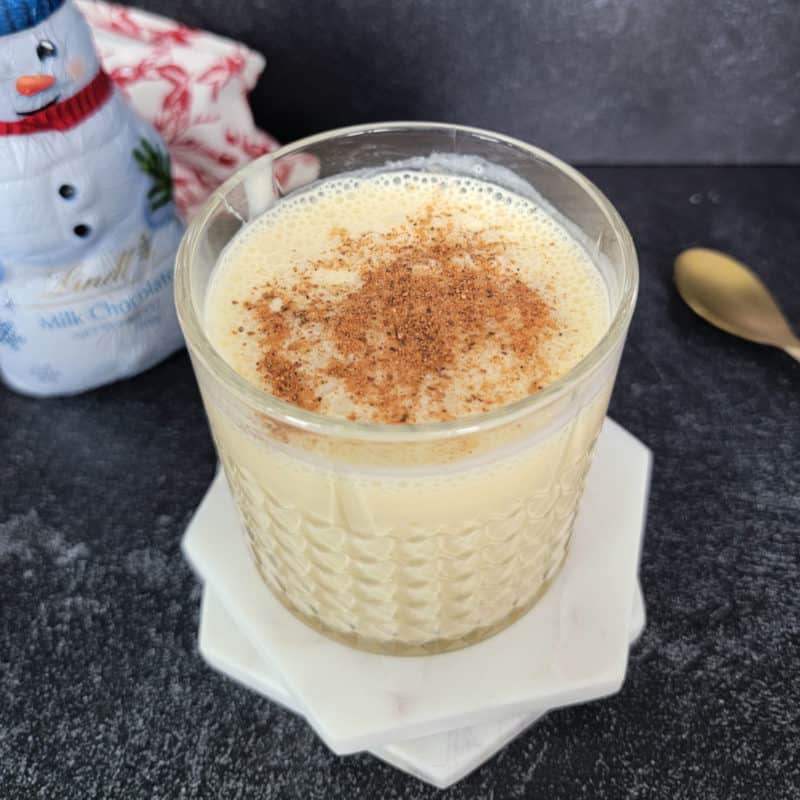 Ingredients: Eggnog, Bourbon, Nutmeg
This cocktail is for anyone who wonders whether it's too soon to bring eggnog home from the grocery store. This three-ingredient bourbon eggnog is make-ahead-friendly and scales up effortlessly for a dessert punch bowl everyone will look forward to after the feast.
We've included guidance in the recipe post on bourbons in case you need a recommendation, though you won't need to use a pricy one given that this ingredient is there to provide alcohol content.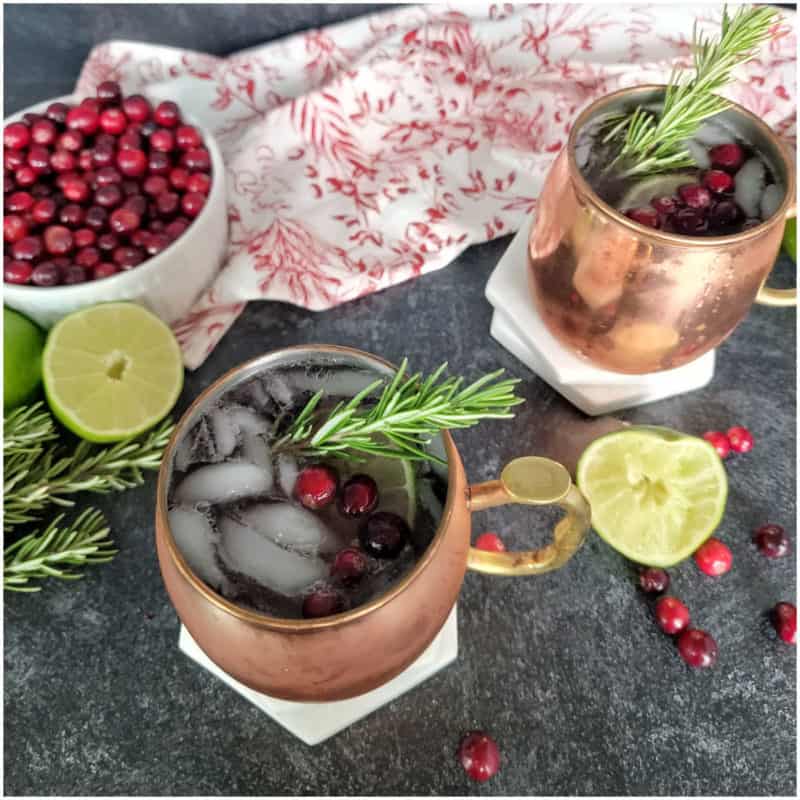 Ingredients: Ice, Fresh Lime Juice, Vodka, Cranberry Juice, Ginger Beer; Lime Wheel, Cranberries, and Rosemary Sprig for Garnish
Tart cranberry pairs beautifully with spicy ginger beer in this holiday-friendly play on the classic Moscow mule. Orange bitters add even more festivity.
We are working on more cocktails with gin, apple brandy, pear, pomegranate juice, lemon juice, and more fall flavors.
Favorite Bartending Tools
OXO angled jiggers - these are our go-to measuring tools for cocktails. They work perfectly for pouring in layers for cocktails.
2 ounce shot glasses - We love these 2 oz shot glasses especially for layered shots.
Bar Spoon - Bar spoons help to create layers in the cocktail shot. They fit perfectly into the cocktail shot glass.
Copper Mule Mugs  - Copper Mule Mugs are the classic way to serve Moscow Mules. The copper mugs keep them nice and cold and look amazing.
Cocktail Shaker – This cocktail shaker comes with a fantastic set of tools
Stemless Martini Glasses - These stemless martini glasses are fantastic.
Martini Glass - We like the look of the classic martini glass
Jell-O Shot Cups - We suggest using two-ounce Jell-O shot cups.
Great Recipe Collections
Great Martini Recipes - Shake or stir your favorite martini with these great recipes
Moscow Mule Recipes - Try a new variation on the classic Moscow Mule Drink.
Butterscotch Schnapps Cocktails - No need to be bitter! These Butterscotch Schnapps Cocktails are easy to make and tastes oh so sweet.
Baileys Irish Cream Cocktails - Epic Guide to Baileys Irish Cream Liqueur! How to mix it, what it tastes like, how to store it and so much more.
Ginger Beer Cocktails - All of our best cocktail recipes made with ginger beer.
Crème de Cacao Cocktails - All of our best cocktails made with light and dark Crème de Cacao.
Grand Marnier Cocktails -  Here we have answered your most important questions about this premium French liqueur and shared our favorite Grand Marnier Cocktails.
Do you love recipes? Check out our copycat recipes, dessert recipes, and our CrockPot Recipes.
Follow Tammilee Tips on MSN, Facebook, Instagram, and Pinterest, for all of our recipe posts.