Here's how to reheat pizza in an air fryer! This method is the best way to reheat leftover pizza and keep the crust from getting soggy. You will love how great your leftover pizza tastes.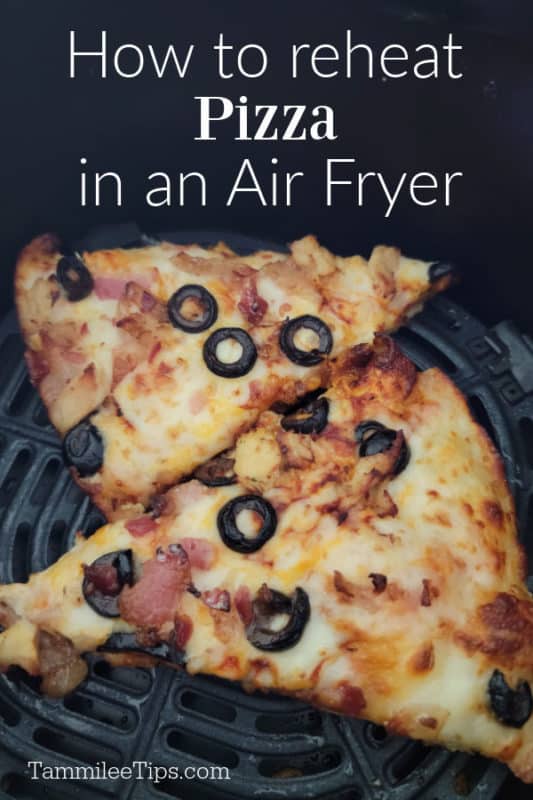 How to Reheat Pizza in Air Fryer
Once you reheat your pizza in the air fryer, you will be hard-pressed to do it any other way. We used to reheat pizza slices in the microwave, but they would get soggy and soft and never taste as good as the first time.
When we started using the air fryer, we realized it was the perfect kitchen tool to reheat pizza. It keeps the crust nice and crunchy while heating the toppings and cheese to perfection. Plus, it only takes 3-4 minutes to reheat two slices.
The first time I used air frying instead of microwaving the pizza, my husband was shocked by how great it tasted. He kept telling me it tasted better than when it was delivered. The extra-crispy crust is just that good.
If you are reheating a lot of pizza leftovers in the air fryer you will want to work in batches to the pieces are not overlapping.
Ingredients
Here is a quick overview of the simple ingredients needed to Reheat Pizza in an Air Fryer! The printable recipe card at the bottom of the post includes specific measurements and step-by-step instructions.
Leftover Pizza: We used two slices for this guide.

Olive Oil Spray

: You can spritz the bottom of the air fryer with a bit of olive oil spray if you want to keep your pizza from sticking. We do not use non-stick cooking spray since it can damage the air fryer basket/tray. 
Equipment Needed
Air Fryer

: We suggest getting an air fryer that is bigger than you think you will need. We found that once we started using the air fryer, we used it for more and larger meals.

Kitchen Tongs

: We highly suggest getting a good pair of kitchen tongs to remove items from the air fryer and save your hands from getting burned. 

Parchment Paper: Optional but works great to keep the melted cheese on the pizza not the air fryer oven tray.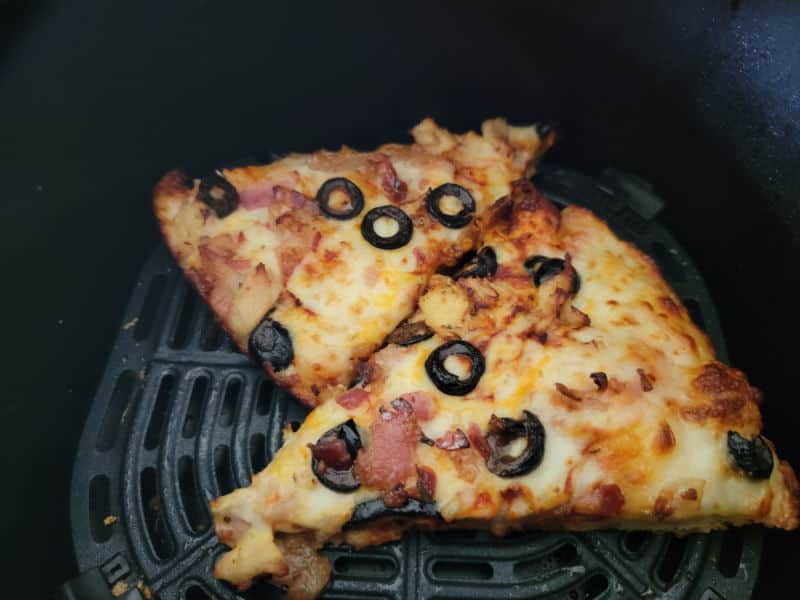 Preparation and Storage
Make Ahead: Use this how-to guide for leftover pizza, not frozen pizza.
Storage: According to the USDA, leftover pizza that you have kept refrigerated and not kept at room temperature for more than two hours is safe to consume within three to four days.
Freezing/How to Freeze: According to The Kitchn, leftover pizza freezes well! For the best results, wrap individual slices in plastic and store them in Ziploc bags, then enjoy them within two months.
How to Reheat: You can use your air fryer to reheat frozen leftover pizza slices from frozen—no thawing is required or recommended.
Recipe Variations
Substitutions: This air fryer how-to guide should work with any type or style of leftover pizza, with cooking times varying slightly based on the pizza crust and toppings.
Vegetarian + Vegan Option: Any leftover pizza, including vegetarian and vegan pizza, reheats well in the air fryer.
Gluten-Free: Your air fryer can reheat pizza with a gluten-free crust! The cooking time should be about the same.
Smaller Serving Size + Larger Group/More Servings: We wrote this air fryer how-to guide for reheating two slices of leftover pizza. Adjust the cooking time up or down based on the thickness of your pizza crust and how many portions you need to reheat.
Make It Spicy: We have heard of people who add hot sauce to their leftover pizza for an added kick. It is up to you whether you add it before or after reheating, though if you add it before, it will have a chance to meld with the existing toppings on your pizza. We also suggest pairing your hot sauce with your pizza toppings for the best taste experience.
Sugar-Free: Fresh pizza toppings vary greatly, so the nutritional content of your pizza will also vary depending on what you choose to reheat.
Tips for the Best Reheated Air Fryer Pizza
Cooking time will vary depending on the type of pizza and how thick your pizza crust is. A thin crust pizza will reheat much faster than a thick crust pizza or a deep dish pizza.

We use a type of air fryer with a basket. If you are using a toaster oven style rack the times will vary.

Do not crowd the air fryer basket so the hot air can circulate the pieces.

This recipe is for leftover pizza, not frozen pizza. Frozen pizza is going to take longer to cook. 

Check to see if your air fryer needs preheating
What to Serve with Reheated Air Fryer Pizza
Leftover pizza can be a satisfying meal that your air fryer can quickly heat to perfection so that you can finally finish that box in your fridge! Here are some menu planning suggestions to help you recreate pizza night at home.
Salads: Caprese Pasta Salad, BLT Pasta Salad, 7 Layer Salad, Sauerkraut Salad, Big Mac Salad, Greek Cucumber Salad, Watermelon Salad, Kale and Apple Potato Salad
Appetizers: Crock Pot Spicy Mango Jerk Wings, Slow Cooker Honey Sriracha Wings, Crock Pot Jamaican Jerk Wings, Air Fryer Jalapeño Poppers, Air Fryer Buffalo Cauliflower
Drinks: Malibu and Coke, Beer Margaritas, Gin and Sprite Cocktail, Coke Slushie, Vodka and Sprite Cocktail, Rum and Sprite Cocktail, Tequila and Sprite Cocktail
When to Serve
Lunch

Dinner 

Late Night Snack

Kids meal
Great Recipe Collections
30+ Easy Delicious Vegetarian Air Fryer Recipes 
35+ Quick and Tasty Comfort Recipes for Cozy Nights!
30+ Delicious and Easy Vegetable Side Dishes for Any Occasion
3 Ingredient Recipes (Appetizers, Entrees, Desserts)
Easy Dessert Recipes with 5 Ingredients (Or Less!) 
Do you love recipes? Check out our copycat recipes, dessert recipes, and our CrockPot Recipes.
Follow Tammilee Tips on MSN, Facebook, Instagram, and Pinterest for our recipe posts.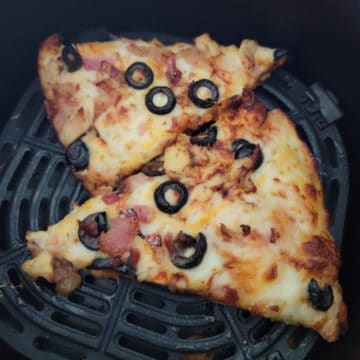 Reheat Pizza in Air Fryer
How to reheat pizza in air fryer to get a great result every time
Print
Rate
Instructions
Places slices of pizza in air fryer basket so they are in a single layer

Air fry at 350 degrees for 3-4 minutes
Nutrition
Nutrition Facts
Reheat Pizza in Air Fryer
Amount Per Serving
Calories 3
Calories from Fat 9
% Daily Value*
Fat 1g2%
Cholesterol 1mg0%
Sodium 4mg0%
Potassium 2mg0%
Carbohydrates 1g0%
Protein 1g2%
Vitamin A 3IU0%
Vitamin C 1mg1%
Calcium 2mg0%
Iron 1mg6%
* Percent Daily Values are based on a 2000 calorie diet.