The brand new Carnival Panorama is filled with amazing restaurants and so many great dining options.
Check out all of the restaurants that are included in your cruise and the specialty restaurants you can choose to dine at.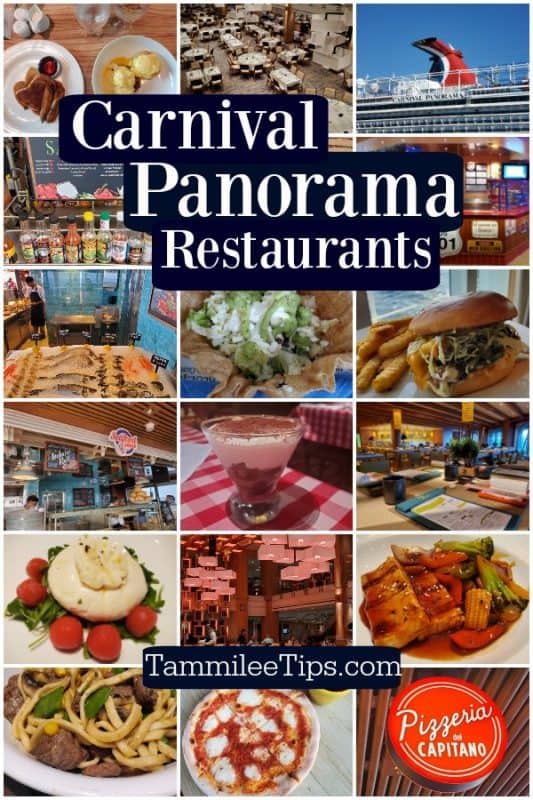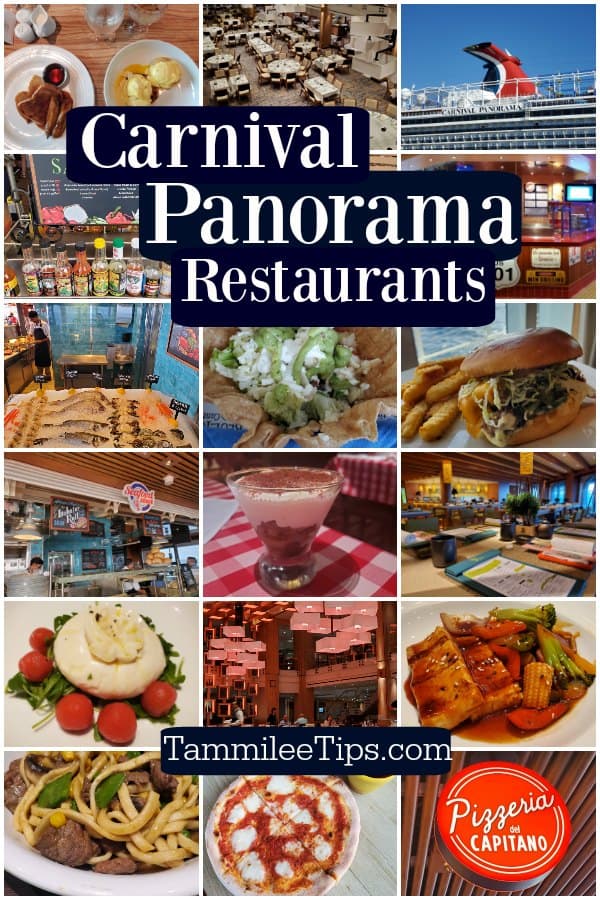 Restaurants on the Carnival Panorama
Dietary Restrictions
If you are worried about having dietary restrictions trust me when I say that Carnival chefs are trained to handle and make sure every guest is happy and healthy during the cruise.
They are trained to handle vegetarian, gluten-free, kosher, Indian vegetarian, or food low in carbs, fat, sugar or cholesterol restrictions.
If you have a dietary restriction we do suggest letting Carnival know before your cruise. This gives the ship the opportunity to make sure they have ingredients and menu items ready for your cruise.
I have been vegetarian for over 20 years and have never had a problem finding more than enough food to enjoy onboard the ship.
We have also done a cruise eating a gluten-free diet and did not have any difficulties. The restaurants on the Carnival Panorama are trained to handle dietary restrictions and make sure that you are well taken care of.
Kids Menus
Carnival Cruise line carries more families than any other cruise line. They are well prepared to handle kid's menus. Even if you have a picky eater they have options kids will love.
Kid's favorites available include spaghetti and meatballs, chicken nuggets, hot dogs, mac-n-cheese, peanut butter and jelly sandwiches, fresh fruit and veggies and more!
Plus there is pizza and soft-serve ice cream available 24 hours a day!
Your Time Dining/Set Dining Times
Before your cruise while filling out your cruise planner you will want to decide if you want a set dining time or your time dining.
With a set dining time you will be assigned a table and time for the entire cruise. You can meet new people and get to know them through out the week.
With your time dining you get to decide what time you want to have dinner each night. When you are ready for dinner you can sign in on the Carnival Hub App and request a table or go to deck 5 and check in saying you are ready.
It is truly up to you which dining option you go with. We normally pick your time dining because we enjoy visiting the specialty restaurants and find that we never really stick to a set time for dinner based on port days and what is happening on board.
Included with the cost of the cruise
These restaurants on the Carnival Panorama are included in the base cost of your cruise. There are no additional fees for visiting these restaurants unless you choose to purchase specialty menu items or cocktails/wine/beer.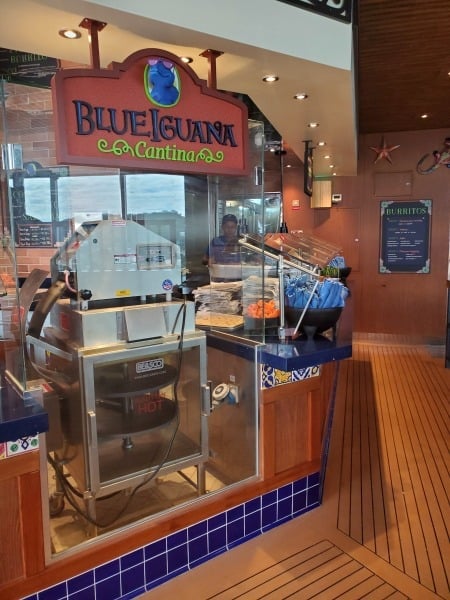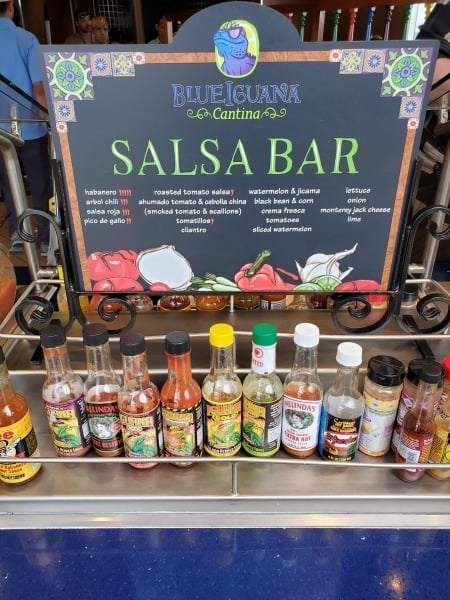 Blue Iguana Cantina is located on the Lido Deck near the pool. It is open daily for breakfast and lunch. This is one of our favorite places to start a cruise day!
Breakfast Menu items include building your own breakfast burritos with Mexican style scrambled eggs or regular eggs, chicken sausage, ham, and additional toppings.
The breakfast burritos are amazing! They also have arepas and huevos ranchero. The huevos ranchero is made with chicken and is delicious.
Blue Iguana Cantina is a great quick breakfast if you are heading out into port. You can quickly get a freshly made breakfast and not have to worry about sit down dining.
Lunch menu items include build your own burritos with your choice of chipotle rubbed chicken, ancho roast pork, and seasoned battered fish. Add in extras like cilantro-lime rice, black beans, roasted corn, charred green peppers and more.
You can load up your burritos at the salsa bar to customize them to your liking.
They also had giant taco shells at lunch and made amazing taco salads. This was one of our go-to lunches while on the Carnival Panorama.
Carnival Deli
The Carnival Deli is open daily for lunch and dinner. The deli offers hot and cold sandwiches along with hot dogs, Potato and Egg Salad, and regular or truffle fries.
Sandwiches include Buffalo Chicken, Grilled Ham and Cheese, Reubens, BLT, Tomato & Mozzarella, Southwest Chicken Wrap and Falafel Wrap.
Don't miss the salted chocolate chip cookies baked daily.  They also have great sauces available including truffle aioli, sriracha mayo and more.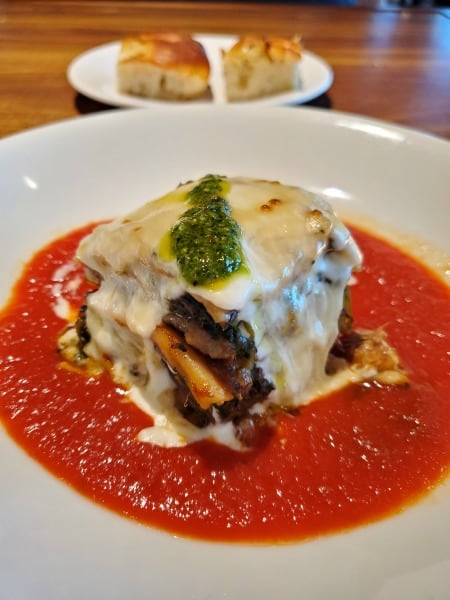 Cucina Del Capitano - Lunch Captain's Pasta Bar
During lunch, you can dine in Cucina Del Capitano for free. You get a menu pad and can fill out your choice of pasta, sauces, and meat. This is a great way to check out Cucina Del Capitano and decide if you want to enjoy dinner in the restaurant.
Pasta choices - Linguine, Penne, and Farafelle
Sauce options - White clam sauce, Pomodoro (tomato basil), Bolognese (meat sauce), Alfredo, and butter sauce.
Additional options - Grilled chicken strips, Italian sausage, garlic shrimp, Cherry tomatoes, onions, mushrooms, zucchini, peppers, eggplant, broccoli, spinach, and arugula.
You can also enjoy a Ceasar salad and fresh bread with your meal. If you don't want to make a custom pasta bowl they offer great meat lasagna.
The restaurant can get incredibly busy at lunch especially towards the end of the cruise when everyone on board realizes how delicious it is!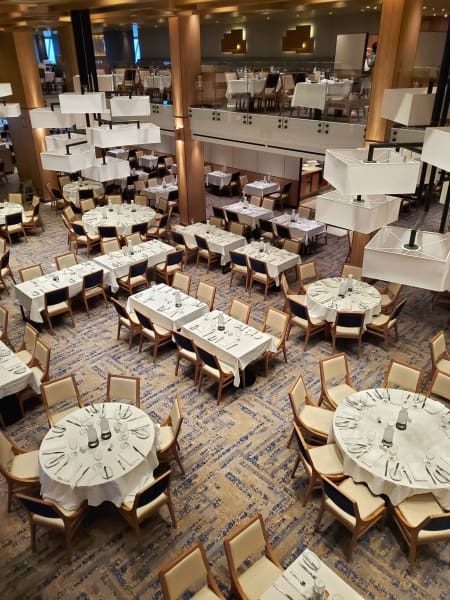 Dining Room
For the main dining room, you have the choice of a set dining time nightly or selecting anytime dining.
With any time dining, you can choose to dine when you want to and don't have to worry about arriving at a specific time.
The dining room menu changes nightly. You can view each day's menu outside the dining room daily or on the Carnival Hub App. This is a great way to decide if you want to enjoy the main dining room or a specialty restaurant.
Make sure to look at your cruise card to see which dining room you are assigned to.
The main dining room also hosts tea time and sea day brunch.
Dining room dinners include appetizer, main dish, side dishes, and dessert. There is a wide variety of menu items to fit a variety of flavors.
One thing we love is that on port days the menu will include a cocktail (additional charge), appetizer and main entree that are based on the port you visited that day.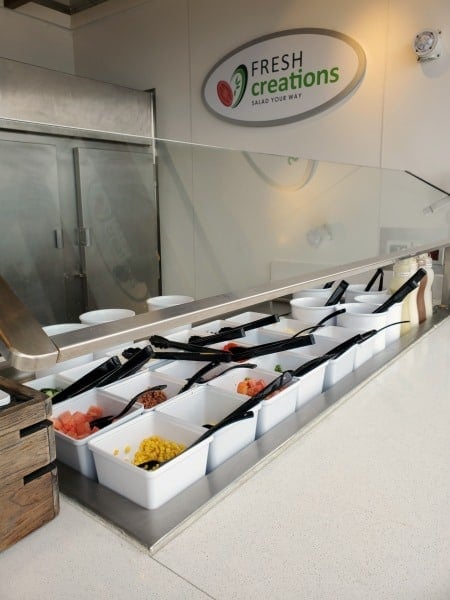 Fresh Creations
On sea days only from 12 - 2:30 pm you can enjoy fresh salad creations on the Serenity Deck. This is only available to guests 21+.
The salads are hand-tossed and made to order just for you.  There are a ton of salad options. The bowls are huge and you can enjoy an epic salad for lunch.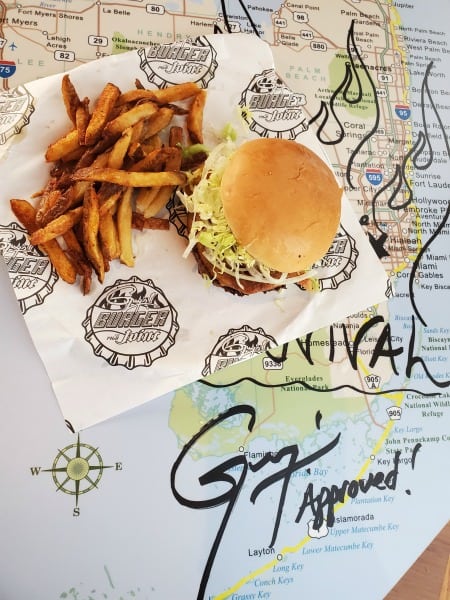 Guy's Burger Joint
Located on the Lido Deck you can enjoy Guy's Burger daily for lunch. Customize a burger with super melty cheese, rojo rings (crispy spicy onion rings), or Donkey Sauce.
This popular restaurant serves up made to order hamburgers daily. There may be a small line when you arrive but don't worry these guys know how to make a burger and get people through the line quickly.
Don't miss the toppings bar with everything you can imagine to top your Guy's burger creation.
They have veggie burgers and gluten-free buns available by request.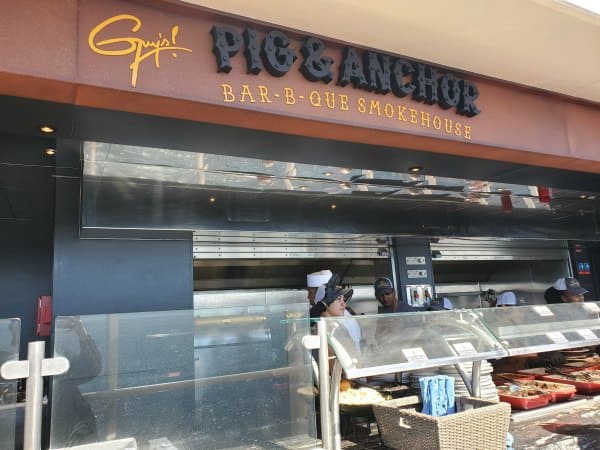 Guy's Pig and Anchor Smokehouse - Lunch
During lunch, you can enjoy the barbecue and sides from Guys Pig and Anchor Smokehouse.
The lunch menu includes:
Championship Pork Butt - bone-in butt, dry-rubbed, slow-smoked and pulled.
Blue Ribbon Chicken - Dry-rubbed and grilled
Smoked Beef - Low and slow-cooked beef thinly sliced.
Sides include:
Mac Daddy Mac n Cheese
Scratch-made slaw
Old Skool Potato Salad
Collard Greens with smoked turkey
Molasses Baked Beans - lightly smoked with bacon and burnt ends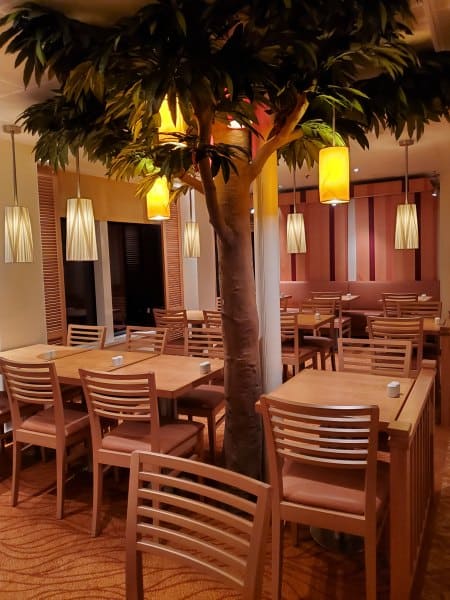 Lido's Marketplace
The Lido Marketplace buffet is open for breakfast, lunch, and dinner. The daily selections change often and include salads, a pasta bar, an Asian station, and an epic dessert spread.
The buffet is spread out so make sure you wander all of the sections to see what is available. We love stopping by in the afternoon for a quick sweet treat. The cookies are always a good idea.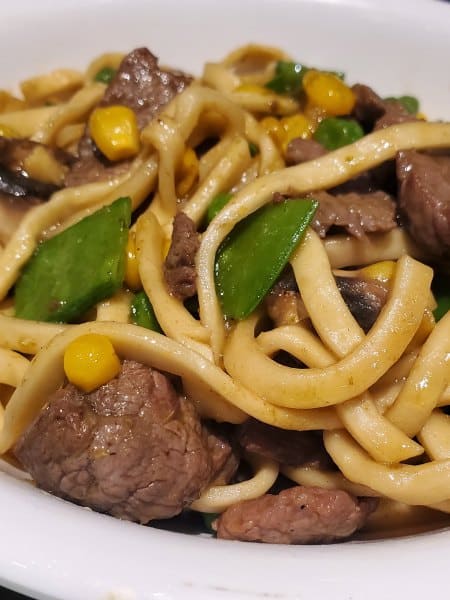 Mongolian Wok
The Mongolian Wok is located in JiJi's Asian Kitchen during lunch.  You have your choice of noodles, vegetables, meat and sauce you want.
If you are vegan or vegetarian I would write that in bold across the top. I ordered veggies but ended up with a random piece of beef in my dish by mistake. I am sure it was not intentional but next time I would make sure and write that I am vegetarian on my paper.
Starter options - Fried wonton with sweet chili dip and or Asian Spring Salad
Protein options - Chicken, beef, pork, calamari, Mussells and Clams
Vegetable options - Onions, carrots, mushrooms, bok choy, Chinese Cabbage, Corn Kernal, green peas, green beans, zucchini, green and red peppers, cauliflower, bamboo shoots, snow peas, and broccoli.
Noodle options - Lo mein, cellophane, or rice noodles
Sauce options - Szechuan, Thai bbq, black bean and soy
You can also purchase beer and wine for an additional cost.
Towards the end of the cruise, the Mongolian Wok was packed! I would definitely suggest getting in earlier in the week.
They had a waitlist on Friday and Saturday of our 7-day Mexican Cruise because the restaurant was so popular.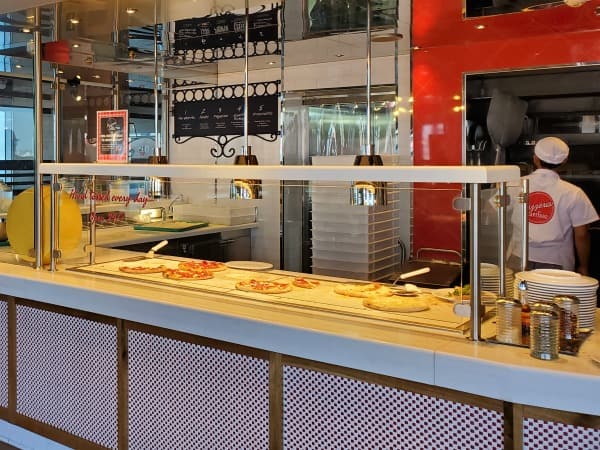 Pizzeria Del Capitano
There is nothing quite like pizza by the sea. Pizzeria Del Capitano is open 24 hours a day!
I am going to admit that we have had pizza for breakfast and it is amazing.
They offer 5 types of pizzas:
Margherita - Tomato Sauce, Basil, and Fresh mozzarella
Funghi - Tomato Sauce, Mushrooms, and Fresh mozzarella
Pepperoni - Tomato Sauce, Pepperoni, and Fresh Mozzarella
Quattro Formaggi - Roasted Garlic, gorgonzola, provolone, parmesan, and fresh mozzarella
Proscuitto - Roasted garlic, Rucola, Proscuitto, and Fresh mozzarella.
They have gluten-free pizza available upon request.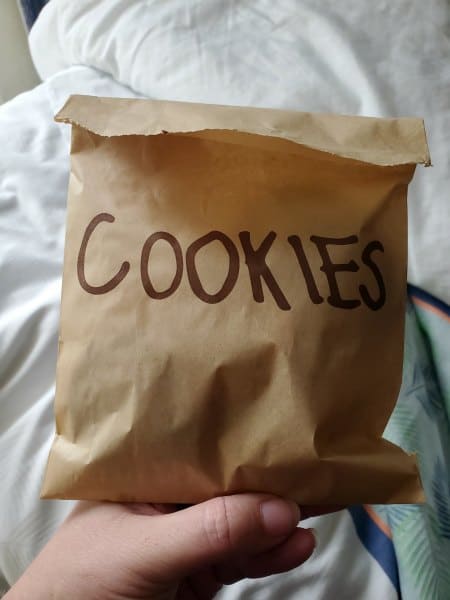 Room Service
The room service options include both free items and some that cost a few dollars. We love ordering room service and just relaxing on the balcony.
It feels so decadent to have fresh cookies and milk delivered to the room. I am going to admit that there are times we have just cookies and milk delivered and then curl up in bed and watch a movie.
Late-night menu options (after 10 PM) are also available for a small fee.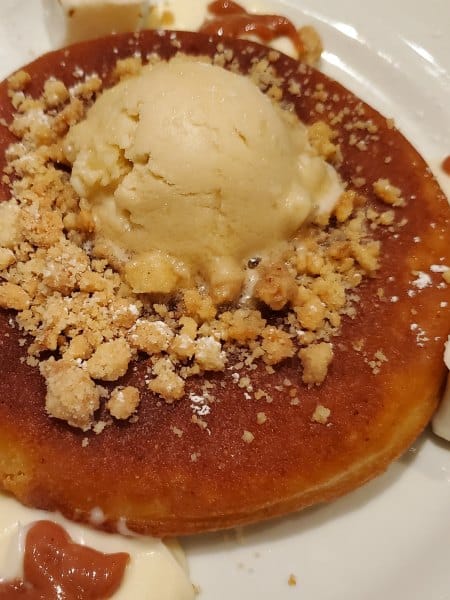 Sea Day Brunch
On sea days from 8:30 am to 1 pm you can enjoy a delicious sea day brunch. Sleep in and relax then head down to the main dining room for delicious brunch options.
The new brunch menu is so good it is hard to only order one or two things. Don't worry you can always split a plate or come back again.
Menu items not to miss
Skillet Cake - The ricotta pancakes are sweet but filling, served with housemade marshmallows, whipped ricotta and vanilla crumble..hello yum.
Eggs Benedict - Available with ham or salmon
Aft Deck Burger - smoked brisket, Quattro Formaggio, house-made pickle, batter-fried onion crisp, black pepper barbecue sauce.
Banana Cream Pie - You are on a cruise splurge a bit
Swirls
Located on the Lido Deck you can enjoy chocolate, vanilla or strawberry frozen yogurt or soft-serve ice cream 24 hours a day.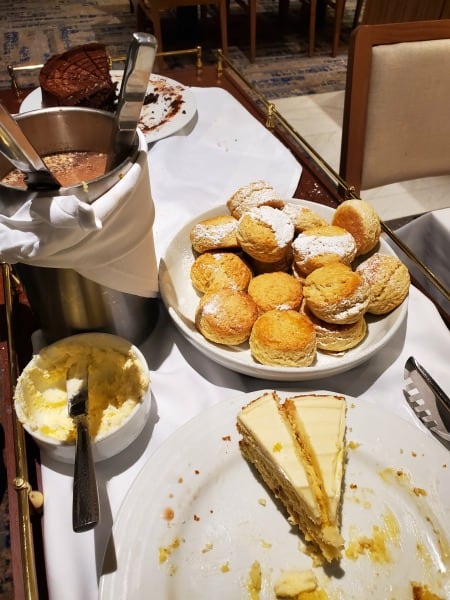 Tea Time
On sea days you do not want to miss Tea Time in the Vista dining room. This decadent experience includes hot tea, epic cakes, and pastries plus tea sandwiches.
During our tea time,
The dessert cart included chocolate cake, lemon cake, scones and cream, strawberries, fruit tarts, mini peach cobblers, mini chocolate macarons.
They also had a tray of cucumber sandwiches and salmon sandwiches.
I would suggest arriving at the beginning of Tea Time. We were there right in the middle of the time and it felt like we were being pushed out of the dining room a bit. They didn't come back by with any additional tea or treats after the first time.
I think if we would have been there right when they started we would have had a more fulfilling experience.
Specialty Restaurants on the Carnival Panorama- Additional Fee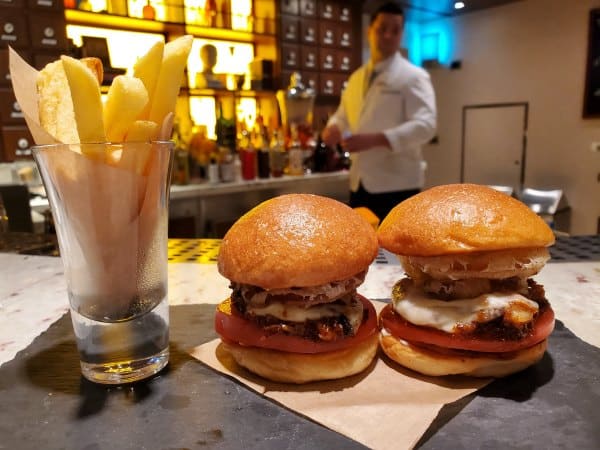 Alchemy Bar Snacks
You can now order snacks while enjoying a craft cocktail at the Alchemy Bar. Choices include
Oyster- mignonette. roasted berries, pickled scallion $4
Ahi Poke - whipped avocado, sesame, koshihikari rice, ponzu wakame $4
Crispy Shrimp - crispy fried sweet shrimp, sriracha aioli, chives dressing $4
Smoked Brisket Slider - parmesan truffle fries $4
For cocktails, you can't go wrong ordering the Quick Fix Cocktail, Forty is the New 20, Restorative Basil Drop or the Caribbean Manhattan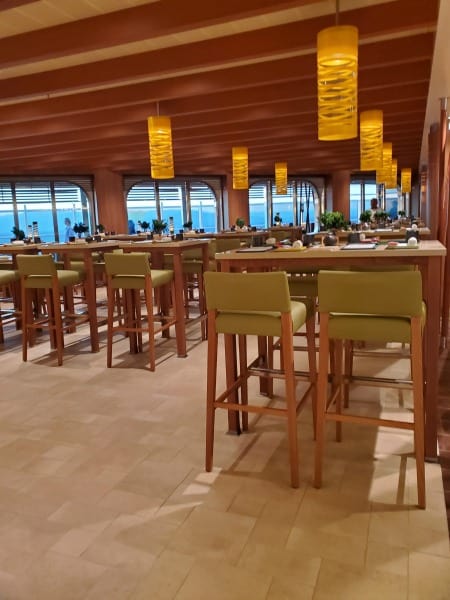 Bonsai Sushi
Bonsai Sushi offers appetizers, soups and salads, sushi and sashimi, rolls, bento boxes, and desserts.
Prices range from 1.50 for each piece of sushi to the ship for 2 for $22. You can pair your meal with Japanese Beer, Sake, and wine.
Dessert options include Green Tea Cupcakes and Yuzu Custard.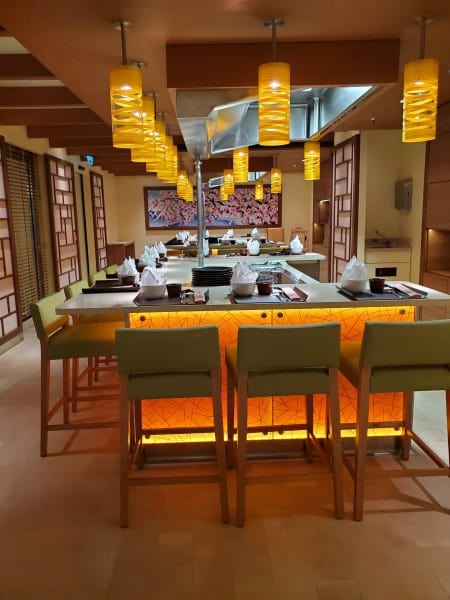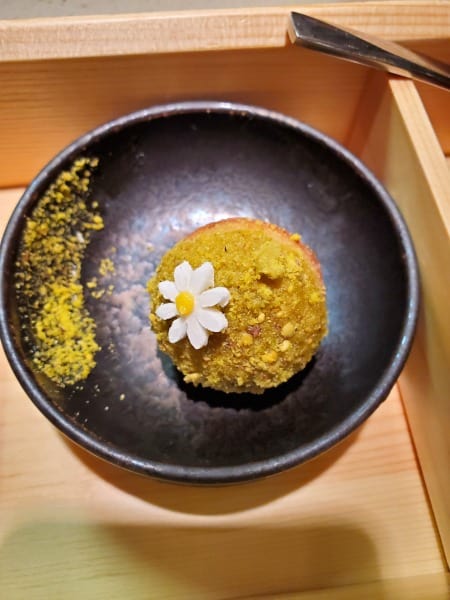 Bonsai Teppanyaki
Cost: $32 plus tax, gratuity and drinks if you order any.
Bonsai Teppanyaki is one of the restaurants you will want to try and make a reservation for when you book your cruise!
This restaurant has 3 dinner seating's daily. On sea days there is also 2 lunch seating's available.
We were able to book a seating on the first night of our cruise by walking up and asking to be placed on the list.
The full dinner takes approximately 90 minutes and includes a ton of food. You can expect to laugh too cheeky humor and songs.
We were entertained during our entire meal, laughing and enjoying the great food. At our table, we had kids aged 4 and 6 who enjoyed their meals. The chef was able to keep them entertained throughout dinner.
I was a bit worried about dining at the Teppanyaki restaurant as a vegetarian. This is normally thought of as a meat-based experience and I wasn't sure if I would enjoy it. We didn't try it on the Carnival Horizon because I wasn't sure what to expect.
I can honestly tell you that the chef made sure that the vegetarian items never came close to any meat. The tofu and grilled veggies were cooked and served before any meat touched the grill. They did an amazing job of preparing a delicious meal that I would happily enjoy again.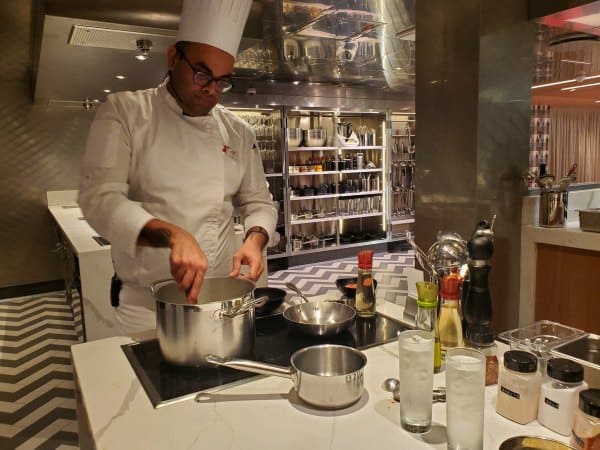 Carnival Kitchen
Carnival Kitchen gives you the opportunity to take cooking classes from the amazing chefs and bartenders on board the ship. Classes range from appetizers and holiday recipes to fine dining.
Carnival Kitchen classes start at $39 per guest and go up depending on the class taken.
We took the Elegant Affairs Spanish Dinner Class and it was amazing. They built a special area on the ship just for these classes.
Each couple has a work station with a cooktop, ample counter space and a clear view of the chef instructor. We made 4 or 5 dishes during our class and then sat together as a group to enjoy dinner.
I am so excited to share some of the recipes we learned how to make. It was amazing having a couple of chefs wandering the kitchen as you cooked. I was able to ask questions about cooking shrimp I have always wondered about.
They offered hands-on tips for each guest based on their experience in the kitchen. When we cruise on the Panorama again I would book more of these classes. I was so impressed with them.
Cucina Del Capitano
Cost - $15 per diner
Kids menu - $5
Cucina Del Capitano honors the proud Italian heritage of many of the Carnival ship captains. The walls are decorated with photos of the captains growing up.
If you love Italian food you are going to LOVE Cucina Del Capitano. This is one of my favorite restaurants onboard Carnival Cruise ships. There have been a few cruises I am going to admit to eating here a couple of times it is that good,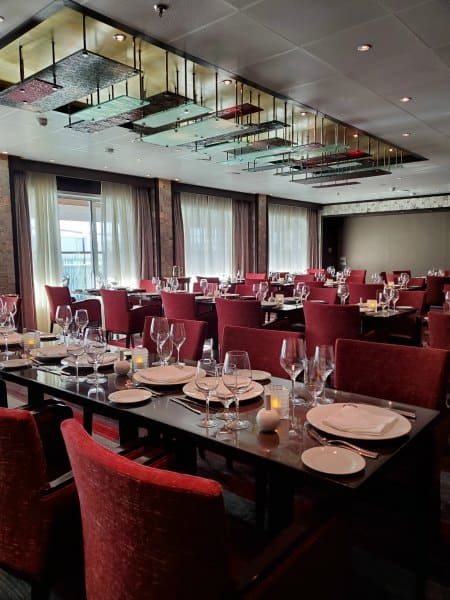 Fahrenheit 555 Steakhouse
Adults - $38
Kids - $12
Enjoy a fine dining steakhouse experience at sea. You can enjoy premium cuts of meat, delicious sides, and salads along with an amazing wine list.
Make sure and get your reservations in early! The steakhouse is incredibly popular!
Green Eggs and Ham breakfast
Cost - $6 per guest
If you are a fan of Dr. Seuss you are going to love the Green Eggs and Ham Breakfast!
Guests can enjoy character photos with Sam I Am, Cat in the Hat and more friends.
This is breakfast not to miss! I mean how can you go wrong starting the day with Green Eggs & Ham, Scrambled Super-Dee Dooper-dee-Booper Special de luxe a-la Peter T Hooper Omelets, Horton's Cereal-Crusted French Toast, Fox in Socks Steak and Eggs and more!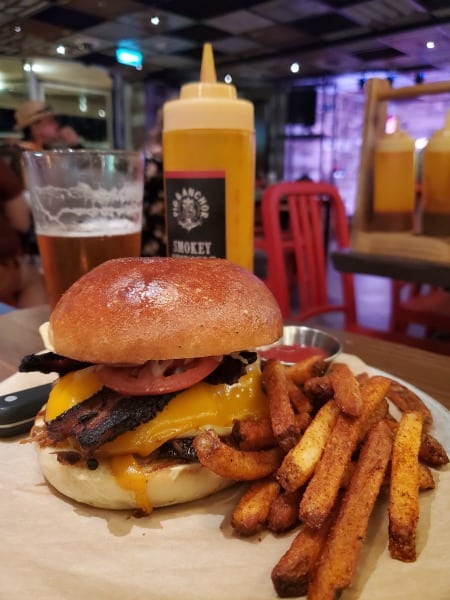 Guy's Pig and Anchor Smokehouse & Brewery
Guy's Pig and Anchor Smokehouse offers barbecue items including smoked ribs, brisket, and dry-rubbed chicken.
Menu Items not to Miss
Trash Can Nachos - Pulled pork on house-made tortilla chips, Bourbon Brown Sugar BBQ Sauce, pico de gallo, jalapenos, black beans and SMC (super melty cheese). They can make these vegetarian and place the pulled pork on the side if you want them to.
Pig & Anchor Melt - Pulled pork, sliced brisket, double pork belly bacon, smoked gouda, cheddar, homemade pickles, and donkey sauce.
Mac Daddy Mac and Cheese
Sweet Potato Bourbon Mash - I was slightly disappointed in the Sweet Potato Bourbon Mash...there just wasn't enough of it in the bowl. This Sweet Potato mash is delicious and I could have eaten 3 or 4 servings of it.
Banana Cream Pie and the Apple Cobbler

Java Blue Café
Java Blue Café is the coffee shop and specialty shake spot. You can pick up your favorite coffee or tea drinks, and epic desserts.
They even have spiked coffees and Ghirardelli blended frappes. Blue Velvet Cake is the specialty cake of the Java Blue Cafe.
Make sure and try the Spirit of Kentucky Spiked Milkshake! It is a bourbon milkshake that is delicious!
New on the Carnival Panorama they have huge cupcakes, Bundt cakes and doughnuts available at the Java Blue Café.
One thing to know is the cupcakes may not be as sweet as you expect them to be if you are used to American flavors.
We tried the Dulce de Leche cupcake and it sadly did not have a ton of flavor in the frosting. The caramel inside the cupcake was good but I don't think we would order one again.
The Smores Honey Graham Cupcake is topped with house-made marshmallows on a rich chocolate cupcake. This cupcake was pretty good but definitely not as sweet as you would find in a cupcake shop in the US.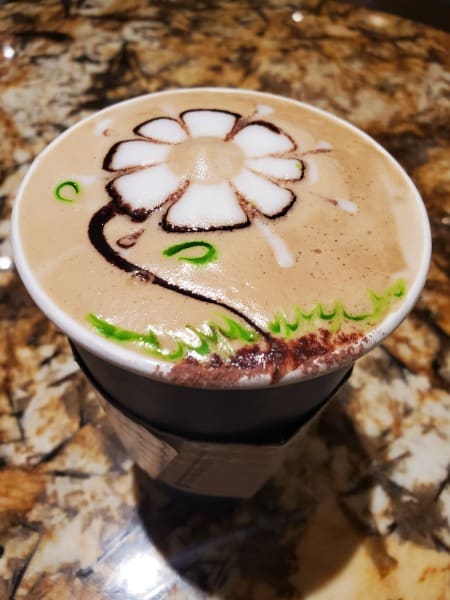 The barista surprised us with amazing coffee art when we visited in the evening. He made this super cute flower on our latte and it was such a fun surprise.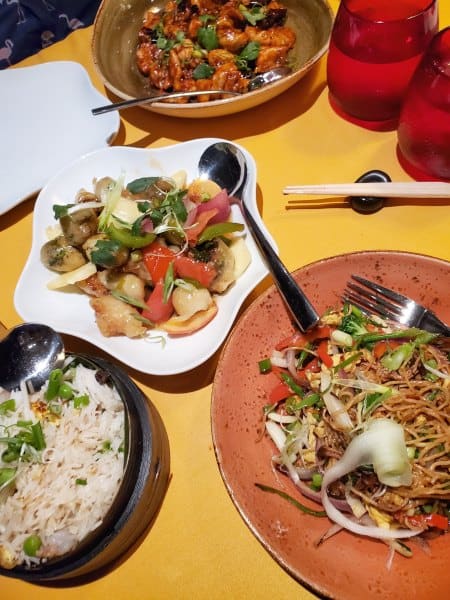 Jiji's Asian Kitchen
Cost - $15 per person
Kids 11 and Under - $5
JiJi's Asian Kitchen is open for dinner nightly. The restaurant offers a fusion mix of Chinese, Mongolian, Vietnamese, Philippine, Singapore, and Indonesian cuisine.
Menu Items not to Miss:
Slow Braised Pork Belly - Caramel chili sauce with black vinegar. Pomelo citrus fruit, Chinese chives with gorgonzola, spiced purple onions
Bo Kho: Slow-Braised Wagyu Beef Short Rib - Watermelon radish, burdock root, wasabi pearls, crisp potatoes.
Kung Pao Chicken - Sichuan peppercorns with heavenly facing chilies & cashews
Rose Crème Brulee with ginger cream
Fried Wonton - Wrapped lychee fruit with tapioca pearls & coconut milk
Pizza delivery
$5.00 delivery fee
You can order your favorite pizza from Pizzeria del Capitano on the Carnival Hub App and have it delivered to you anywhere on the ship.
Relaxing in a killer deck chair and don't want someone to steal it = pizza delivery
Vegged out in bed watching a movie and don't want to move = pizza delivery
Relaxing in a comfy chair on deck 5 reading an amazing book = pizza delivery
There are so many reasons to have a delicious pizza delivered to you on board. Plus you are on vacation and that is the best reason of all.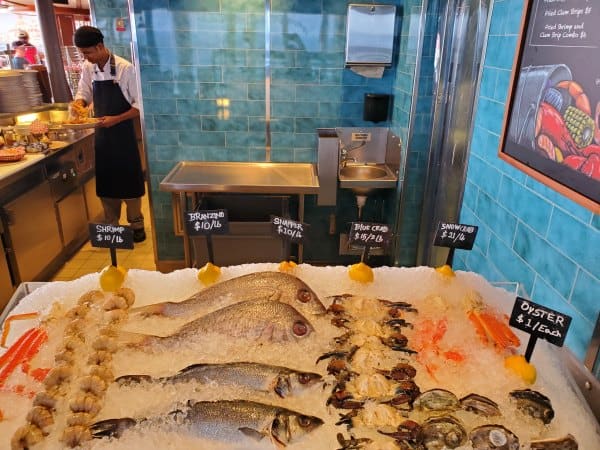 Seafood Shack
Seafood Shack is open for lunch and dinner. They offer everything from New England Clam Chowder in a bread bowl to lobster rolls and crab cake sliders.
You can purchase fresh fish at market prices and have the chefs prepare them.
We heard great things about the clam chowder in a bread bowl and the lobster rolls.
The Chefs Table
Adults: $75 - $95
The Chef's Table gives you the opportunity to enjoy a full-service dinner along with a tour of the galley of the ship.
Only 14 guests dine at the Chef's Table each night. We thoroughly enjoyed the Chef's Table experience. It was amazing to see how the ship's kitchen runs along with dining on fantastic dishes that are only served during this dinner.
The Carnival Panorama has a brand new Chefs Table menu so if you have enjoyed this experience before you can try it again with a brand new menu.
Don't forget to bring on your cruise
I wanted to mention a few things not to forget to bring on your cruise. If you are like us you most likely don't eat out 3+ meals a day.
These are the things we have started bringing with us so we can truly enjoy the cruise.
Tide Pen - You most likely do not want to do laundry during your cruise to try and clean up a spot or stain on your clothes. Having a Tide pen with you can help pre-treat the stain until you get back home.
Pepcid or heartburn relief - We find that our stomachs remind us some nights that we normally do not indulge in rich restaurant meals continually for a week. Having some Pepcid or other heartburn relief with you can make your cruise a lot nicer.
Insulated Water Bottle - having a water bottle with you is a great way to not only make sure you are drinking water but save time and energy from having to get a new glass while lounging on the pool deck.
Tervis Mug - I like carrying a Tervis Mug with me on all our cruises. I love knowing that I can use it for both hot and cold tea.
Additional Cruise Resources
What not to pack on your cruise
What you need to know about the Carnival Hub App
Ways to help St. Jude on your cruise
Cabo San Lucas Whale Watching Excursion 
Puerto Vallarta by Cruise Guide
Sail and Snorkel Excursion - Cabo
Give Back with Purpose Excursion - Puerto Vallarta
Mexican Wines Excursion - Ensenada
We partnered with Carnival for this cruise. All opinions expressed are our own.