Delicious Copycat KFC Famous Bowl is so easy to make at home! The perfect comfort food dinner that takes minutes to prepare. How can you go wrong with mashed potatoes, topped with sweet corn, popcorn chicken, homestyle gravy, and cheese.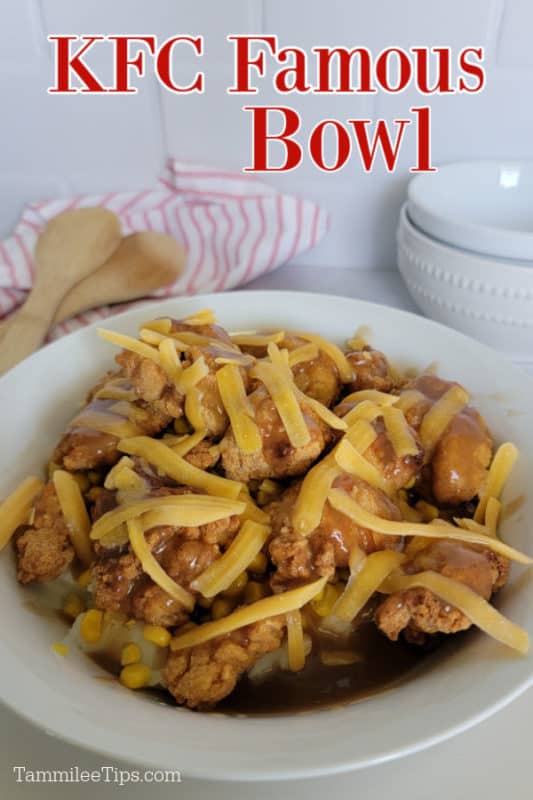 Copycat KFC Famous Bowl Recipe
This KFC bowl is my husband's favorite comfort food dinner right now. A few months ago he drove through KFC and had a KFC Bowl and decided it was the best thing in the world.
I decided to start making them at home to save money and have leftovers so John could enjoy them the next few days. Plus his mom and grandmother LOVE them so this is an easy meal to bring over to them to make their lives a little easier.
I am going to admit that I make this with multiple easy ingredients instead of making them from scratch. You can definitely make these ingredients from scratch if you have the time or prefer the flavor. This is one of those recipes you can adapt based on how much time you have and how you are feeling.
We have been making this as quick and easy as possible to save time and energy. This summer feels like it is flying by and we are running all over the place. My husband's nephew has been here working with me in the kitchen for a month and it is been so much fun.
He is 18 and was such a help in the kitchen getting recipes tested and tried out. Having an 18-year-old to feed was quite the motivation to knock out a ton of new recipes. We even made a pumpkin pie in July. LOL!
Yes, we are already testing holiday recipes and seeing what we want to share in a few months.
I have to tell you this KFC Famous Bowl was 18 year old approved and then some. Between my husband John and Nathan, this did not last long. It was a very quiet dinner as they inhaled the KFC Chicken Bowls. They looked up and told me it was amazing and then proceeded to get every drop of gravy out of the bowl.
KFC describes their Famous Bowl as Creamy mashed potatoes, sweet corn, and bite-sized chunks of crispy chicken are layered together then drizzled with home-style gravy and topped with a perfect blend of three shredded cheeses. Choose between a regular Famous Bowl or one with our signature Nashville Hot sauce.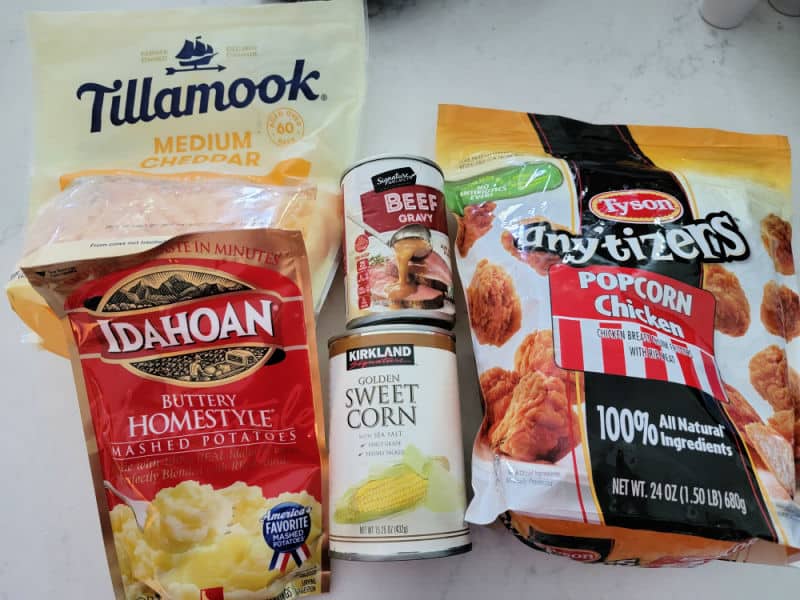 Ingredients
Popcorn Chicken
Mashed Potatoes - we used instant mashed potatoes but you can use frozen mashed potatoes or make them from scratch.
Sweet Corn - We used canned corn but you can easily use frozen corn or fresh corn.
Beef Brown gravy - We used canned gravy to save time but you can easily make this from scratch or use a gravy packet.
Cheddar Cheese
Equipment Needed
Air fryer - We make Air Fryer popcorn chicken to top this epic KFC Bowl. It is quick and easy to make and the popcorn chicken can cook while you prepare the mashed potatoes, gravy, and corn.
Large serving bowl or individual bowls - it is really up to you if you want to serve this on a big platter or in individual bowls.
How to make KFC Famous Bowls
The hardest part of this recipe is cooking multiple ingredients at the same time and keeping them all hot and ready to go.
I start with the air fryer popcorn chicken since it takes 10 minutes to cook. I then start the instant mashed potatoes so they can soak and get nice and fluffy.
Up next is heating up the gravy and then the corn. We usually heat these up in the microwave so they are quick and easy.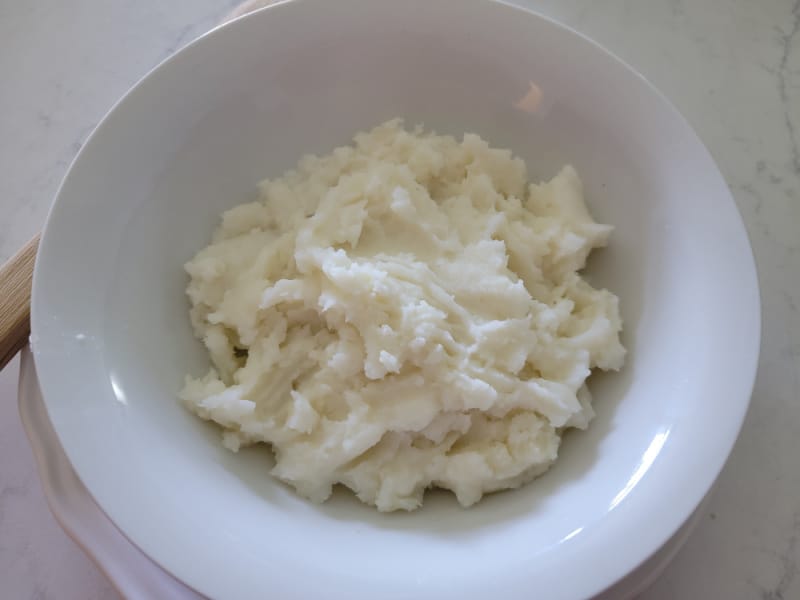 Layer 1 - Mashed Potatoes
We use instant mashed potatoes to save time but you could easily make slow cooker mashed potatoes or your favorite family recipe.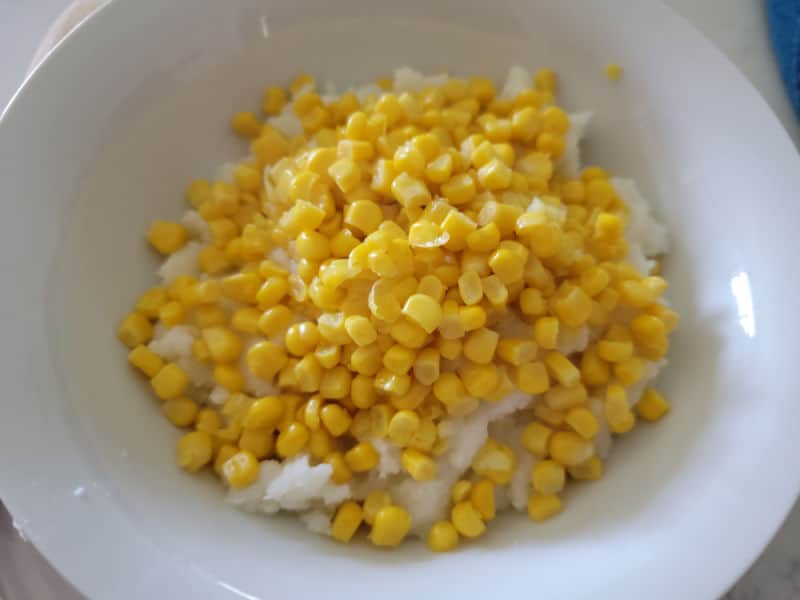 Layer 2 - Corn
Spread hot corn over the top of the mashed potatoes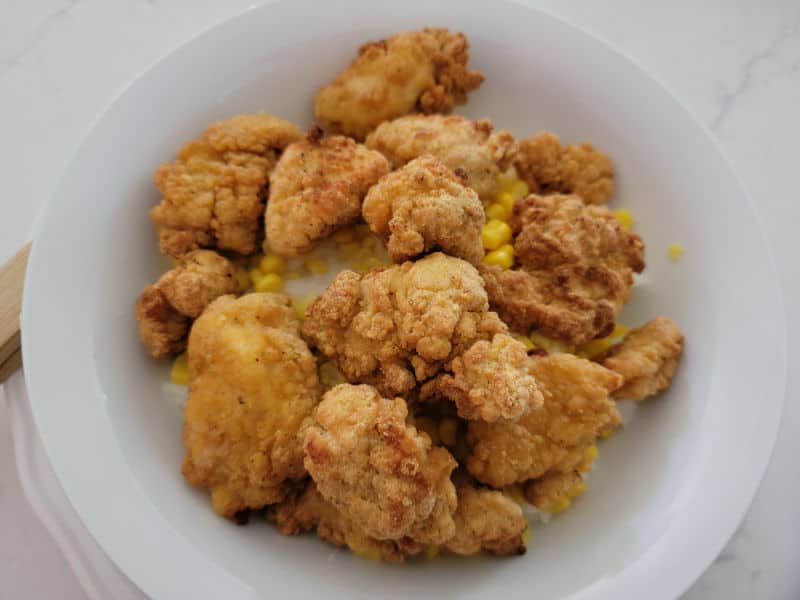 Layer 3 - Popcorn Chicken
We used air fryer popcorn chicken to get it nice and crispy on top of the corn.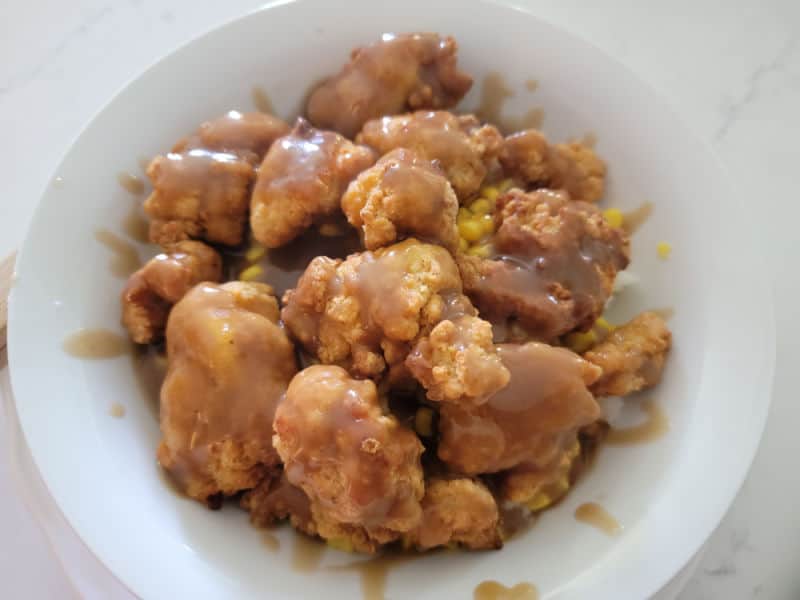 Layer 4 - Gravy
I am going to admit to using canned beef gravy for this recipe to save time. You can definitely make homemade gravy for this recipe.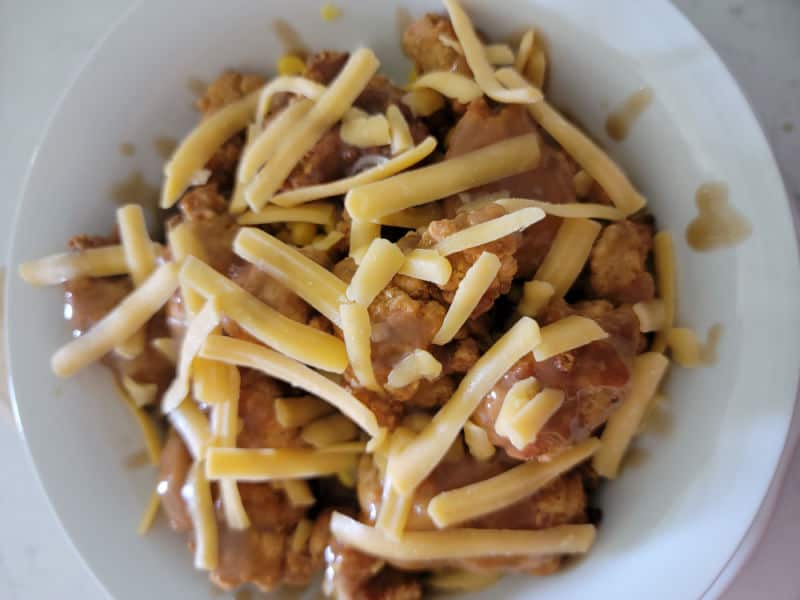 Layer 5 - Cheddar Cheese
Sprinkle the top with cheddar cheese and enjoy! You can use any shredded cheese for this recipe we like to use Cheddar. KFC uses a blend of three shredded cheeses.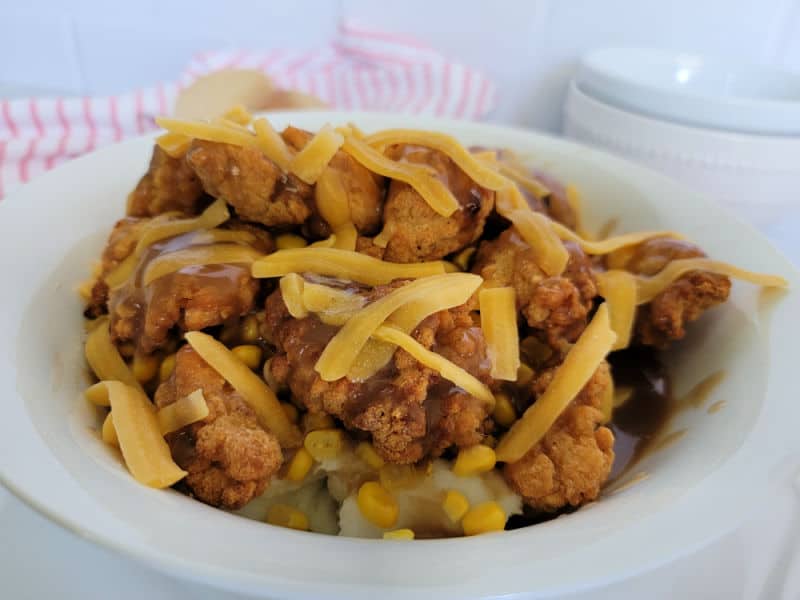 Recipe Tips
We like to set out all of the ingredients in order and let everyone dish up their own KFC Chicken Bowls. This way everyone can customize how much they want of each layer.
If you don't have popcorn chicken you can use chicken strips, fried chicken, or crispy chicken tenders and cut them into pieces.
You can add Nashville hot sauce to the top if you want this a little spicy.
Great Copycat Recipes
Do you love recipes? Check out our copy cat recipes, dessert recipes, and our Crock Pot Recipes.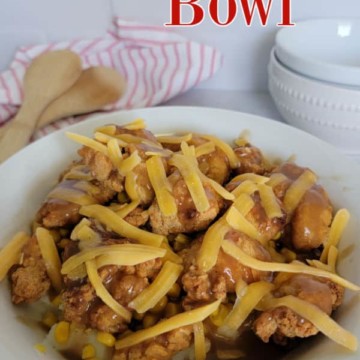 KFC Famous Bowl
How to make a delicious KFC Famous Chicken Bowl at home in minutes
Print
Rate
Instructions
While the chicken is cooking prepare the instant mashed potatoes and let them sit

Heat up your corn and gravy so they are hot and ready

Assemble your famous bowls - Mashed Potatoes, Corn, Popcorn Chicken, Gravy, and top with shredded cheese
Nutrition
Nutrition Facts
KFC Famous Bowl
Amount Per Serving
Calories 682
Calories from Fat 315
% Daily Value*
Fat 35g54%
Cholesterol 125mg42%
Sodium 787mg34%
Potassium 876mg25%
Carbohydrates 59g20%
Protein 37g74%
Vitamin A 1003IU20%
Vitamin C 43mg52%
Calcium 511mg51%
Iron 2mg11%
* Percent Daily Values are based on a 2000 calorie diet.