Delicious Snickers Salad is a sweet, creamy dessert salad that tastes amazing. The perfect combination of snickers, apples, and creamy pudding dressing.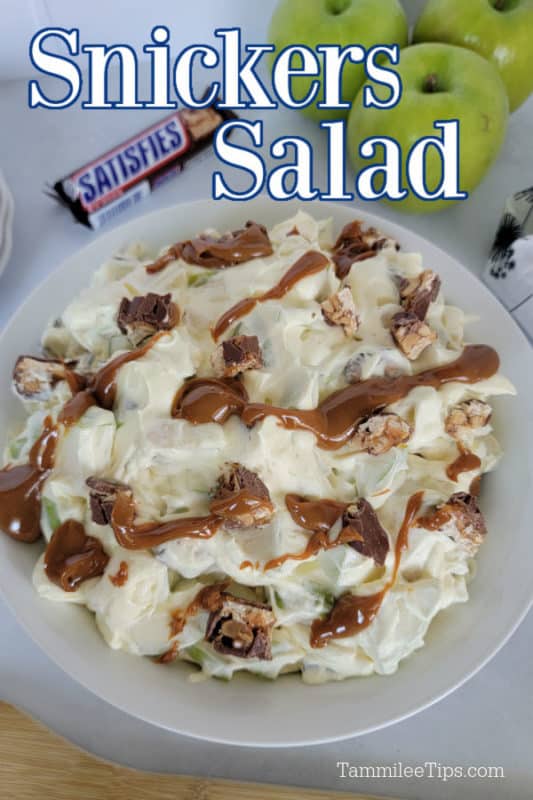 Snickers Salad Recipe
Have you ever had a dish at an event and knew that you had to learn to make it asap? That is exactly what happened with this Snickers Salad.
Years ago I had the privilege of marrying 2 of our great friends. They told everyone they were having a housewarming party but it was really a secret wedding ceremony that only my husband and I knew about.
It was so amazing being able to perform the wedding ceremony and help 2 great friends celebrate their love for each other. This was the 2nd wedding ceremony I have performed since I became ordained years ago.
The party was a potluck and one of the guests brought this epic snickers and apple salad and it was gone in seconds. I swear I had one scoop and went back for more and the bowl was empty. Everyone LOVED it!
Since then I have been working to put together a Snickers and apple salad that came close to how good this one tasted. I finally think I have it ready to share.
I struggled with what to call this snickers salad but went with the well-known name. I know that it is also called a Snickers Fruit Salad or just a Snickers side dish because it feels weird to call a bowl filled with vanilla pudding and Snickers a salad but that seems to be the known name.
We like to think of it as a dessert salad that is the perfect treat for potlucks, family holidays, and Saturdays when we want a sweet treat.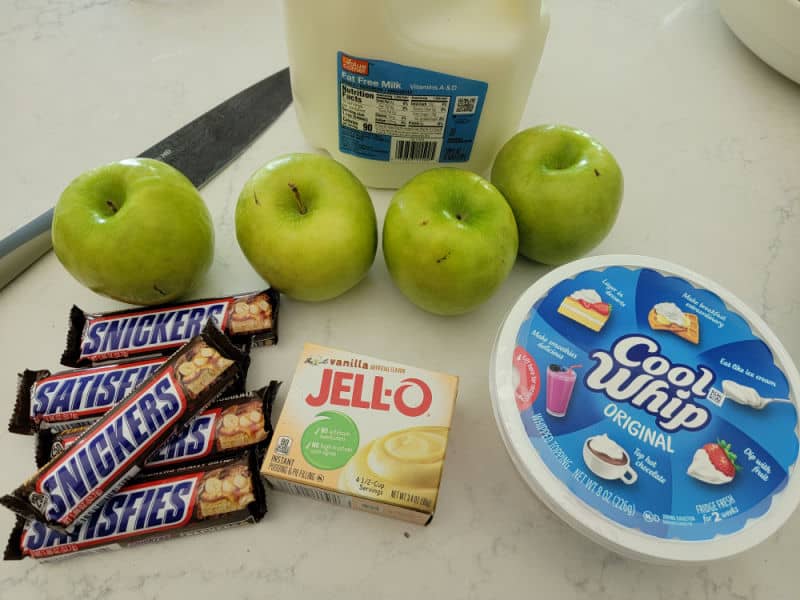 Ingredients
This is a quick overview of the simple ingredients that you'll need to make an epic Snickers Apple Salad! Specific measurements and step-by-step instructions are included in the printable recipe card at the bottom of the post.
Milk
Instant Vanilla Pudding
Cool Whip
Apples
Full-Size Snickers Candy Bars
Optional - You can add a drizzle of caramel sauce over the top to make a Snickers Caramel Apple Salad.
Apples - Tart Apples will help balance the sweetness of the pudding and Snickers with the tartness of the apples.
Equipment Needed
Large Bowl - Large enough you can easily toss the salad and not have pieces flying all over the place. Trust me you want to use a bigger bowl than you think you will need.
Knife and cutting board
How to make Snickers Salad
I've included complete instructions in the printable recipe card at the bottom of the post, but here's a quick version.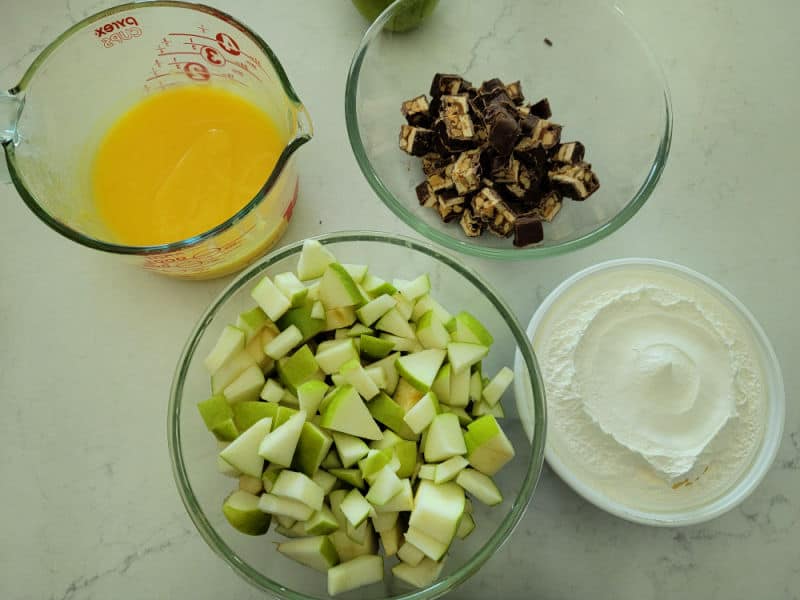 Step 1 - Whisk together cold milk and instant vanilla pudding for a couple of minutes. Let sit until the vanilla pudding mix is set, about 2-4 minutes.
Cut snickers into pieces, setting a few pieces to the side to top the salad.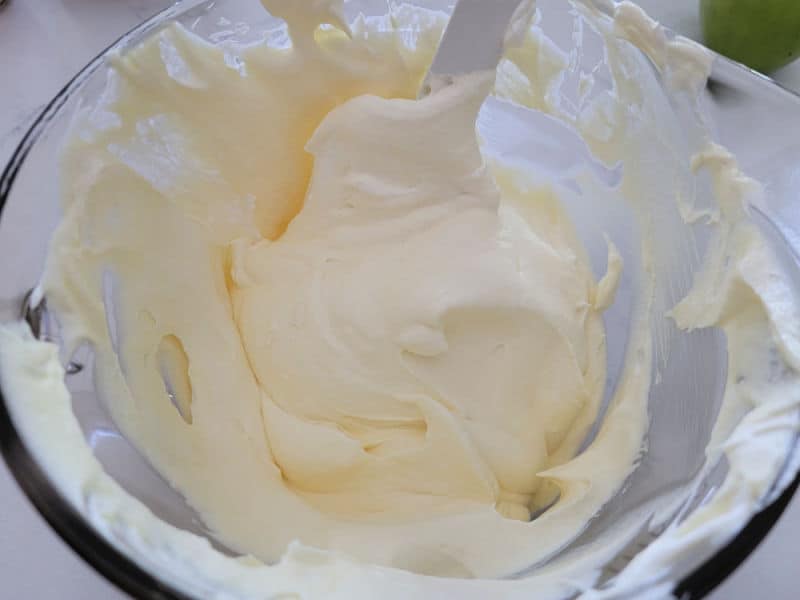 Step 2 - Fold in the whipped topping with the vanilla instant pudding mixture carefully. You want to lightly gently fold the mixture together to keep the fluffiness of the Cool Whip.
Cut the Granny Smith apples into small pieces. You may need to splash them with lemon juice to keep them from browning quickly.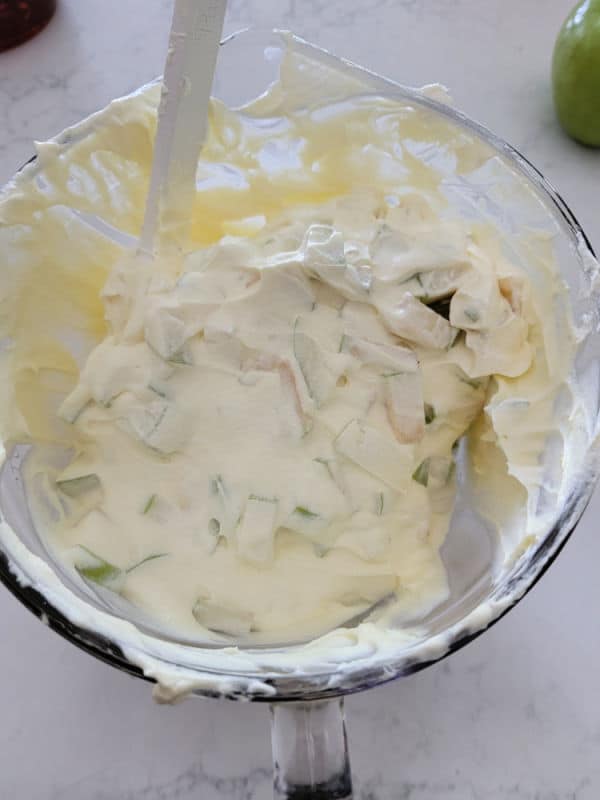 Step 3 - Add apples and candy bars to the pudding and whipped cream mix. Gently folding the pieces into the mix until evenly spread.
Store in the refrigerator to chill until serving.
When you are ready to serve pour into a serving bowl and top with Snickers crumbles over the top.
If you want to add caramel you can drizzle it over the top.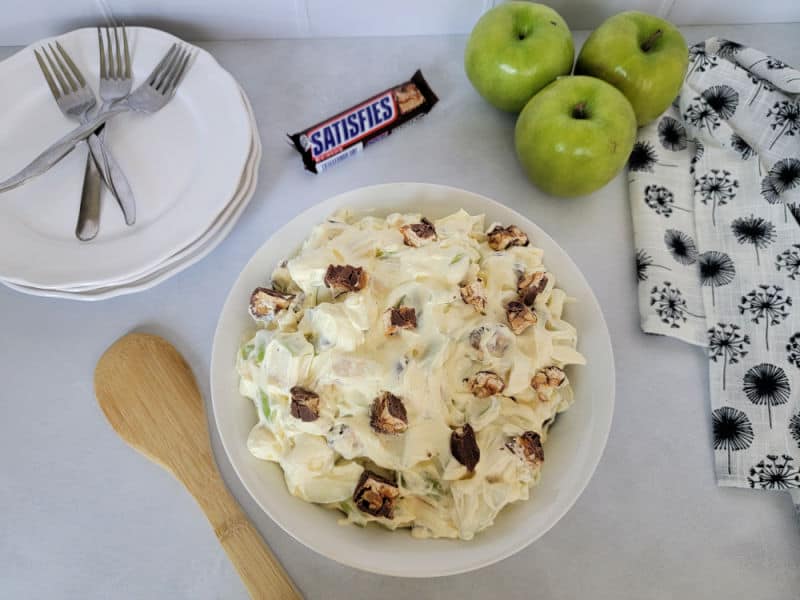 Preparation and Storage
Make Ahead – This salad can be made the day ahead of time and kept in the fridge. The snickers candy pieces may get soft the longer the salad sits.
Storage – Store any leftovers in an airtight container in the refrigerator.
Freezing/How to freeze –We do not suggest freezing this salad. The texture will change as it thaws.
Recipe Variations
Substitutions - Try a different flavor pudding mix like butterscotch pudding, cheesecake or French vanilla pudding. Try a different candy bar like Pay Day, Take 5 bar, Twix, Milky Way, or Butterfingers.
Vegetarian Option - This recipe is vegetarian.
Vegan Option –Store bought Snickers are not vegan. This recipe is heavy in dairy products. It can be adapted to use vegan cream cheese, coconut whipped topping, homemade snickers bars, and dry roasted peanuts.
Gluten Free - There is no gluten in Snickers bars that we can find. Make sure to double check all ingredients to make sure they are Gluten-free.
Smaller Serving Size – The recipe card below can be adapted to a smaller serving size. Just lower the amount of servings you want to make. With using boxed ingredients it can get interesting making a smaller serving.
Larger Group/More servings – This recipe can easily be doubled to serve a large gathering.
Recipe Tips
Cut the Snickers before you cut the apples to help prevent the apples from browning.
Hold some snickers pieces to the side to serve on the top of the dish.
If you are serving this at a potluck and don't know if people have nut allergies you can switch the Snickers and use Milky Ways, Twix, or other chocolate candy bars that have a bit of crunch.
This is the perfect potluck recipe! So easy to make and everyone loves it.
What to serve with Snickers Salad
Toppings - Caramel Sauce, chopped nuts, graham crackers, pretzels
Main Dishes/Entrée - Snickers Salad is a really sweet dish so you want to pair it with something savory and not super sweet. Some of our favorite options include Grilled chicken, Crockpot Ham, Stove Top Meatloaf, Roast Beef, Dr. Pepper Pulled Pork, Vegetable Stir Fry, Stuffed Bell Peppers, Chicken Parmesan
Side Dishes - Roasted Vegetables, Fresh Fruit, Air Fryer Mushrooms, Rice Pilaf, Funeral Potatoes, Garlic Bread, Cracker Barrel Carrots, Caprese Pasta Salad, Sweet Potato Fries, Orzo Salad
Desserts - Ooey Gooey Butter Cake, Carnation Fudge, Chocolate Brownies, Mississippi Mud Cake
Drinks - Chick fil A Lemonade, Sparkling water, Sweet Tea, Coffee, Cherry Limeade, Coke Slushie
When to serve
Summer Barbecues
Weddings
Potlucks
Church Events
Family gatherings
Office parties
Family Dinner
Great Party Recipes
We have a ton of Cool Whip Recipes! Plus a ton of easy apple dessert recipes.
Check out these great sides for ribs.
Do you love recipes? Check out our copycat recipes, dessert recipes, and our CrockPot Recipes.
Follow Tammilee Tips on MSN, Facebook, Instagram, Pinterest, and Twitter for all of our recipe posts.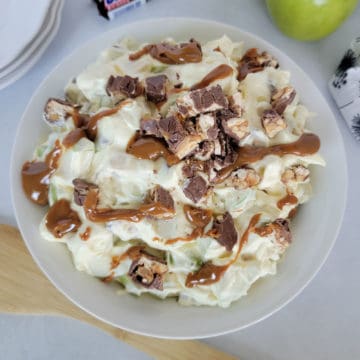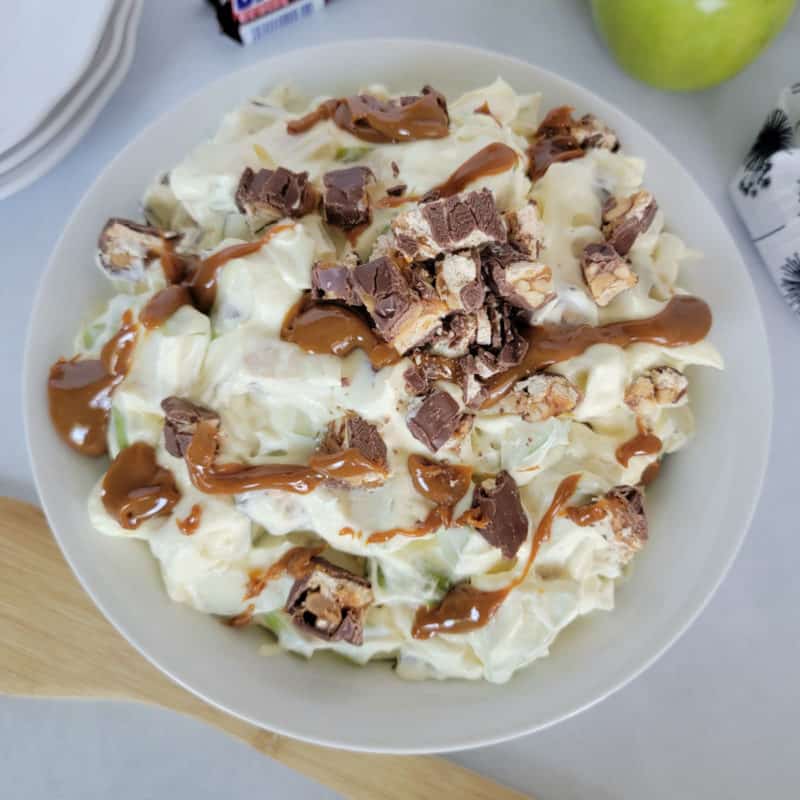 Apple and Snickers Salad Recipe
Delicious Apple and Snickers Salad that is perfect for potlucks, family holidays, or any day you want a great dessert salad.
Print
Rate
Instructions
Combine cold milk and vanilla instant pudding mix in a bowl with a whisk until mixed together.

Let pudding mix stand until set, about 2-3 minutes

Cut Snickers bars into pieces, set a small handful to the side to top the salad

Fold vanilla pudding mix and Cool Whip together gently.

Cut apples into small pieces. Fold apples and snickers into the pudding Cool Whip mixture

Refrigerate until you are ready to serve the salad.
Nutrition
Nutrition Facts
Apple and Snickers Salad Recipe
Amount Per Serving
Calories 195
Calories from Fat 45
% Daily Value*
Fat 5g8%
Cholesterol 7mg2%
Sodium 134mg6%
Potassium 197mg6%
Carbohydrates 35g12%
Protein 3g6%
Vitamin A 172IU3%
Vitamin C 3mg4%
Calcium 89mg9%
Iron 1mg6%
* Percent Daily Values are based on a 2000 calorie diet.