I have to say I will never make a ham any other way after making this delicious Slow Cooker Crockpot Ham Recipe. Oh, my goodness this so easy and turned out amazing!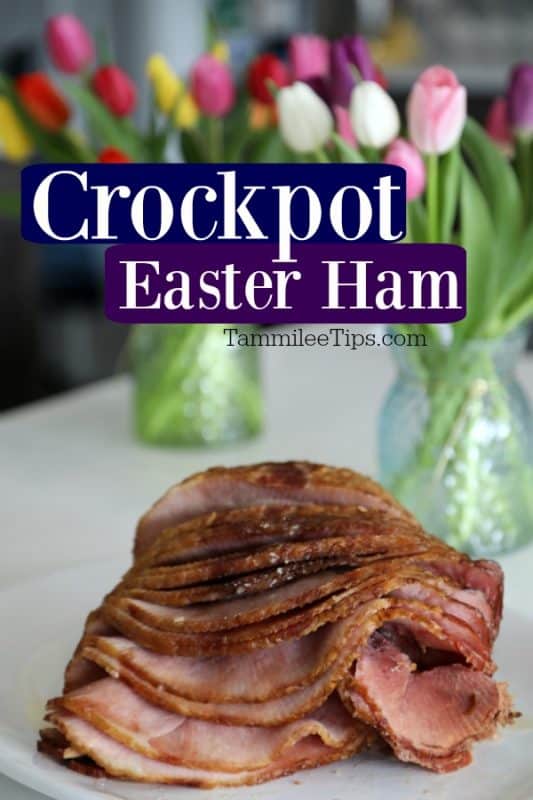 Crock Pot Ham
John's Mom was over for Slow Cooker Saturday lunch and loved it. John has been enjoying the leftovers and said they are amazing.  All you need is a spiral ham, pineapple juice, brown sugar, and maple syrup to make this great holiday ham.
This Crock Pot Ham takes less than 10 minutes to prepare and you get to serve a wonderful dinner! So easy to make and always turns out so good!
This ham is so moist and juicy.  John enjoyed it on sandwiches and with eggs and cheese for a few days after I made it. It kept great in the fridge. I think next time I make it I will slice it for sandwiches and put it in the freezer so we have it for John's lunches.
I used part of the leftovers to make breakfast sandwiches that I froze. Just make up some biscuits, slice cheese and pieces of this ham and you have a quick and easy breakfast.
This is our favorite holiday dinner ham. It pairs perfectly with side dishes and the spiral cut baked ham just tastes amazing. Plus it saves oven space and you can set it and forget it in the slow cooker.
Don't worry if you have guests who are not fans of super moist delicious ham you can also make up a crockpot turkey!
Can you cook a ham in the Crock-Pot?
YES! This Crock Pot Ham Pineapple is so good and can be made any day of the year. We always make this for Easter and Christmas.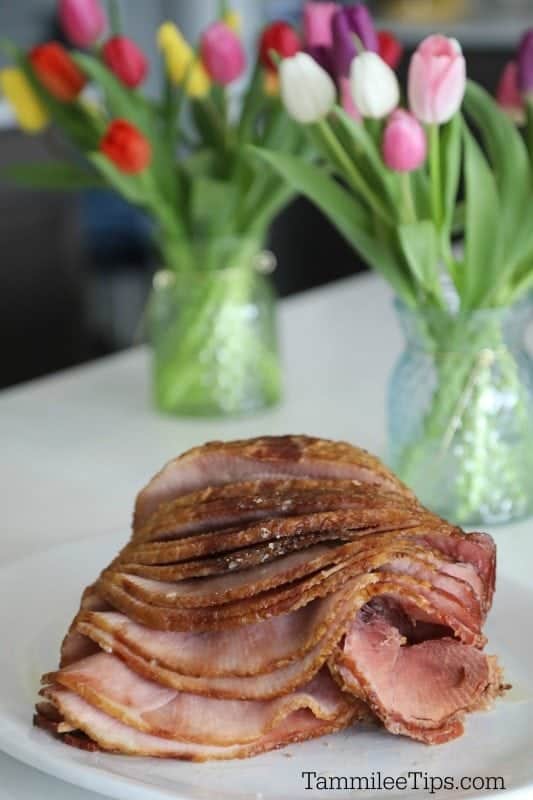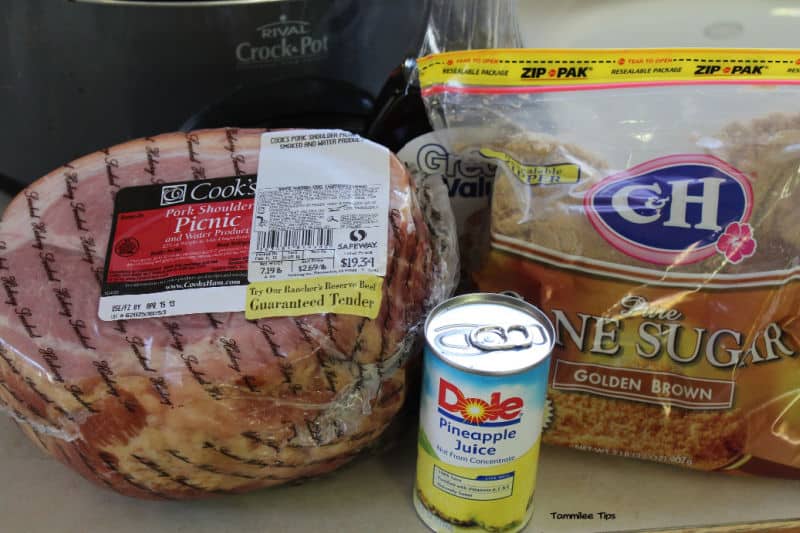 Crockpot Ham Ingredients 
Ham
Pineapple juice
Brown sugar
Maple syrup
Ham - You can use a bone-in ham or boneless ham depending on which you prefer. We try to use a fully cooked spiral cut ham that just needs to be reheated and flavor added to it. This saves on cook time. The best part of using a fully cooked ham is you are simply heating it up and adding flavor. You don't have to stress about the ham reaching a certain temperature.
Maple Syrup - For a bit more flavor you can use a bourbon barrel-aged maple or other flavored maple syrups.
Brown sugar - you can switch out the brown sugar for ¼ to ½ cup of honey if you prefer a honey-baked ham.
Pineapple Slices - If you want to add even more pineapple flavor you can add pineapple slices or pineapple chunks on top of the ham or in between the slices of ham.
If you are not a fan of maple syrup you can switch it out for mustard to get a tangier flavor.
Ham Glaze - When the crockpot ham is done cooking you can remove some of the juices from the bottom of the slow cooker and put them in a small saucepan. Bring the pineapple ham juices to a boil and cook until they reduce by at least half and thicken. This is a great ham glaze to pour over the ham.
Equipment Needed
Large Slow Cooker - You will want to measure your slow cooker to make sure the ham fit. I put my fist flat in the bottom of my crockpot and look to see how high up my arm the sides of the slow cooker reach. This is a totally random way of measuring but I know that I am not going to remember to bring a measuring tape or anything else to the grocery store with me. A 7 or 8 Quart Slow cooker should be perfect.
If your crockpot ham doesn't fit in your slow cooker you can trim the bottom to get it to fit. I have seen people make an aluminum foil tent over the top of their crockpot instead of the lid but I have not tried this method. I normally cut my ham down to fit the crockpot and use the cut pieces for leftover ham recipes.
Cooking Spray - Non-stick cooking spray will help make it a lot easier to clean your slow cooker after cooking your holiday slow cooker ham.
Serving Platter - I would suggest using a serving platter with edges to help keep the ham juices on the platter. This crockpot ham is nice and juicy so you will want to have a platter that contains all the juices.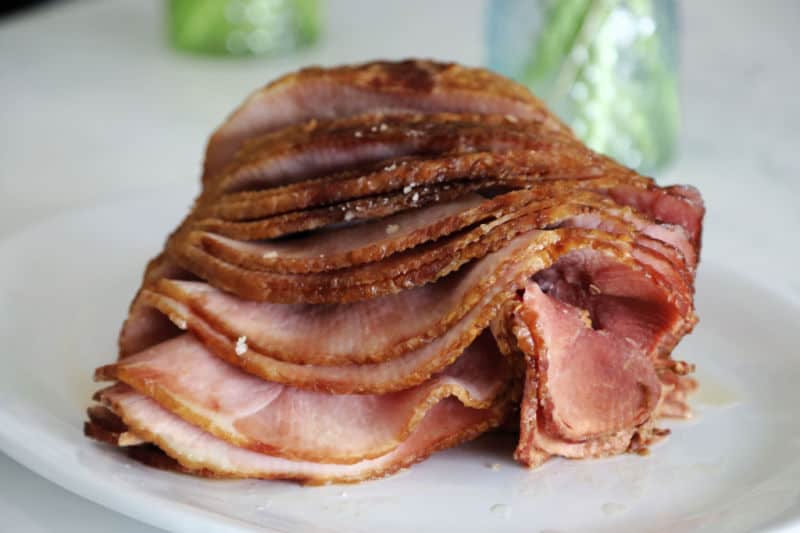 Recipe Tips
Be prepared to get your hands on the ham and rub in the brown sugar to really get the flavor into your holiday ham.
An hour before serving we suggest pouring the ham/pineapple juice in the bottom of the slow cooker back over the ham. This will help keep the top super juicy.
Plan to let the ham rest for at least 10 minutes before serving it.
If you are not a fan of pineapple juice you can make this recipe with apple cider instead.
If you want the crispy brown sugar edges that you can get by baking a ham in the oven you can sprinkle brown sugar on the edges of your slow cooker ham and put it under the broiler for a minute or two. Just make sure to keep an eye on it so it doesn't burn.
Store leftovers in an airtight container in the refrigerator.
Nutrition information including calories, protein, calcium, carbohydrates, fiber, vitamin c, potassium, cholesterol, sodium, trans fat, monounsaturated fat, polyunsaturated fat,  and more will vary depending on products used.
Printable instructions below.
How long does it take to cook a Ham?
We normally cook a ham in the slow cooker for 4 to 5 hours. This gives the ham time to absorb the pineapple juice and brown sugar and become super flavorful. If you are using a small ham you should be able to cook it in 3-4 hours.
Can Cats eat Ham?
Are you wondering if your cat can eat ham?  Everything we have seen says that ham is ok for cats as long as they are healthy. You may want to check with your vet if your cat has had any health problems.
The sodium in the ham could pose a problem. We have six cats and I have to say they all would love it if we let them have ham when I make this great slow cooker ham. I have to keep them off the counter and away from the ham when I am serving it.
Who can blame them when the house smells so good!
I found this pomegranate and pineapple ham recipe I need to try next time! YUM!
Can you Freeze Ham?
Yes! You can freeze a full-size ham or ham slices depending on what you have. I try to pick up a ham or two after the holidays when they go on a sale for great prices. I will freeze a full-size ham for a couple of months and then cook it up.
You can also slice the ham and wrap it in freezer paper then store it in freezer bags. Just make sure to write on the bag the date that you froze it. We like to do this so we can pull it out a month or two after the holidays when we are craving ham again.
What to make with leftover ham?
Crock Pot Macaroni and Cheese with Ham
Crock Pot Scalloped Potatoes and Ham Recipe
Crock Pot Ham and Cheese Grits 
Great Dinner Recipes
Do you love recipes? Check out our copy cat recipes, dessert recipes, and our Crock Pot Recipes.
Follow Tammilee Tips on MSN, Facebook, Instagram, Pinterest, and Twitter for all of our recipe posts.
This crockpot ham is our go to ham recipe for every holiday dinner! It is so easy to make and turns out amazing every single time.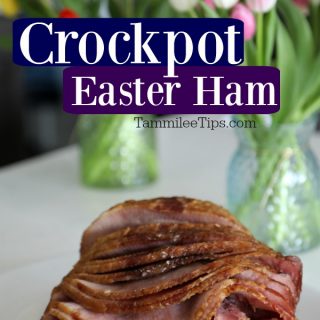 Slow Cooker Crock Pot Ham
Delicious Slow Cooker Crock Pot Ham Recipe great for Thanksgiving, Christmas, Easter or any night of the week.
Print
Rate
Instructions
Unwrap ham and place in the Crock-Pot

Rub ham with brown sugar on all sides.

Pour pineapple juice and maple syrup over the ham

Cover and cook for 4-5 hours on low.

About an hour before serving pour juice over the top of the ham

Remove and let it rest for 10 minutes before carving
Nutrition
Nutrition Facts
Slow Cooker Crock Pot Ham
Amount Per Serving
Calories 578
Calories from Fat 297
% Daily Value*
Fat 33g51%
Cholesterol 123mg41%
Sodium 2360mg103%
Potassium 649mg19%
Carbohydrates 24g8%
Protein 42g84%
Vitamin C 3.1mg4%
Calcium 40mg4%
Iron 1.9mg11%
* Percent Daily Values are based on a 2000 calorie diet.
Originally posted March 18, 2013