This Alien Brain Hemorrhage Shot recipe is the perfect party shooter! Great for Halloween parties or any other fun parties you may be hosting. It's so easy to make and looks fantastic.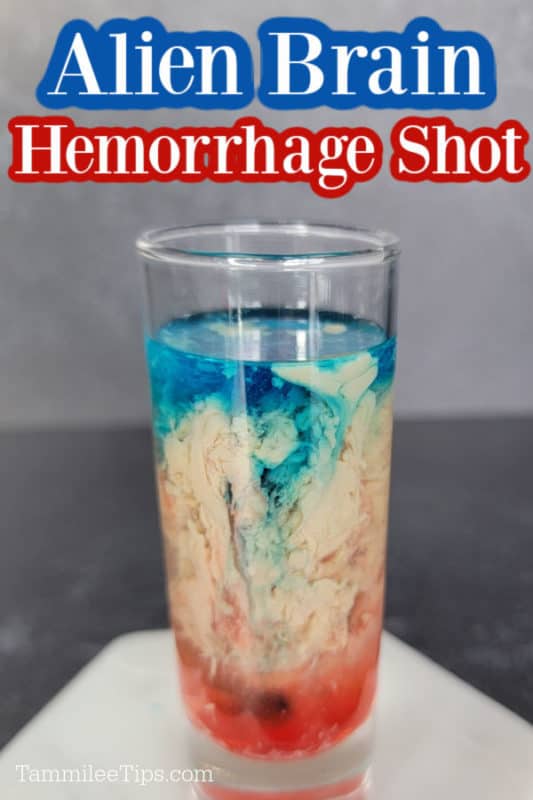 Alien Brain Hemorrhage Shot
This creative shot is such a fun, iconic Halloween cocktail! While this is certainly a creepy drink, it doesn't taste nearly as odd as it looks.

The combination of peach, cream, and pomegranate cherry syrup with the grenadine makes for a sweet, fruity shot.
This blue-tinged version is such a fun variant of the brain hemorrhage shot. Adding the blue curaçao will get you horrifying looks as your guests watch you make this shot.
This Halloween party shooter is a total crowd-pleaser! Part of the appeal is the freakiness that the floating layer creates.
While the look of this particular recipe is unique, it still has great flavor. This cocktail shot is the perfect conversation starter at your next Halloween party!
You can't go wrong serving this Alien Brain Hemorrhage Shot!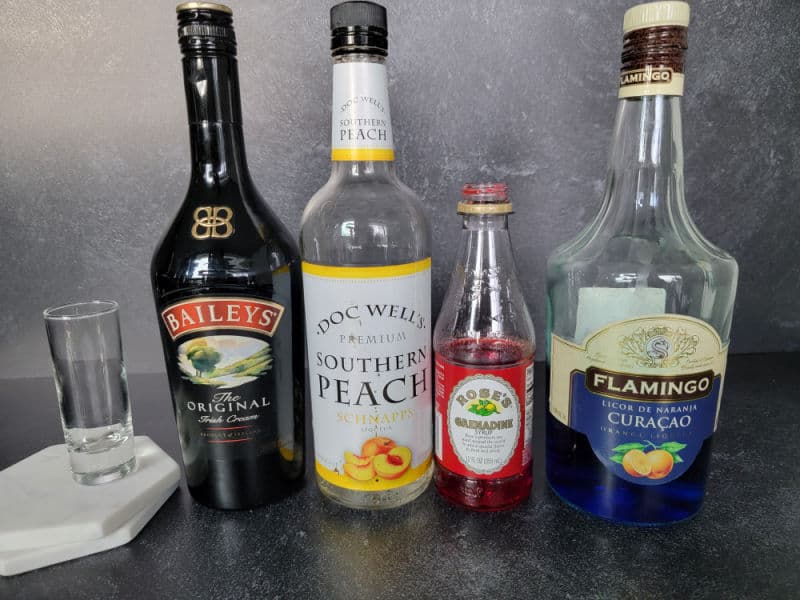 Ingredients
Here is a quick overview of the simple ingredients needed to make an epic Alien Brain Hemorrhage Shot! The printable recipe card at the bottom of the post includes specific measurements and step-by-step instructions.
Equipment Needed
2 ounce shot glasses - We love these 2 oz shot glasses especially for layered shots.
Bar Spoon - Bar spoons help to create layers in the cocktail shot. They fit perfectly into the cocktail shot glass.
OXO angled jiggers - these are our go-to measuring tools for cocktails. They work perfectly for pouring in layers for cocktails.
How to make an Alien Brain Hemorrhage Shot
I've included complete instructions in the printable recipe card at the bottom of the post, but here's a quick version.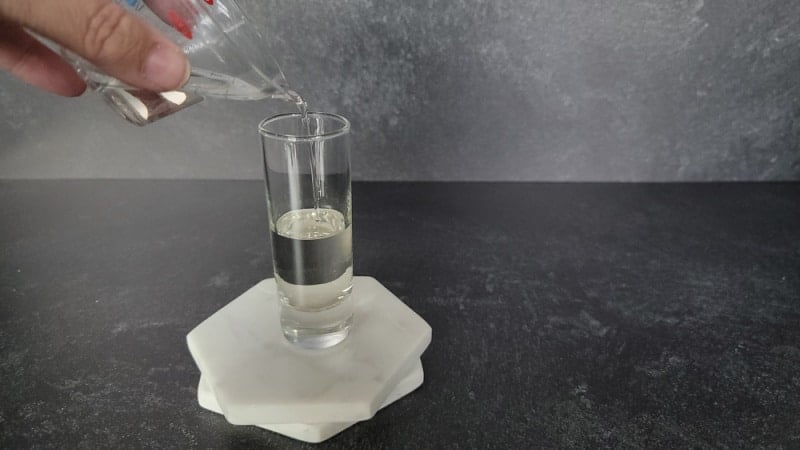 Step 1 - Add peach liqueur to a 2oz shot glass. This clear liqueur provides the clear layer base for this shot.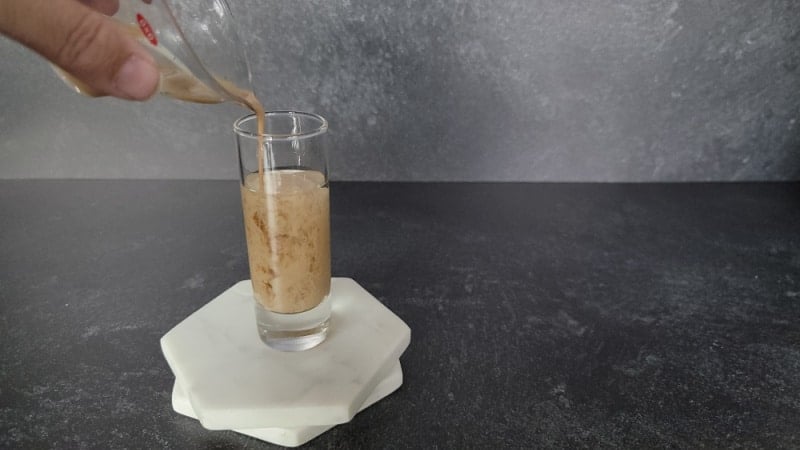 Step 2 - Pour Bailey's Irish Cream into shot glass slowly. This classic cream liqueur reacts with the peach schnapps to start forming the brain membrane.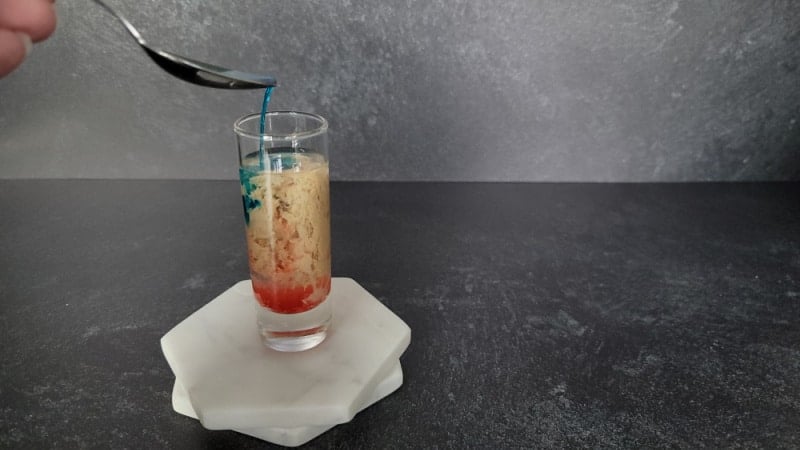 Step 3 - Slowly add in Blue Curacao. Try dropping it drop by drop from a few inches above the shot glass so it pulls the Irish Cream down into the peach schnapps.
Step 4 - Add in a couple drops of Grenadine Syrup and watch the magic happen. Add in additional drops if needed.
The dash of Grenadine Syrup will continue to pull the Irish Cream down into the schnapps since it has a heavier density.
I like to drip it off of the bottom of a spoon a few inches over the shot so it really forces the Irish cream into the drink.
The slow drip helps the wonderful look of the alien brain hemorrhage shot. It keeps the layers moving.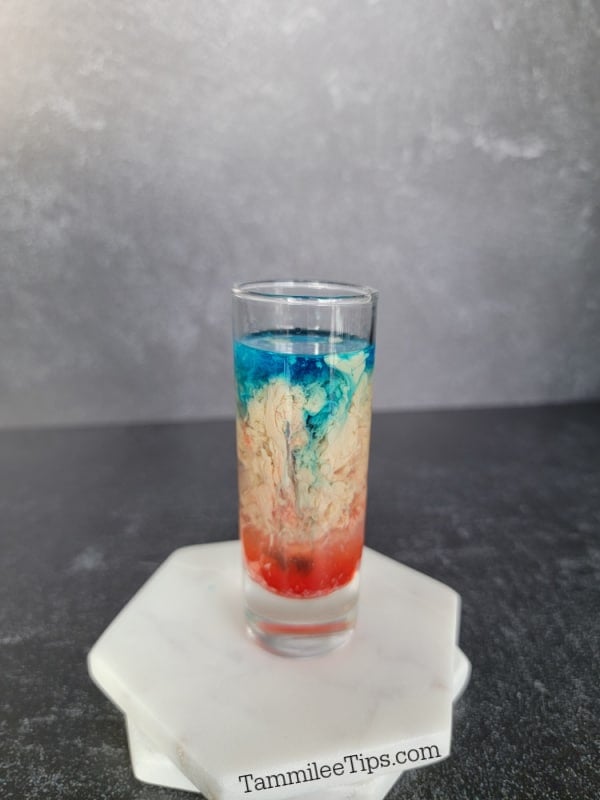 Step 5 - Enjoy the sweetness of this cocktail shot.
Preparation and Storage
Make Ahead: We recommend making this layered shot to order so you don't miss out on the creepy visual of the "brain membrane"!
Storage: No storage is needed, as it's best to make and enjoy this fun shot immediately after.
Recipe Variations
Substitutions: We use grenadine in this shot recipe, but you can use any other fruity red syrup, including pomegranate and cherry! Any Irish cream in your bar cabinet works, including our homemade Irish cream, if you want to go the DIY route.
Vegetarian Option: This recipe is vegetarian-friendly!
Vegan Option: Bailey's Almande is a vegan-friendly Irish cream substitute made with almond oil instead of dairy.
Gluten-Free: The Alien Brain Hemorrhage Shot ingredients, including Bailey's Irish Cream, are gluten-free.
Alcohol-Free Option: Use a zero-proof Irish cream, peach schnapps, and blue curaçao to make an NA Alien Brain Hemorrhage Shot. Here are some non-alcoholic peach schnapps substitutes and blue curaçao alternatives to consider.
Larger Group/More Servings: Upsize the written recipe to scale to make Alien Brain Hemorrhage Cocktails!
Sugar-Free: The written recipe contains 11 grams of sugar per serving. Use sugar-free alternatives where possible to reduce the sugar content.
Tips for the Best Alien Brain Hemorrhage Shot
As you let the shot sit, the dash of grenadine syrup will continue to pull the

Irish cream

down into the schnapps since it has a heavier density. I like to drip it off of the bottom of a spoon a few inches over the shot so it forces the Irish cream into the drink.

We use a teaspoon to slowly add a splash of grenadine heavy syrup to the cocktail. A tiny amount of grenadine makes a noticeable impact.

Need a refresher on layered shots? We have a guide to pouring layered shots

here

.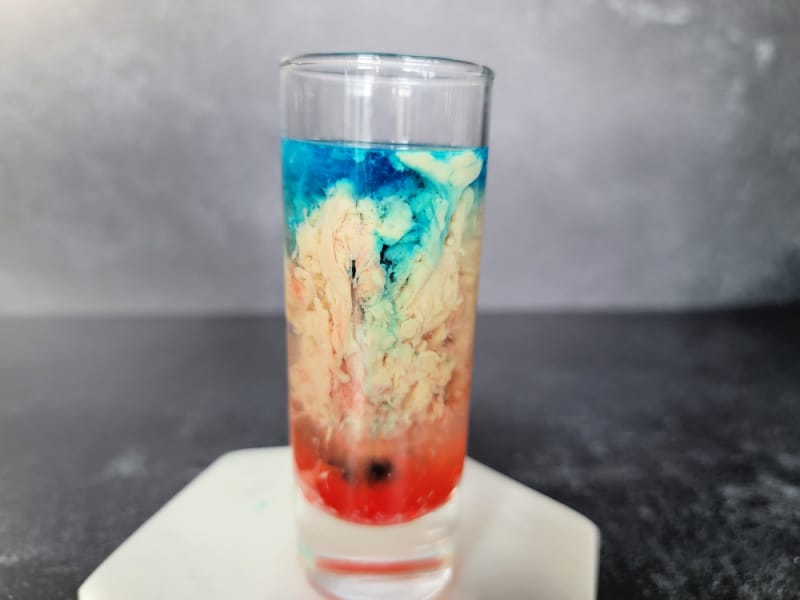 What to Serve with an Alien Brain Hemorrhage Shot
The creepy yet mesmerizing Alien Brain Hemorrhage Shot with a sci-fi twist would be at home at any Halloween party or cocktail night! Here are some scary good menu planning suggestions.
Snacks: Pretzel Bones, White Chocolate Ghost Pretzels, Halloween Monster Munch, Candy Corn and Peanuts Snack Mix, Witches Brooms Pretzel Sticks, Pumpkin Spice Pretzels
Main Dishes: Mummy Quesadillas, Green Halloween Pasta, Mummy Hot Dogs
Desserts: Marshmallow Ghosts, Ghost Strawberries, Witch Hat Cookies, Reese's Bats, Nutter Butter Ghosts, Spider Donuts, Halloween Bloody Bandages, Mummy Oreos, Candy Corn Bark, Mummy Rice Krispie Treats, Mummy Brownies, Candy Corn Cheesecake Mousse
Drinks: Cement Mixer Shot, Scooby Snack Shot, Jolly Rancher Shot, Candy Corn Jello Shots, Candy Corn Cocktail, Bloody Colada, CrockPot Pumpkin Liqueur, Apple Cider Mule
When to Serve
Halloween Party

Halloween Cocktail Night 

Space party
Crowd Pleaser
Great Cocktail Shot Recipes
Skrewball Peanut Butter and Jelly Shot
Funny Drink Names: Check out our entire collection of cocktails and mocktails with funny names.
Peach Schnapps Drinks: Check out our entire collection of cocktails with peach schnapps.
Check out all of our Cocktail Recipes!
Do you love recipes? Check out our copycat recipes, dessert recipes, and our CrockPot Recipes.
Follow Tammilee Tips on MSN, Facebook, Instagram, and Pinterest for all our recipe posts.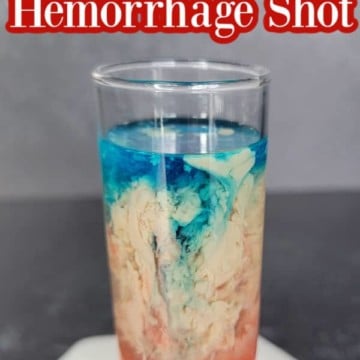 Alien Brain Hemorrhage Shot
Iconic Halloween Shot this Alien Brain Hemorrhage Shot is easy to make and tastes great while looking creepy
Print
Rate
Instructions
Add Peach Schnapps to a large shot glass

Slowly pour in Irish Cream

Slowly add drops of Blue Curacao followed by drops of Grenadine
Nutrition
Nutrition Facts
Alien Brain Hemorrhage Shot
Amount Per Serving
Calories 137
Calories from Fat 18
% Daily Value*
Fat 2g3%
Cholesterol 1mg0%
Sodium 1mg0%
Carbohydrates 12g4%
Protein 1g2%
* Percent Daily Values are based on a 2000 calorie diet.